The flight from Tan Son Nhat airport took off at midnight, and the airplane was hovering over the southern capes and ports of South Korea right at dawn time, when the colorful horizon strips gradually faded to give place to the rising sun.
Yes, welcome back to autumn travel! It had been 3 years since Uzbekistan trip that I could meet the old acquaintance again: the deep blue sky, the golden foliage and the fair, gentle weather. At the time of this Korea trip, the country had just relaxed its strict COVID policy, so I'm proud to be among the first wanderers there.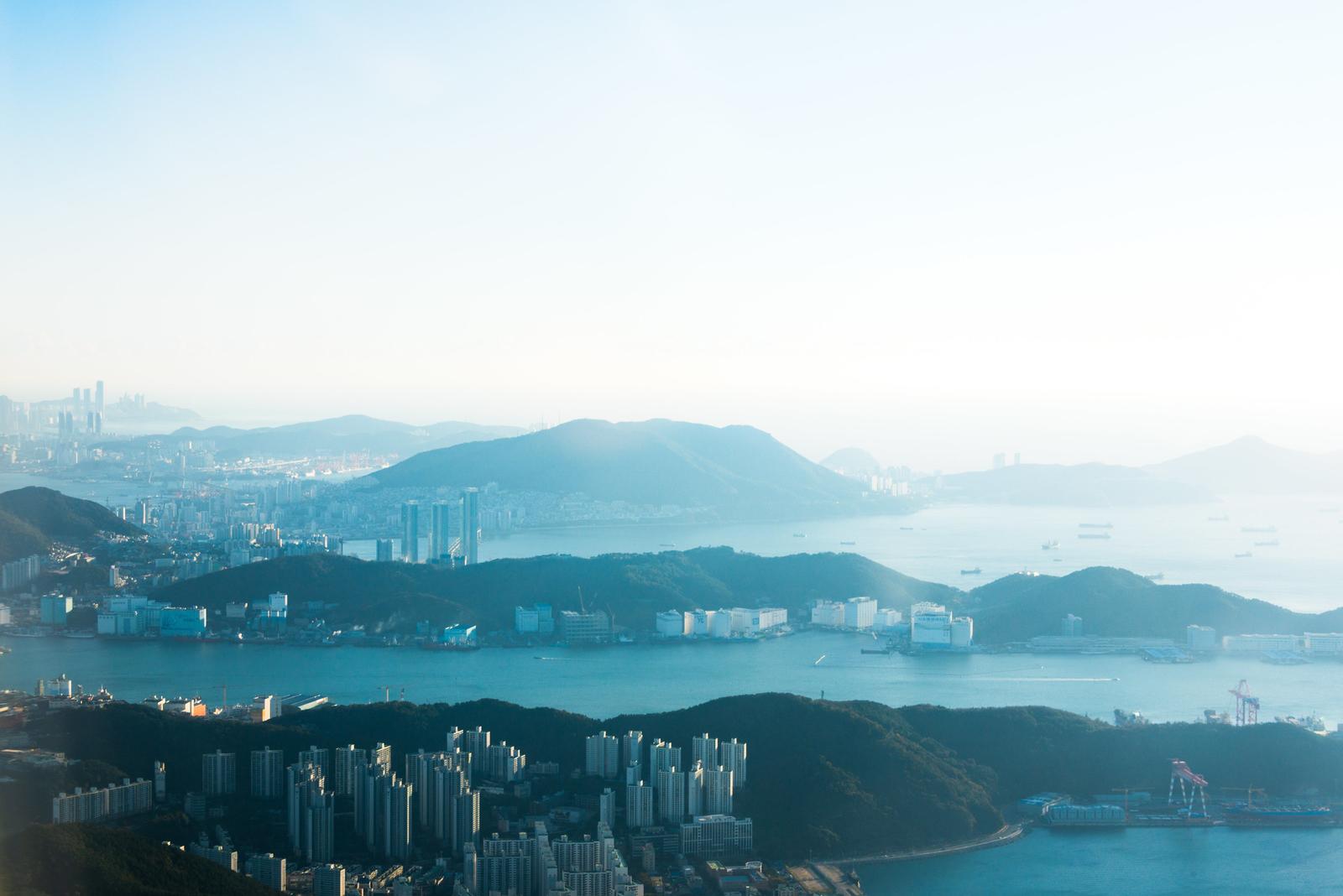 Morning Arrival in Busan
To be honest, traveling is usually not my main objective, but a side effect of being lonely after failed love attempts, or just having nothing else to do. This was not an exception, though. However, it's not wise of me to go to a country which is couple-friendly, and solo backpacker seems so odd.
I arrived at Gimhae (김해) International Airport, without much hassle or delay. Not as busy as Incheon Airport, the immigration queue was cleared lightning-fast. Actually I thought I wouldn't be able to collect another stamp as South Korea visa had gone fully electronic, but at the end be super happy to have a tiny QR entry stamp on my passport. On the walls, BTS' 'Yet to Come in Busan' banners were still up, the live show promoting the city's bid for World Expo 2030.
First thing as always, was to pull my luggage out of the arrival area, purchase a SIM card (SK Telecom), find the way to the Gimhae - Busan Light Metro station, buy a tourist metro card in a convenience store nearby. Once stepping on the metro cabin, that travel bug snapped, and my mind then fully transformed into travel mode.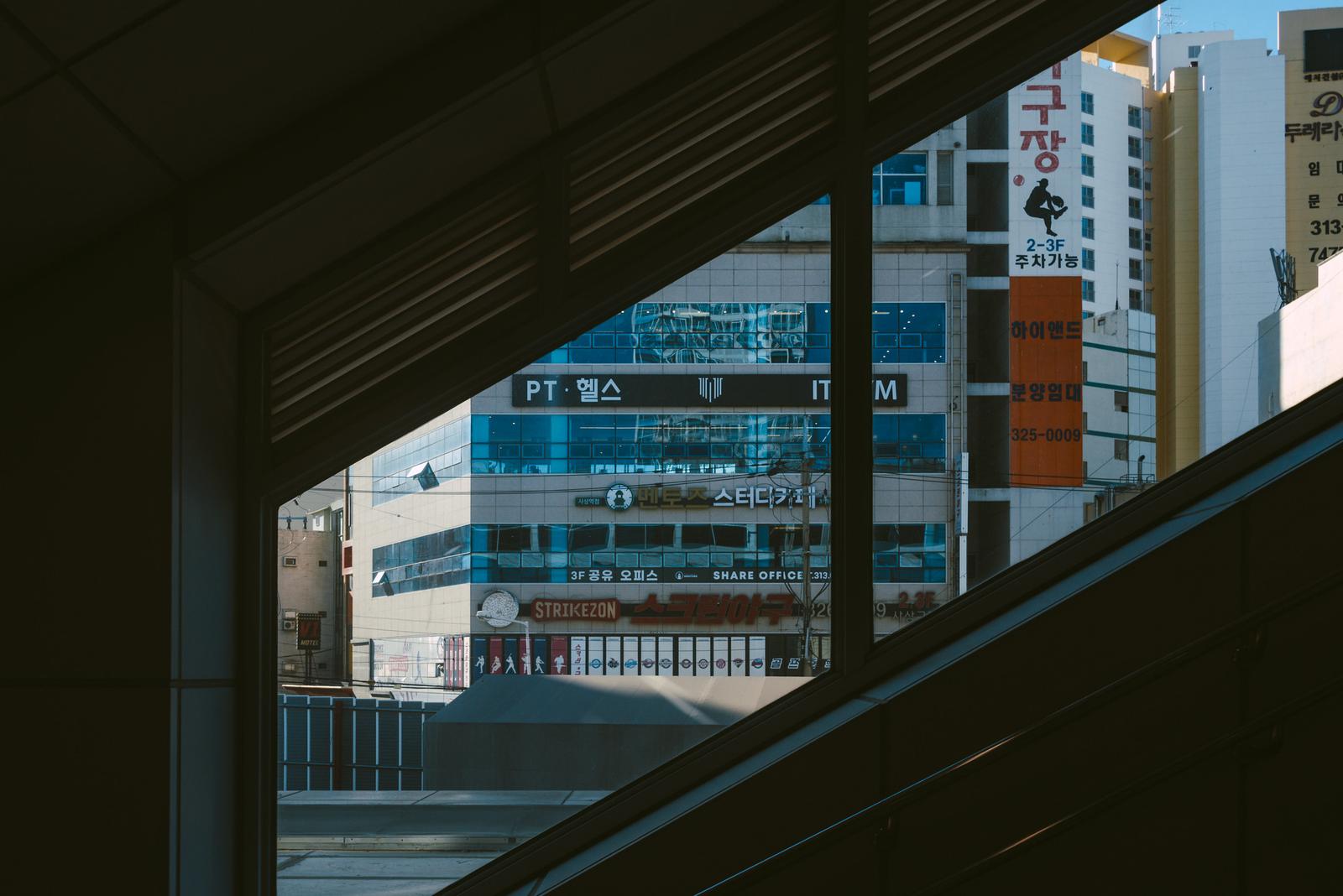 Train to Busan, huh? Don't get fooled by Google Maps telling you that the city is small. Traveling from one to another end in Busan (부산) may take up to 3 hours, as the resident areas are sandwiched in between mountains, and there're many stops along the line. My hotel seemed to be located near the airport, but indeed it took me around 40 minutes to start from Gimhae, change line at Sasang (사상), go on Green Line to the central-side Seomyeon (서면), then switch to Red Line and finally arrive at Toseong (토성).
At least my previous experience in other train-prevailing countries kept me look cool and I didn't show any sign of a first-timer here.
Around Jagalchi
That autumn sun didn't make me sweat pulling my noisy luggage along Gudeok-ro street to my hotel. Well, it's a bit perplexing that the hotel reception was carried so swiftly in a few minutes that I just walked straight to my room without much welcoming procedure from the staff. Having a quick shower, turning on the TV to watch random Korean-speaking stuff, stirring my instant coffee cup, setting up my camera and let's go.
Gukje and BIFF Square
Gukje (국제), Jagalchi markets and Gamcheon Culture Village are all within walking distance from my first hotel. To warm up, I strolled along Junggu-ro towards BIFF Square - the street-food district where you can find signature Korean snacks like mandu (dumplings) or skewers.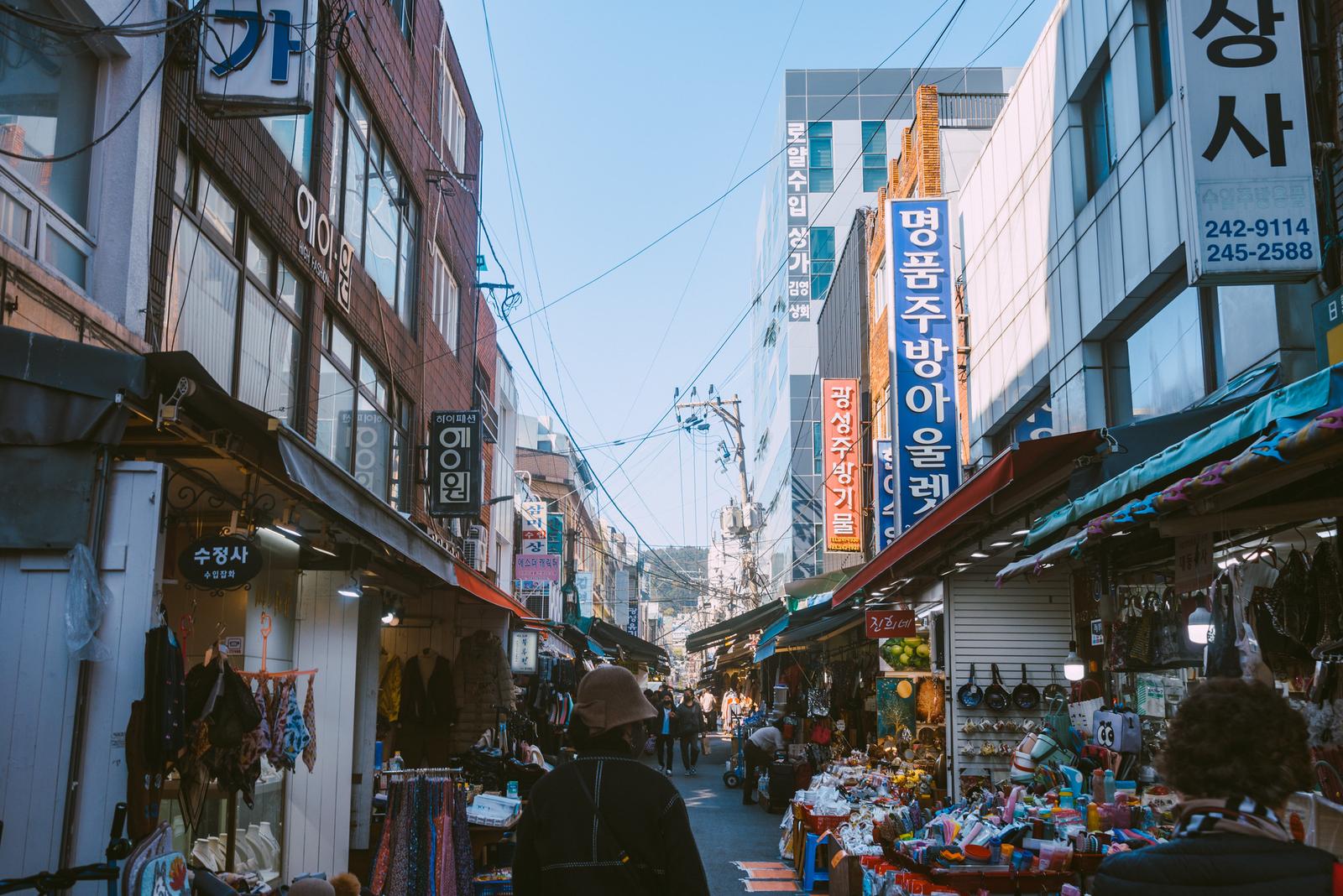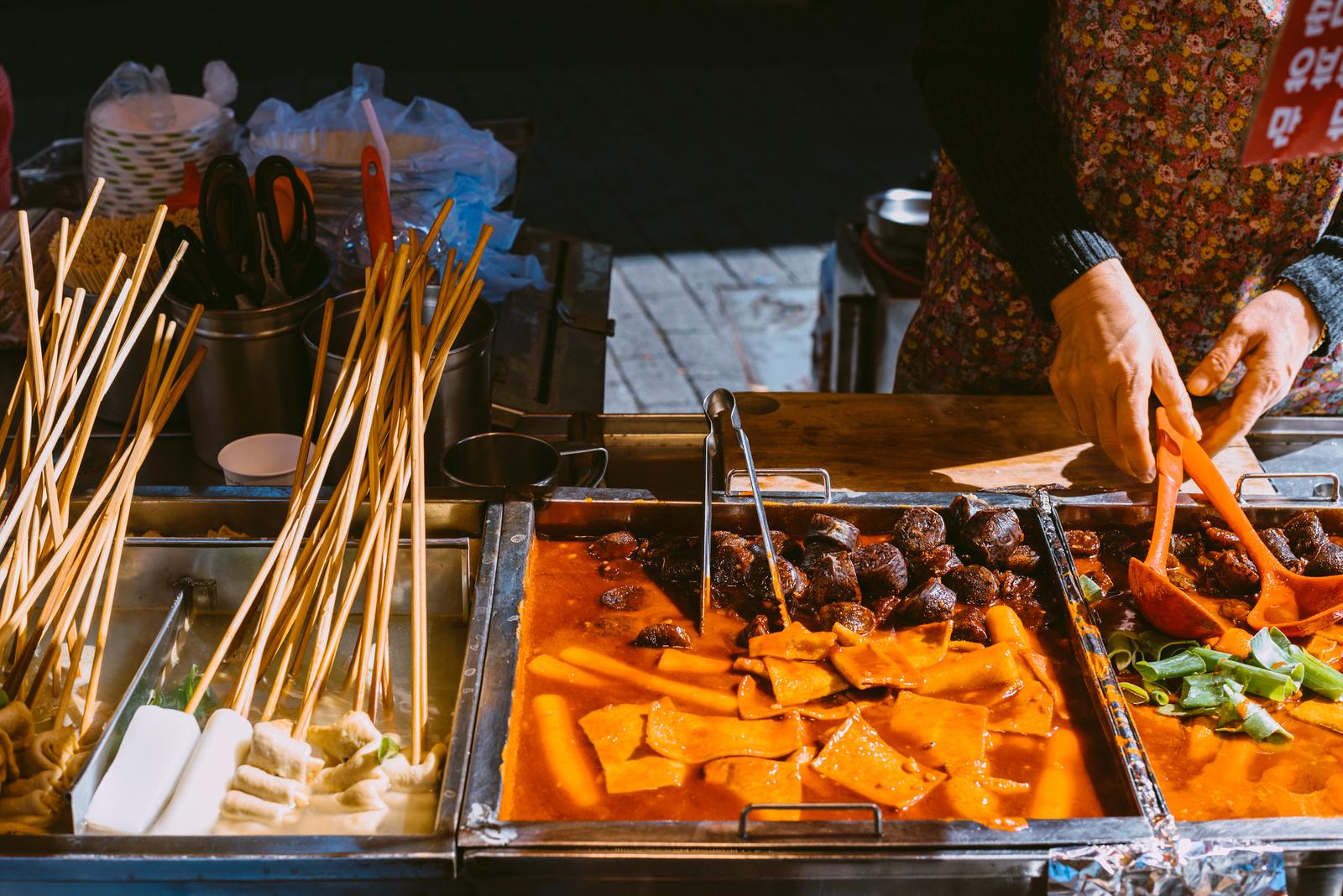 Jagalchi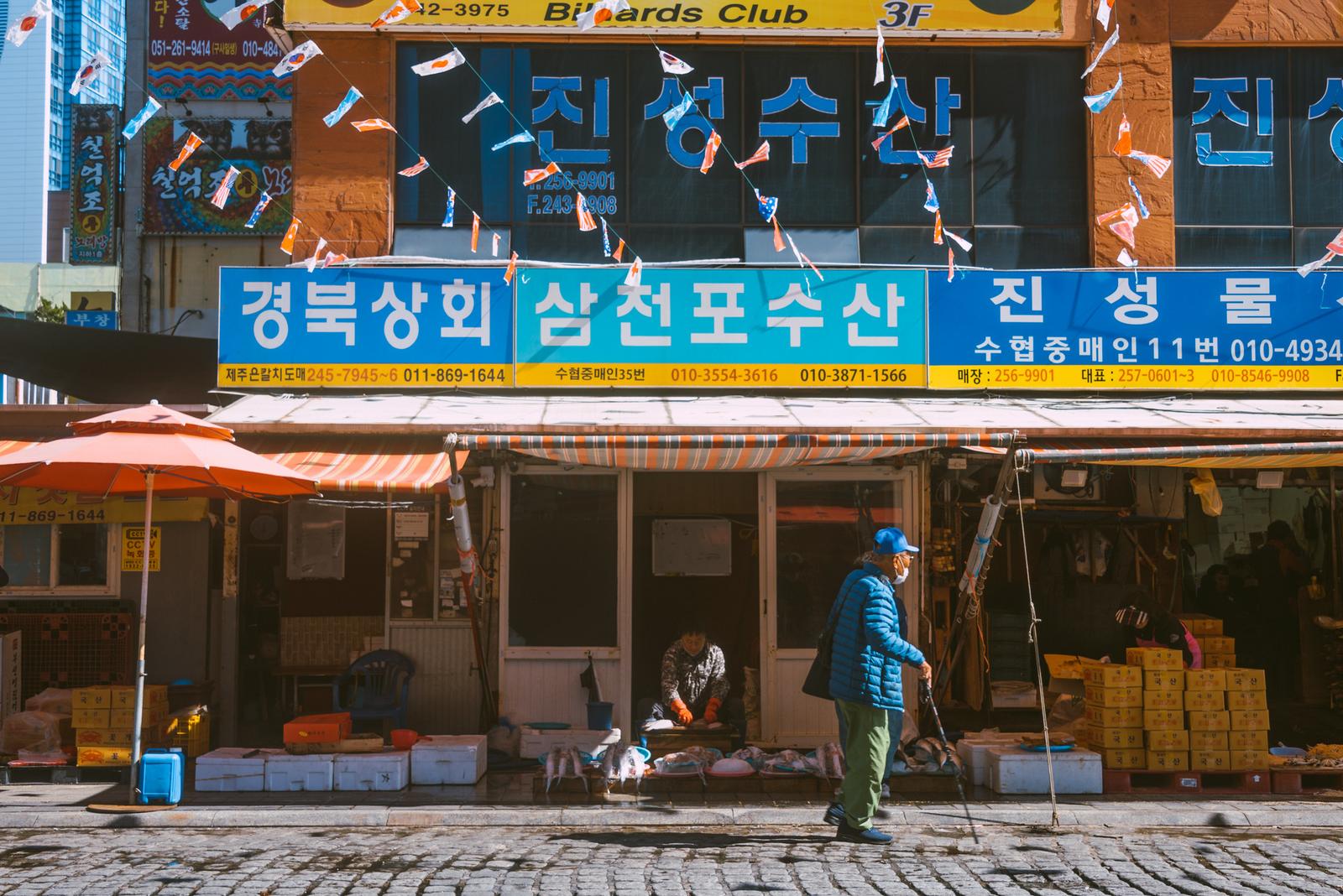 It's just a few blocks to pass from BIFF Square to reach Jagalchi (자갈치) Market near Nampo port. It's the largest Korean seafood market, which features all types of exotic living aquatic creatures. It's quite OK for people to tour around as the market is kept clean with minimal stink. You can also buy seafood and enjoy it right away at the restaurant on the 2nd floor. Not to miss the Jagalchi platform, where you can have a panorama view of the port, and to the right hand side you can spot Gamcheon Village perched on the mountain.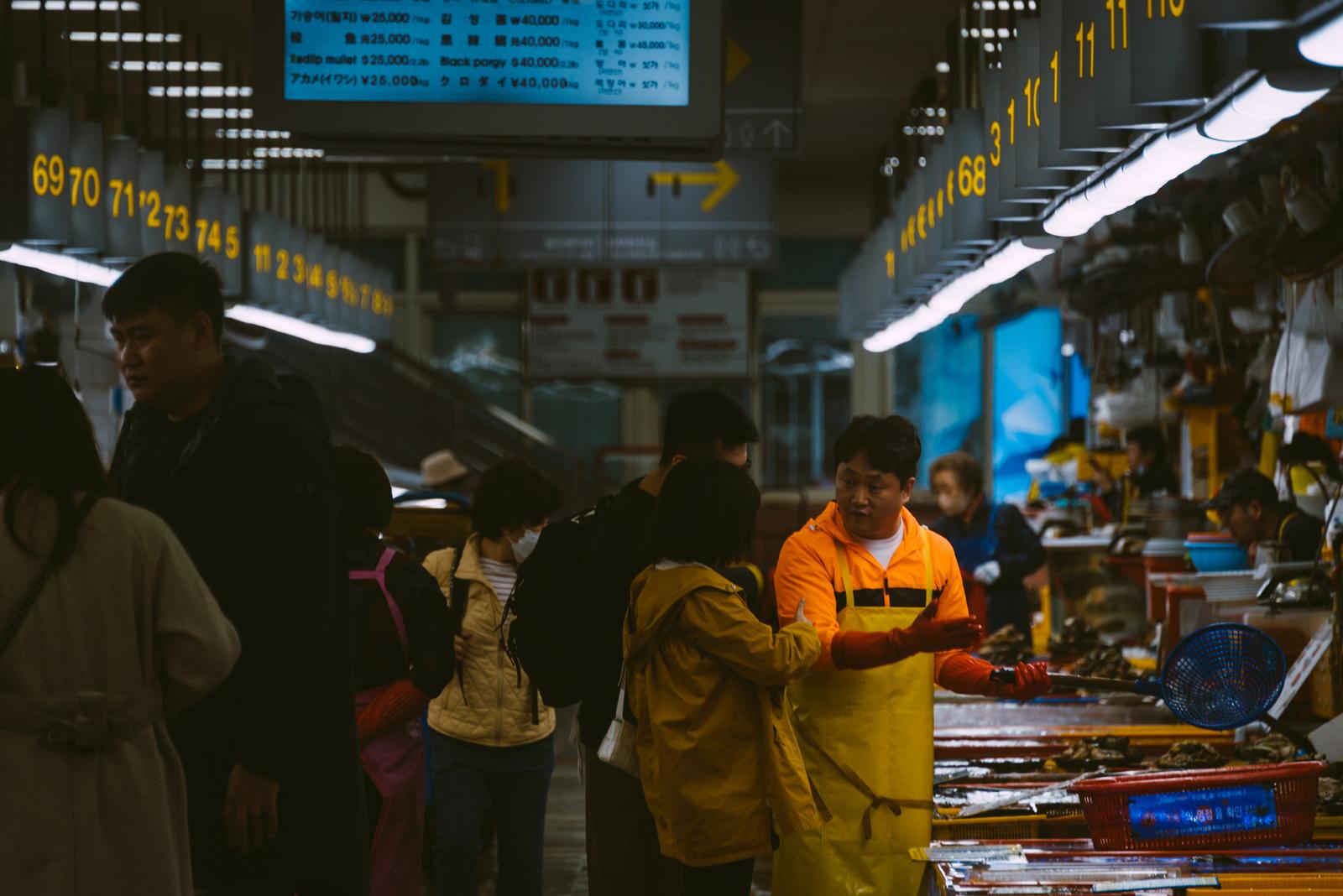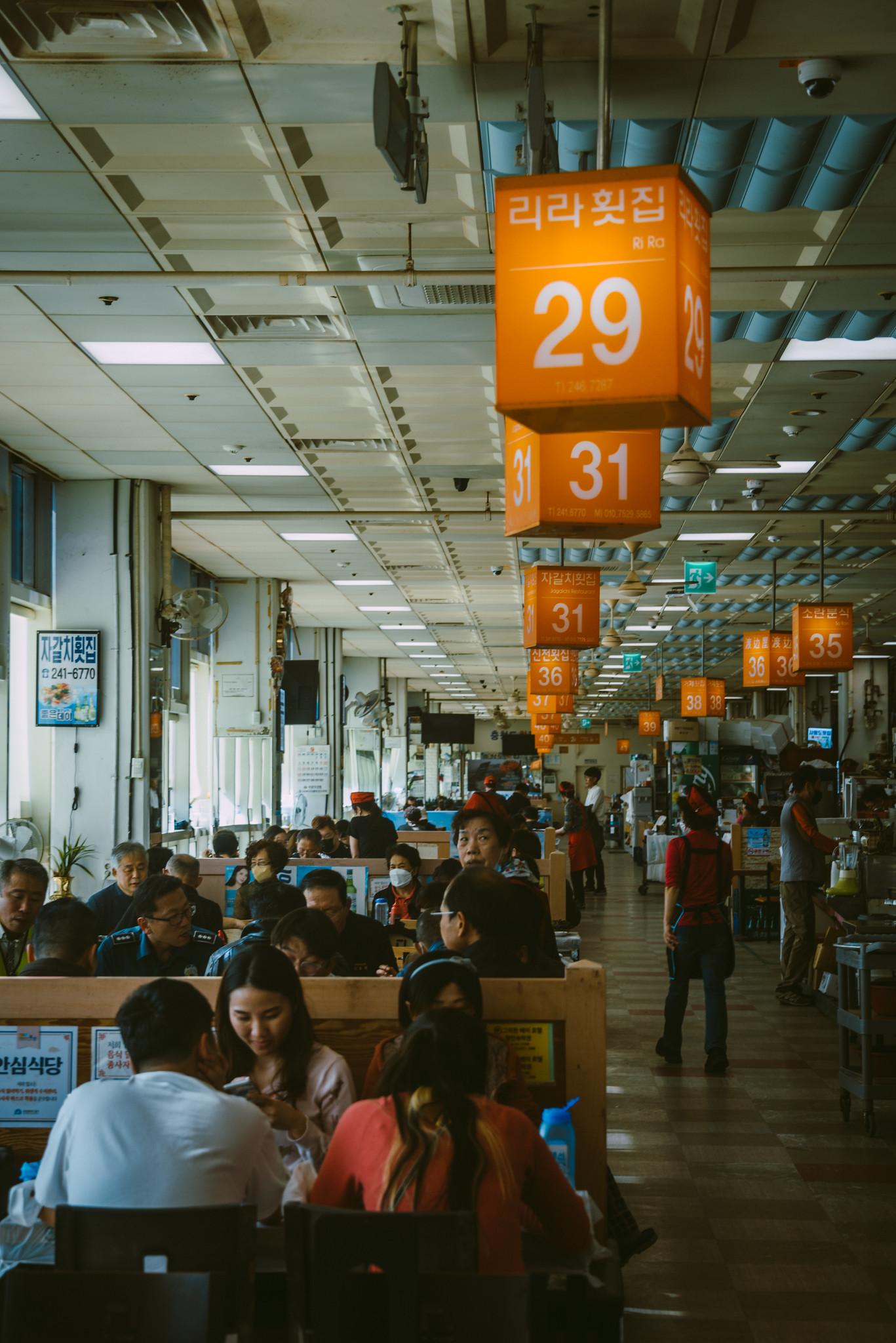 Just a quick start, but already a few kilometers walking had been tracked in my watch. Now I went to take a bus to Gamcheon Village from Gudeok-ro, the place where I spent the whole afternoon exploring around. Google Maps and Naver Map had been helpful throughout the trip as the bus timetable was all super precise.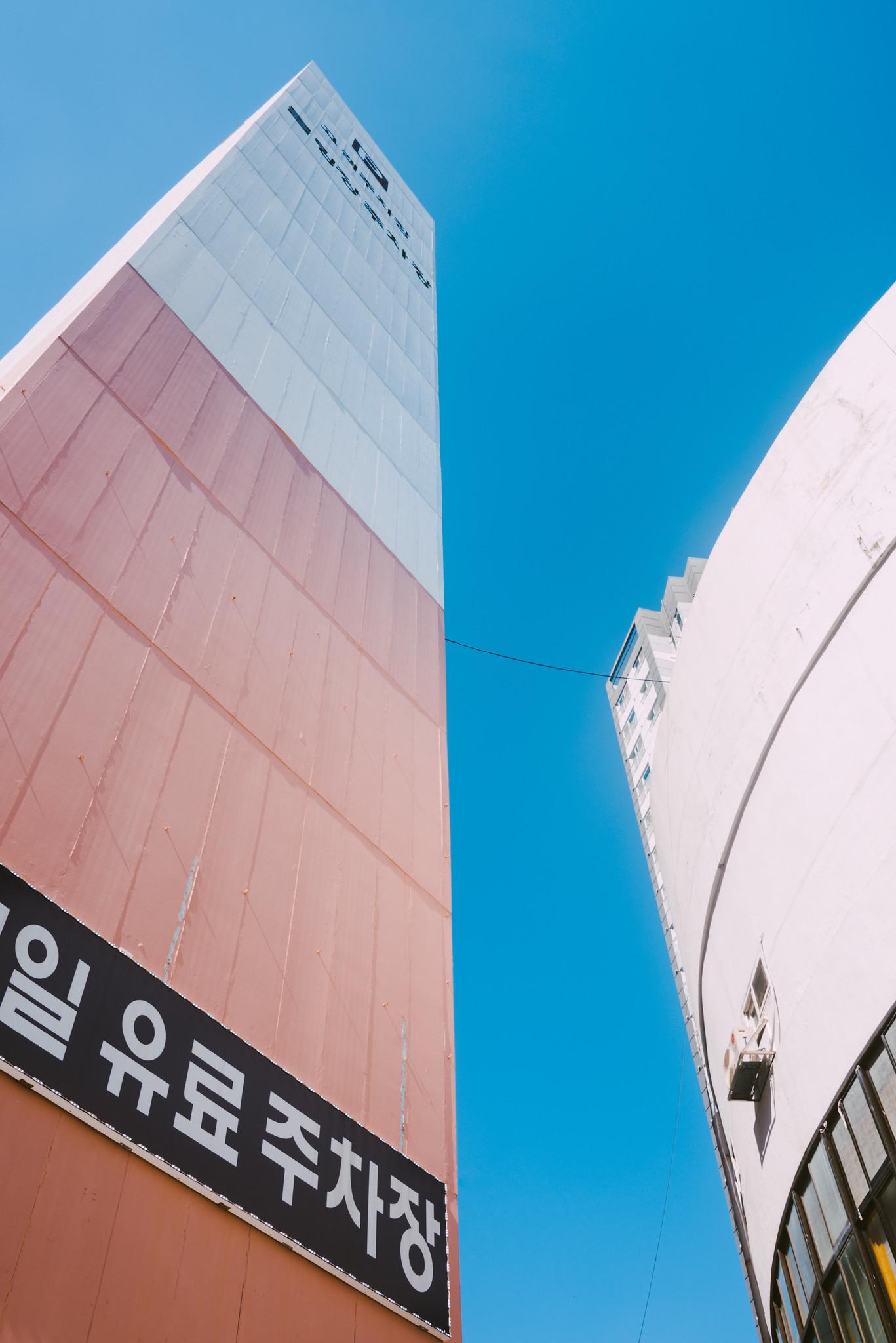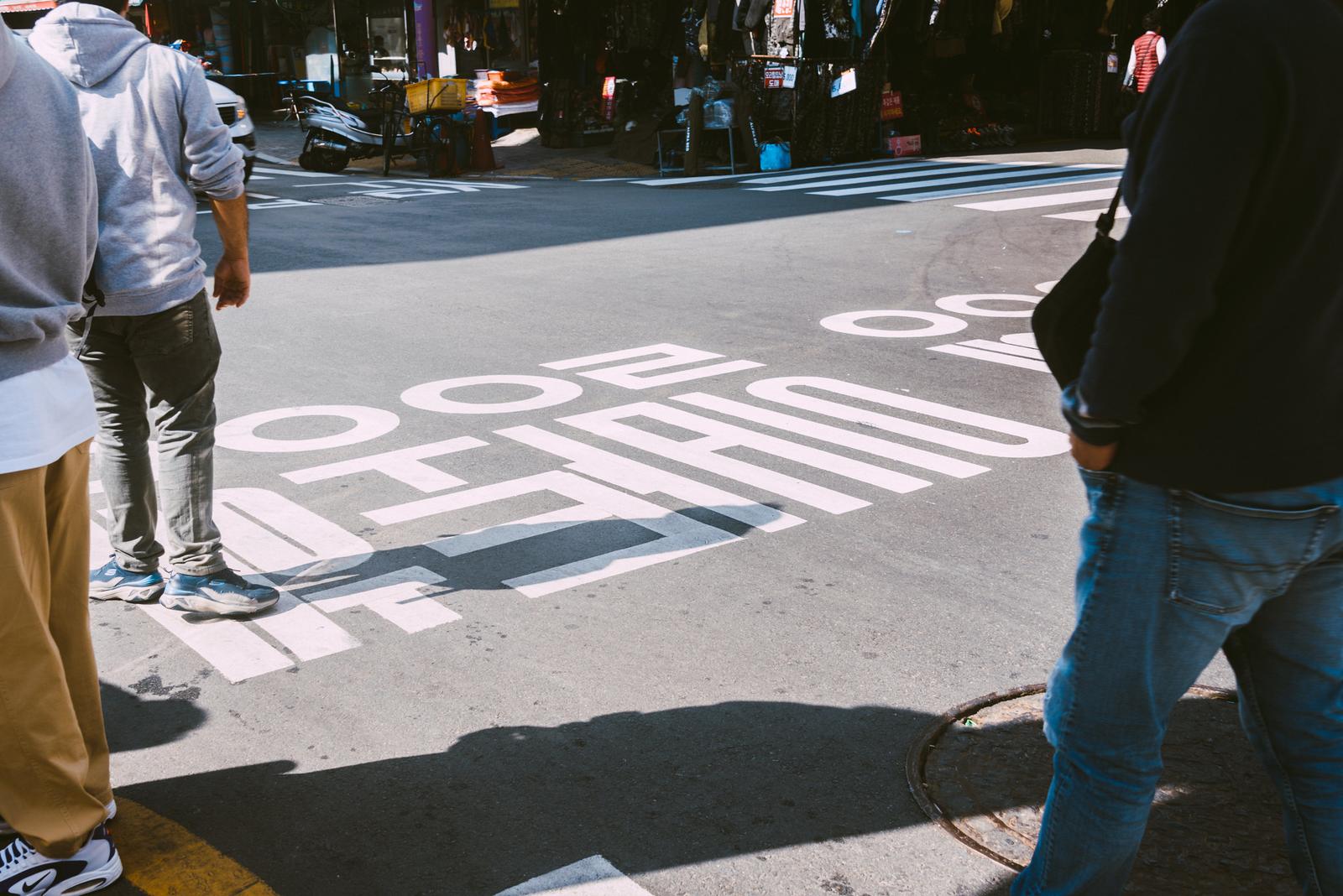 Gamcheon Culture Village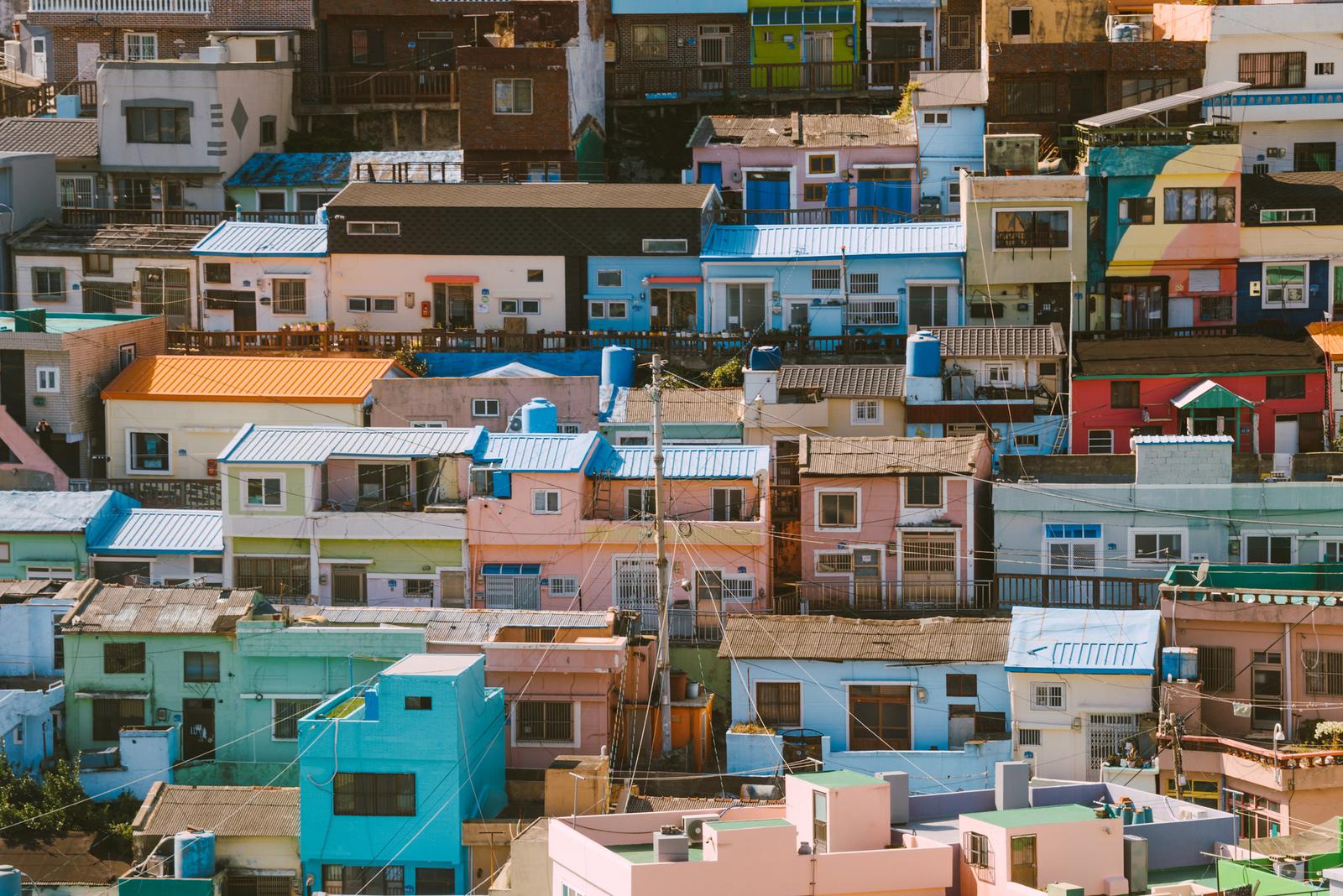 The bus stop is located at the intersection of Okcheon-ro and Gamnae 2-ro streets. Right from the beginning, the steep slope street of Gamnae 1-ro somehow made me wavering about the move, but just a few steps and you can familiarize yourself with this kind of Korean pedestrian way.
It's noon time, although the weather was quite fair, it's better to get sheltered in a local food stall. That's a bit adventurous to call for some dish on the menu that you don't know the meaning, so just pray the food isn't too exotic.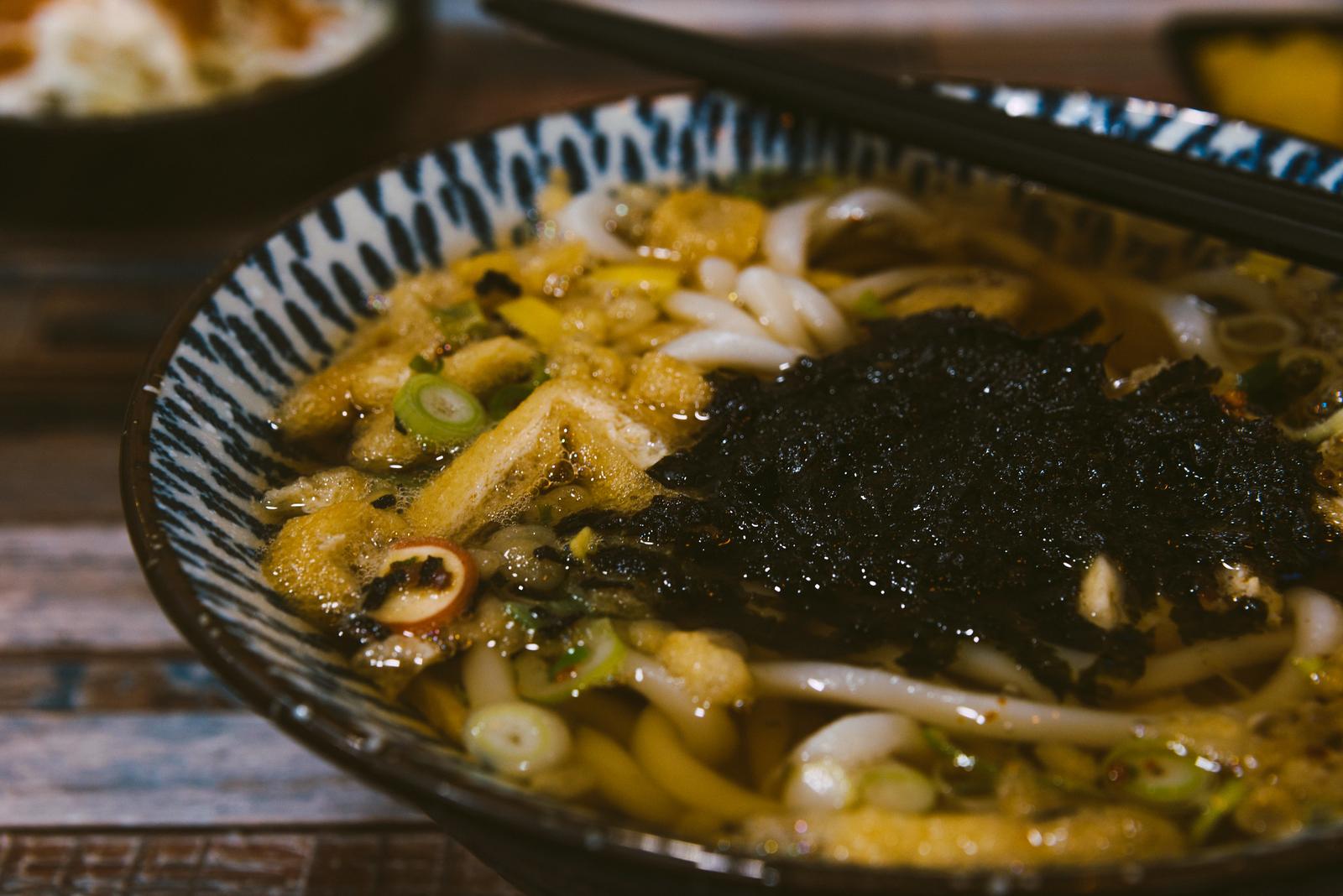 The journey now really began. Weaving through the maze, almost every corner seemed to be a buried gem waiting to be discovered. Colorfully-painted houses, twisted staircase, high viewpoint towards the port…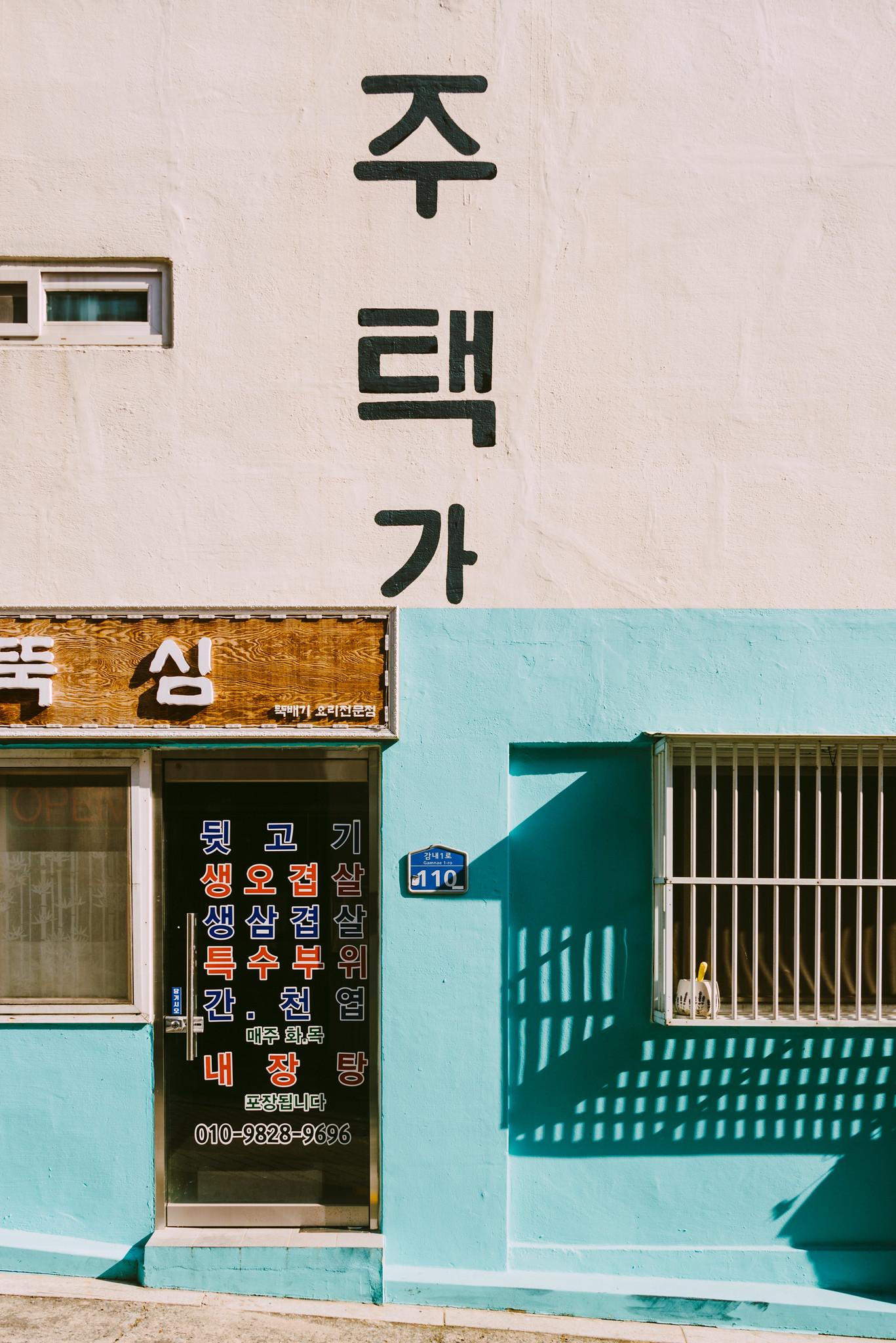 Strolling around the roads on a normal working day gives you total freedom as there's very rare sight of passersby, especially along Gamnae 2-ro - the edge road with one side walled by mountain. At the same time, my mind was boggled by the reason why The Little Prince is so popular in Korea, as it has been incorporated into a number of features in this village.
It's still early before the golden time came, so I treated myself with some smoothie to boost vitamin at Gamnaegol Happy Power Station. The serve was surprisingly huge for such a low price. By the window, sunlight penetrated through the autumn foliage, casting charming shadows into the interior.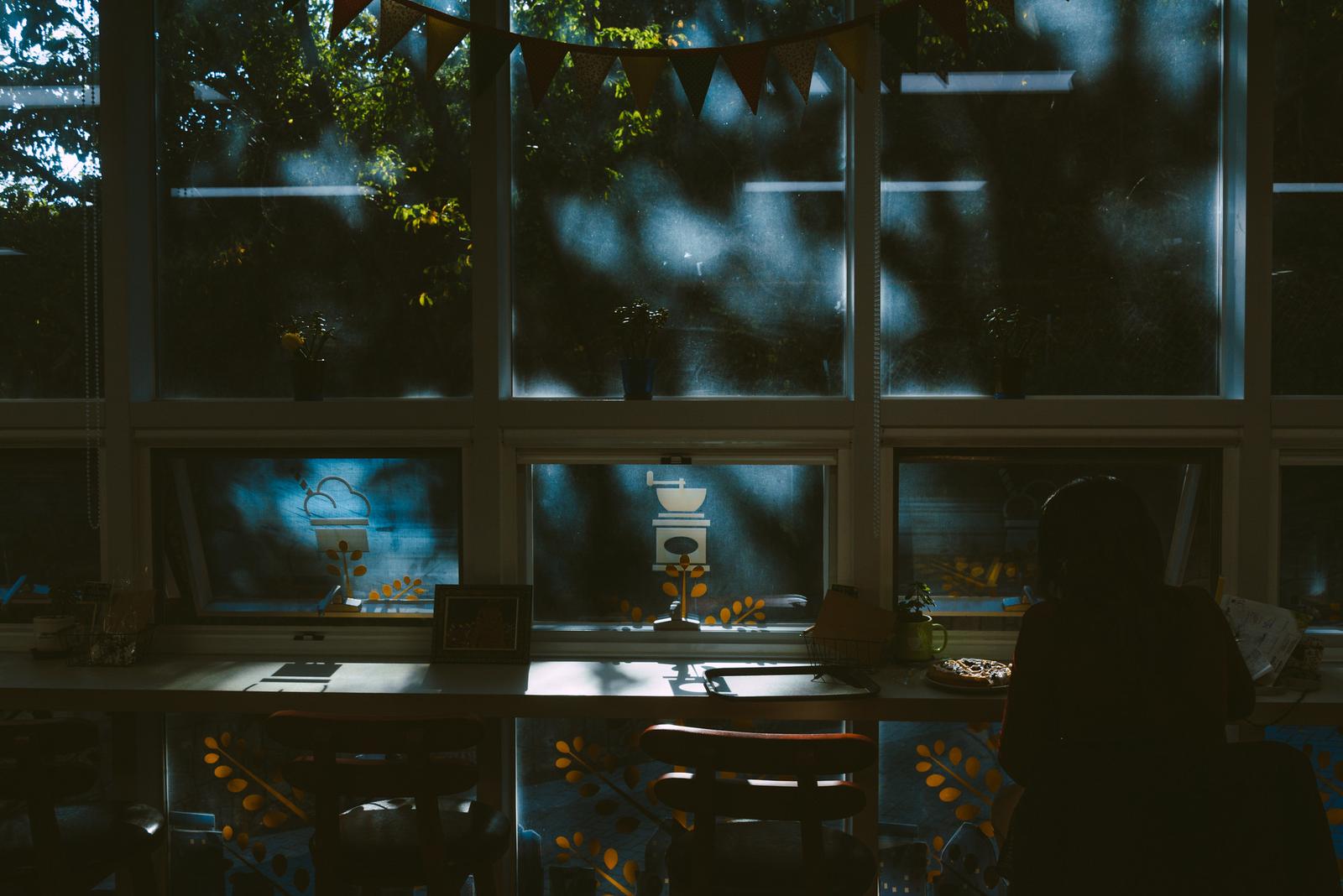 Back on street again, each moment at this time was all worth capturing, so I needed to hurry up and hunt for some good vantage point. For landscape, the best should be right at the entrance of Gamnae 1-ro, or at rooftop cafeteria on Okcheon-ro. Gamnae 2-ro, on the other hand, has a variety of lovely shop houses, cafes and check-in corners.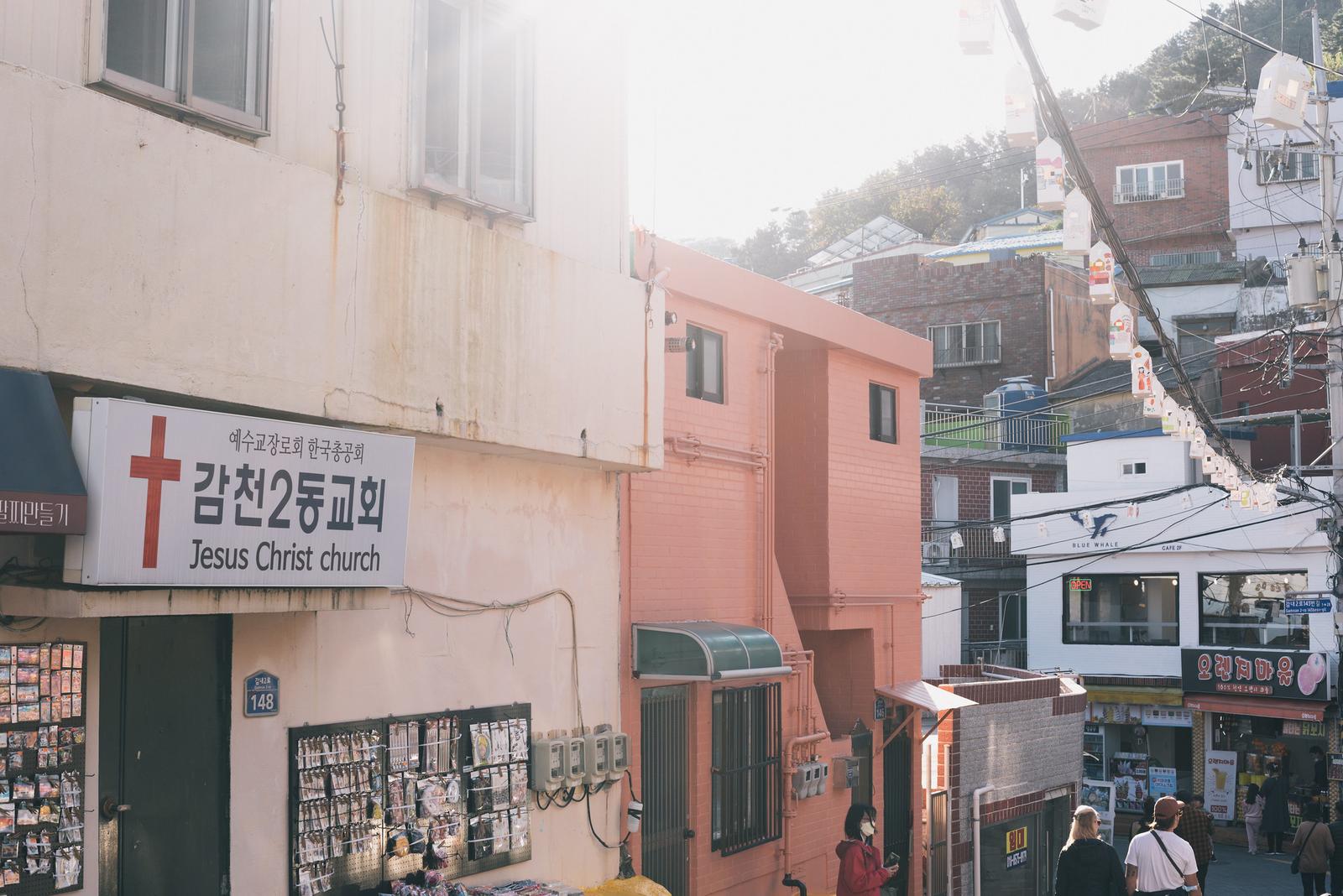 Using portrait orientation to depict street life is my favorite thing to do, and it seems that the album has a majority of portrait, mobile-friendly photos.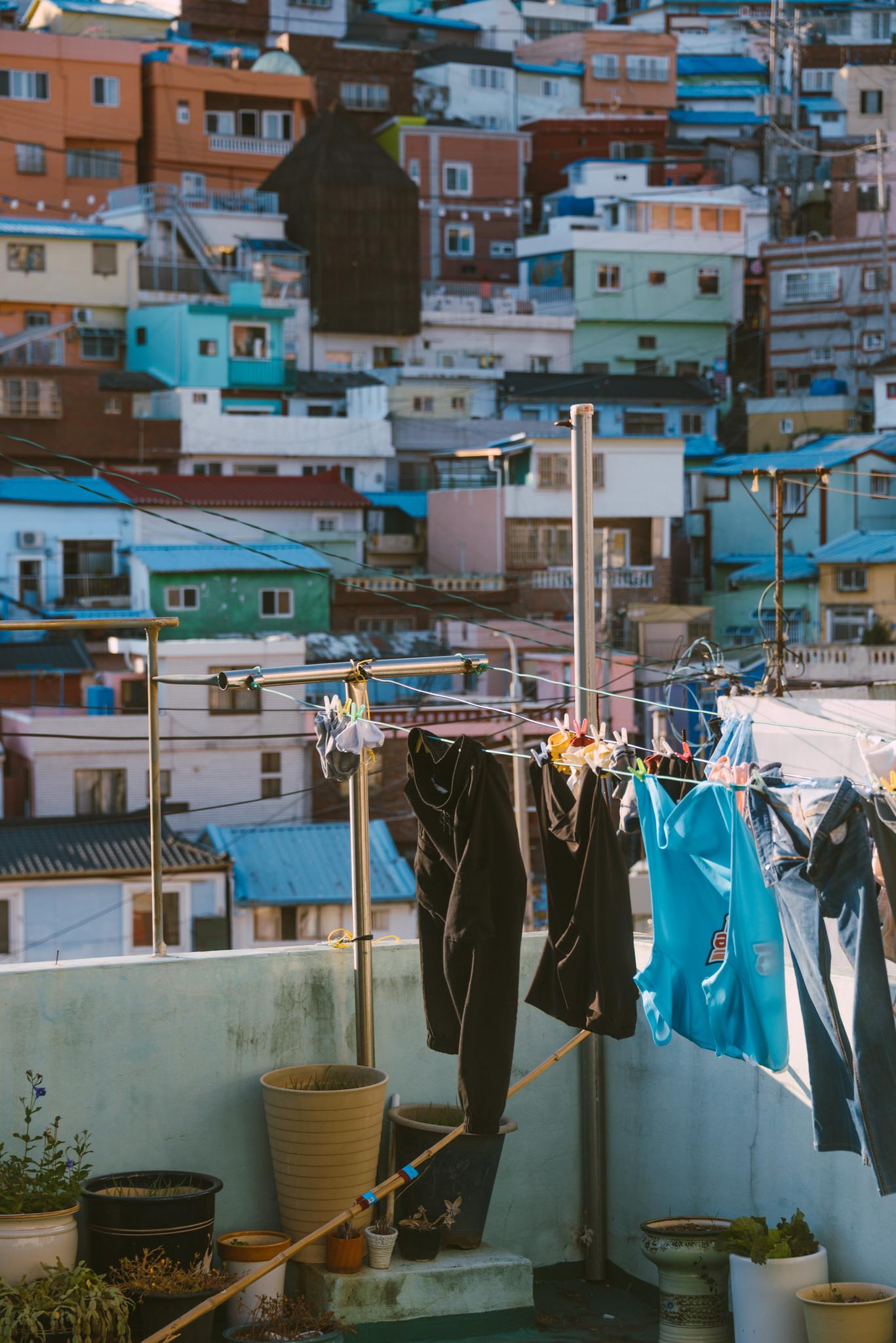 I don't remember how many times I walked up and down the same route, perhaps not to let the moment go, but at the same time, sticking to the same spot at such beautiful time was not a wise choice.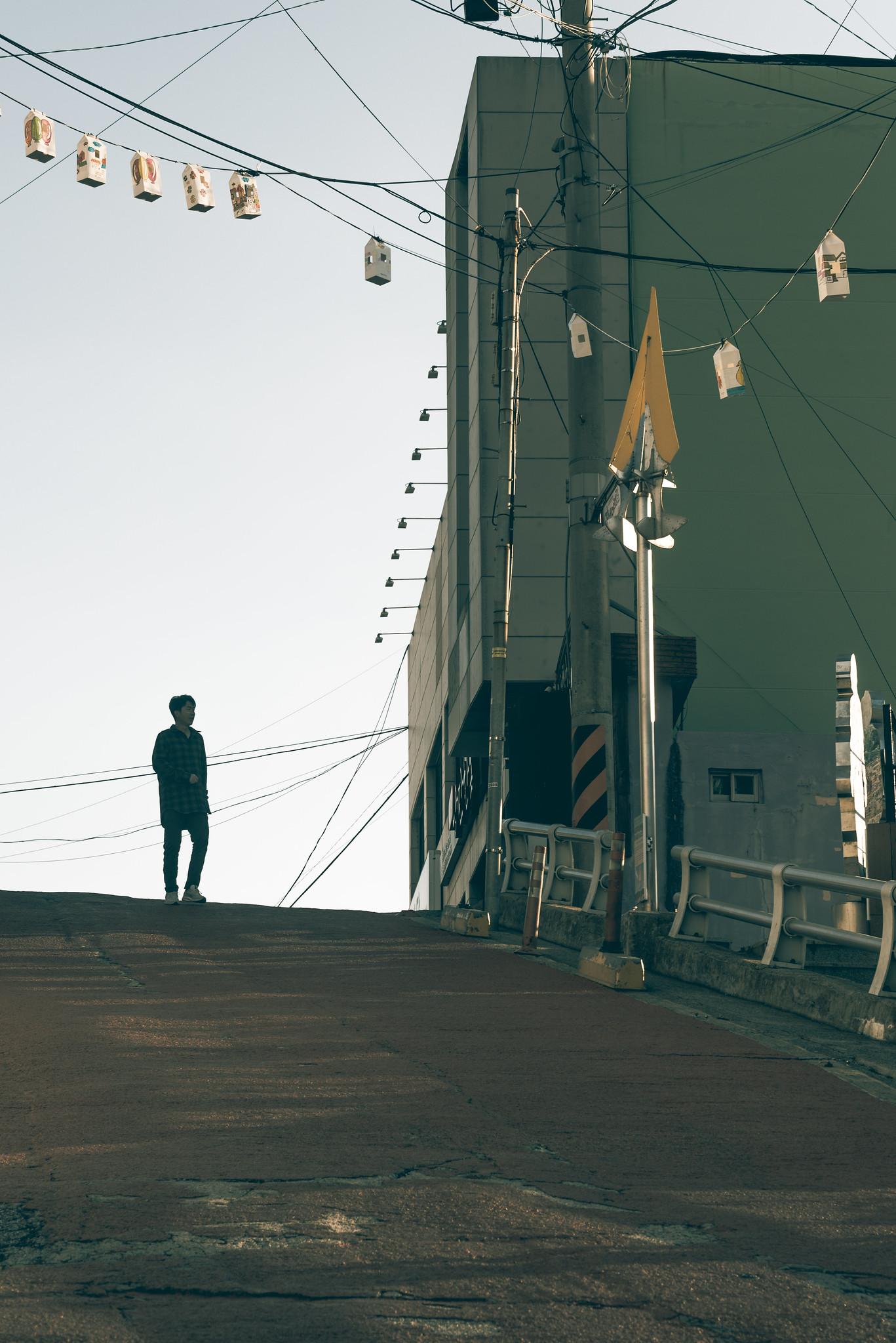 So here are a few typical photos of the Machu Picchu of Korea.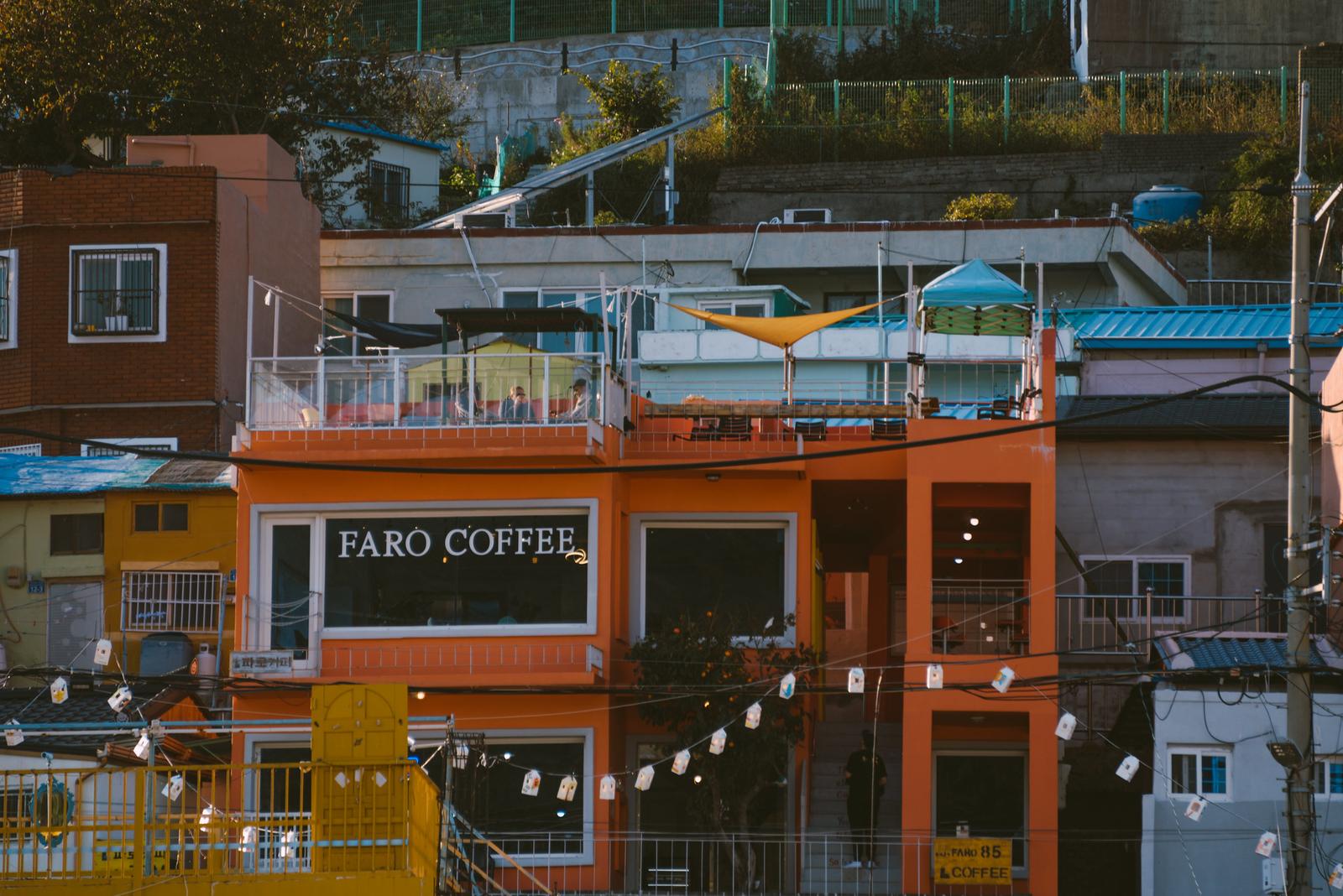 Gamcheon Sunset
The best catch should be at the time when I went back to Gamnae 2-ro, as the road became crowded with flocks of students and travelers arriving, turning to a very vibrant vibe around 4pm. Being alone in such situation was not easy, but it's also a benefit that I could just focus on my camera viewfinder like a hunter.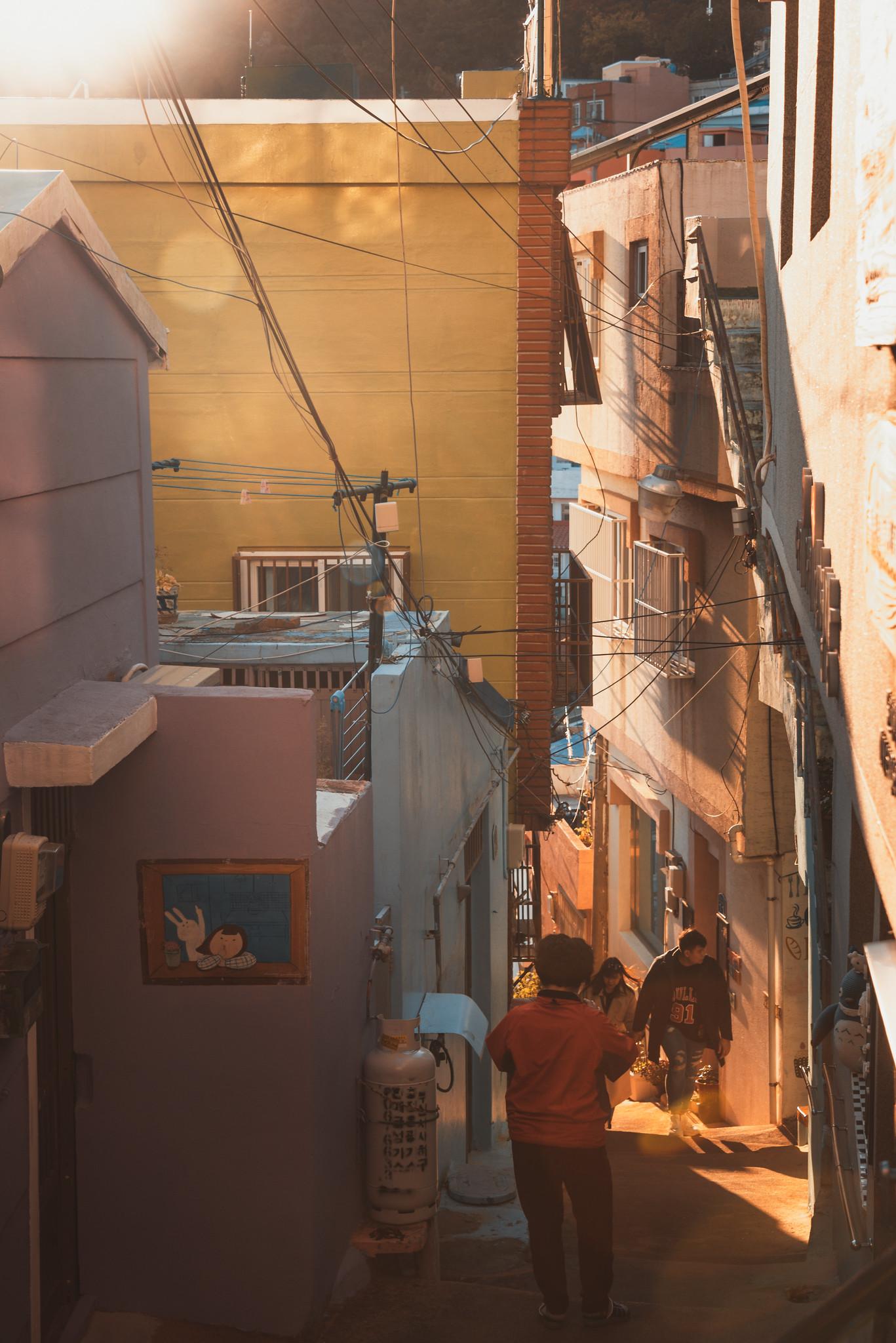 The village would be closed for tourists after 6pm in Mar - Nov, so it's just a swift transition between a lively scene to a tranquil, somehow melancholy sequel. I tended to return to the bus stop, but some inner voice incited me to go to a rooftop cafe by Okcheon-ro, as I could sense the treasure there. As a reward, that didn't disappoint me with the exclusive 360-view of the port at dusk (just that the hot Americano was a little bitter).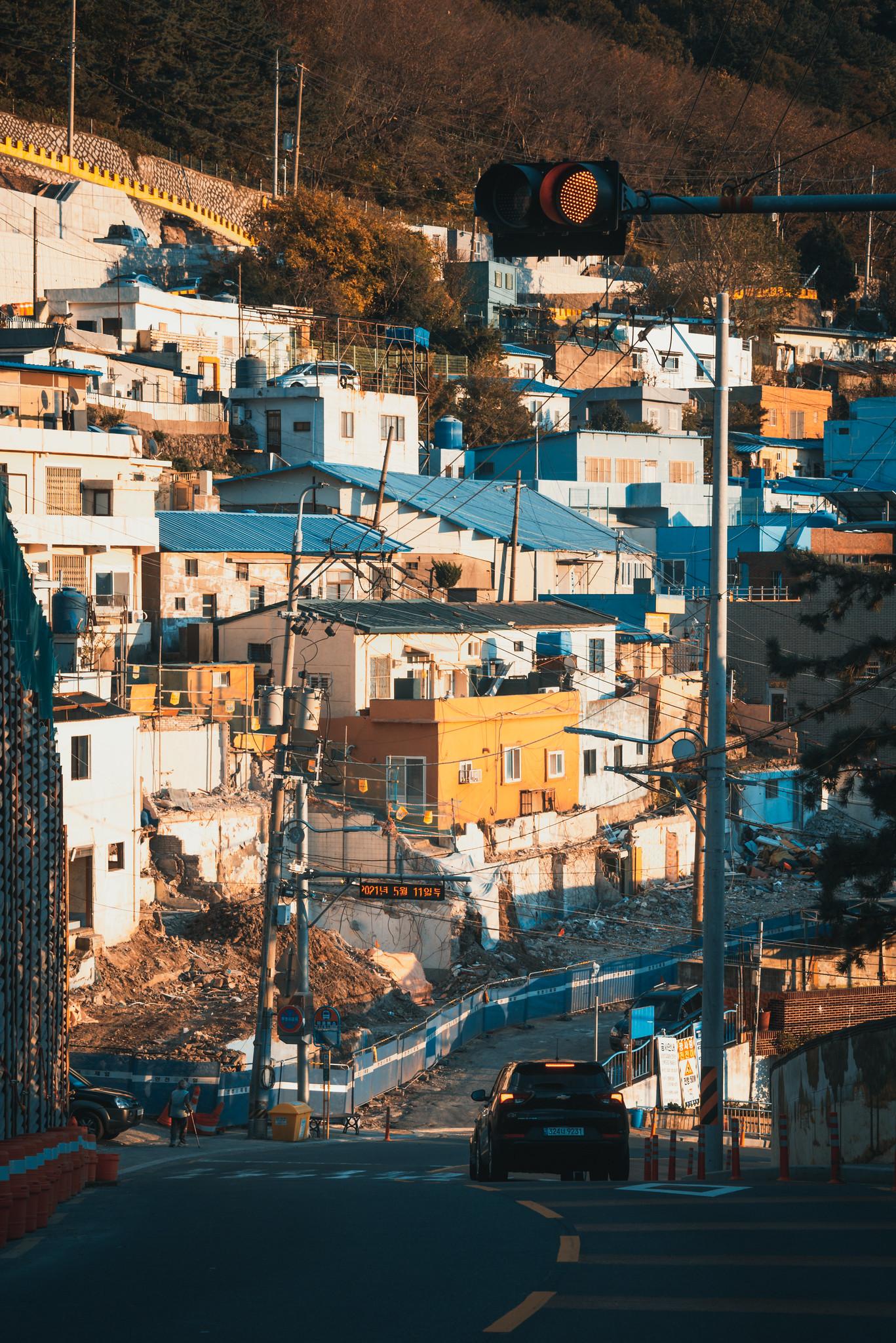 It's all about anticipation. The effort spent for waiting is what contributes into the value of the photo. Imagine standing on the rooftop alone, while wind was chilling, staying put for a moment of few minutes.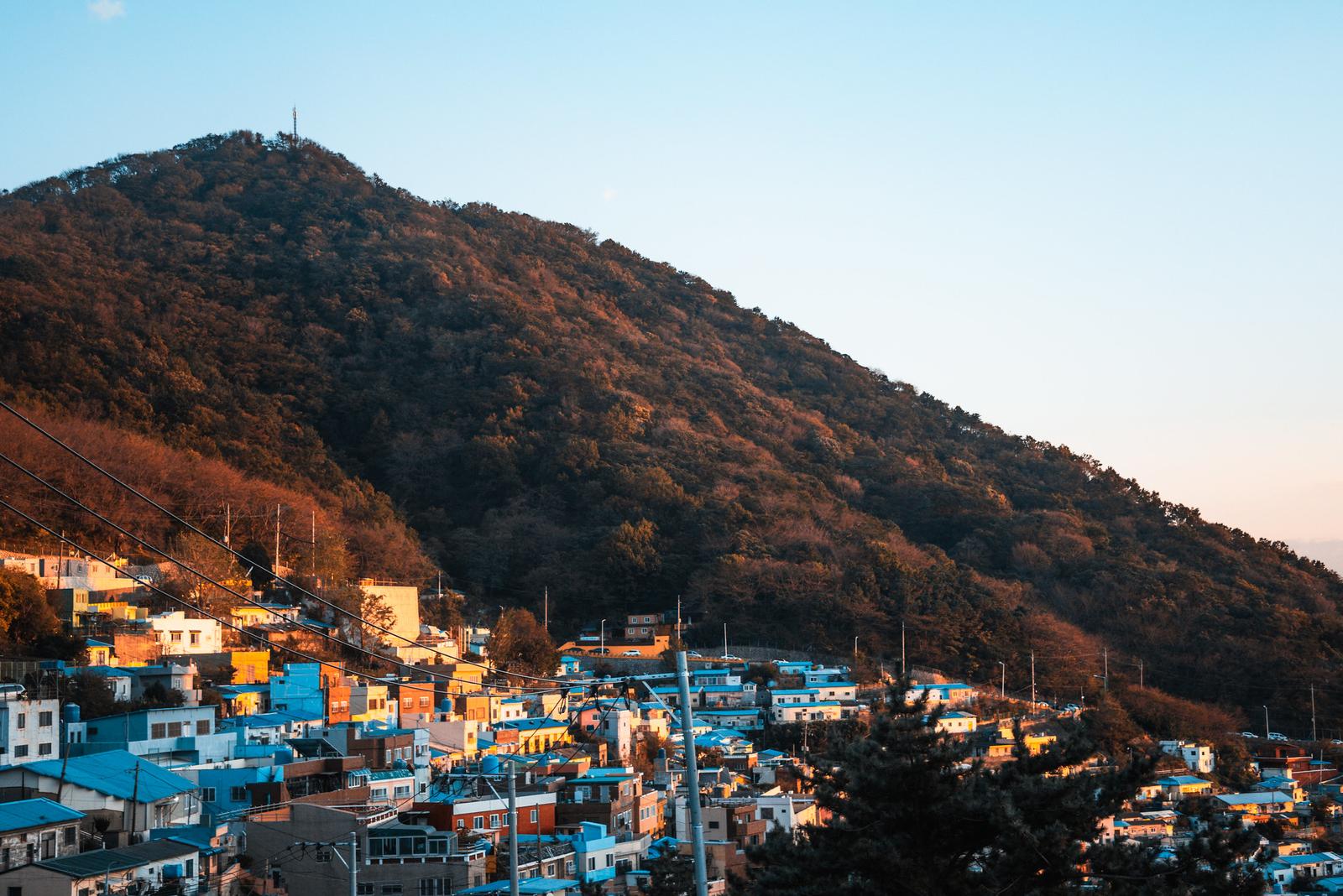 At the end, when the houses were lit, the scene was presented as the perfect place for minimalism photo. Such a wonderful harvest on the first day in Korea. Hmm, just that my sleep that night was constantly disrupted by automatic toilet flushes.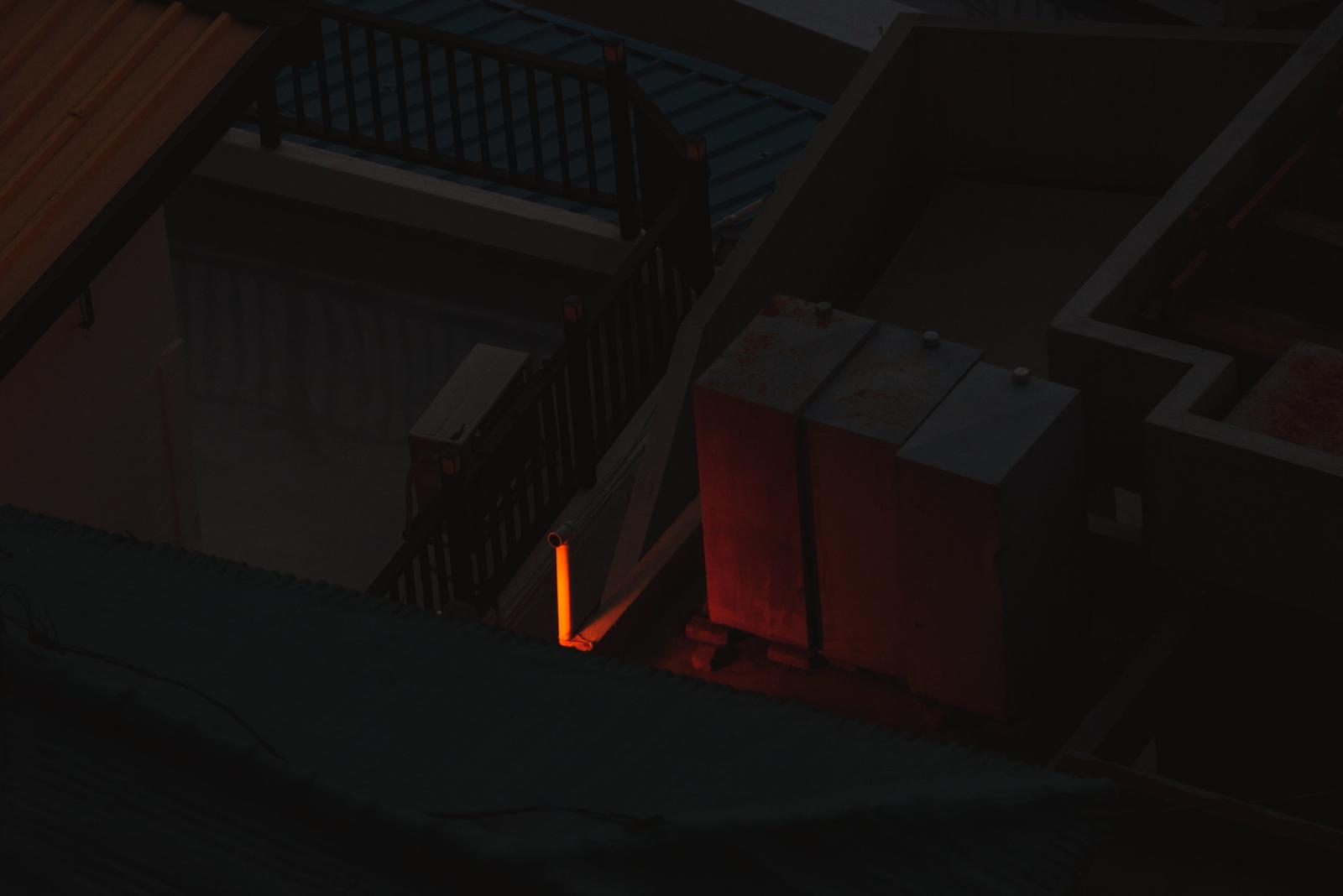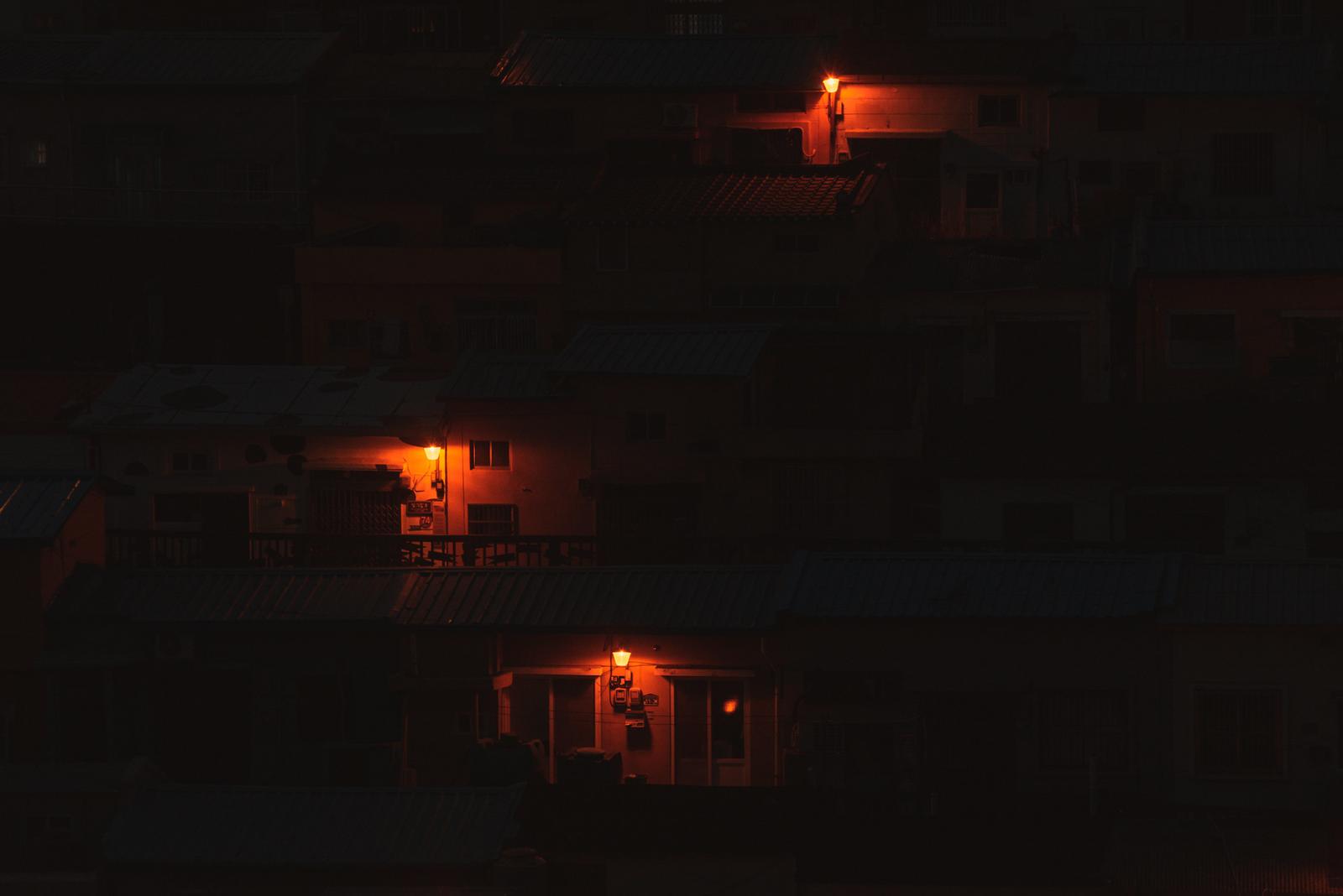 Eulsukdo Island
I came back to Busan after a spectacular stay in Gyeongju. For this time, I booked a hotel near Busan Train Station, which was near Busan Chinatown. My metro journey from Nopo Bus Station to Central Station in north-south direction, as well as the bus trip from Eulsukdo to Gwangalli in west-east direction sufficiently proved that the city sprawls over a large area. Each journey almost costed me 40 minutes to 1 hour on the passenger seat.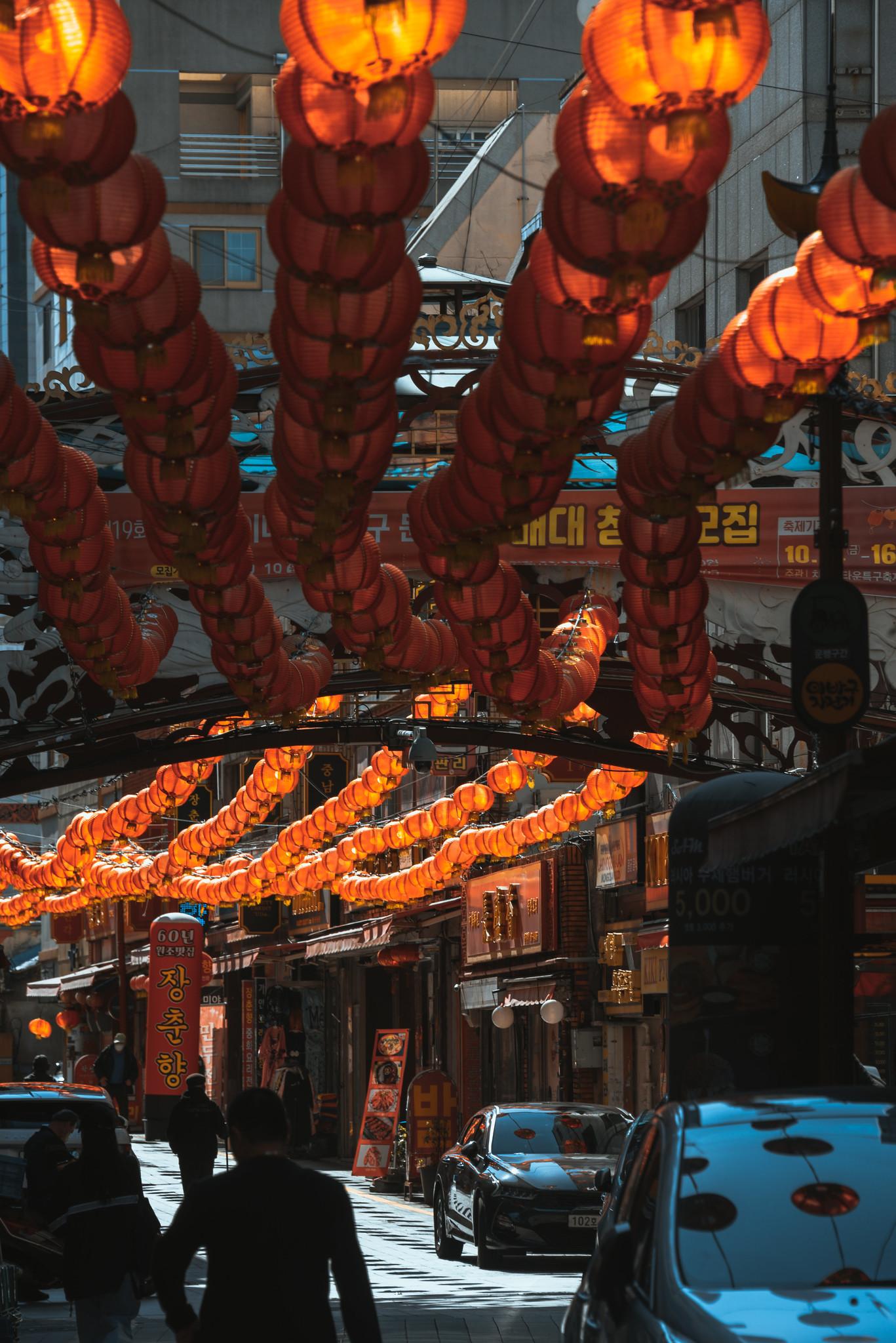 The hotel stay, if not mentioning the concealed stepped way which was a little hindering to first-time visitor, was amazing (for an introvert backpacker). No complicated check-in process, no over-friendly services, just an amiable owner and spots for private chilling-time. I could enjoy my kimchi noodles bought from an emart-24 nearby, and then find myself in a mini library corner on the mezzanine, without anyone noticing. That's where I could read a book about Hangul and its father, king Sejong (세종) the Great.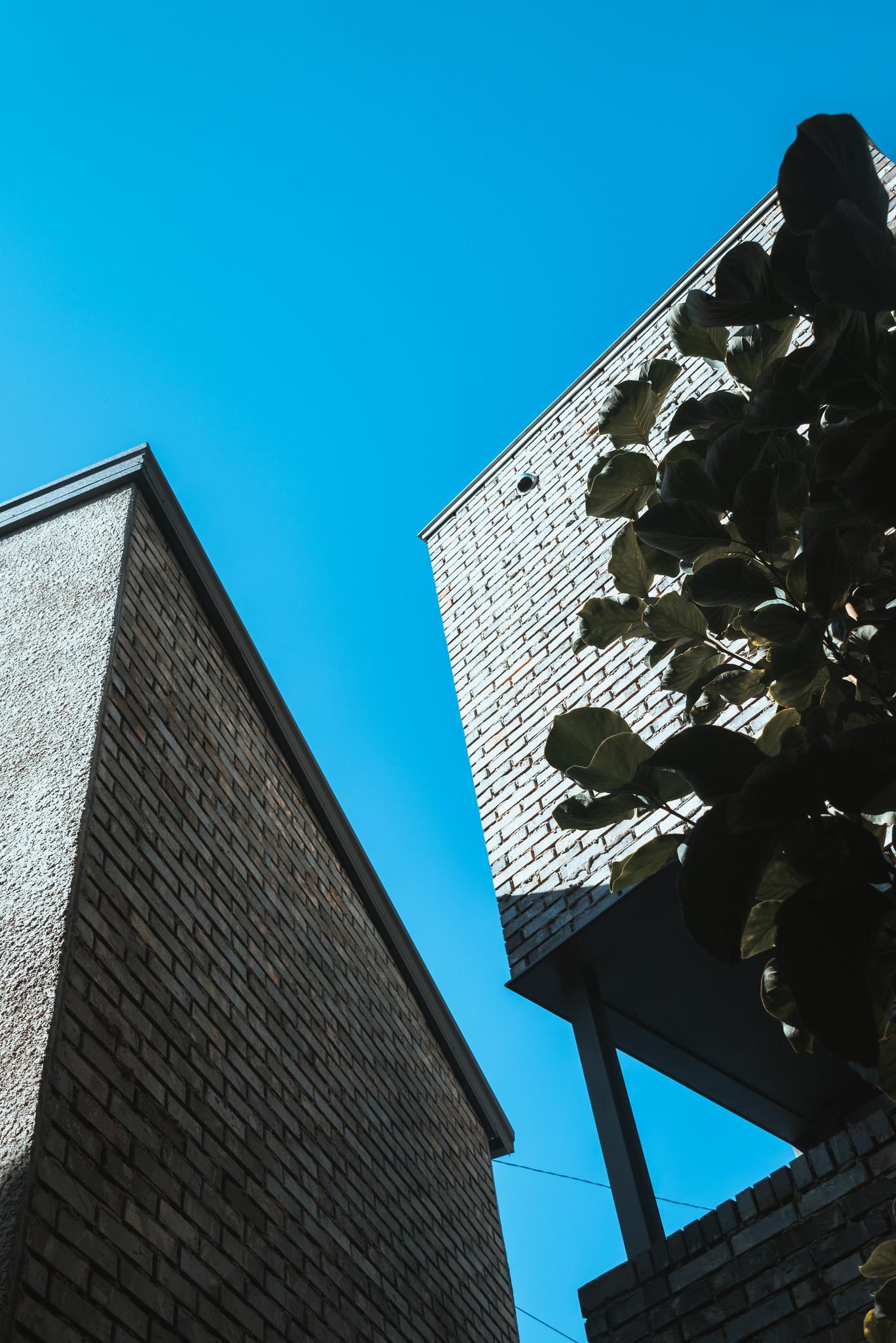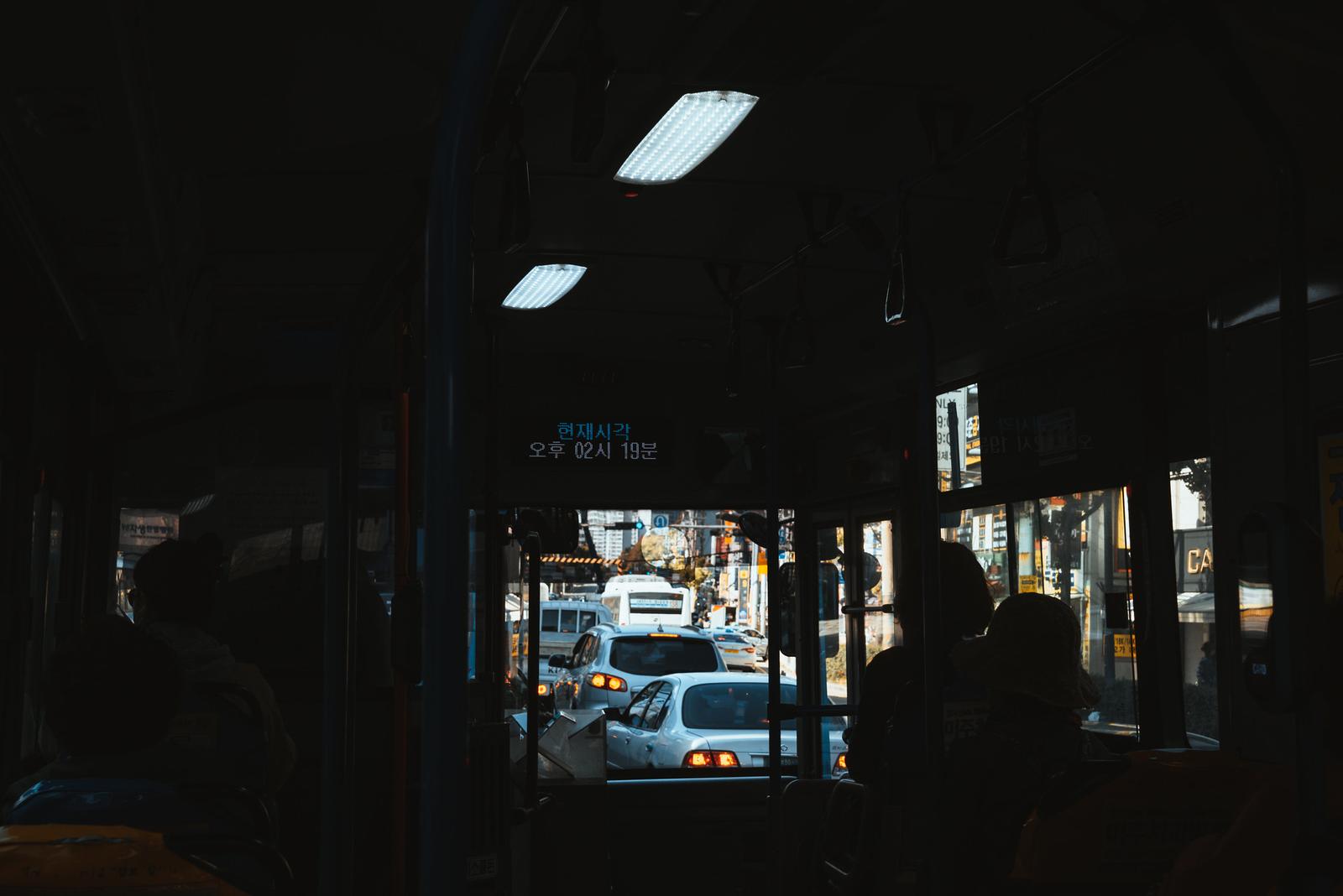 Perhaps the reason to go for Eulsukdo (을숙도) Island in such a sunny afternoon was the online photos of reed grass field. However, the place was so-so (if you enjoy hiking, biking or picnicking, it's ideal to be there); there're so many other beautiful reed grass wetlands, if you have time to ride along the south coast, such as Suncheon (순천).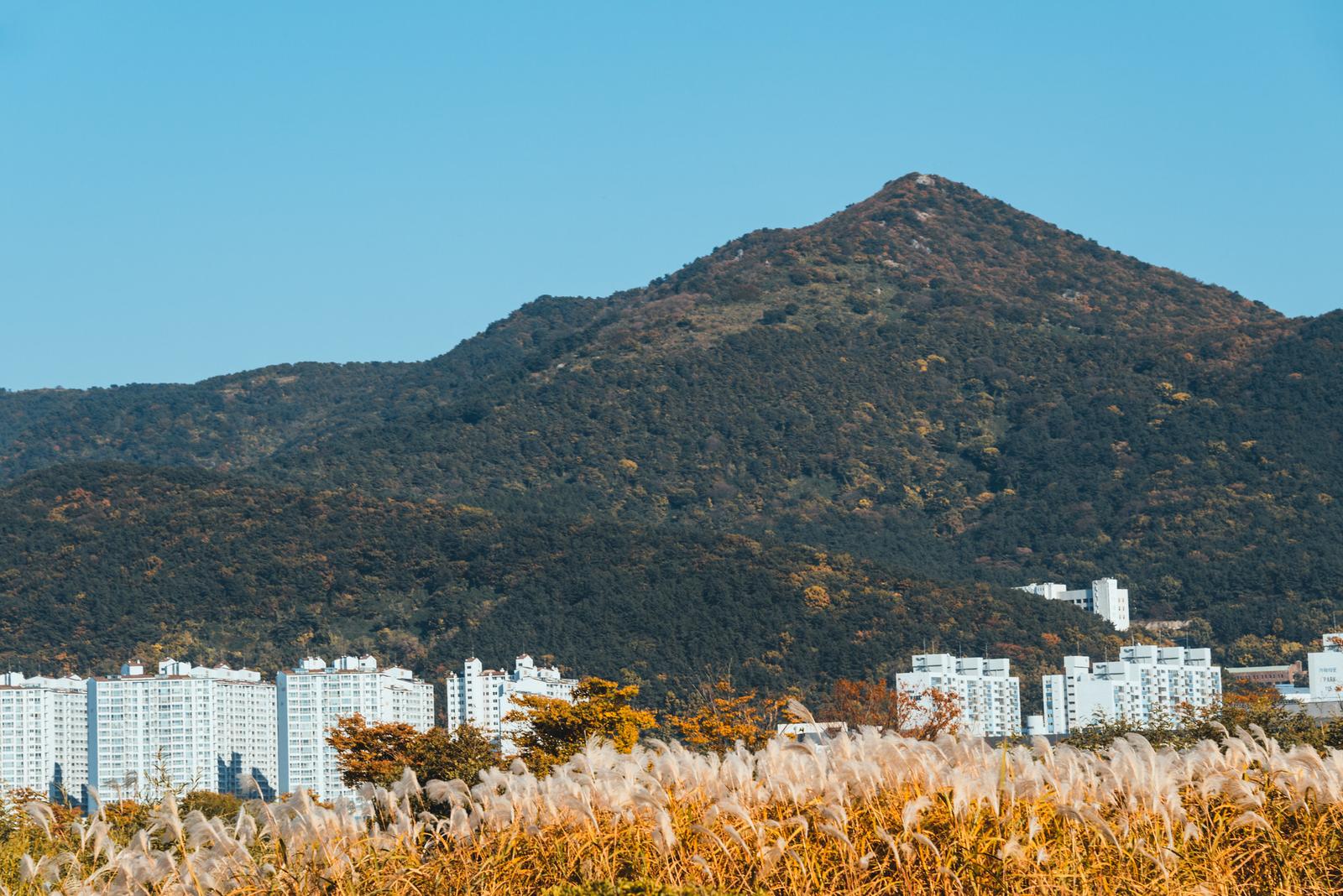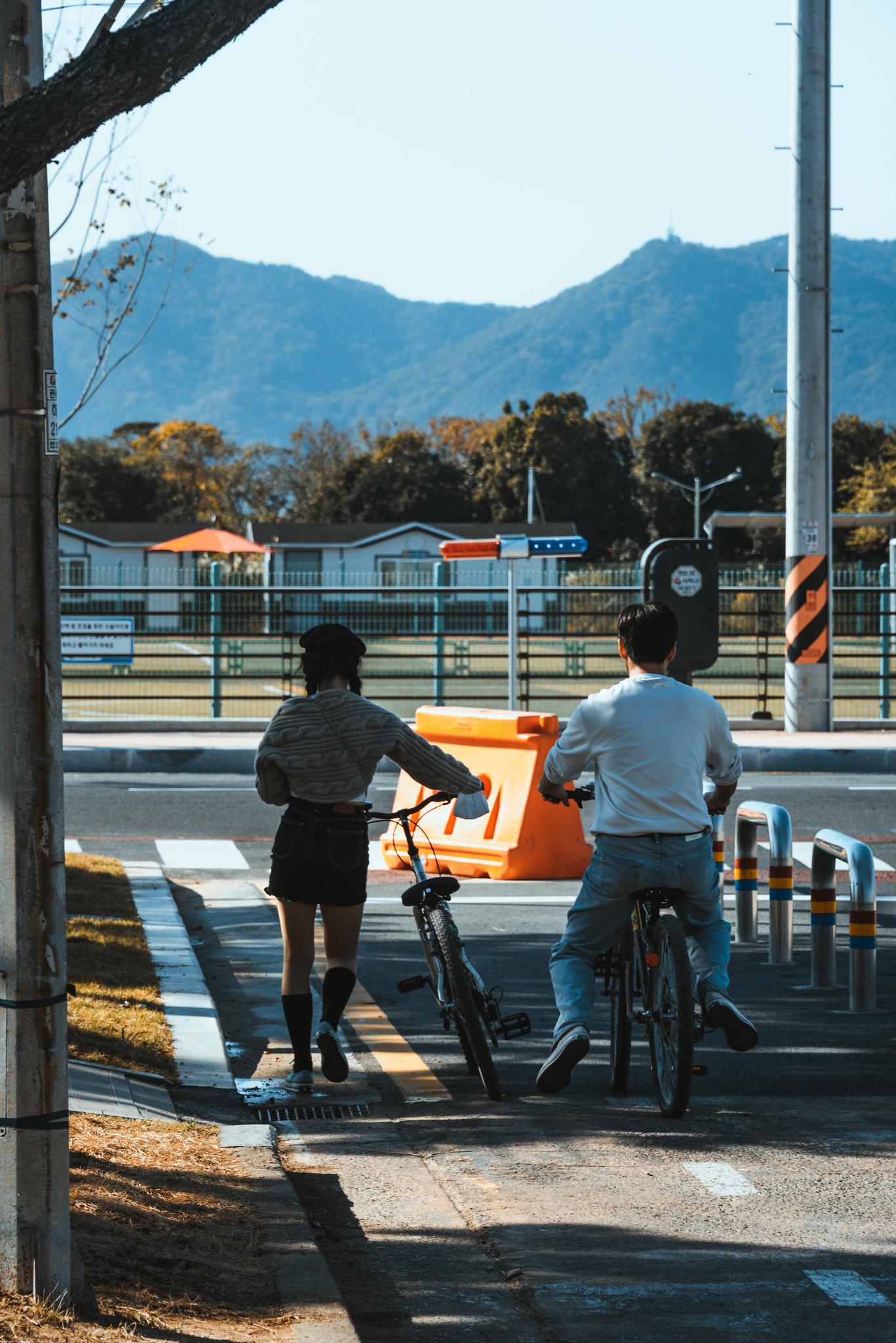 Gwangalli Beach
It's 3:30pm and I needed to hurry up for the bus to Gwangalli (광안리) Beach. Turned out to be 1 hour in a packed bus moving slowly at rush hour, but that's not a big problem to immerse myself into the local life for a few hours (though not knowing whatever they said, I pretended to understand the instruction, such as to alight on front door due to back door glitch).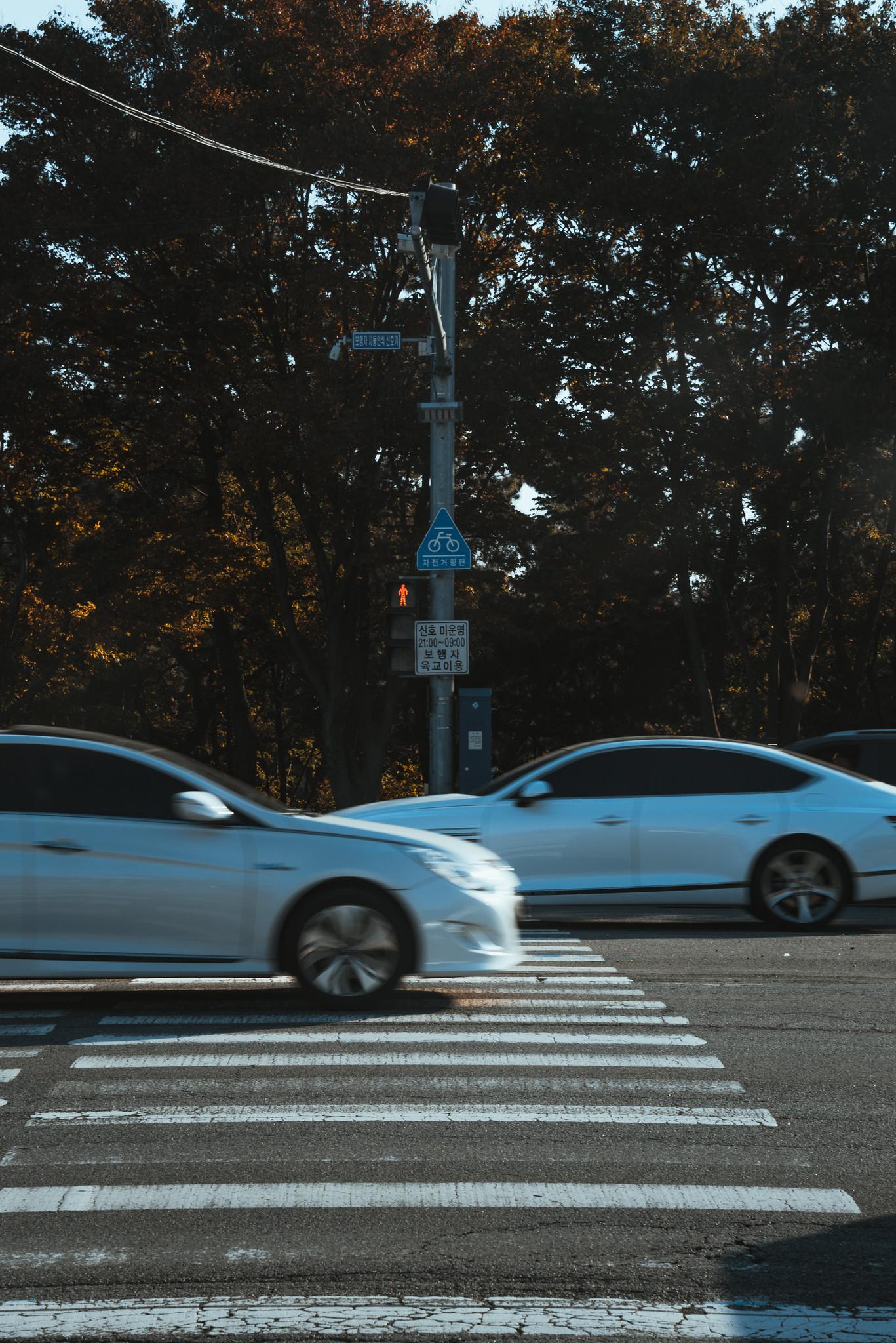 I'm a Korean music listener, but strangely my favorite melodies were not playing in my ears at such a special time. Just real Korean conversation.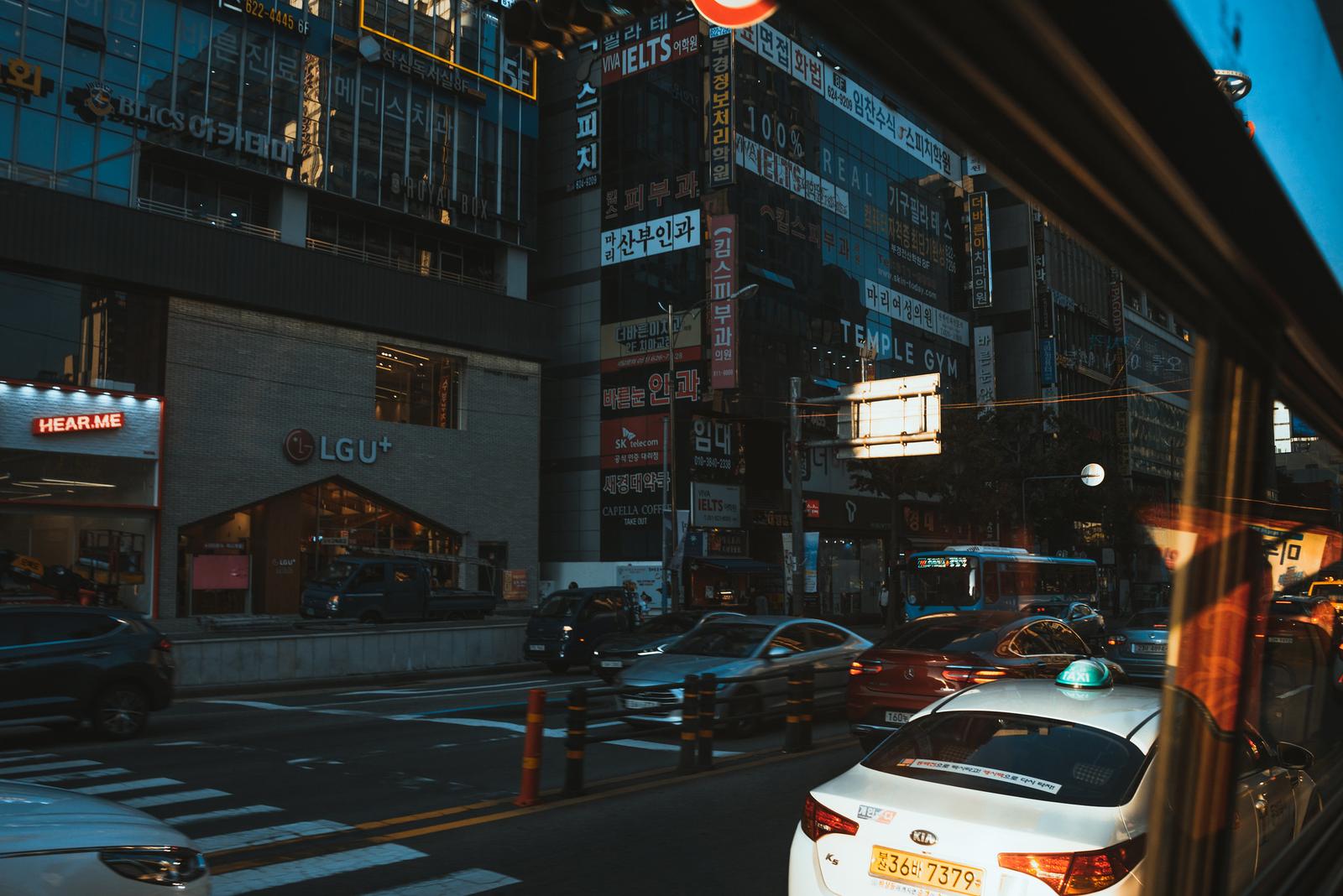 Finally I could reach a stop near Gwangalli Beach, which required me to walk further down the hill to see the sea. Such an awesome vibe to chill with some lo-fi songs.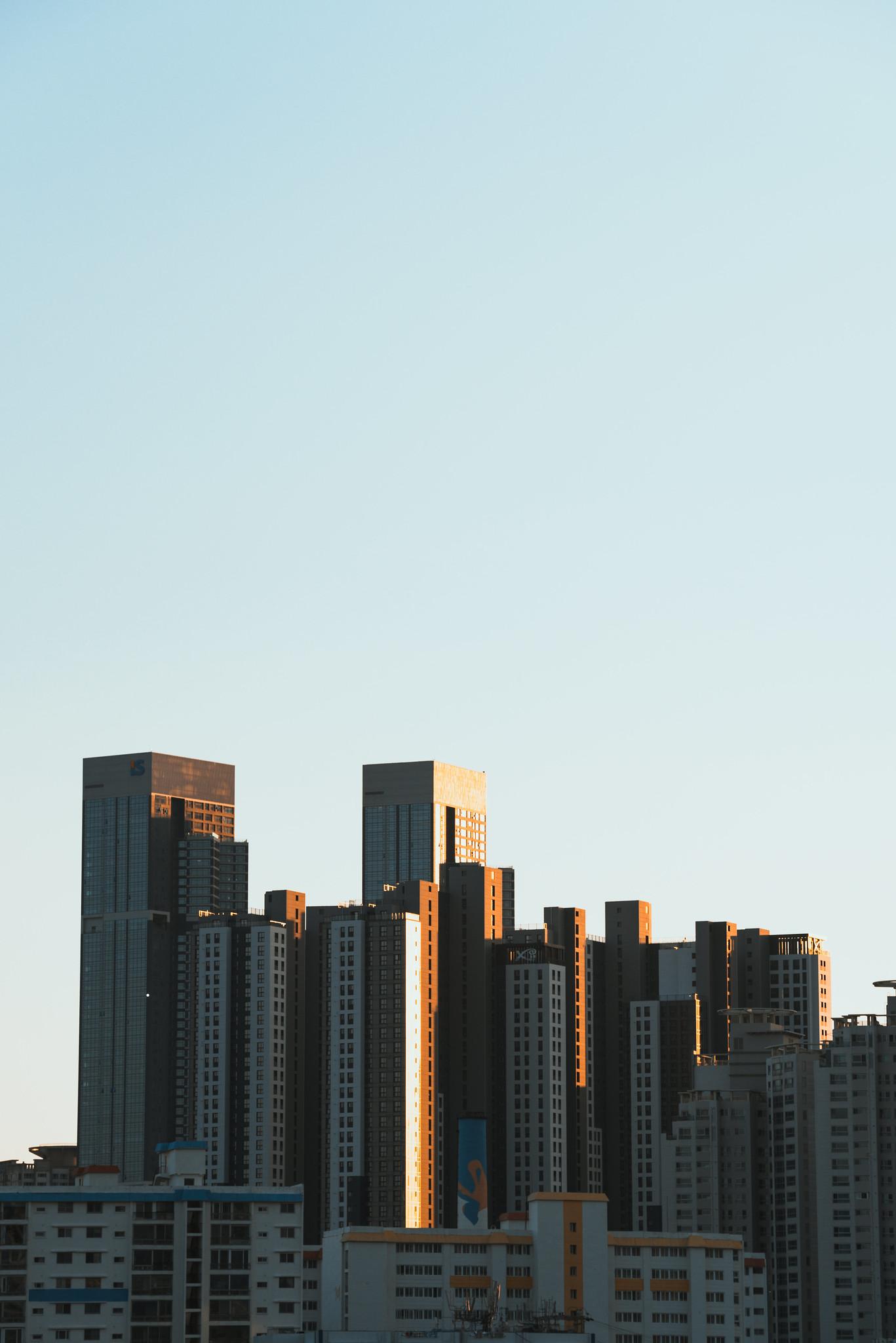 A characteristic feature of the location is Gwangan Bridge, the 2nd-longest bridge in South Korea after Incheon Bridge. You may not get bored at viewing it throughout the whole sunset, as the scene has its shades transformed through different color phases.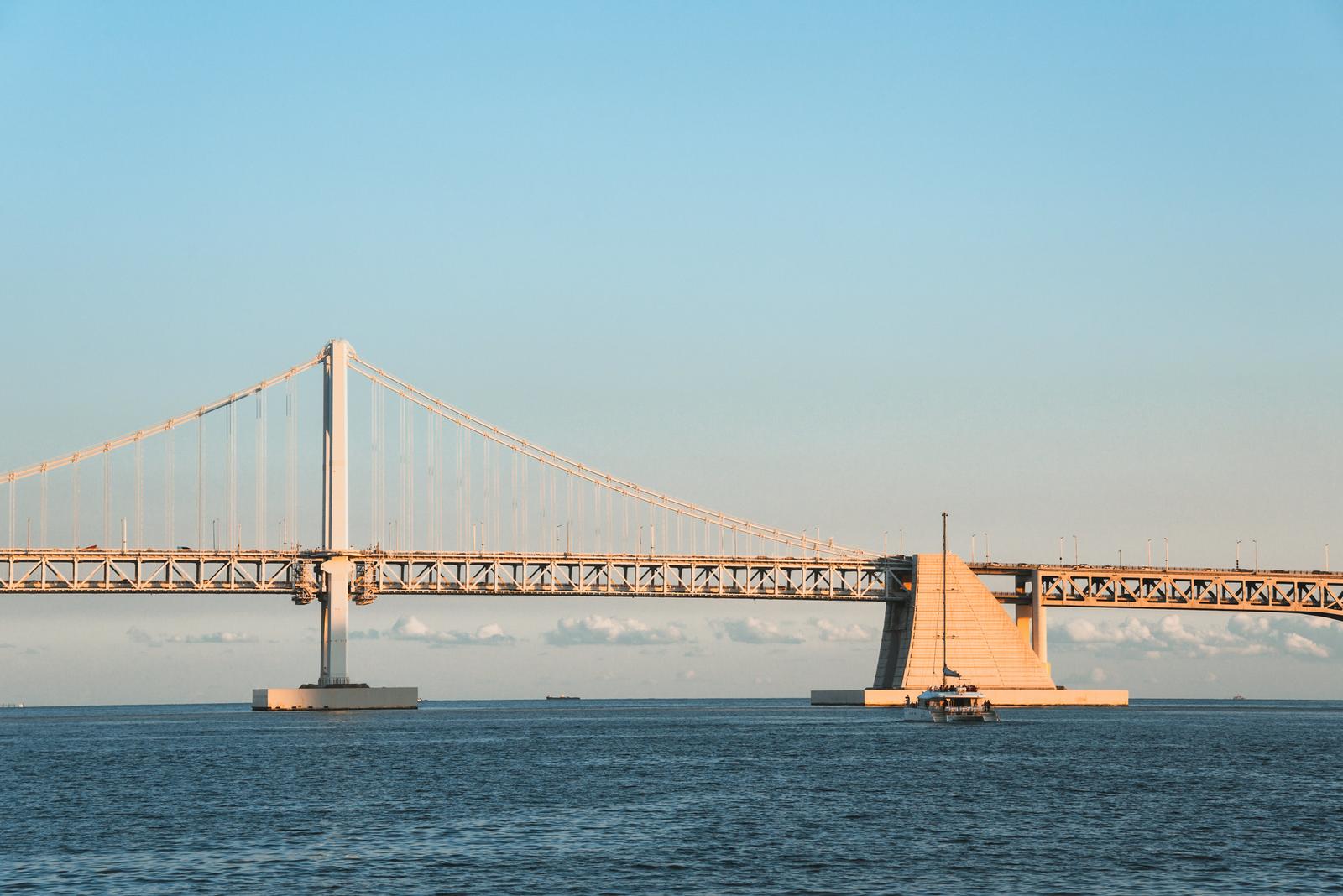 Last but not least, I feel so thankful for the autumn sunset that helped me taking such cinematic shots. It had been a long time to meet again, my traveling season.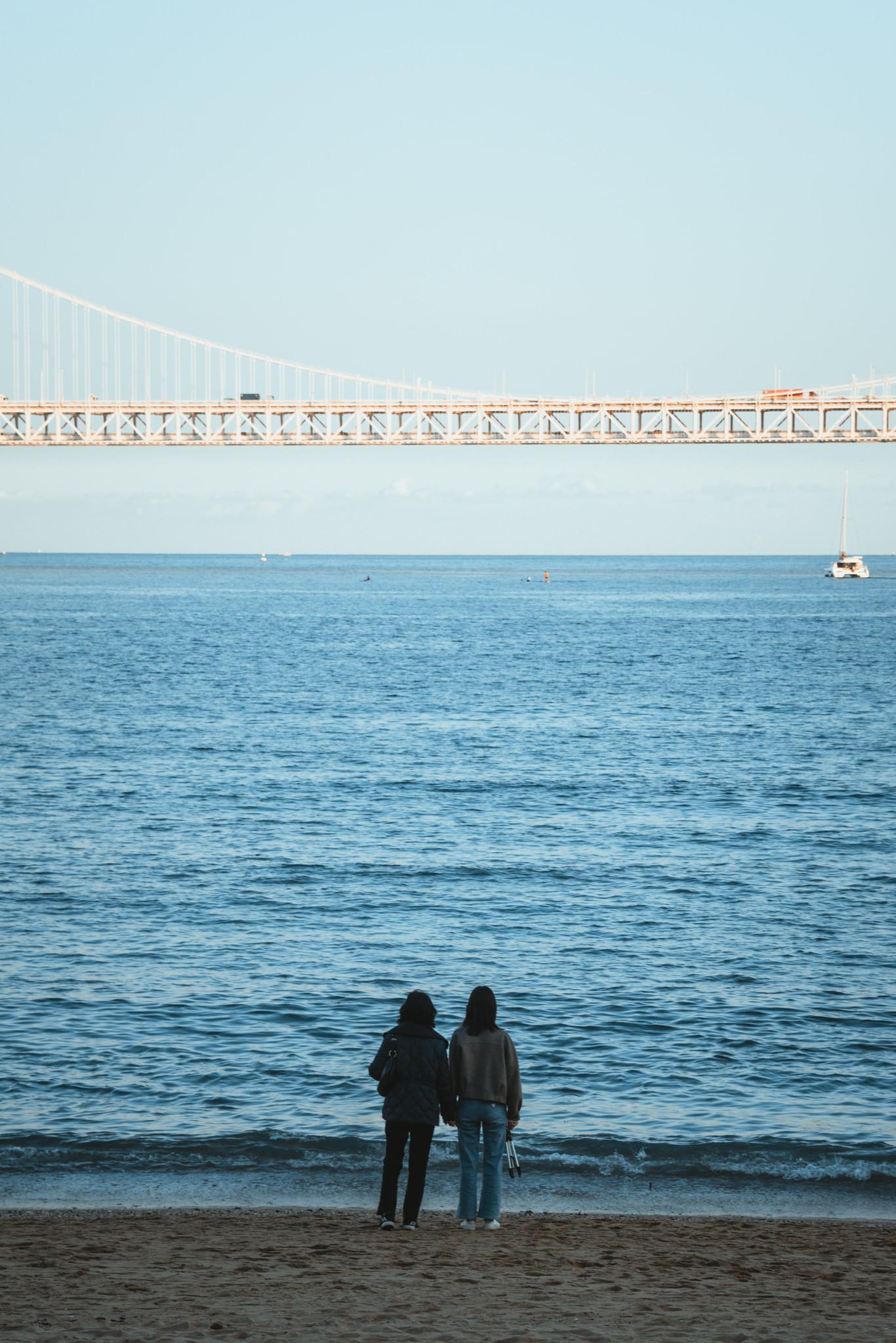 I will make an exception this time. All the chilling photos, taken by me the lonely eyes, will be deserving of getting on stage here.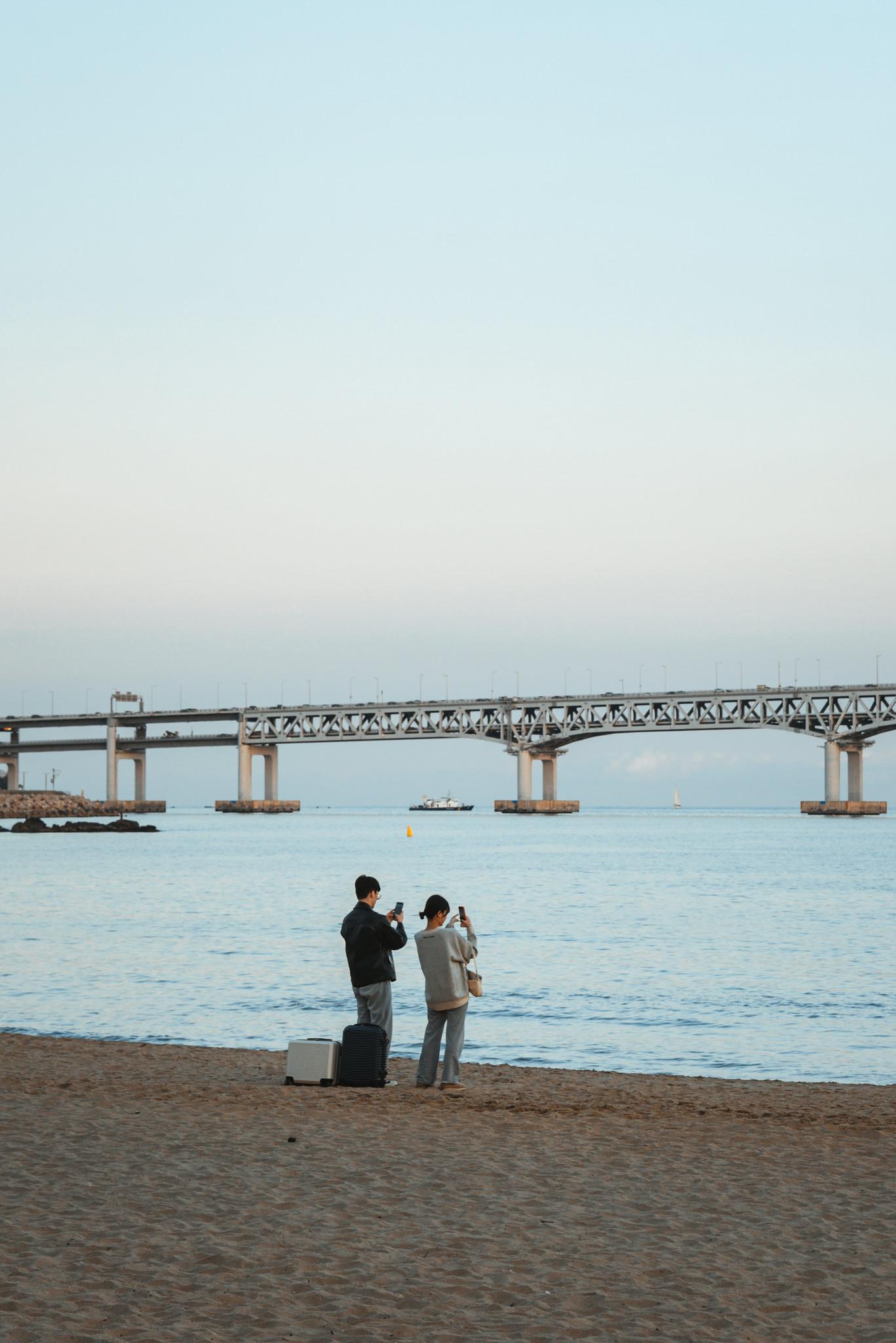 Time to get off to Gwangan station to catch the train back to my hotel. Goodbye, Gwangalli, a place for couples and grooving youngsters, where I had found such a big joy catching moments.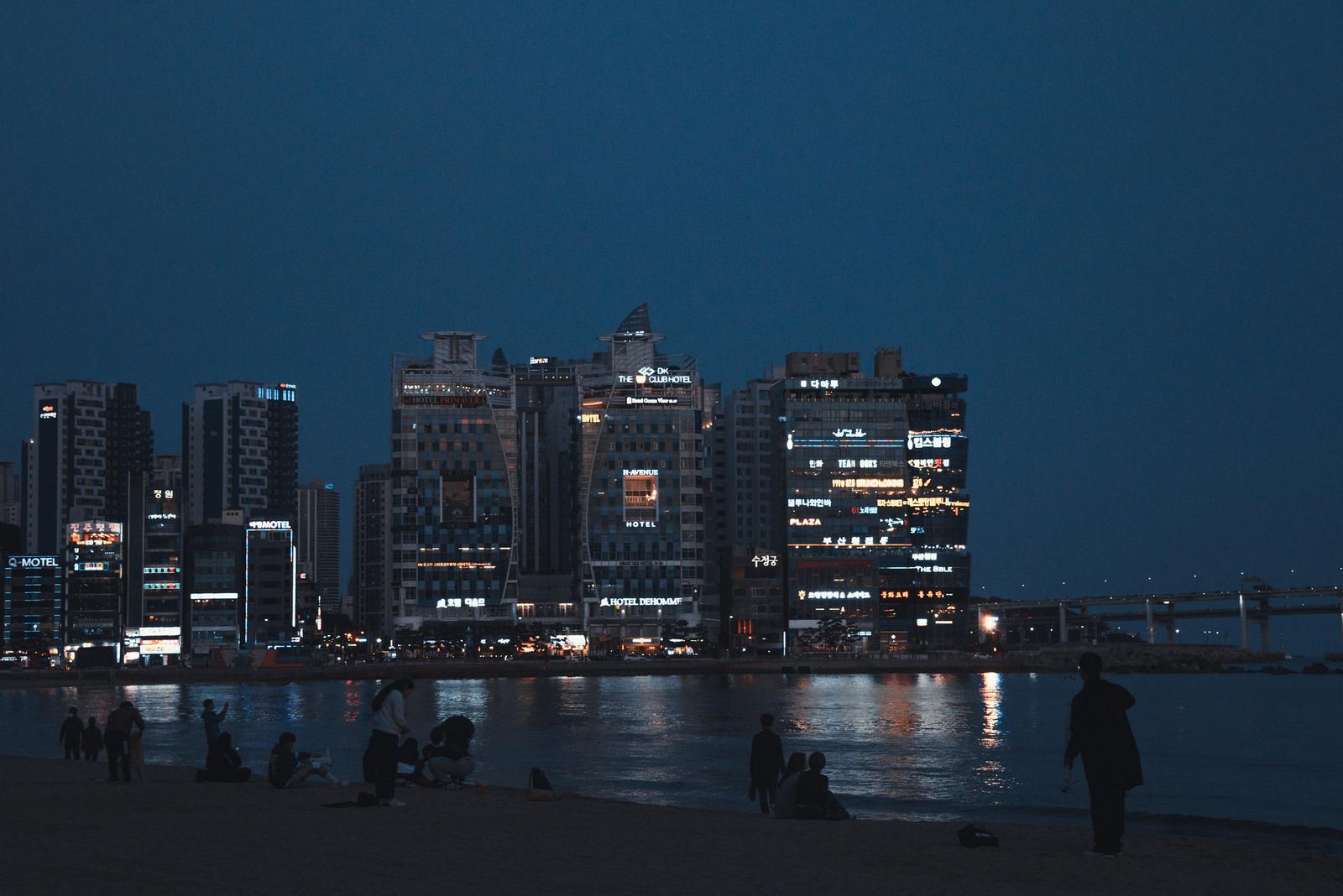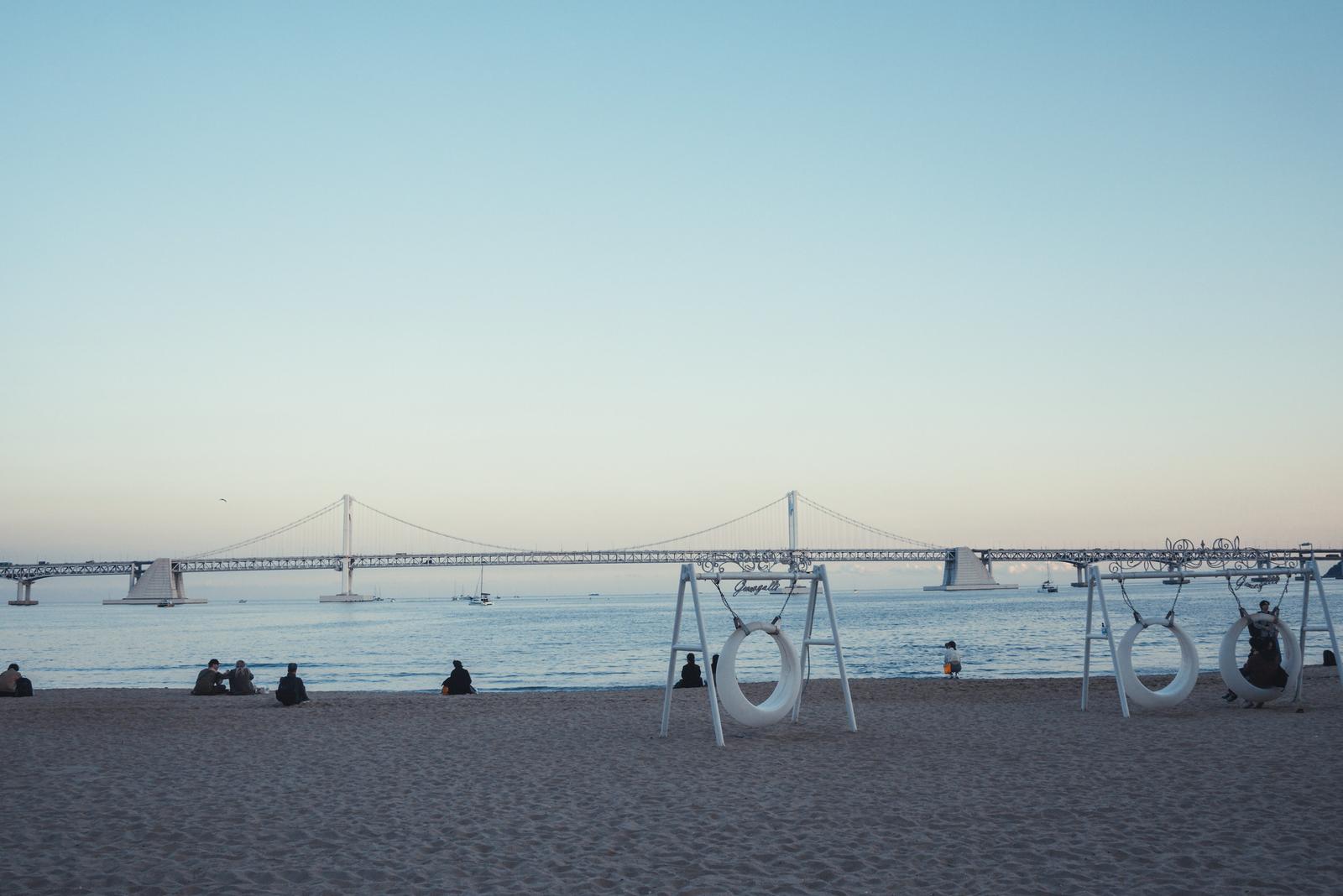 Jukseong Dream Filming Site
On the last day in South Korea, after a short trip to Ulsan and on my way back to Busan via Donghae Line (Taehwagang to Bujeon), I stopped by Jukseong (죽성) Dream Filming Site at Gijang (기장). Actually I could have visited the highlighted Haedong Yonggungsa Temple (해동용궁사), located at OSIRIA Station either, but that's too much of pagoda visit for a few days so I chose something off track.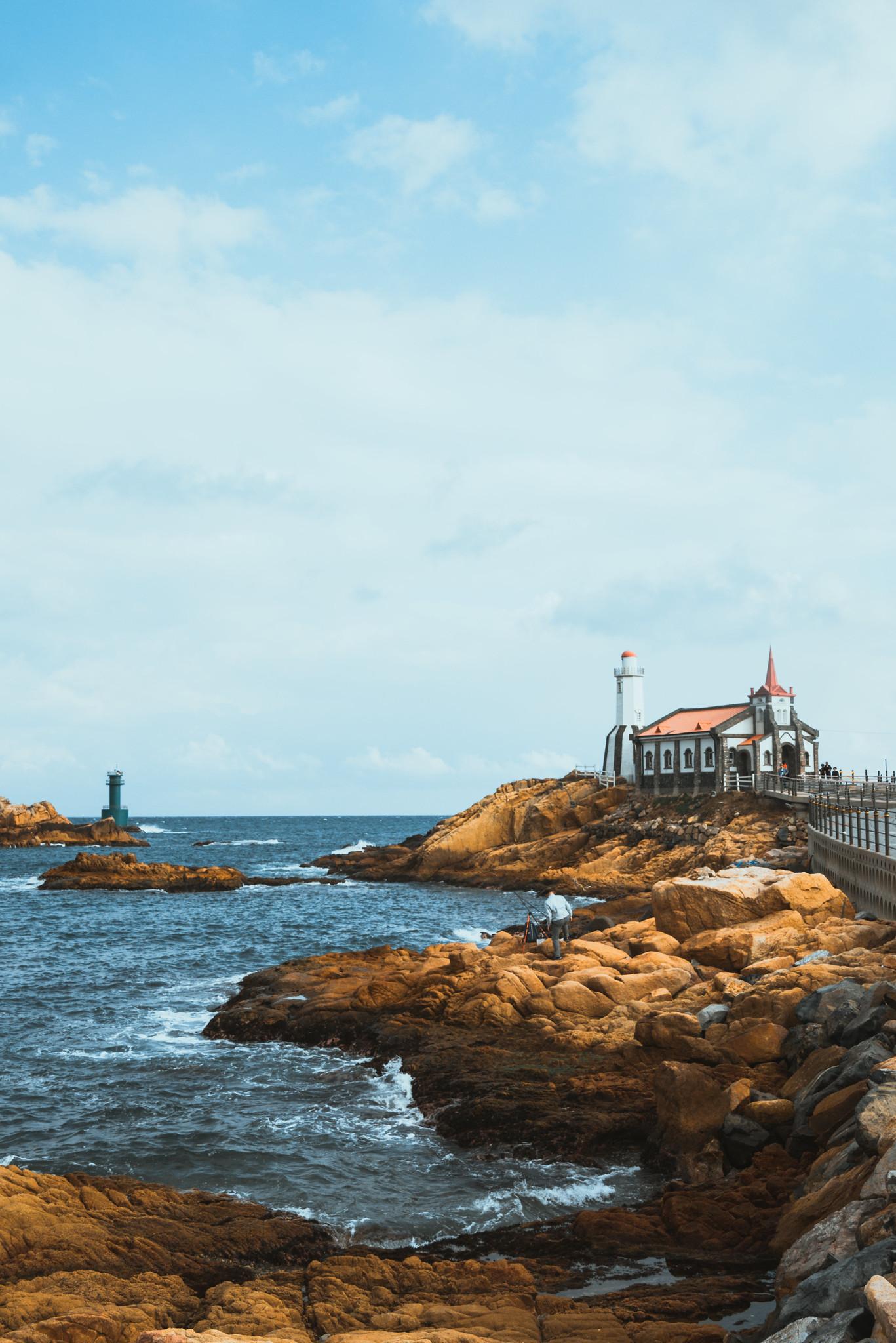 The building, which resembles a church, was just a shooting location for Korean drama Dream (2009). The locals and visitors have loved it so much that it has been kept thereafter. Gijang is actually an ideal filming spot for many other movies, thanks to its great view towards East Sea and brilliant seaside hiking trail.
The place still bears some rural atmosphere with almost no vehicle on the street, just some particular Korean-style coffee houses and a market selling seafood nearby. That's a great chance to enjoy the nature, the sea, do the fishing and release your stress by shouting into the air.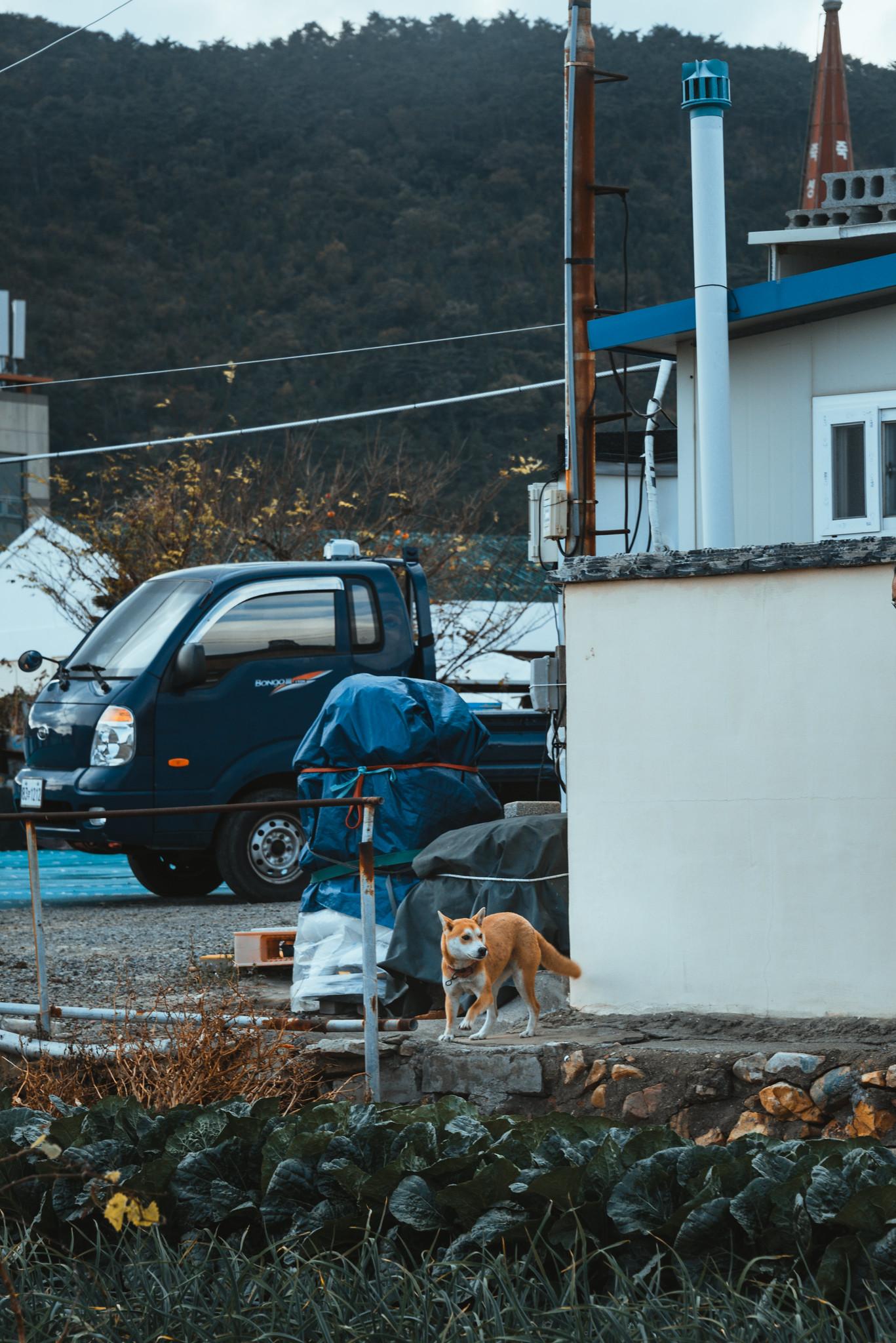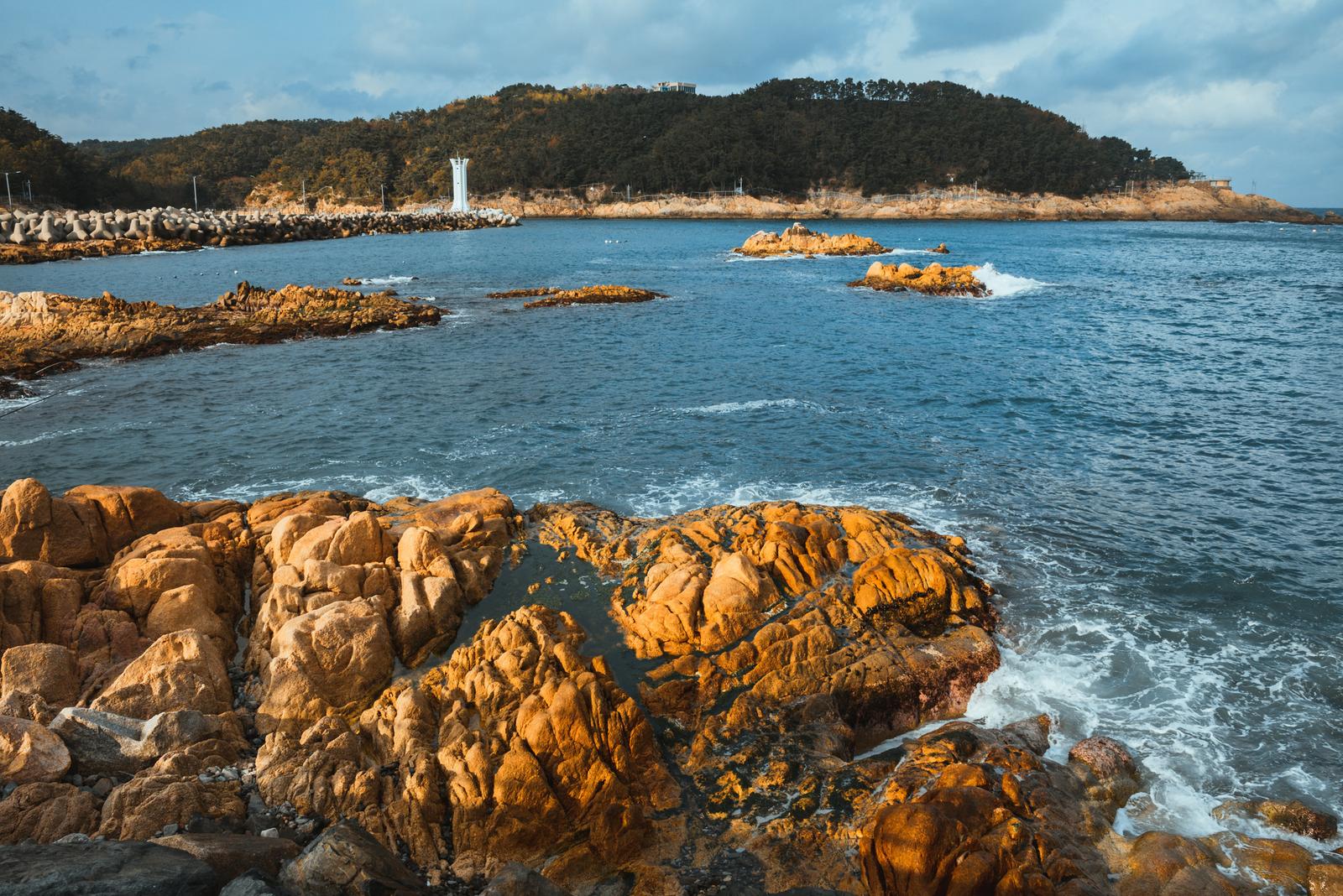 A Wanderer's Capture
The proudest part is not my shots at some specific time and specific place, but those random encounters while wandering across the city. An intersection at night, a dim light radiated from the coffee shop, those were all the materials to build up my dearest album ever.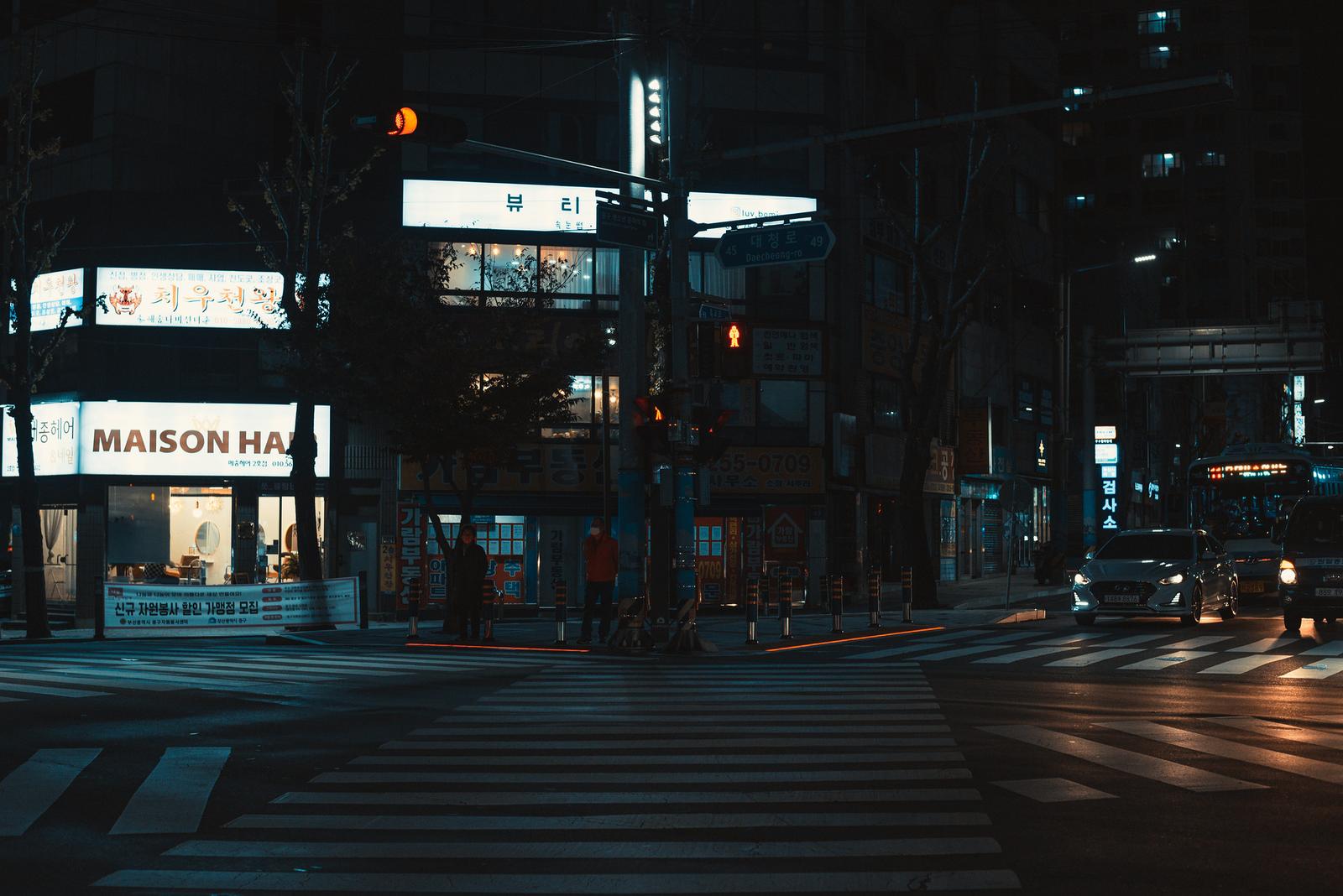 From the stairs in a station…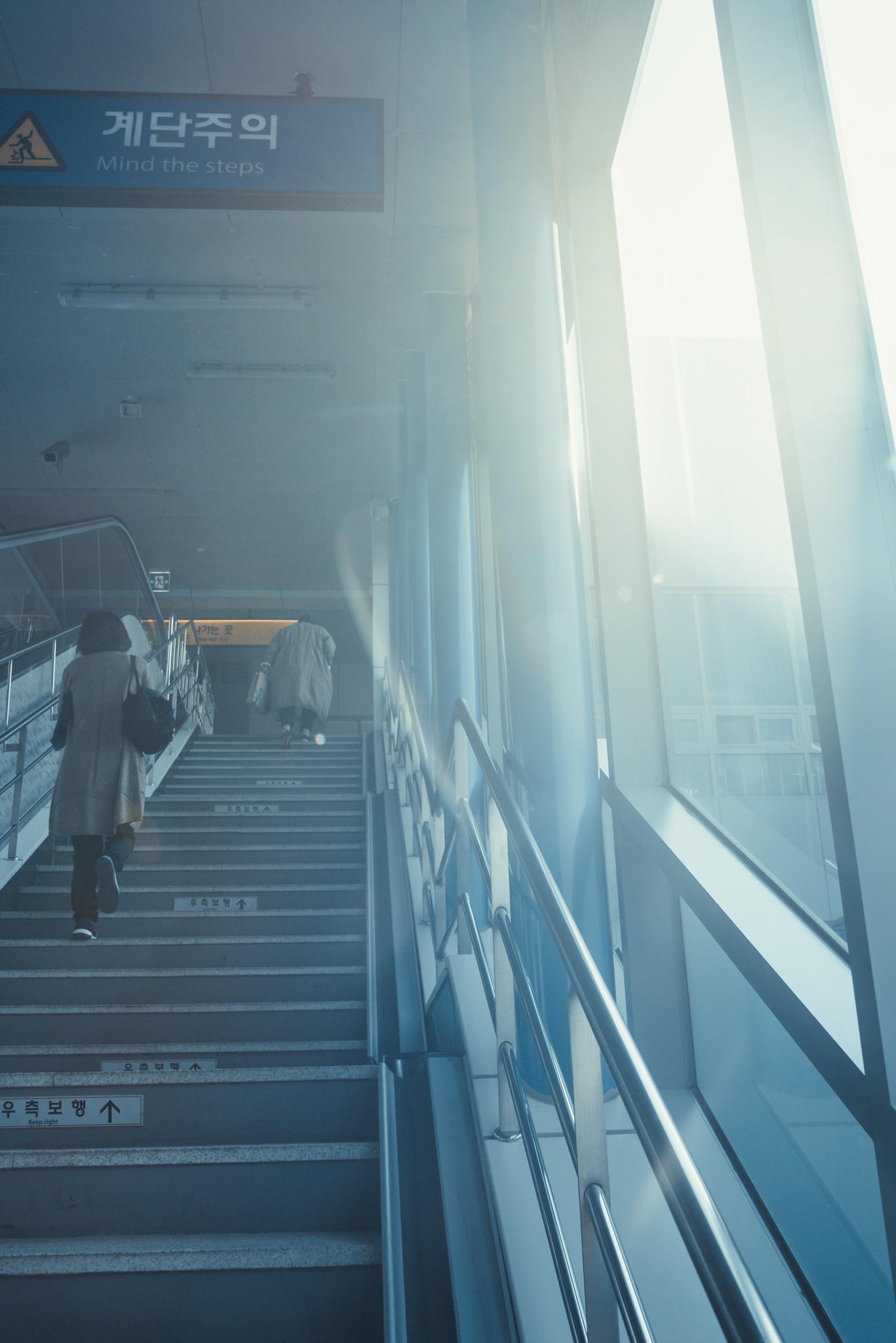 …to lively streets along Bujeon (부전) - Seomyeon (서면) direction.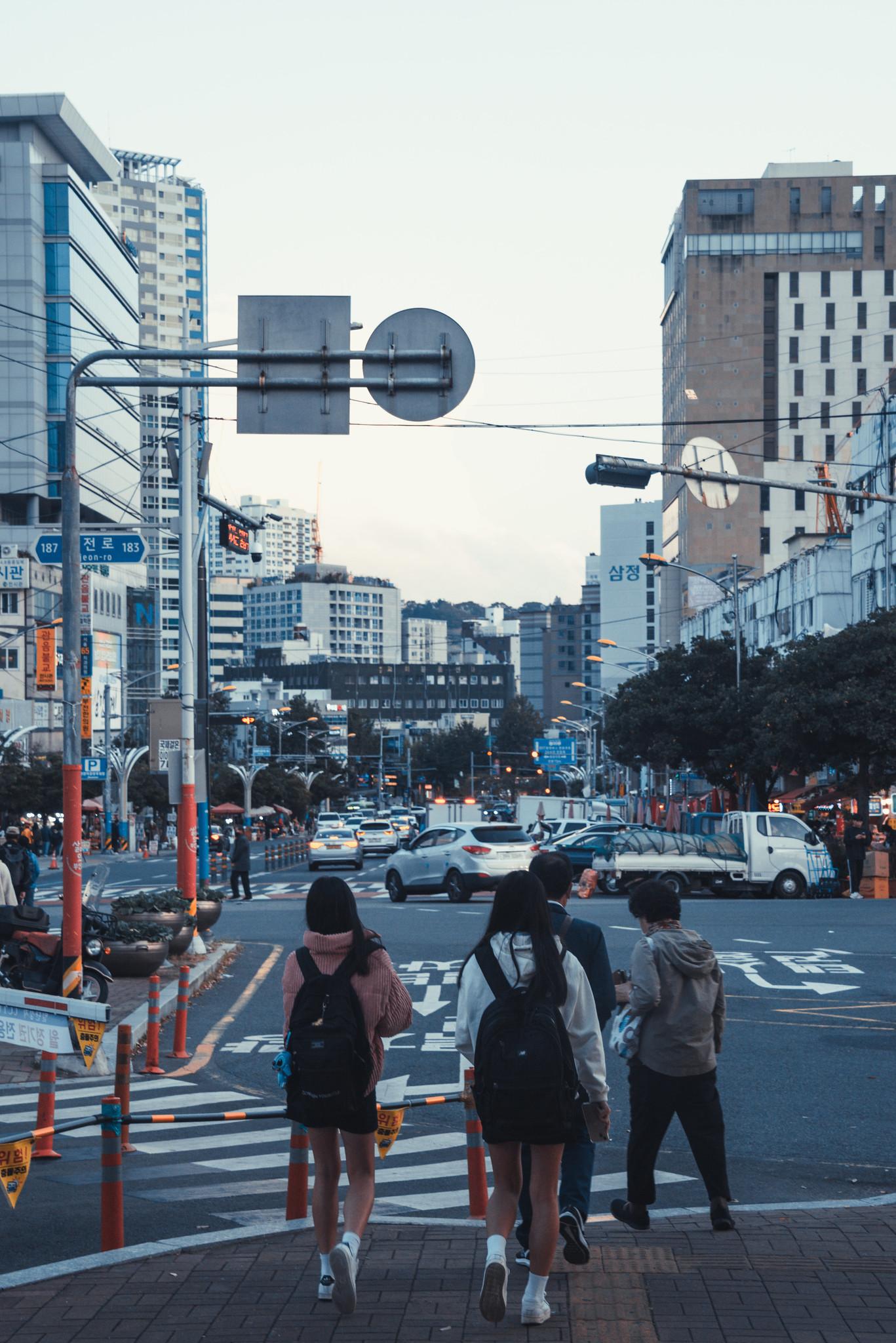 I was mumbling to myself the mimicked sound of train announcements, each stop, each name; surrounded by masked Koreans pinning their eyes to the phones in rush-hour metro, that naturally became a weird hobby.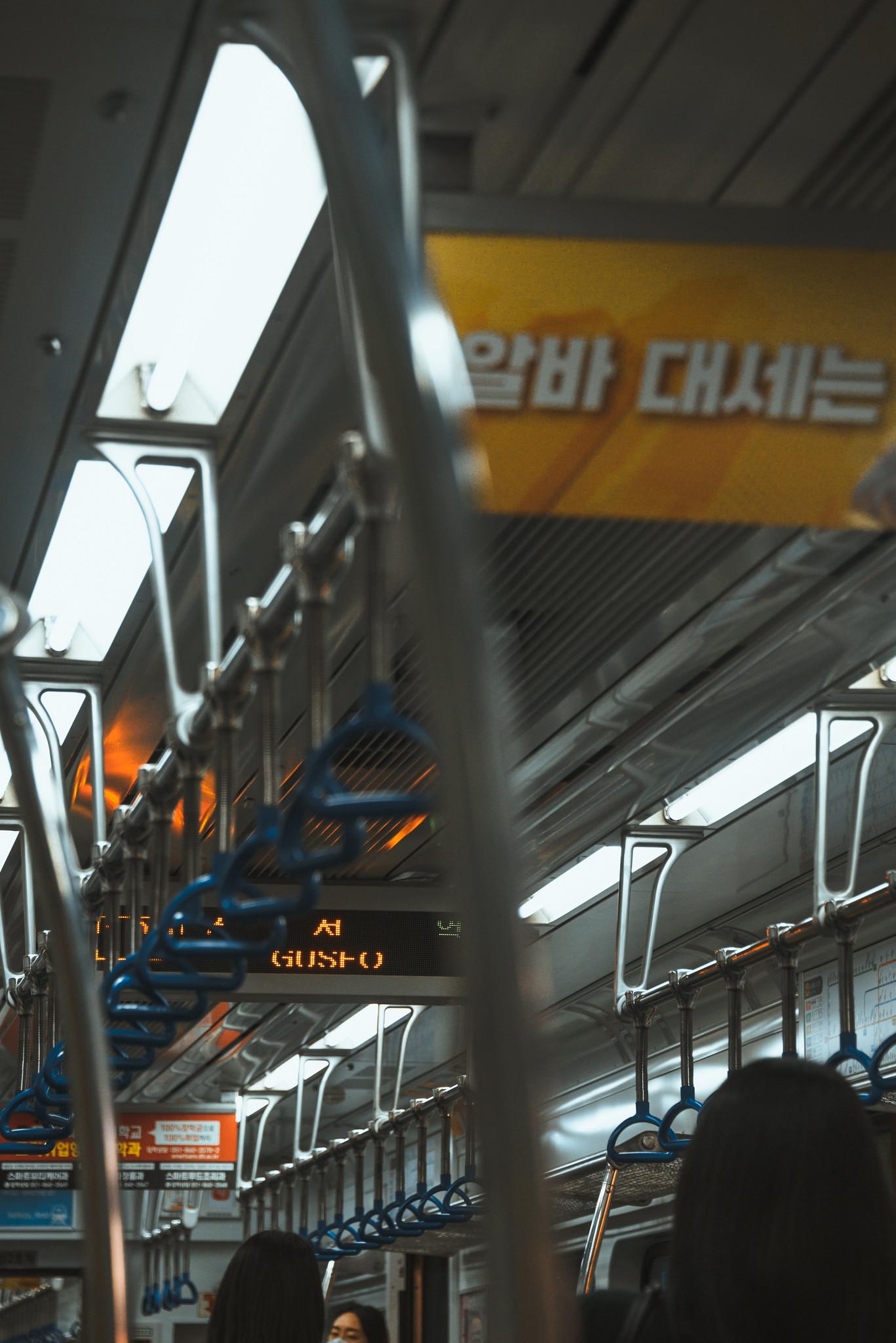 The last picture of this long article should be from Gimhae Airport departure hall, under the morning lights.