Such a new day in Nubra! The snow mountains had their shapes embossed on the sky, from our tent's backyard view. I had to fill up my stomach, at least a full belly might give me some energy to fight against the constant altitude sickness.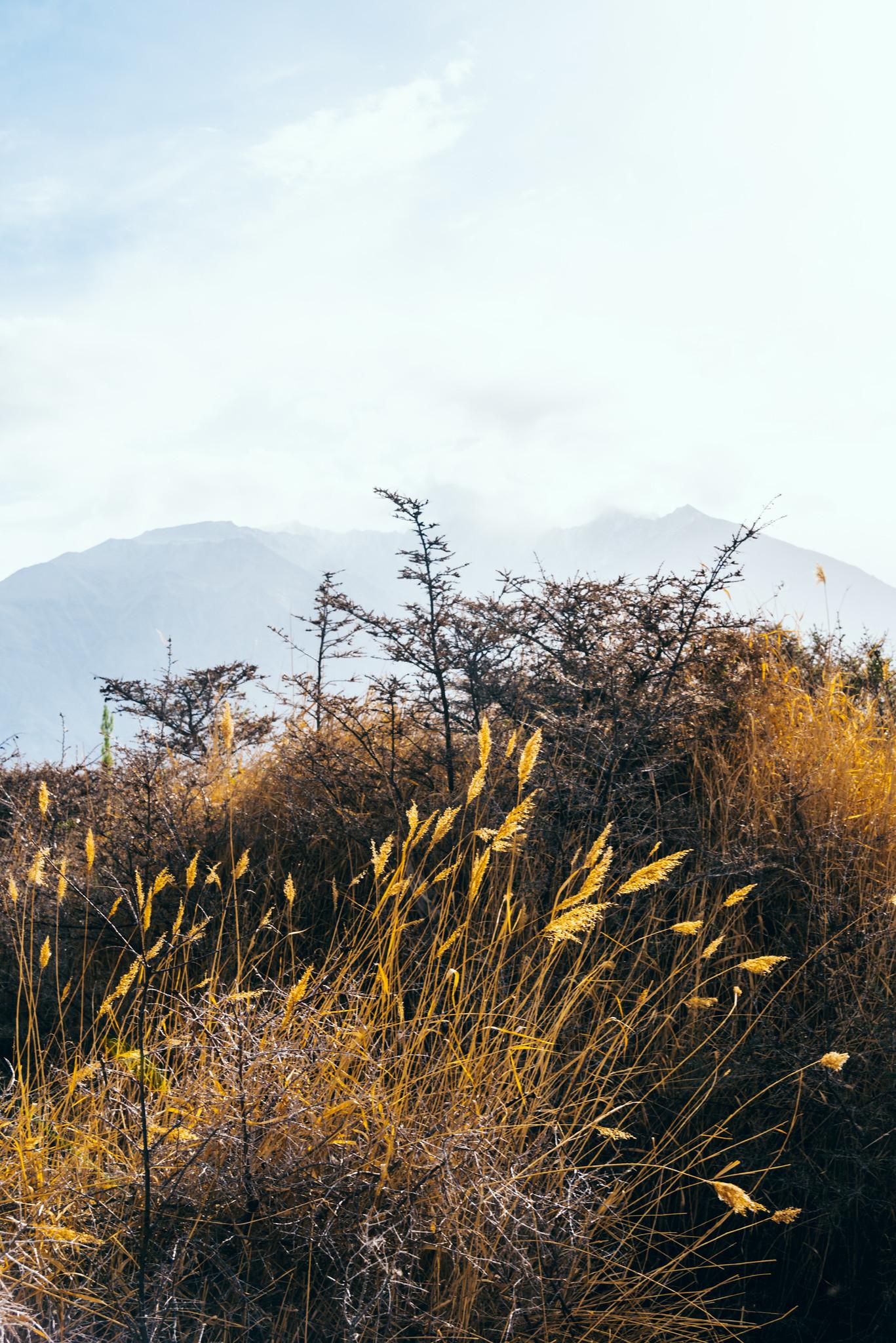 A Shyok Valley Ride
We began our next journey to Pangong Tso via the same Shyok valley route the next morning. For this time, we could view the entire landscape from another perspective, and I must say this was even more gorgeous than before.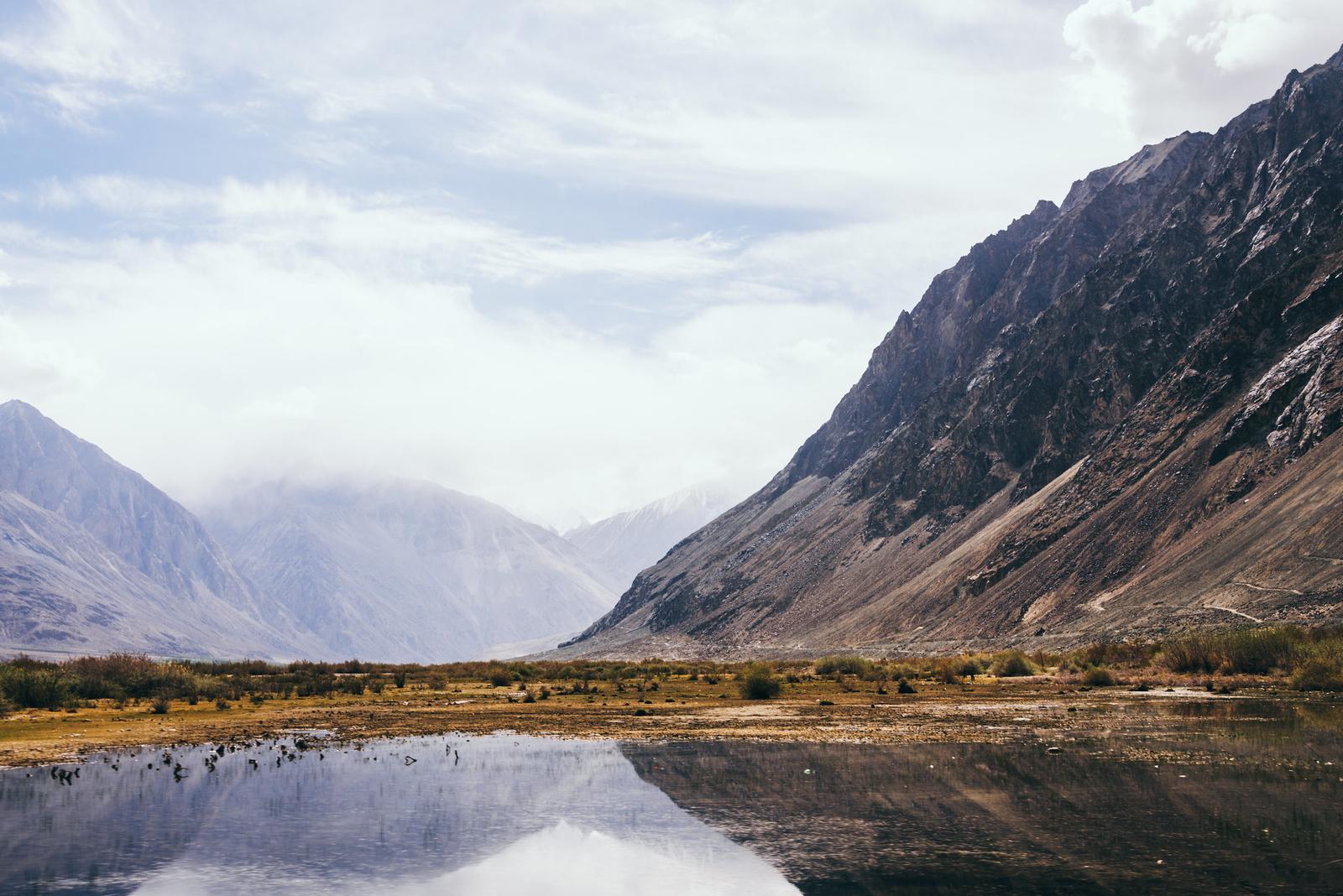 The sky was pristine at first but then turned overcast, nevertheless, it brought to us an eerie and magical scenery, which's only imaginable in games. Usually I would hate that weather condition, but this was an exception.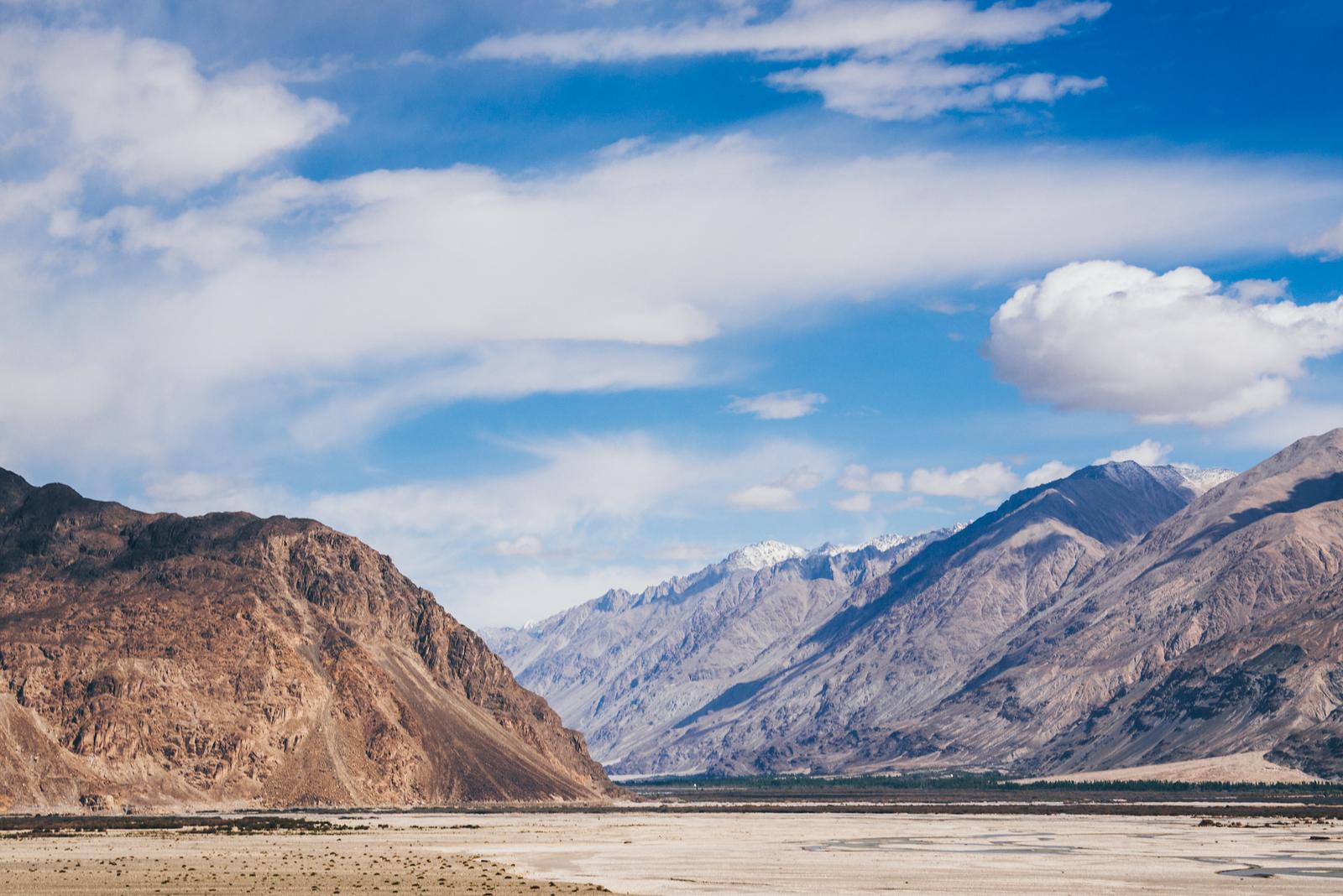 The ride was without dramatic twists as most of the time we didn't need to pass the mountain. It's only until when we turned to Durbuk in the last section that the bumpy experience stroke back again.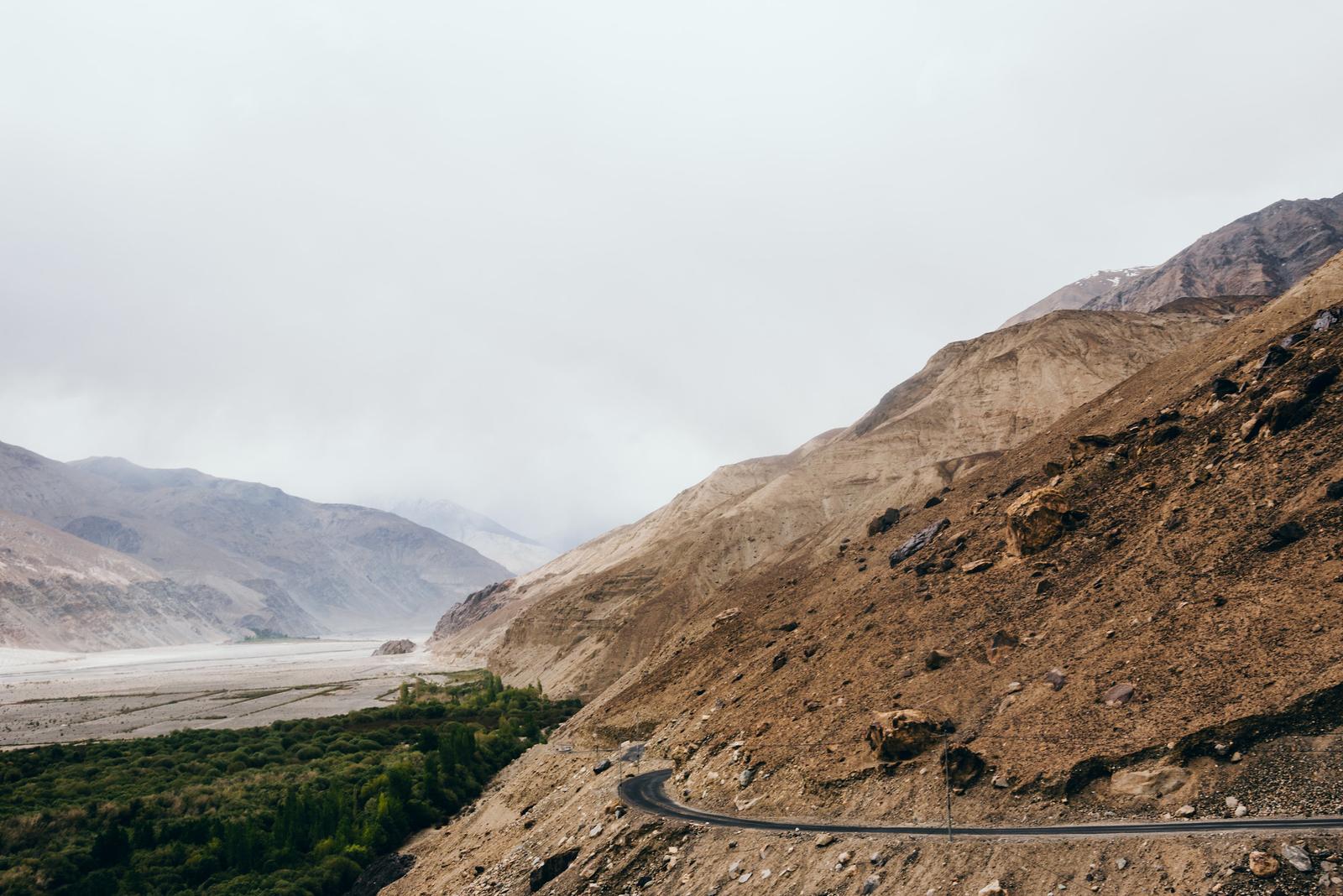 We took a short stop to take picturesque photos when crossing the flat plain of the river. As mentioned, Shyok means 'gravel spreader', so there're lots of gravels (round rock fragments) along the way.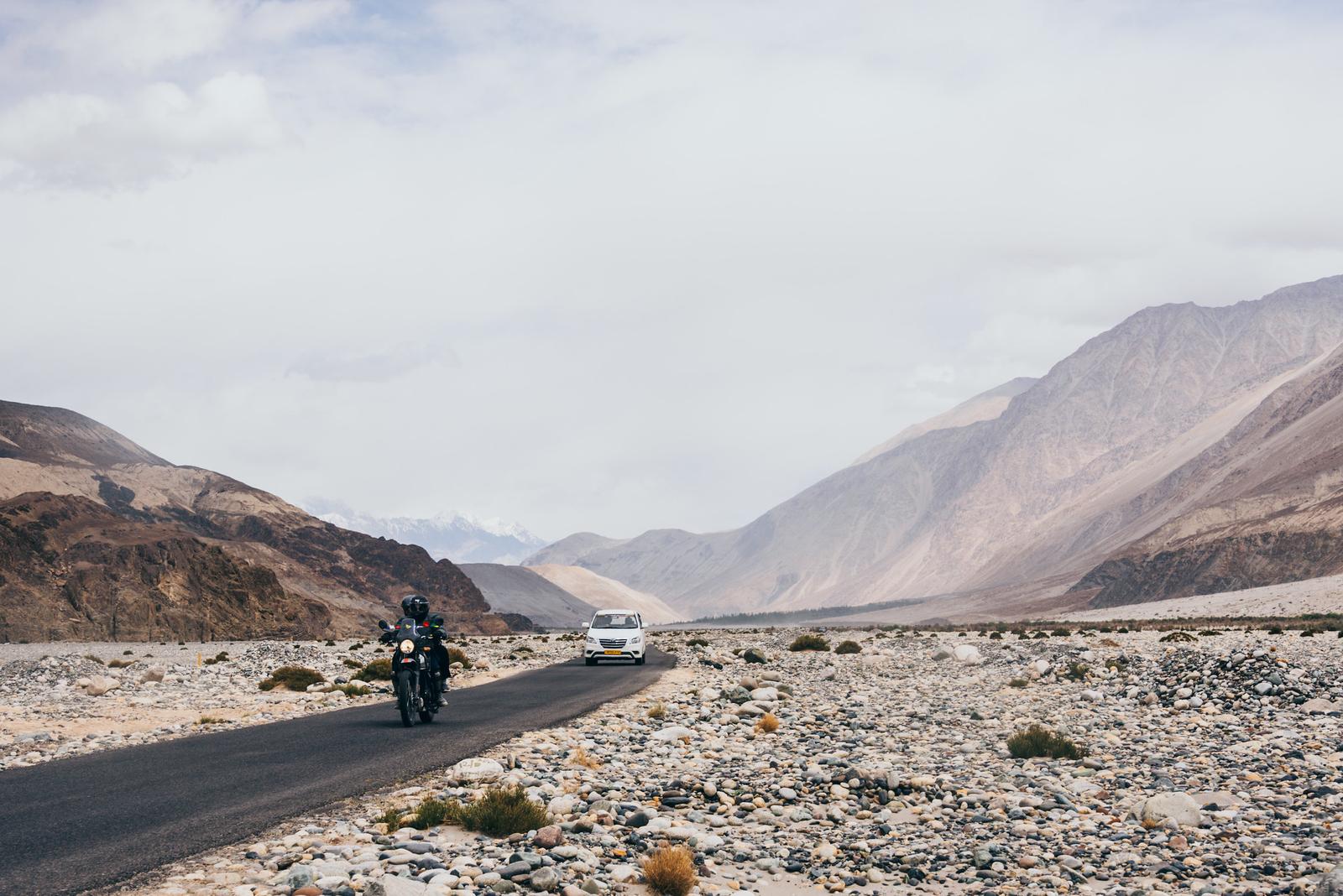 An unearthly landscape appeared in front of our eyes: the clouds were hugging the peaks, as if they didn't move at all, as if we could reach our hands to touch them.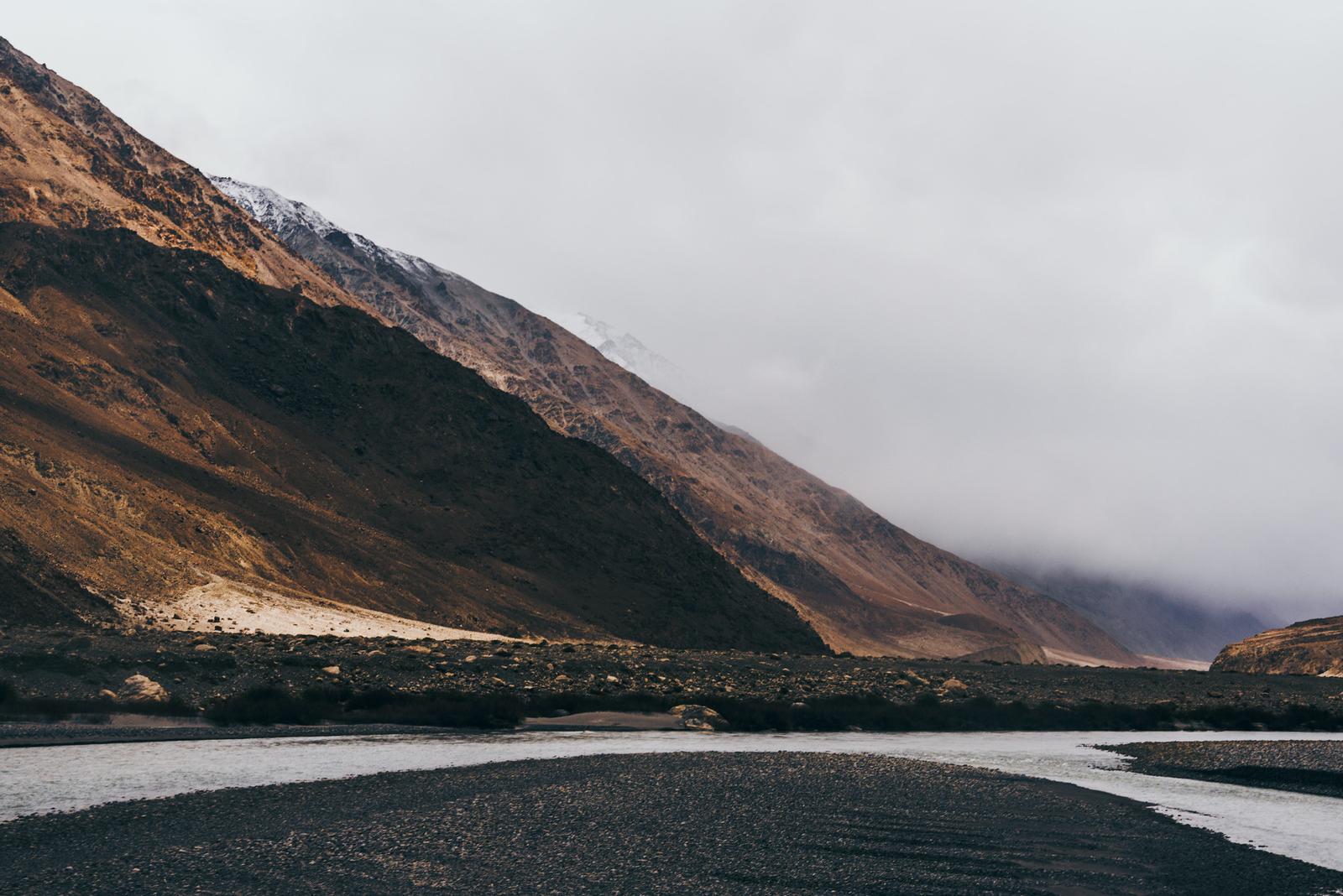 In a fairy tale, we moved like a gust of wind.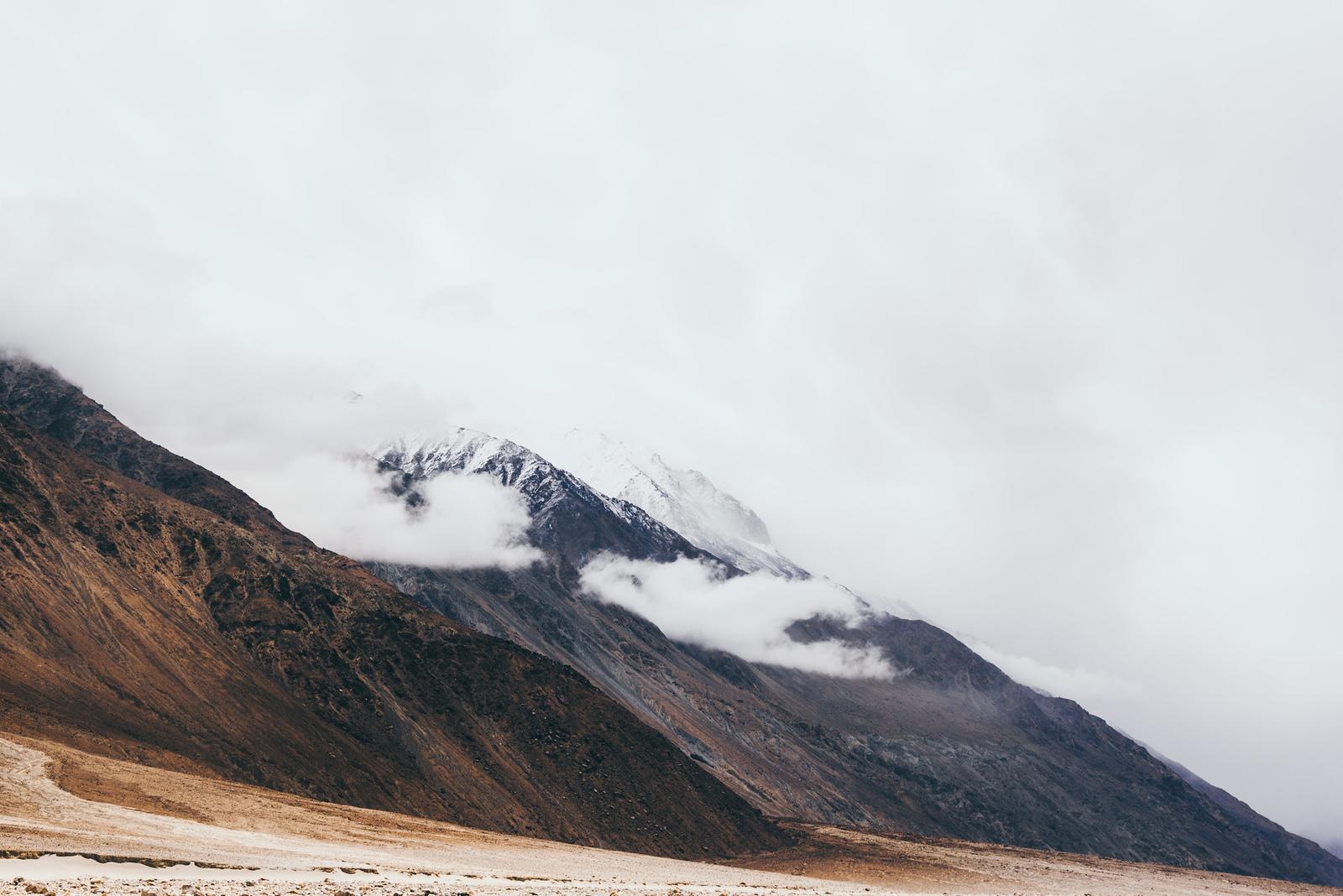 Turned to Durbuk - Tangtse
We kept right onto Durbuk on the same route, at this time the sun was straight above our heads. No more pleasant drive since then, and the first pass welcomed us with walls of rocks.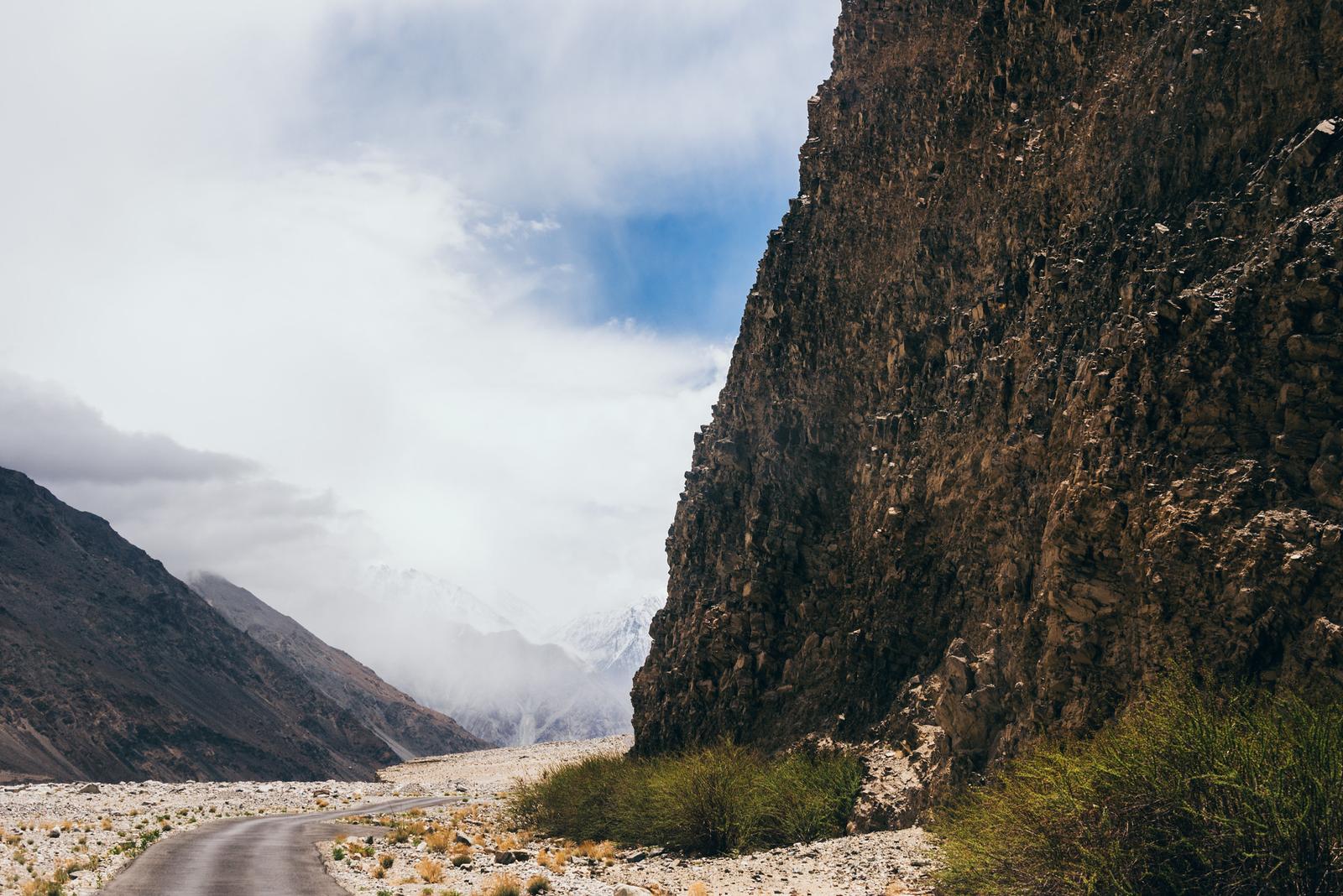 That might seem the most interesting pass for its successive twisting turns, weaving between the steep cliffs. In front of us was a convoy of military trucks trailing on. They're moving pretty slow that my driver was angered a few times.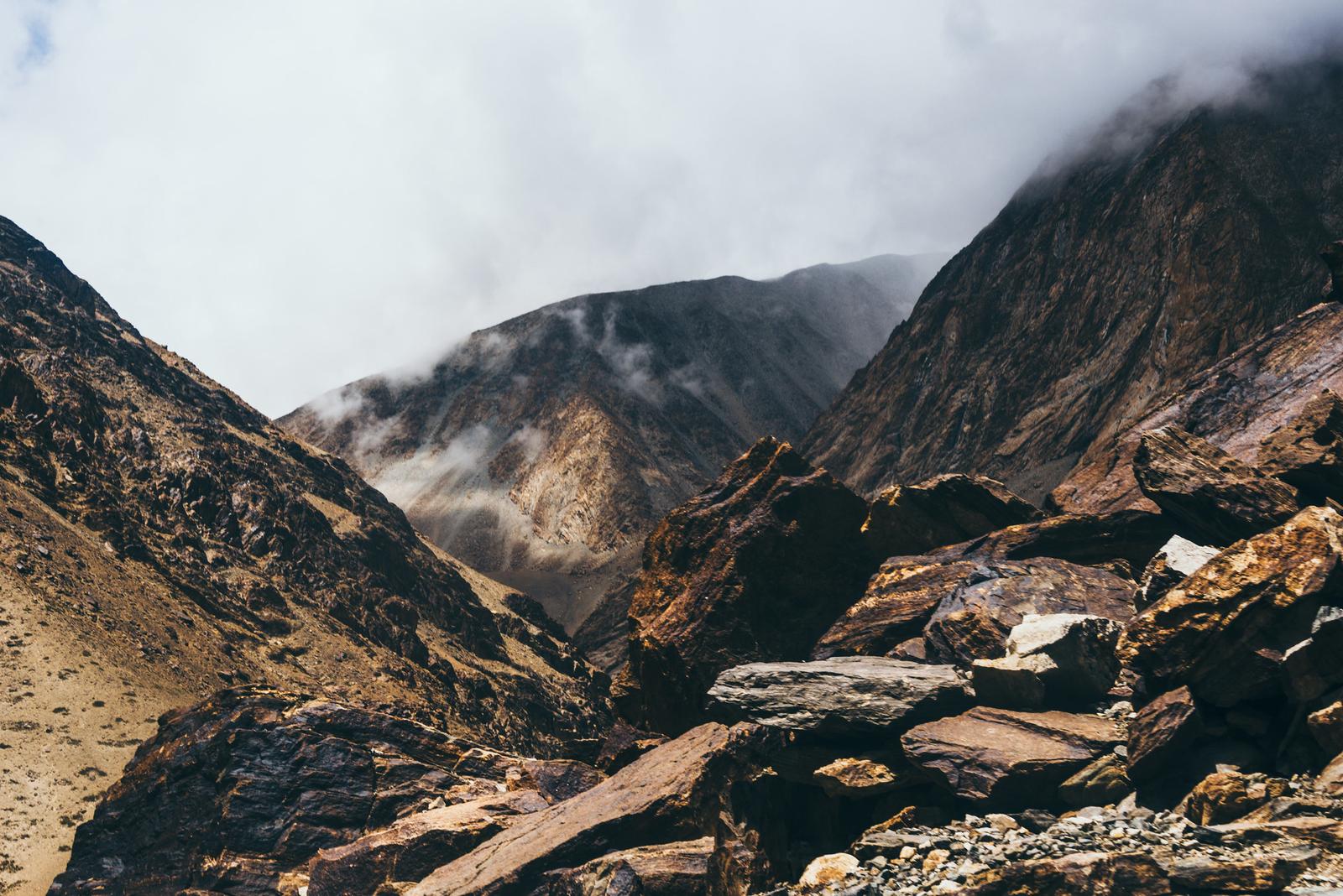 After this dramatic ride, we had a late lunch break and I could enjoy a good portion of fried rice, as well as make acquaintance with new local friends - a Ladakhi civil-engineer girl with her friends from other parts of India, traveling on their own but on the opposite direction to us. There're also a few Western backpackers too.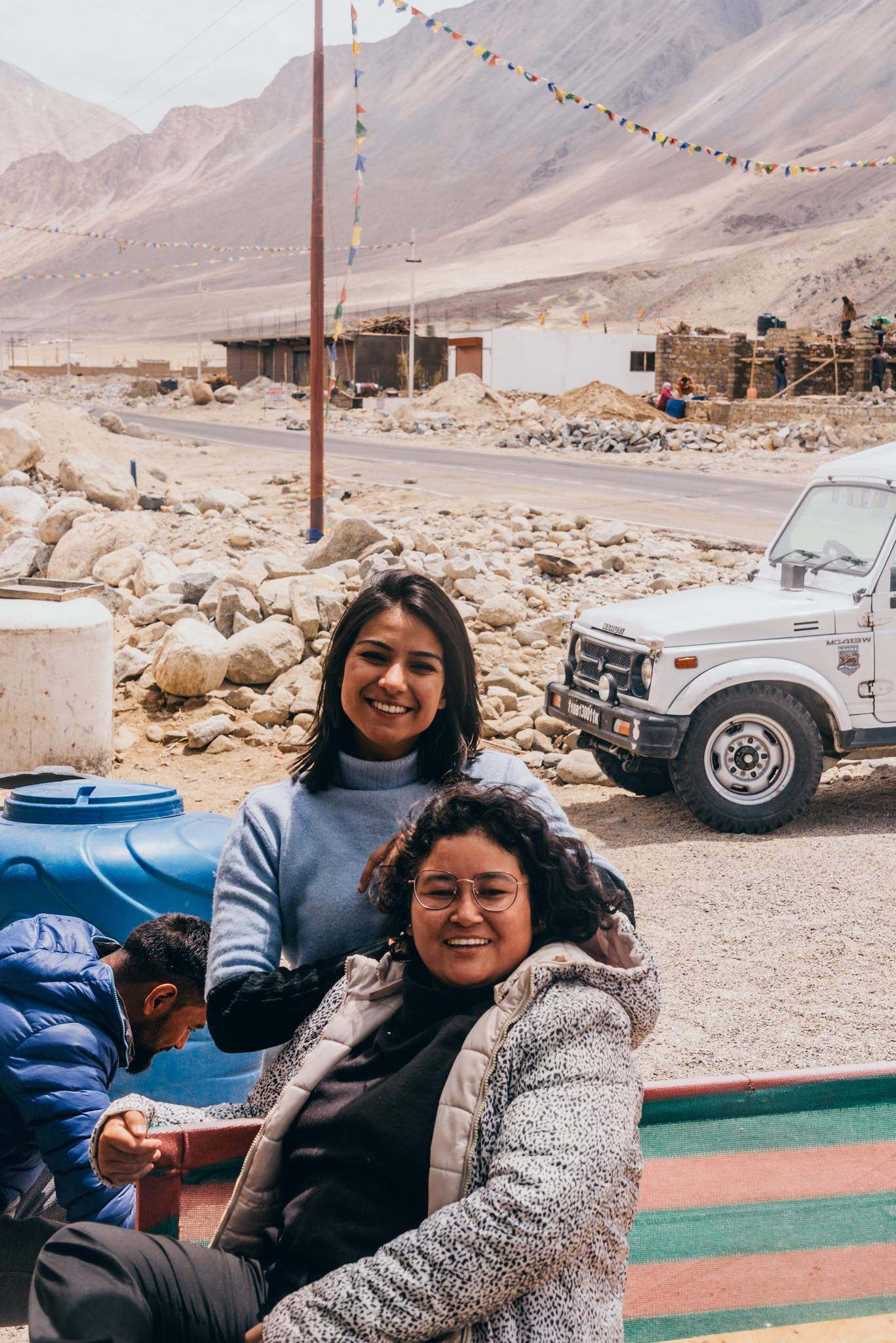 We proceeded to Tangtse and arrived at about 3pm, midway to Pangong. There's a police checkpoint, where you need to show your Inner Line Permit.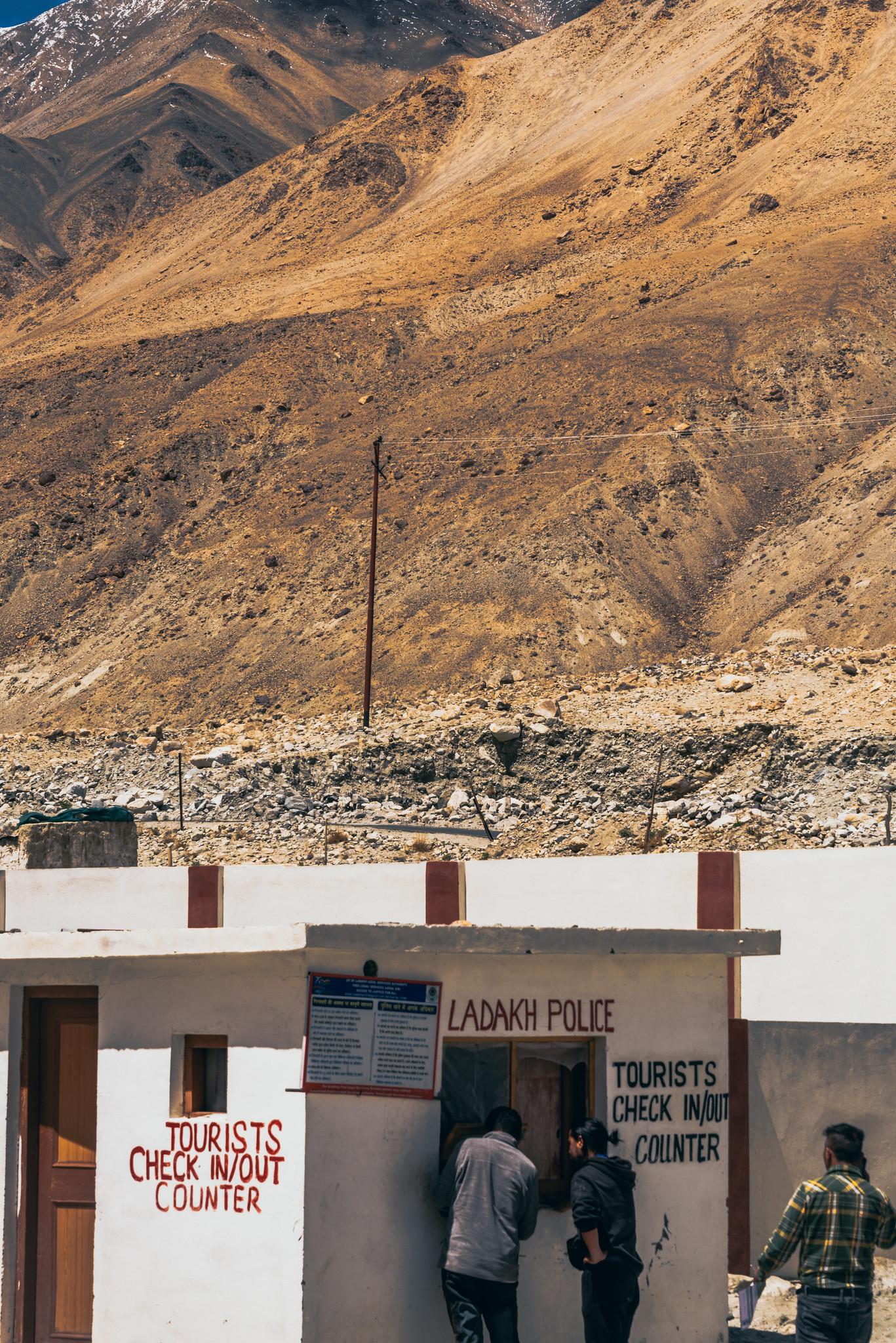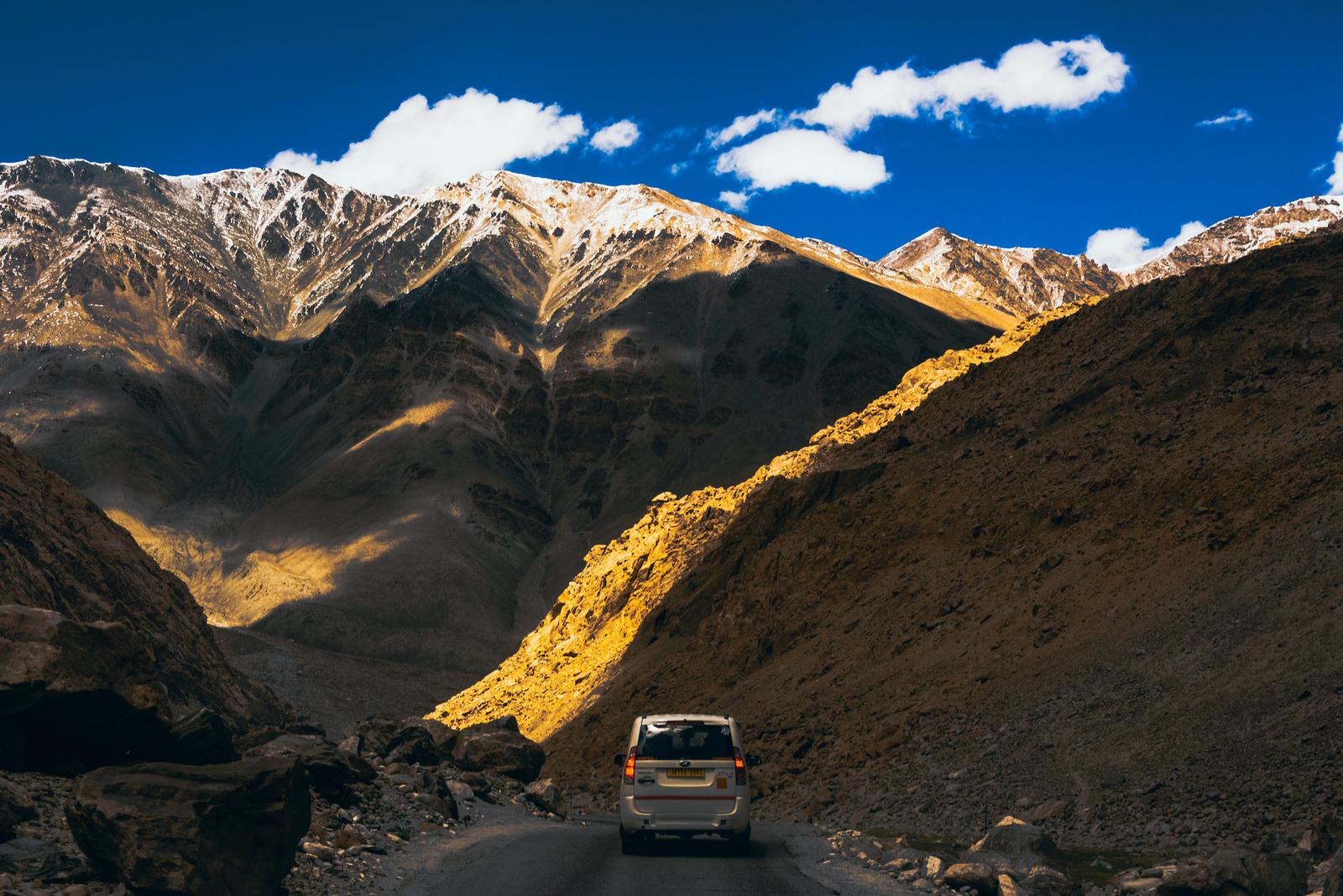 From now on, we could see the famous photogenic steppes on the way leading to Pangong Lake, at that golden hour. If we'd had more time, I would have stopped by to contemplate such wonder.
The Pangong Lake would be gradually unveiled on the horizon after the grassland checkpoint. And the road along is named Pangong Road as well, for your information, it runs by the dried tributary river, leaving the vast sandy plain uncovered.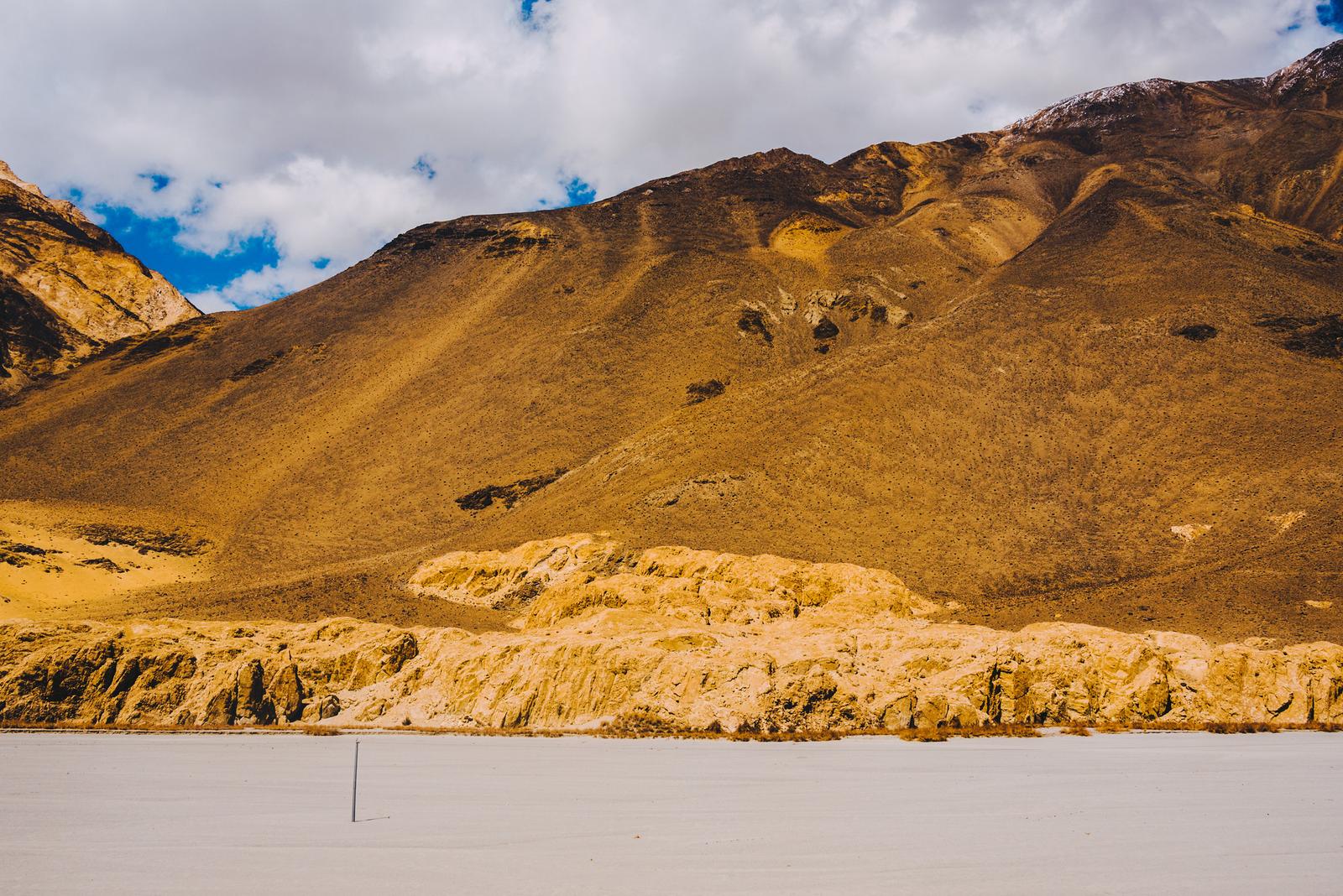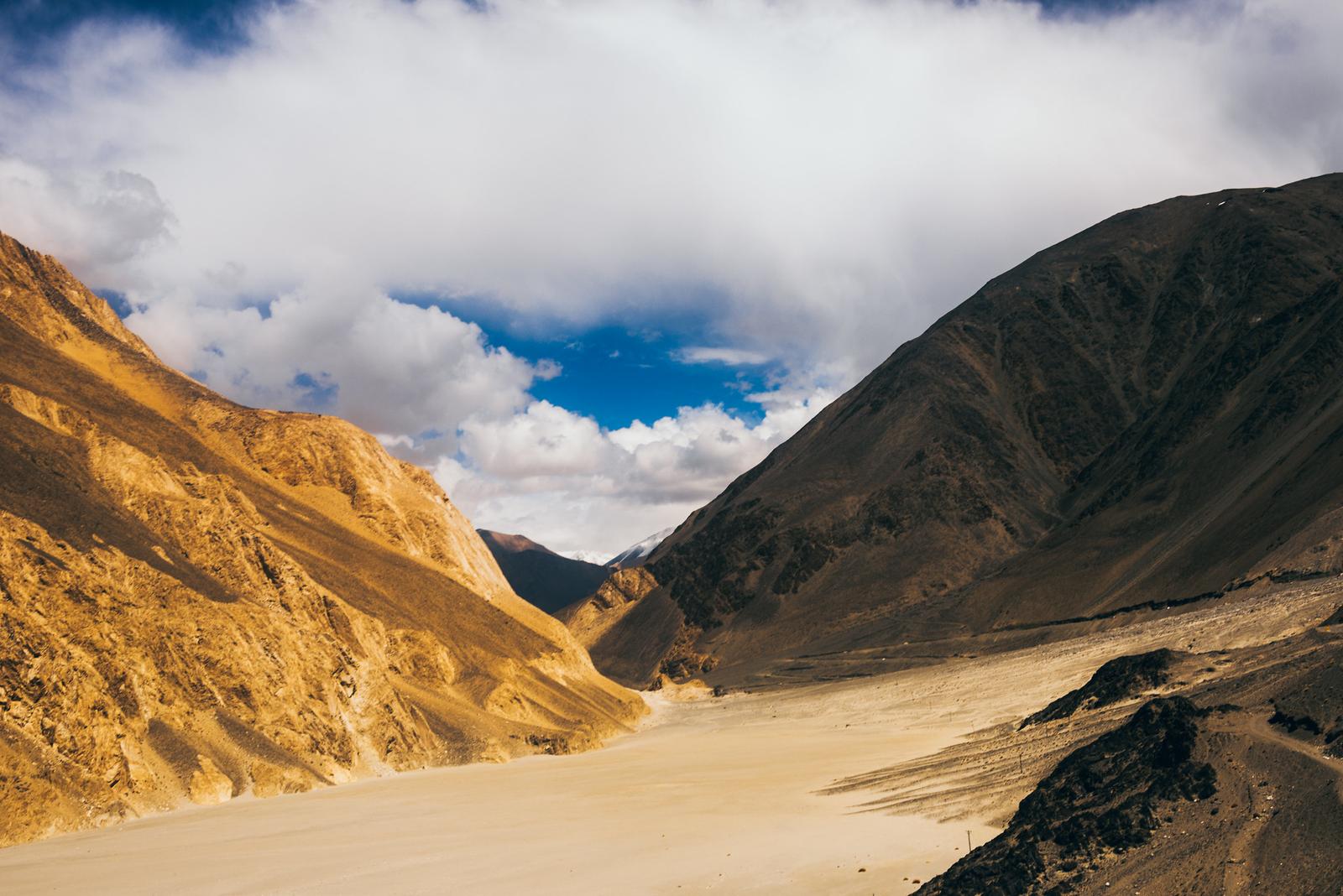 A Grand Sunset, Pangong
We finally caught sight of Pangong Lake as we approached from Lukung direction, to the north of the lake.
I don't know how to describe it, but seeing an expansive body of water after days in this cold desert was the same as heading to the boundless sea, with mind freed and 'frozen'.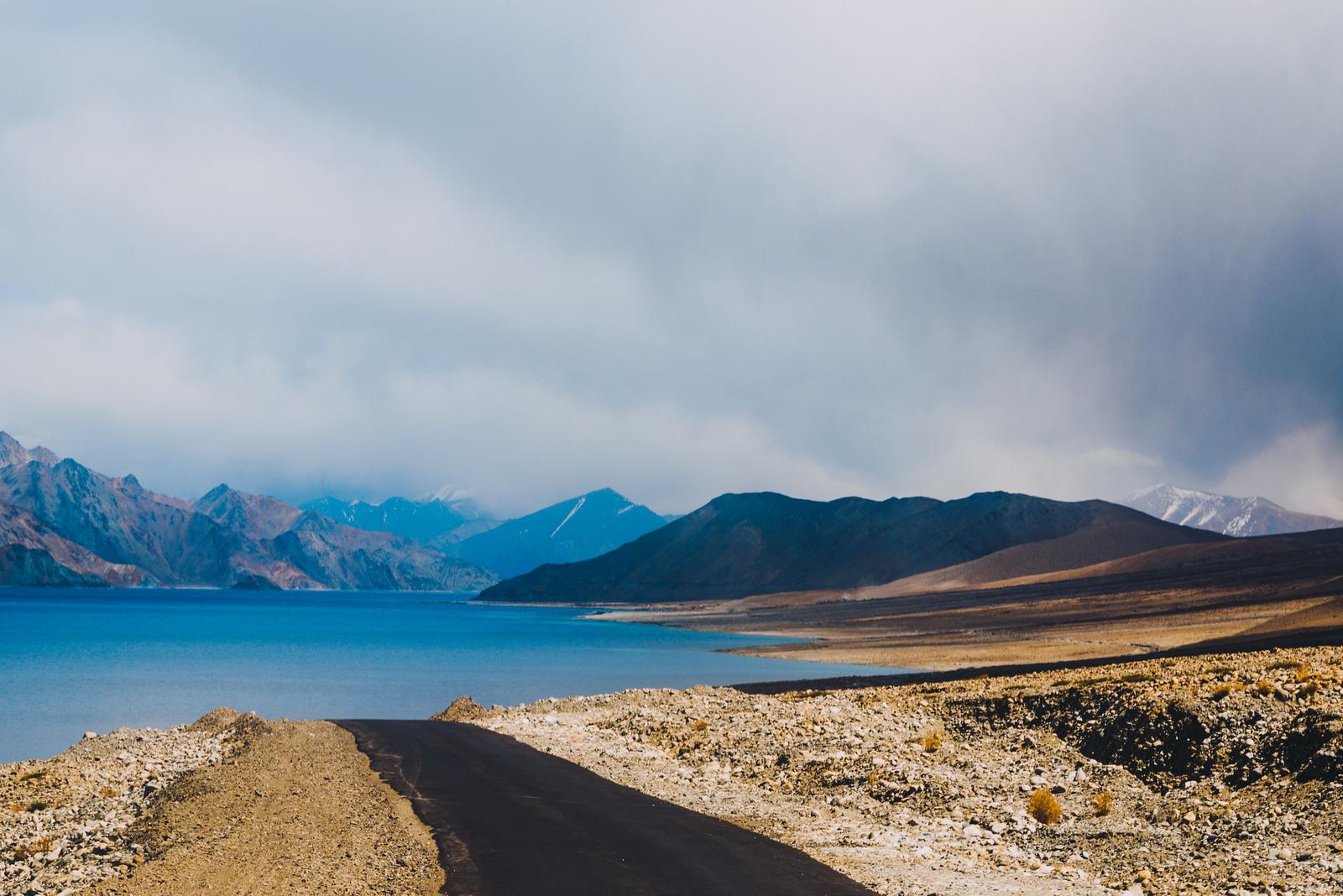 We needed to make a few rounds about the lake bank just to find out where our camp was, as address here is pretty unusable, and Google Maps seems confused as well.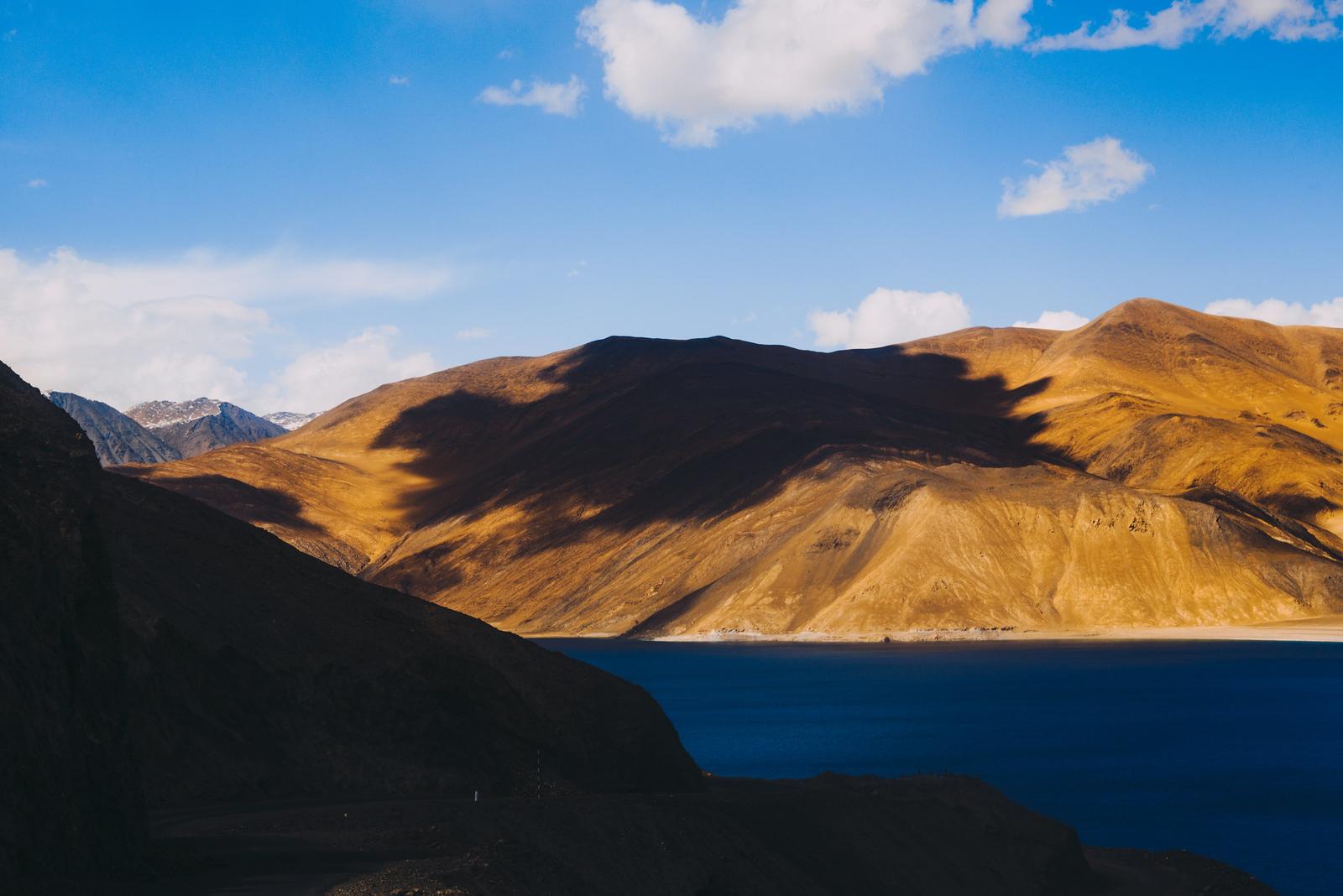 When we finally arrived at our camp after a thorough search, the weather suddenly turned snowy right after the bright sunny moment, but it could be a good time to take some rest after long hours on the backseat.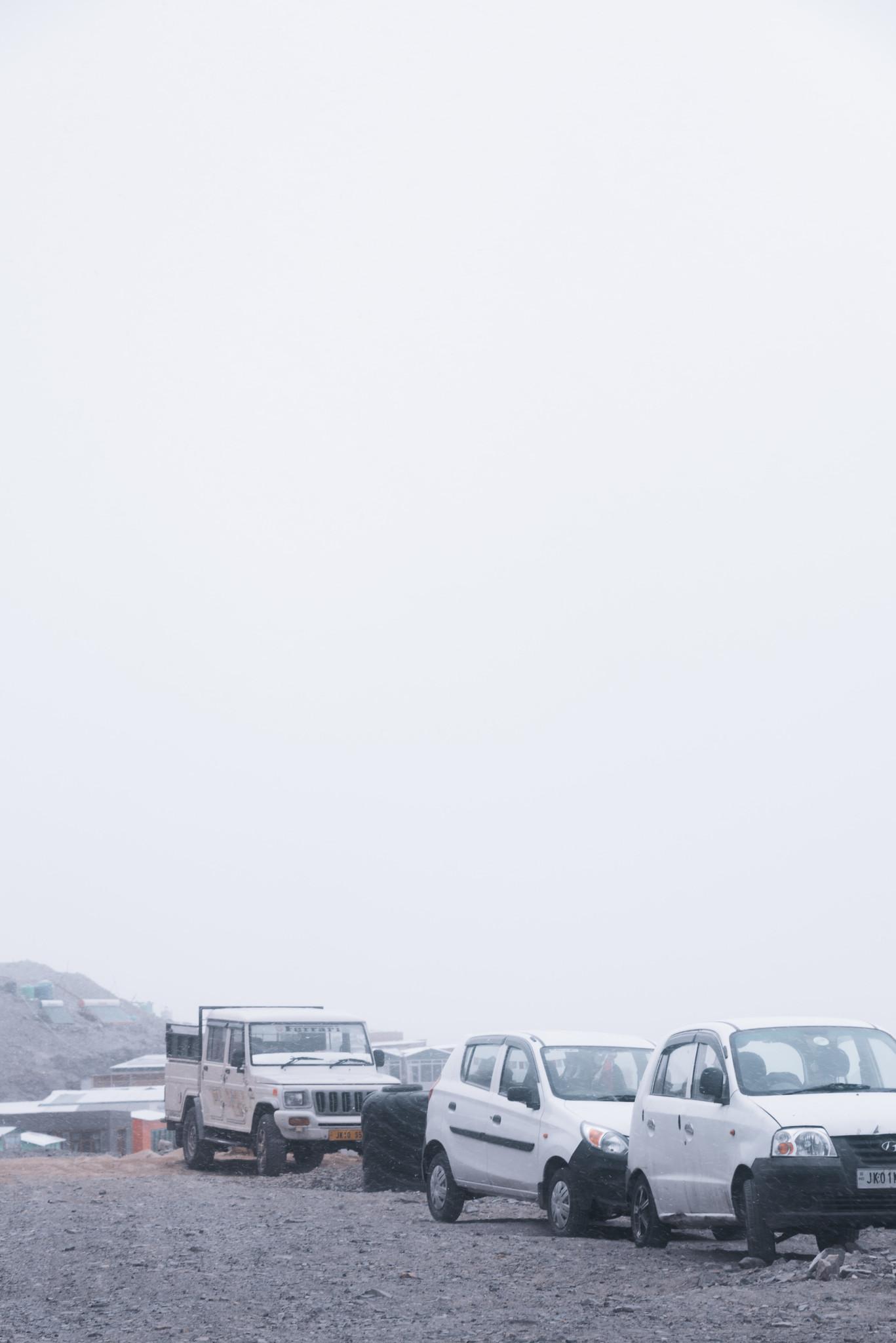 It's not easy to be in such freezing condition with low oxygen level (and it's spring near summer, imagine it's in December time). But at least, snow time didn't last long, sky was cleared up to reveal the beauty of the lake.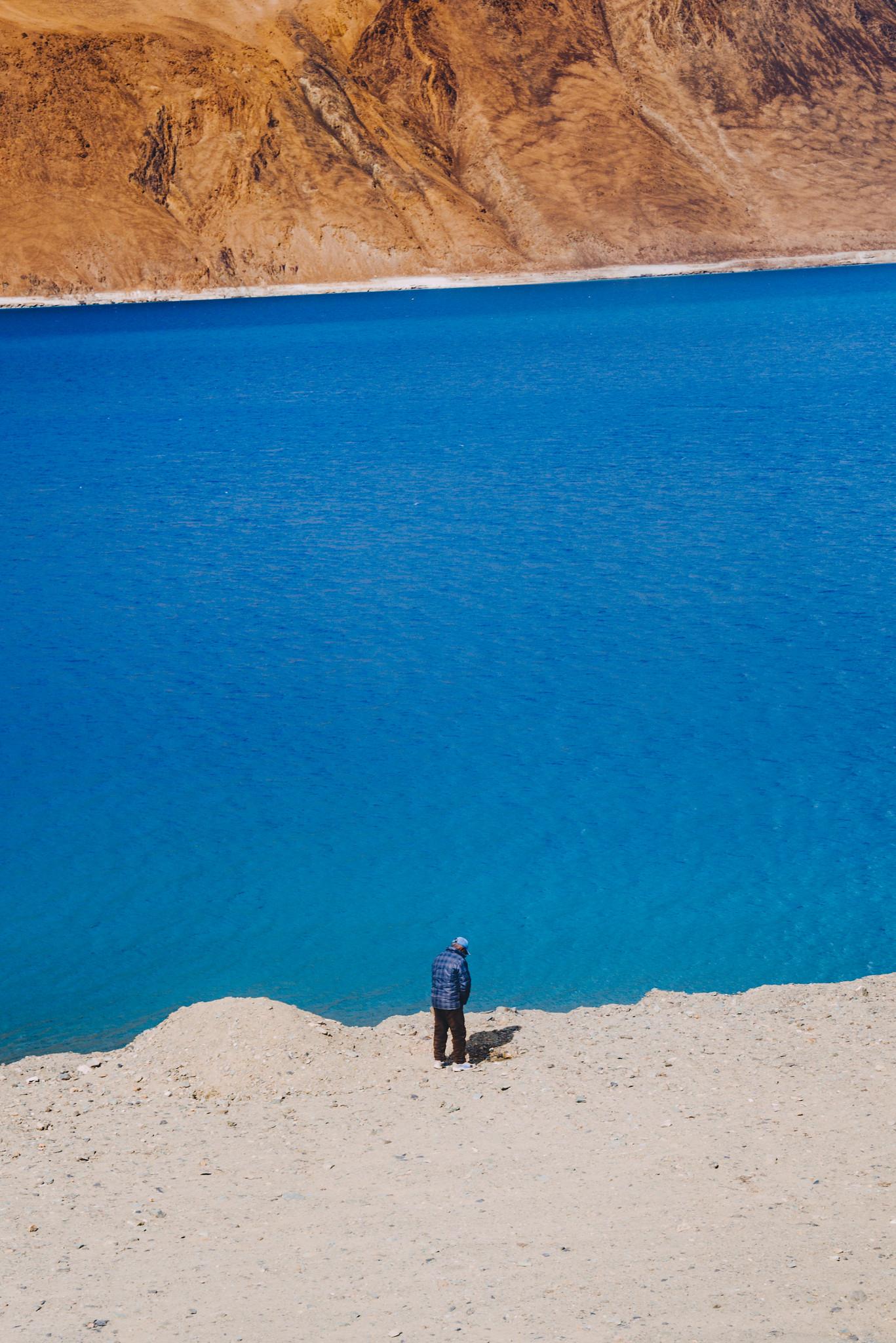 The lake is at a higher level than Leh or Nubra, so this was where mountain sickness hit me the most. That's quite a regret not being able to take a stroll along the lakeside, as climbing up and down was deemed a vigorous task now. However, the sunset time was still chilling as it inherently is.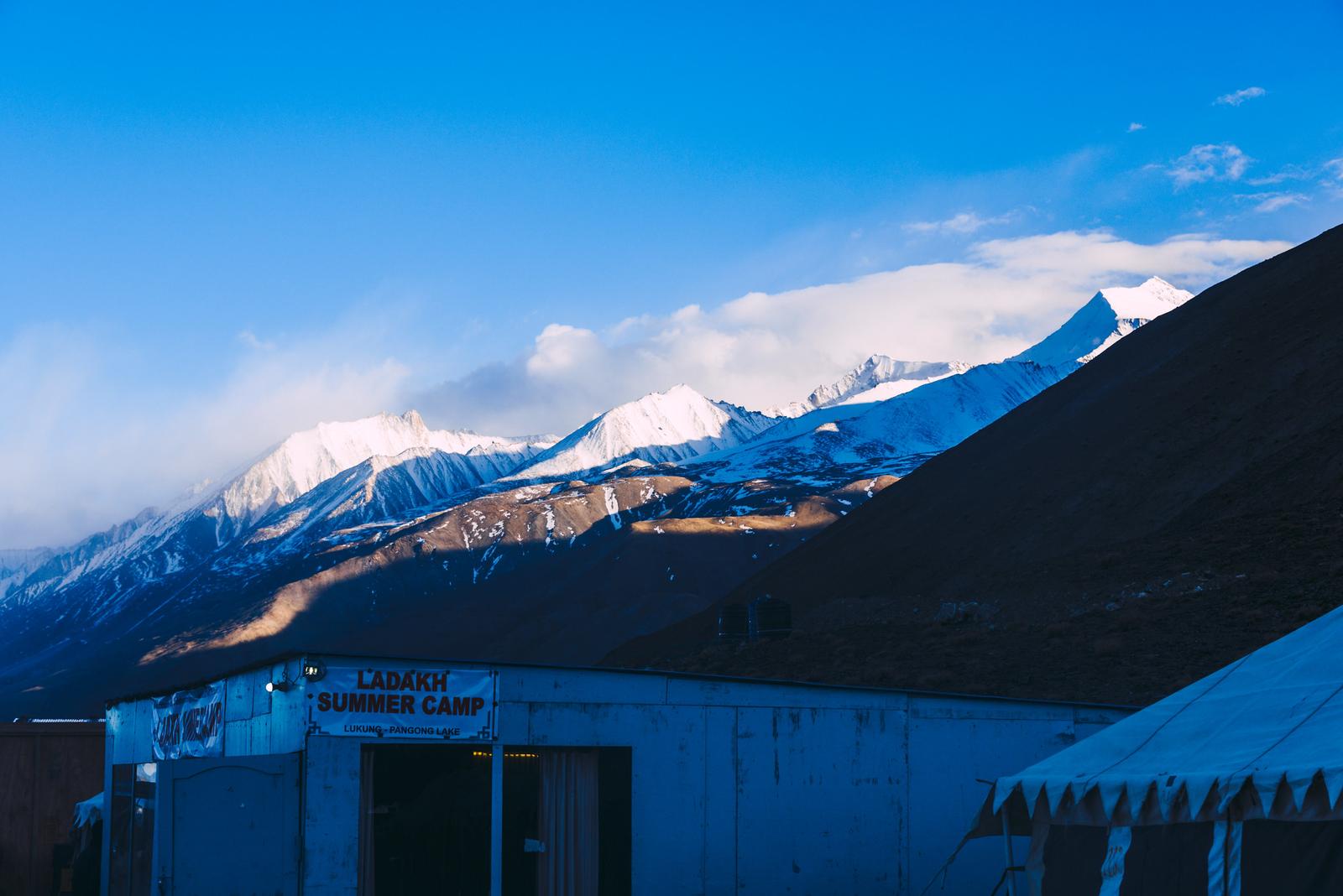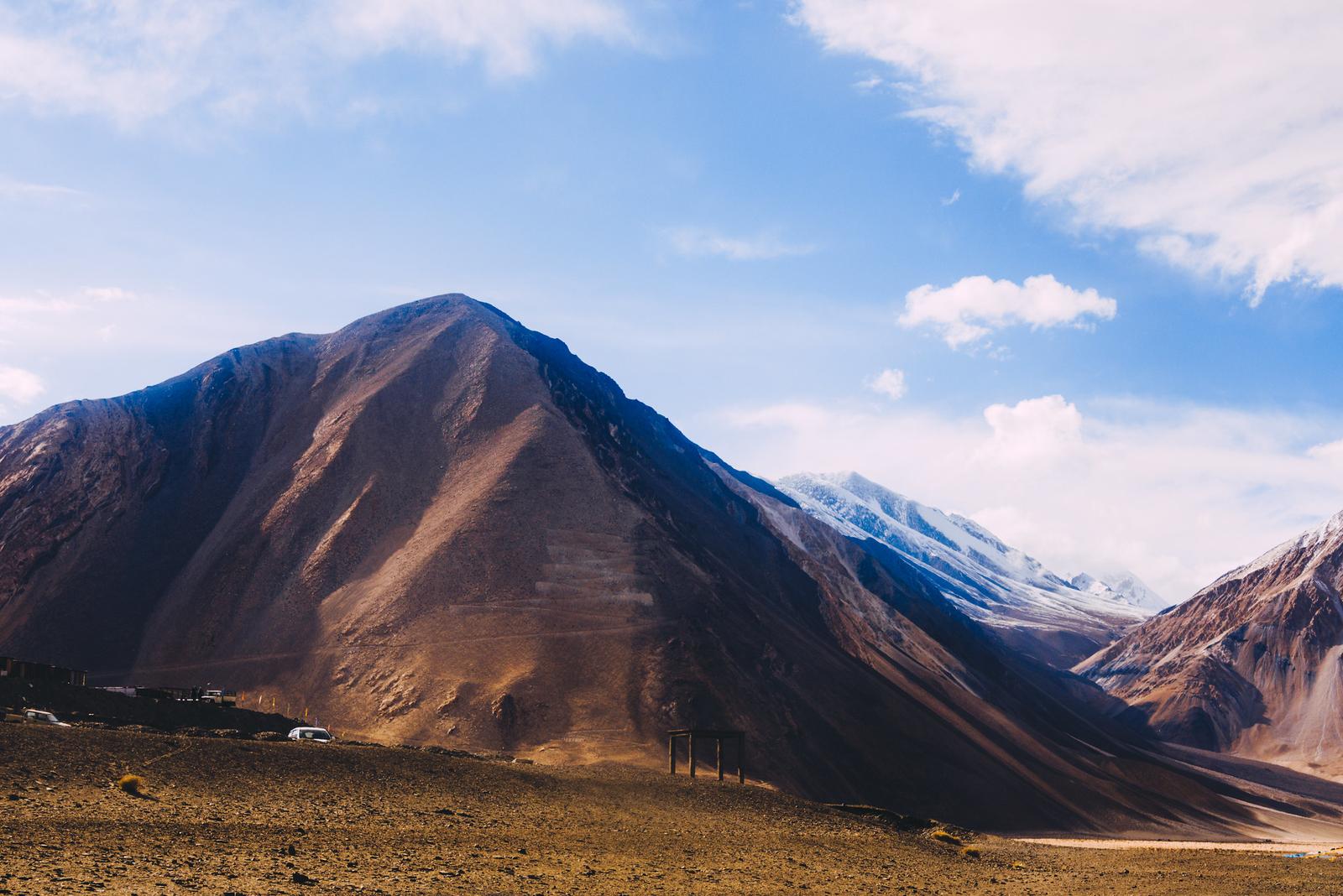 Despite wearing layers of clothes, I found myself shivering non-stop. The best shelter was inside the camp kitchen, where I could enjoy hot noodles and tea, and then serving myself with 4 - 5 bowls of soup to fight against the cold night. This camp was much more crowded than the one in Nubra, here we had an extended family from Mumbai, or a couple from Delhi, running away from the raging Indian heat.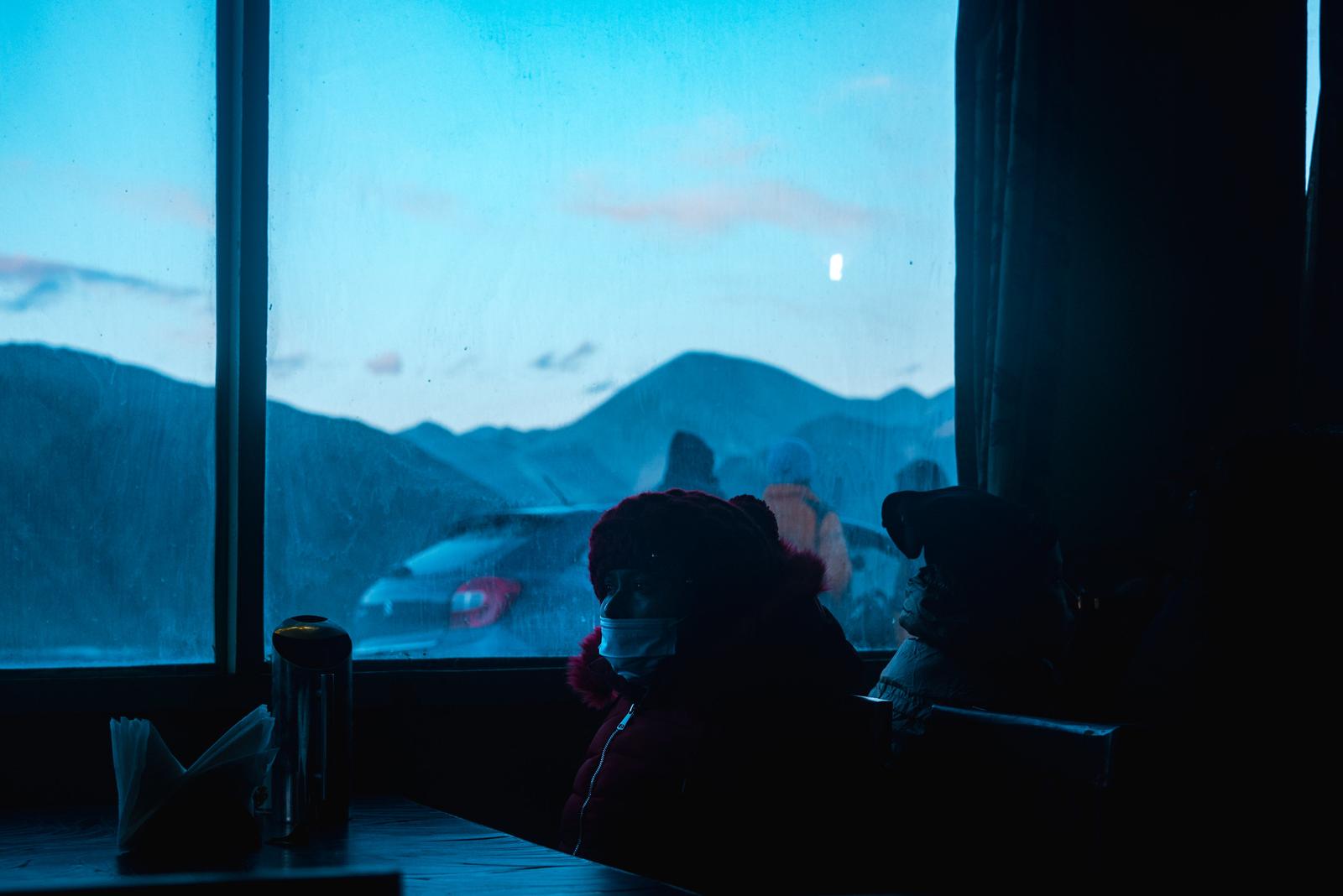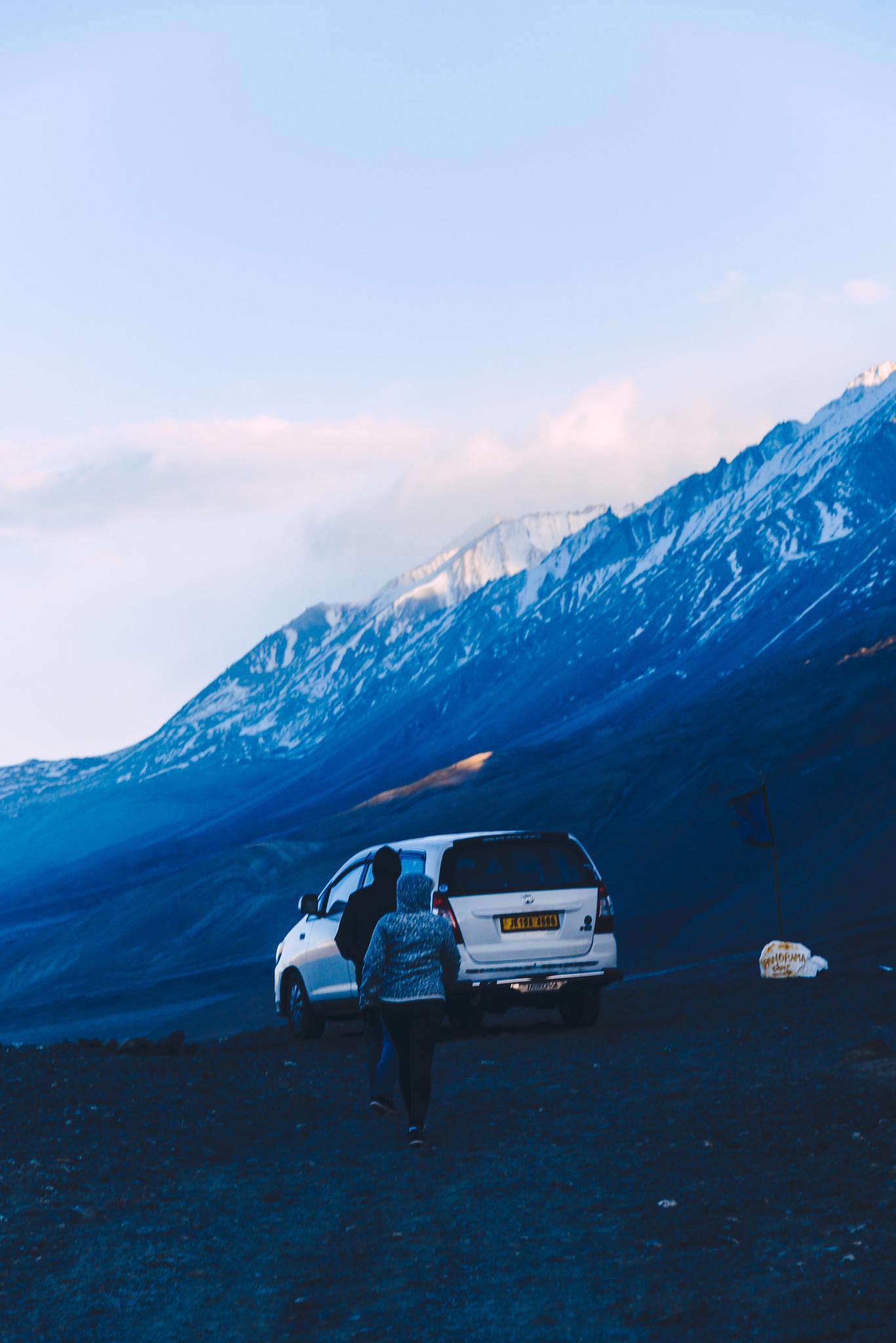 From this series of photos, it let me know that people love cool, blueish captures, they're eyes-soothing and have some healing effects. So let's have a feast.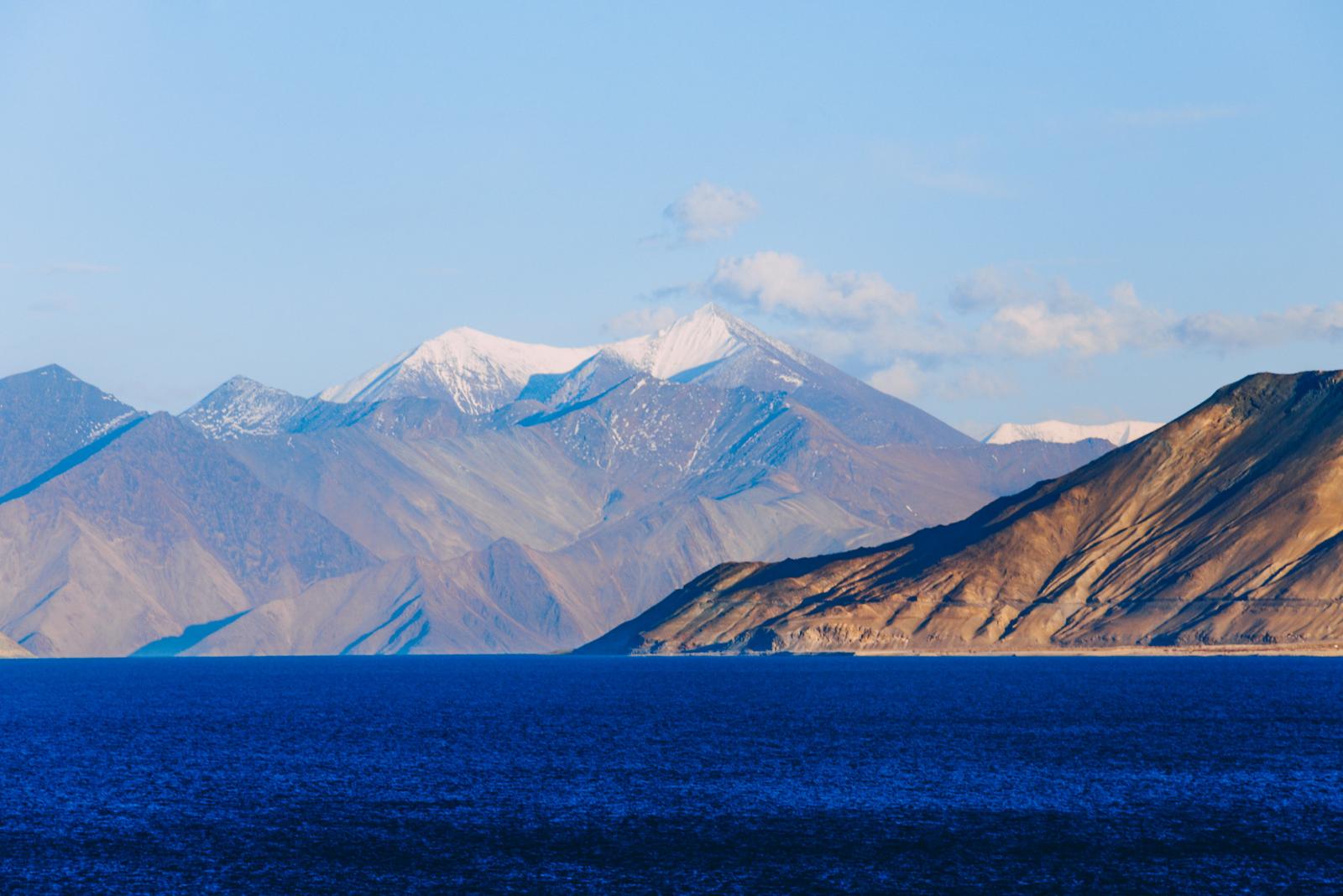 Perhaps I had been lucky sleeping through that night alone in the tent. Putting tons of blankets but still feeling the bites, my body was all over aching when getting up. However much sleep I had got, it's still full of drowsiness.
A Morning by the Lake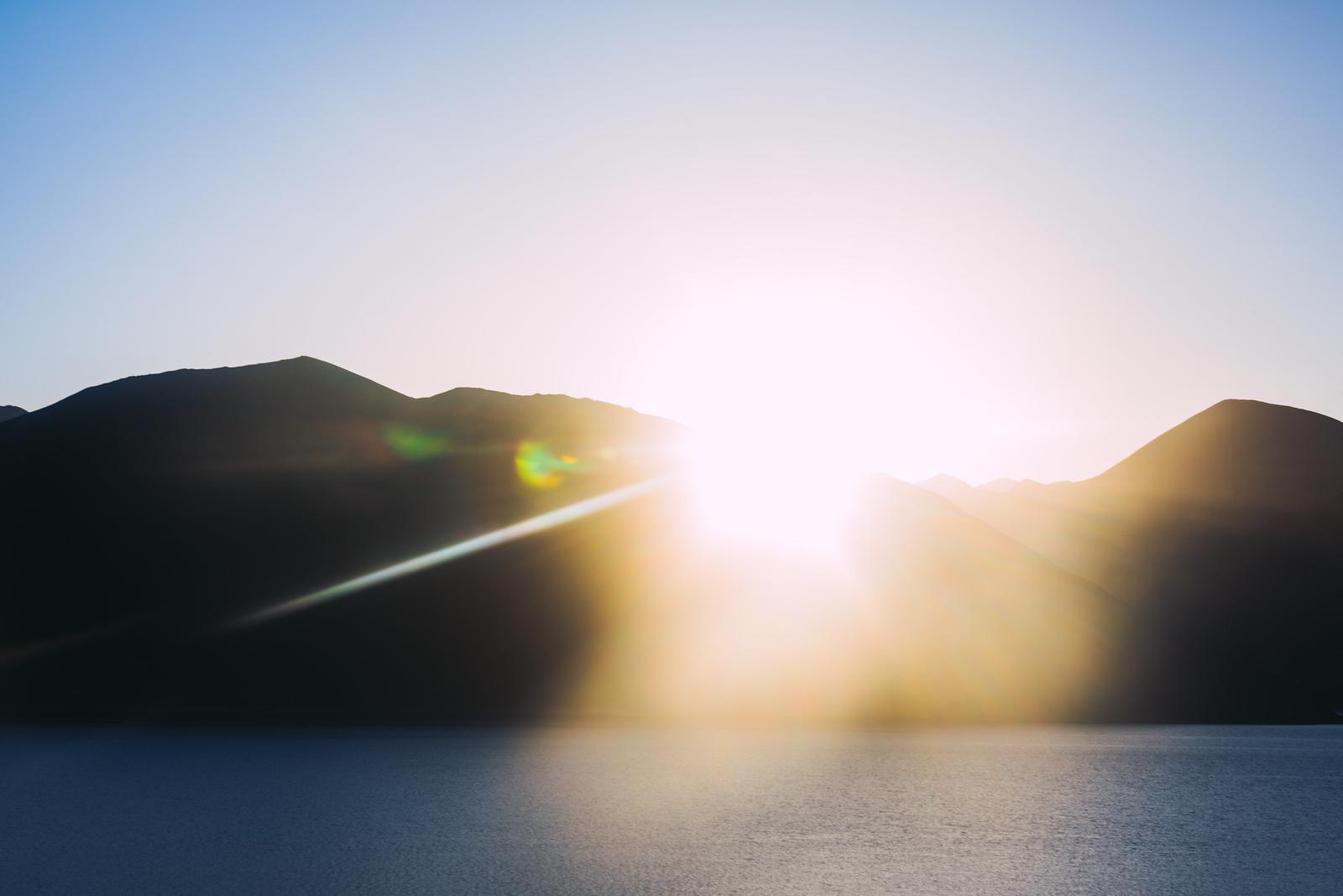 I got up early in the next morning for Tso Moriri, partly due to the uncomfortable sleep. When I heard the next lake was even at a higher altitude than Pangong, some reluctance to move crossed my mind. Still, I tried my best to stand up and take photos for the peer Indian couple at the campsite.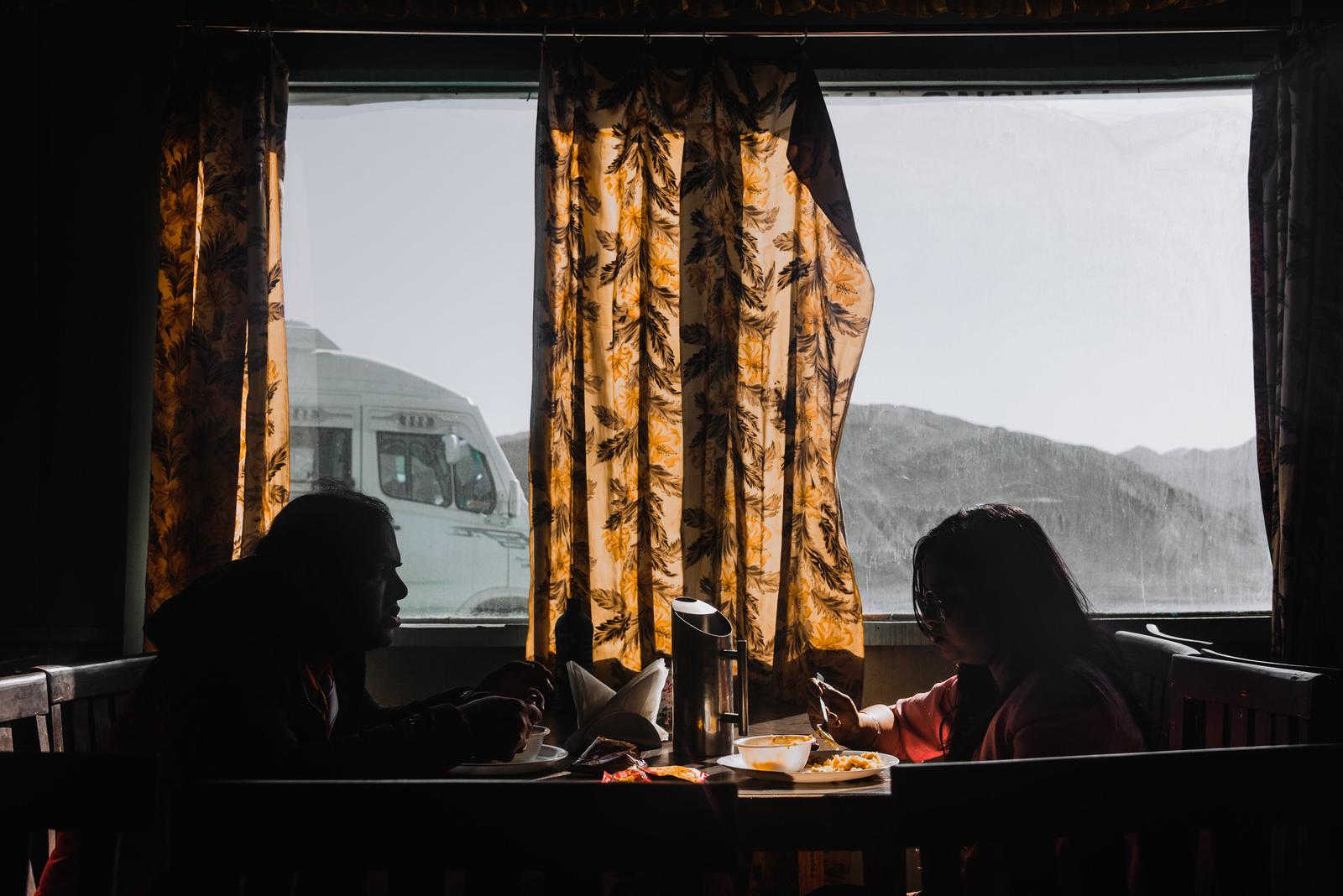 To reach Tso Moriri, the first part was traveling along Pangong Lake to Chushul. Now the lake was completely visible to our naked eyes, displaying its shoreline, promontories, and those distant snowy caps.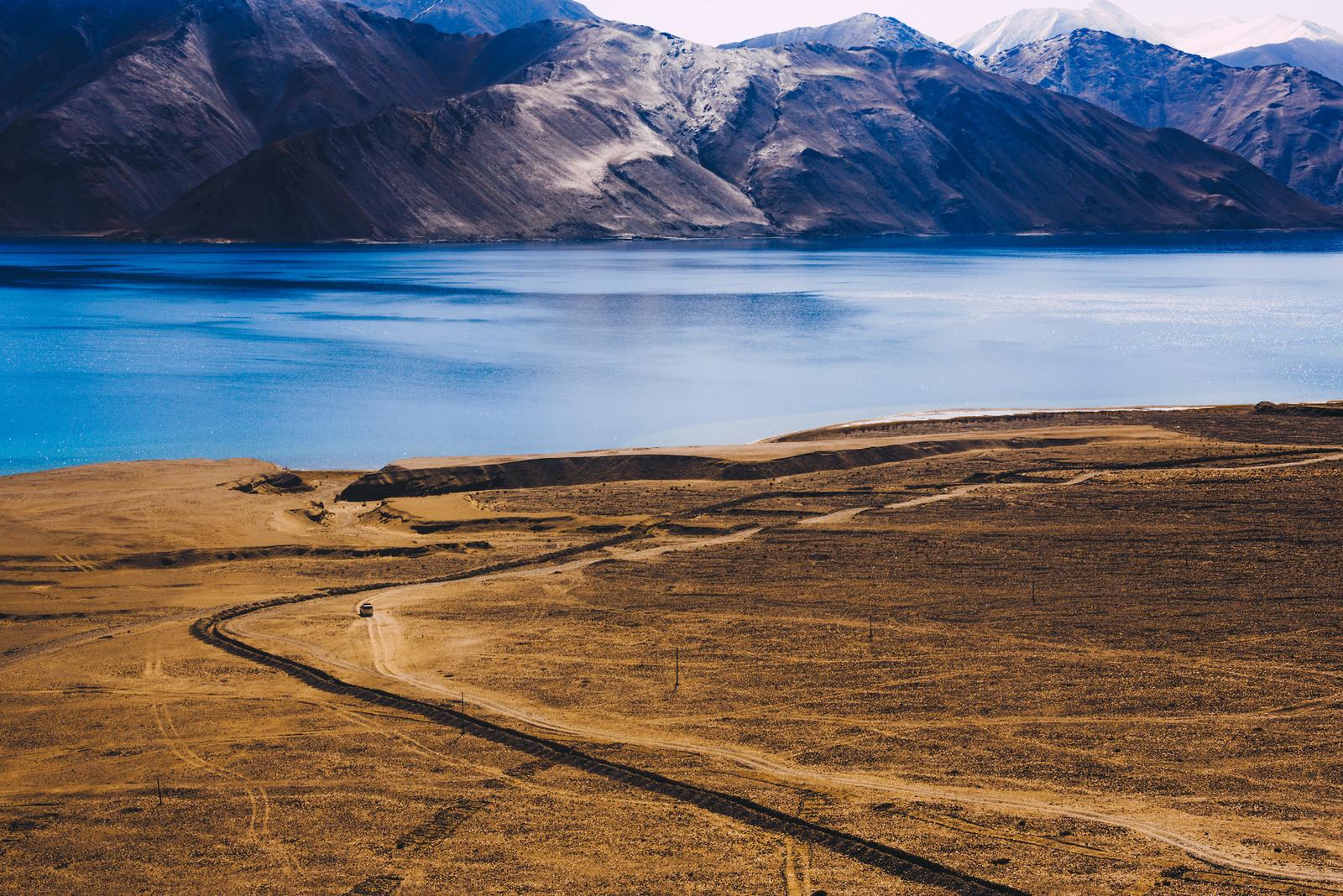 And I should feel thankful for the time being by the lake, vesting my energy and enthusiasm to press the trigger button, while my eye lids kept dropping. Those are the best photos in the album perhaps.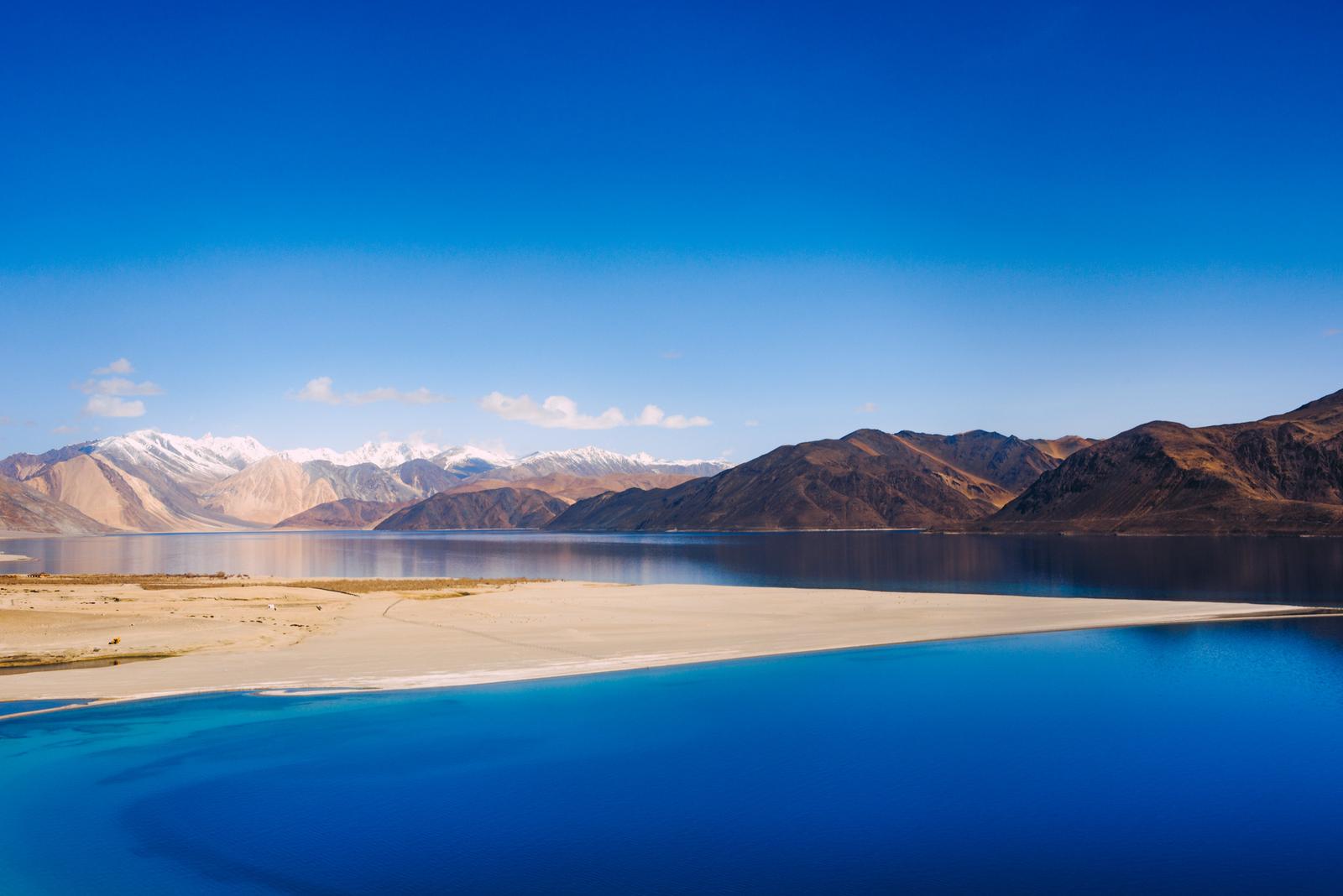 It's almost 100% hit percentage for good photos, as if you can catch the beauty at any angle. Some of them have become my desktop wallpaper for a long time.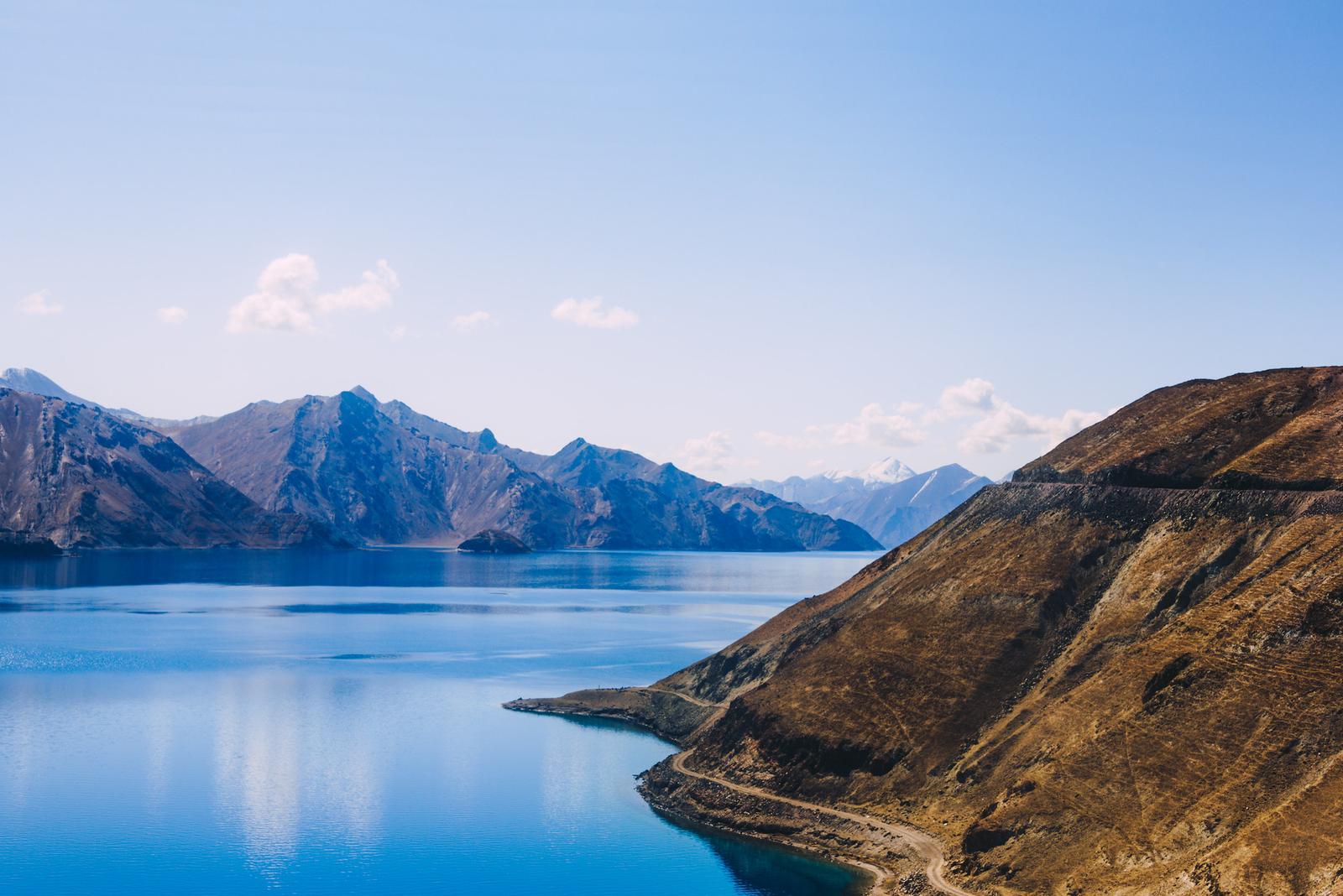 For the once-in-a-lifetime experience in Chushul, I'll spare it for the next part of this Ladakh blog.