Leaving Khiva in the afternoon allowed me to have a good sunset appreciation time and I could really see the Kyzylkum Desert clearly. However, I wasn't able to keep my body fit on that 7th day of the trip due to catching cold, so at the end sleeping in a hot stuffy sleeper coach yet freaking cold outside made it an uncomfortable night. The best takeaway was to befriend the Uzbek on the trip in the crowded narrow aisle, despite their mediocre English command.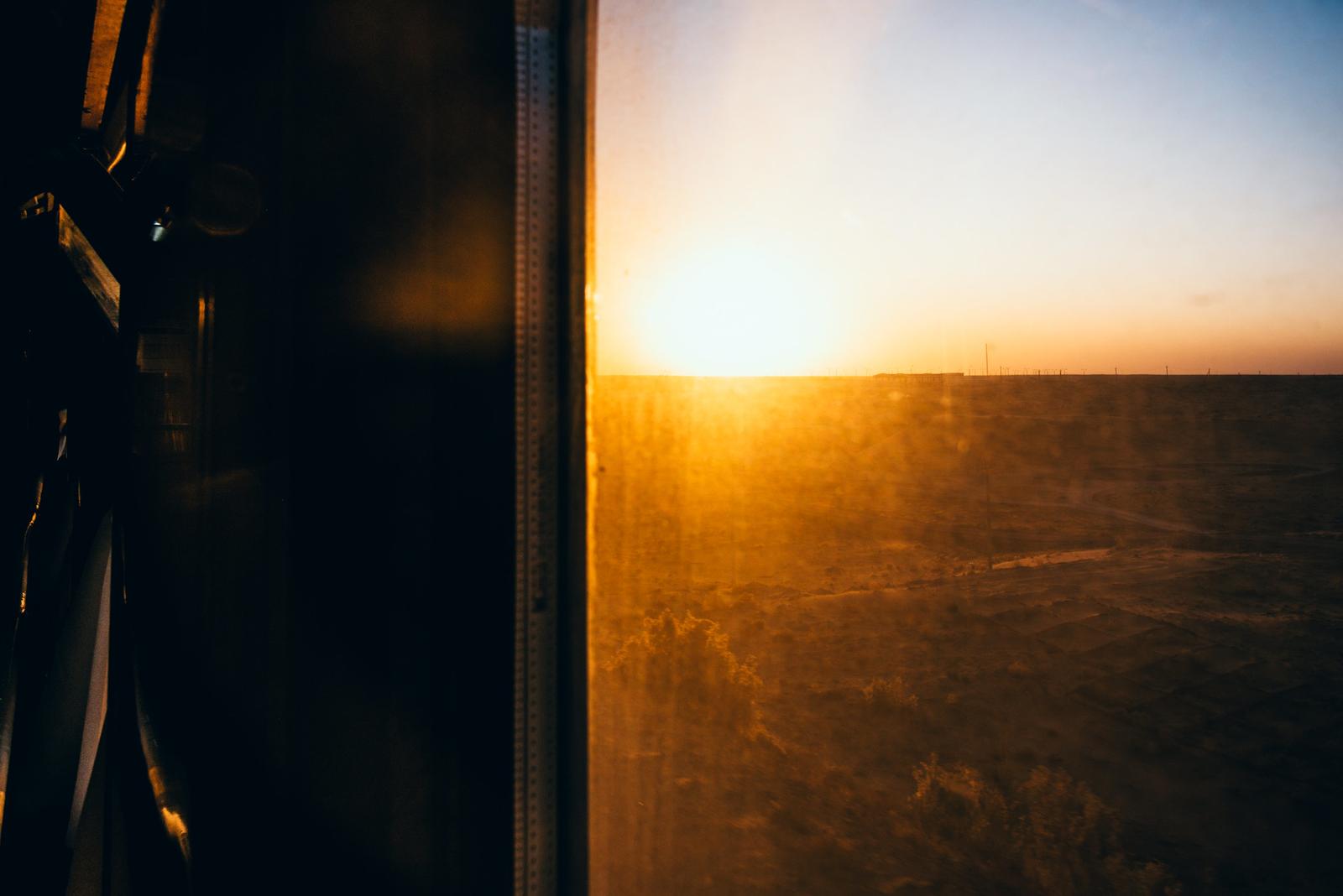 We had some tea and small pieces of biscuit, otherwise I would go to the canteen coach for better seat and fresh air. Menu was particularly the same as other restaurants', with plov and Uzbek soup noodles.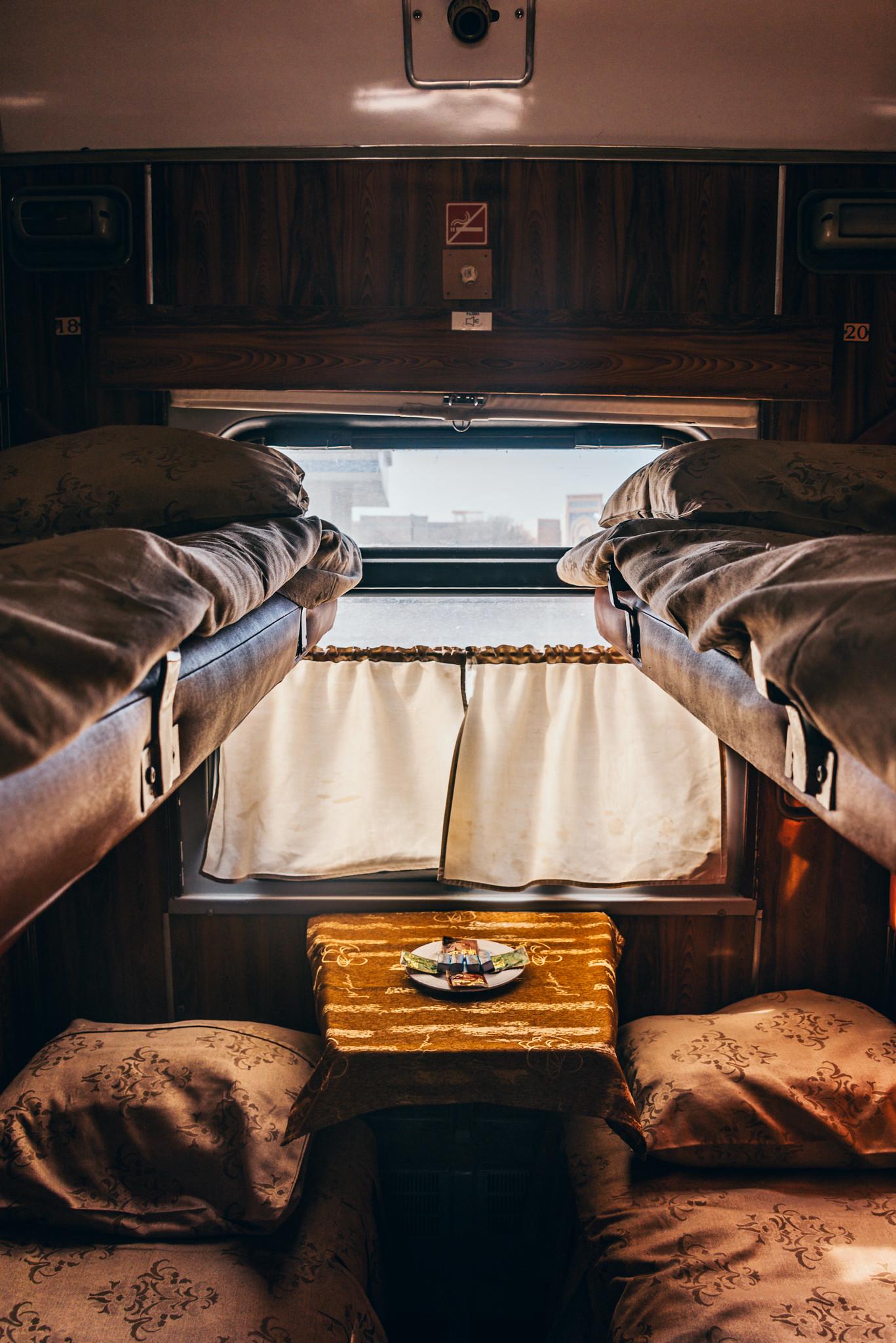 The train arrived in Samarkand at around 3.30pm, another bad timing. I needed to spend a few hours in the station before the first bus departure, at least I could have some time to admire the architecture inside, while it's pretty quiet and peaceful there. Remember not to expose your camera or shoot near the security men, as they will ask you not to do so.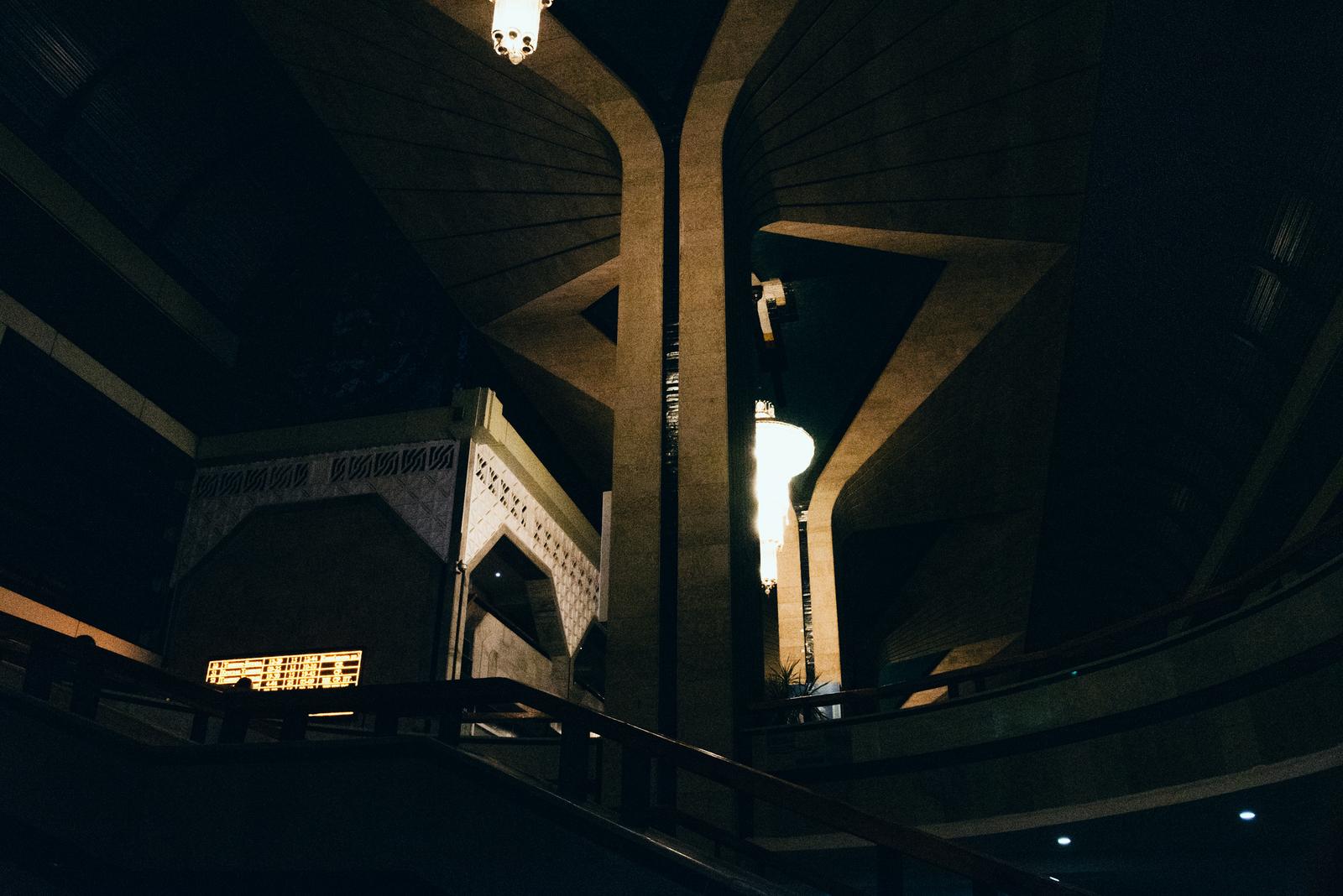 The Bus Journey to Samarkand Center
If you have a decent knowledge of world history, Samarkand (Samarqand/Самарқанд) is probably the most famous city not only of Uzbekistan but also Central Asia. The city inherits its Tajik tradition from being the capital of Sogdian satrapy, part of Achaemenid Empire of Persia (and for that, similar to Bukhara, most of inhabitants are speaking Tajik rather than Uzbek). Going under control of Alexander the Great, Iranian, Turkic, Arab and Mongols, the city then flourished under the rule of Timur (Tamerlane).
An important location of the Silk Road route, a crossroad of cultures, Samarkand has been listed in UNESCO World Heritage List.
A fact: Samarkand shares the same meaning with Tashkent, being "rock fort" in their respective language family, Sogdian (Persian) and Turkic.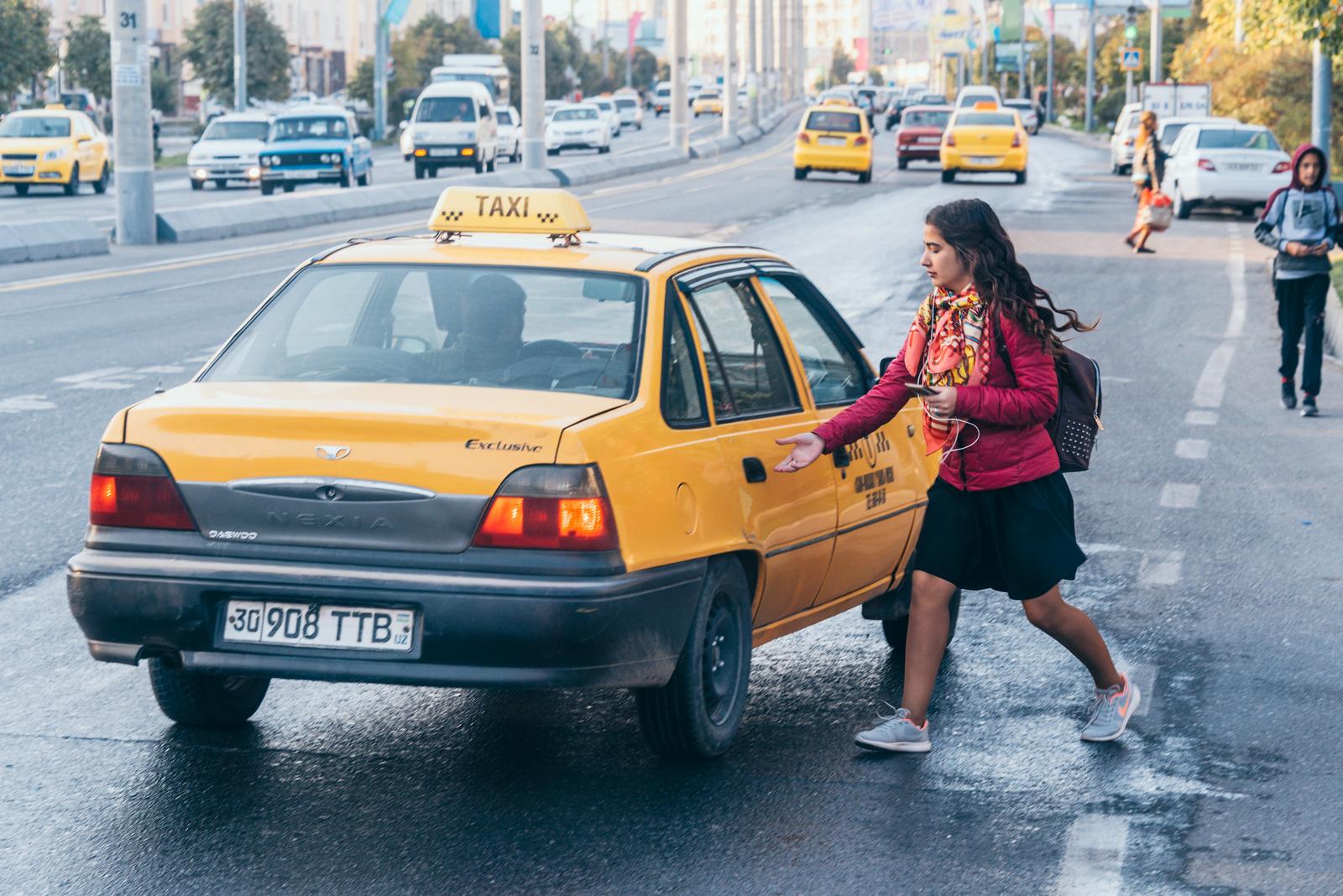 The morning bus took me to Registan, the price was cheap, and I could claim the first seat next to the driver, which was a valuable chance to take street photos of this city (though it's bumpy). It's the time everyone was hurrying for work or school making up the busy traffic.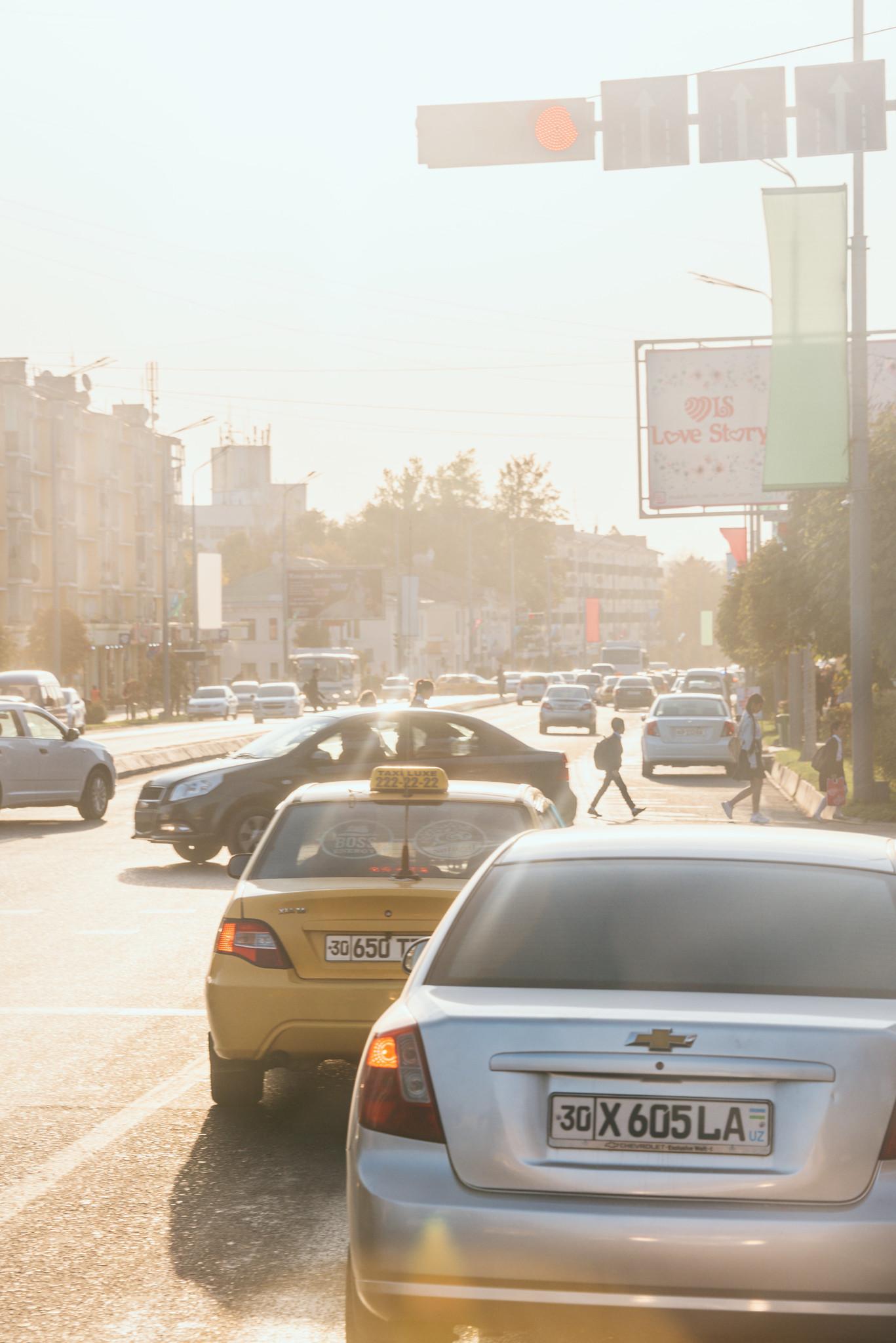 The city features the typical tones of white cars and yellow taxis. Despite being the more recognized historical city, Samarkand is a modern urban, and it's not the same ancient vibes found in Khiva or Bukhara. The western side of the city was planned in Soviet era, and it's not hard to see the European-influenced architectural style there.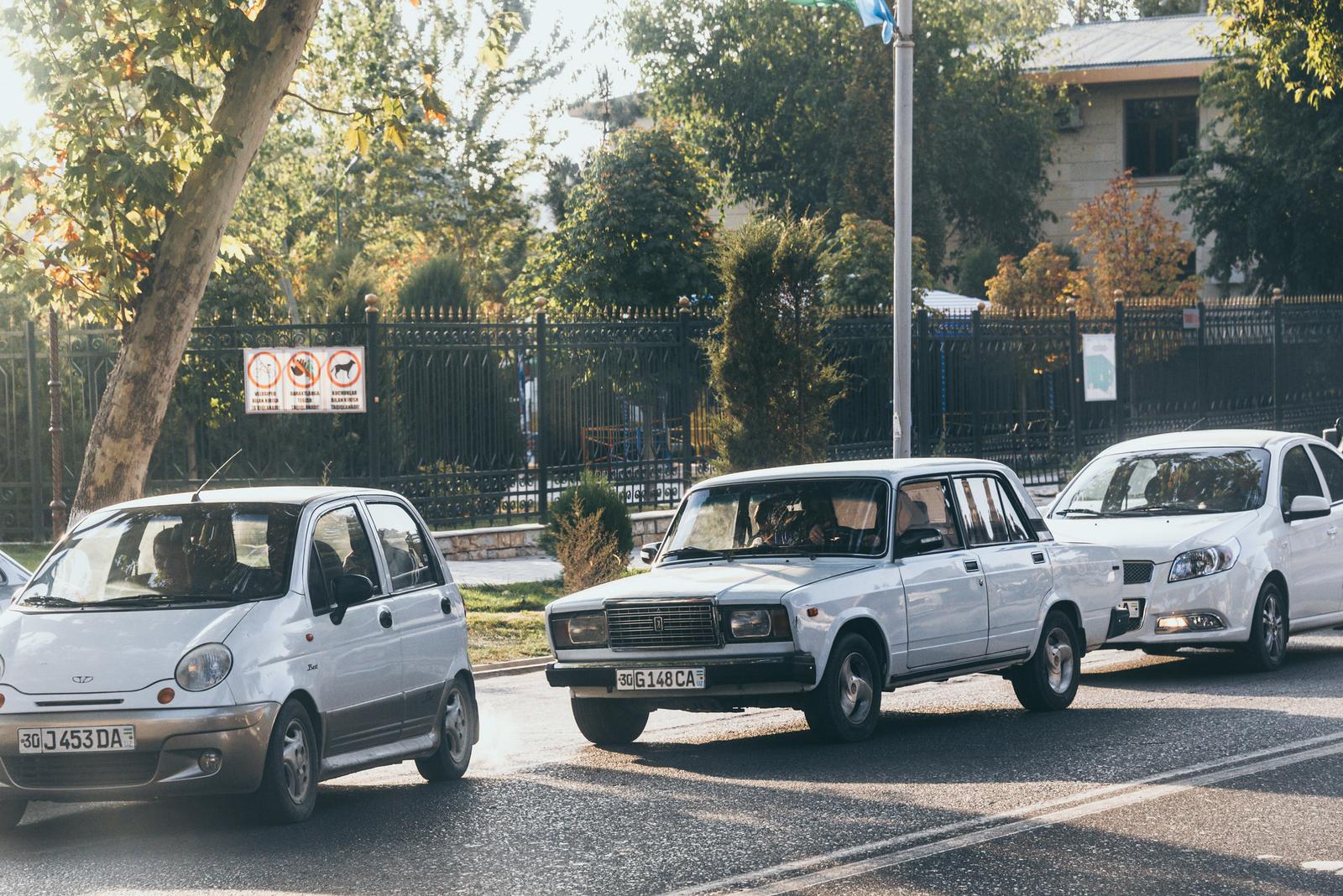 The First Morning
From the bus stop in Registan, I arduously pulled my luggage to my hotel, and then started my day exploring the historical center along the Registan Street. The starting point was at Islom Karimov Statue, and ended at Amir Temur Monument, covering a distance of about 2km.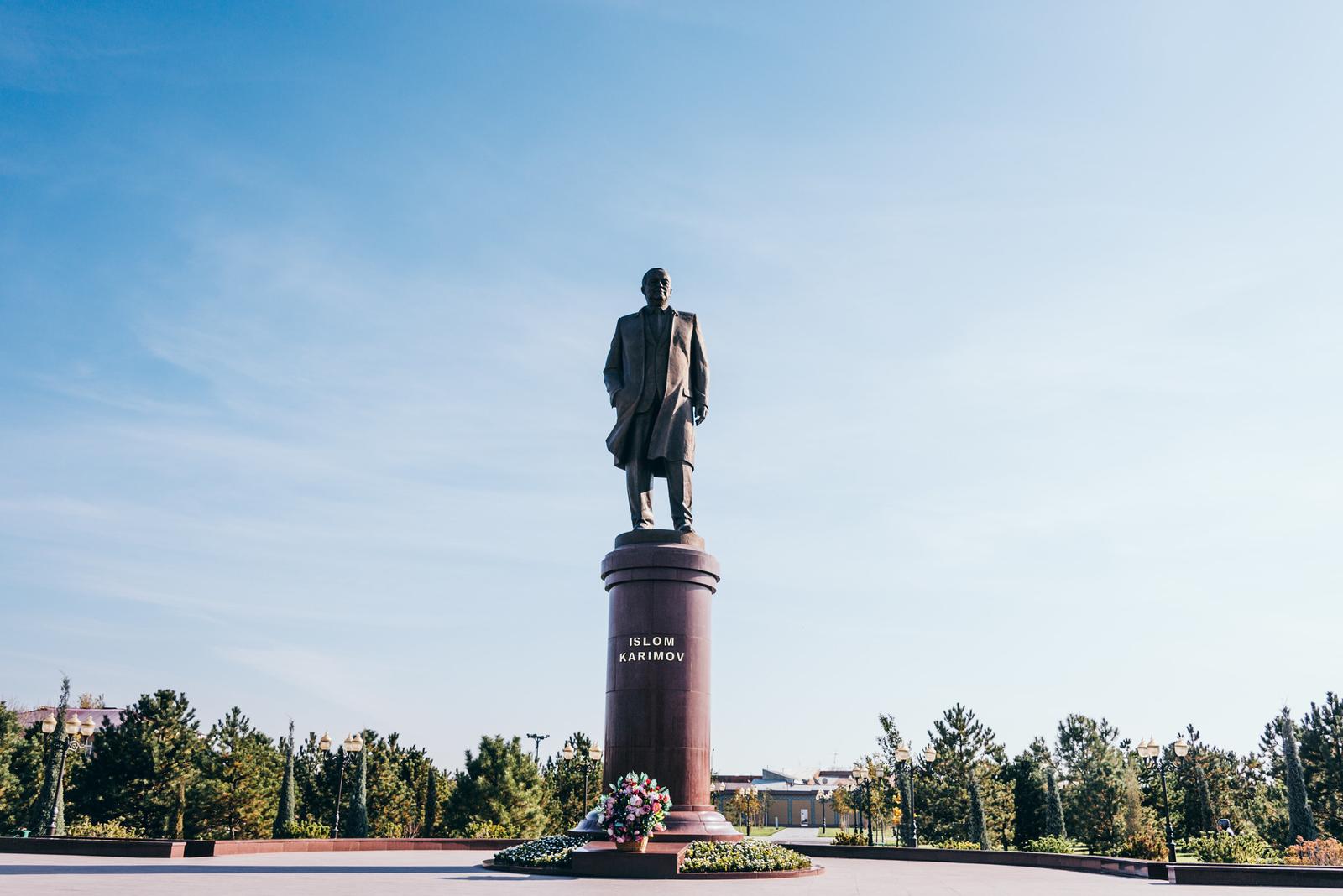 Being in the eastern region of Uzbekistan, at the same temperature you feel more chilled as the wind delivers higher humidity. Greeneries are more abundant, and Samarkand gardens are the symbol of paradise and prosperity.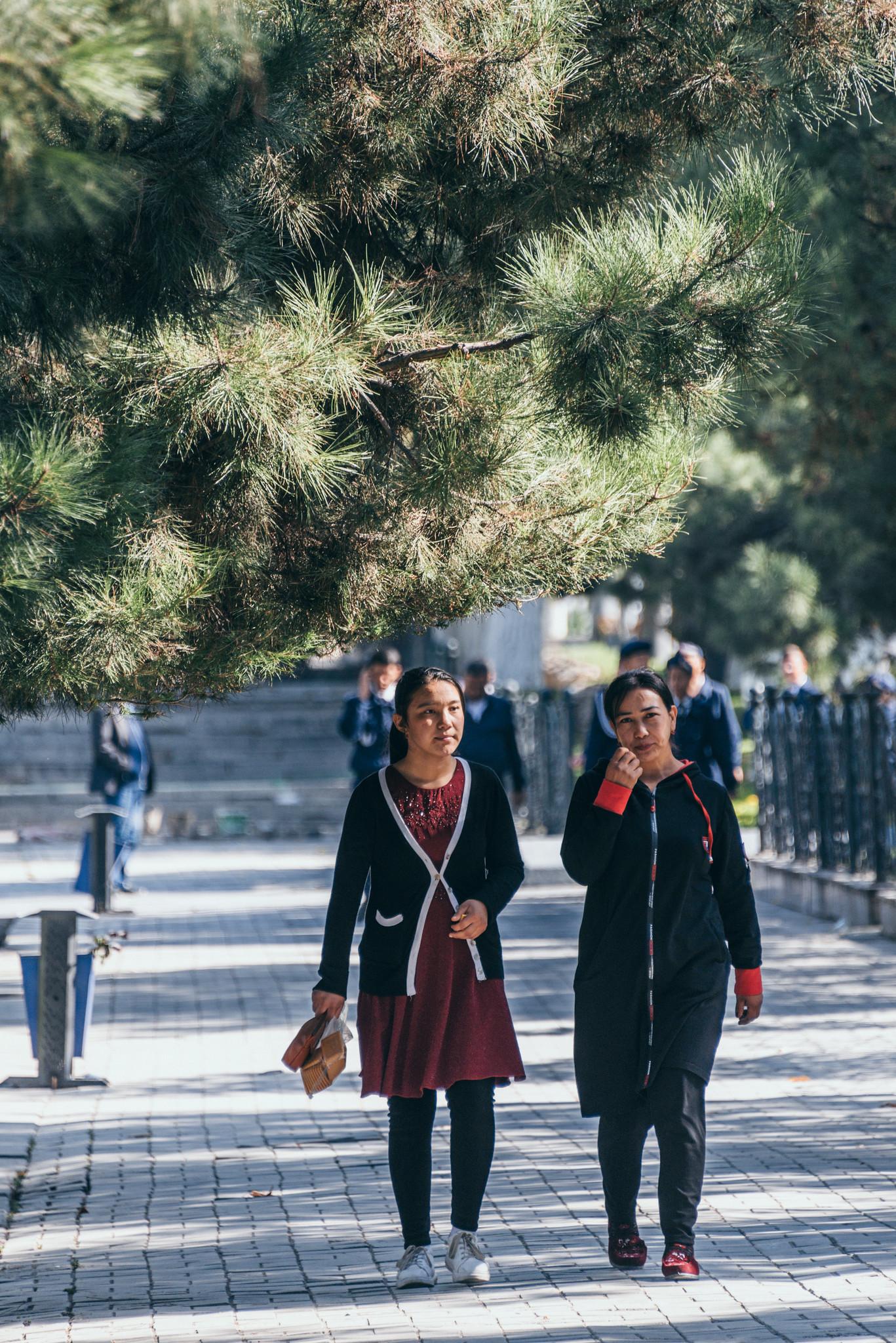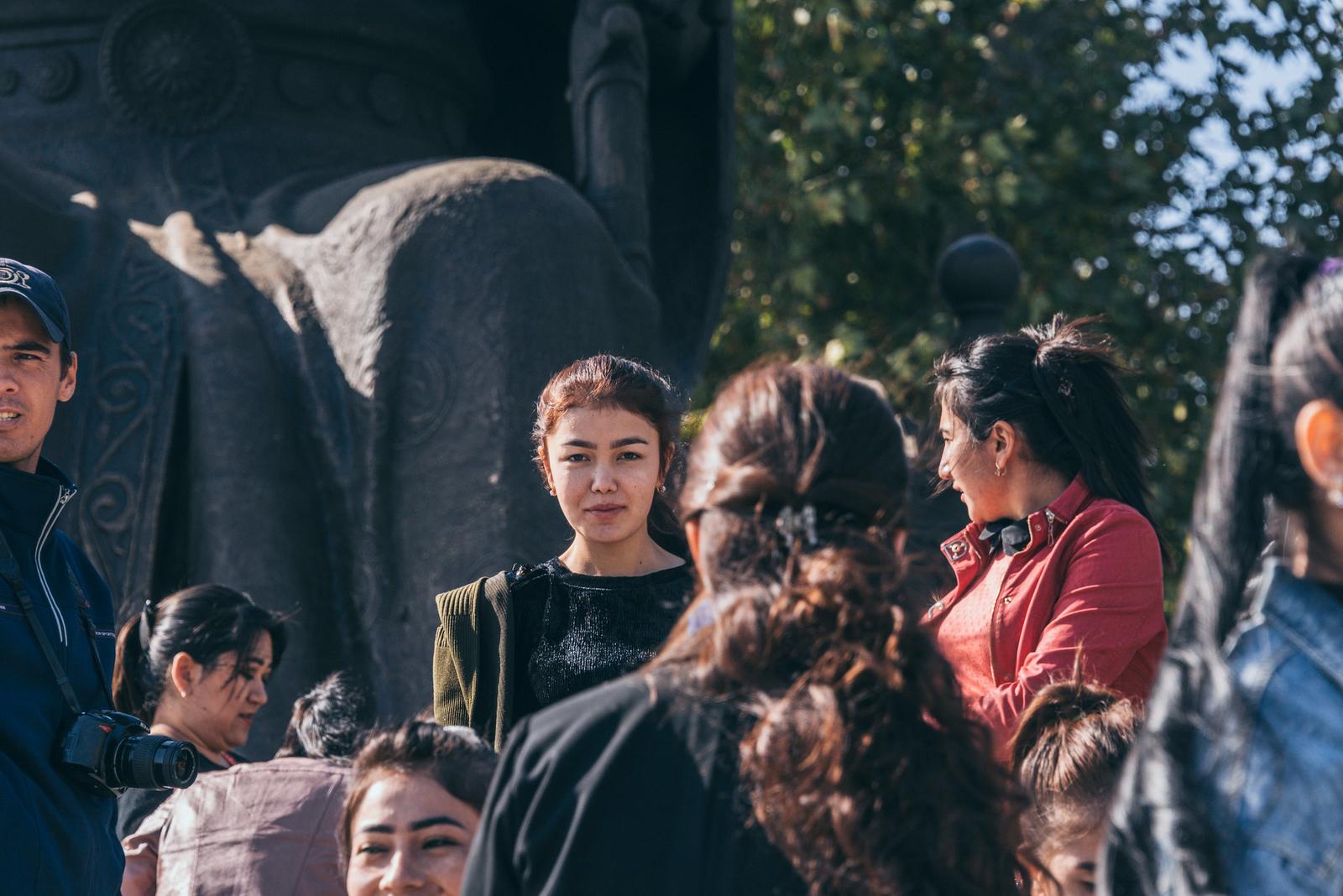 …Registan in the morning
As you need to buy ticket (40,000 UZS) for Registan entrance, I would use it only in the afternoon for a thorough walk at sunset time. Well, it's not the same as when I could have freely entered the madrasahs in Bukhara or Khiva.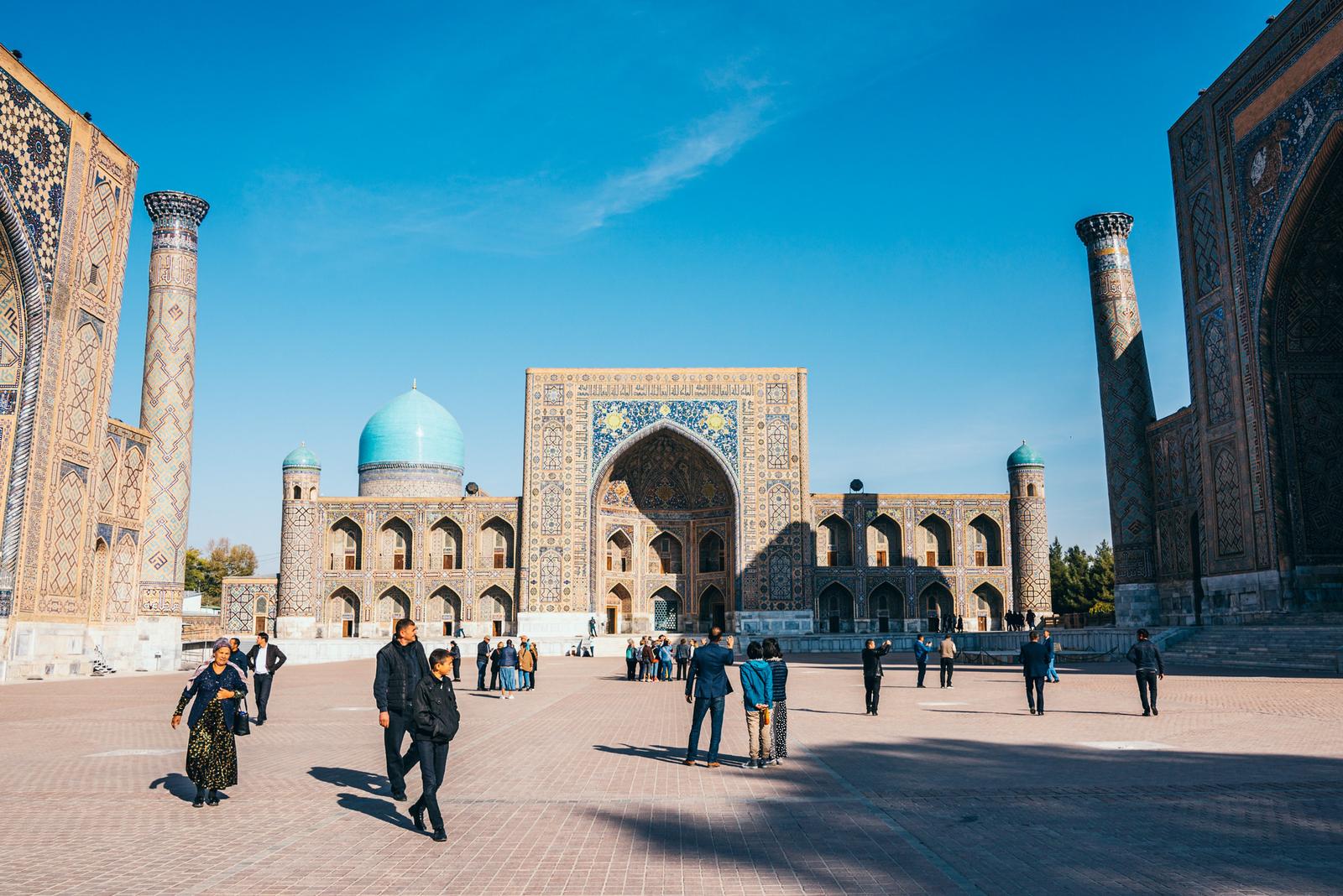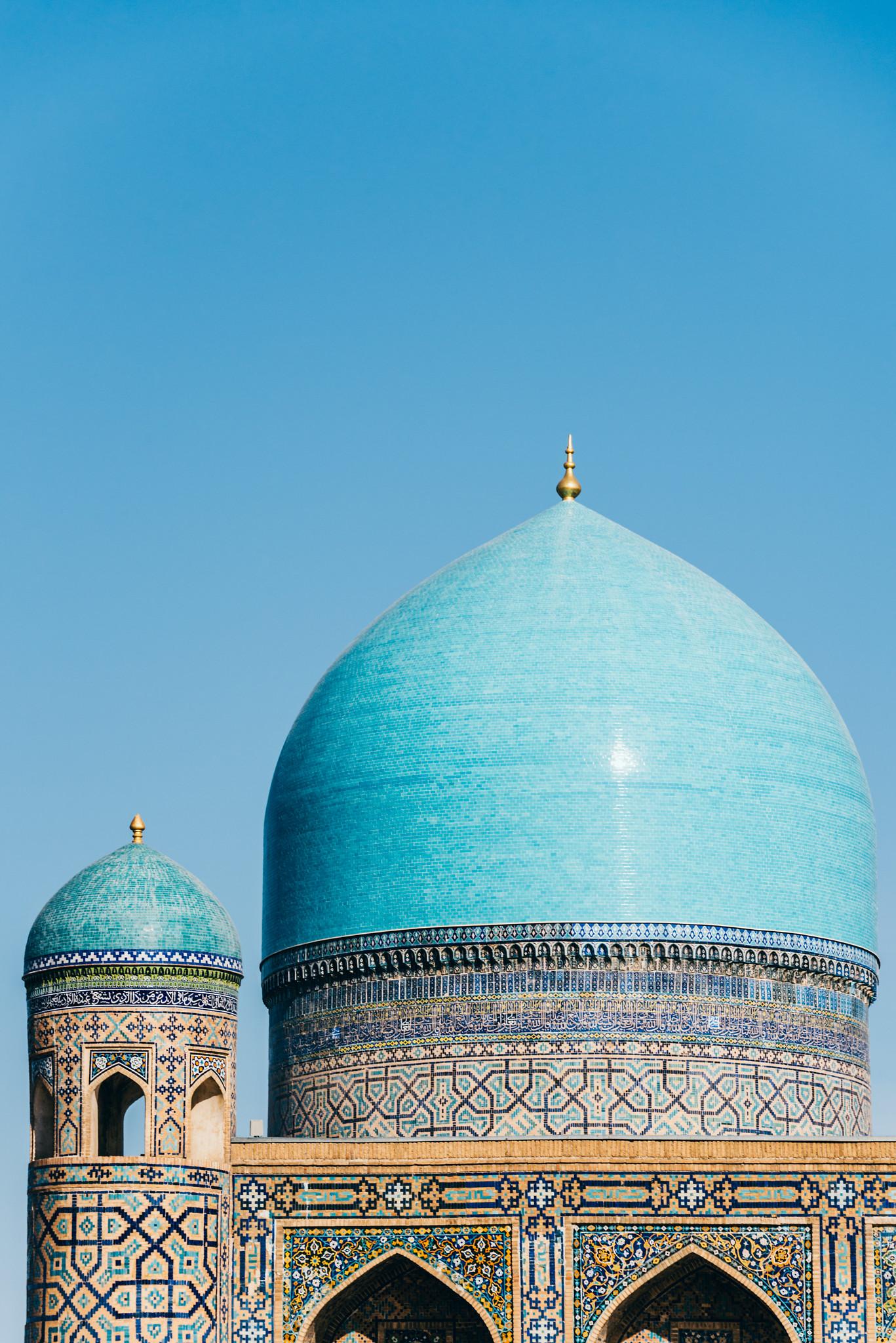 Rukhobod Mausoleum and Gur-i Amir Complex
When Registan Street reaches Amir Temur Monument, you can turn left for Rukhobod Mausoleum and Gur-i Amir Complex. Gur-i Amir - the mausoleum of Timur (Tamerlane) is probably the second most important place for visitor after Registan. Some information about Timur: he is a brutal conqueror yet the patron of arts at the same time; of Turco-Mongol origin, he claimed to be the heir of Genghis Khan (although not directly), but also a practicing Muslim that unified much of the Muslim world. Fighting with Persia, India, Ming dynasty of China, Russia and Ottoman, he was an undefeated commander, and received mixed views from different sides whom his reign affected.
His tomb, Gur-i Amir, has influence over many other great mausoleums, including Taj Mahal of Mughal empire.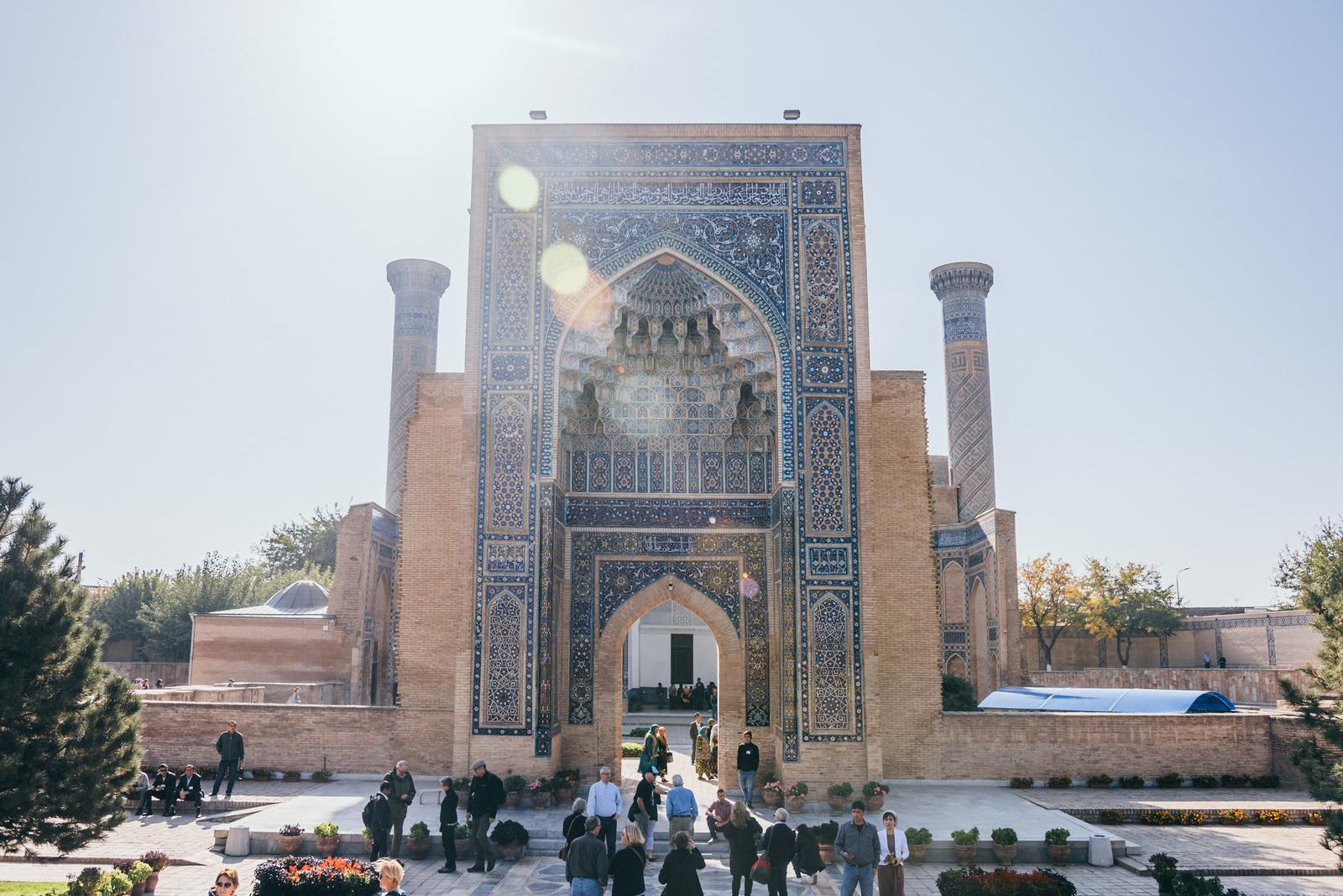 Together with Rukhobod Mausoleum, Aksaray Mausoleum, Amir Temur Monument and Amir Temur Park, they make up an ensemble at Registan - Bustonsaroy intersection. The tiger statues (Skul'ptura Tigrov) at the park are the symbol of Persian culture, whereas leopard is the symbol of Samarkand.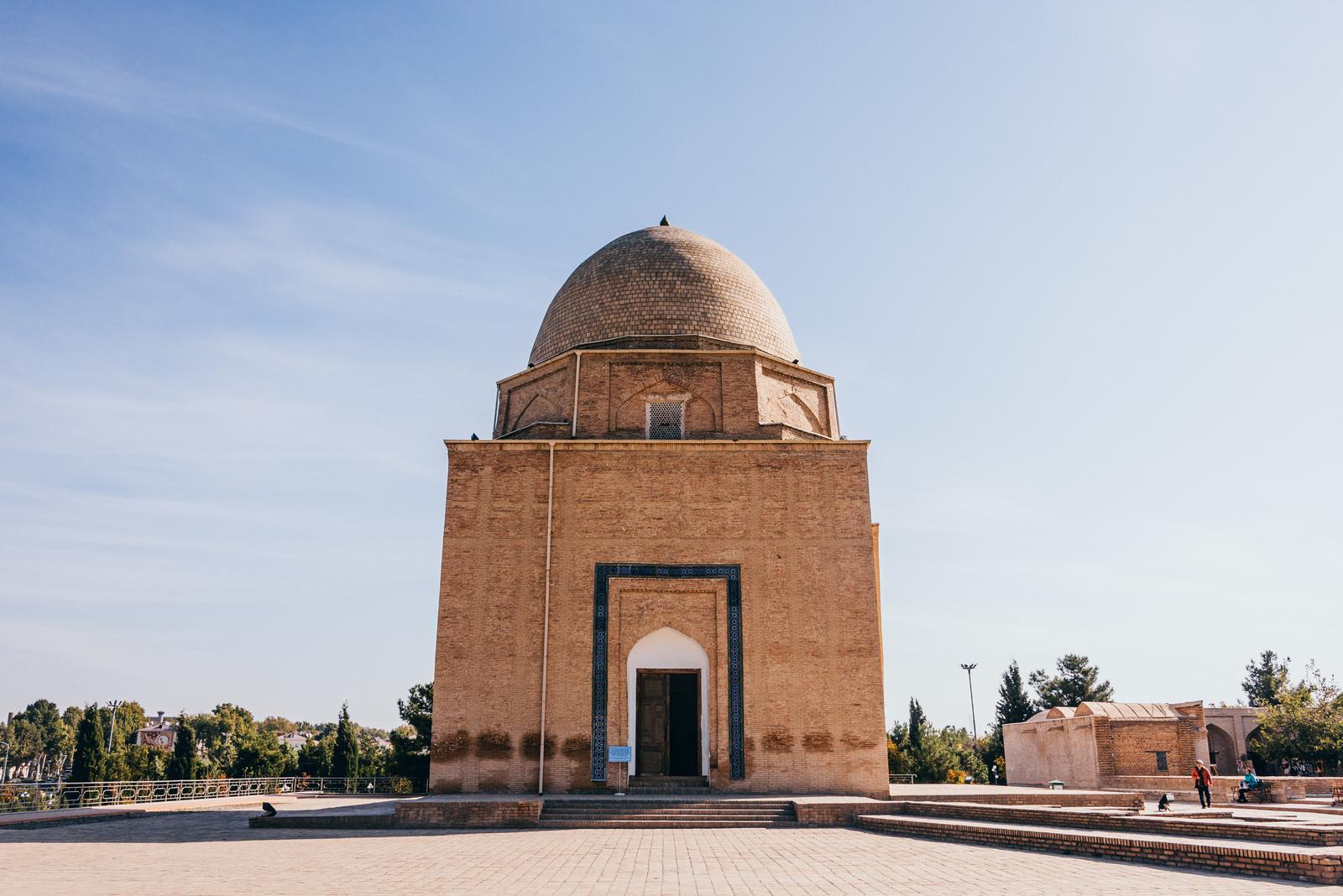 Registan at Sunset
Finally I spent my pocket money to buy the ticket entry to Registan (Registon/Регистон). Once you exit, the ticket is voided, so make sure you explore the complex as much as possible.
As a public square, it's comprised of 3 madrasahs, Ulugh Bek Madrasah, Tilla-Kari Madrasah and Sherdor Madrasah, among them Ulugh Bek Madrasah is the oldest. Each has its own distinctive ornamental patterns on the wall, as well as differences in minarets and domes. The easiest way to remember them is, Ulugh Bek Madrasah was erected by the astronomer-ruler and devoutly religious Ulugh Bek, with geometric motif forming constellation-like pattern, the central Tilla-Kari Madrasah is also the grand masjid with a great blue dome, and Sherdor Madrasah features Samarkand leopards on its façade.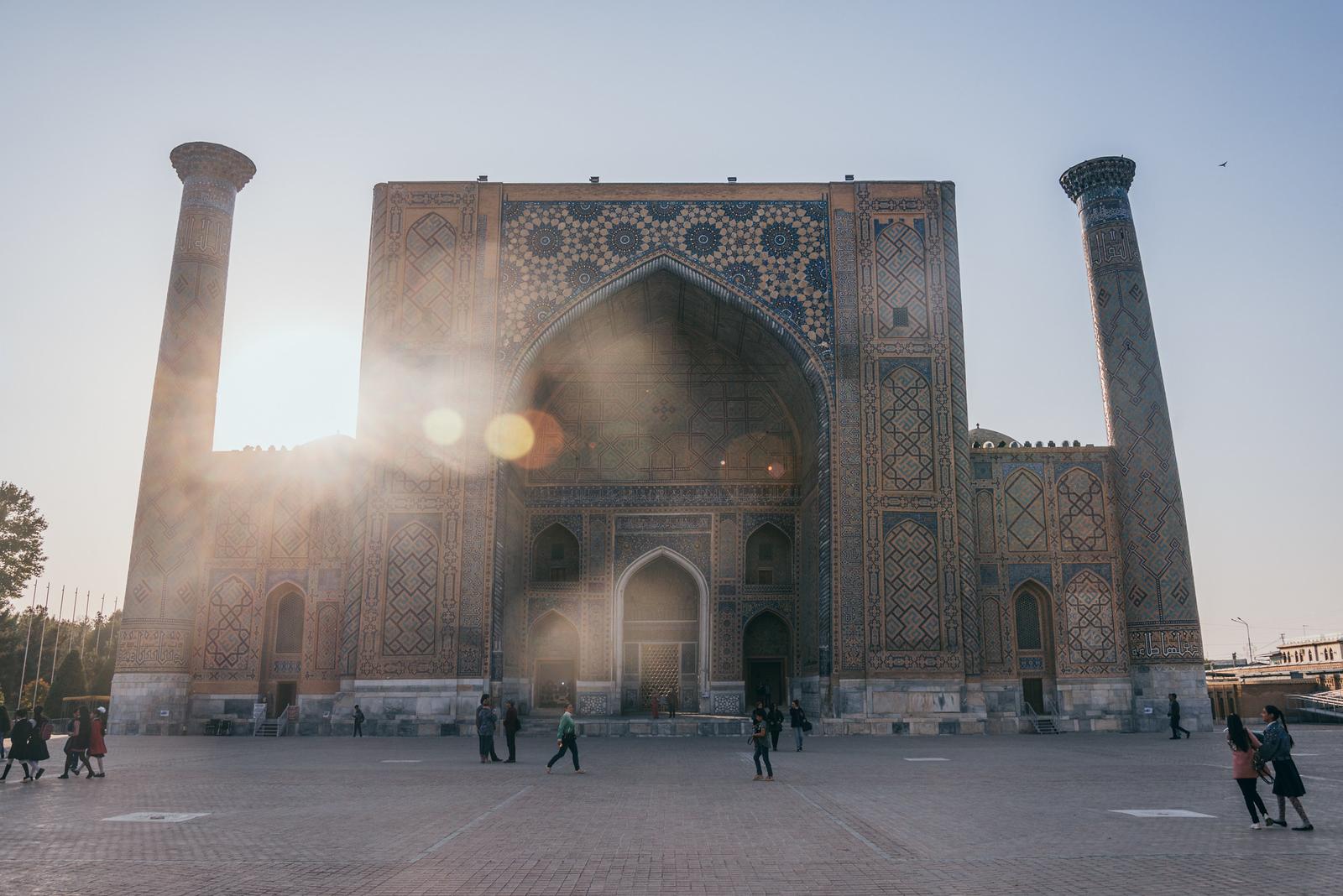 The square is a place for locals and travelers gathering, as well as for wedding photoshooting. Wedding procession is also carried on the path towards Islom Karimov Statue.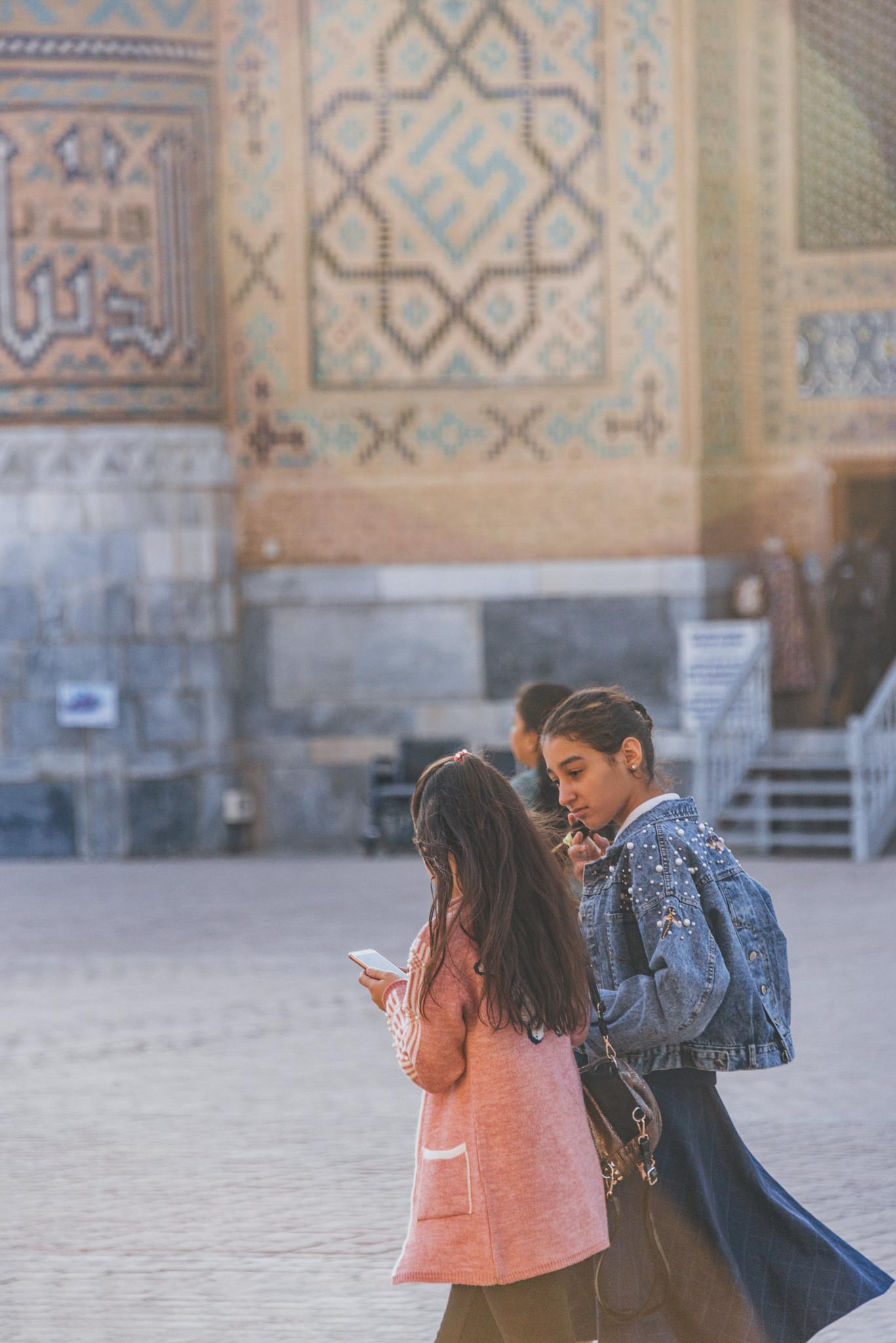 If only there had been a girlfriend at that time, should it have been the most memorable capture in front of Registan.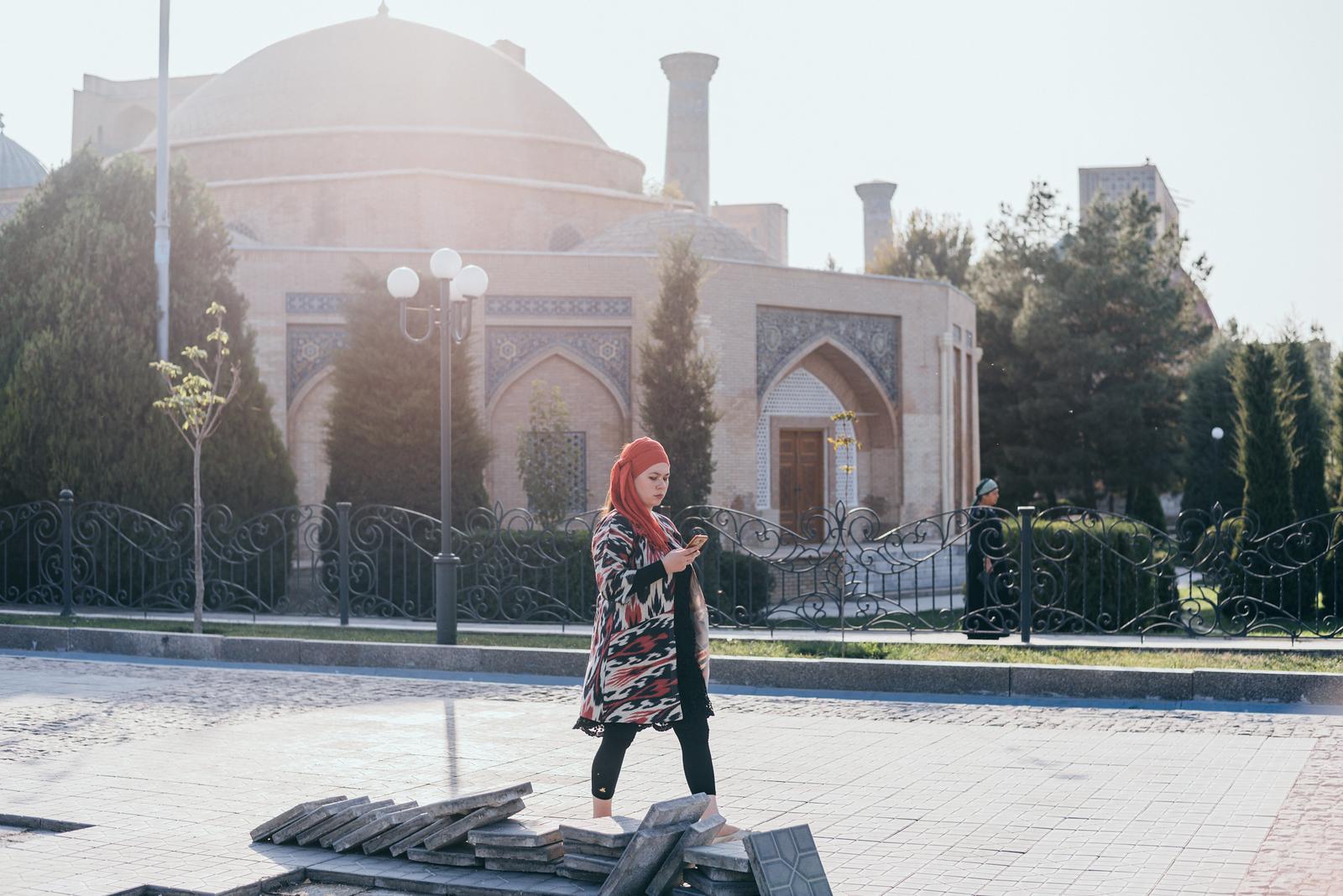 The architecture in Samarkand is more sophisticatedly adorned than in Bukhara and Khiva. In my other previously visited cities, the buildings are made of clay, and ornamental features are less prominent. In Samarkand, you can just utter a 'Wow!' whenever glancing up at the gold-gilded ceilings. This was the same feeling as the time I visited Duomo di Firenze, to be mesmerized by the meticulous tilings and paintings; our modern glassy buildings are giant and glossy, but lack humanist touches. Not only a masterpiece of art, the buildings demonstrate the love to geometry in Islamic world.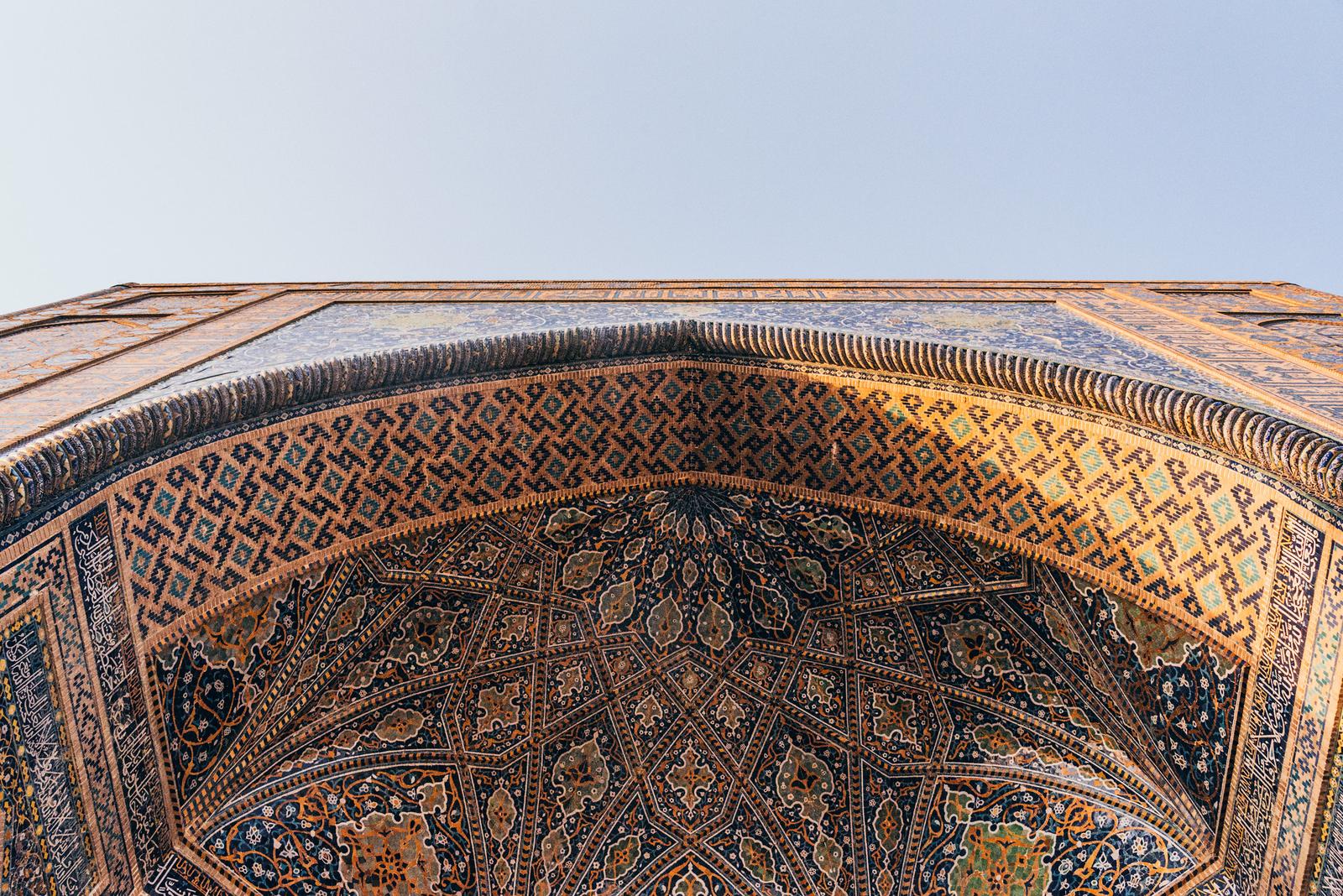 While strolling around the square, I had an opportunity to make acquaintance with students from Samarkand as they were trying to practice English with foreigners. I got a few photos taken with them, and some of us are still connecting until now.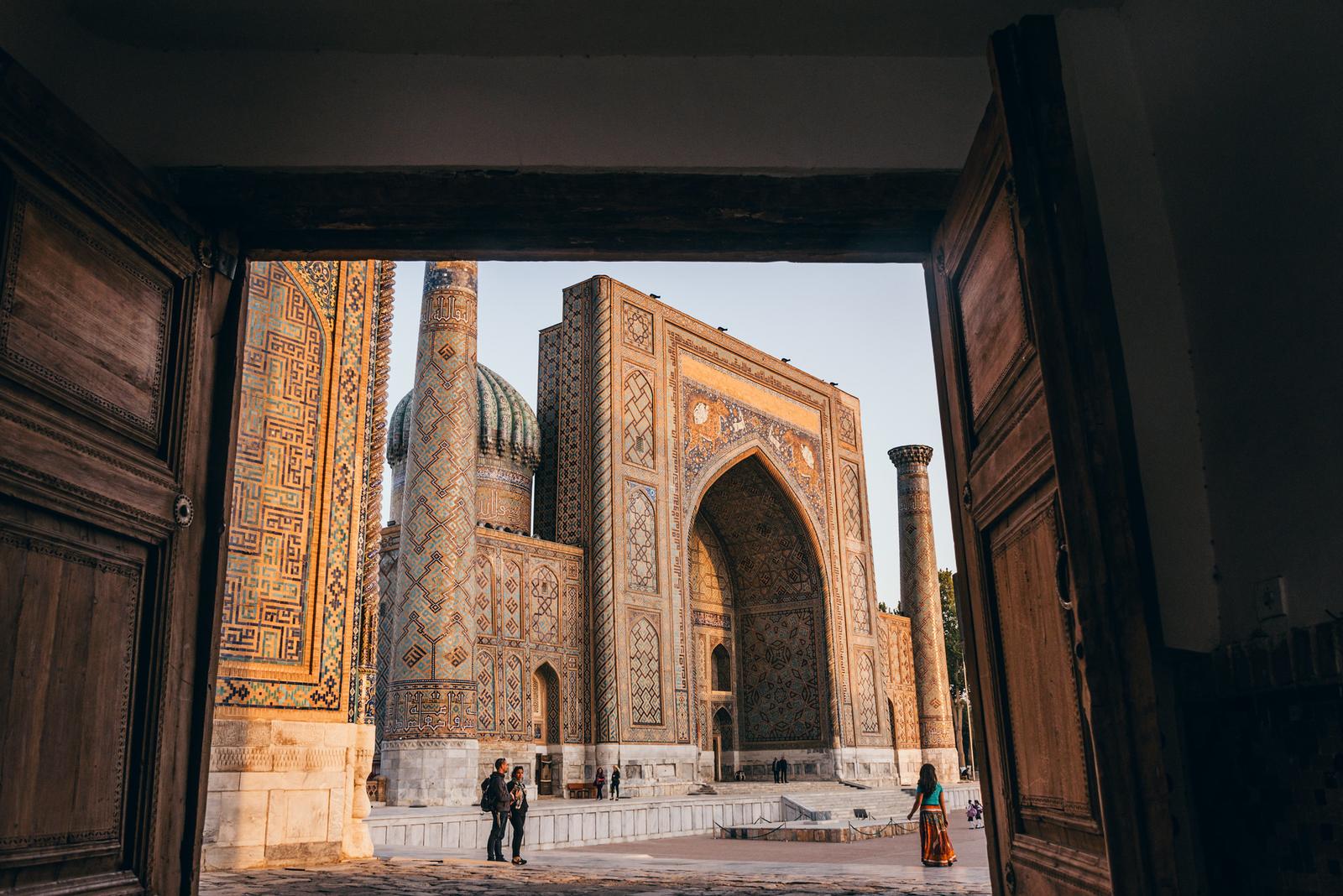 One of the most regretted thing was that I forgot to bring along my tripod to appreciate the beauty of Registan once the night came. However, spending time in that chilling night there was not my second mistake.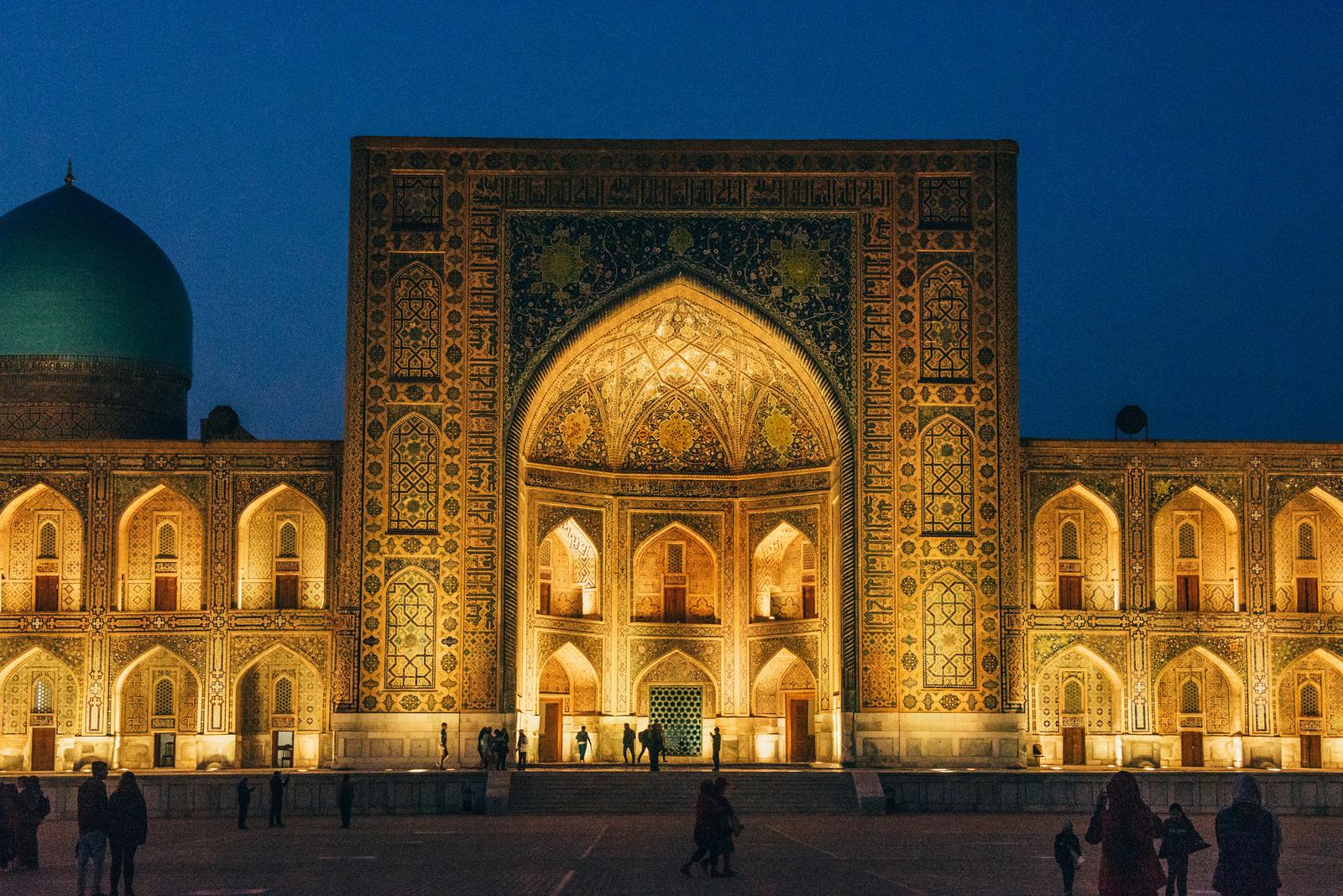 A Walk to Afrosiyob
Rather full with madrasahs and minarets, I decided to walk up to Afrosiyob, the ruins of ancient settlements in Samarkand, now a hilly grass mound. The site has the shape of isosceles triangle, built on top of a natural hill. Discovery from excavations proves the city's glorified past prior to Mongols' invasion or Timurid era. On the route you also pass by Bibi-Khanym Mosque - Timur's ambitious project but now largely a restored version of the original work, or Shah-i-Zinda necropolis.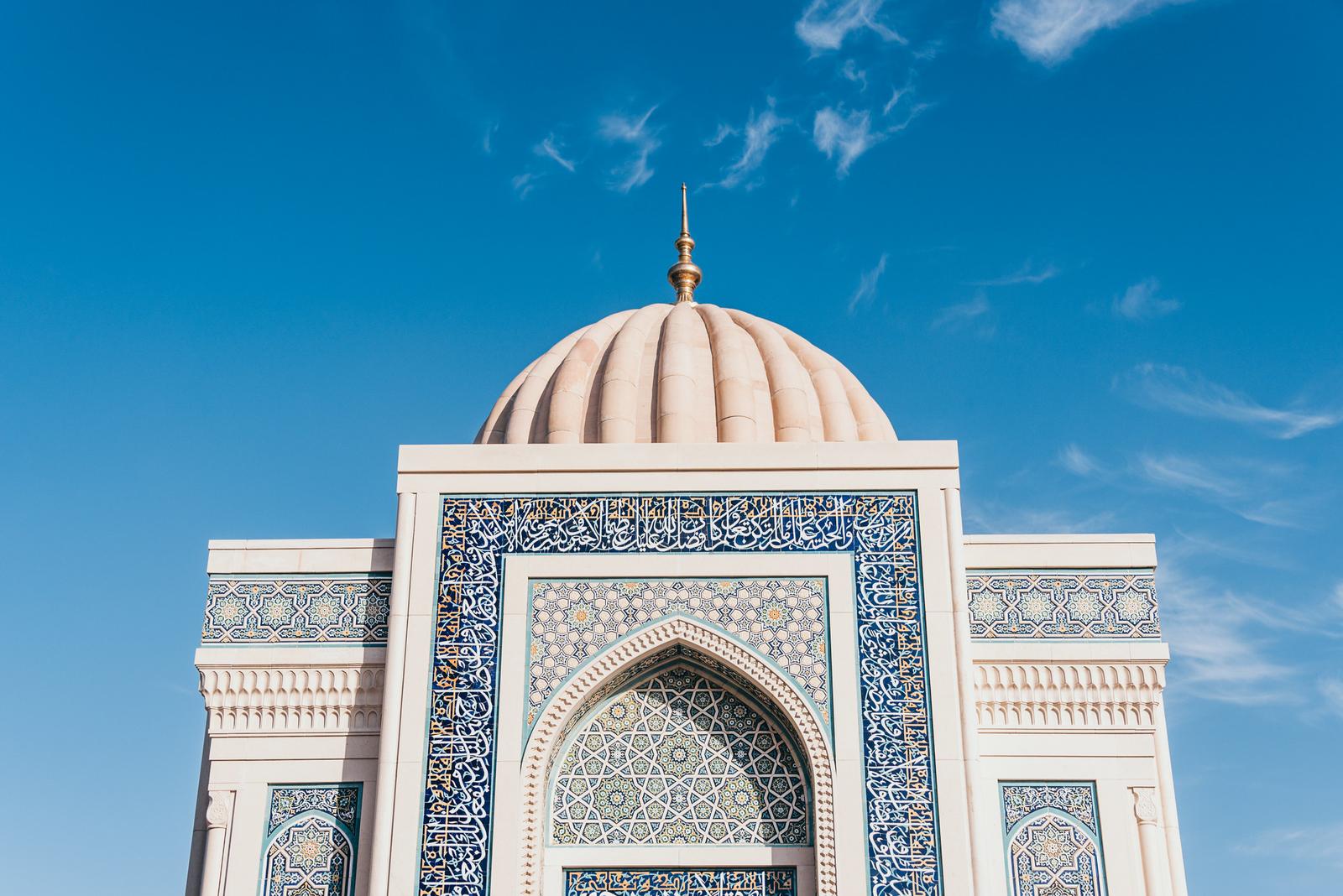 It was a great journey to breathe in the pristine autumn atmosphere while jogging on the quiet Tashkent Road - the south-eastern edge of Afrosiyob. Even I could meet a strange sheepherder and talked a long story with him, without much disturbance around.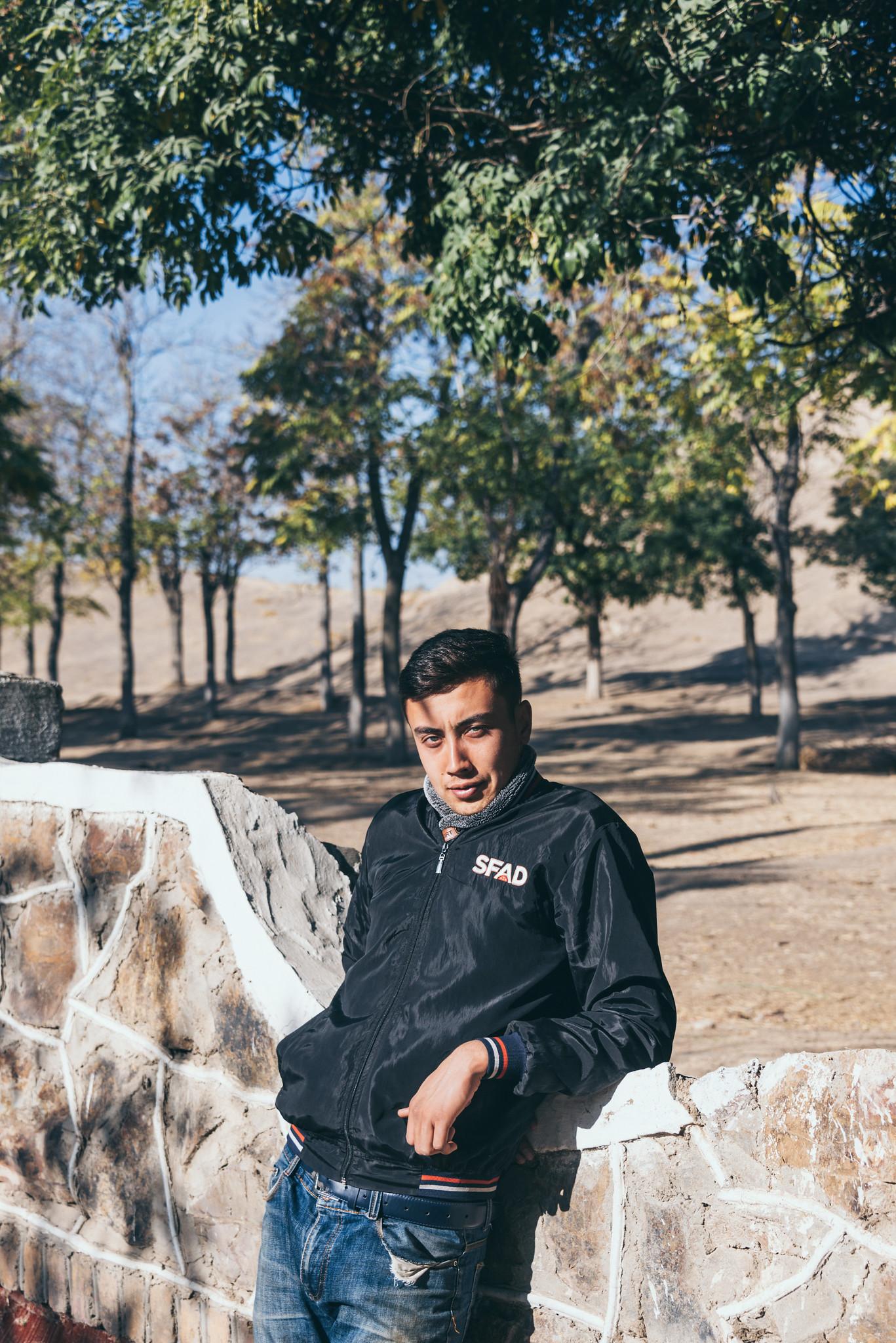 Reaching the top north-eastern edge and I could have a wonderful view at the Sieb Aryk below, and a panorama view of Samarkand outskirts. The colors from autumn leaves embellished the photo so sweetly.
Be aware that there are a few settlers on top of the hill, so try not to make noise as the dogs inside will intimidate you, and running down is pretty rough.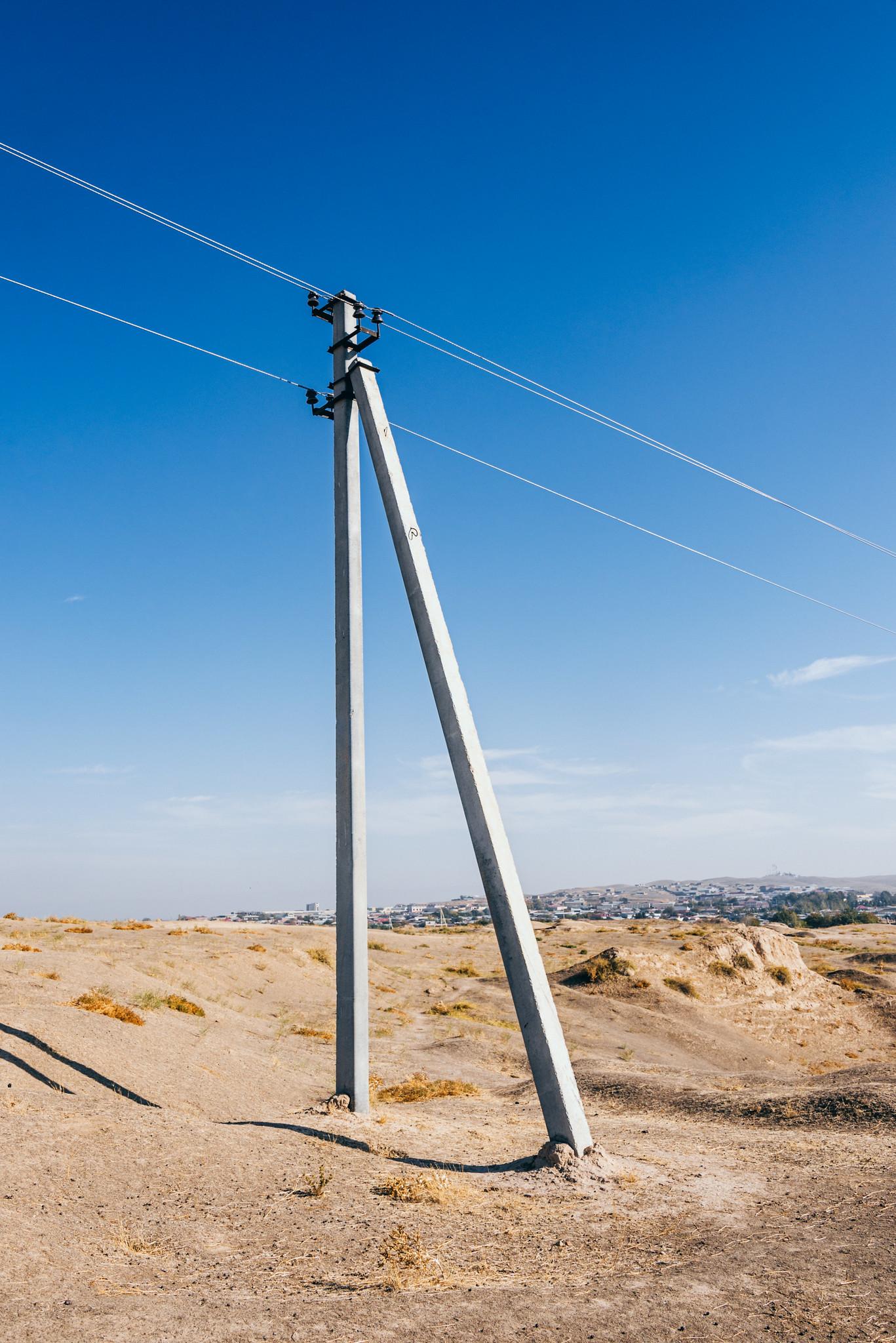 Back to Hotel
Time to get back and pack up for the last part of the trip. Surprisingly my cold had subsided before reaching the wetter Tashkent.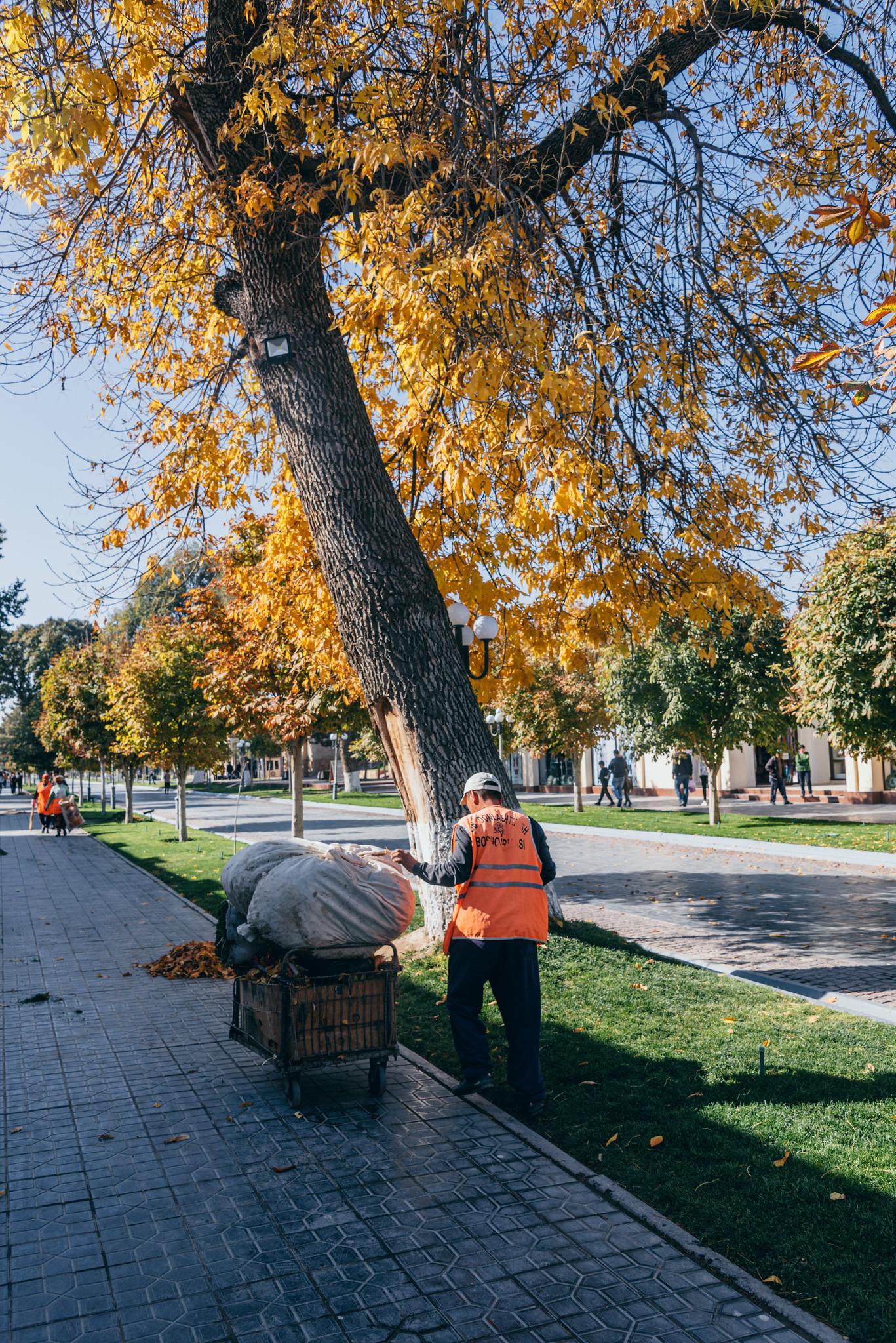 Samarkand is famous for its round-shaped flatbread baked in clay walls of tanyrs, the Obi Non. It's tasty of course, but also eye-catching with the perfectly glazed golden crust. Almost at every corner on the street you can come across some bread seller, a characteristic scene from this city.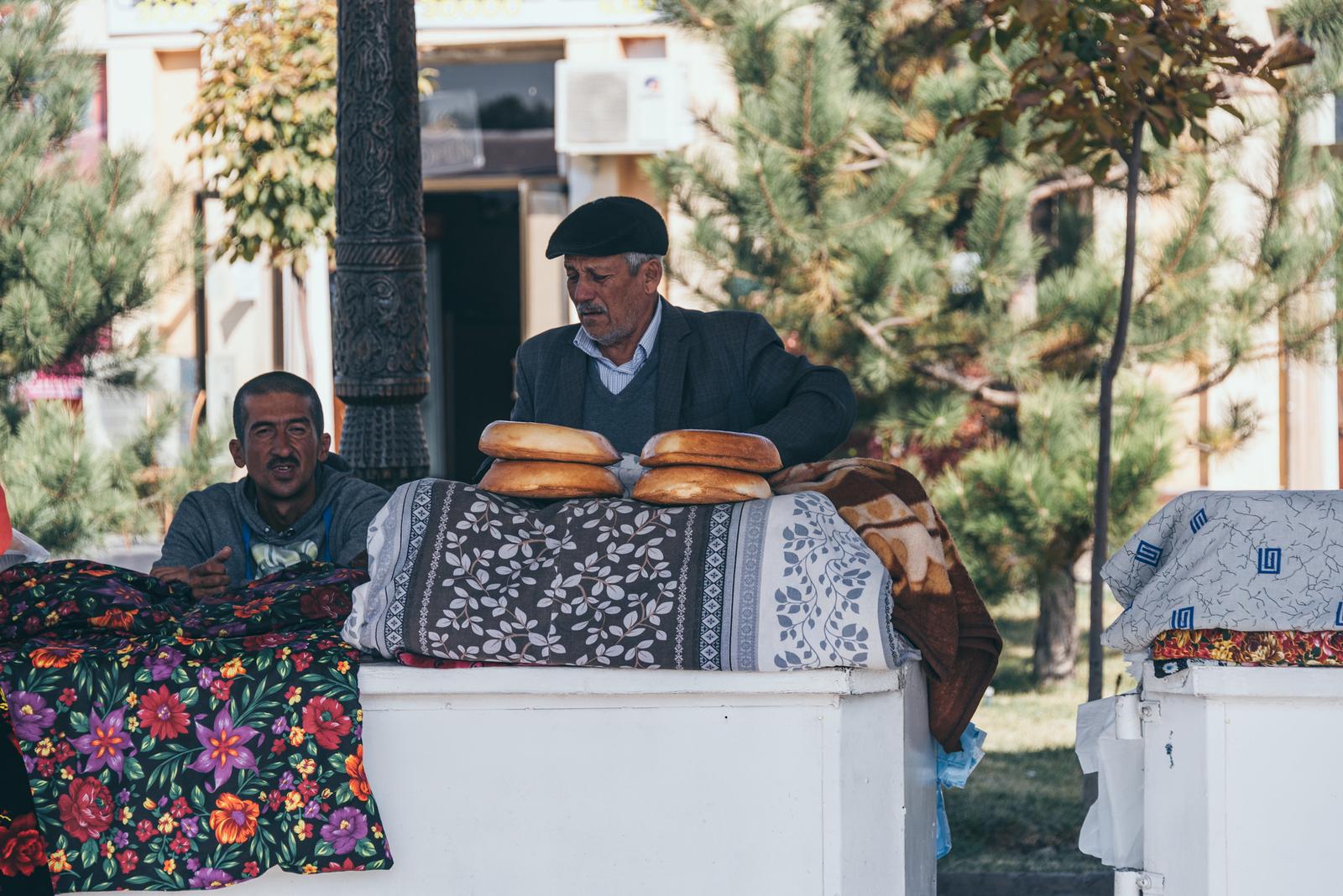 At noon when people took the noon break from work, Samarkand became bustling and joyful, just the same as any other modern business city.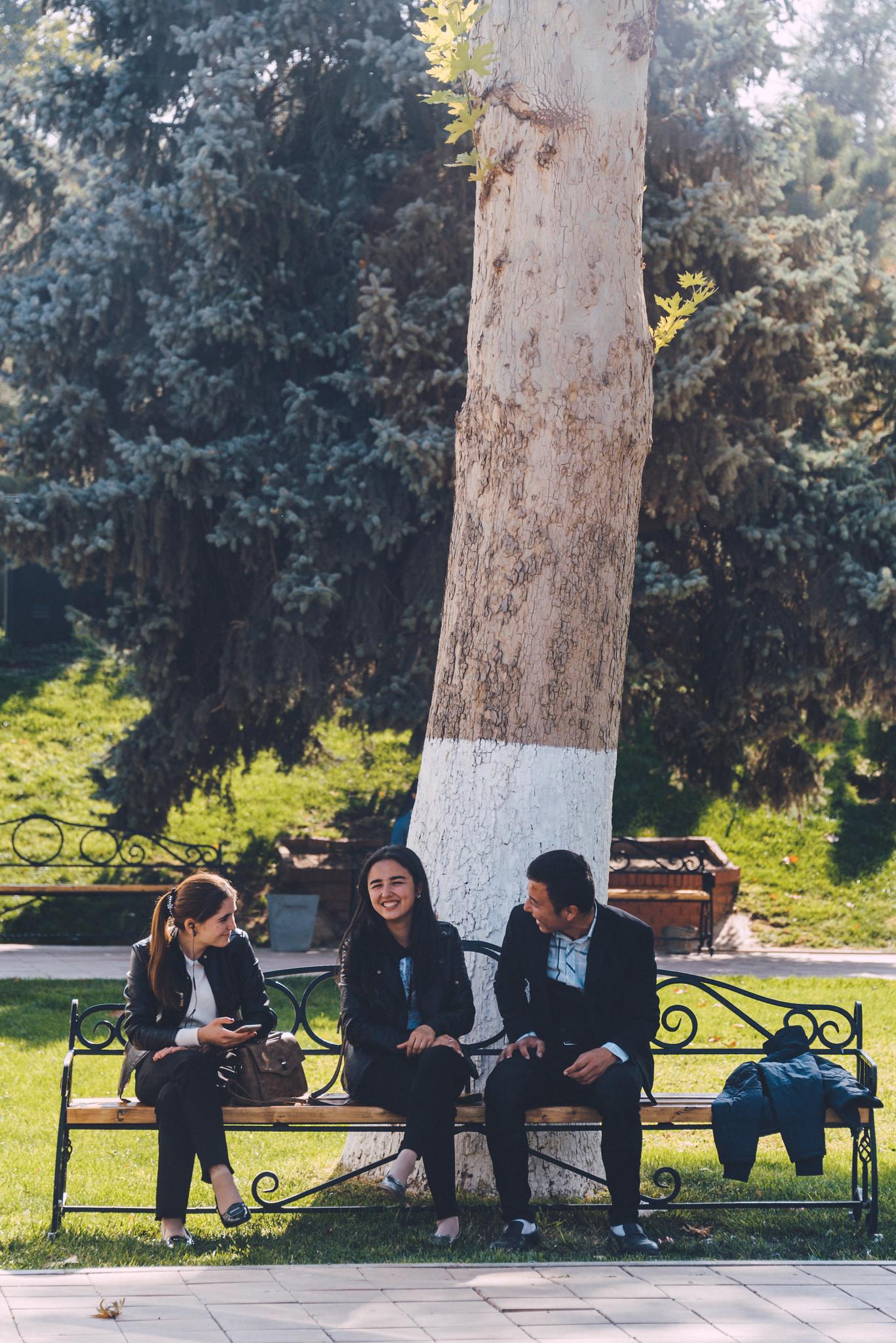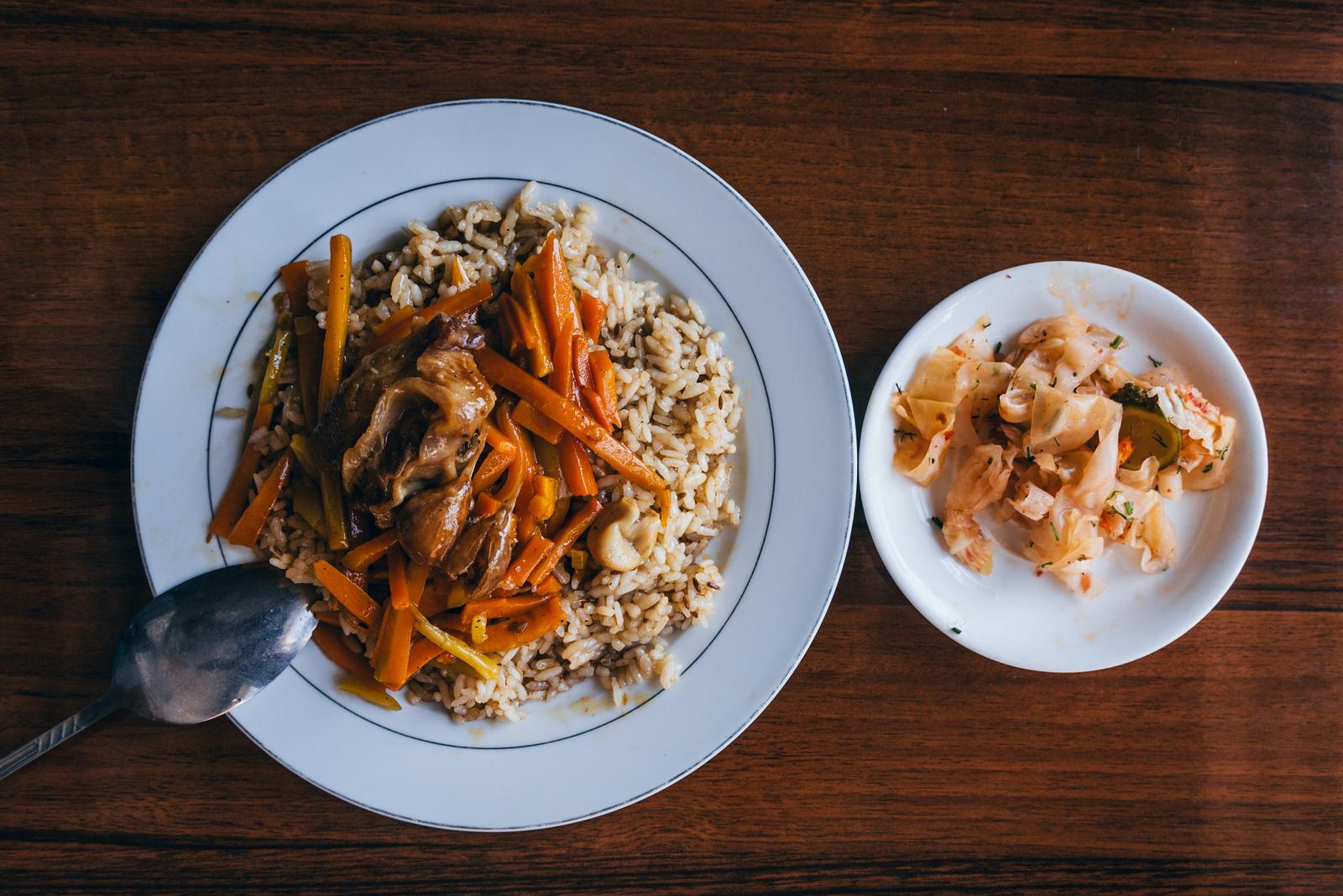 I remembered taking that lunch as slowest as possible, to observe the lady owner taking care of her active son. We need those moments to slow ourselves on the journey, to see happenings through our bare eyes.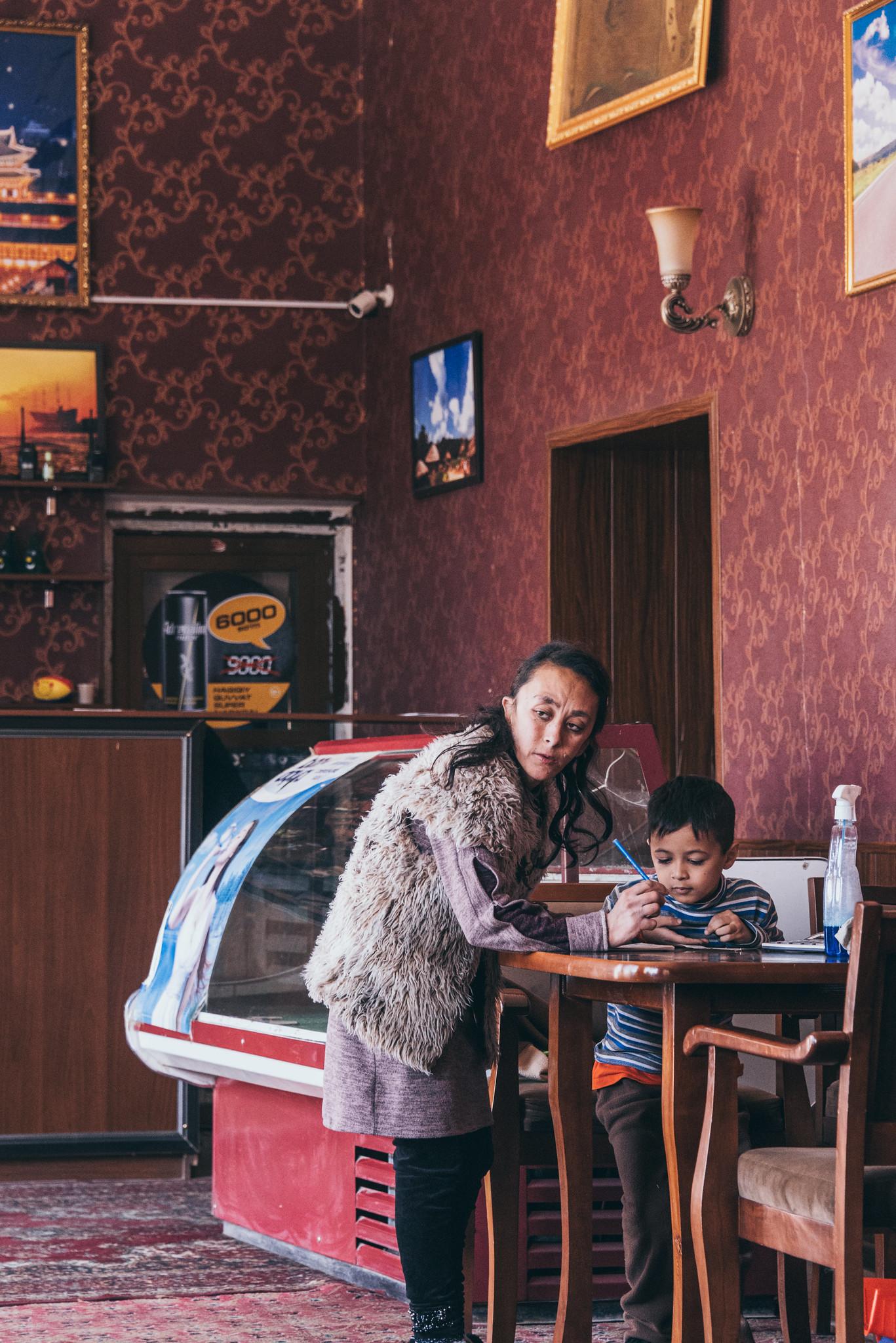 And I didn't waste time not concentrating at the mattress-like decoration on Registan one last time: as if every mosaic tile is a perfect move of the weaver to create this grand maximal artwork.