When I was planning for my Nepal trip, it was as if my affection towards Pokhara was at first sight. Nepal has a lot of places to go, from Annapurna, Gorkha, Chitwan to Everest, so choosing an exceptional target for your first time there is not simple. Pokhara was looking beautiful on all the internet photos I had seen before, and until now I have never felt disappointed.
The Long Long Journey from Kathmandu
I got up at 5am and prepared to check out early from my hostel, as the bus would leave sharply from Kanti Path bus stop at 7am. You will have only one schedule option if traveling from Kathmandu to Pokhara by bus (not minibus), and the same applied for the return trip.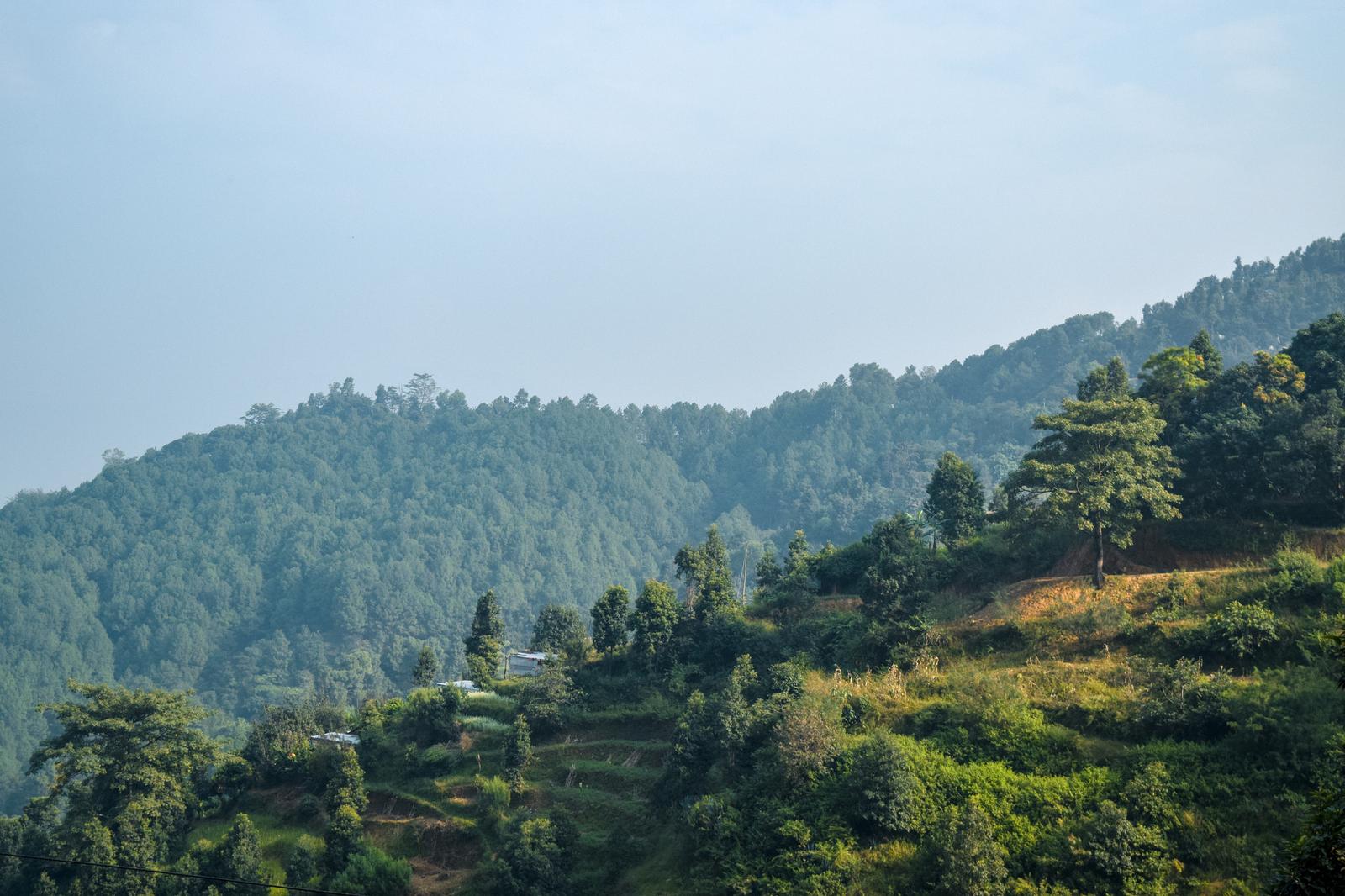 For 8 hours on the bus, you will be excited at first when it drives you through the swirling passes. As far as it comes to the last hours, you will be becoming bored of gazing at the window. Always prepare some snacks for this long trip, and good music to lure yourself into short naps.
During the bus ride there were a few quick stops and one stop for lunch. Time to enjoy local cuisines! Fulfill your stomach and it will be easier to sleep, as in the later hours you won't even dare to open window curtain due to heating sunshine in the afternoon.
Arrived at Pokhara
Finally arrived when it was 4pm already. The bus stop was still far from my hostel, so I struggled a bit to find a taxi, while the air outside was scorchingly hot and dusty.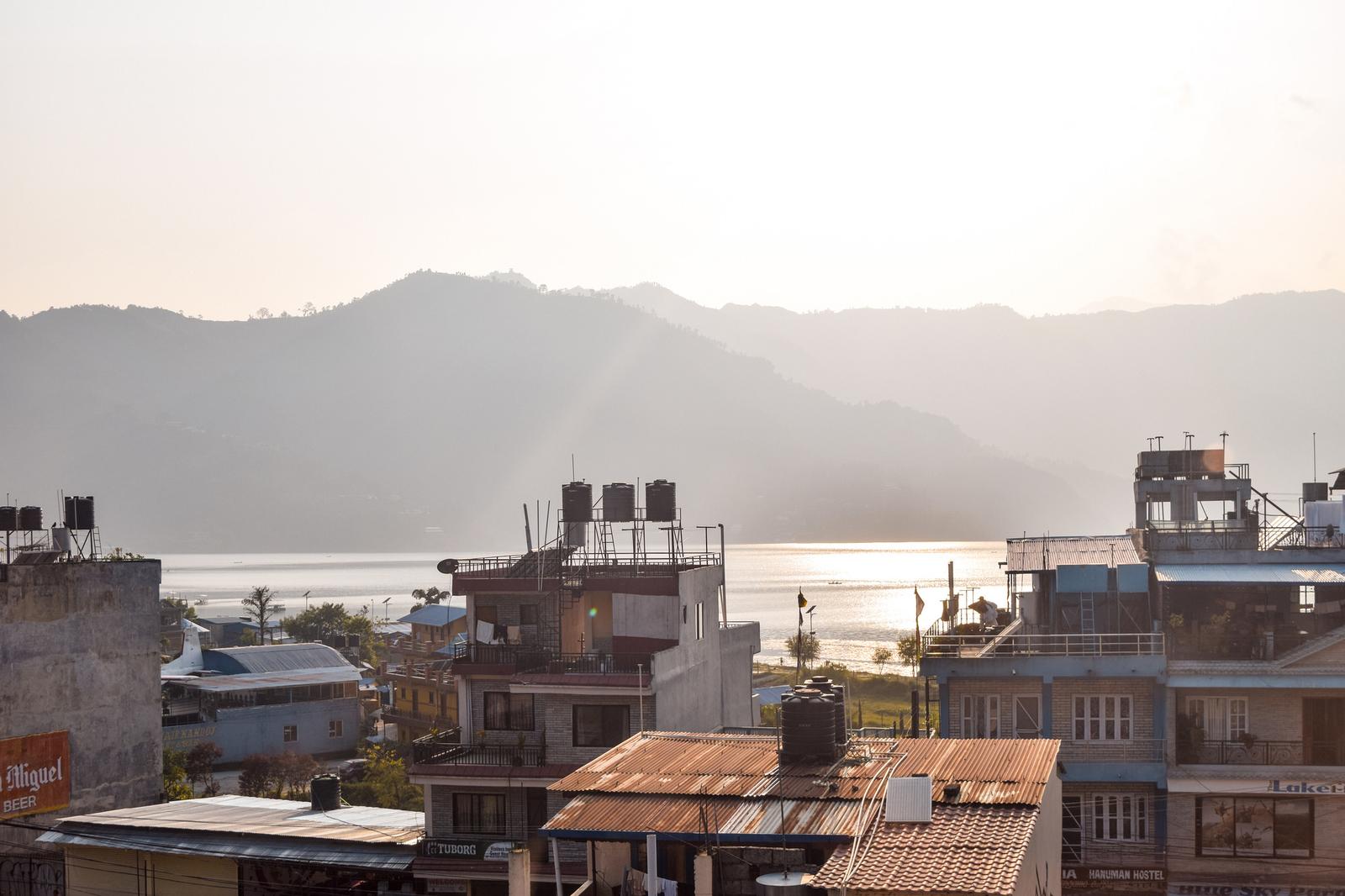 My hostel room had an open balcony that I could have a seat outdoors and chill, while relishing the vast beauty of Phewa Lake.
I felt relieved. Sunset, here we met again, and you were still sweet and charming as always.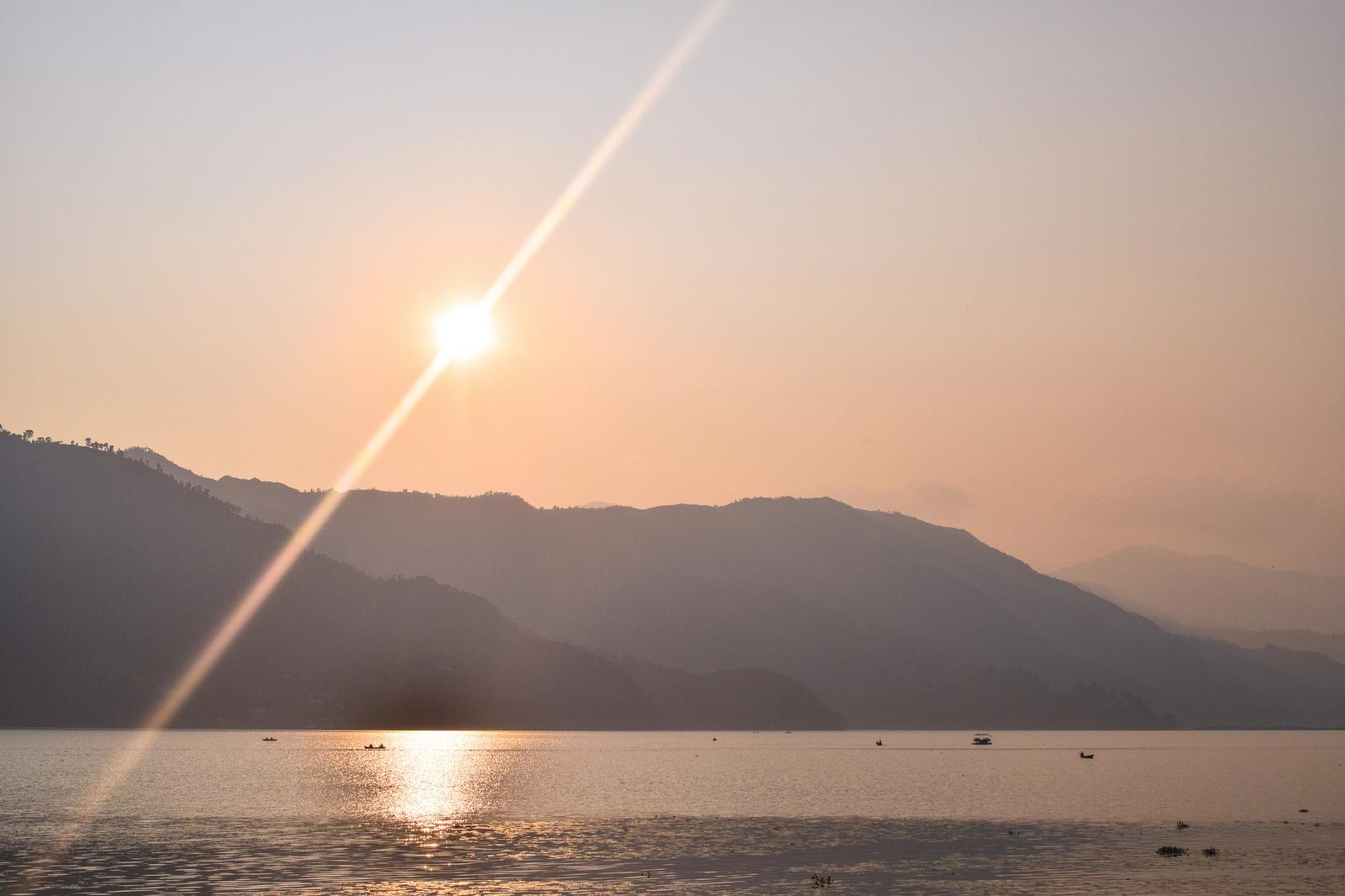 By lake side the local people were, alike to me, enjoying the patches of sunlight upon the almost still water acting like a big natural mirror. I felt embedding myself into the real breath of life, unworried about the happenings back there in my daily working routine.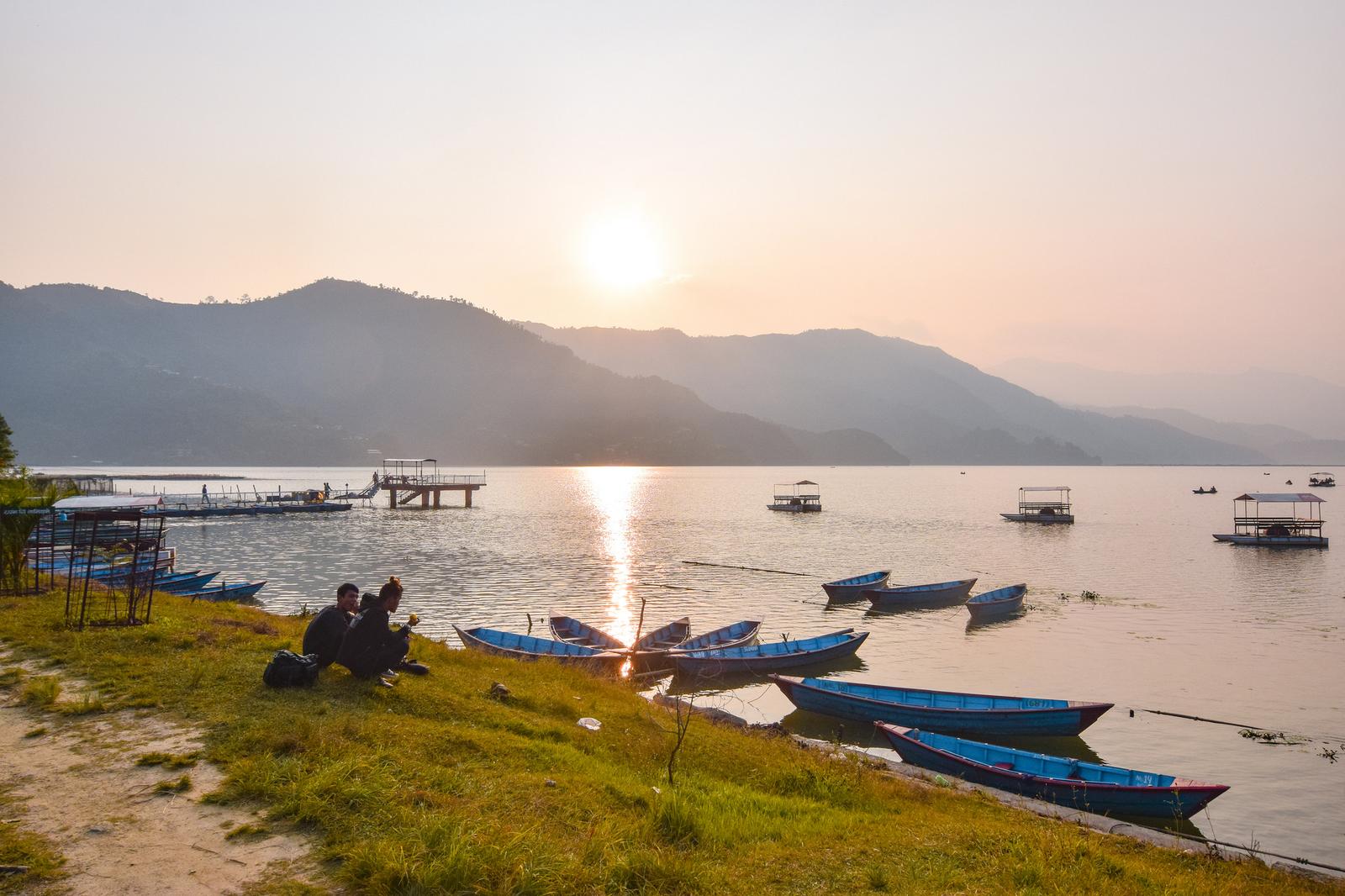 …it's lively, cheerful and undisturbed.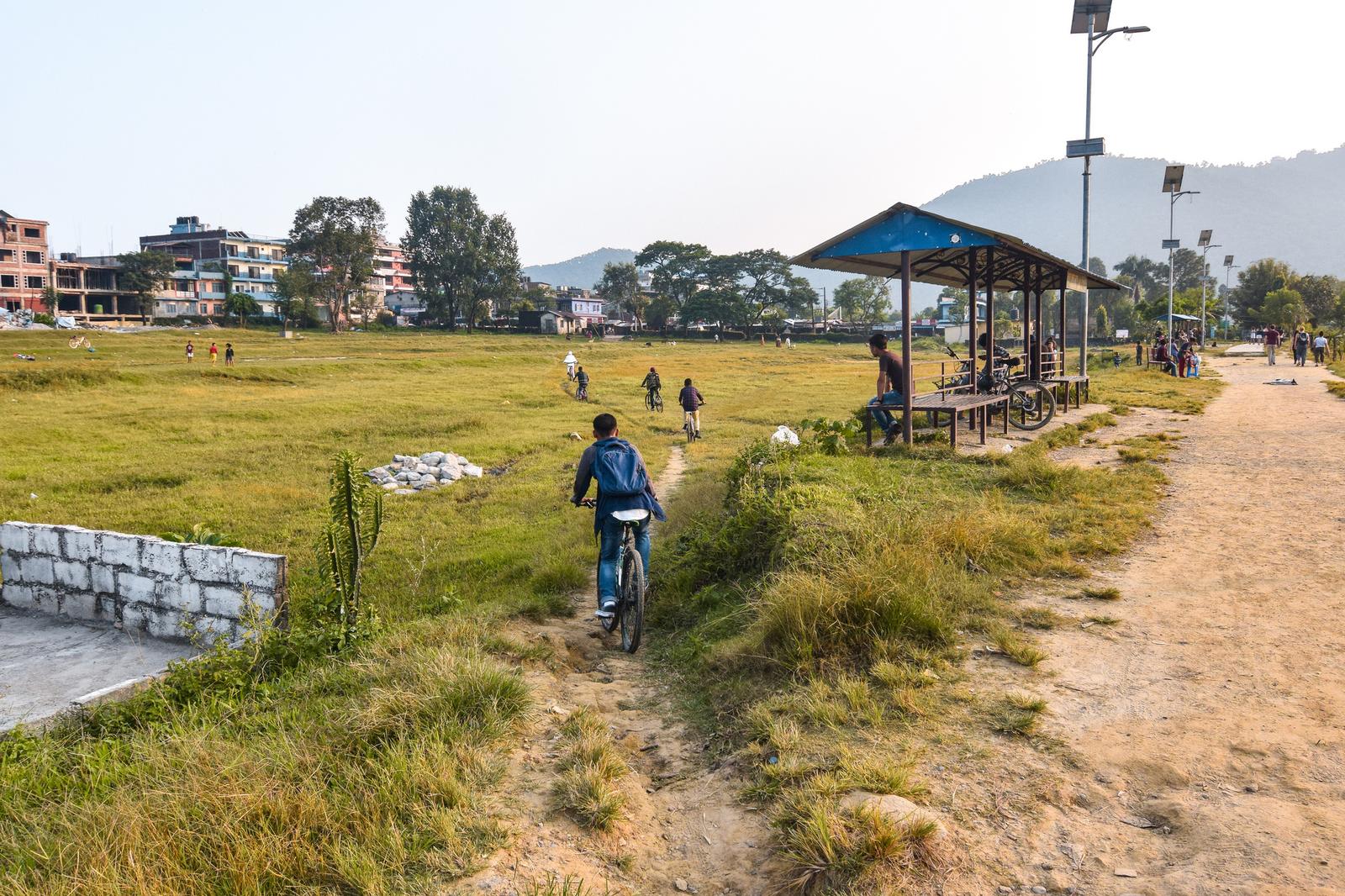 I remembered I took hundreds of shots for the same scene, as if I had missed just a single second, it would have been a big regret. The silhouette of people was embossed with glowing strands of light, and glaring water reflection ornamenting upon.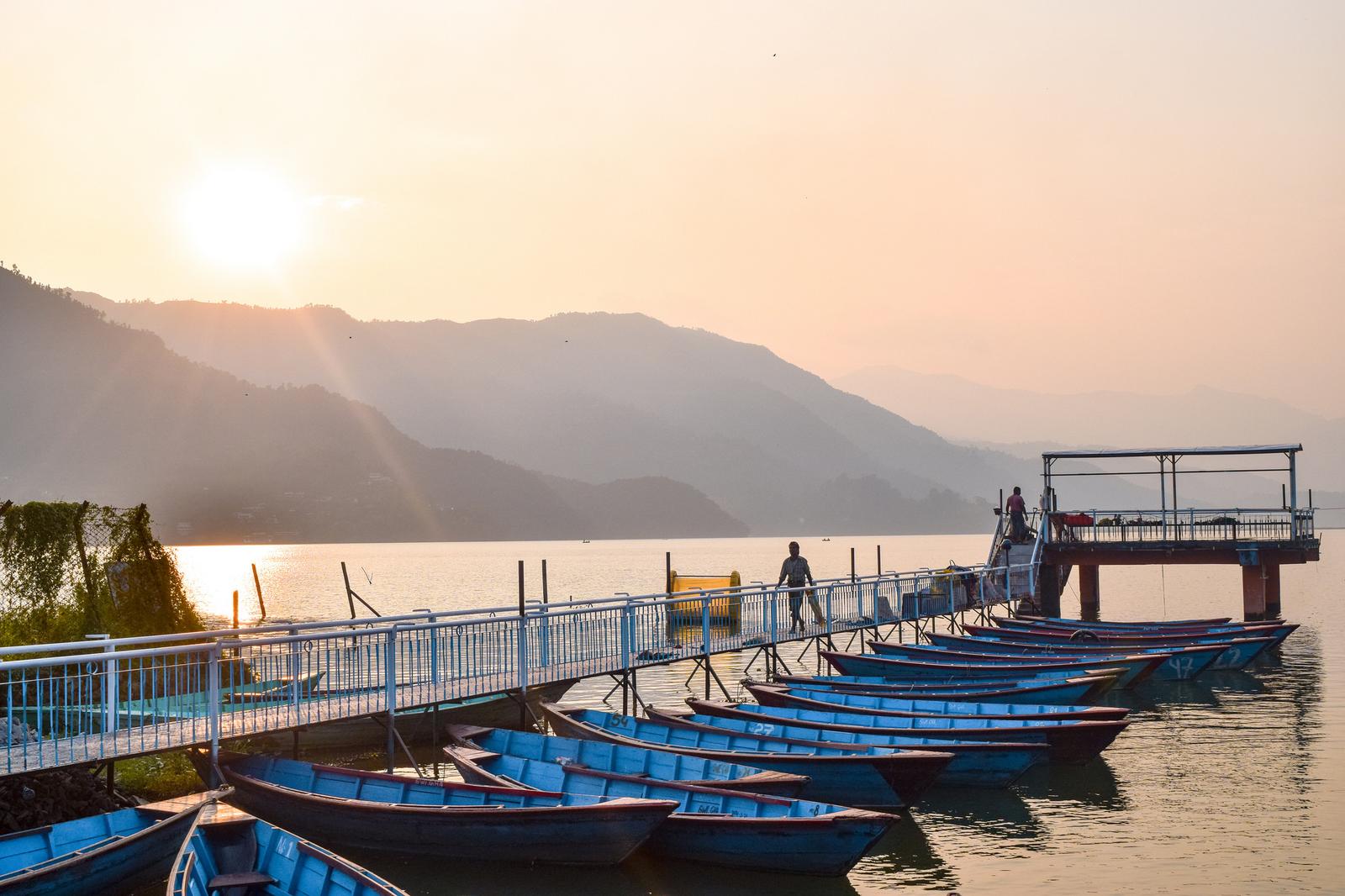 …and what could be a better companion for the magical backdrop than an expression of intimacy and love?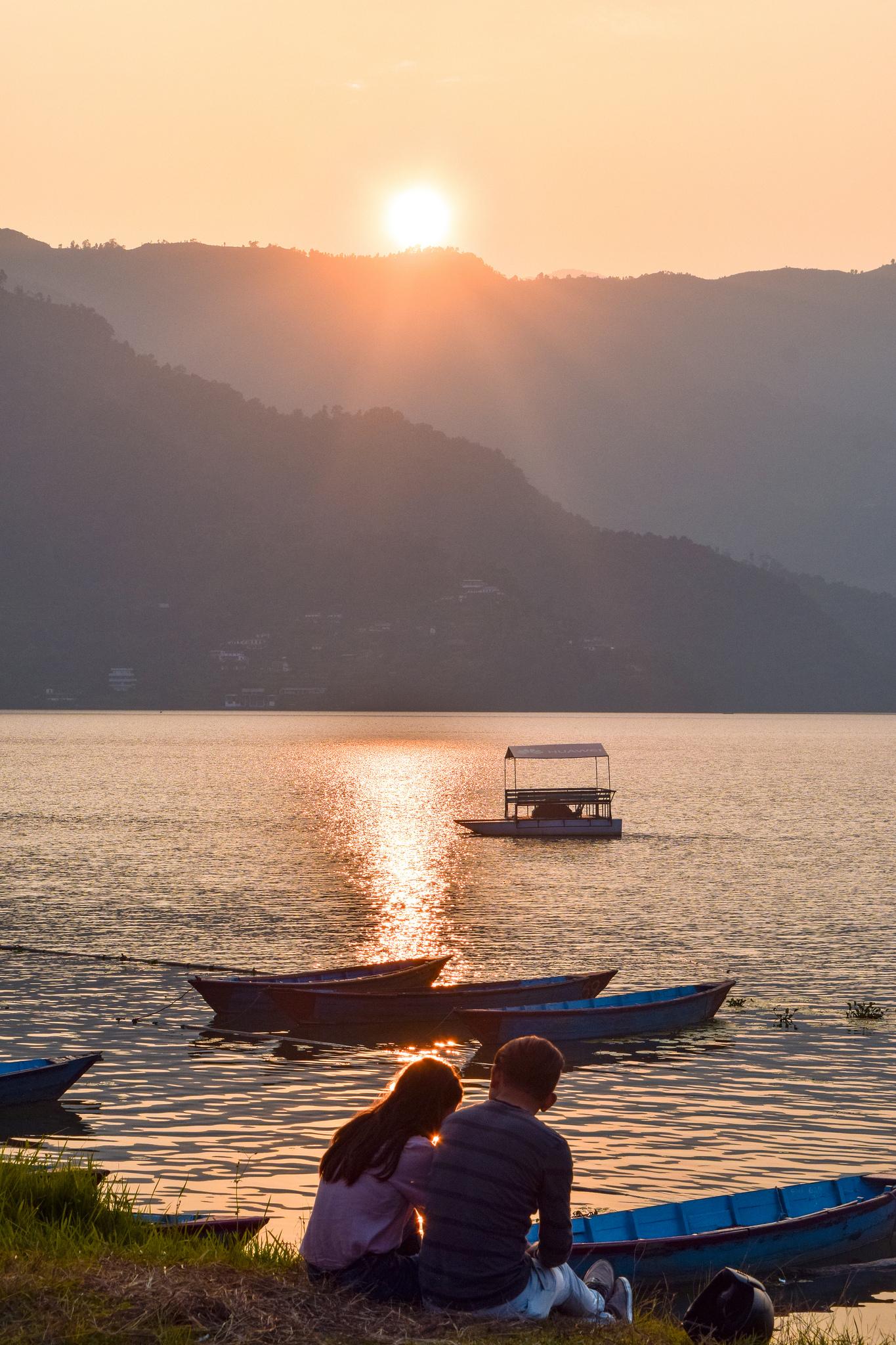 As far as day was transforming into night, the color wrapped all over the scene was going through phases of light coral, orange, salmon to pinky blue, from glossy to matte.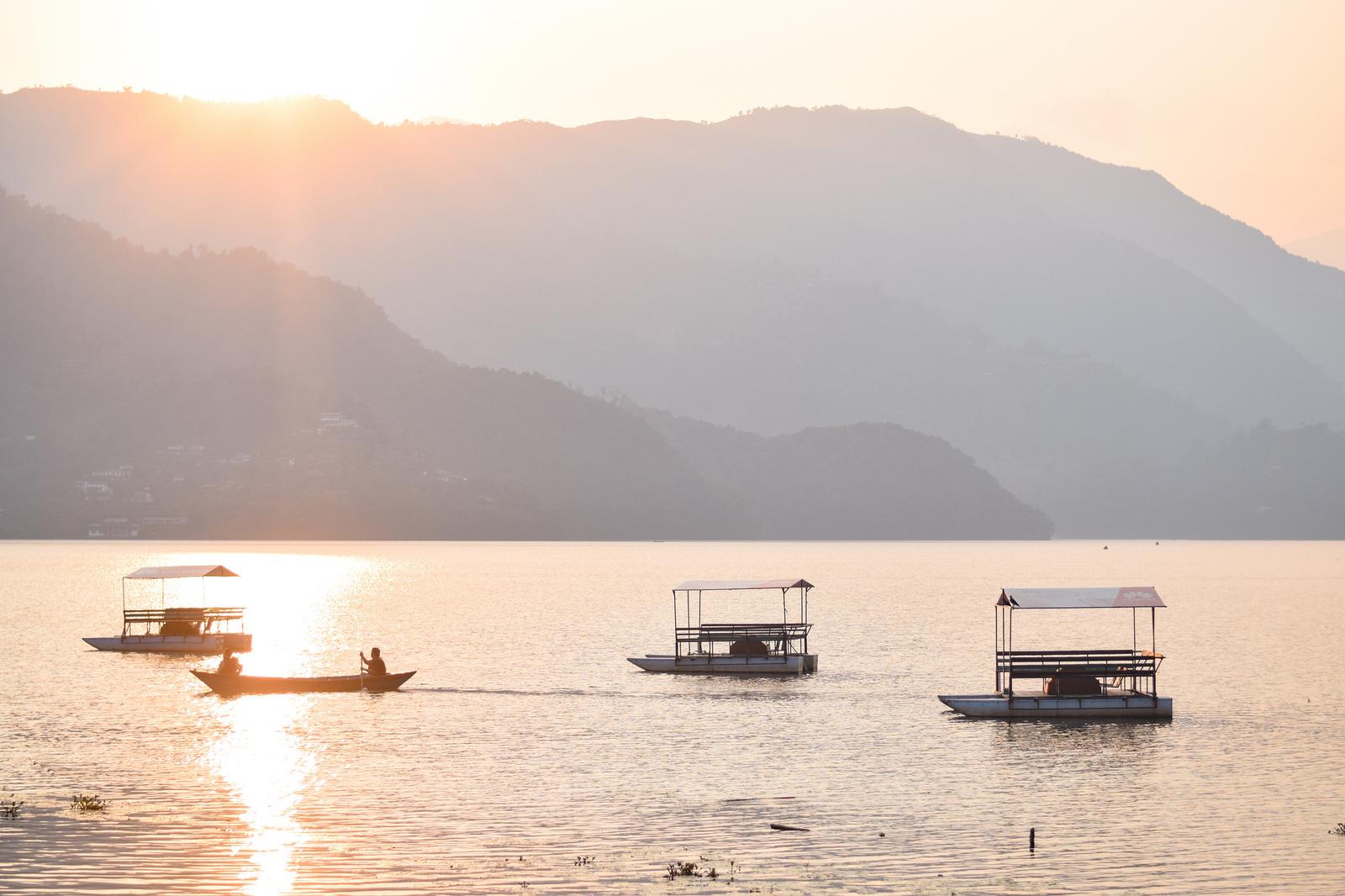 I thought those were all Phewa Lake could offer to its visitors, I thought things should be nicest under the last light of the day; but absolutely not, its another side would be revealed the next day, in the morning, even more magnificently.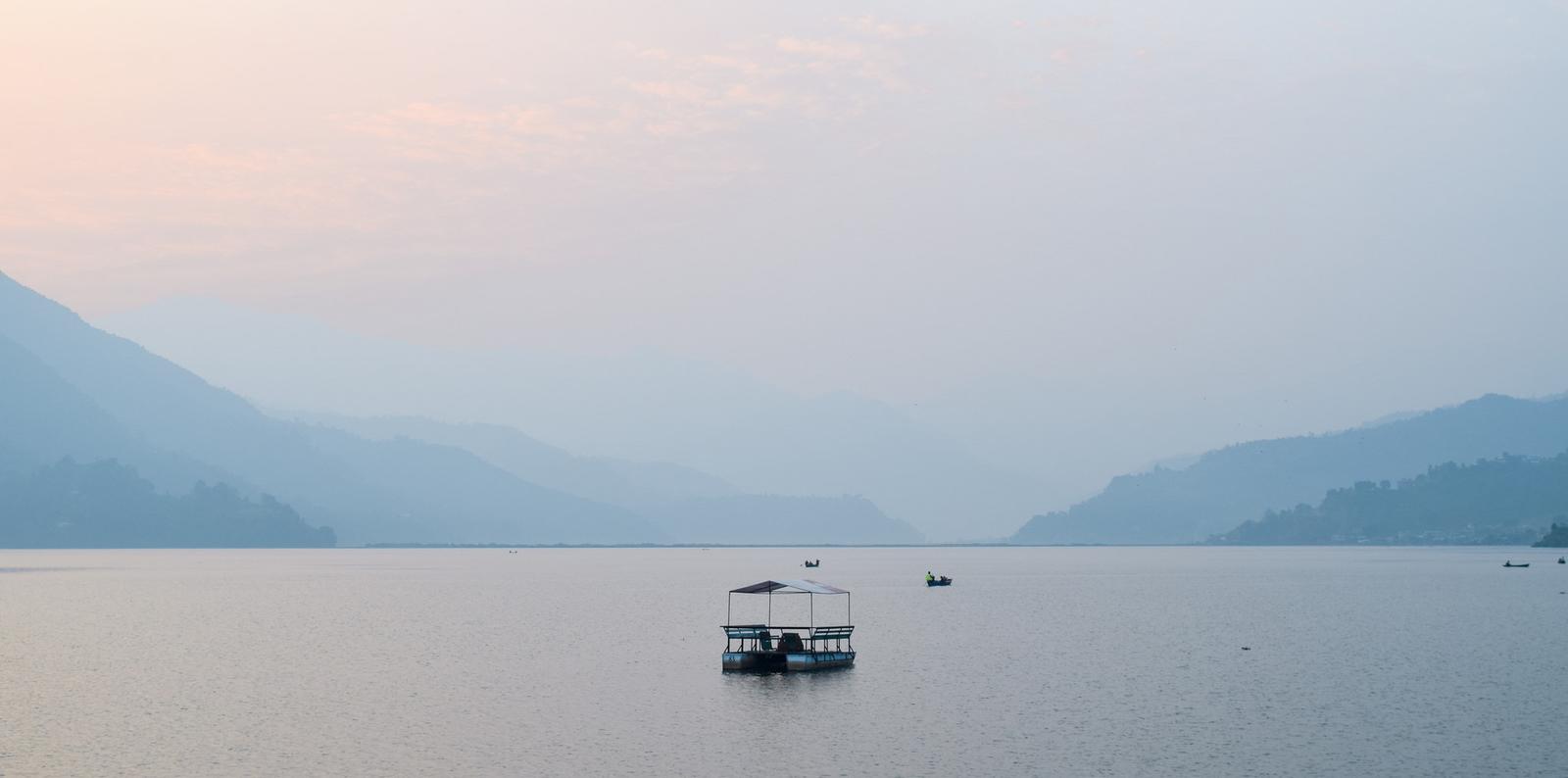 Pokhara at Dawn
To chase for sunrise, I would need to get up early and take a taxi at around 5am to World Peace Pagoda (Shanti Stupa), the second attraction in Pokhara. The pagoda was built by Japanese monk Morioka Sonin, who came from Nipponzan-Myouhouji-Daisanga branch of Buddhism.
It's an established formula that observing sunset should be from Phewa Lake and sunrise from World Peace Pagoda; otherwise, you may miss all of them totally.
From the pagoda, you will be able to have a panoramic view of the indomitable Annapurna range, where one of the outstanding peaks is Mount Machapuchare.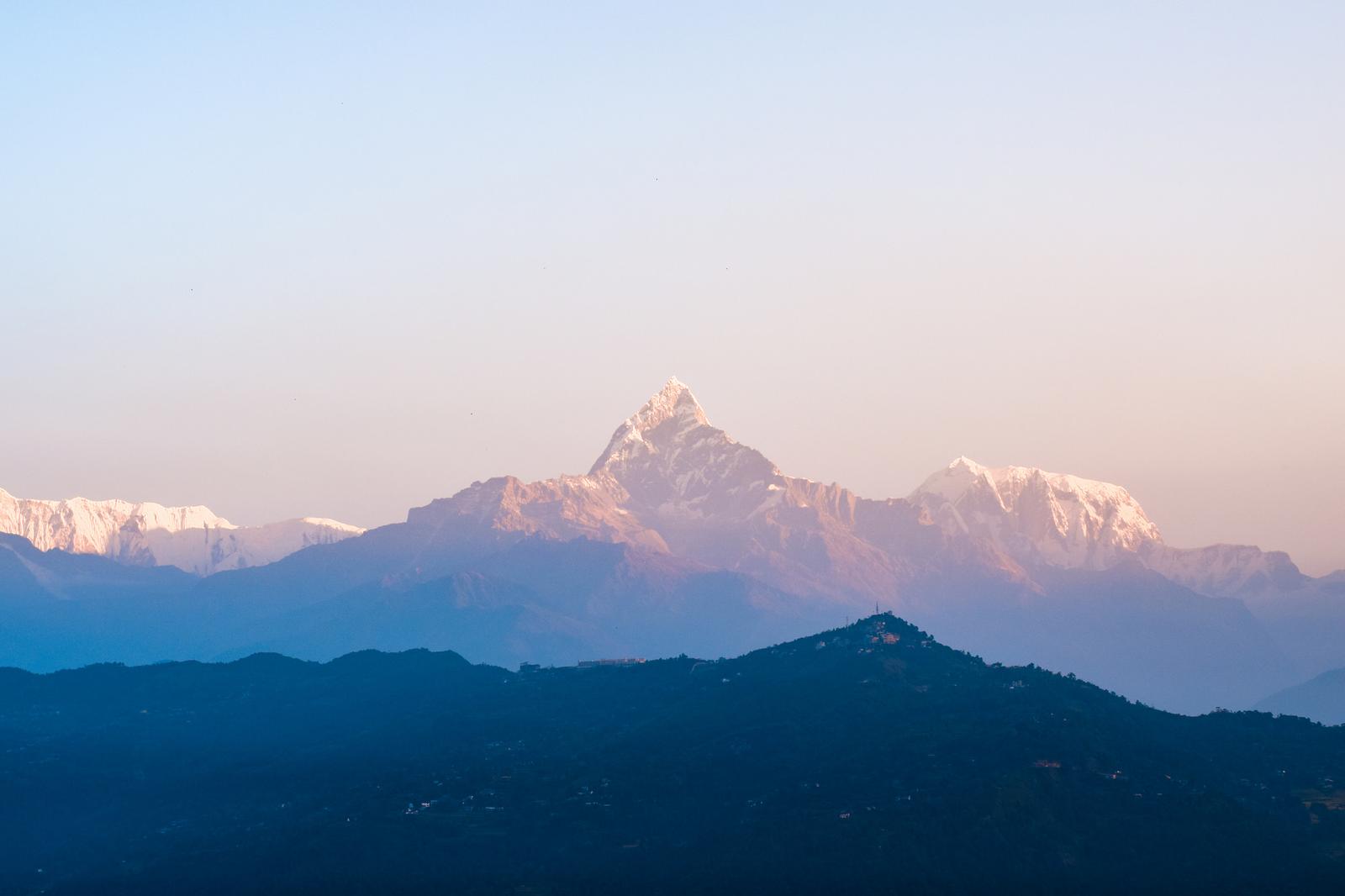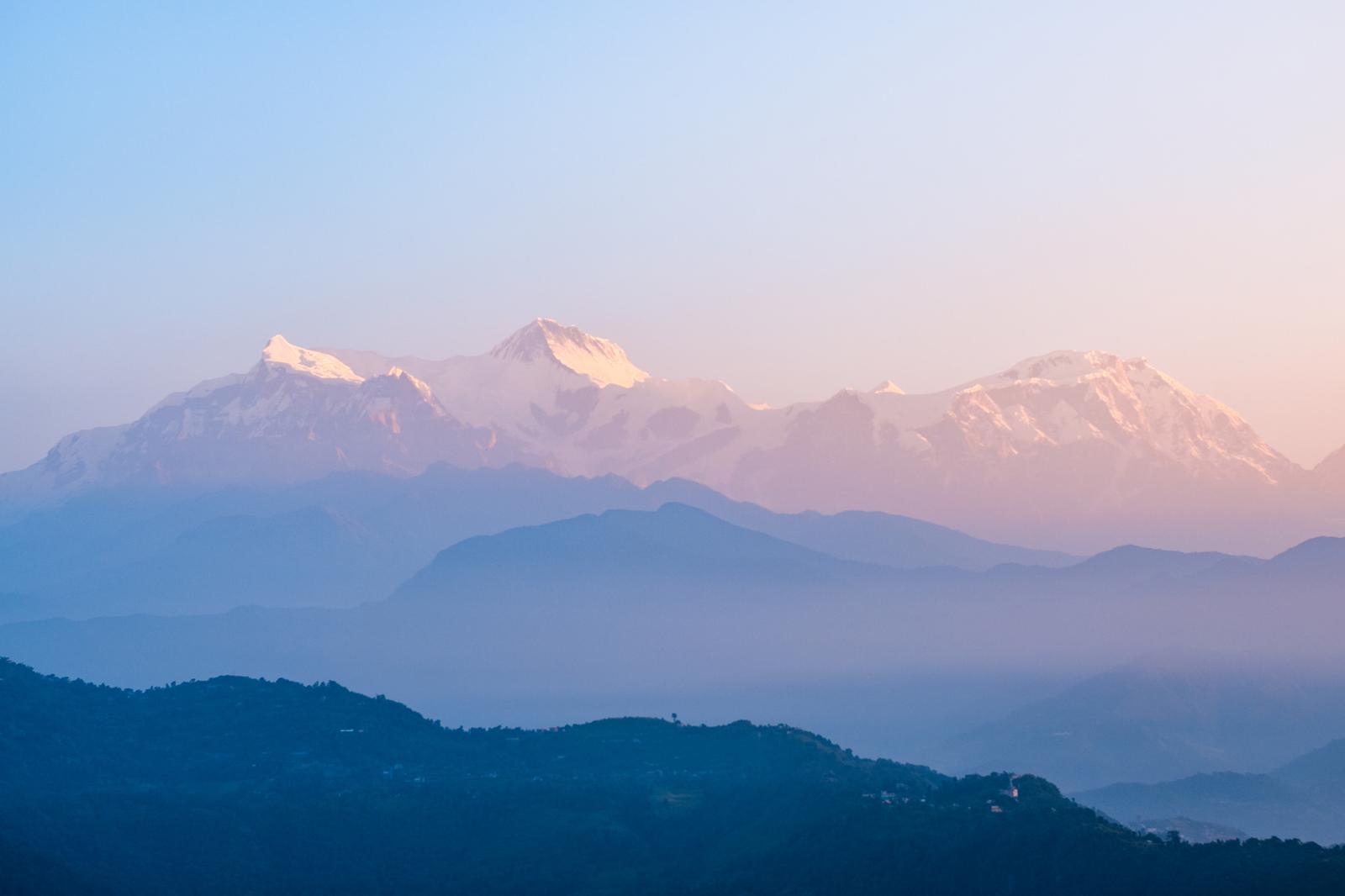 The landscape at that golden moment was full of lushness. The difference between sunrise and sunset is, the former may not have light-scattering effect caused by dust and smog as sunset does, so sunrise photos seem to have more clarity. Personally I prefer the smoother appearance of sunset though.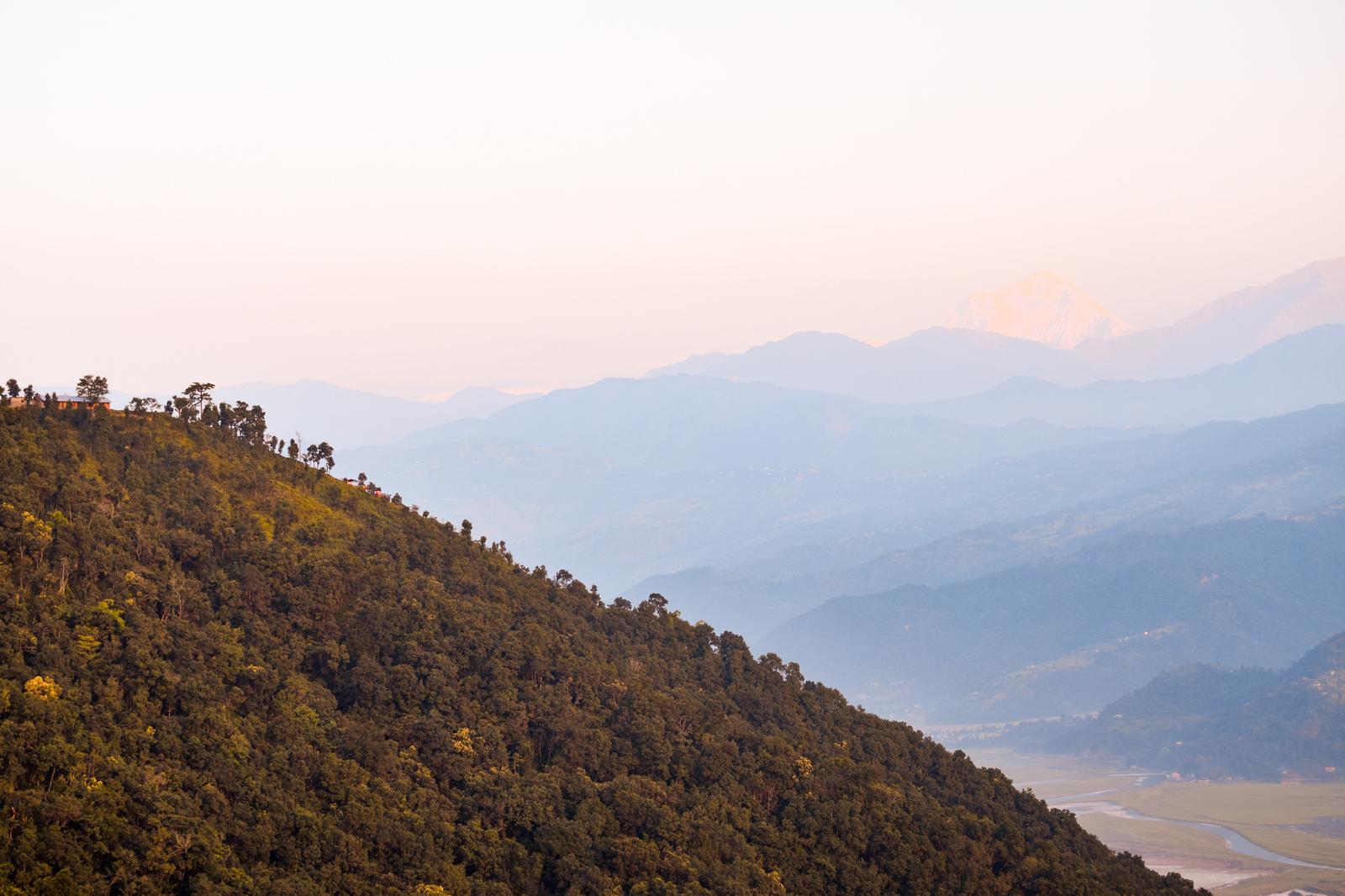 And the feeling that the natural spectacularity in front of your eyes is exclusively yours should be a plus. Only around 10 early birds like me were there, gratefully enjoying the tranquil moment. At around 7am, the monks will do their daily religious procedure, so it is always better to pay utmost respect to them, at least by keeping your voice low.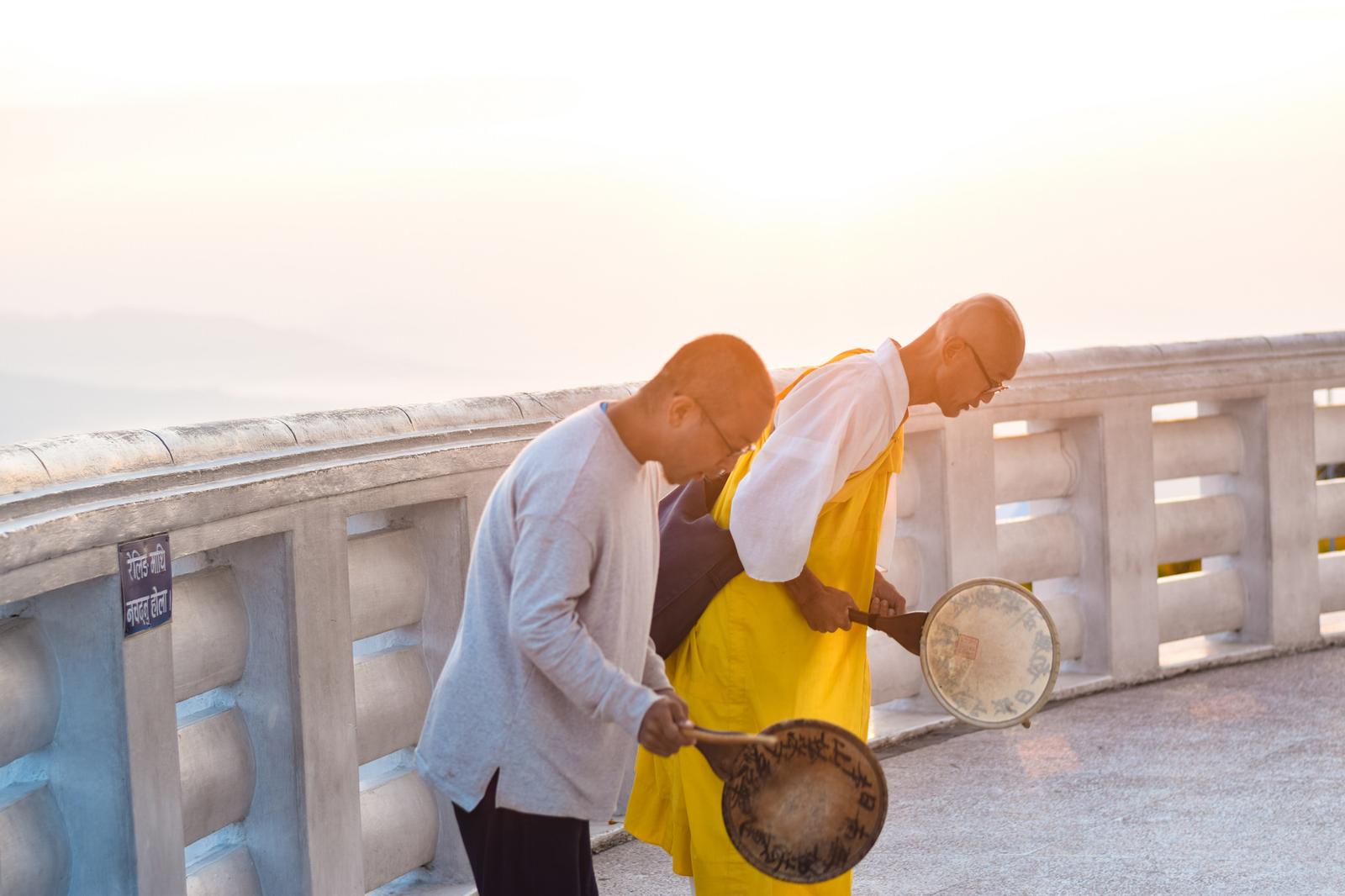 Pokhara to those busy shopping streets or popular touristy spots for people to check-in on Instagram are like chalk and cheese. The latter is obviously not of my type, as to secure a good shot is already a burden. I had better be a bit selfish not to promote Pokhara to anyone, in order to protect its inherent characteristic.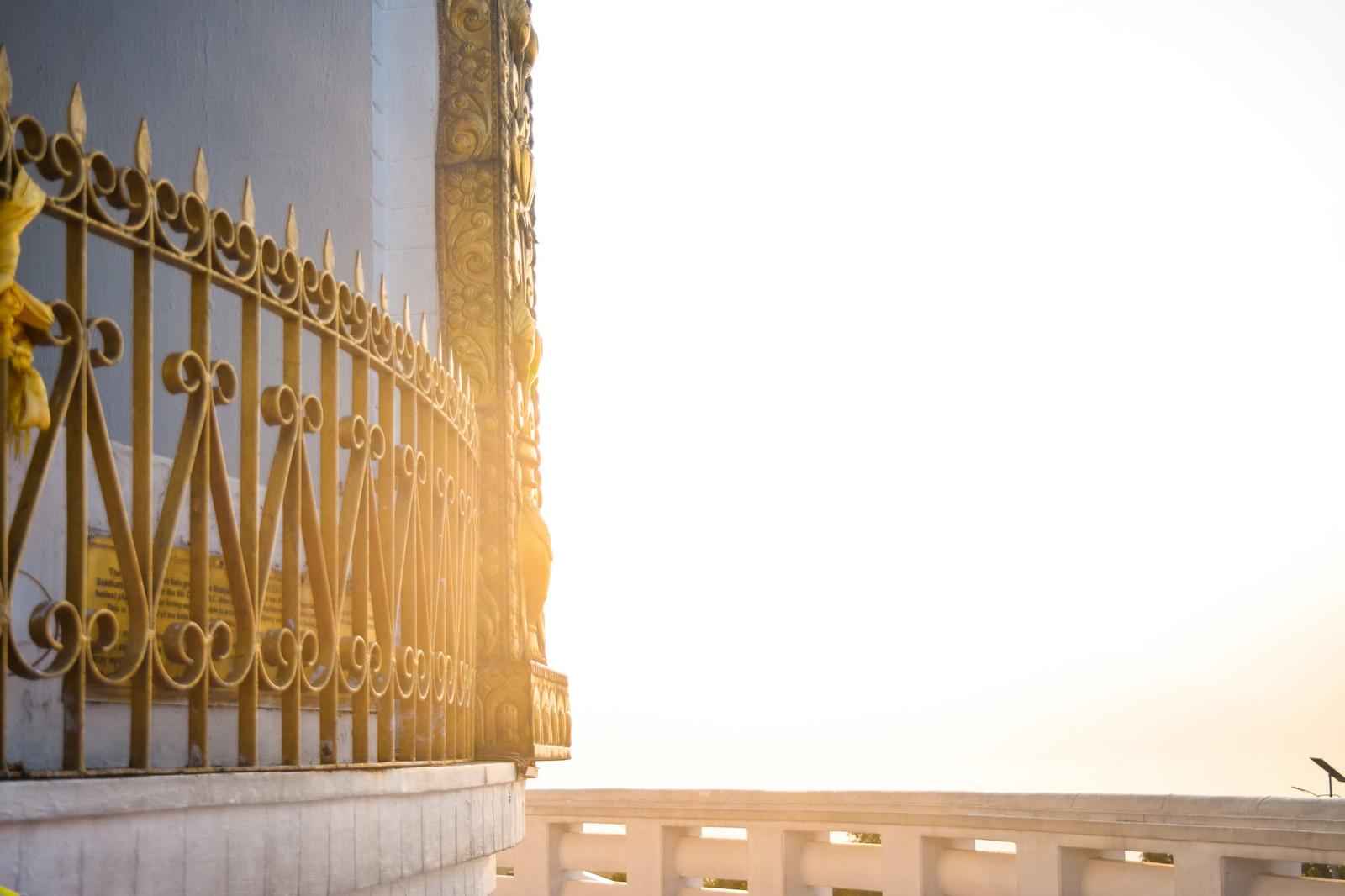 …how wonderful it was, Phewa Lake perfused with morning lustre.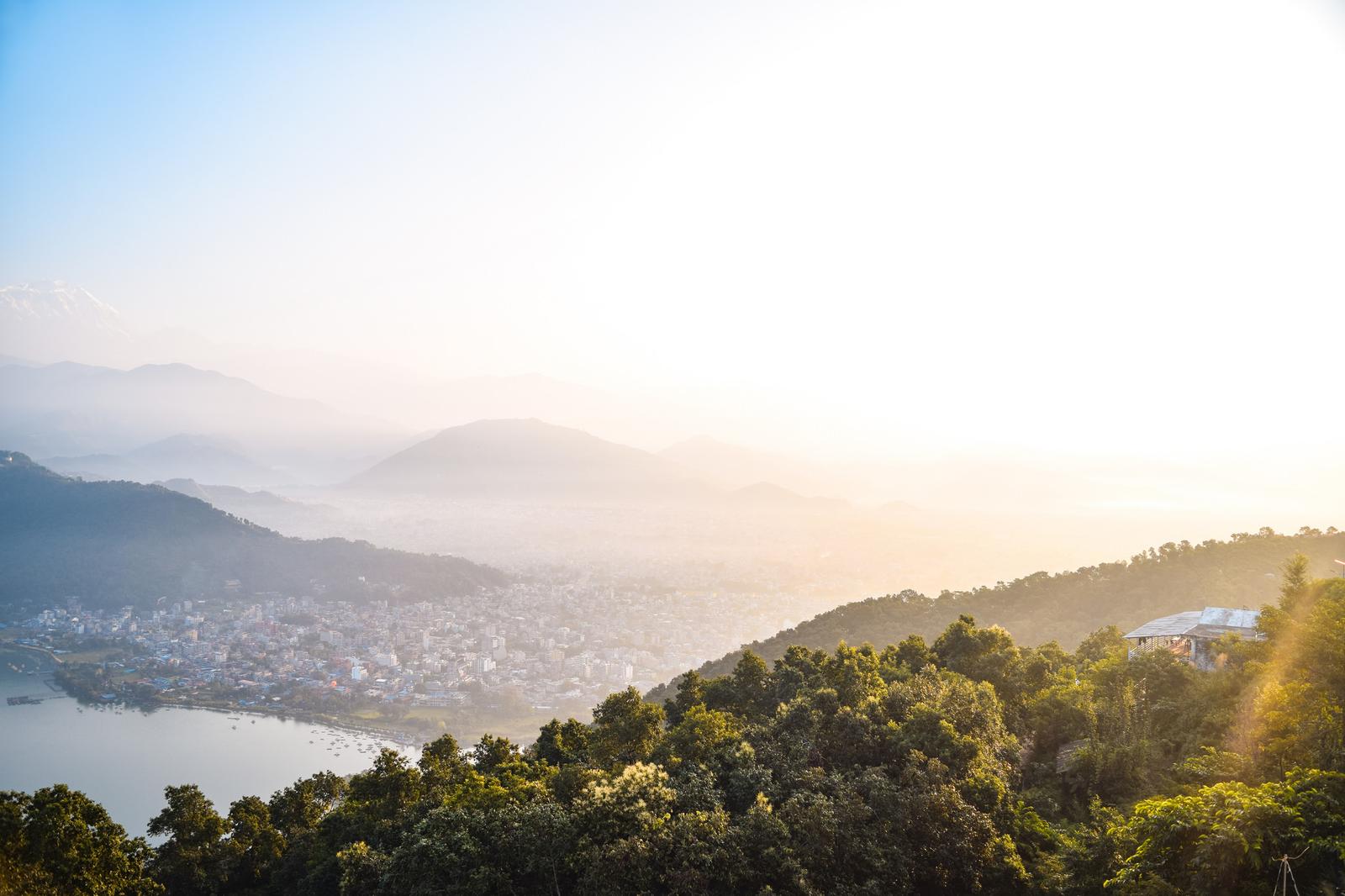 I also need to thank my friendly taxi driver for being my supportive guide, as he himself used to be brought up by the pagoda, so there is a deep connection between him and this place.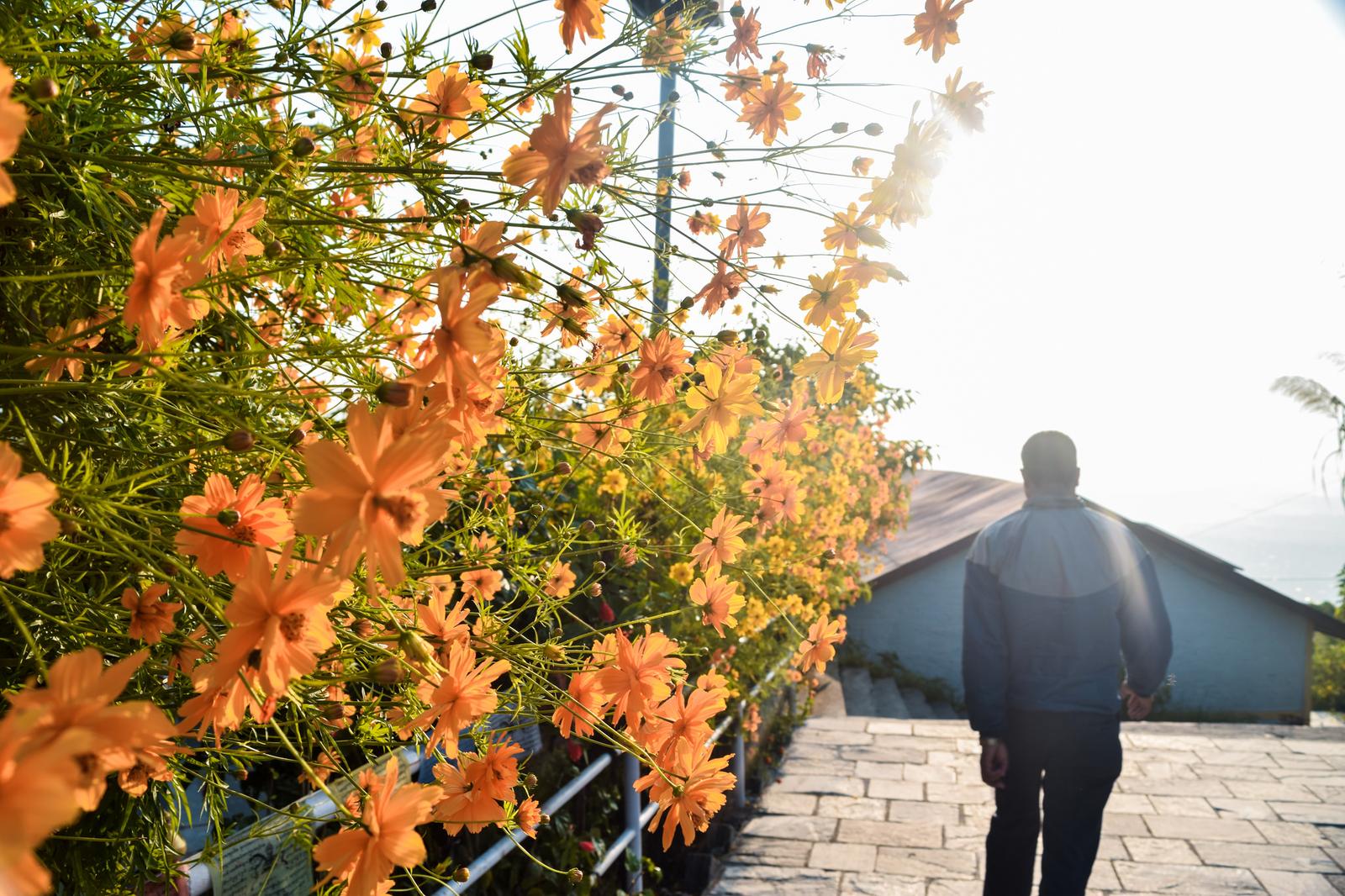 Morning Purity
If you asked me how Pokhara looked like, I would say it bore a great distinction from Kathmandu and other countryside areas. When stepping from the outskirts into its town core, the transition was so discernible to me that the outer was messy and dusty; on the contrary, the inner was highly organized, clean and breezy. At the time I visited, there were not many people on the street perhaps due to the country public holiday, or it was just sparsely populated.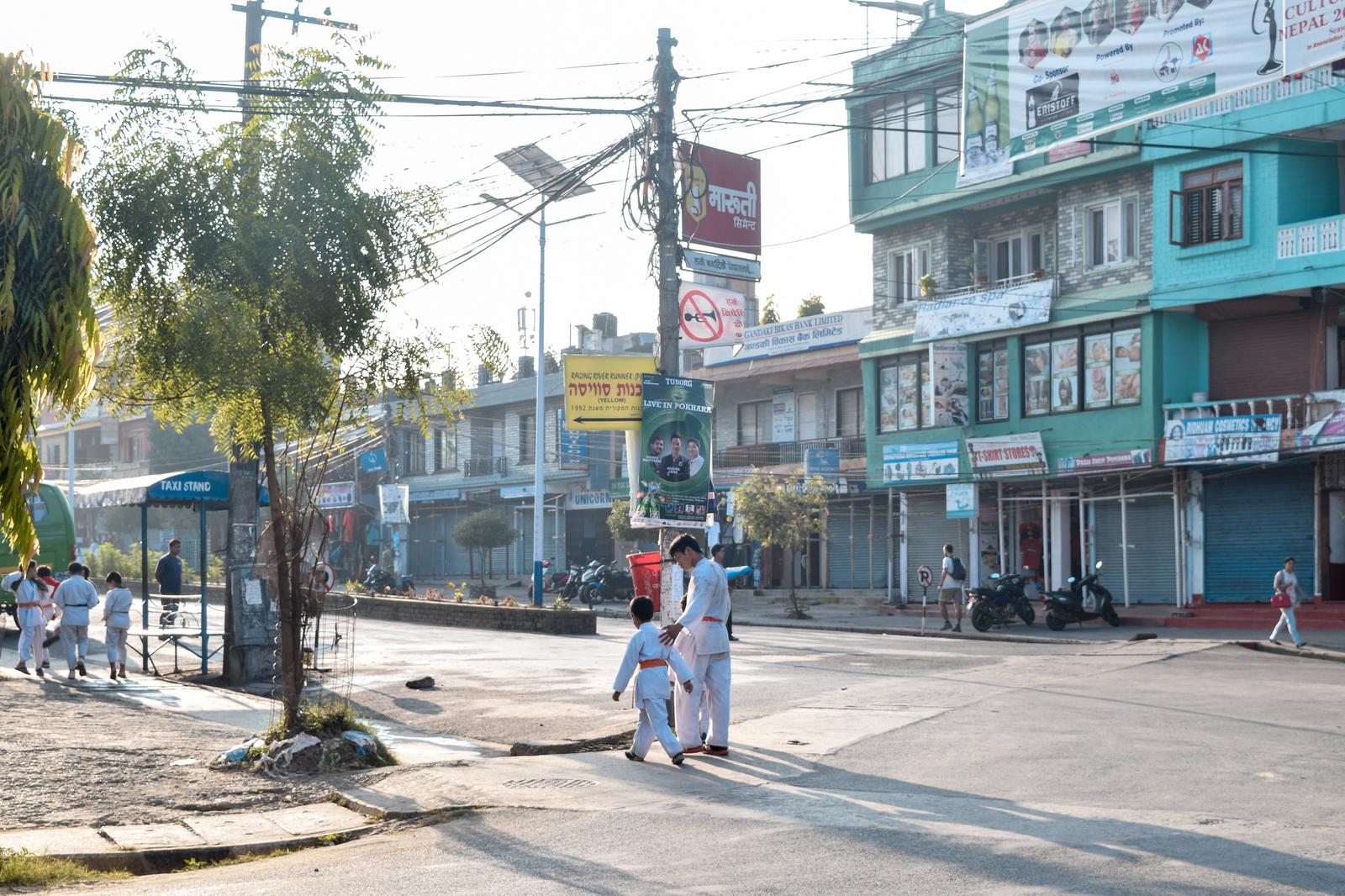 So I turned back to Phewa Lake for a morning treat, the lake was as if it always changed costume between beginning and end of the day.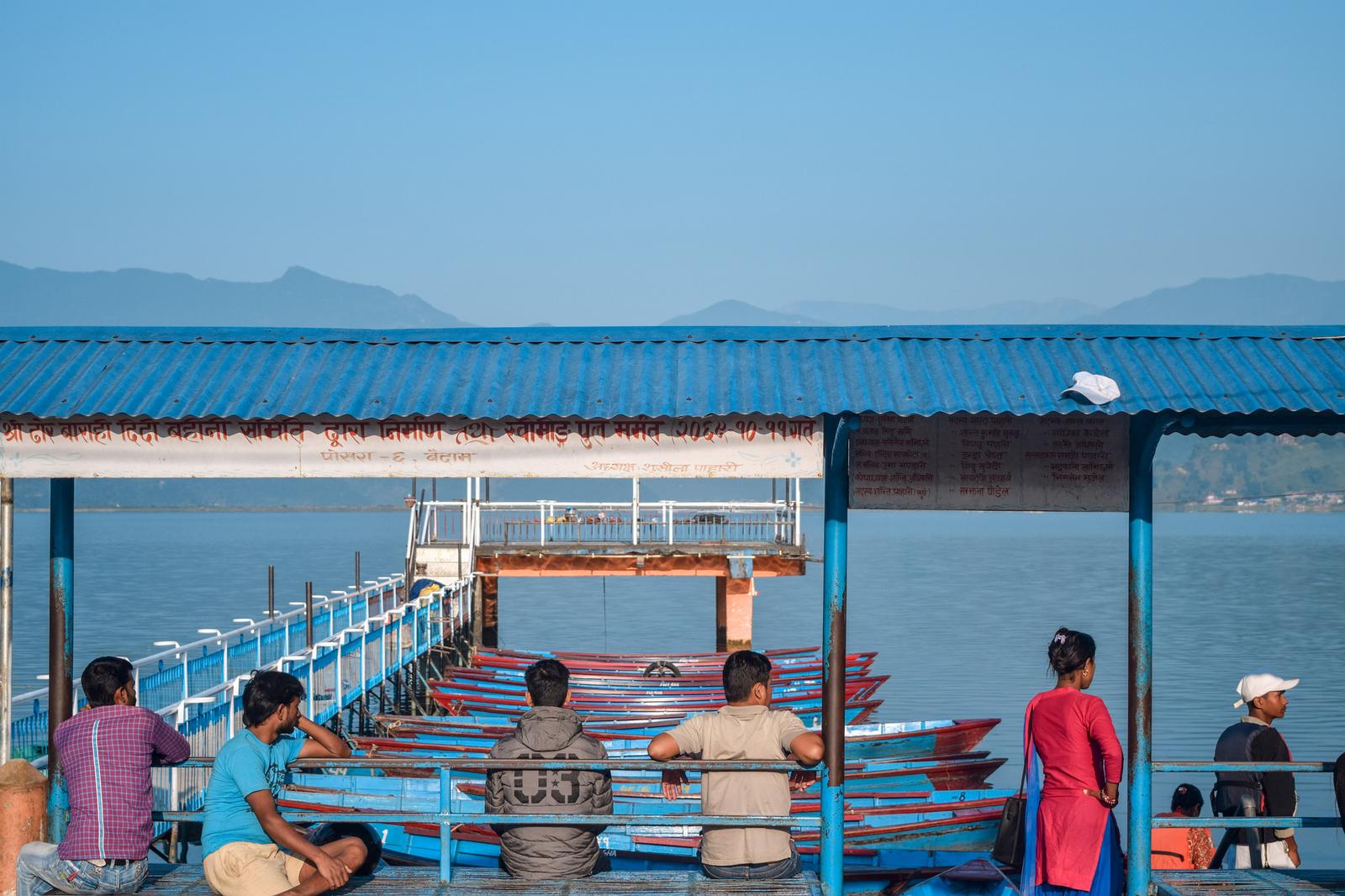 The clear azure sky unveiled all the snow peaks having been concealed by smog at the previous sunset. In the morning light, they were strikingly majestic without doubt, with their reflection on water as an additional feature to this natural painting.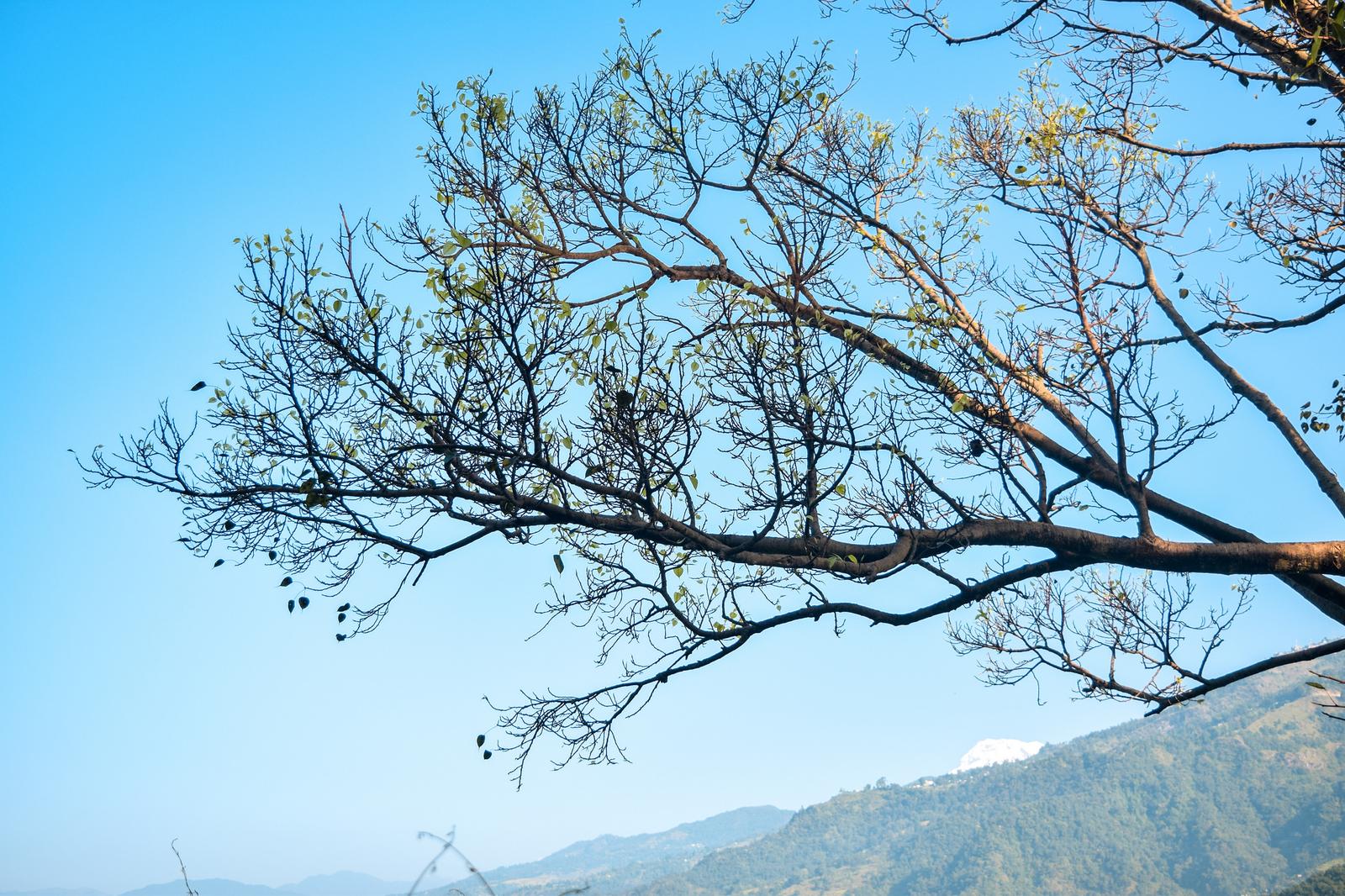 I won't need to comment anything here, as the pictures speak for themselves. I mean, speechless.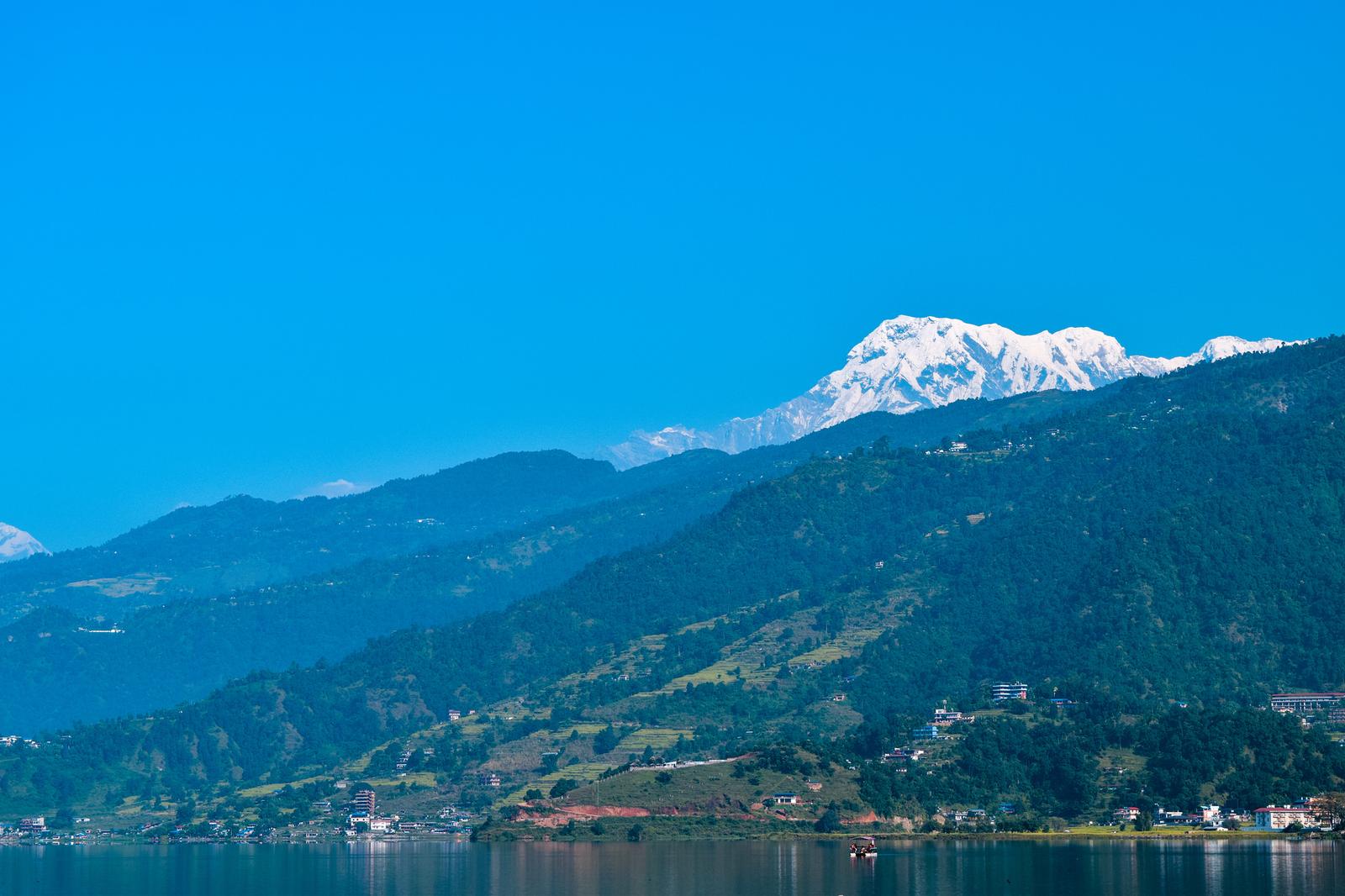 I spent almost 3 hours, just chilling on some modest chair by the lake, having the best chowmein and momo for a fulfilling morning, cuddling a dog sleeping under my feet, and observing time traveling its slowest ever. Those hours will be among my best hours for always.
And it's time to bid goodbye to Pokhara. If I can revisit it 100 times more, I still do.