Before entering a truly everlasting love, I ought to write about those old journeys - the rare ones that I didn't experience alone, just in case I'm unable to do that in the future.
On a July day in 2021, exactly 2 years ago, when the whole city was locked down, I found myself seated in front of the TV, singing along to those popular songs at that time live-performed by the artists at May Lang Thang as it's pouring outside like a typical summer shower. Next to me was a story book, quite ordinary and very sentimental, the 'Vong Tay Hoc Tro' (In Student's Arms). This book took place in a gloomy Da Lat before 1975, featuring romantic but stifled characters. Everything at the time, despite not appearing bright and cheerful, when I look at them again, all seem having happened because they were fitting for the moment.
This post perhaps bears a totally different flavor, I suppose.
A Blue Afternoon
Those were the April days drenched with heavy rain, such an unusual April; at that time, the domestic flights had been delayed due to overwhelmed luggage check process, just before the Delta wave was rushing into the city and reset everything back to square one.
There're two aspects of Da Lat, the first possesses the bright face of winter-spring period when the Siberian breeze comes with dry, chilly air, setting the sky high and toned deep blue. Whereas another one, the summer, or the rainy season to be correct, appears wistful and melancholy thanks to incessant and fierce showers typical of the highlands, which is just ideal for person loving lazing around and day napping.
The April of 2021, normally it should have been amidst the dry season of south Vietnam, but at the end those days were inundated with stormy weather. And Da Lat in this post is also wearing a bleak tone, but this is precisely what everyone has ever pictured in their minds.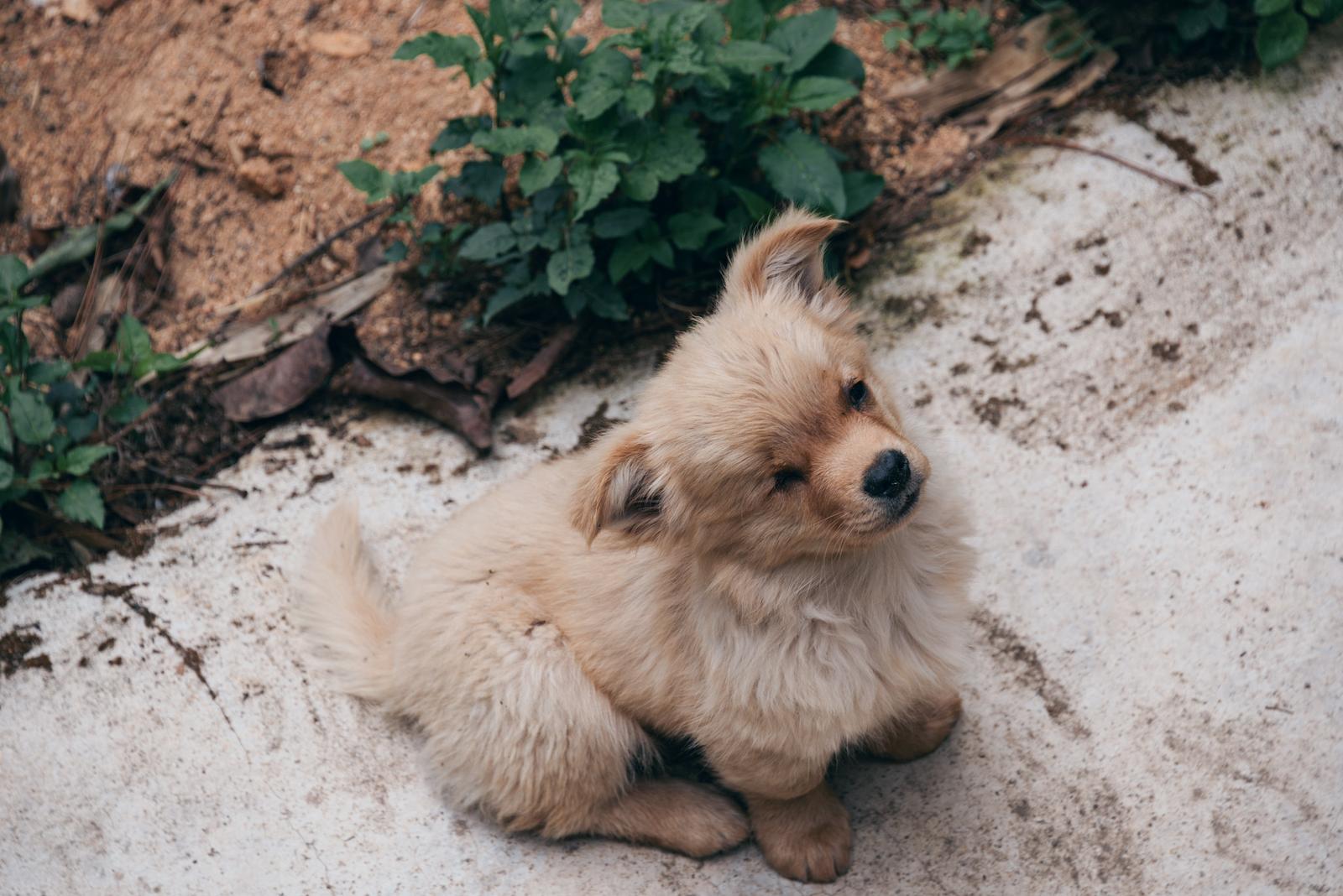 Our homestay was situated on a hillside as we had to overcome a long sloped road branching off from Hoang Hoa Tham street to reach it. Inside the wooden bungalow built by the owner and the homestay workers themselves, I could just simply lie on the mattress and gaze at the hill, but that was not my traveling character.
The homestay workers were actually working on a voluntary basis; coming from other locations, maybe they seek respite from a bustling lifestyle and got refreshed here, leading a leisurely existence.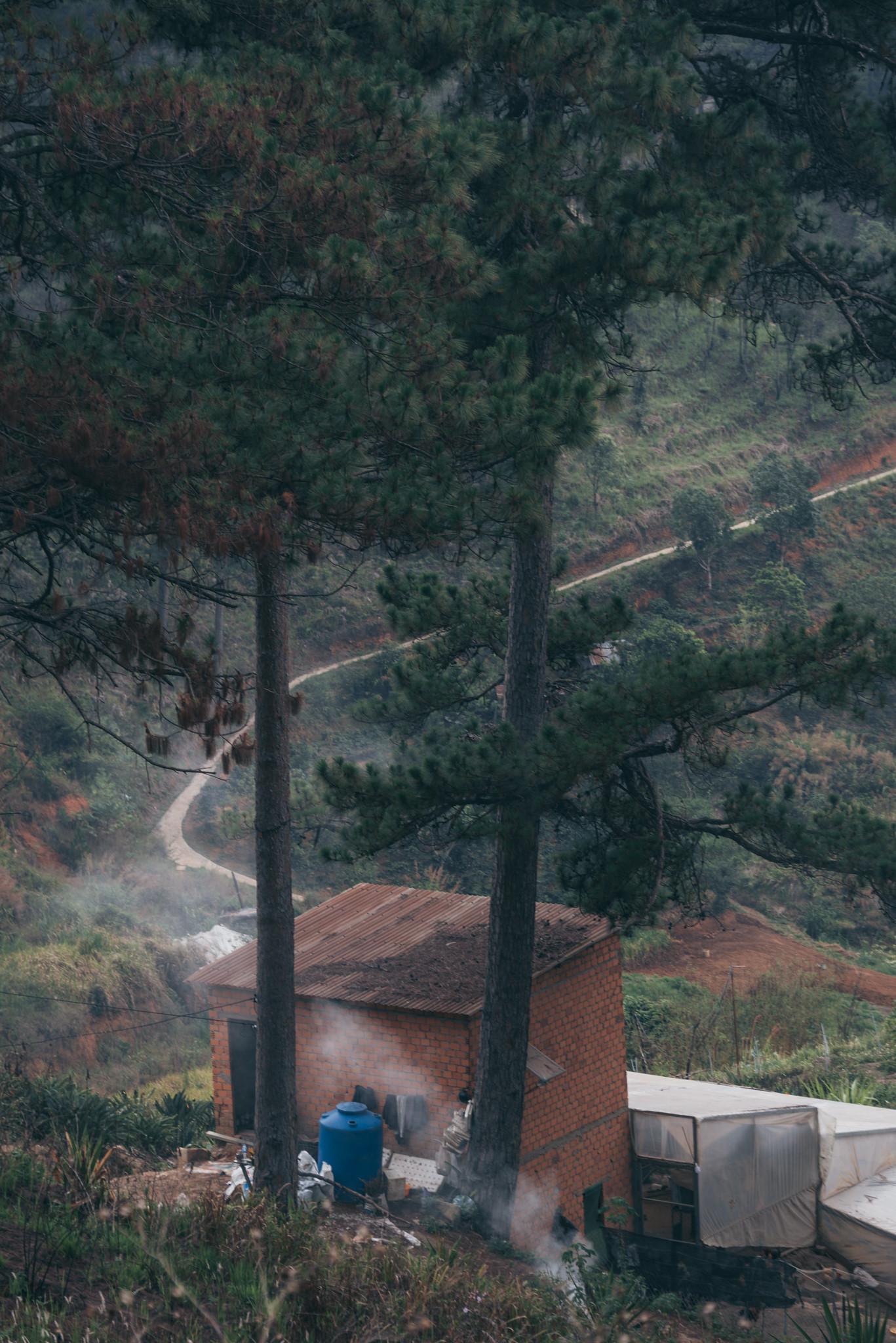 On the mountain slopes there're some smoke columns flickering behind the pine trees due to burnt leaves.
Actually the roads in Da Lat bear resemblance to those found in larger cities, with tube houses tightly sitting next to each others, and pedestrian ways are deprived of tree canopies. Mountain views often have their beauty compromised by the presence of white greenhouse roofs. That's why this homestay, despite the challenge of accessing it, is the one benefiting from a legendary view, where layers of pine trees stand right in the backyard.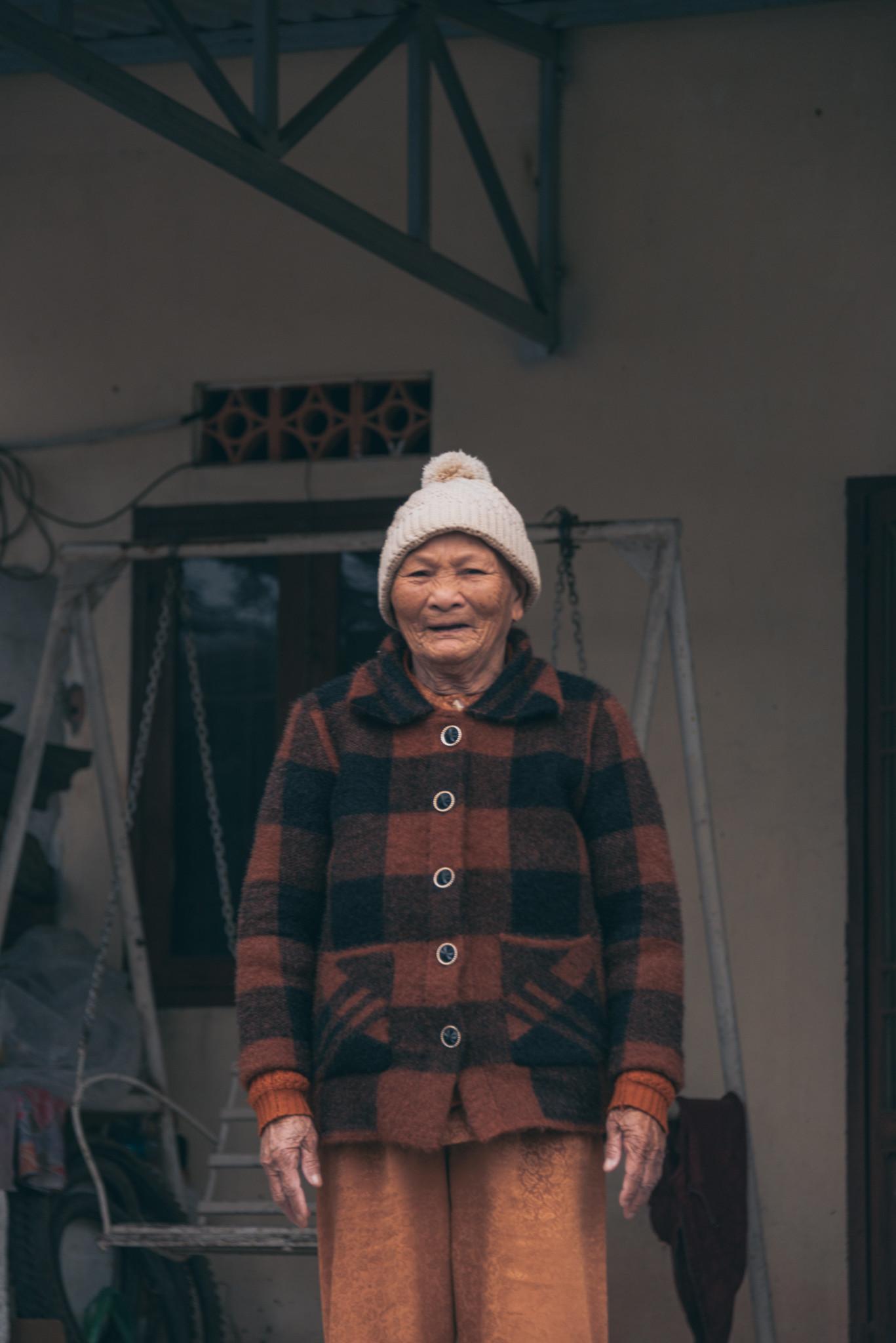 Even though it's meant to be a couple's trip but I had quite much time wandering alone. While the walking distance between the homestay and Xuan Huong Lake seemed not too long on the map, the slopes in reality might make someone reluctant to move.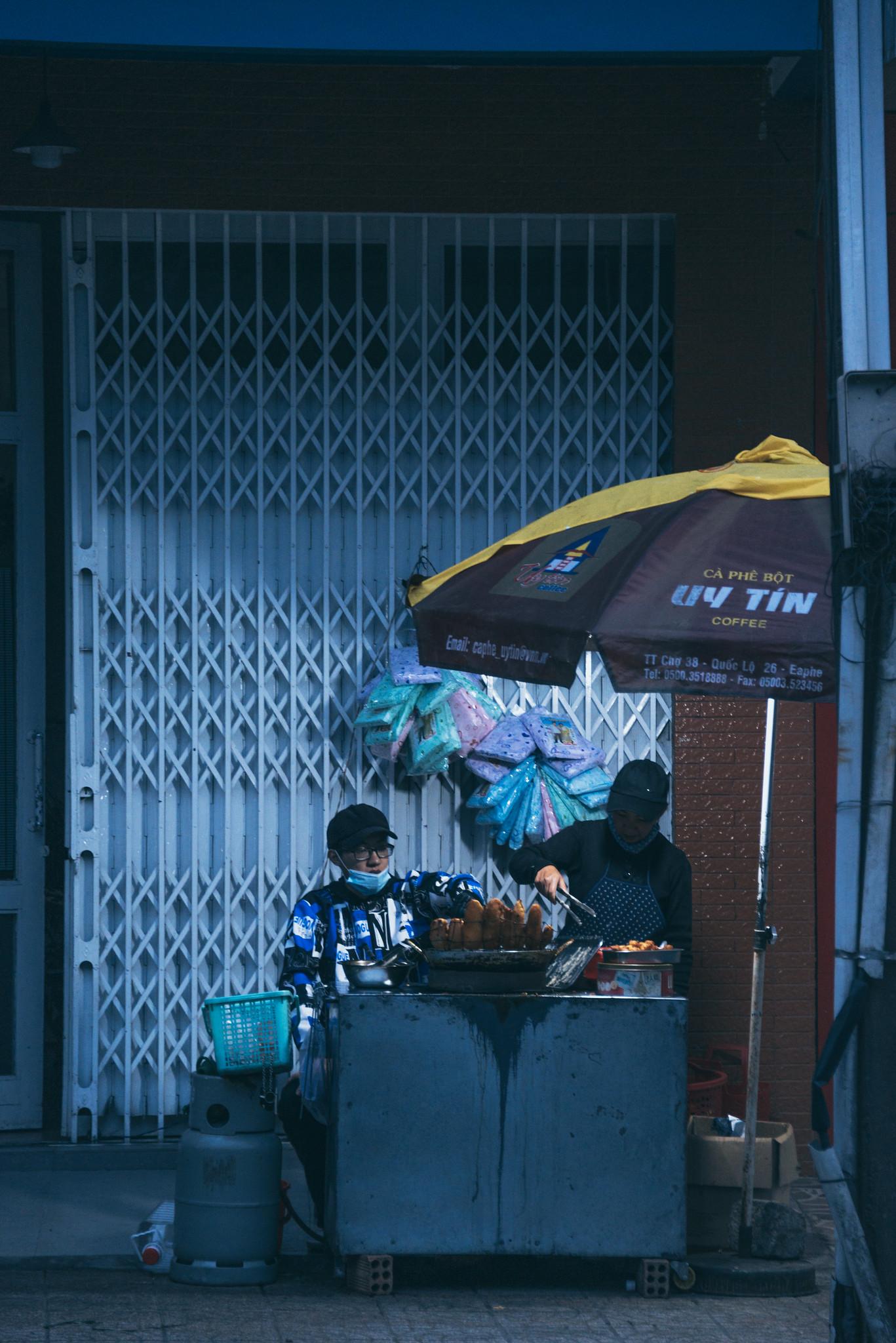 The sunset of a rainy day transformed into a deep blue shade; rumors still circulate about the romance of this city, and perhaps that romance originates from this place's climate and geography.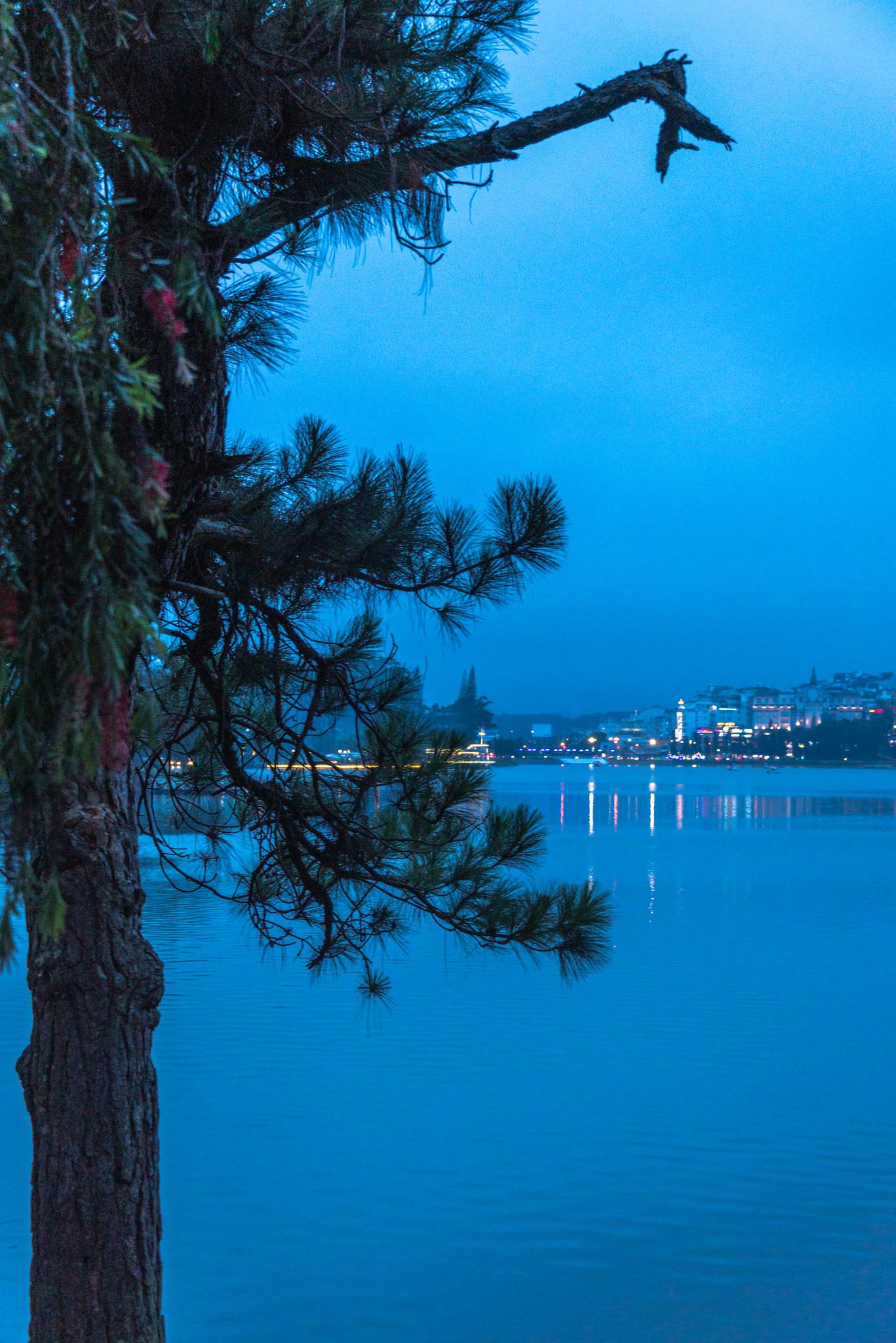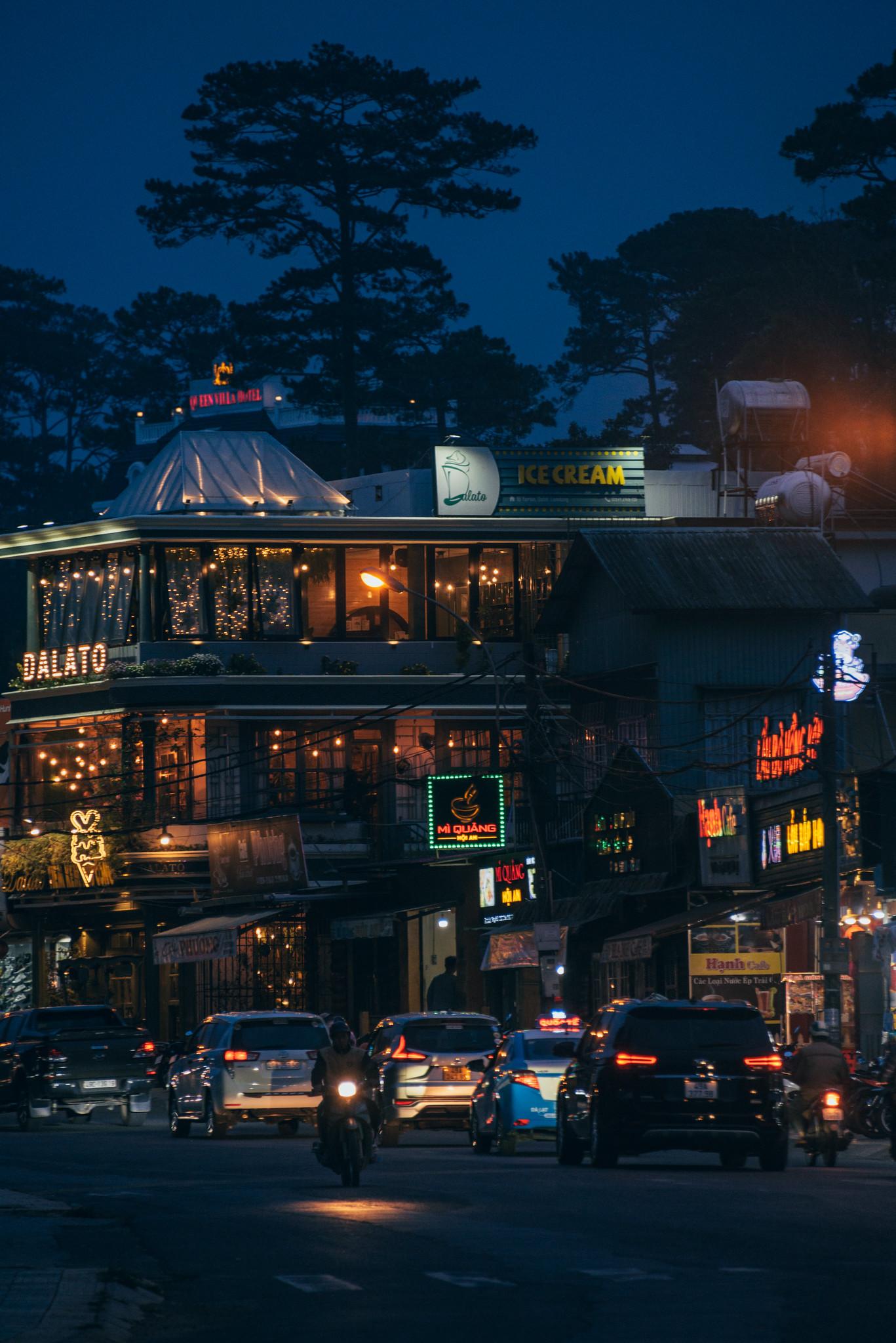 Da Lat Market
After visiting Xuan Huong Lake, I headed towards the market. That's such a lively day, maybe everyone hadn't felt the long days of lockdown were just around the corner.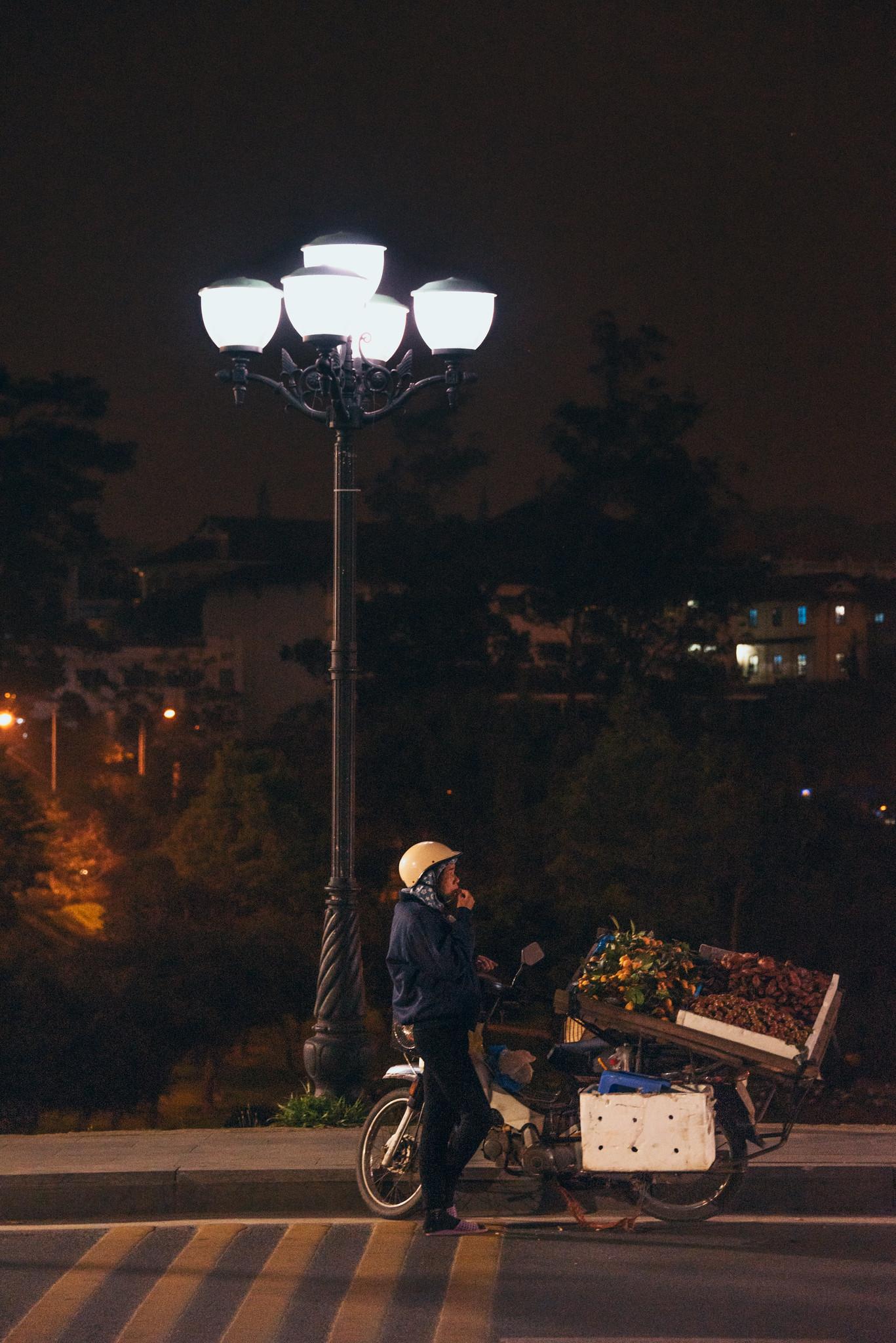 The market was truly crowded. Nothing special to sight there, but it's filled with people loving that boisterousness. And thanks to it I could escape from the monotonous atmosphere of a rainy day.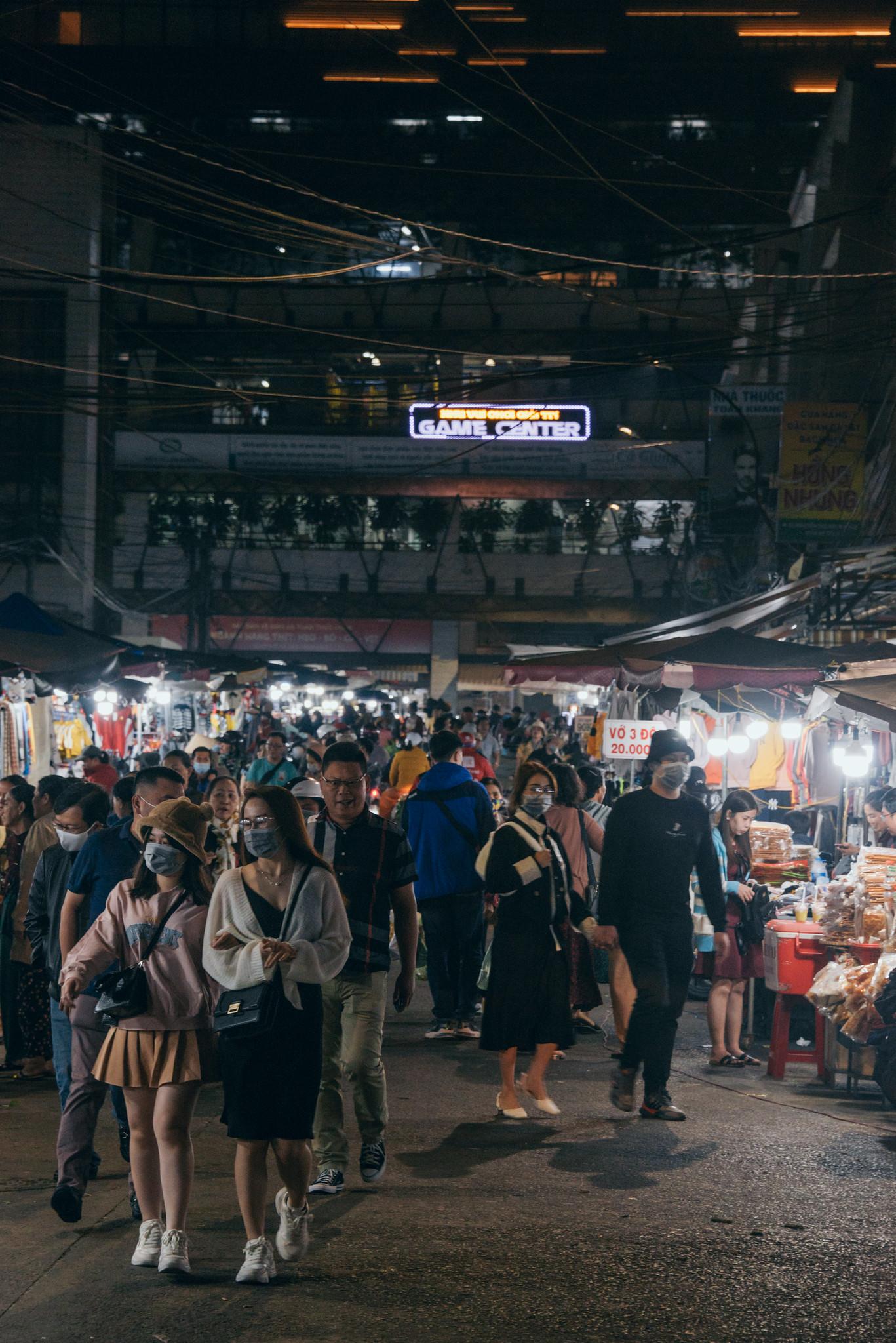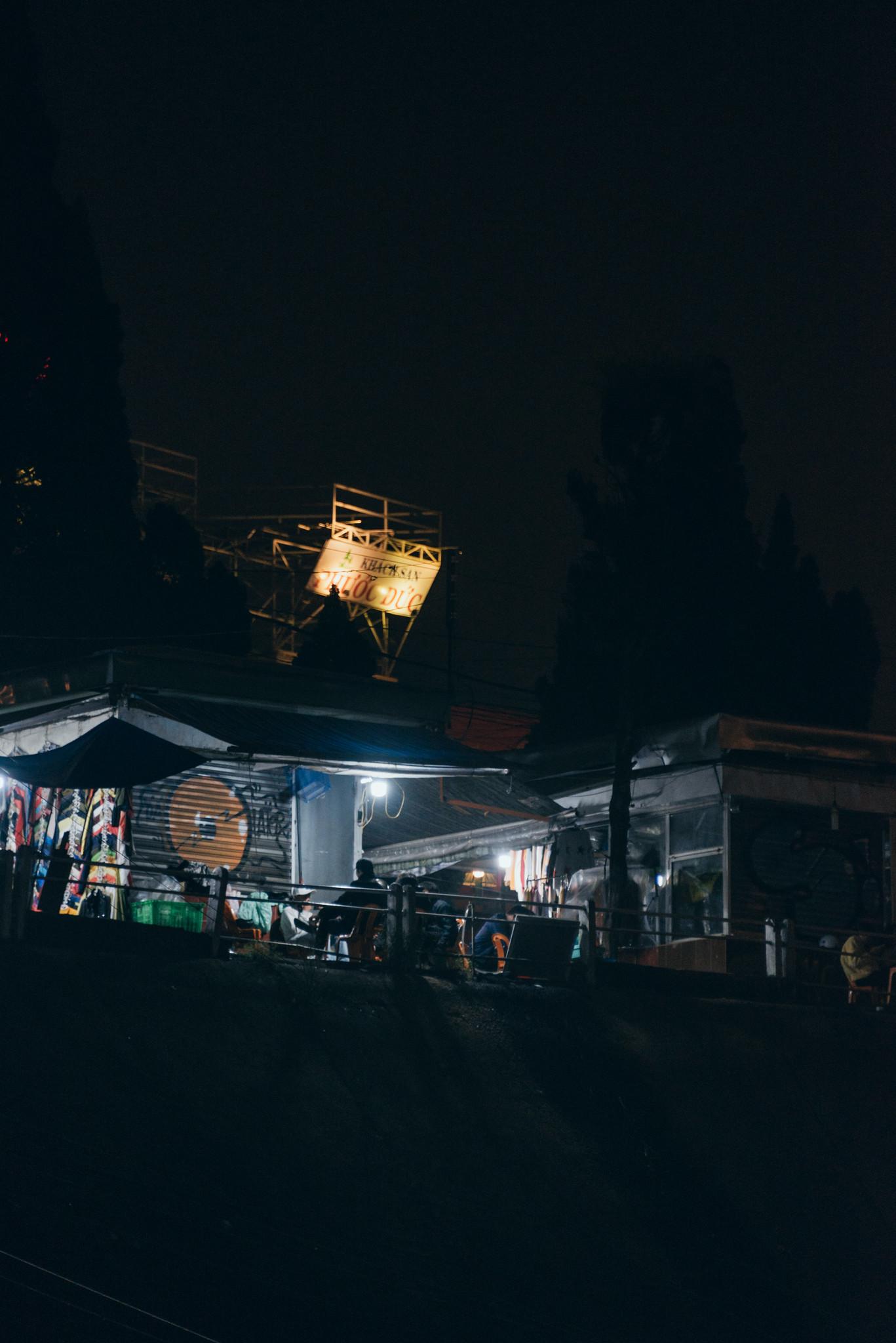 As the rain (expectedly) poured down, the visitors huddled up beneath the tarps laden with water, killing their time by enjoying corn skewers or grilled sweet potatoes.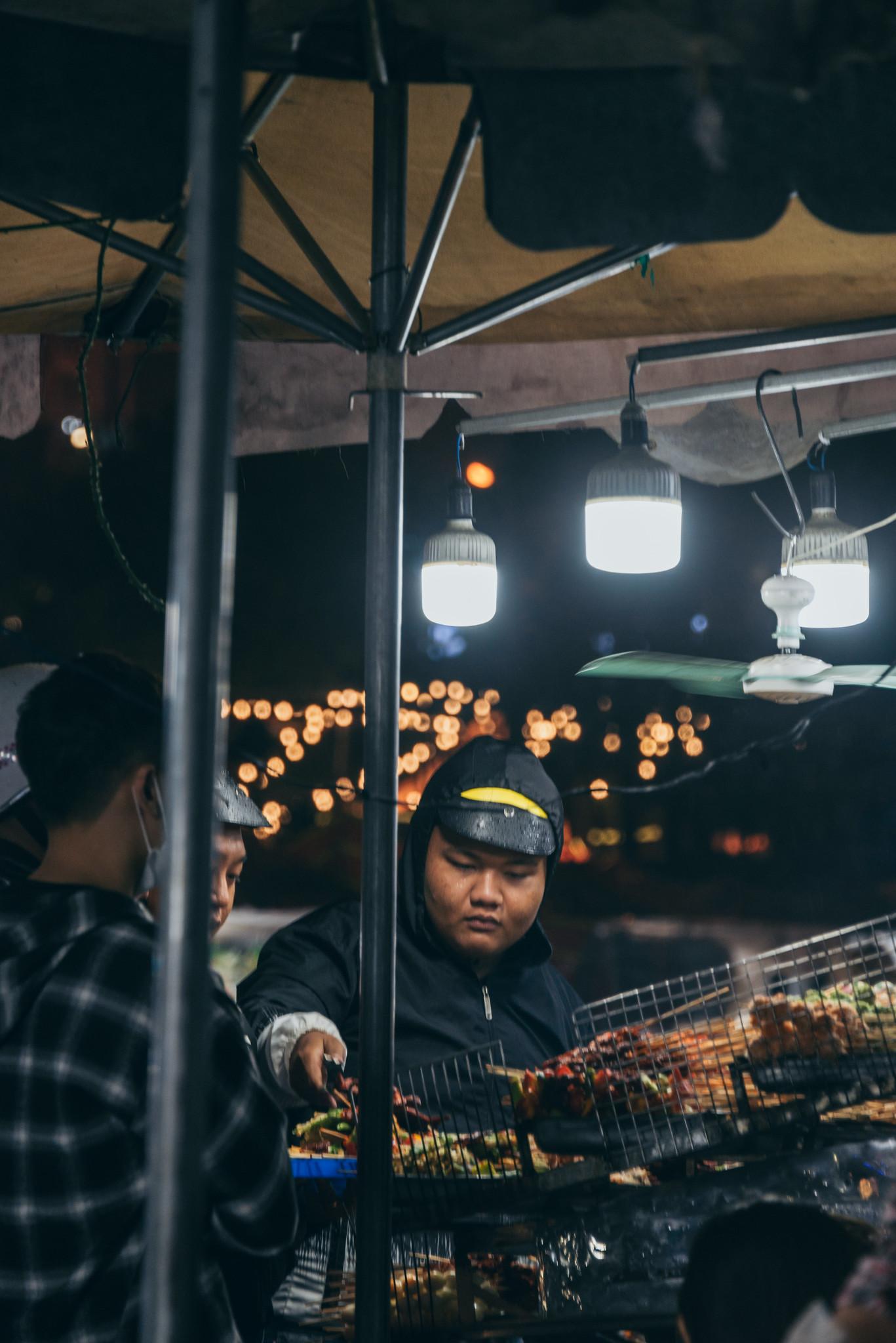 Cam Ly Stream flew into Xuan Huong Lake, now became a waterfall.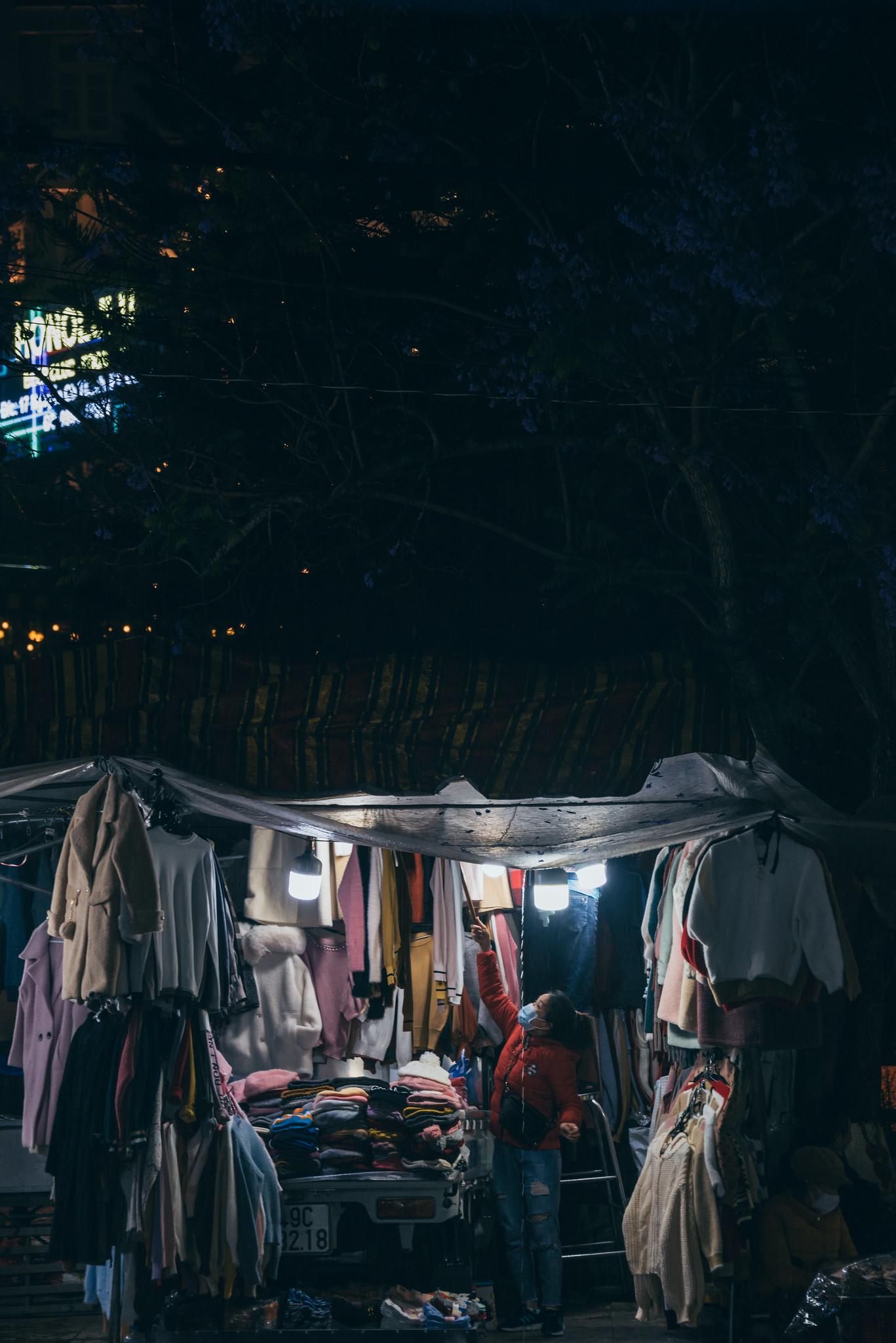 I didn't bring along an umbrella, so I sat under the rain, waiting.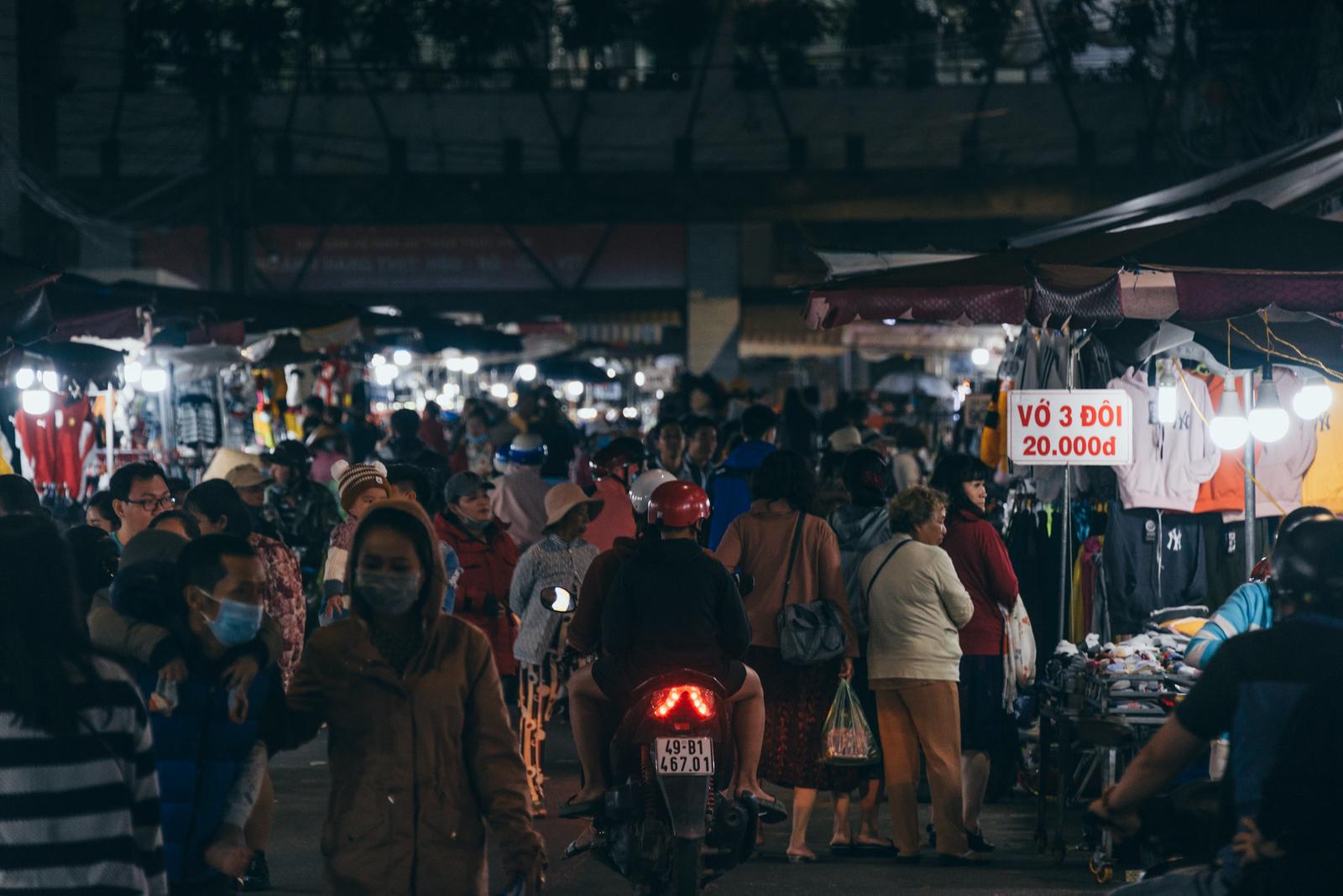 Da Phu Hill
In the following morning we set off to Da Phu Hill, located northwest of Da Lat center, which is a popular spot for capturing clouds, fortunately it's not crowded on that day.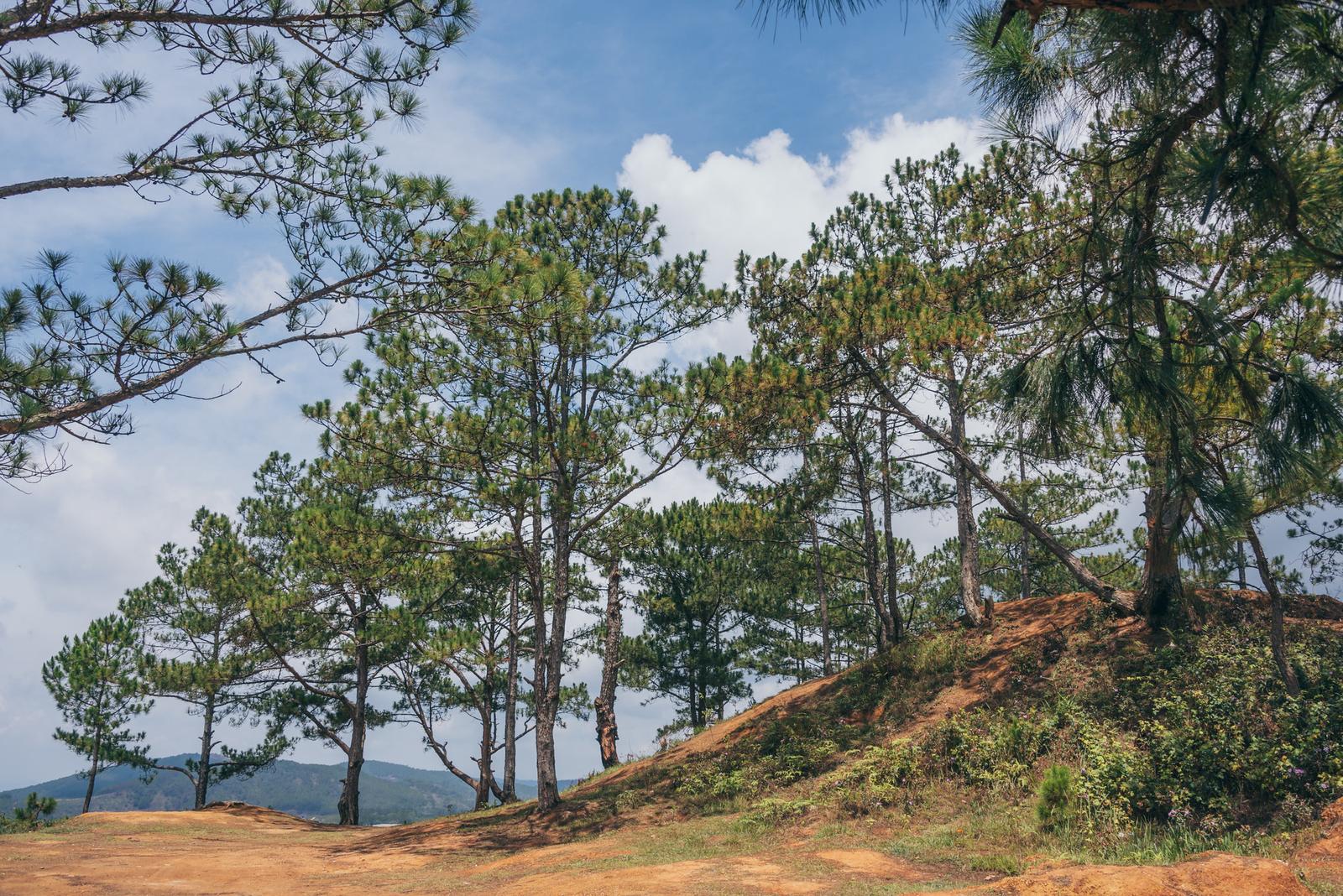 On the hilltop there're baby pine trees having planted for not very long, some of which were already withering before they could reach maturity.
Those professional photographers or marrying couples are probably very familiar with this hill. Standing here, I was offered with a breathtaking panoramic view. If only that morning could have been foggy, the scene would have looked so spectacular.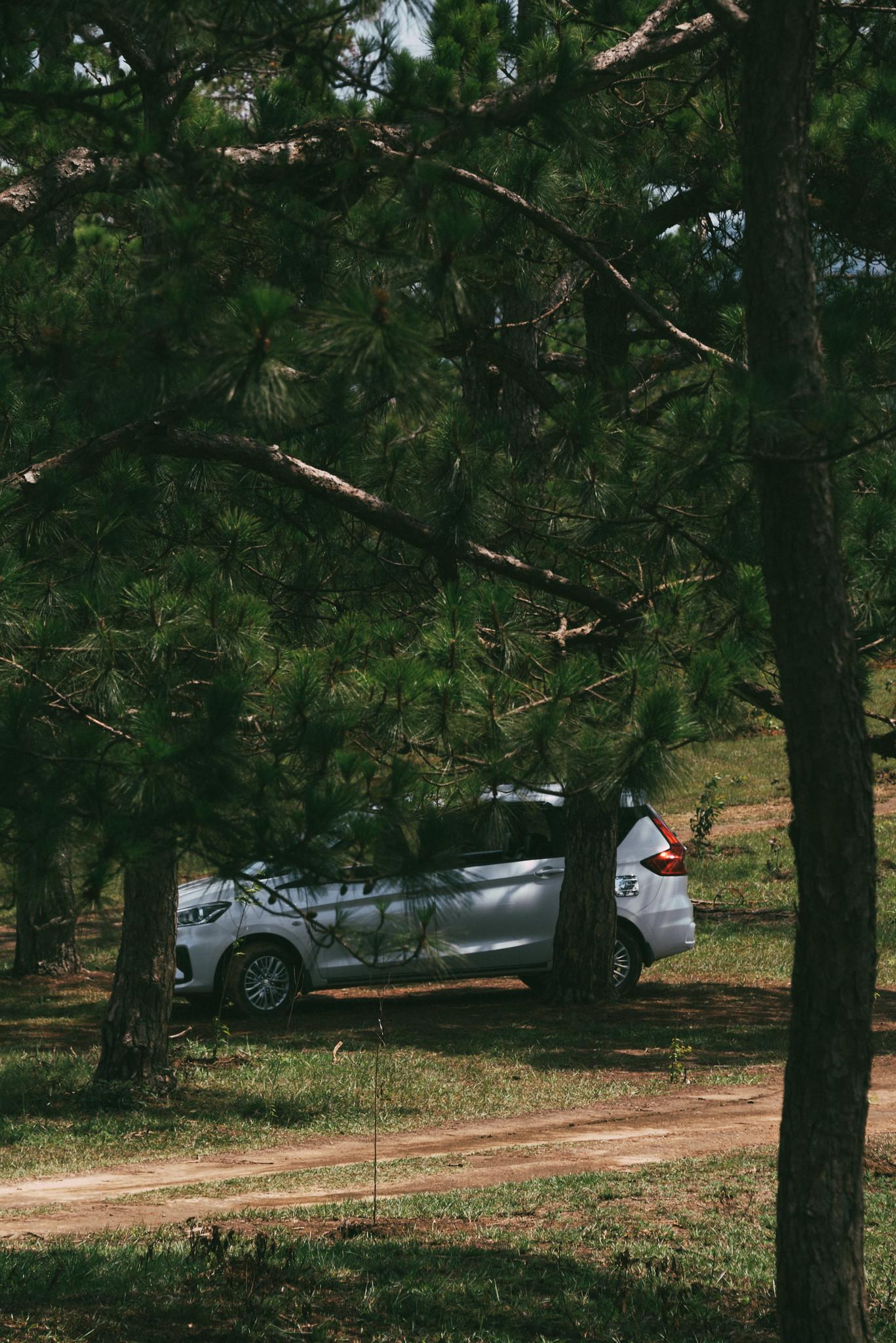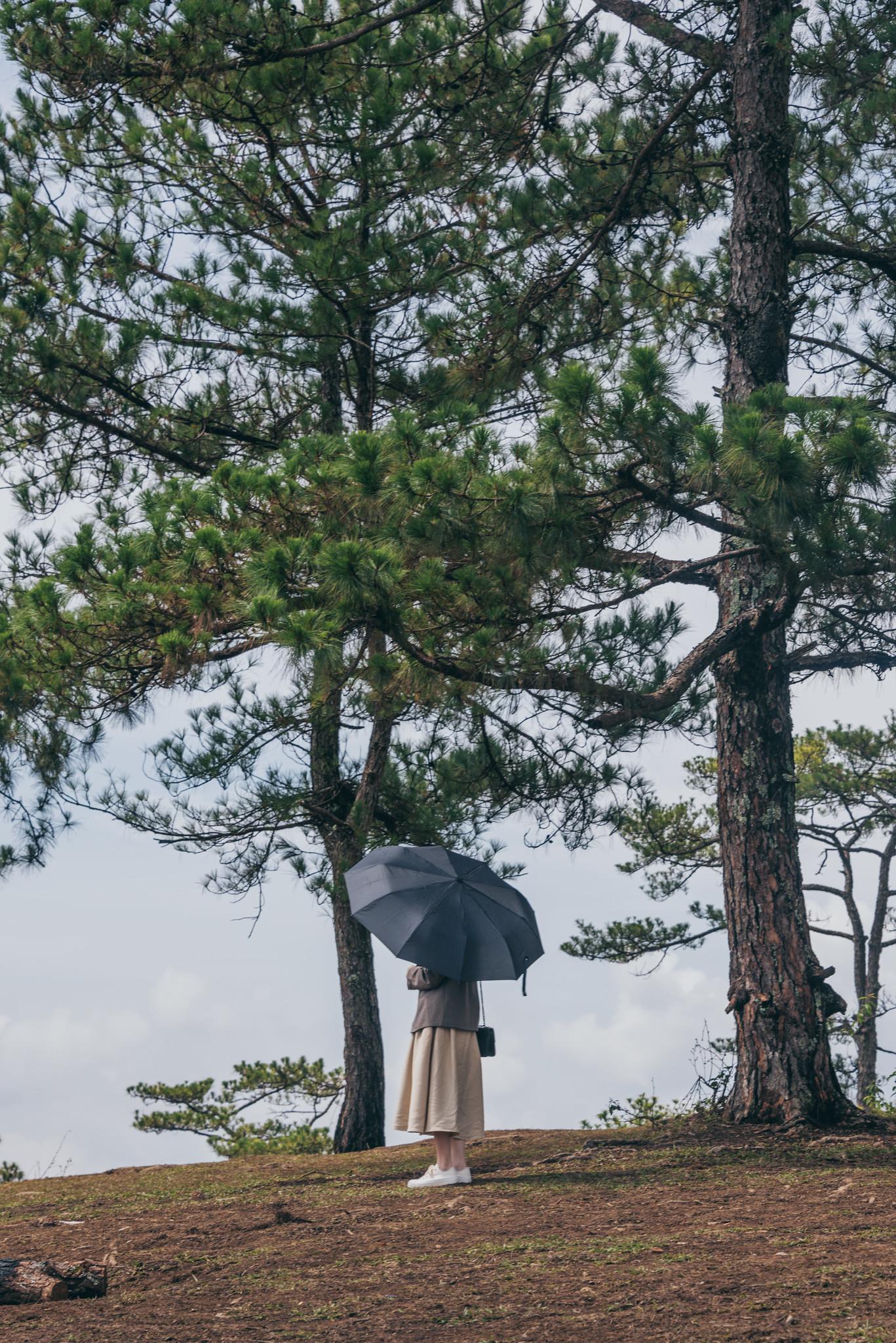 A little lazy day, in the afternoon we visited another hill - Thien Phuc Duc.
Thien Phuc Duc Hill
This is a smaller one, but perhaps thanks to the twilight that people could feel more emotional. The path leading to the hill was winding, whose many sections were unpaved and crossing the cemetery of Thanh Mau neighborhood.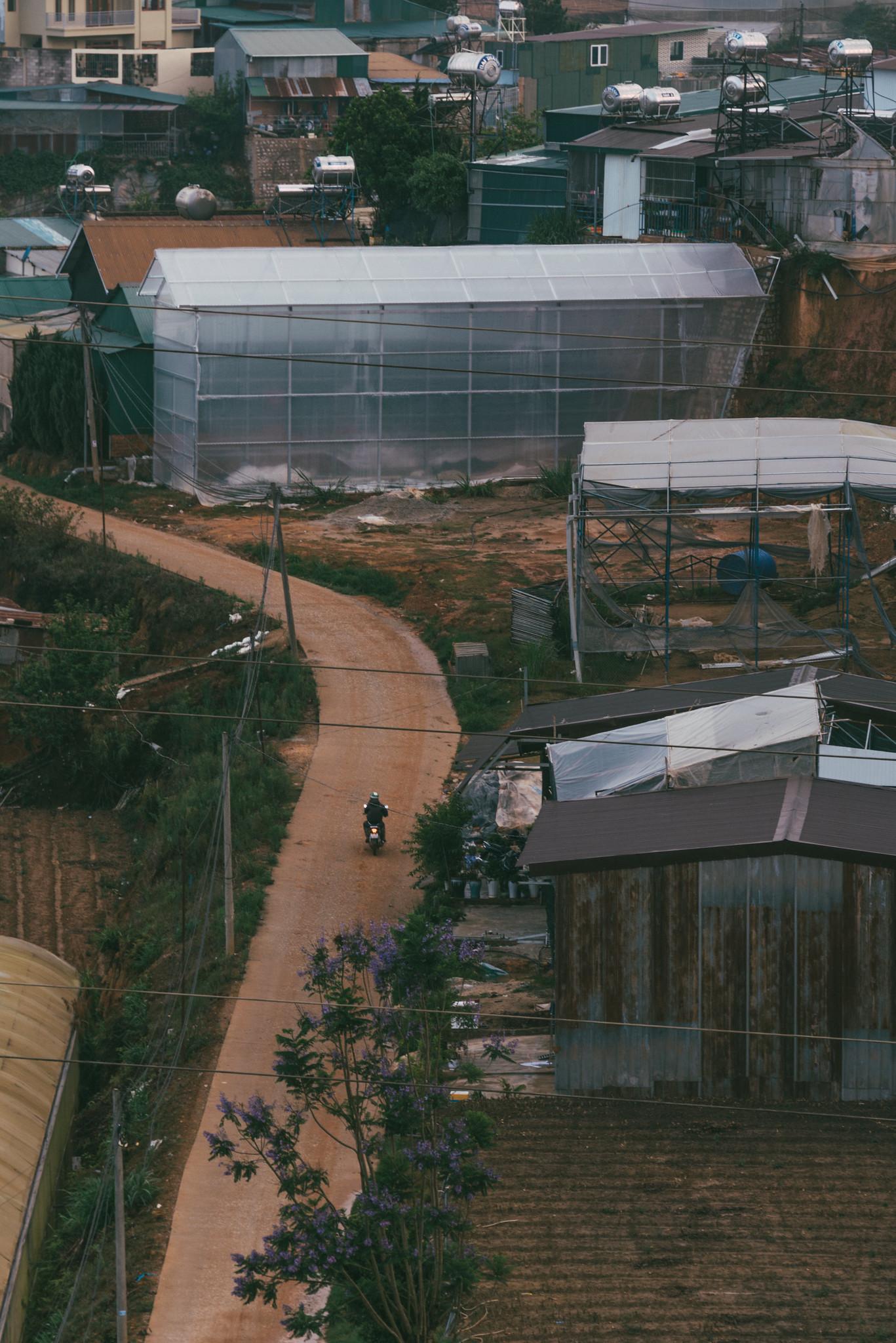 Several groups had arrived for photographing, as drones were hovering overhead. They had finished setting up the tents and prepared firewood for an overnight stay there. That looked quite professional.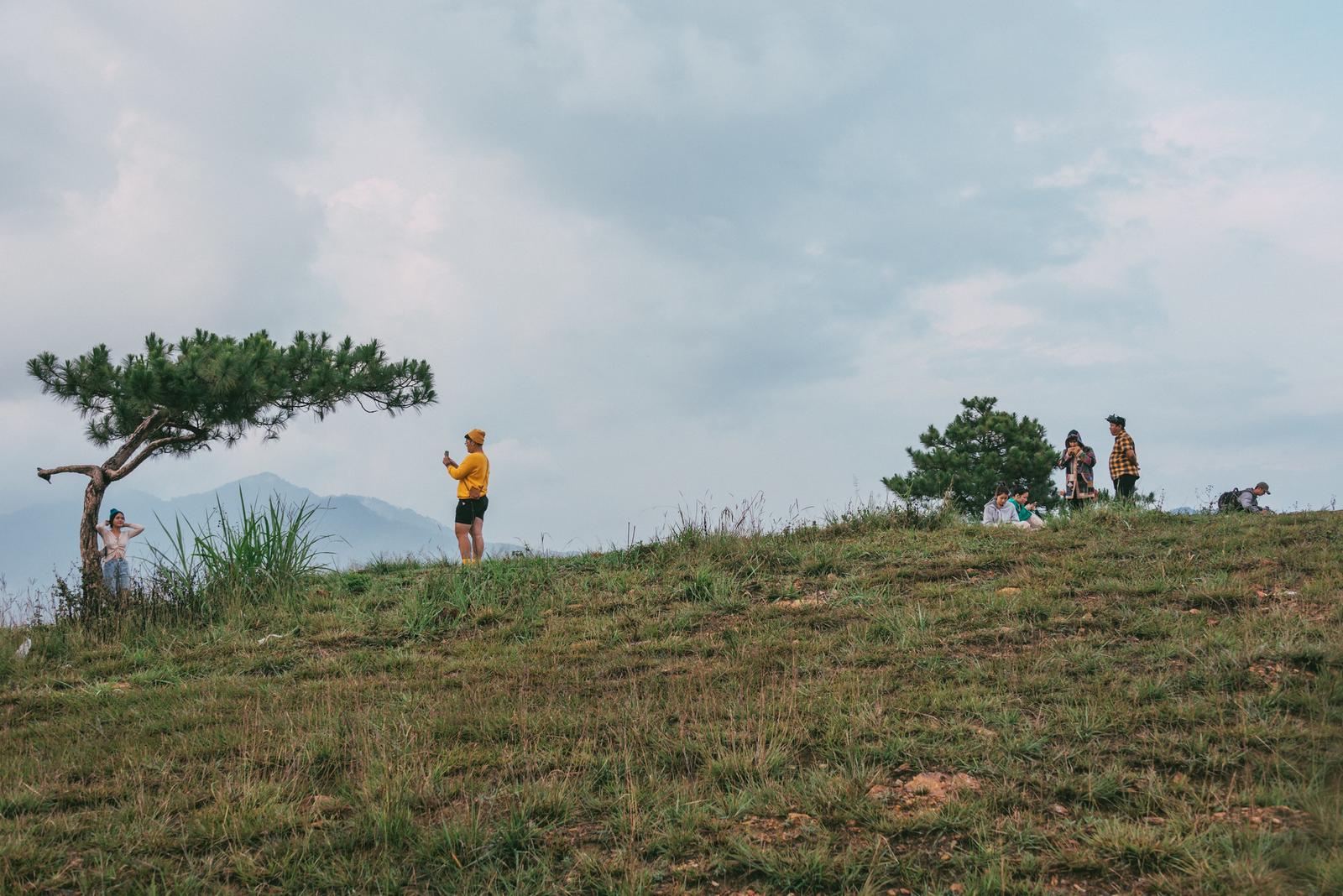 If only a few people were camping, the atmosphere would be pretty eerie, as from this location we could spot the grave hills from afar.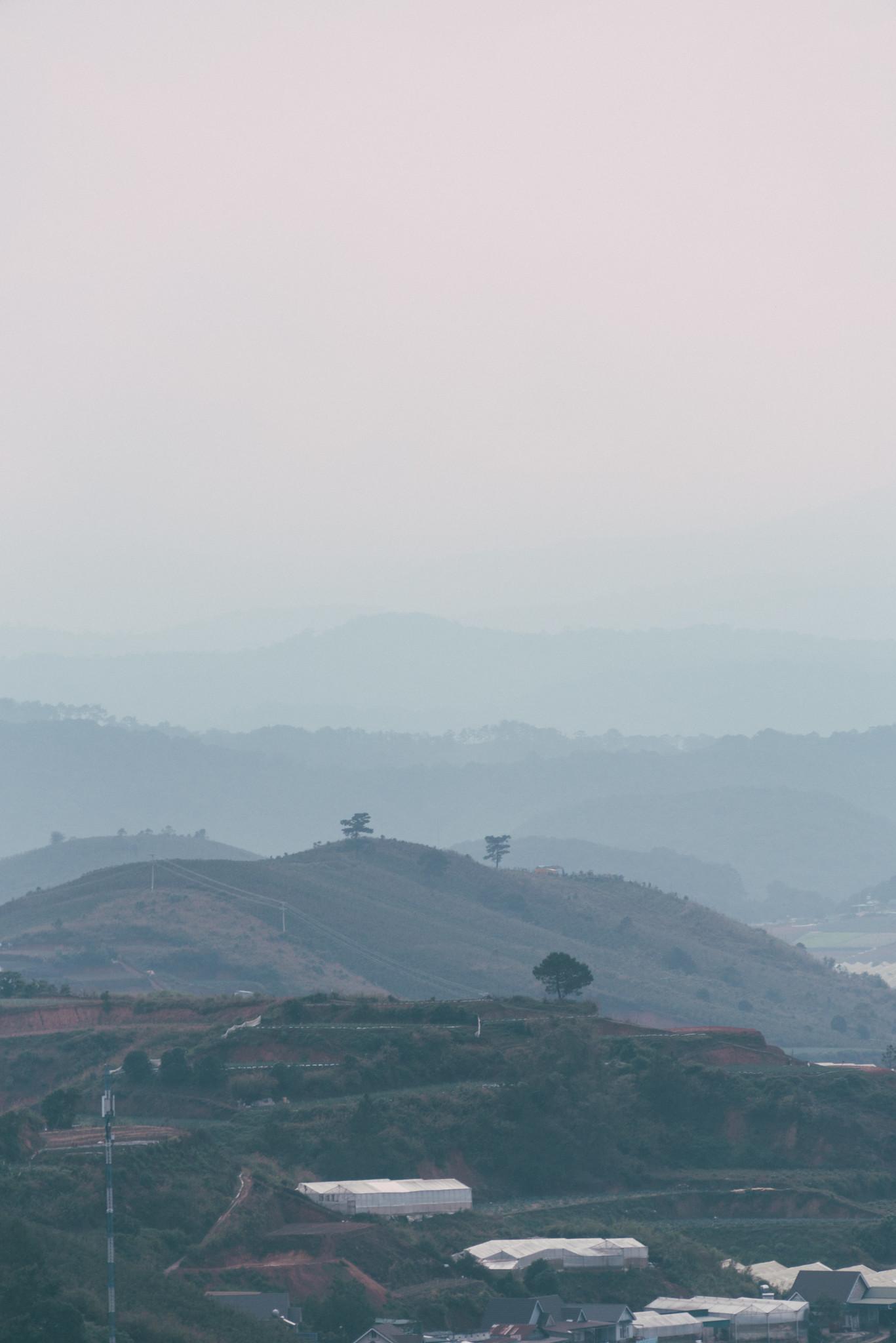 The city scene disappeared behind the mountains, thus no lively ambience was surrounding us any longer.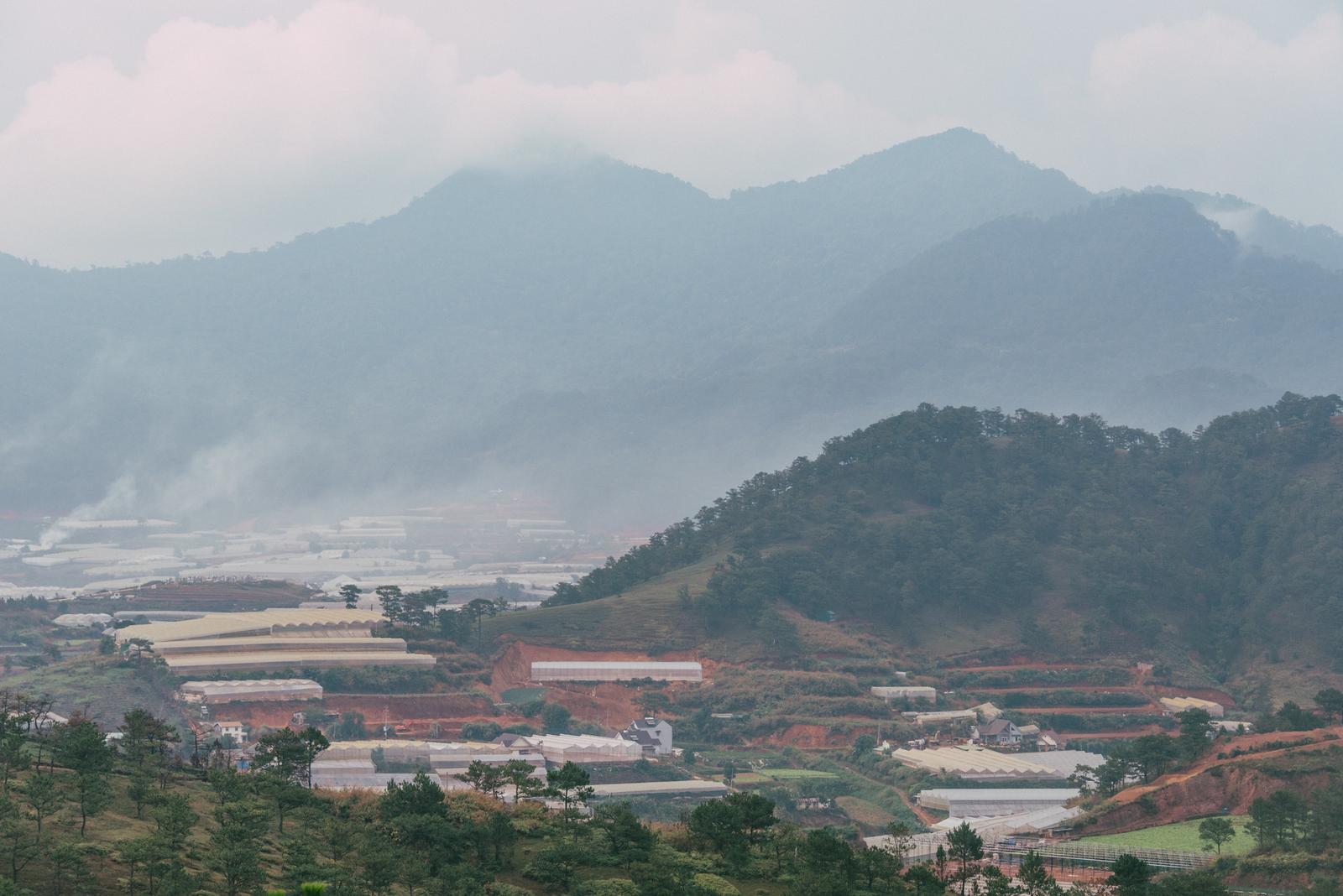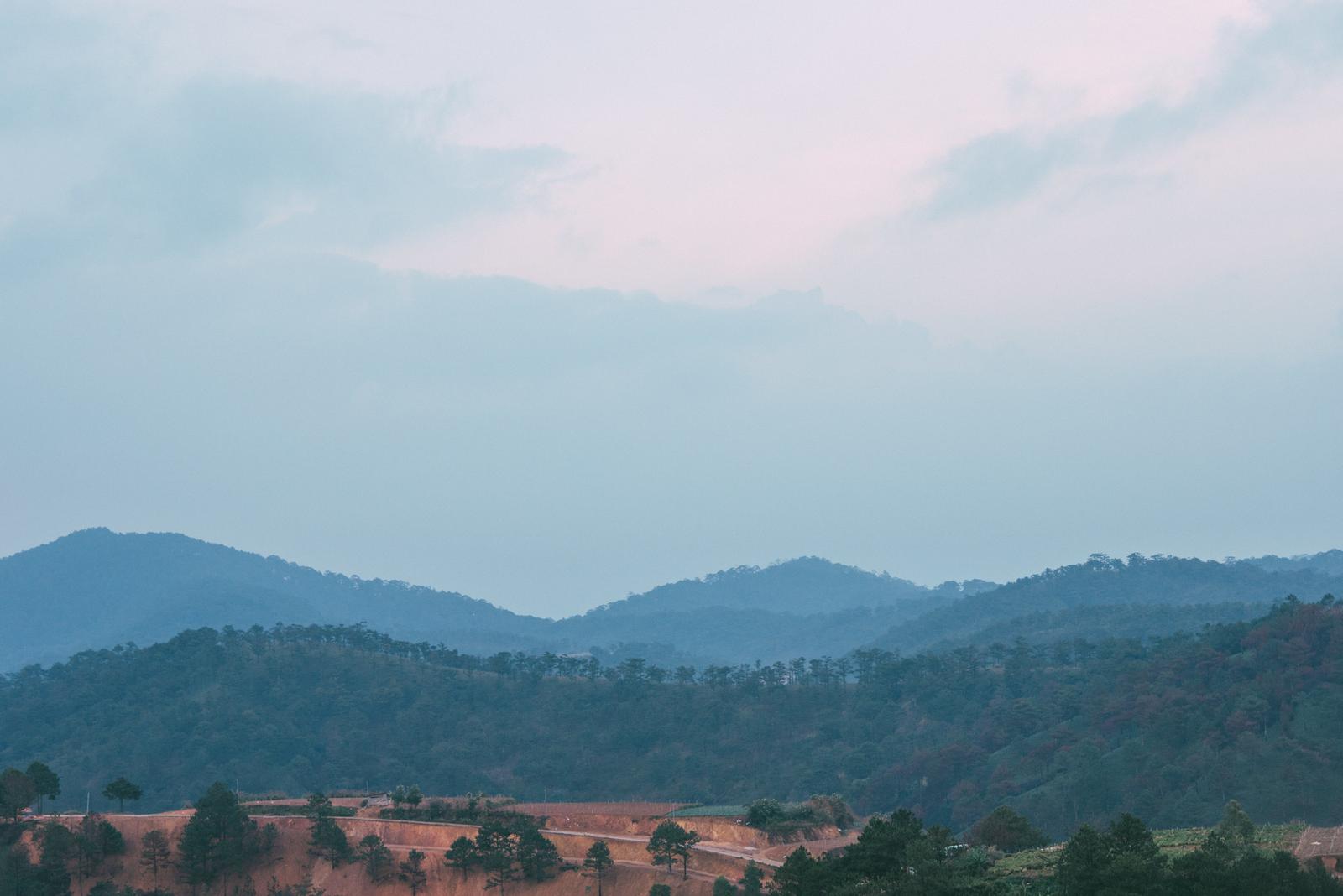 Tuyen Lam Lake
Since we didn't go together on the 3rd day, I decided to hail a ride to Tuyen Lam Lake and was sauntering there. Finally a sunny morning after days in Da Lat. The homestay's puppies were bustling up and down the sloped stone staircase, as they enjoyed snuggling up against stranger's feet. The speaker echoed some tunes, 'Phai Chang Em Da Yeu?', or other songs by Trinh, which had a special bond with this place.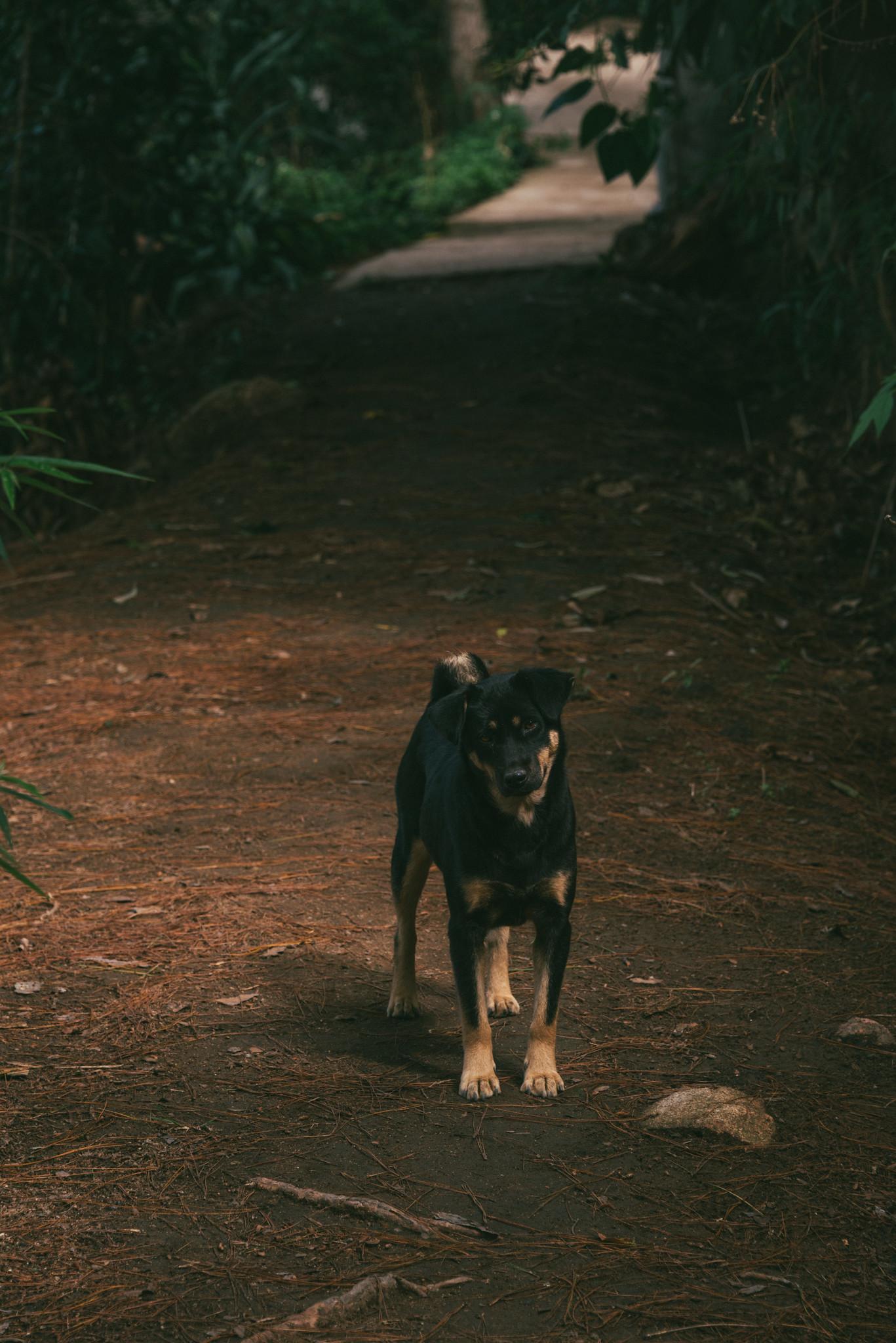 The water of Tuyen Lam Lake is pristine, with surrounding hills covered by the green color of lush trees, an uncommon sight in Da Lat. I wish further construction of houses in this area should be avoided, as nobody will ever come to admire a concrete landscape.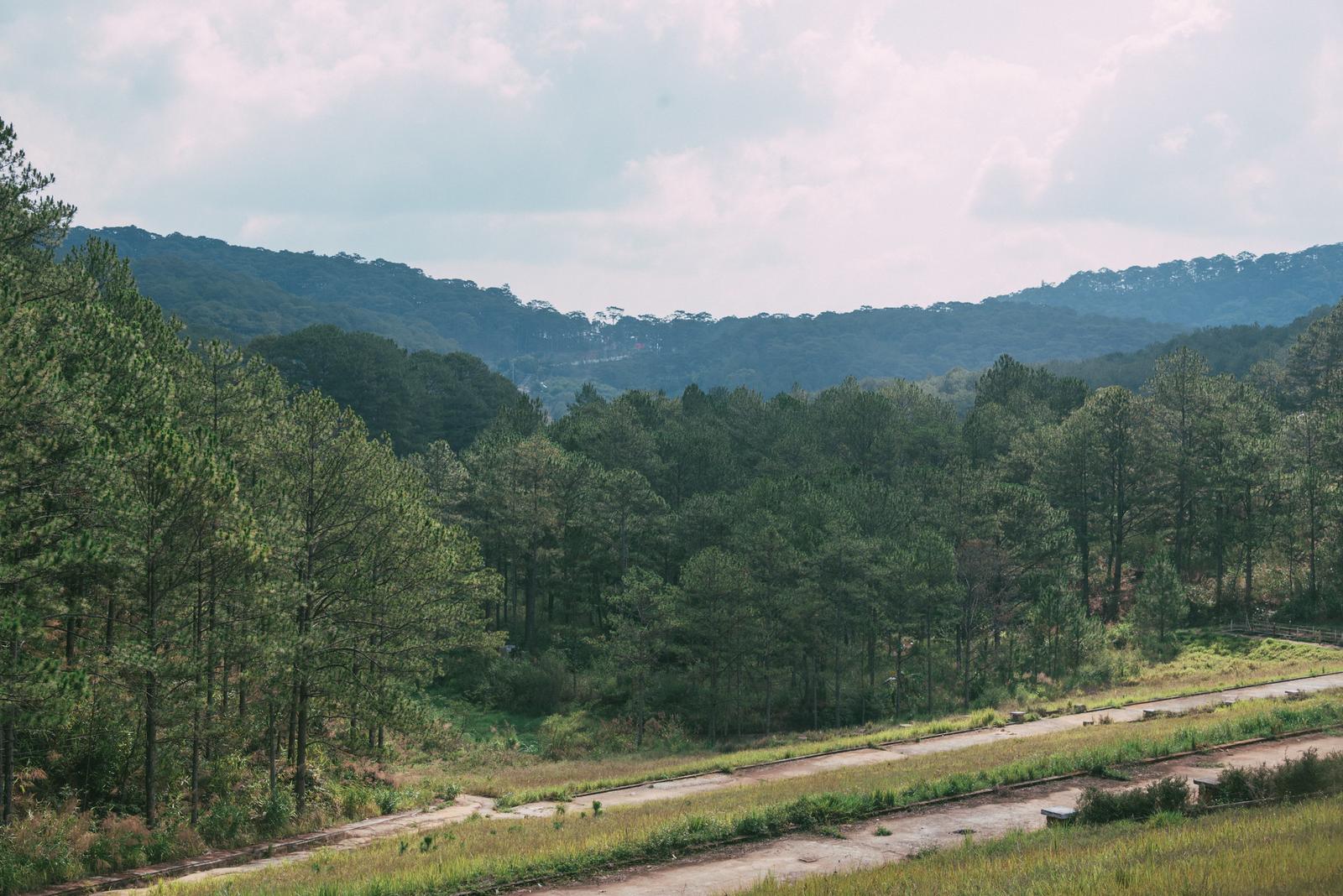 Who would have ever known that this lake had been created purely for agricultural irrigation purpose?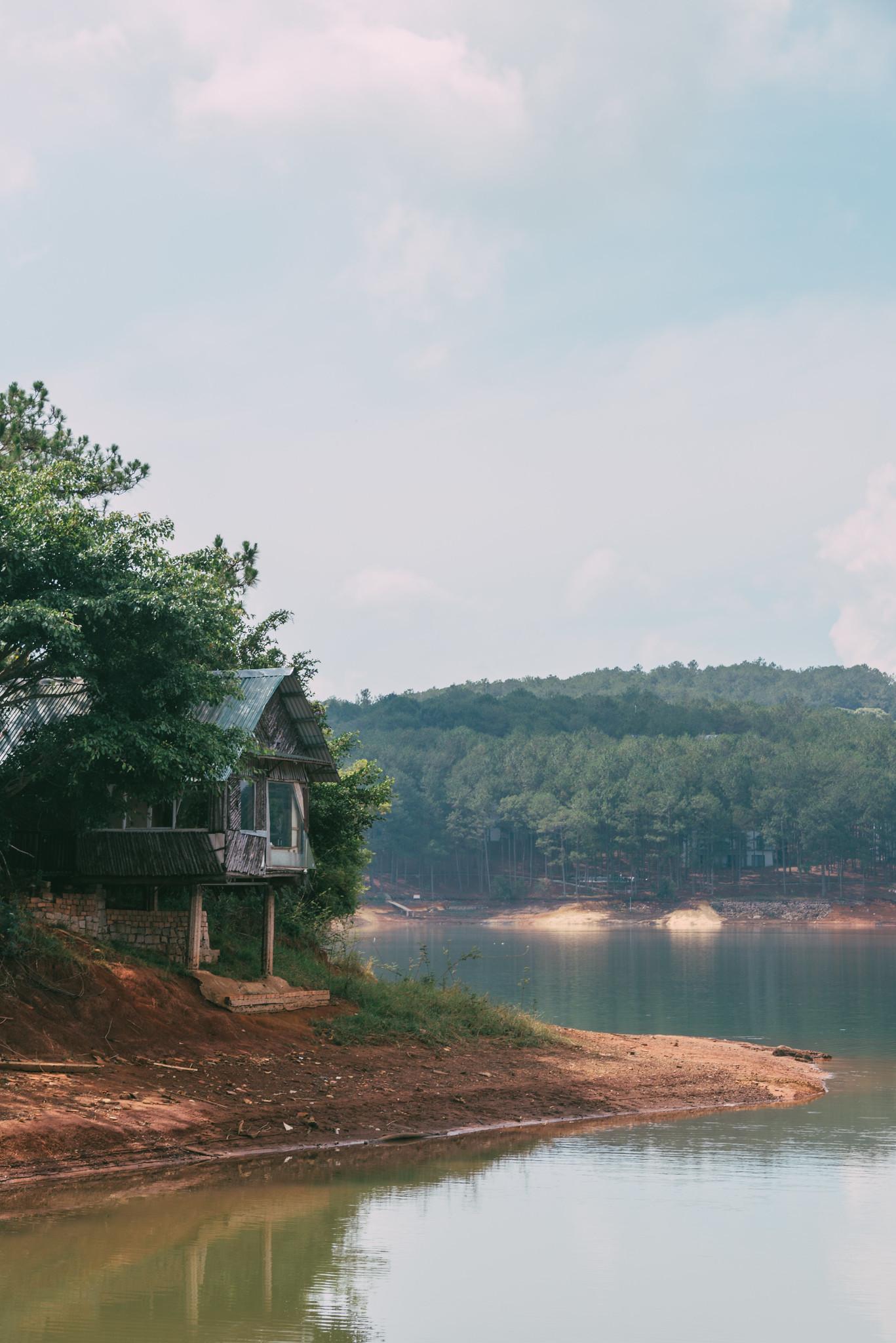 You can easily recognize the characteristics having been featured in numerous MVs, such as the irrigational bridge or the stretch of red soil.
The sun was directly overhead but I still had plenty of time left, so I decided to visit a lakeside cafeteria to savor a bowl of noodles; however calm I ate or how many dishes I ordered, time still seemed to crawl. Anyway, admiring such a beautiful landscape while eating was my justification for not hurrying.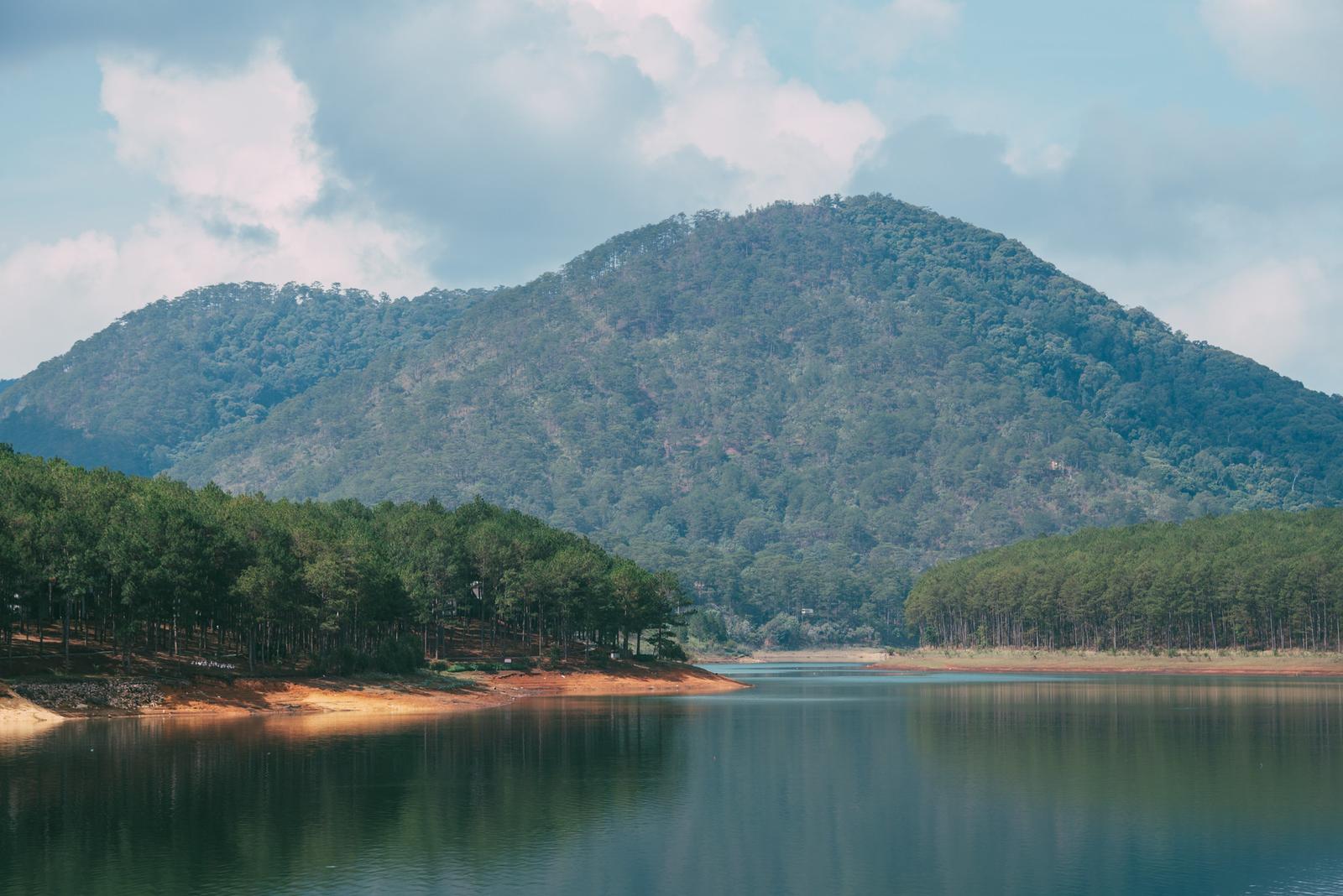 There're a number of bike-traveling couples here, who appeared so carefree. I was wandering about for some more time before noon came, then I returned to Da Lat center.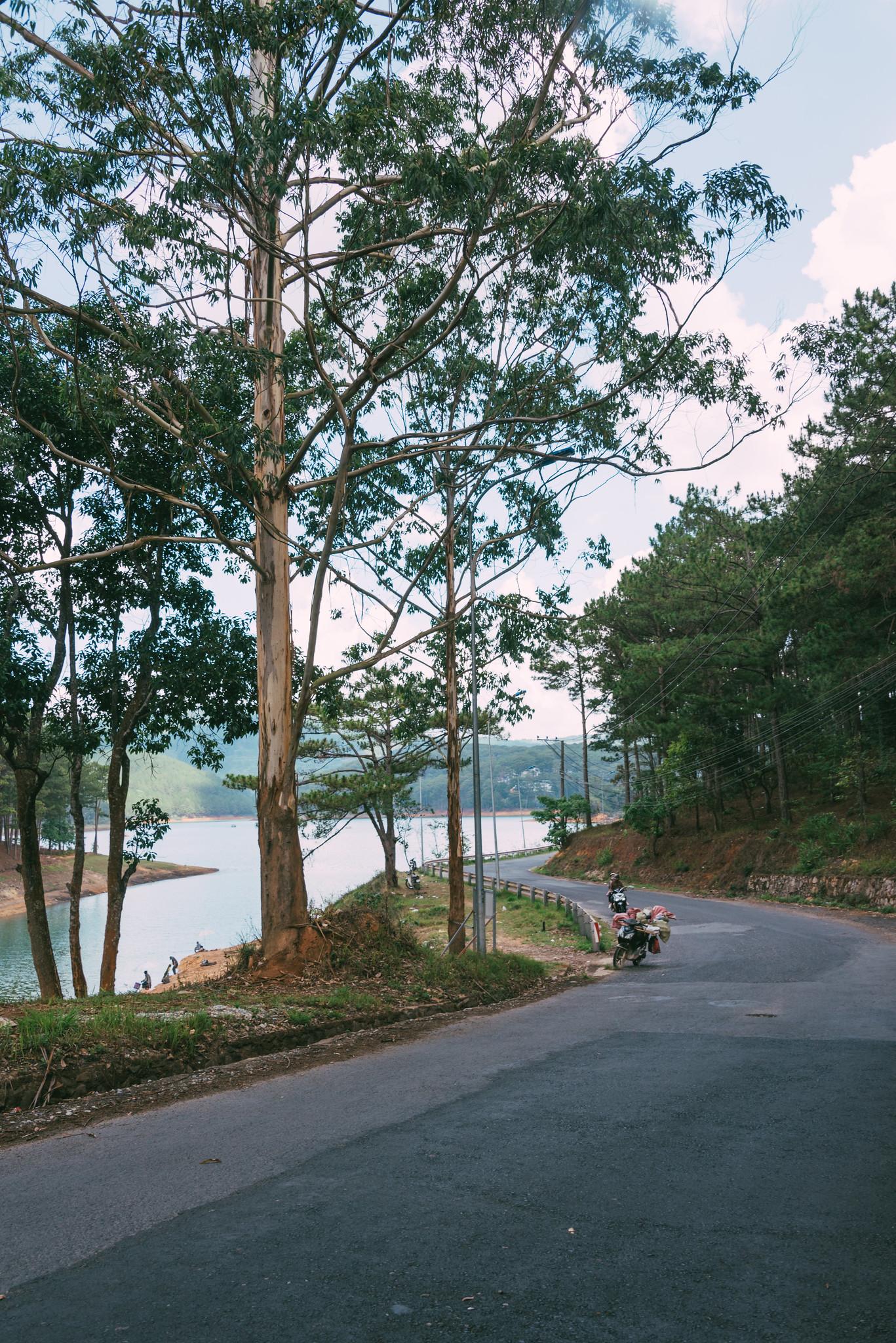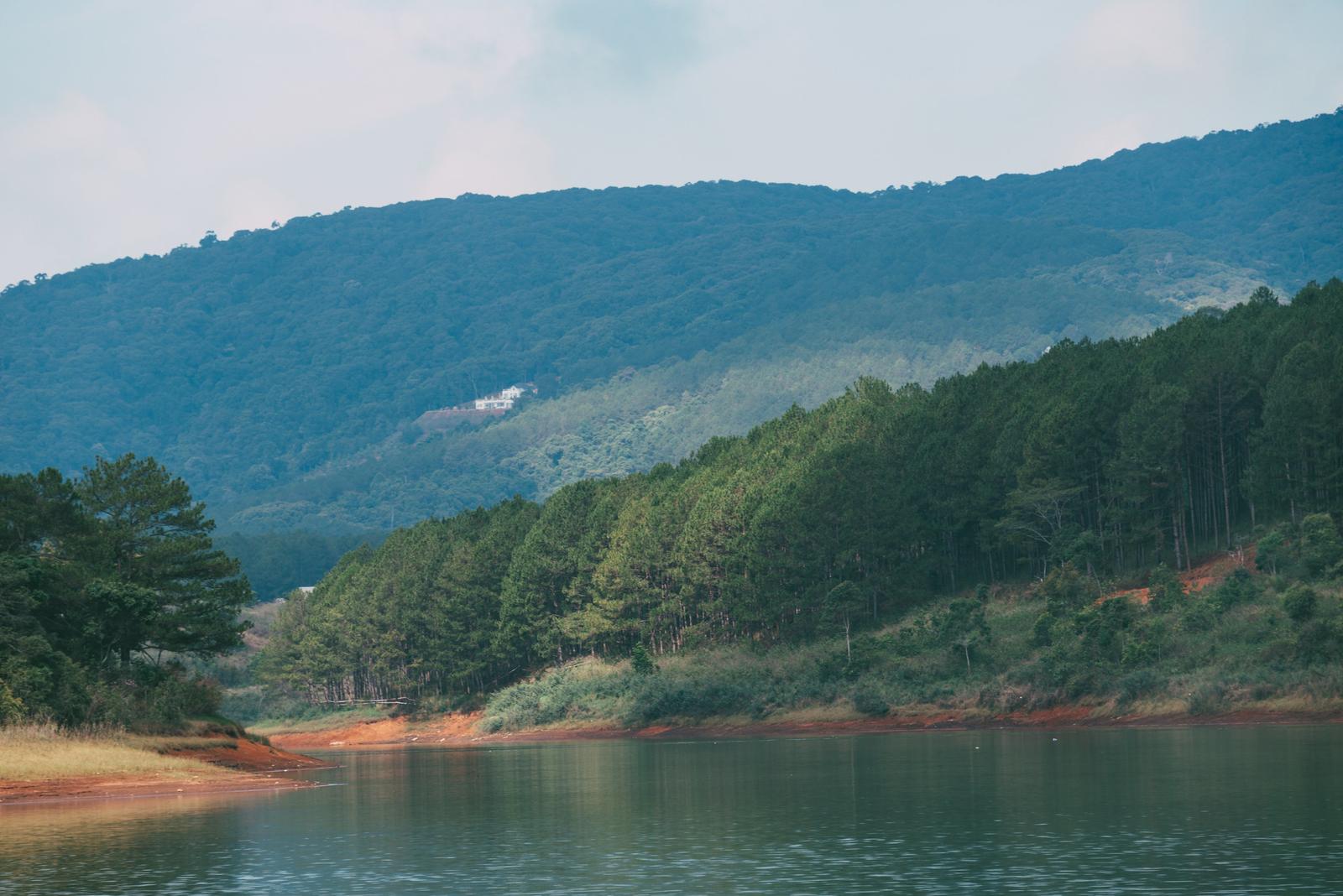 There's no place for a violet sunset
It was raining dog and cat that afternoon, a typical shower in Da Lat. The dim light from the homestay kitchen area was surrounded by the mountain darkness. Huddling beneath my feet were a few puppies asking for biscuits, such voracious animals. Had it not been for the rain, perhaps everyone would have gathered around the fireplace.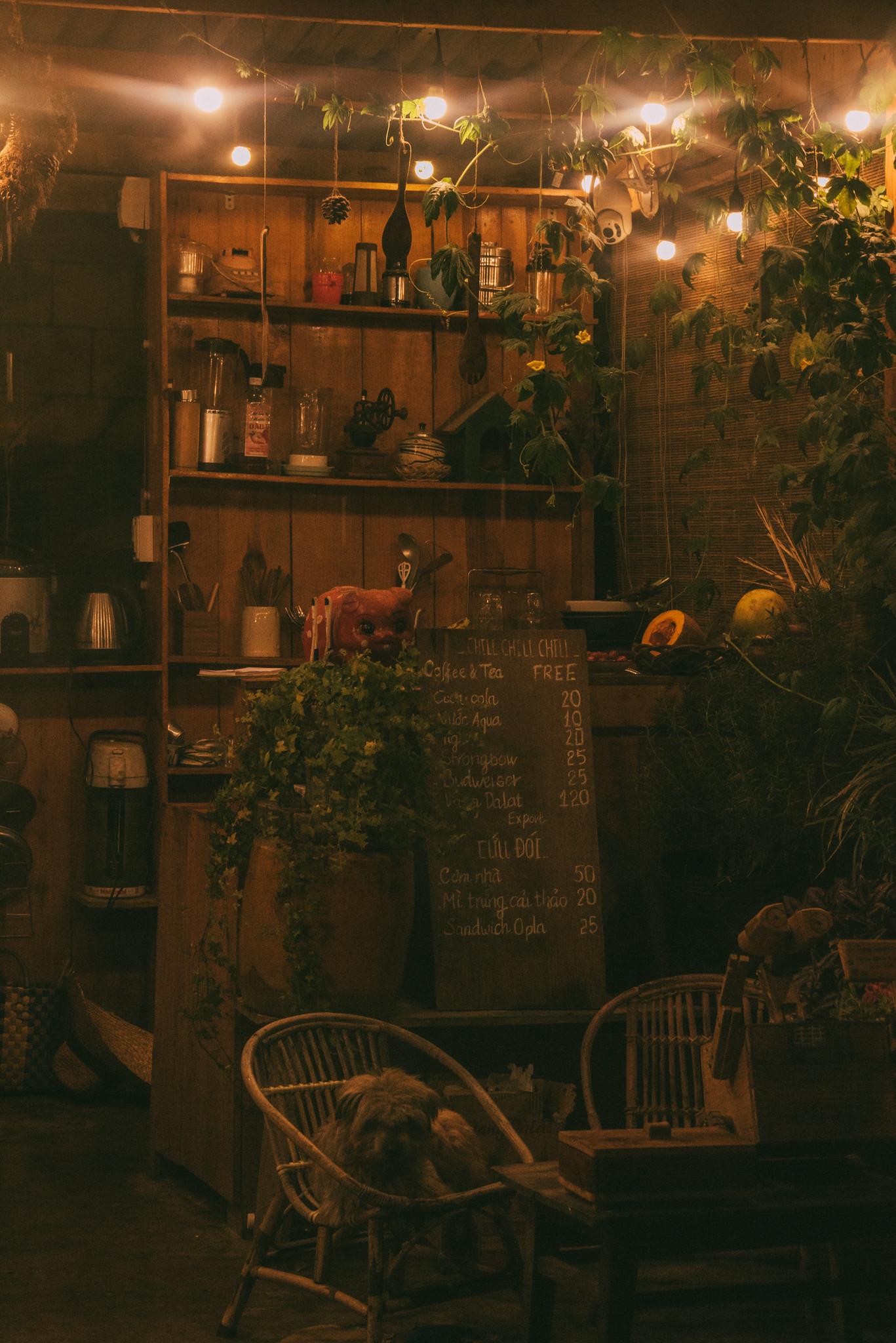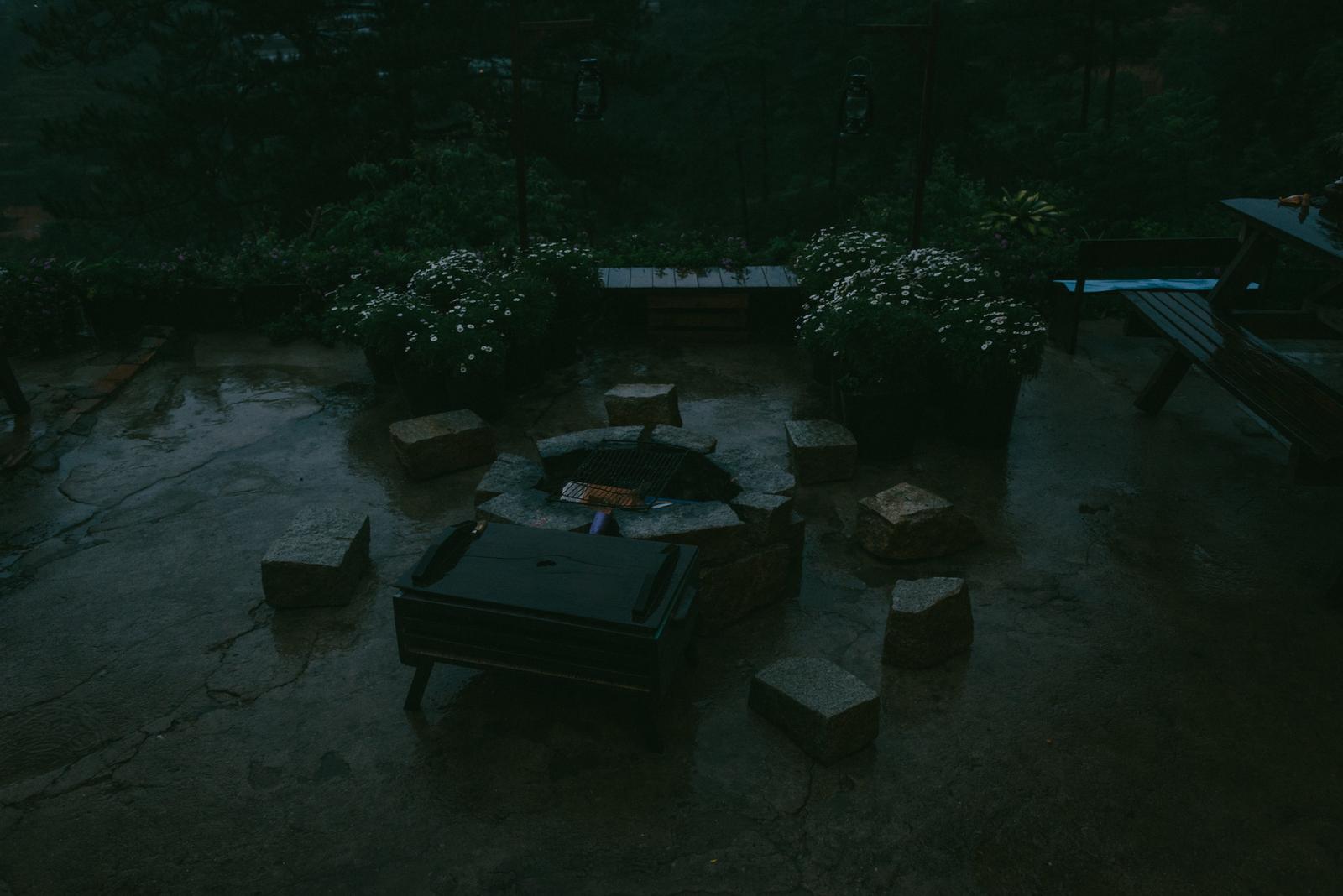 The Last Day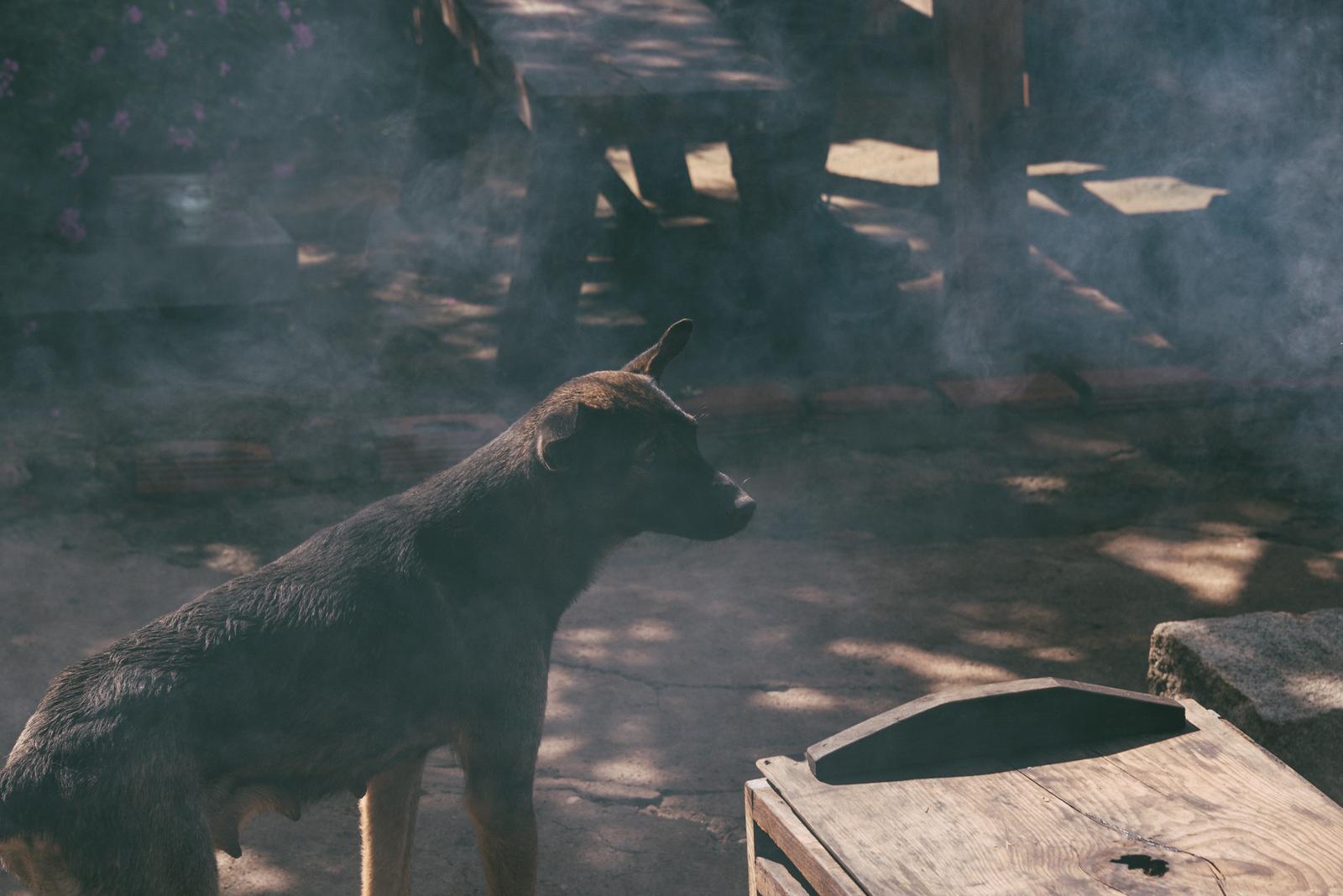 On the final day I was walking around the market and alongside Cam Ly Stream. Under the harsh sunshine, the scenery looked pretty ordinary.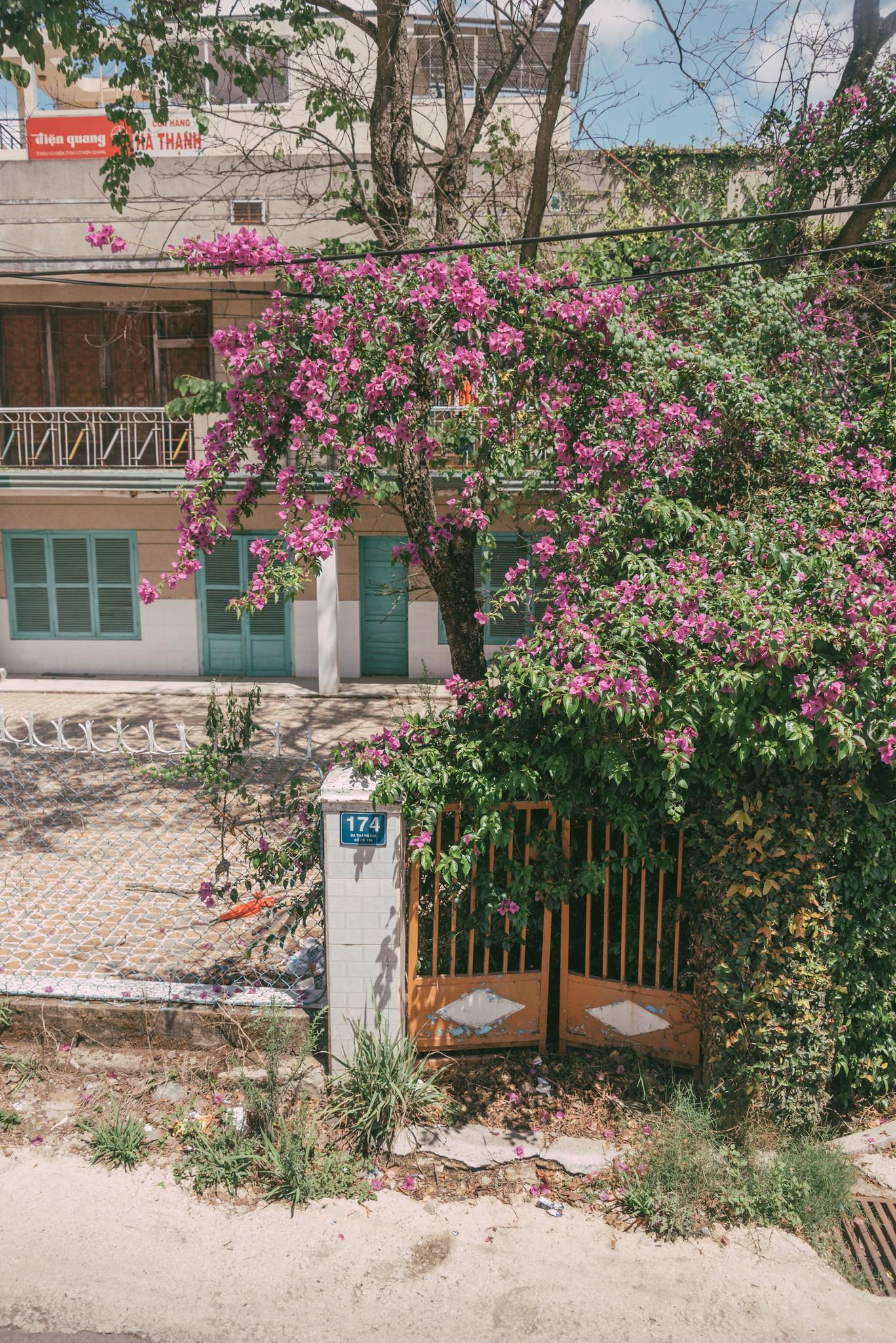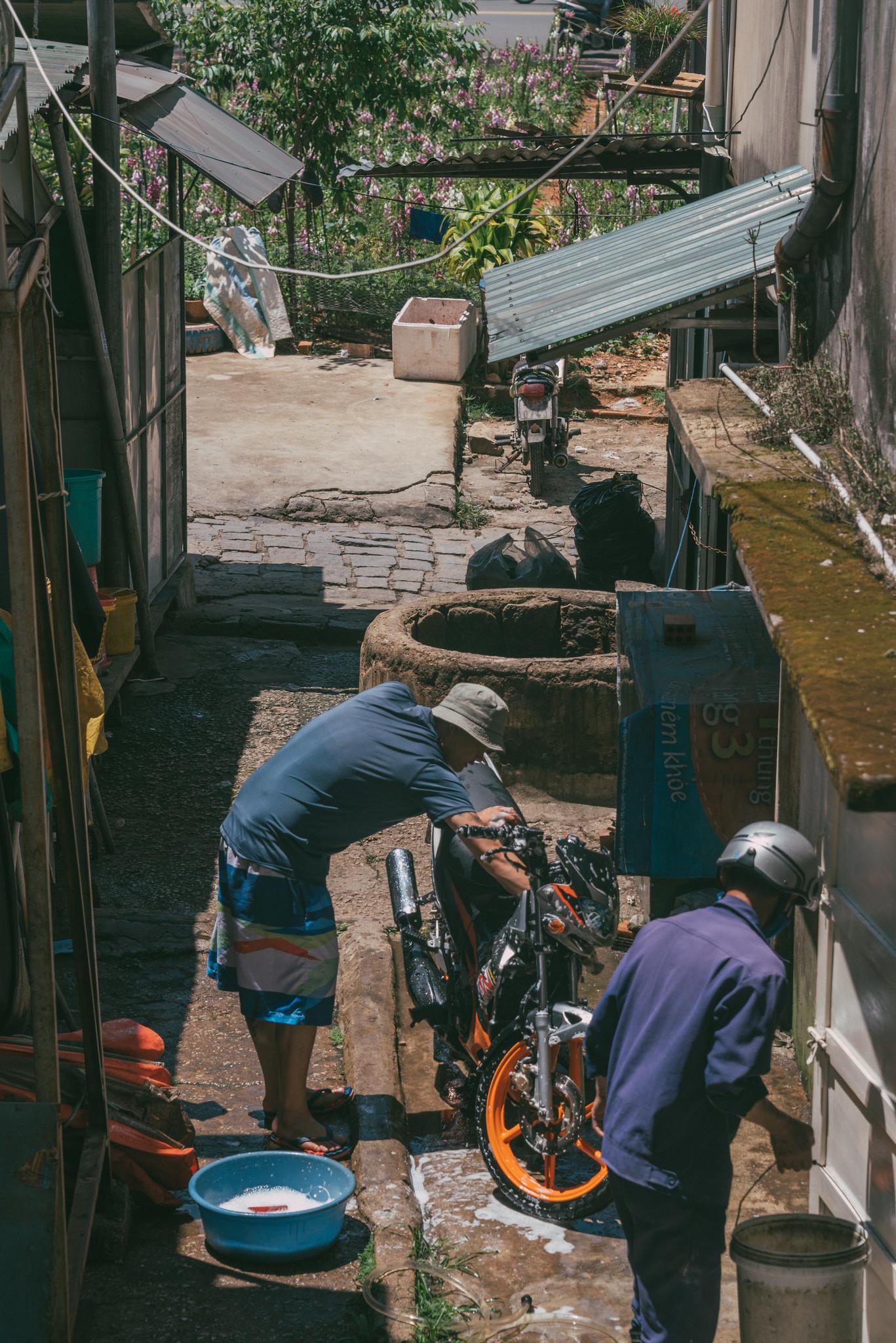 But it might be the moment I was waiting for her at the slope that left the most lasting impression. It's just a light drizzle, but the fog had blanketed the night.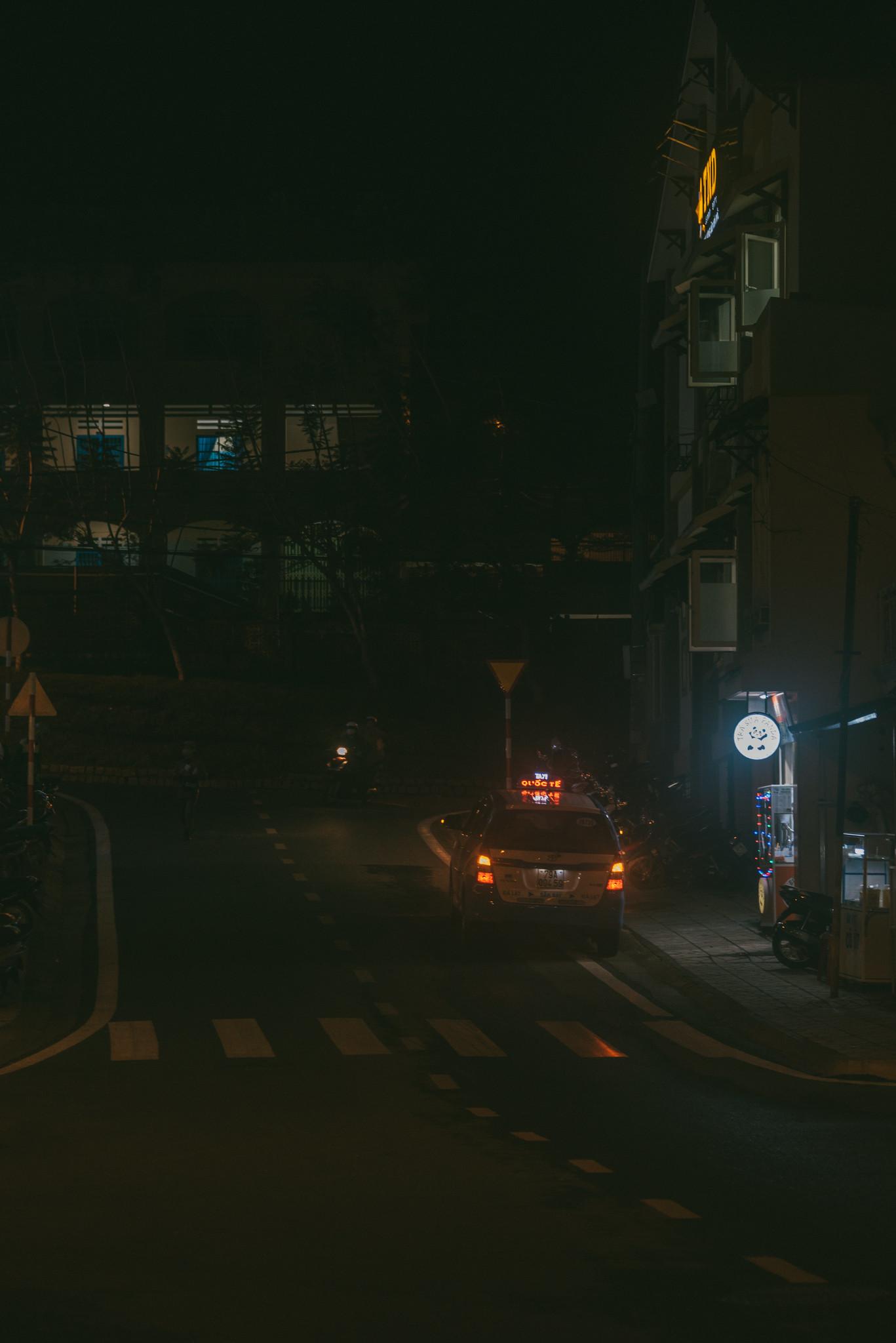 On the hilltop in front of me situated May Lang Thang, a renowned stage hosting many artists' live performances. In case you still recall songs like 'Con Mo Bang Gia' or 'Chi La Khong Cung Nhau' suddenly gaining much popularity in 2021, they were showcased at this venue.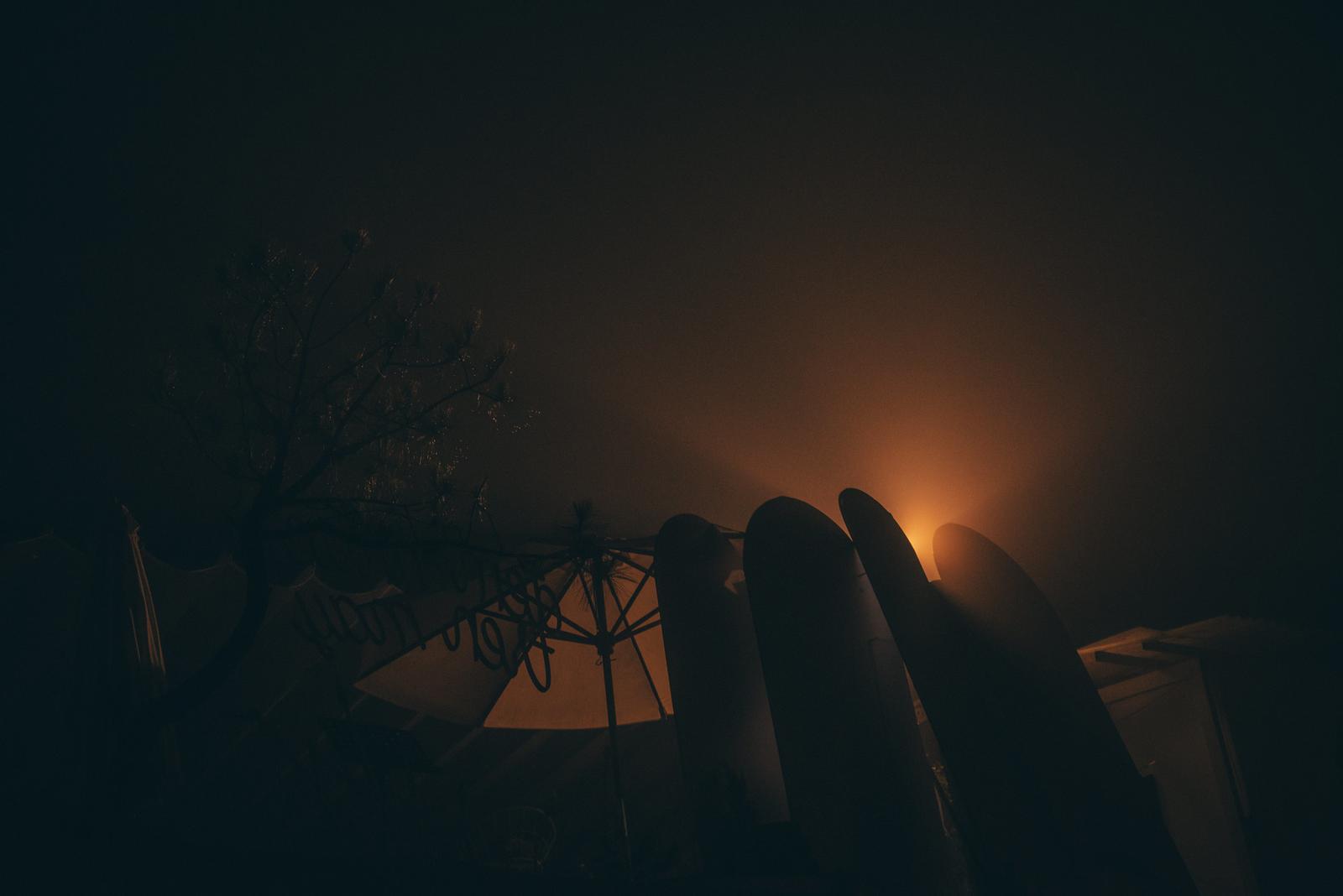 Amidst a dense fog curtain were some rounded light spots. That wasn't a dream, that's the sheer reality. I found myself standing amid wet, chilly air, while being only surrounded by the dogs' barking noise. To them, the familiar visitors at day now seemed just like the intruders at night.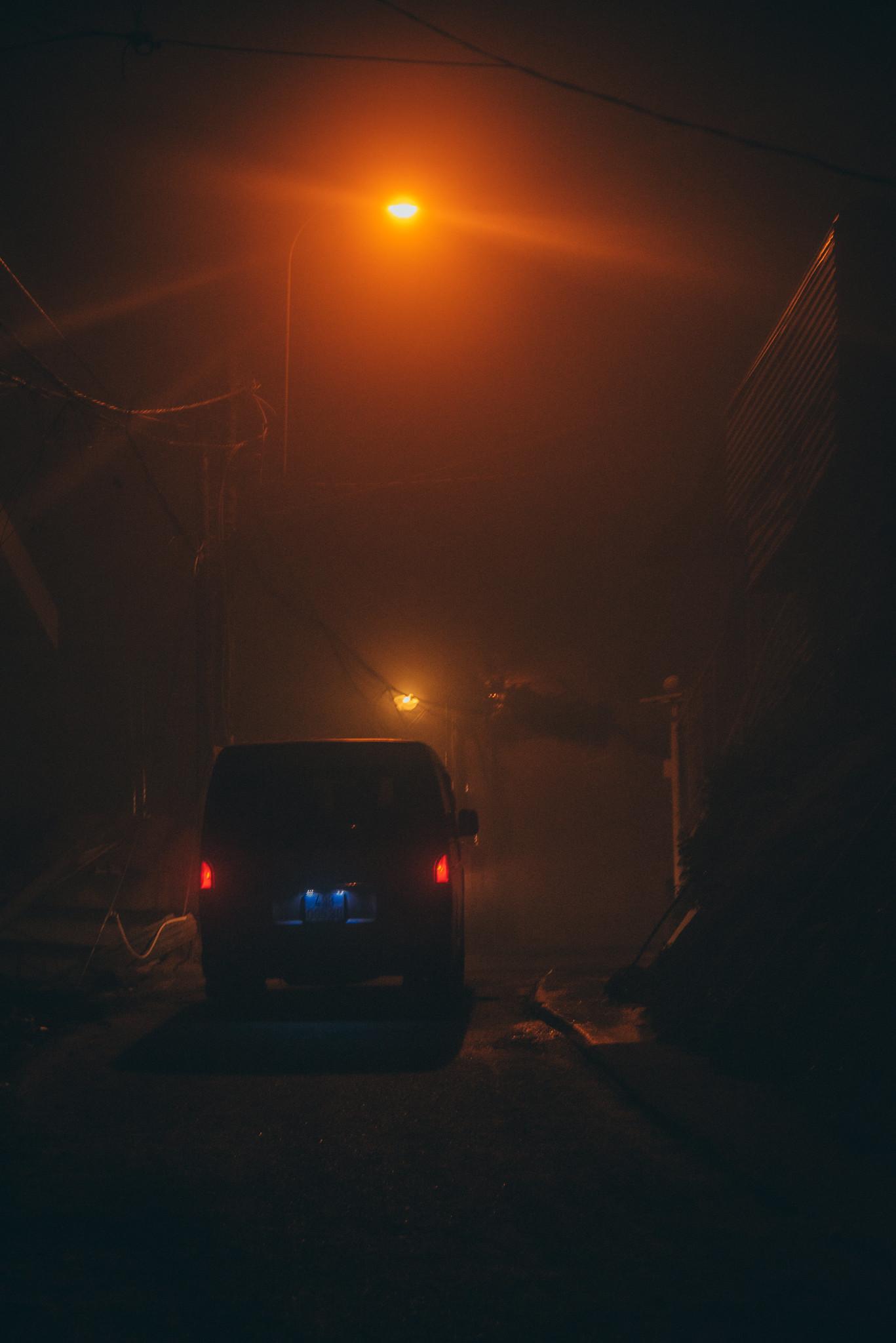 And that's the end: among what bothered us, we could witness the happiness.