The First Taste of Uzbekistan
Stepped into the Afrosiyob train car from Tashkent, with the heart filled with eagerness and the eyes full of curiosity, I expected to witness the desert that harboured the dream of Silk Road caravans, and that splendid scenic journey would also fend off my sleepiness after a long flight. The train started at 7:28, and crossing the dust to arrive at Bukhara (Buxoro/Бухоро) at 11:19.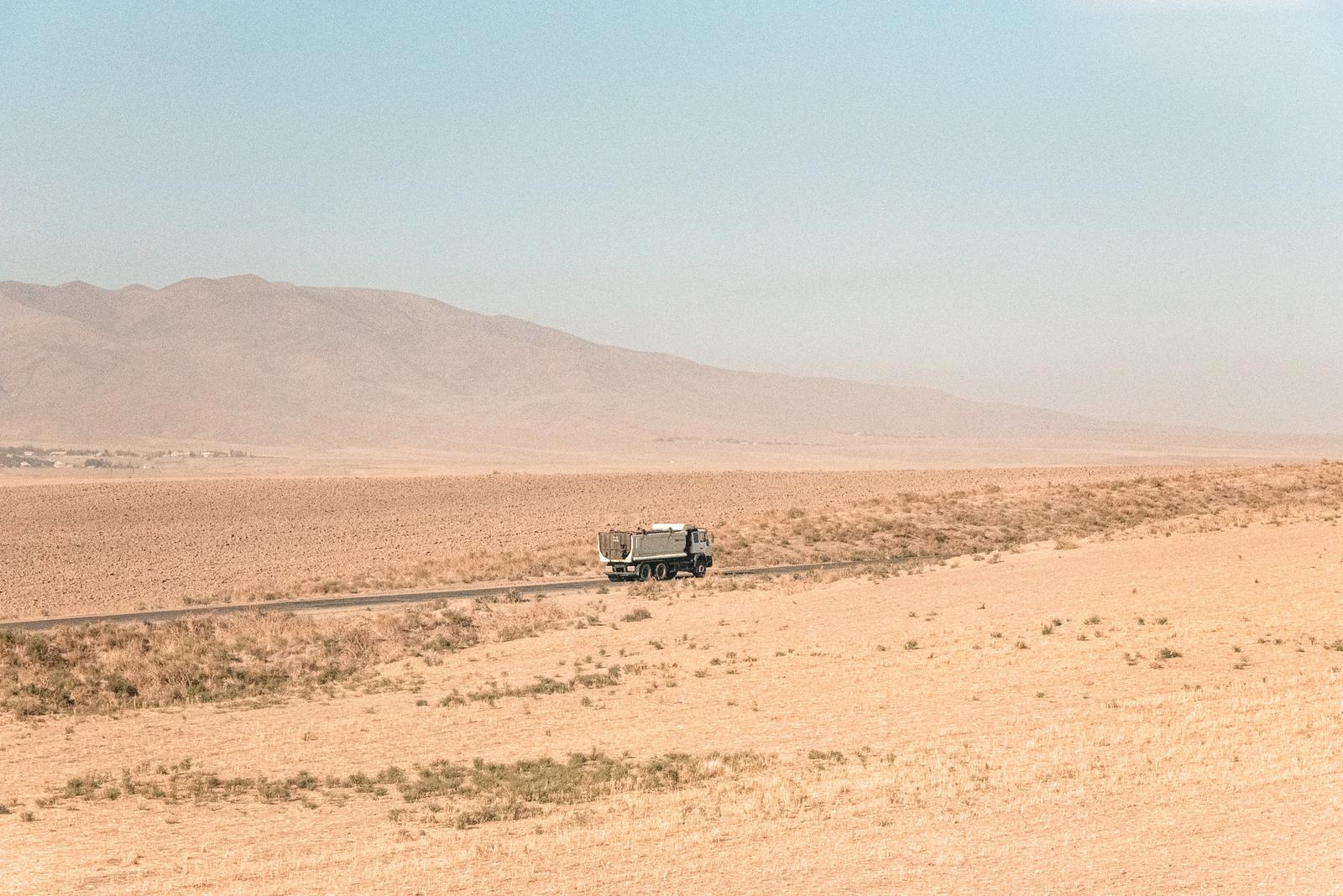 Perhaps the American passengers in front of me did question why a typical Eastern Asian kept shooting into the blank desert. Simply because we hardly have a chance to enjoy something yellow, something gold, something… dry.
Promised to you, Afrosiyob train was an effortless experience, compared to the older night train from Bukhara to Khiva.
And there I was, Bukhara 1 Vozkal in Kogon, then I needed to take a taxi to the historical city center.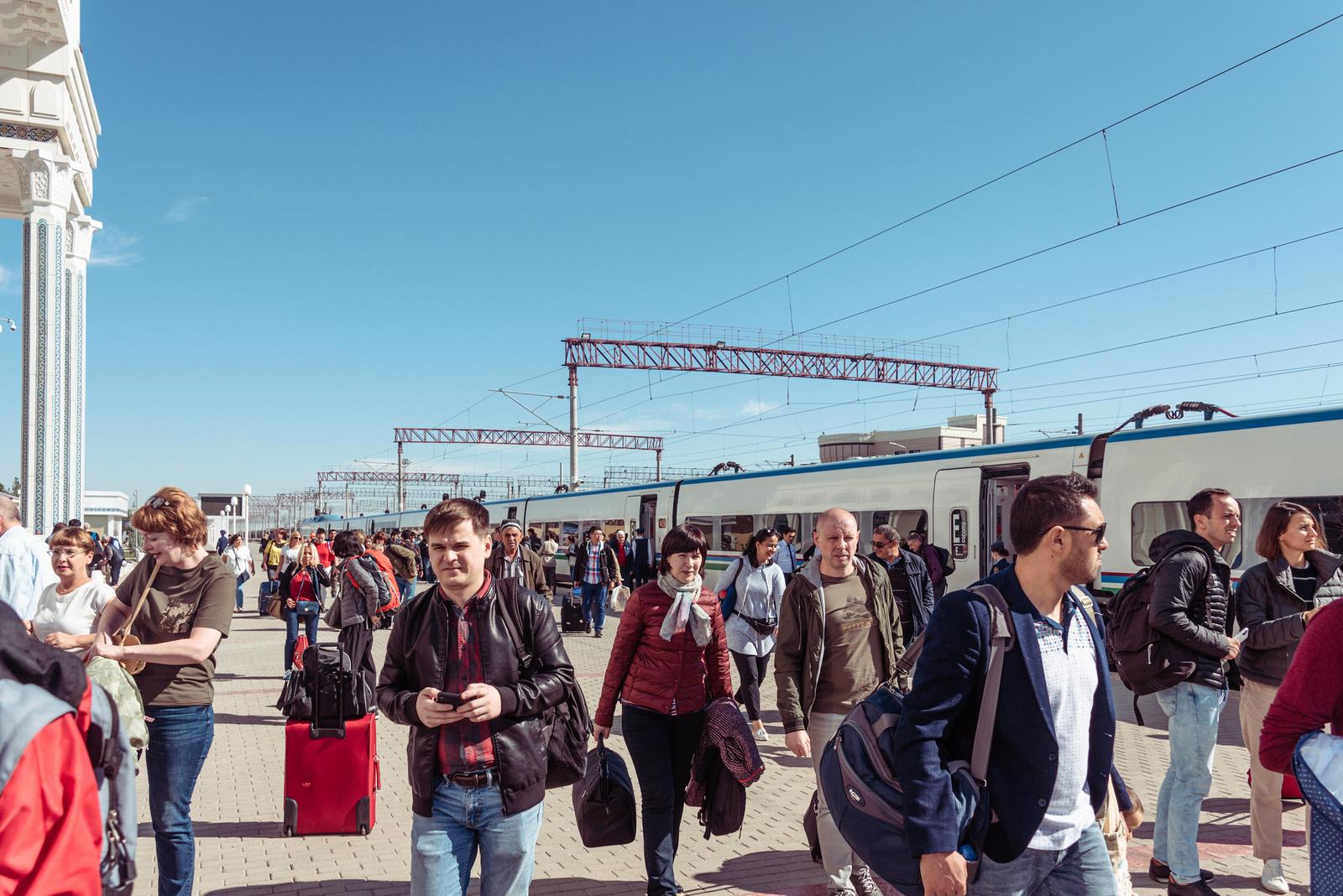 A Chilling Afternoon
The same routine of every trip: settle down with the hotel, lay down the luggage, and find somewhere to fill the stomach. Traveling is not traveling if you are deprived of proper sleep and good food.
Chilling under the shade of trees and enjoying some breezy autumn sunshine would be a luxury, like an oasis of joy surrounded by those harsh sandstorms outside waiting to gulp you down.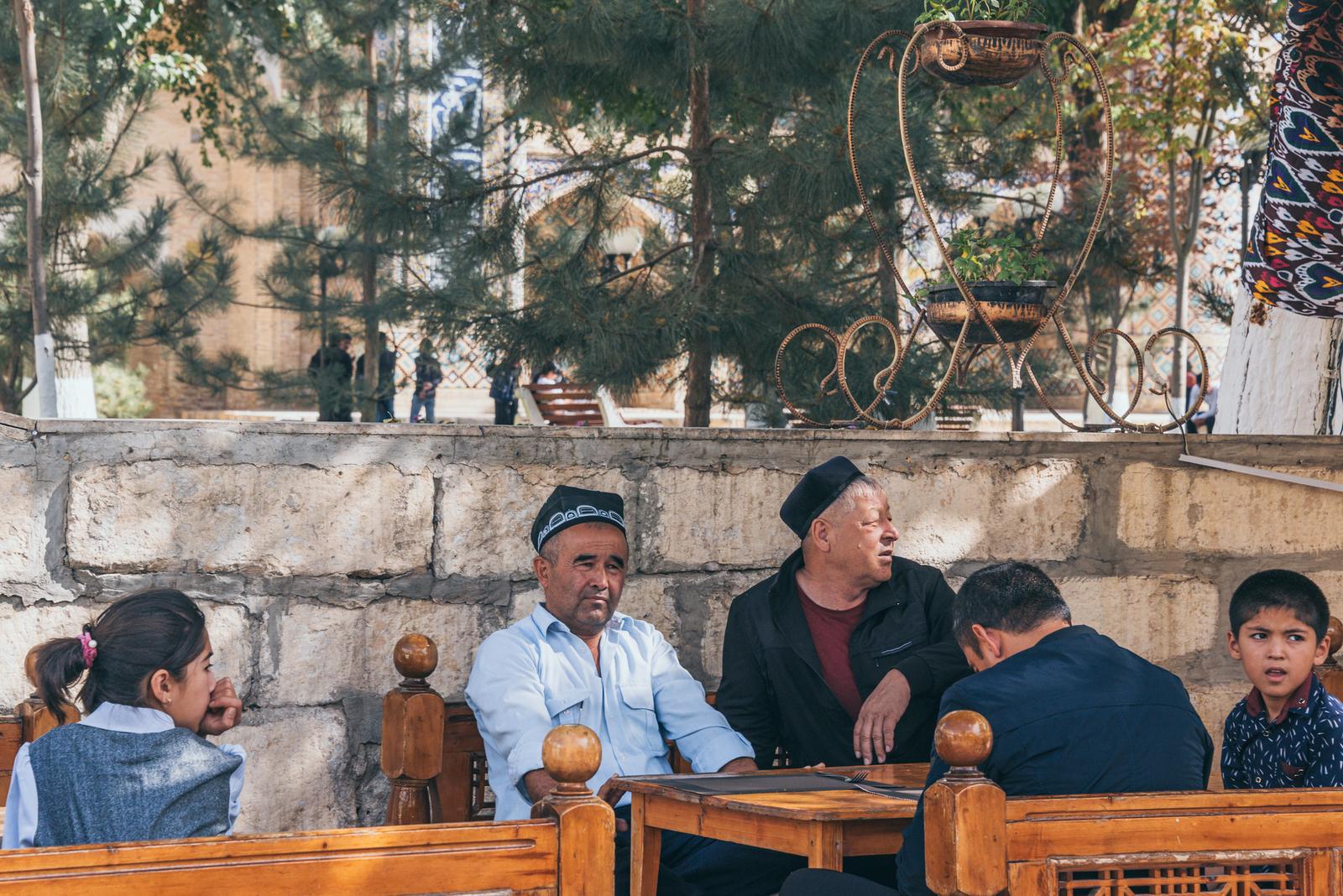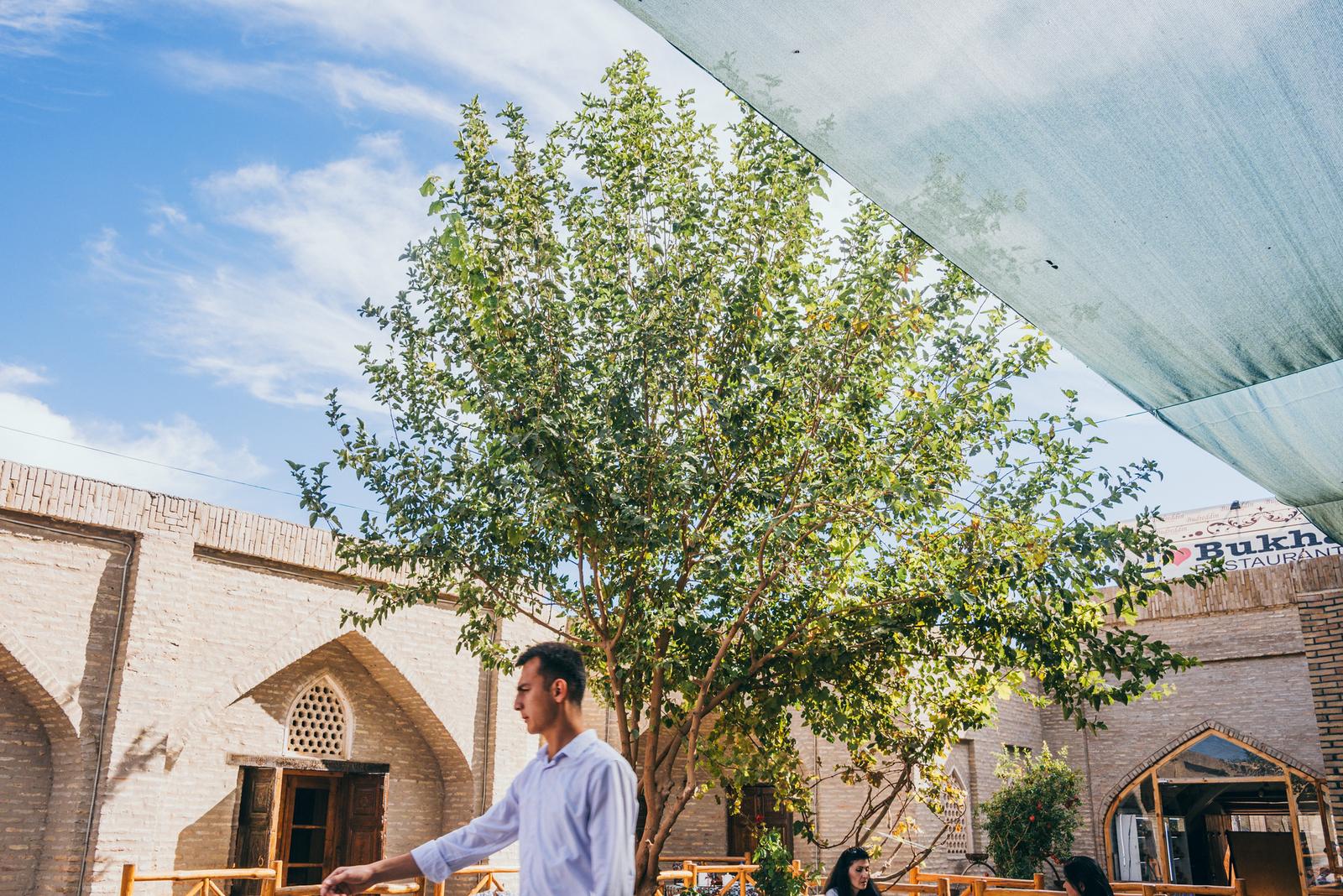 Such a comforting time to take a lazy stroll, without any busy traffic honking in sight.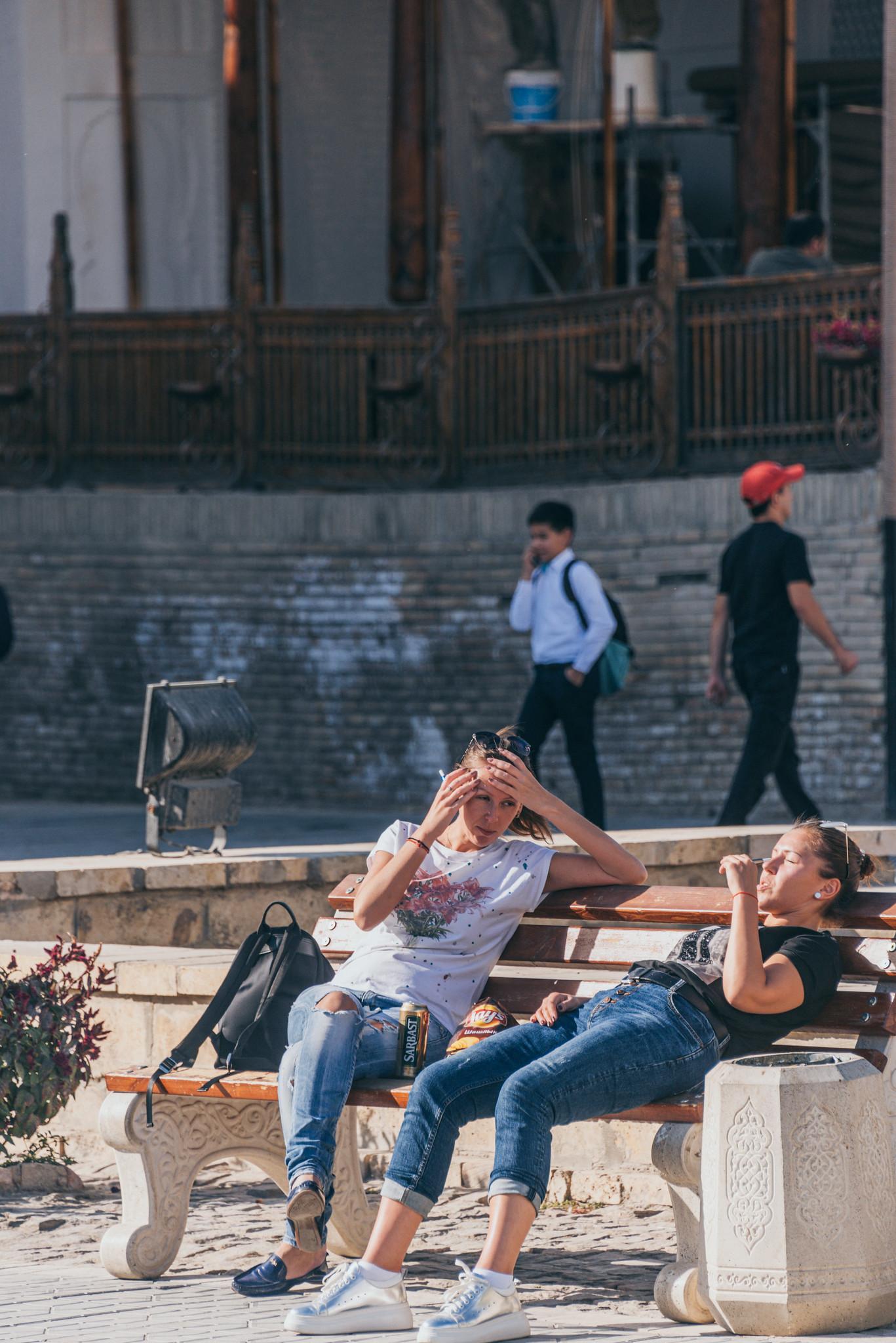 Bazaar Bazaar Bazaar
From my hotel it takes around 20 minutes to reach Kalyan Mosque, but along the journey there encounters a few bazaars such as Toqi Sarrofon and Toqi Zargaron where you can buy original exotic souvenirs such as jewellery or textile. They are gate-like domes hosting different vendors which used to be important caravanserais (caravan inns or shelters) in the history.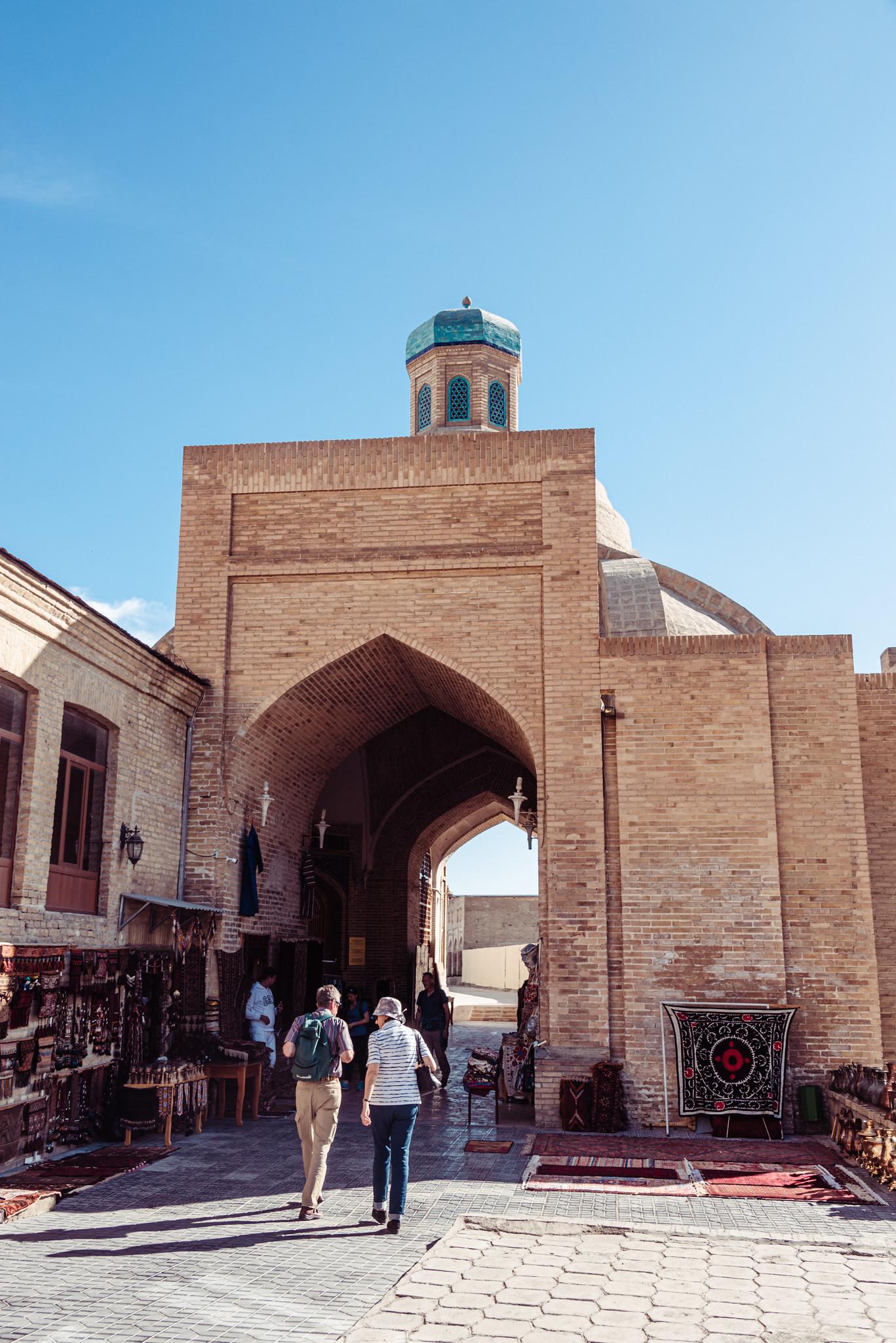 The interior ambience is remarkably cool and refreshing, yet calm and untouristy. An ideal place to taking silhouette photos indeed.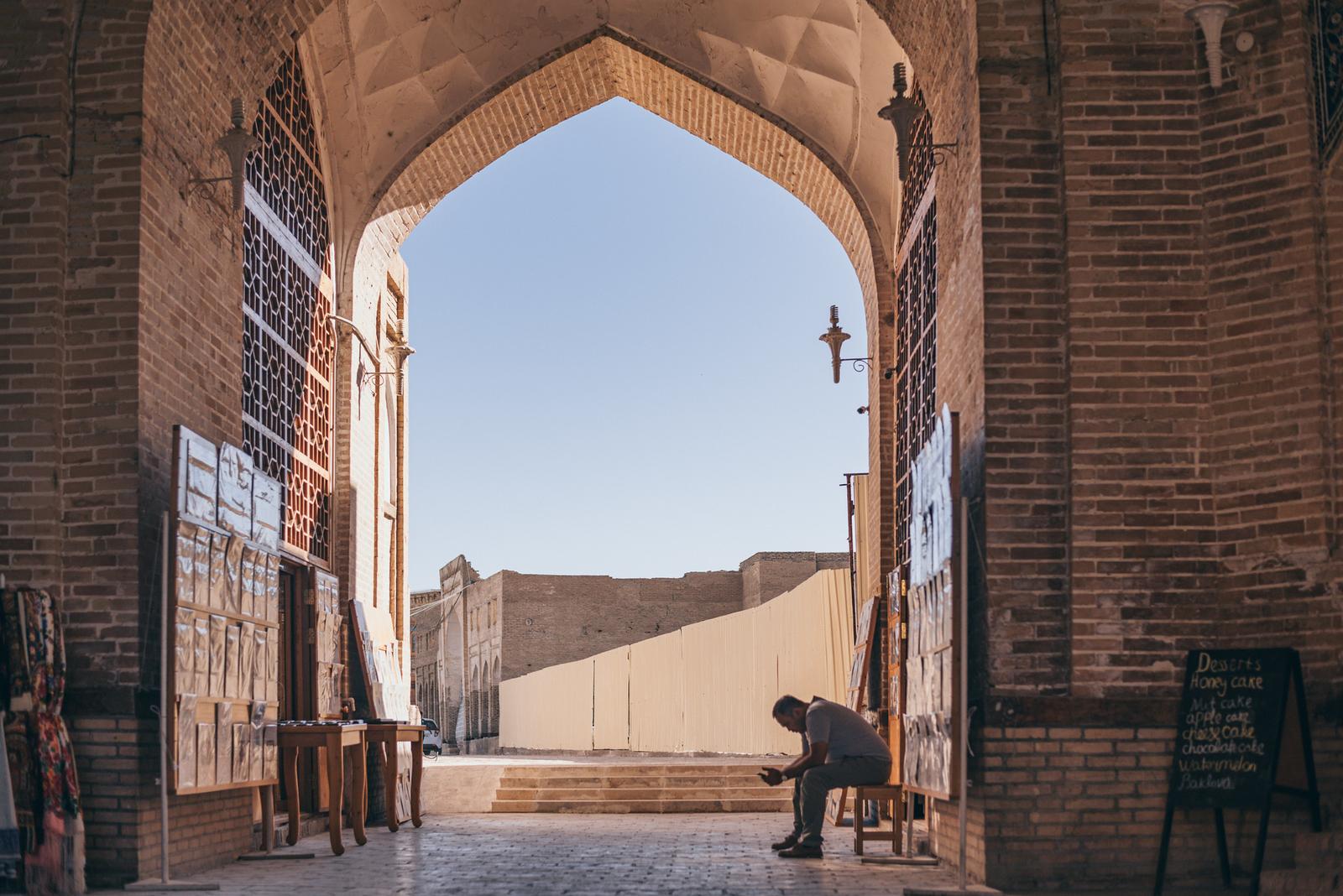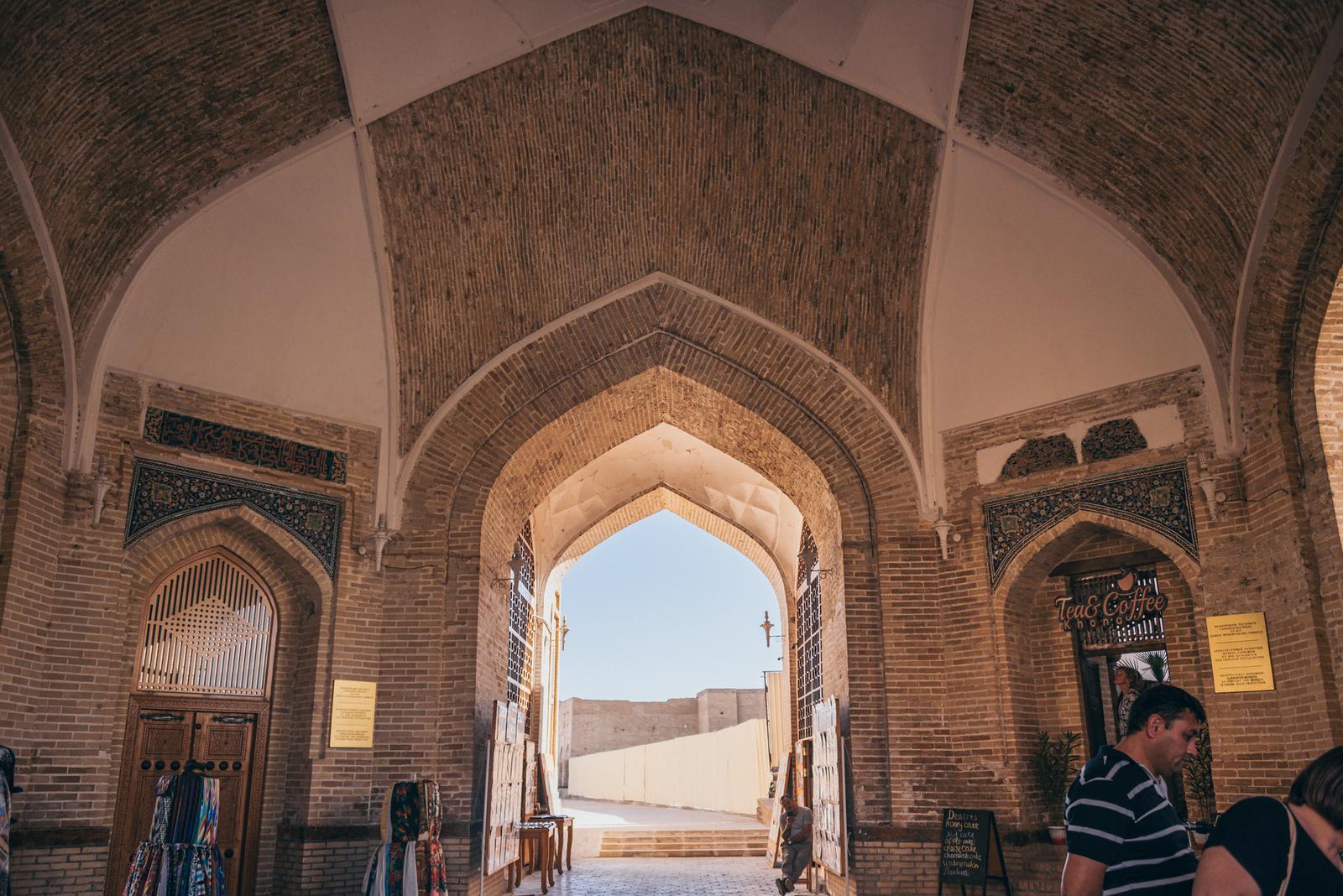 Sun and Sand
It's time to showcase the best takeaways from a trip in autumn: sandy yellow on top of clear sky backdrop.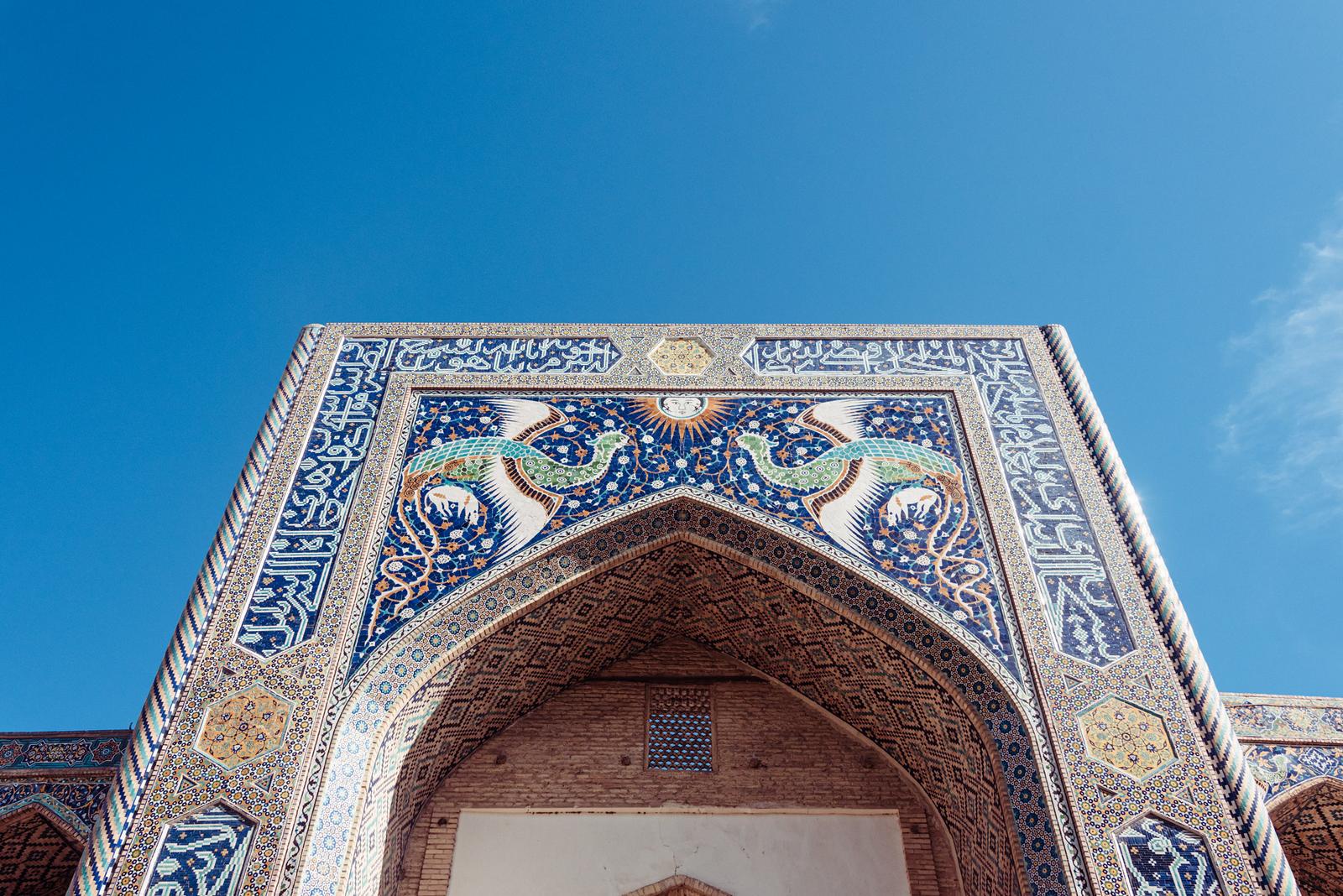 In the early afternoon, the buildings are shiningly awe-inspiring; while approaching sunset time, they are casted with diagonal sunbeams, bearing an irresistible charm mesmerizing the lone traveler.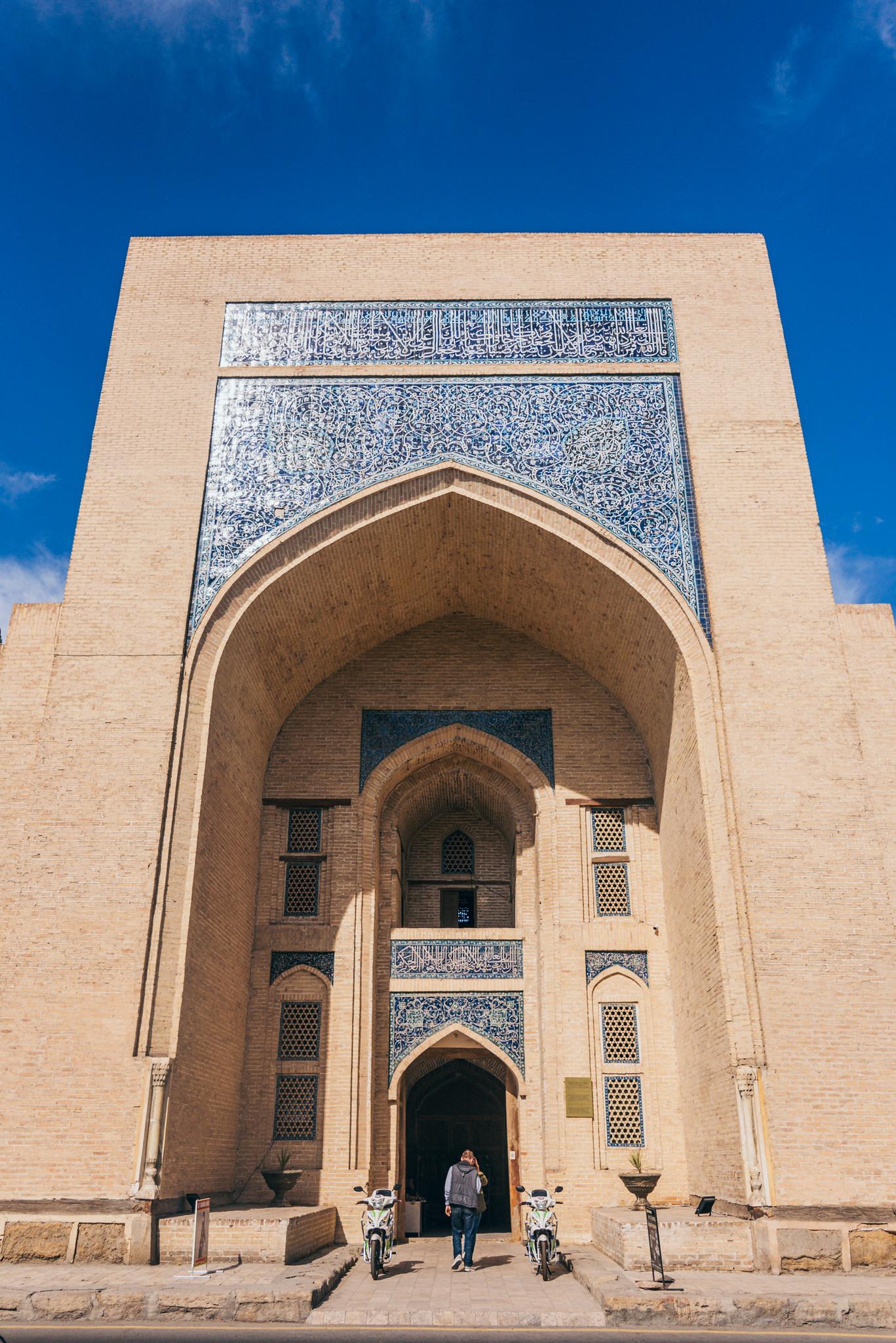 The street leading to Kalyan Mosque, namely Khakikat Street, introduces you a basket of feelings: the noise of bargaining, the tinkling of kids' bikes after school hours.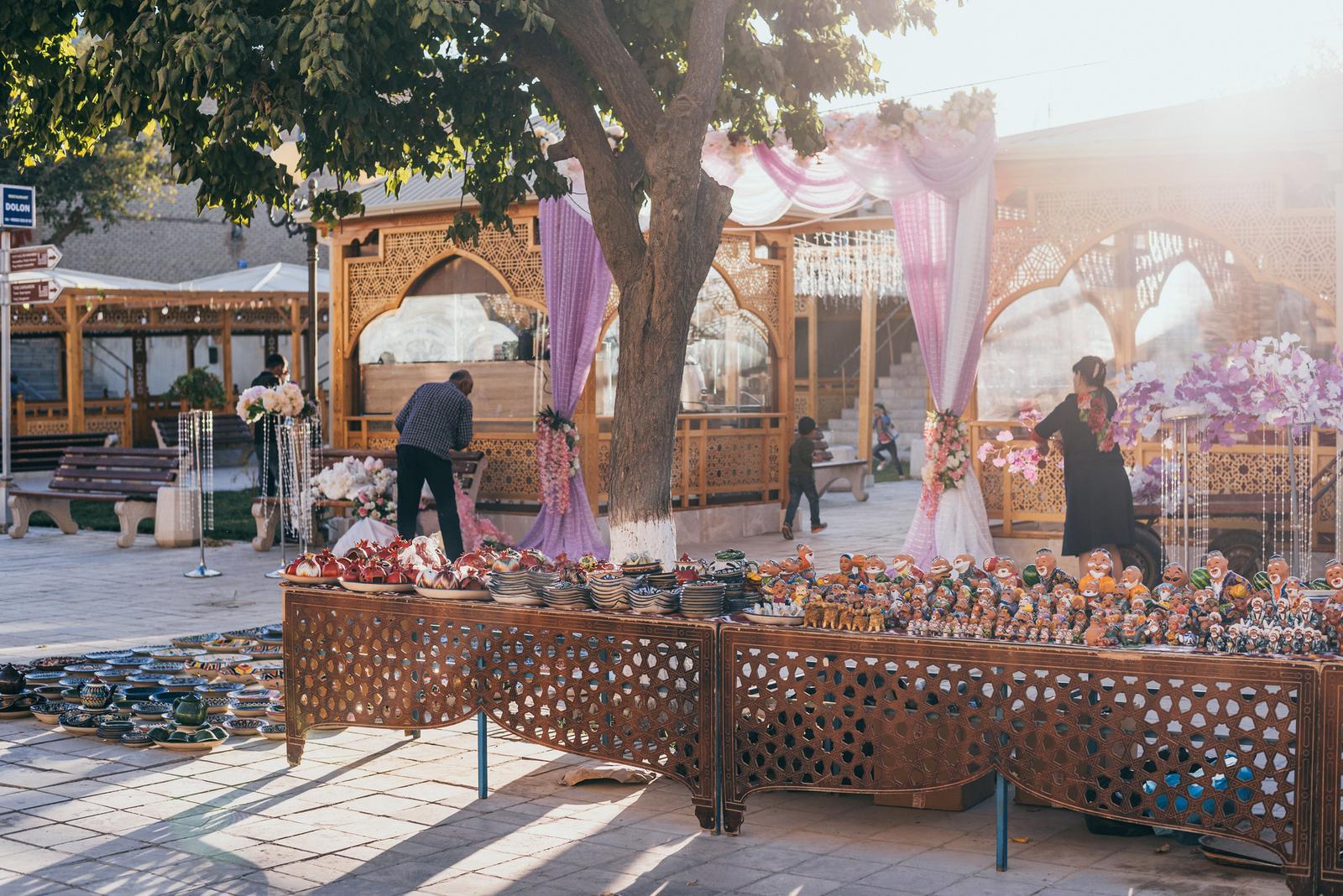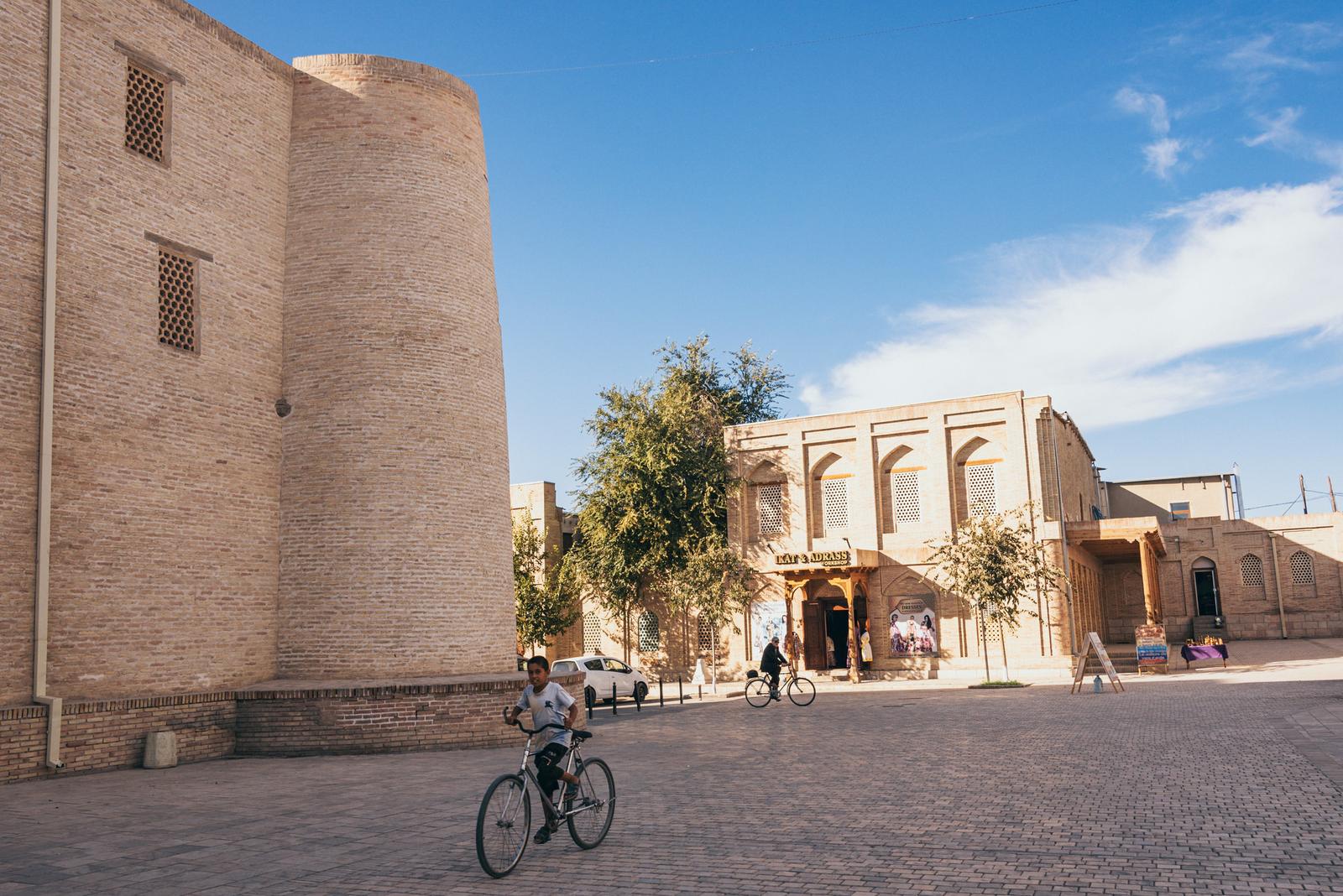 Crying under the Minaret
Finally I reached here, respecting the feat of architecture and craftsmanship, the Po-i Kalyan Complex, "The Foot of the Great". Combined of Kalyan Minaret, Kalyan Mosque and Mir-i Arab Madrasa, they showcase the first impression of Uzbekistan flag: the turquoise domes and the intricate tile-work on exterior walls.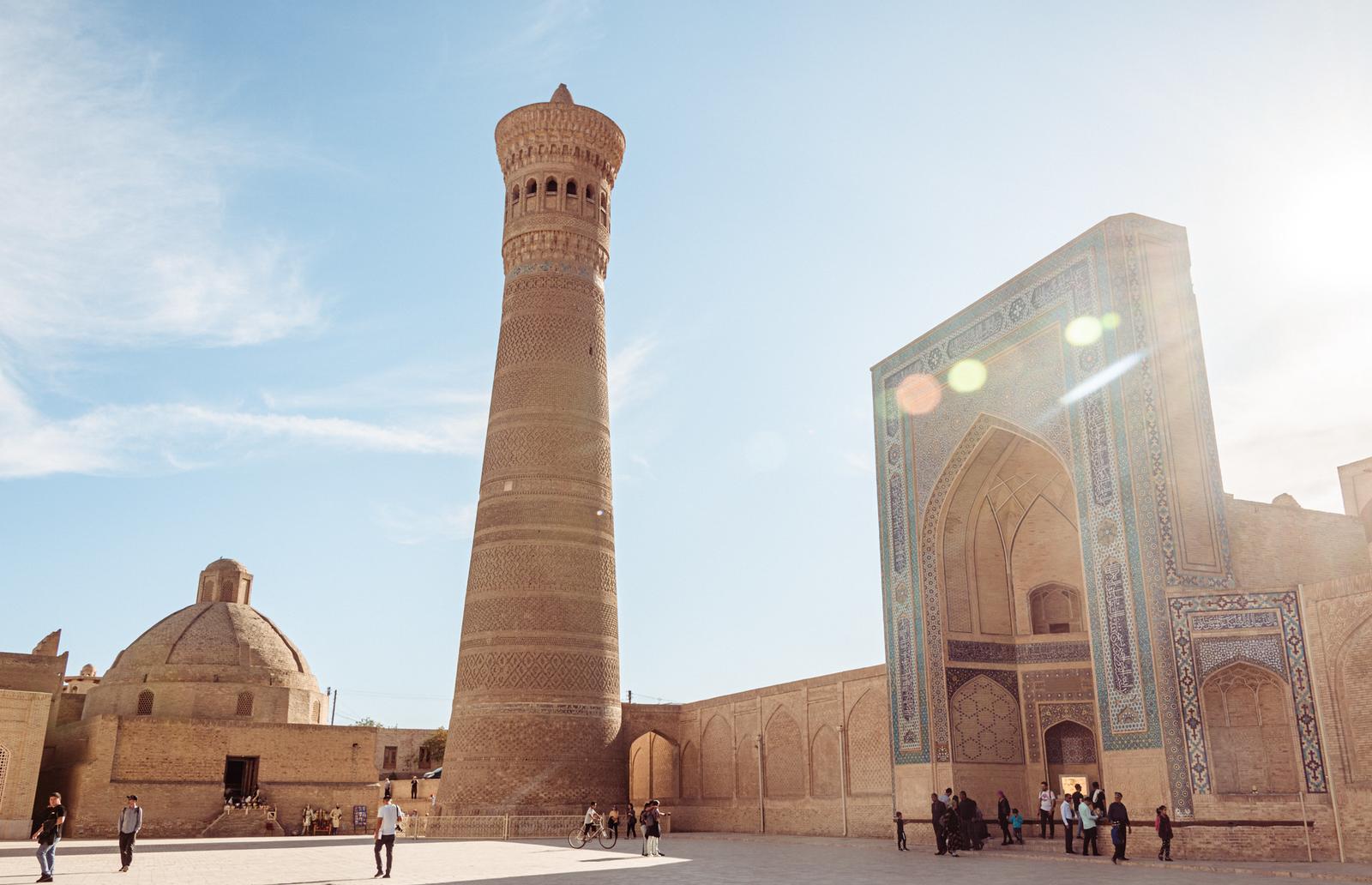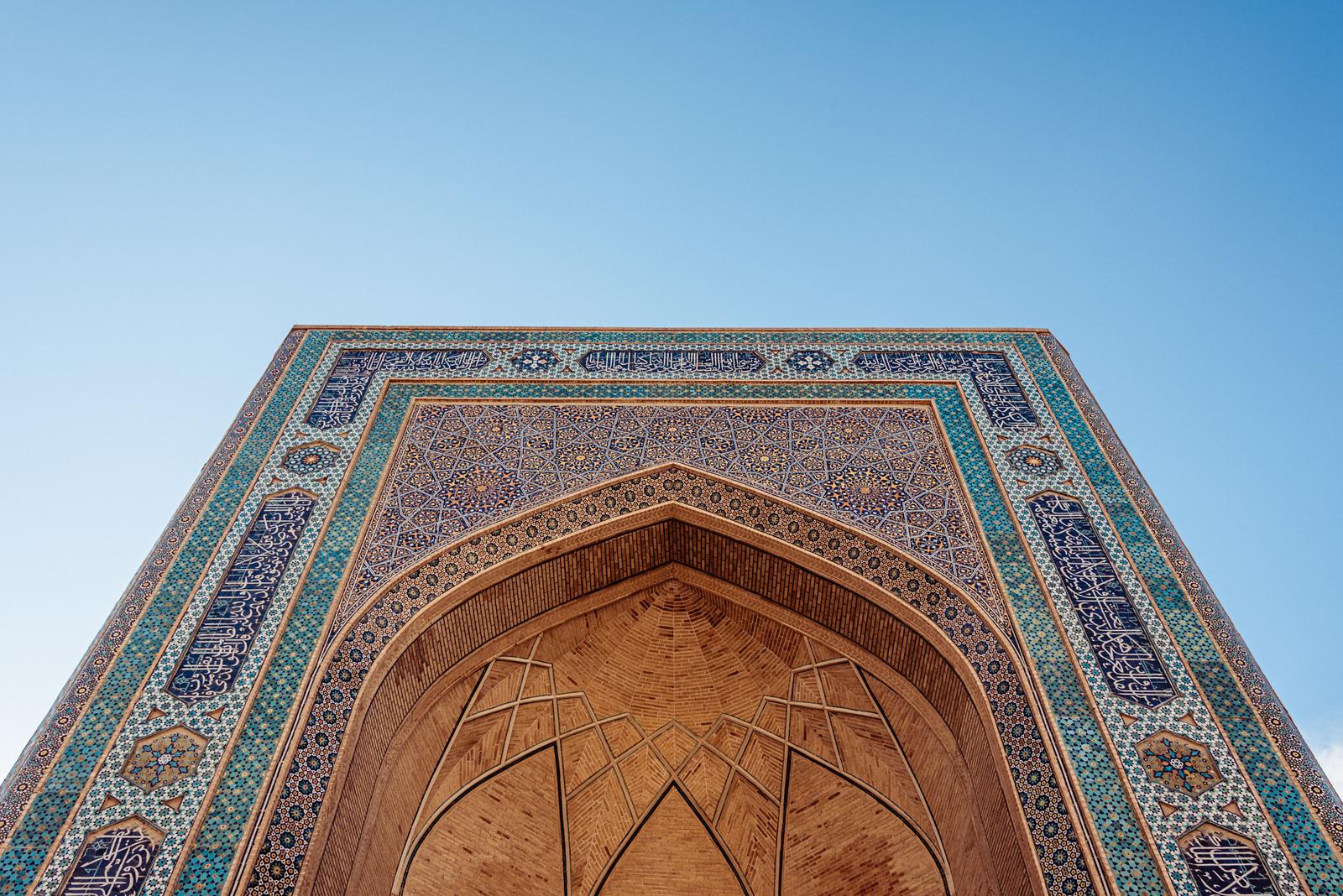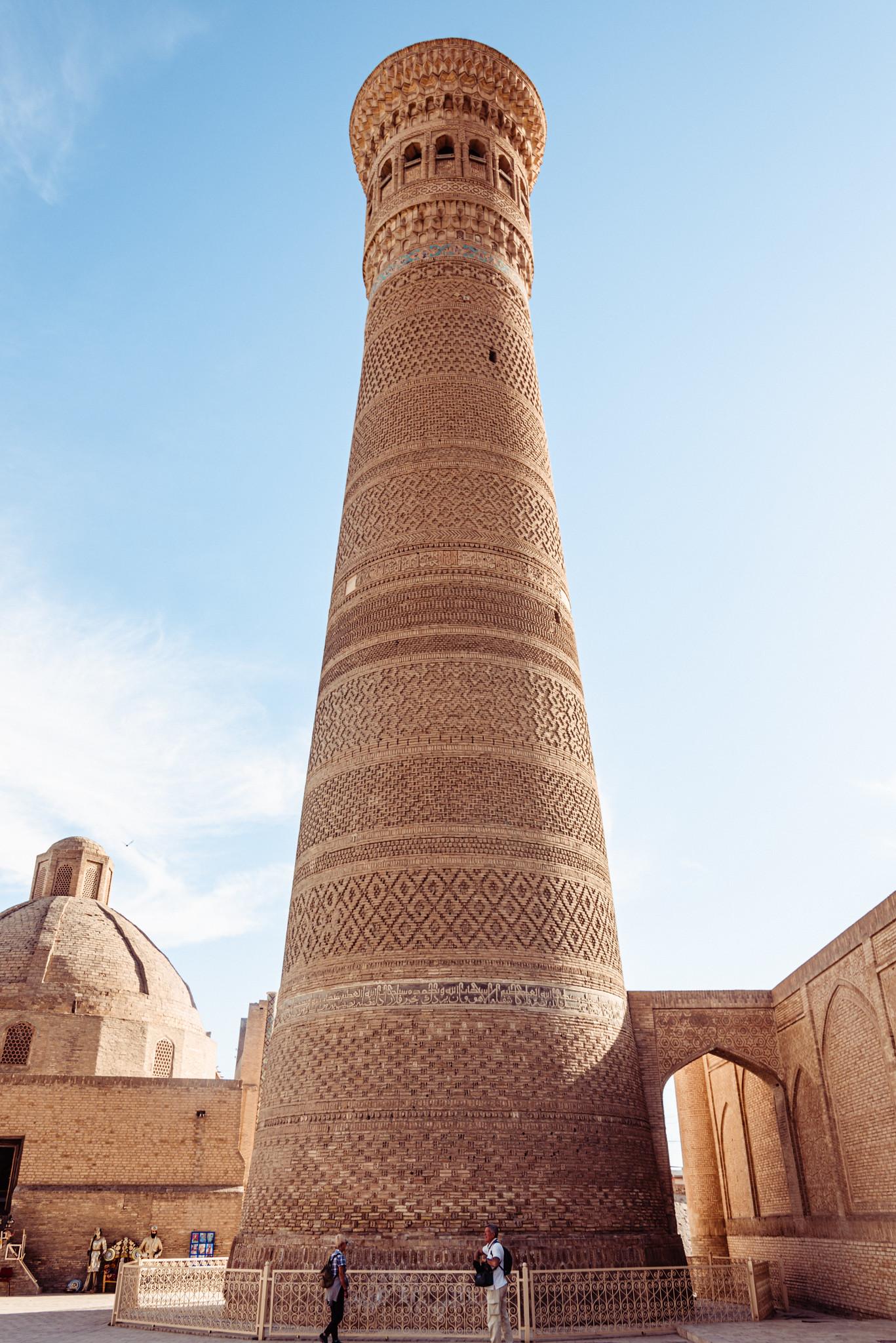 Courtyard
Observing the sun proceeding towards its 8am or 4pm position from the mosque courtyard (sahn) gave me a genuine excitement. Inside there's one single mulberry tree that stands out adorably in a dry day of this climate.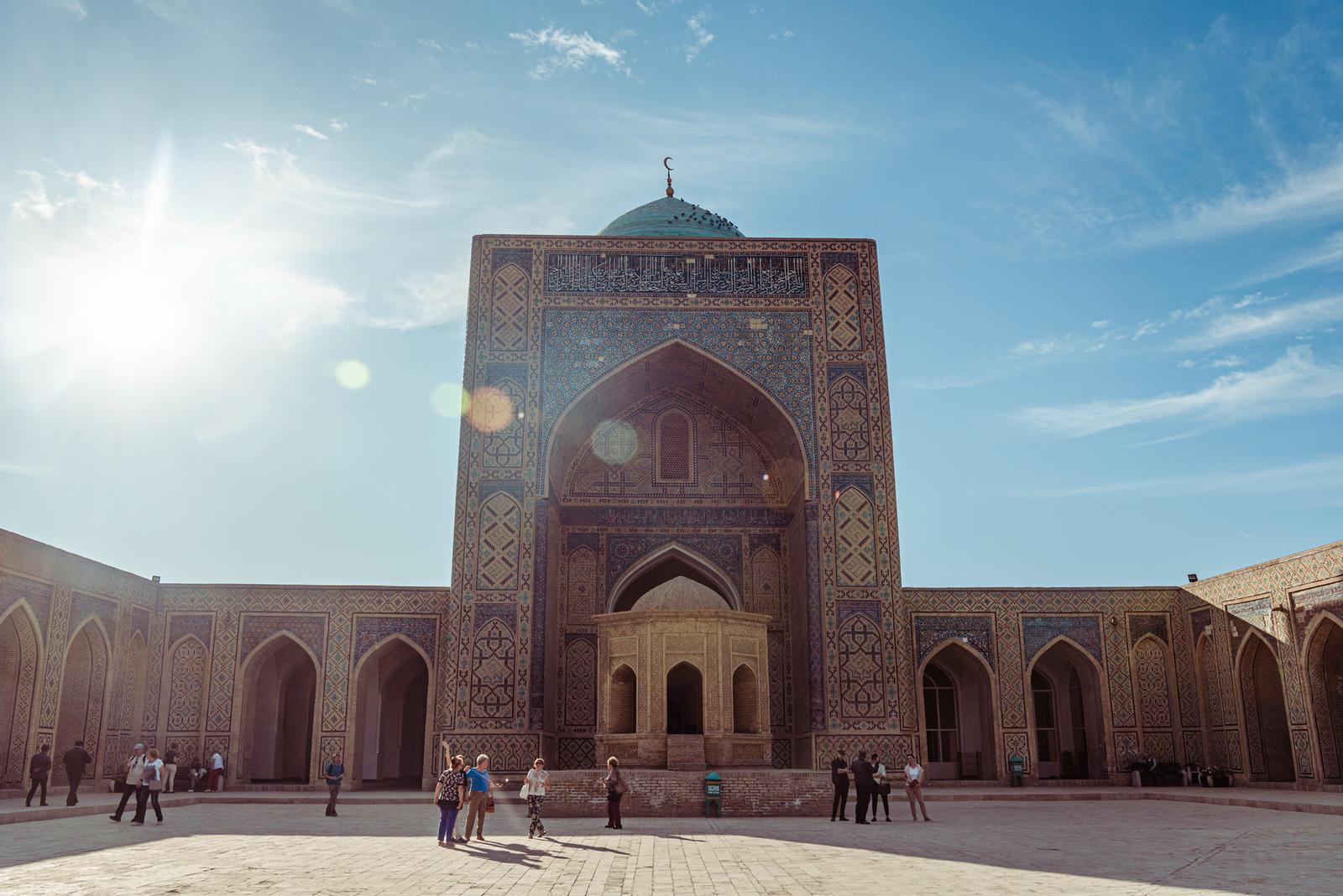 Once stepping inside the courtyard, almost every corner is a perfect spot for some mischievous photographer to grab his shot, especially when pointing the camera from the long corridors inside out.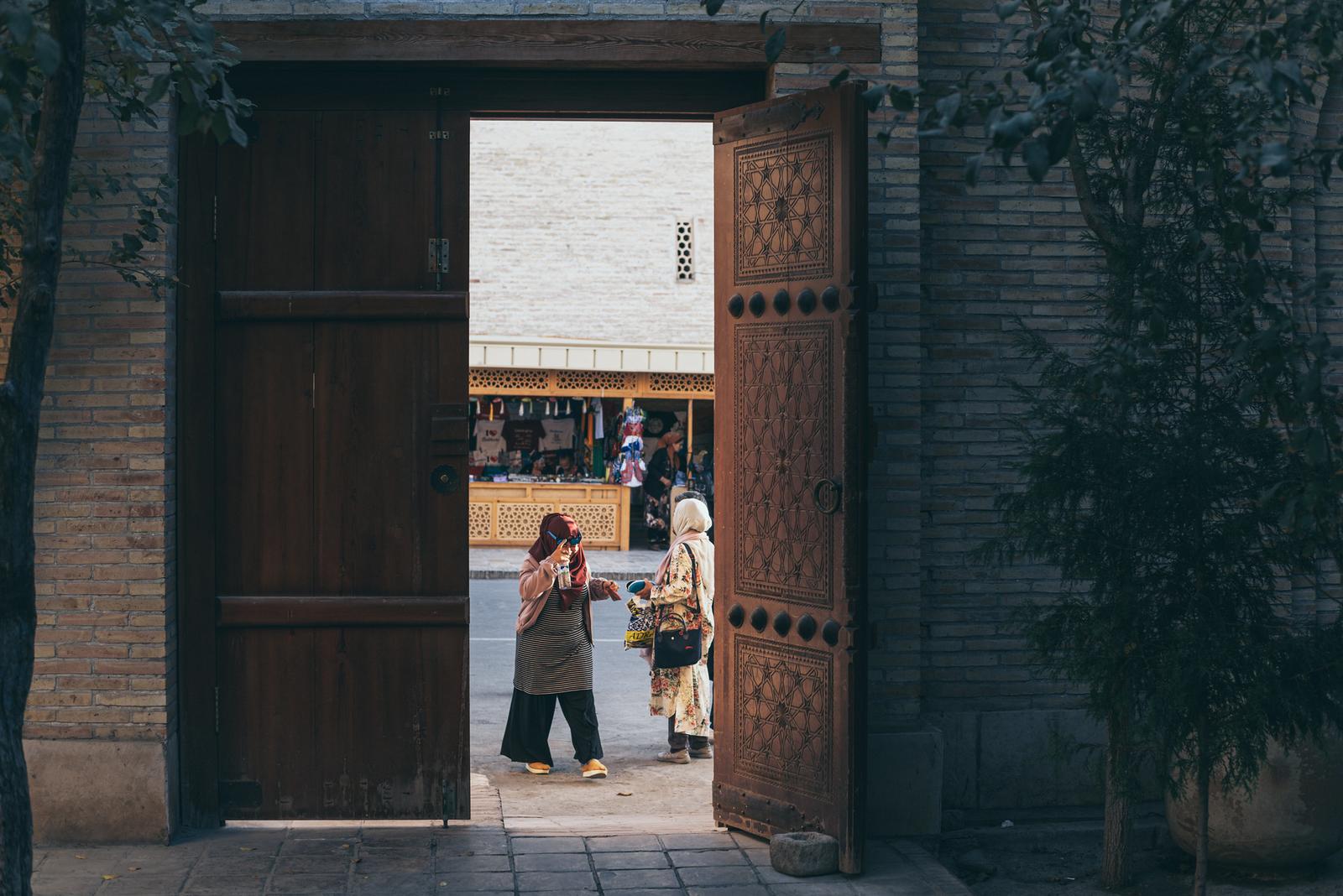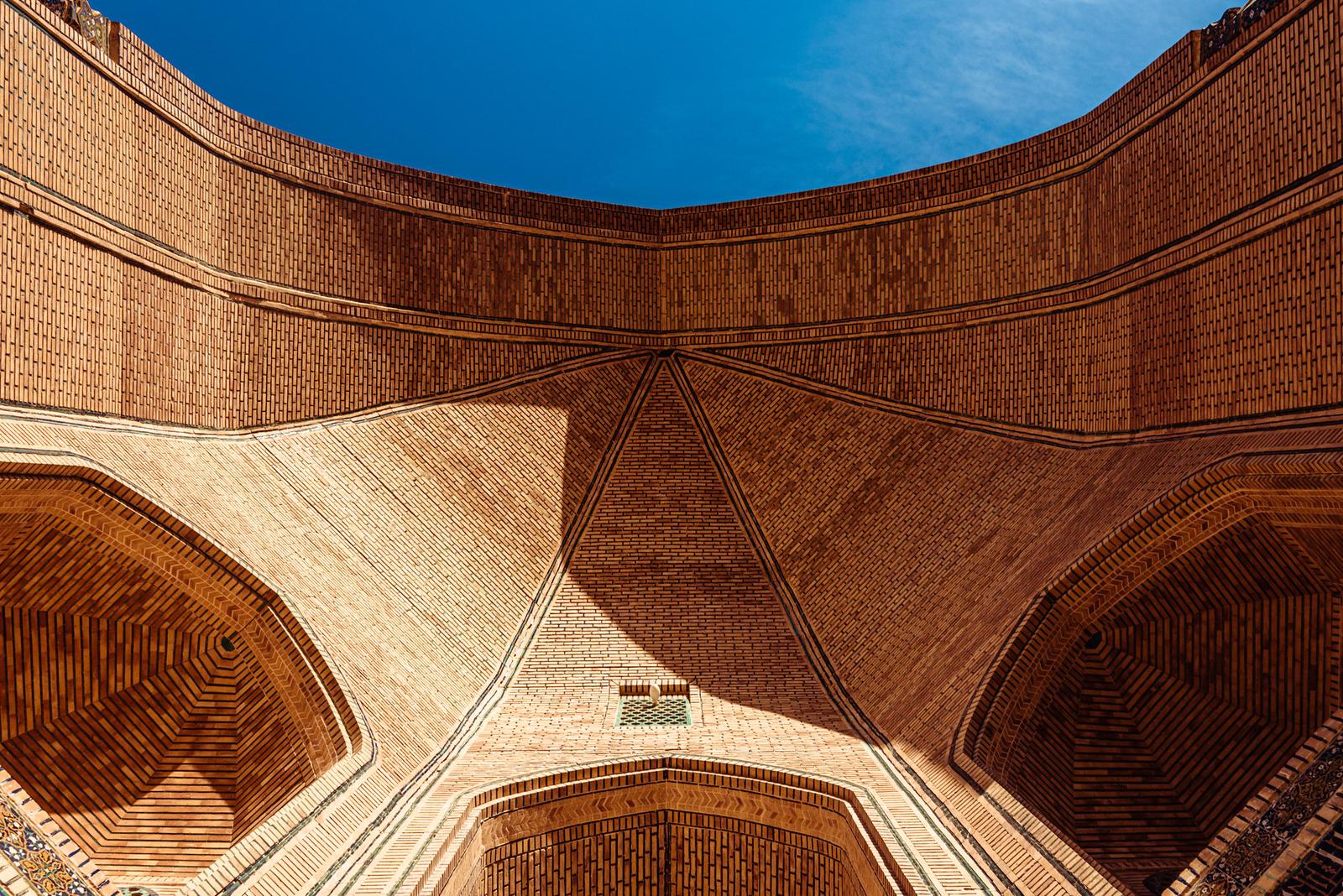 Dancing Shadows
Oh you may never know (if I don't tell) what I recall the most is I broke into tears while sitting at the steps in front of the great Mir-i Arab Madrasa waiting for the sun to complete its duty of the day. Perhaps the site was too majestic to enjoy it alone. Perhaps we might feel infinitesimal in this universe. Or perhaps simply, because of an unrequited love.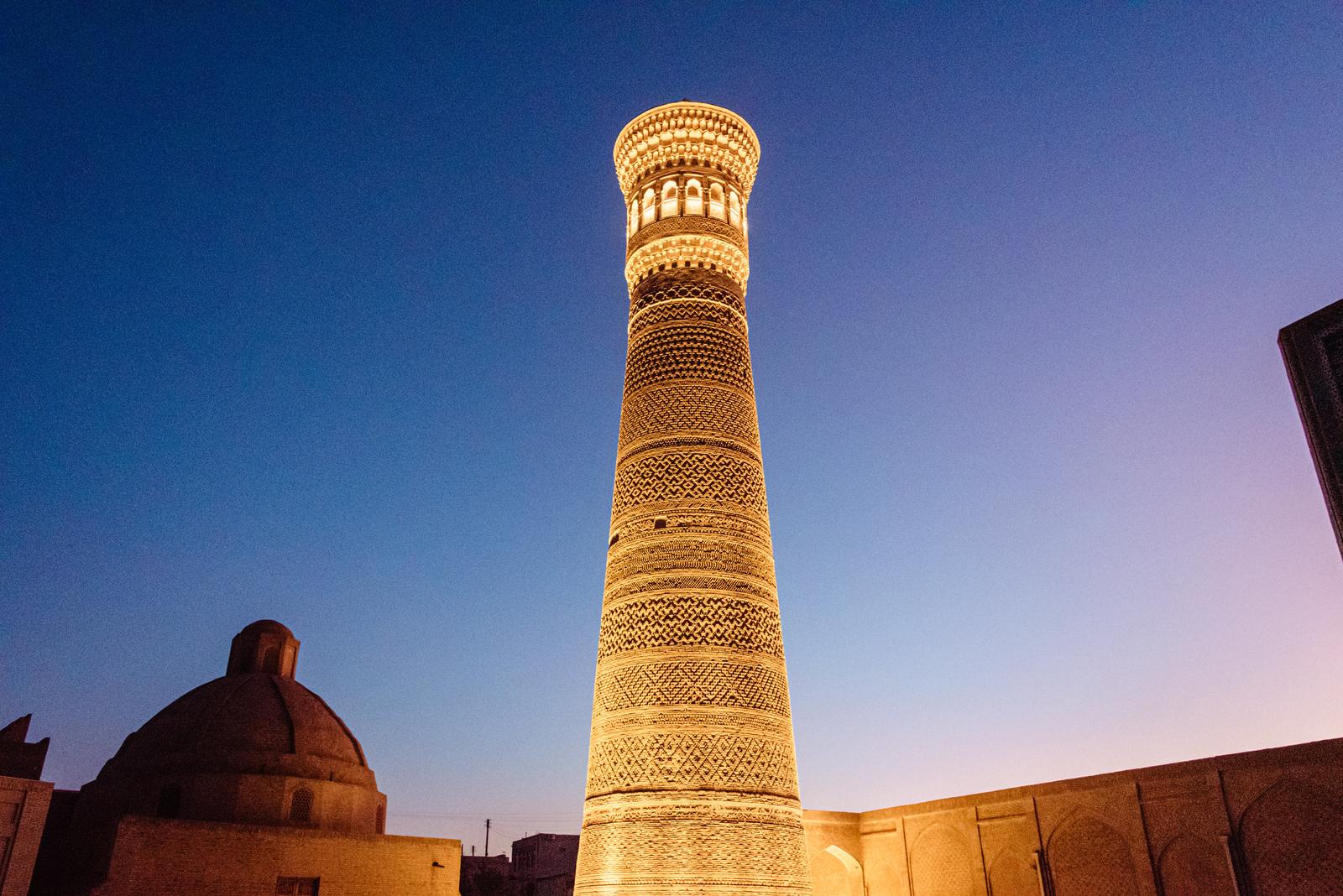 When the minaret, standing tall, is illuminated, it resembles a glorious candle in the sea of darkness.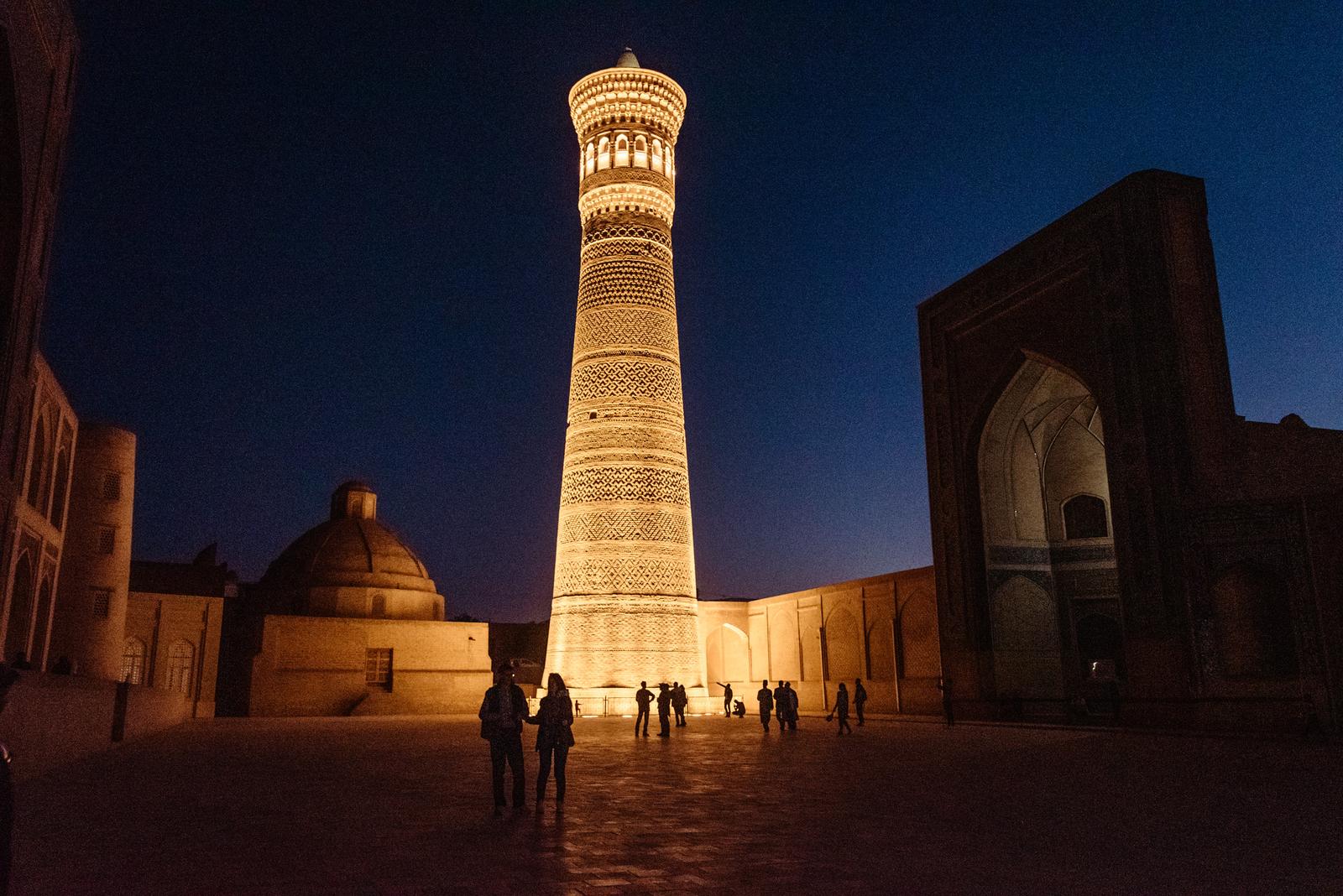 Or it's just the best place for chit-chat between the young friends on a Saturday night, no more no less.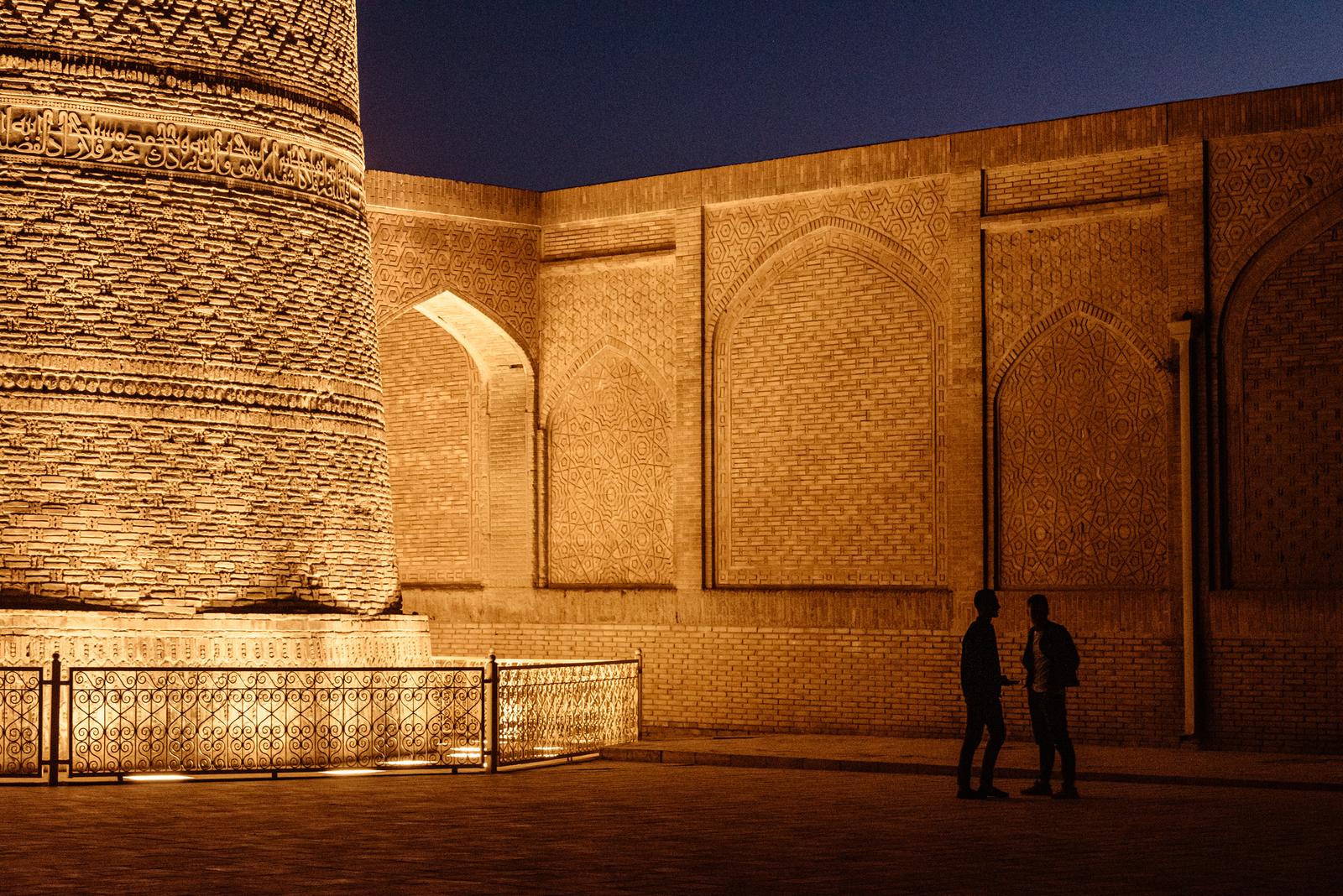 As Clear as Crystal
I wouldn't miss a chance to get up early to say a proper "Assalomu aleykum" to that morning. I would stroll around the central piece where Nadir Divan-Begi Madrasa, Kukaldosh Madrasa, Nadir Divan-Begi Khanaka and Magoki Attor Mosque were located, where people biking up- and down-hill in sight seemed so relaxed, so serene.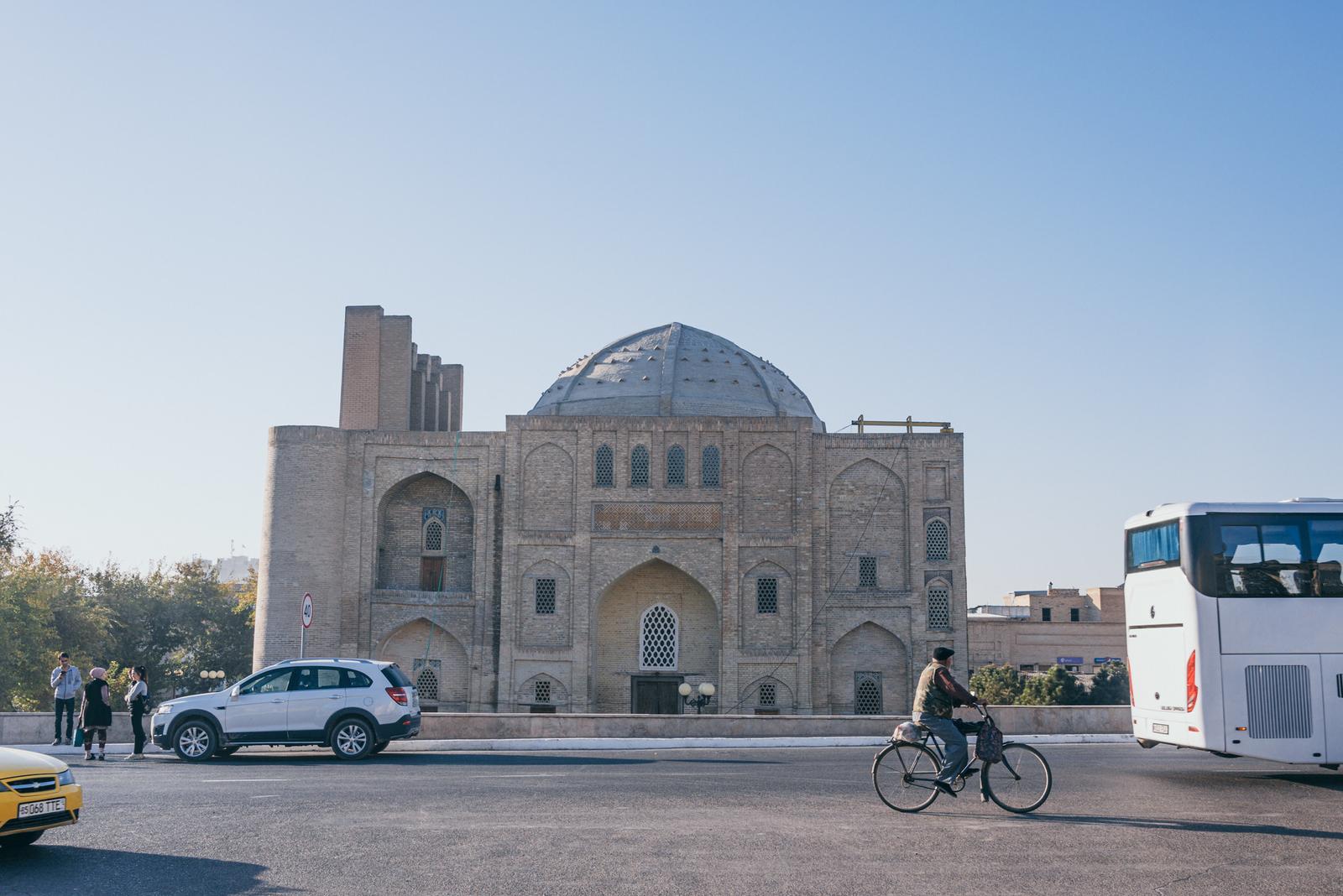 Photos taken in the morning have inherently pristine ambience with cool temperature and calm vibes. There's no need to pack your schedule with pinned locations on the map, just take a seat, breathe and feel.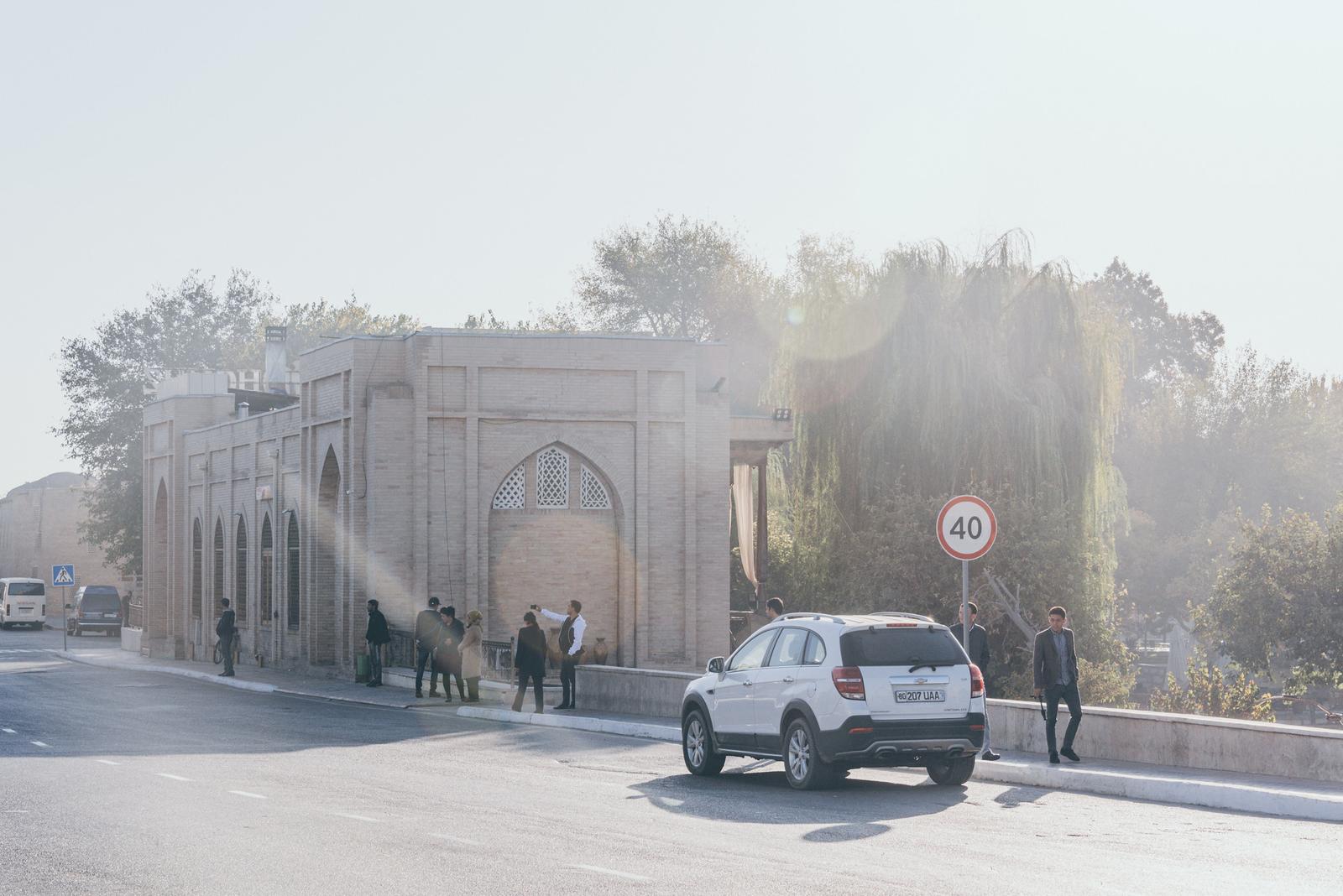 Befriending someone and joining in some random gathering on the street can't be easier, that's what a wandering backpacker spends his lifetime on - to find genuine interaction with earthlings.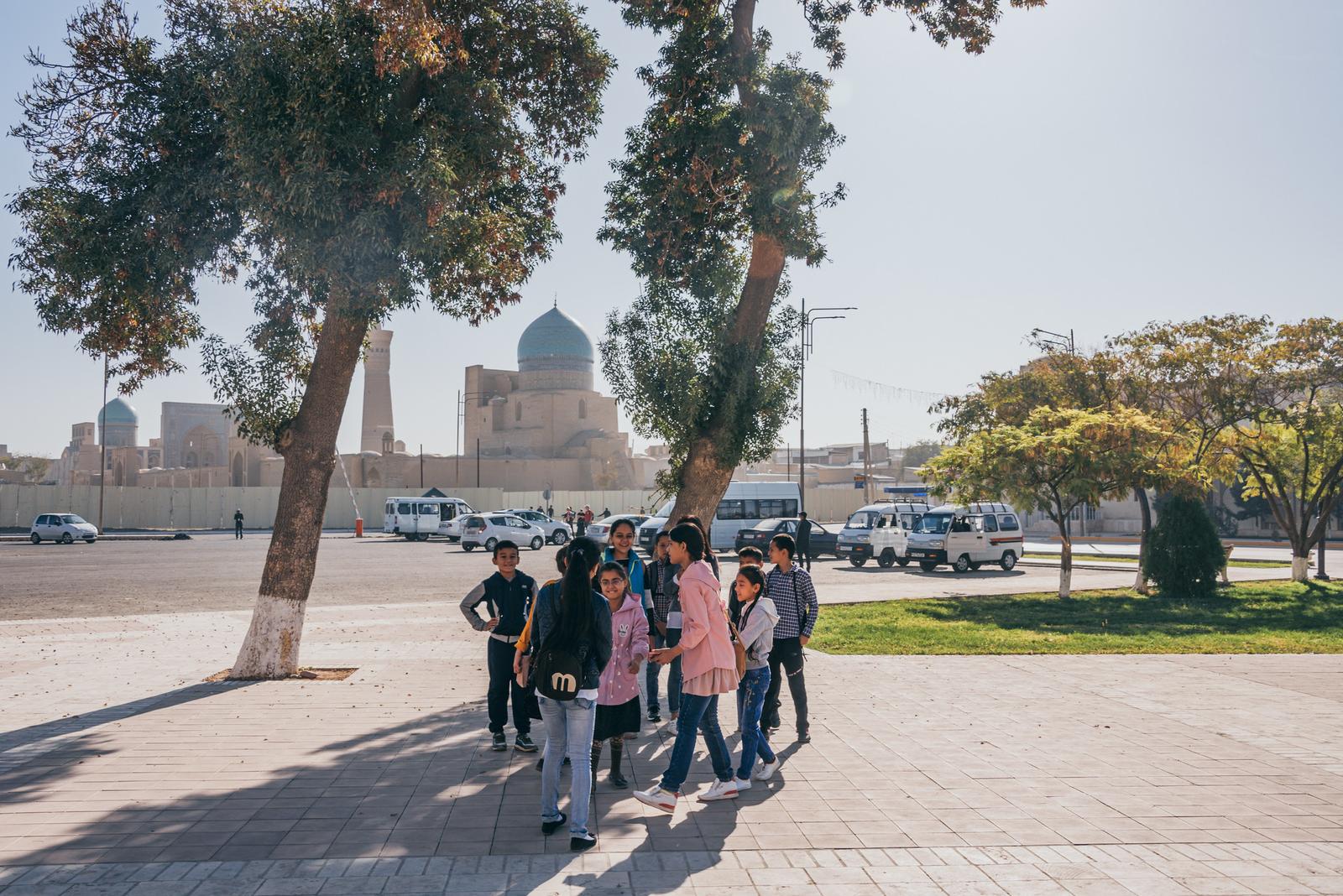 The morning also presents you with different perspectives from which other ways of observing things derive. Try dawn instead of dusk. Try 10am instead of 4pm. Try wide angle instead of focused angle.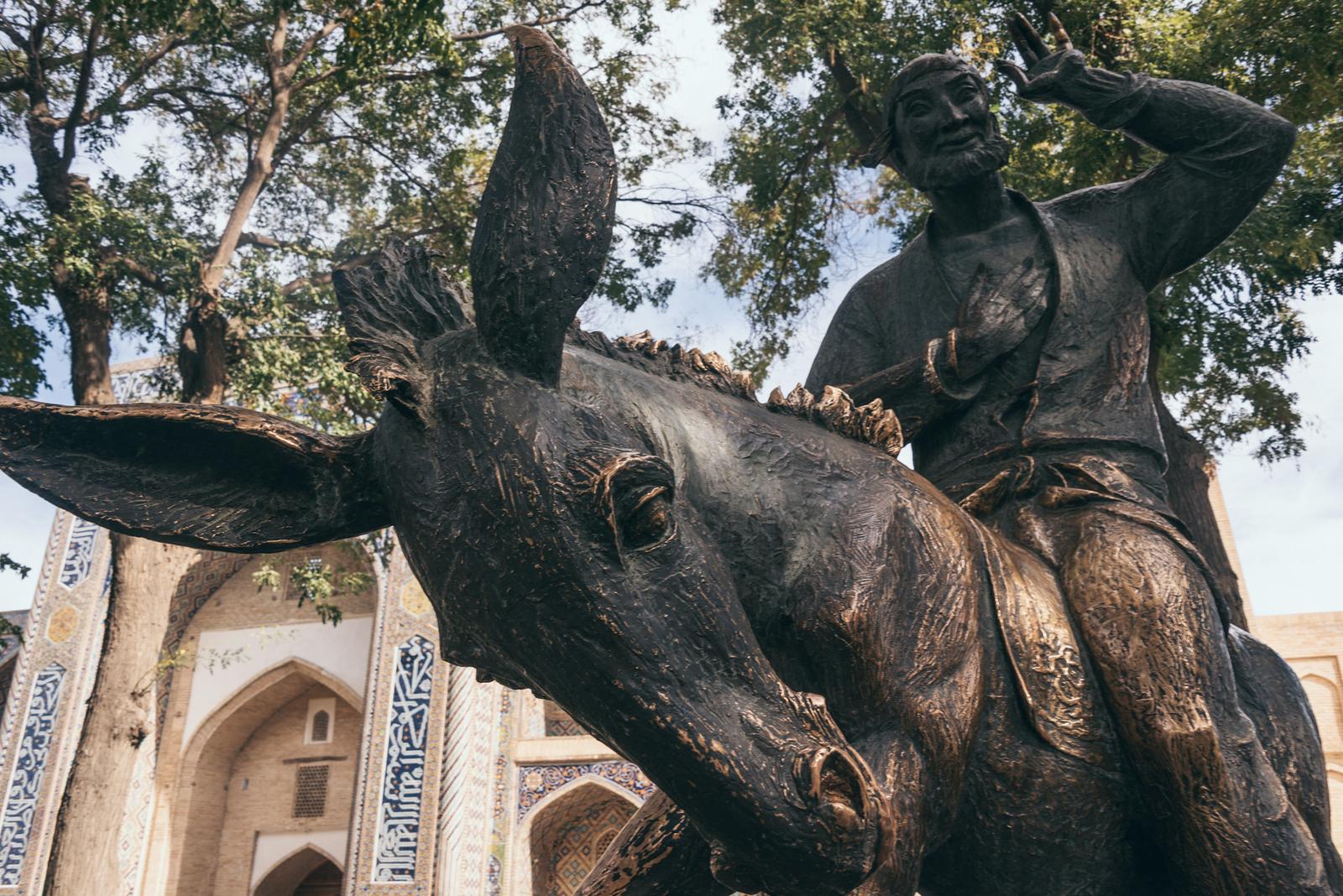 …and famous places, again.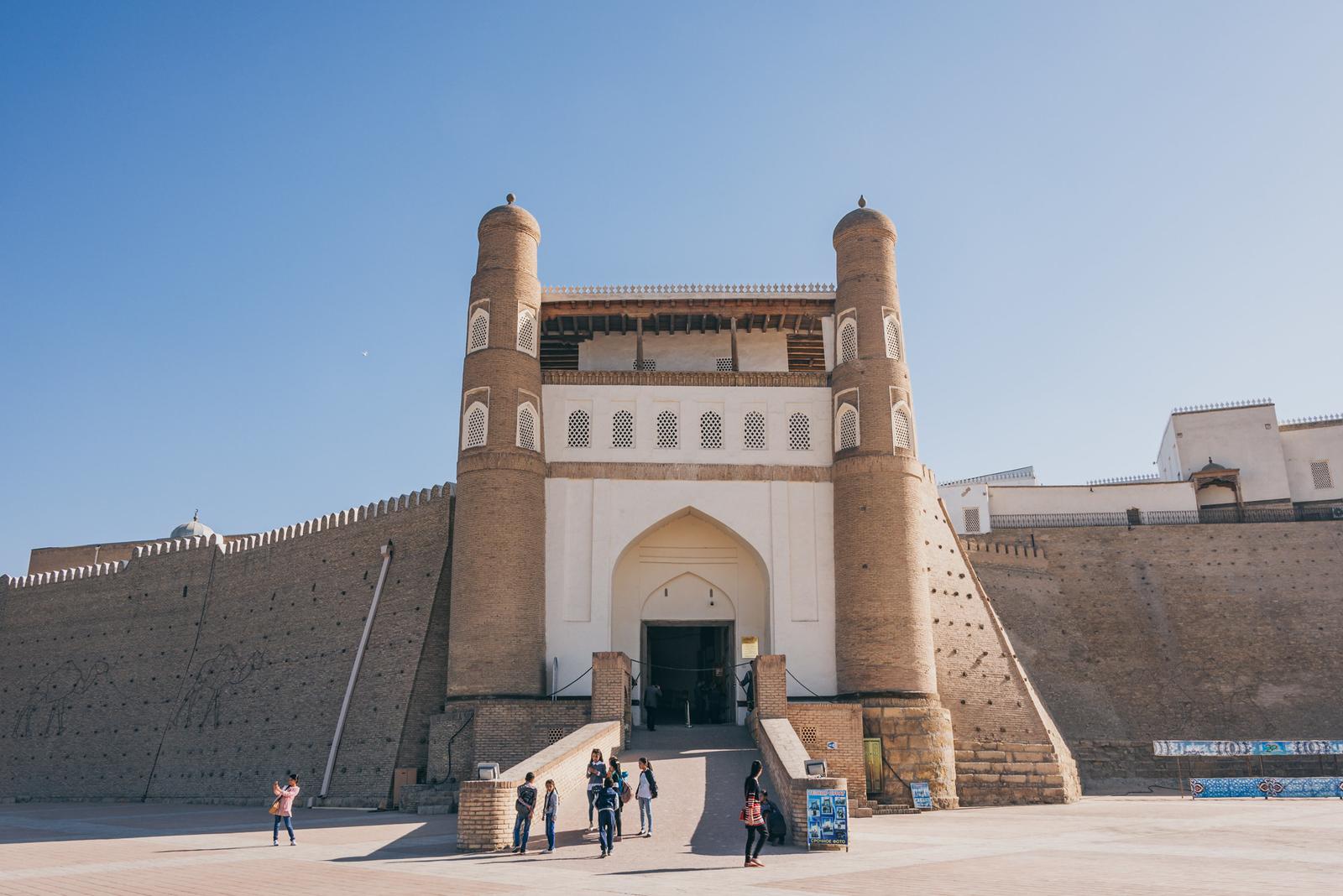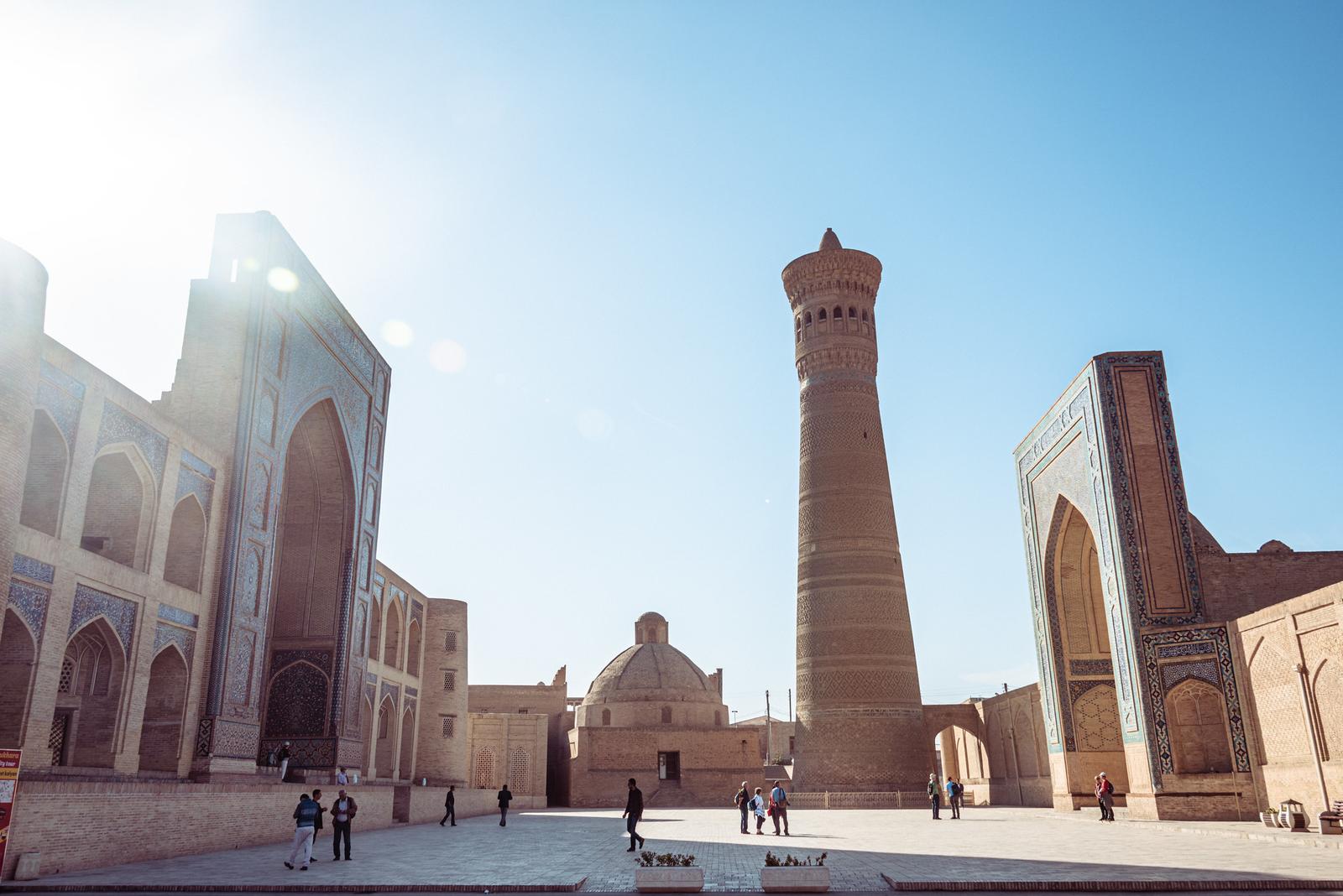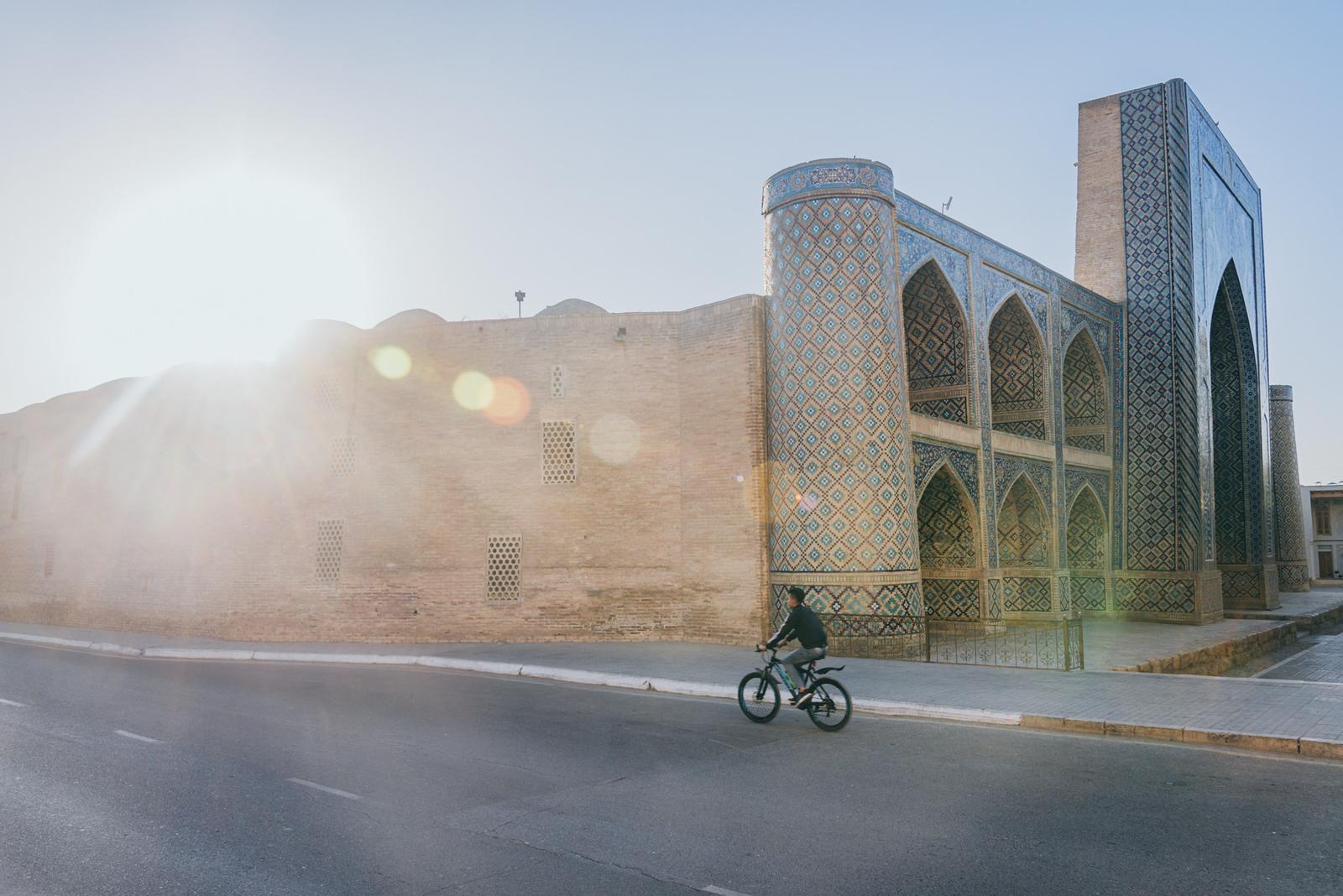 Alone, Waiting for You
It became windier when my second day in Bukhara was approaching its end. Sunset, as usual, was best served for diners seated at high vantage point. I recommend you visit Water Tower Shukhova, a Soviet-built steel tower in 1927-1929, which looks a bit unimpressive today but used to be an engineering marvel in the early 20th century. The price to visit (taking elevator) is 40,000 UZS only.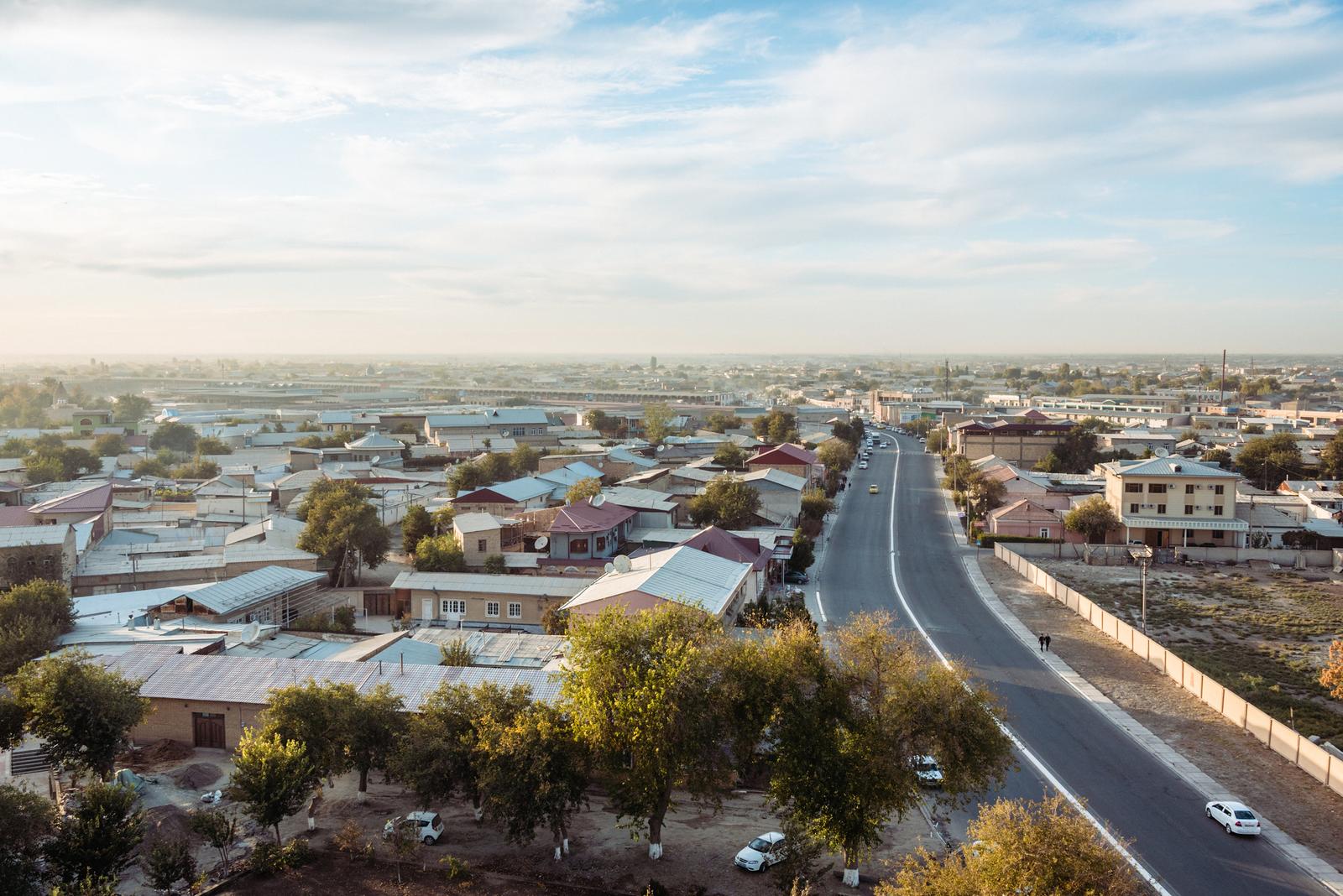 I, in a moment, wondered why the sun was unusually round in Uzbekistan, why bird silhouettes were the perfect companion of sundown. Silly questions indeed. The answers are all about clearly defined shapes that make better imprints in our reminiscence.
These are the pictures when aiming your wide open eyes towards Bukhara's west, a ferris wheel is situated right there which superbly fits into the composition.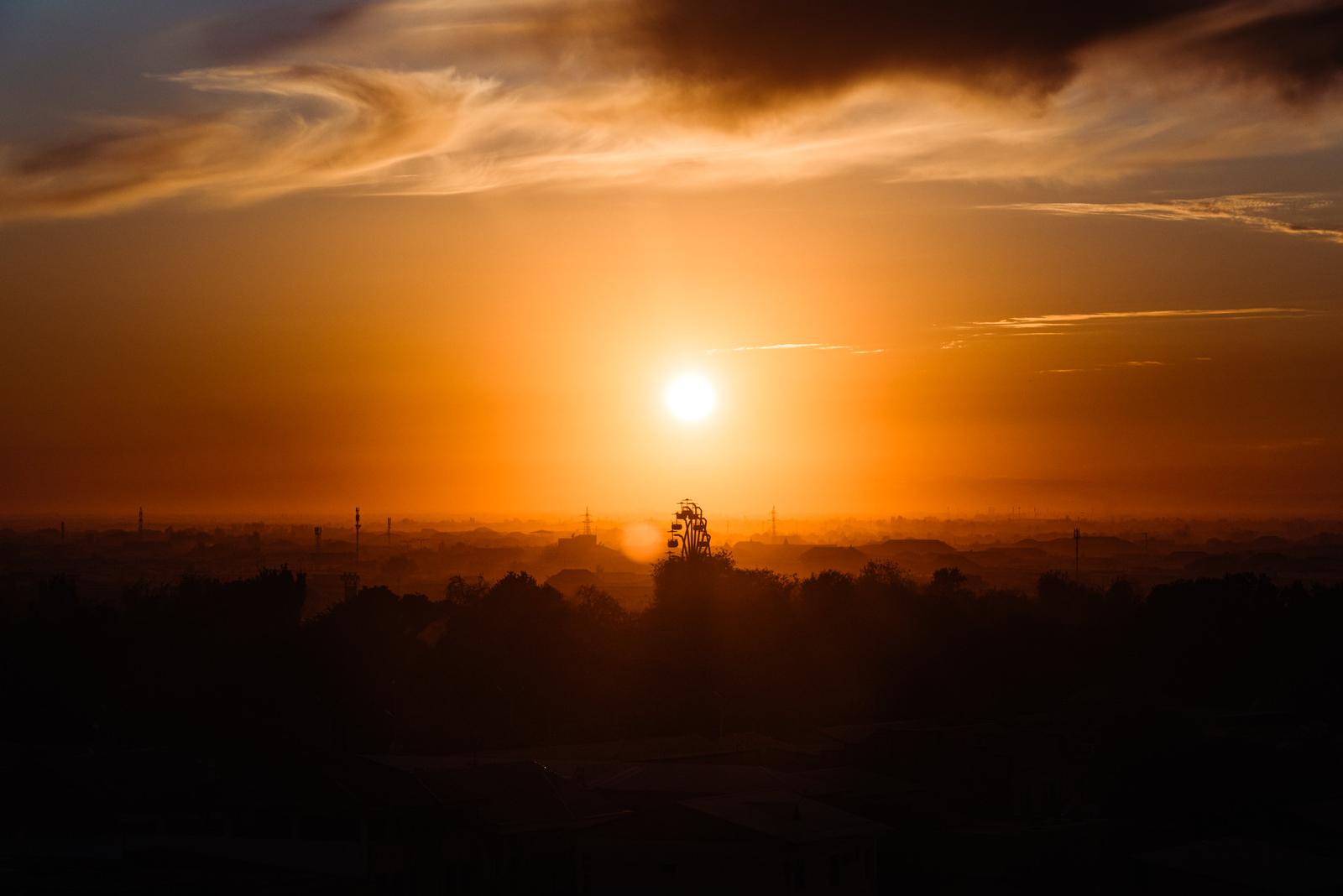 Well it's quite greedy to cram my takes here, but too nice to resist. Sunset appreciation is a nice excuse for being late and lazy.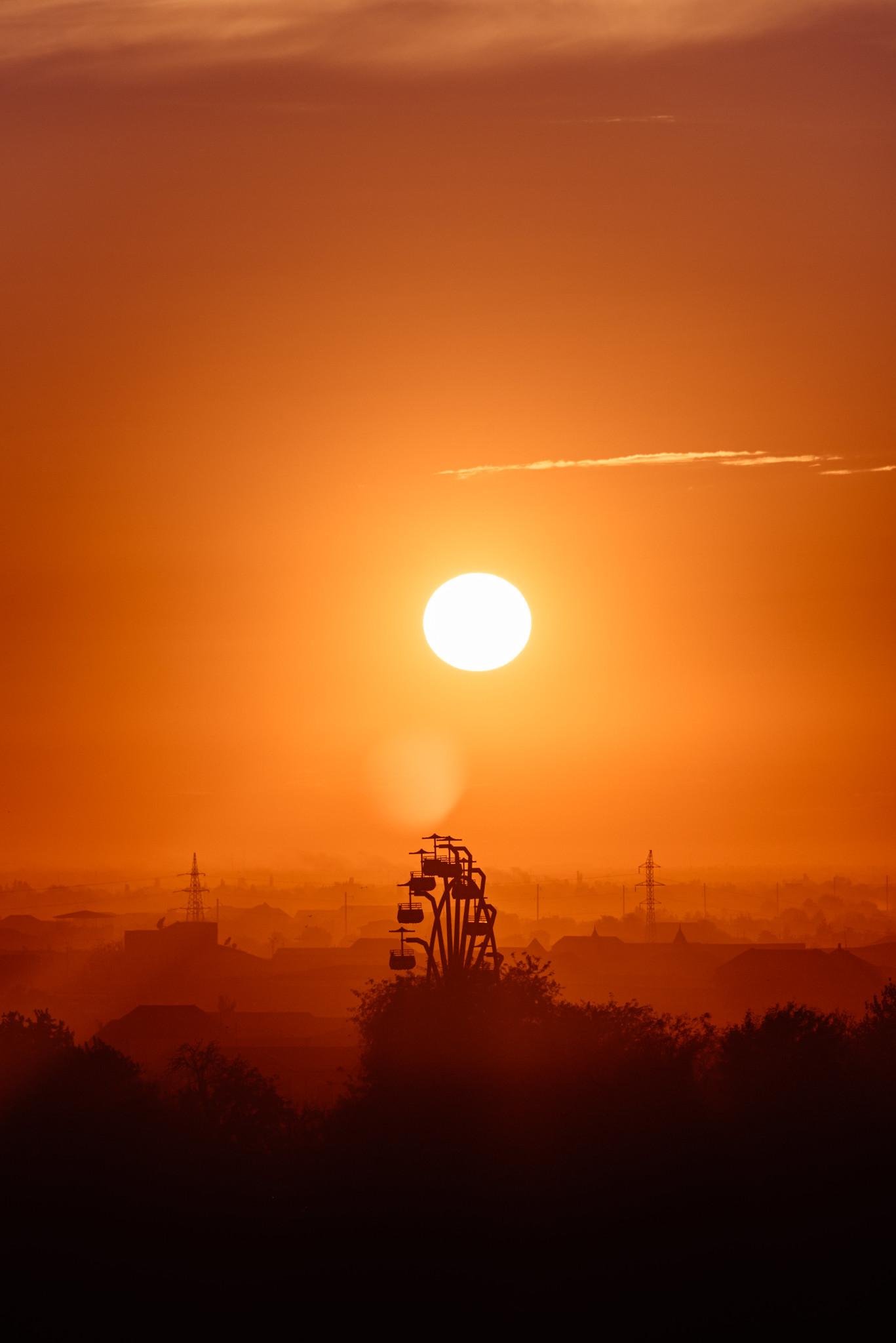 Oh, it's about time I had some late dinner to prepare for the train journey to Khiva at midnight. Forever miss you, Bukhara.