I took a short trip to Yangon to conclude a good year of 2018. For kind of getaway trips, usually it's for people to recharge their battery after long hours of working, and resorts should be the ideal. As I see it, it's like a dramatic spying mission, you come and go like the wind, but memories have always been there without dwindling. Every second is worth treasured, every footstep unveils a surprise.
A City Wanderer
Between calm…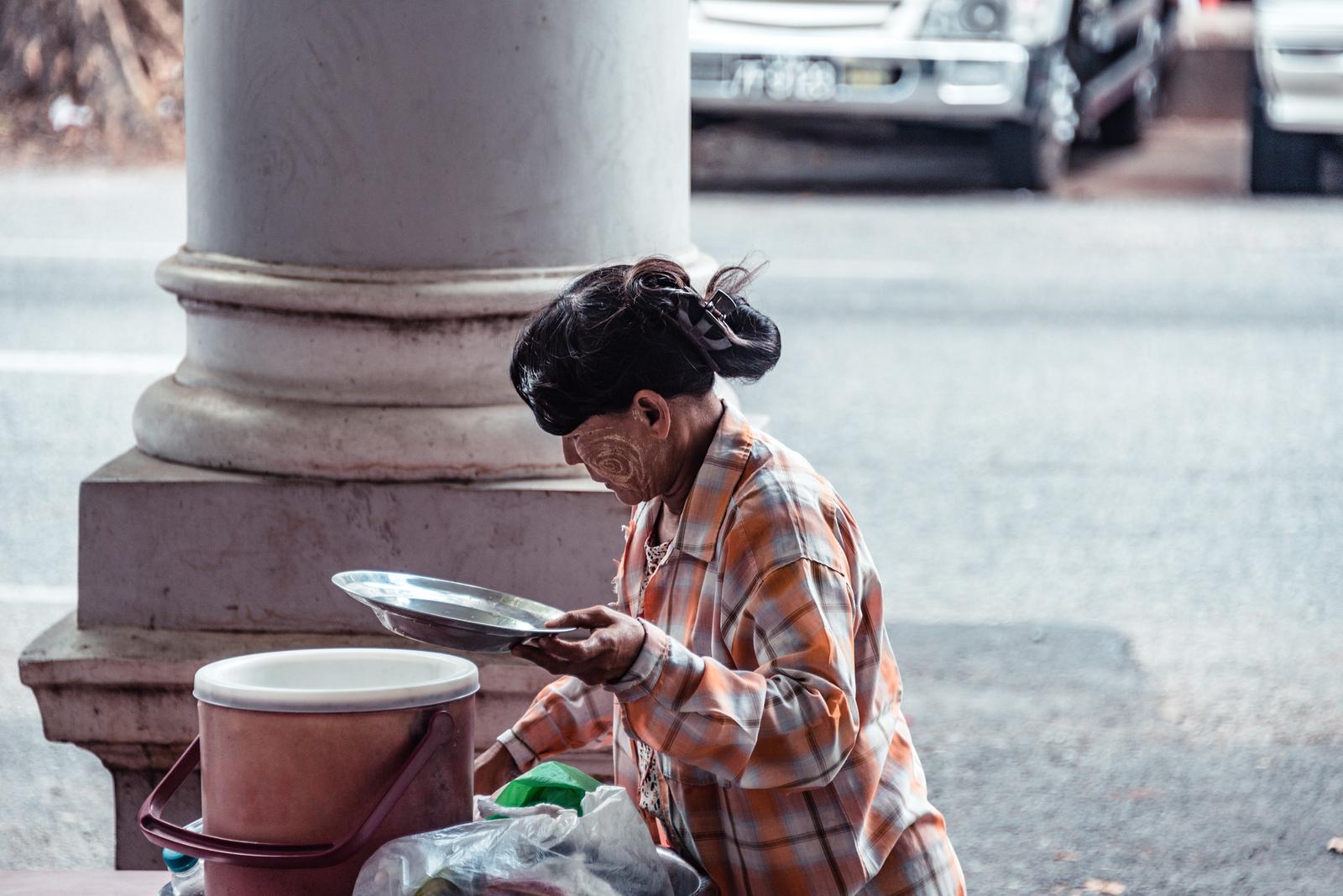 We should all expect that we would see women in Myanmar had their faces covered in thanaka paste, people wearing vibrant longyi unhurriedly walked on the street to fill their bags of groceries. Some sat and enjoyed their sip of traditional tea in a good morning. What I can be so assured is that the city preserves its untouched beauty and not inundated with swarms of tourists blocking the precious views.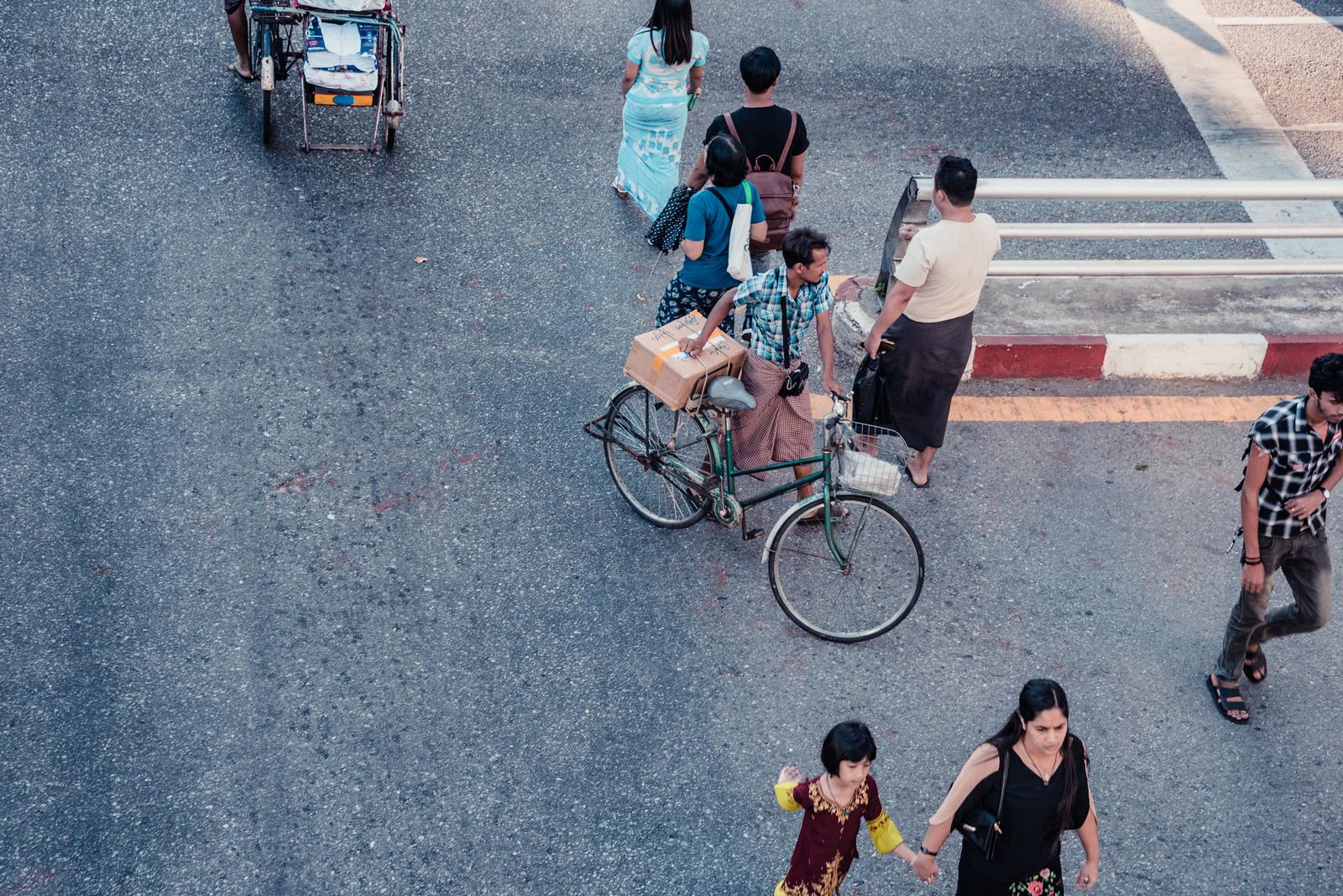 Monks are also noticeable on the street, along with Muslim women wearing hijab and Indian guys roaming around. The Christian churches are pretty, too, resulted from the popularization of Christian in Myanmar in the early 20th century.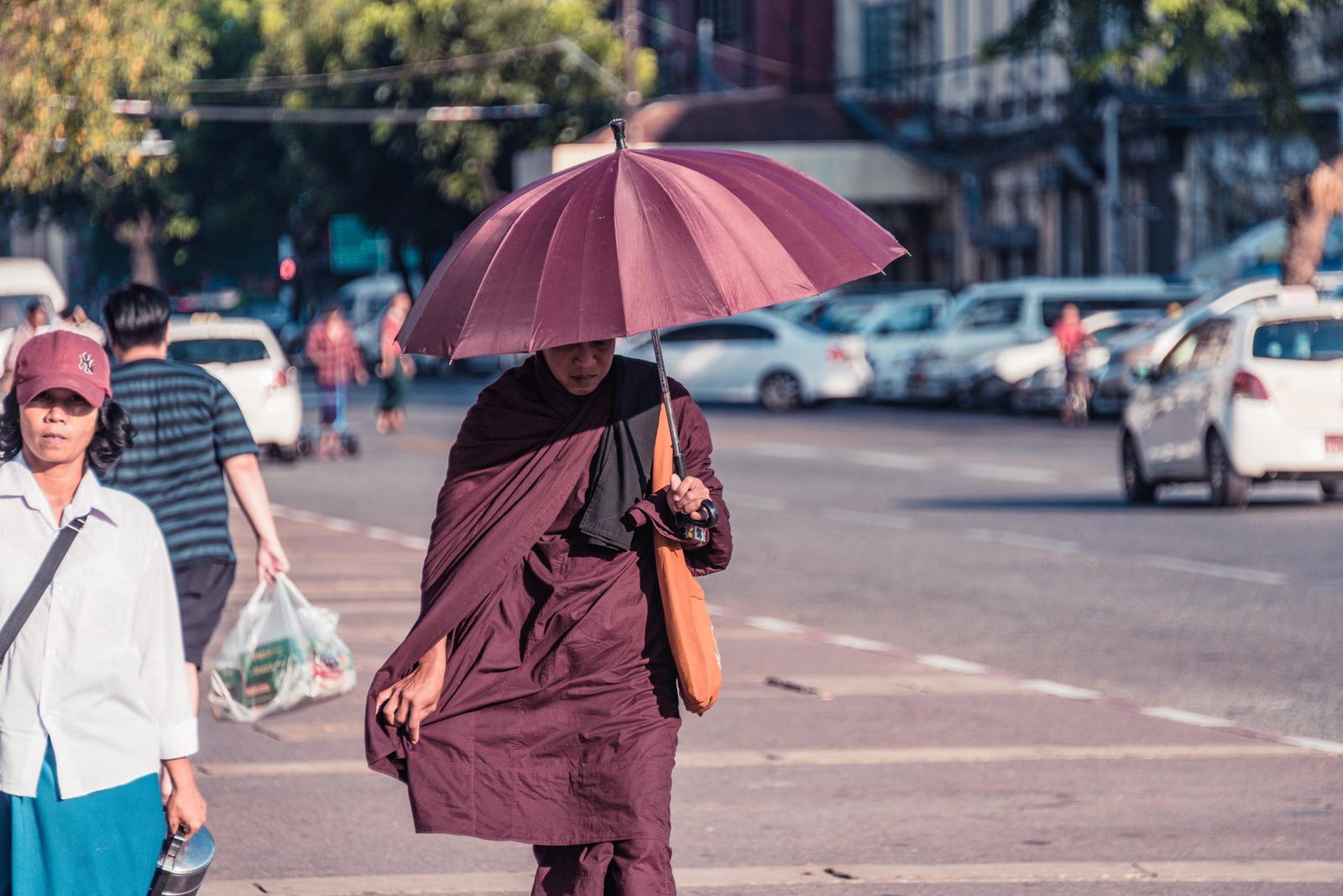 Myanmar people walks a lot (and drives a lot as well). Not kind of businessman-in-suit dashing through Shibuya Crossing in Tokyo, and that should be a well-fit ingredient added to this calm living pace.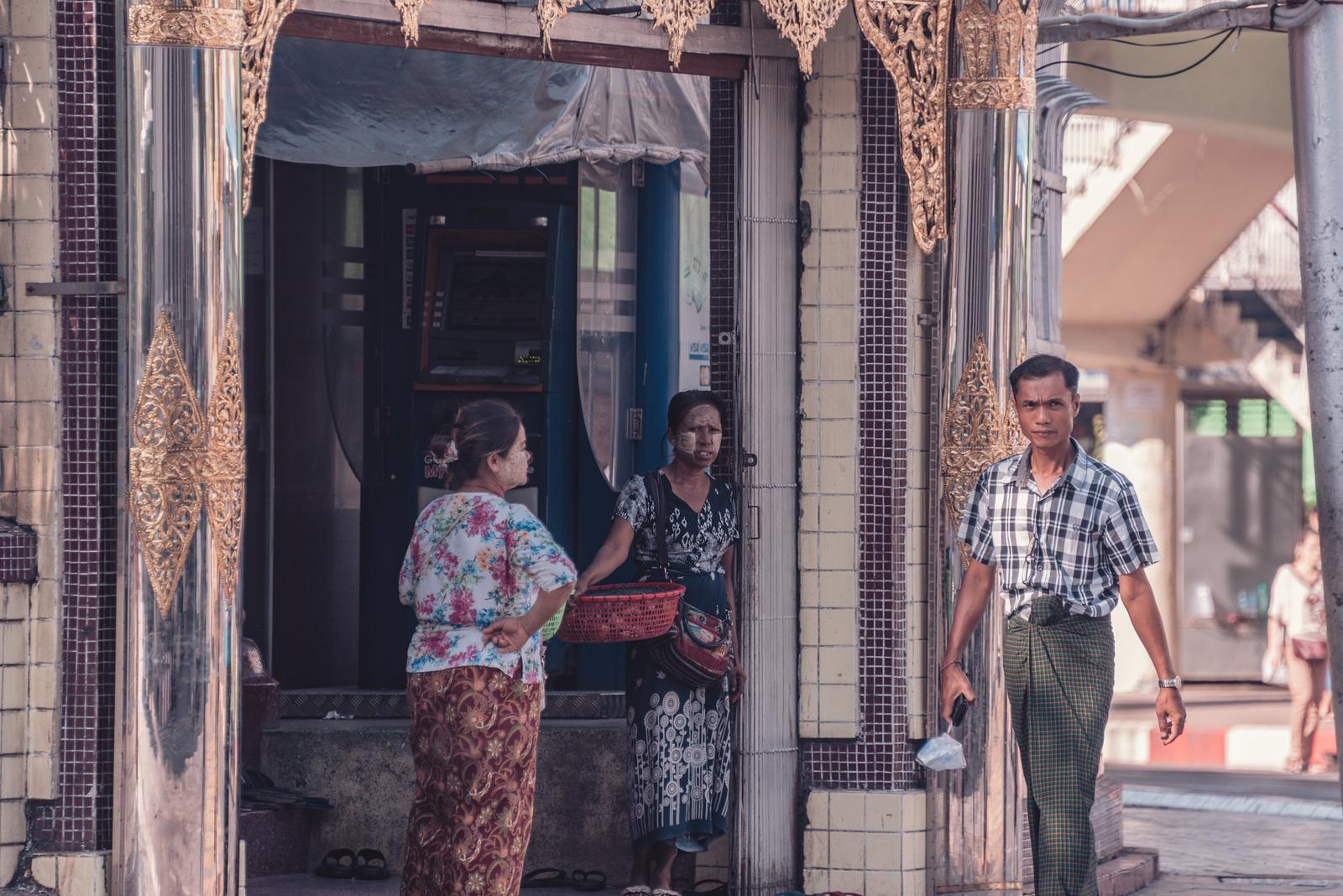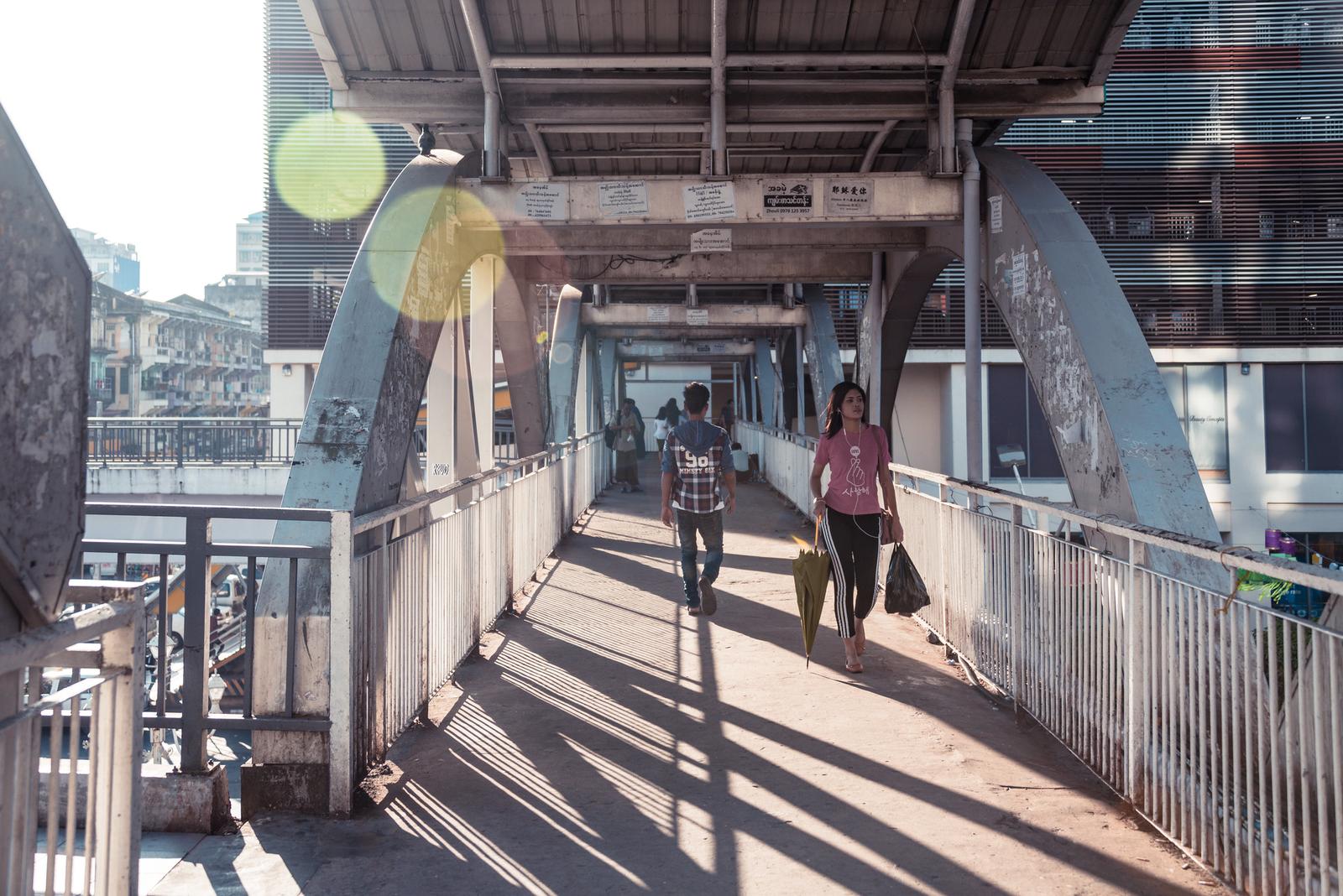 …and chaotic
Chaotic in a positive way. Streets in Yangon are flocked and jammed with cars, but somehow people still figure out how to advance their odometers. Cars in Myanmar are usually the old imported ones, but this landscape may change in the next years.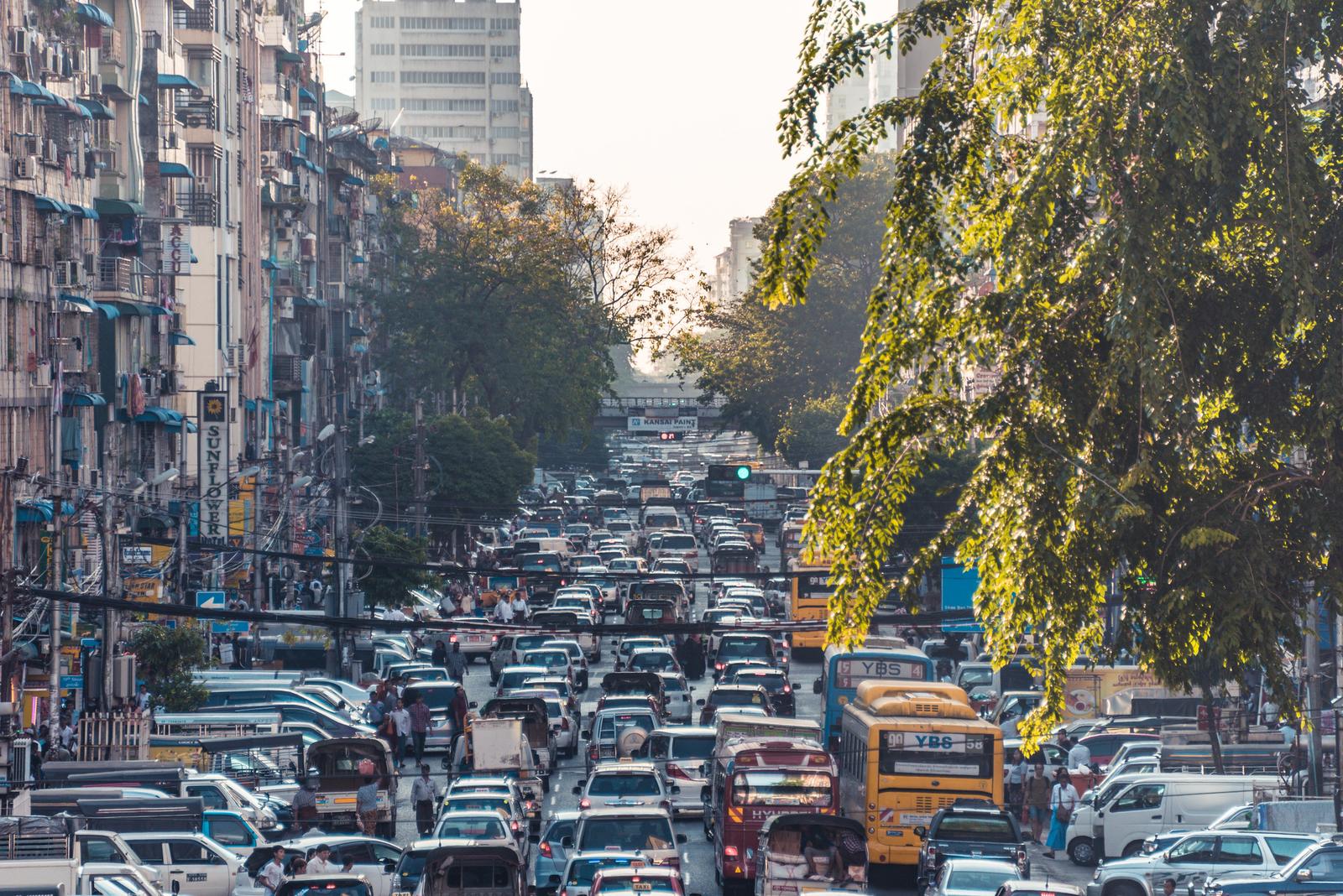 Second, the pigeon conglomeration. It's interesting to watch them from afar whenever someone pokes into their crowd, but you should not be that poker himself.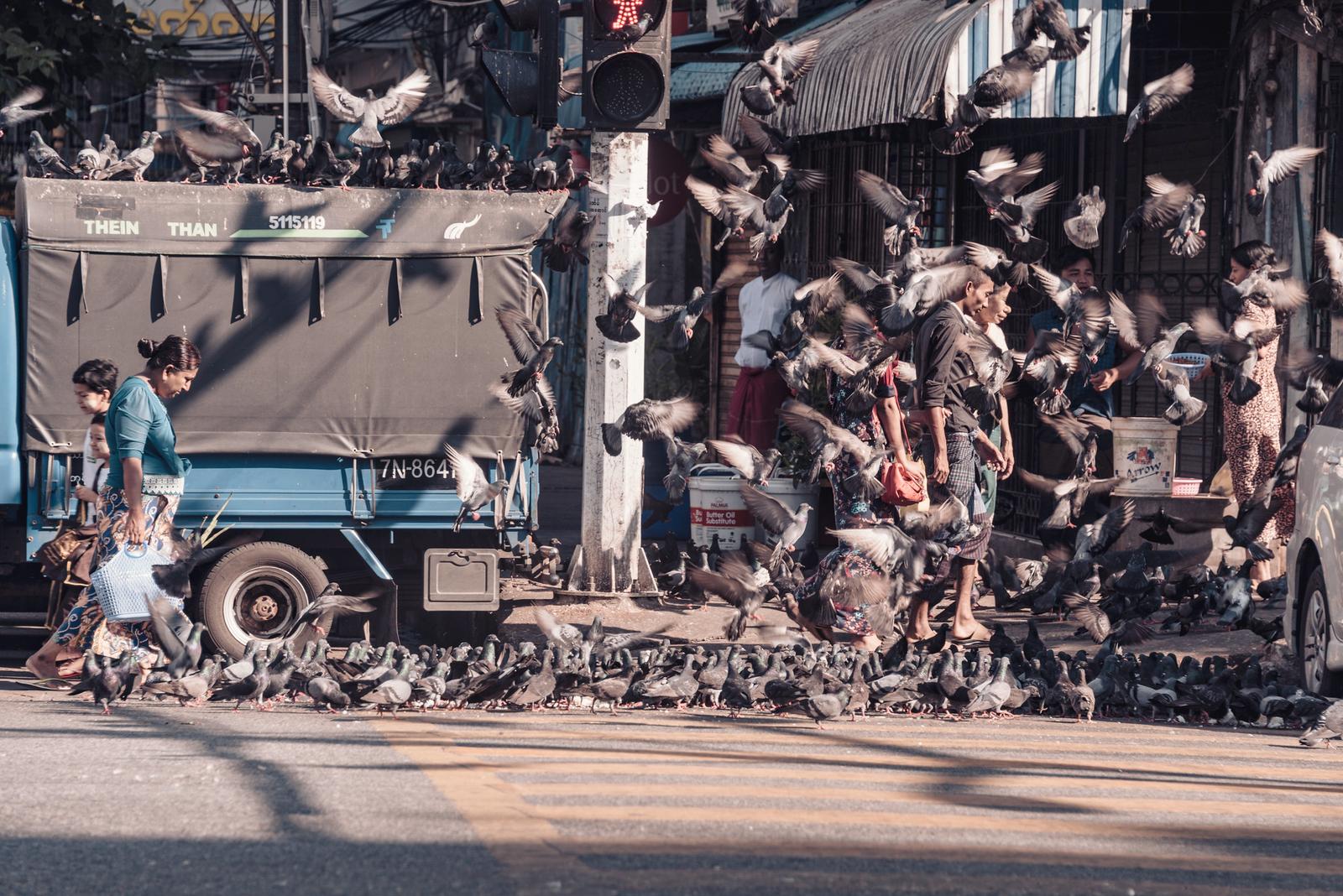 A Distinctive Urban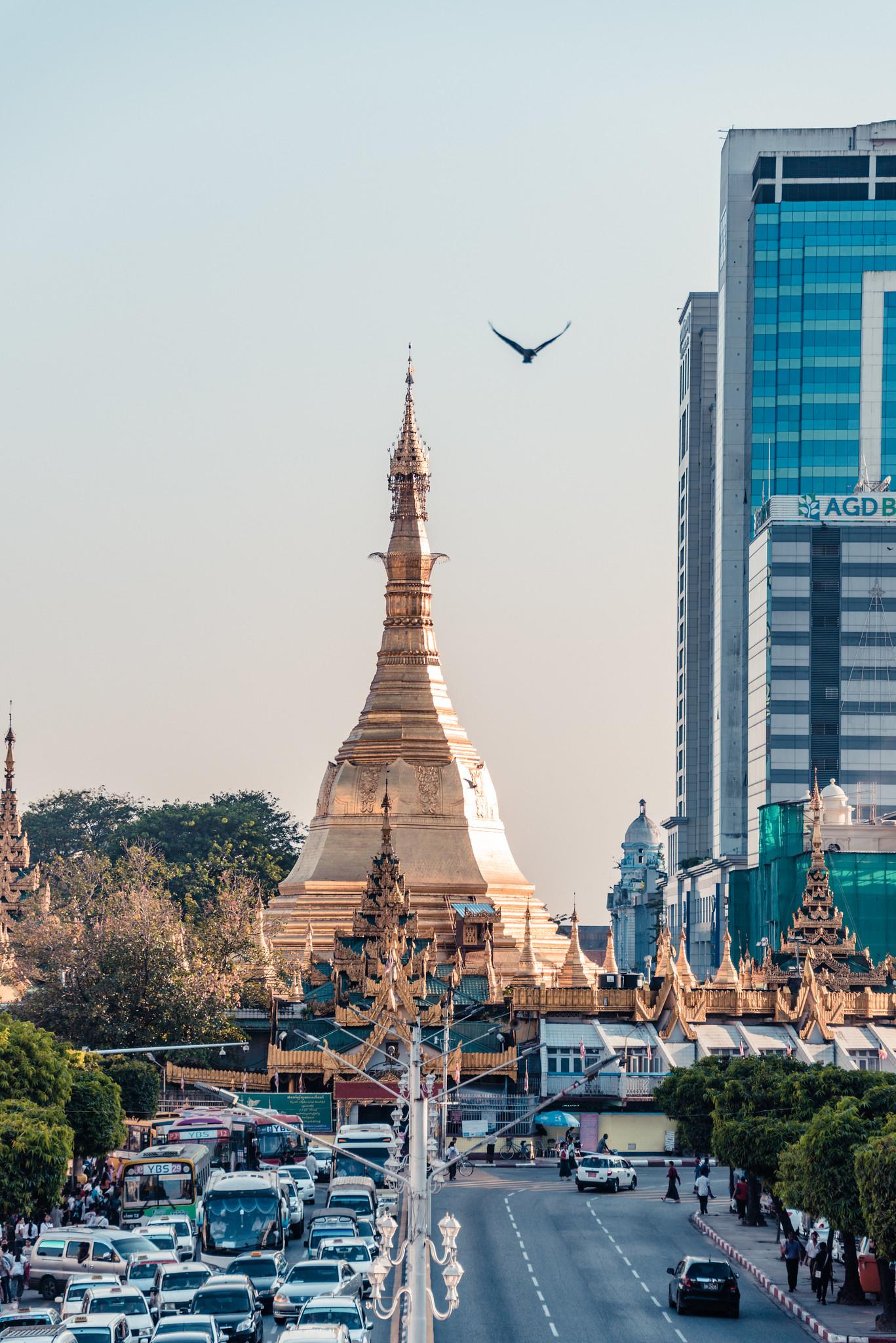 Needless to mention that we found peace whenever observing sunset in Yangon, especially with a pagoda backdrop. However, the integral parts that constitute the uniqueness of this city are not limited to religious landmarks. Get lost in the streets overwhelmed with colorfully painted buildings, sky-blue parabolic antennas and tangled electrical wires all over the place.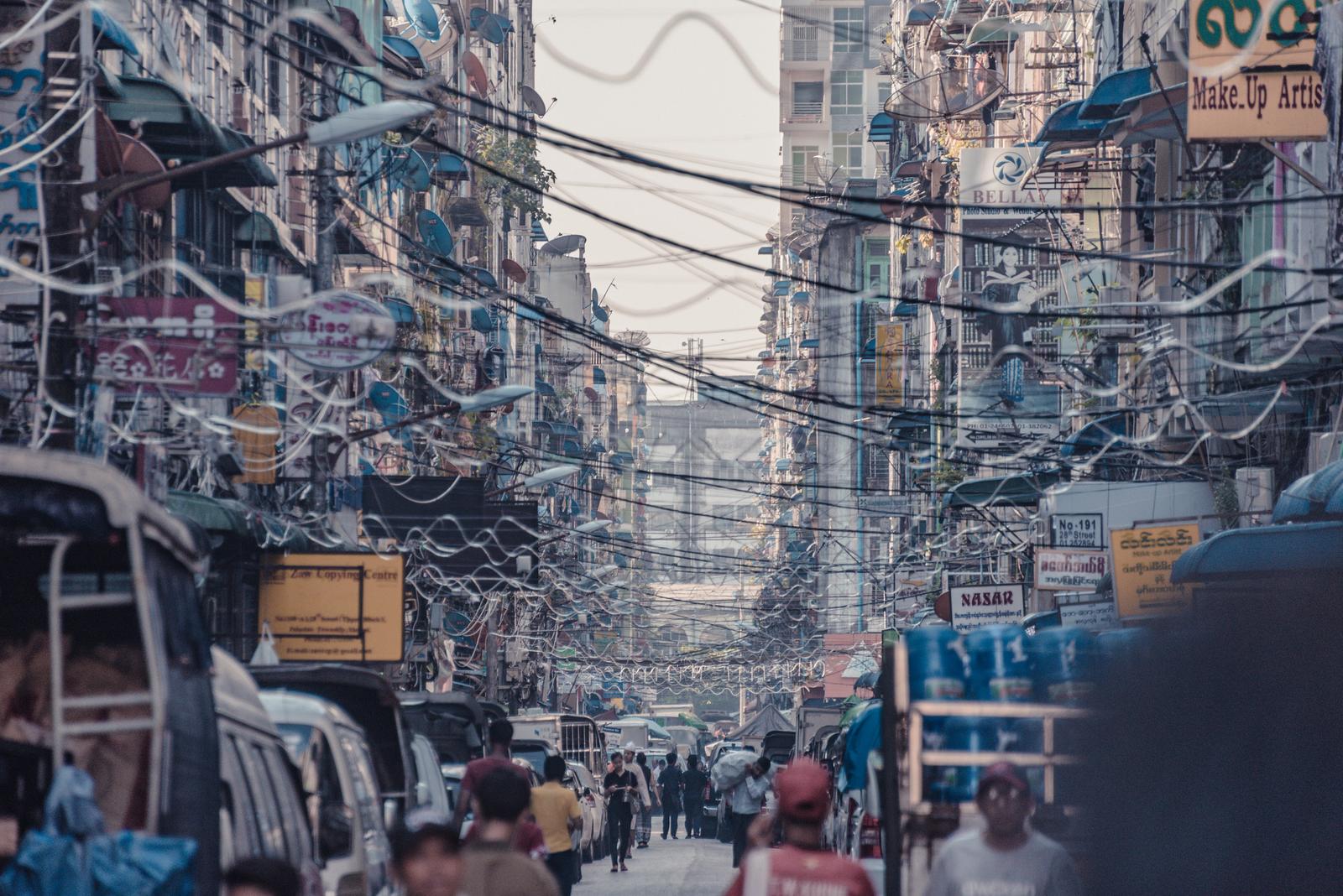 As if the city has just been waken up after a long sleep.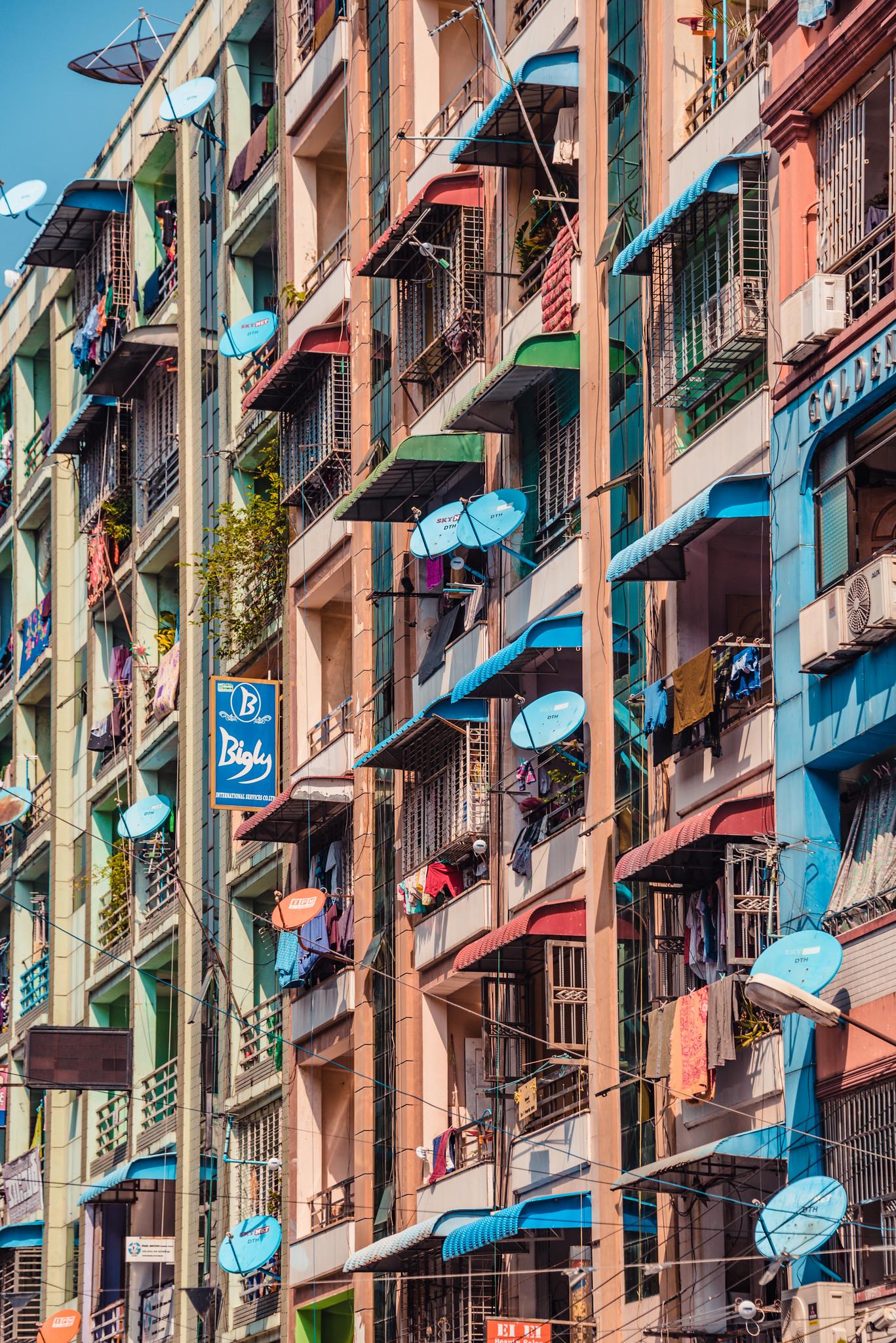 Other than that, the city is highly planned, with large areas spared for public recreation such as parks, lakes and squares. Old buildings still maintain the charm of British colonial architectural style, sometimes in disrepair, perhaps due to a long period of country isolation.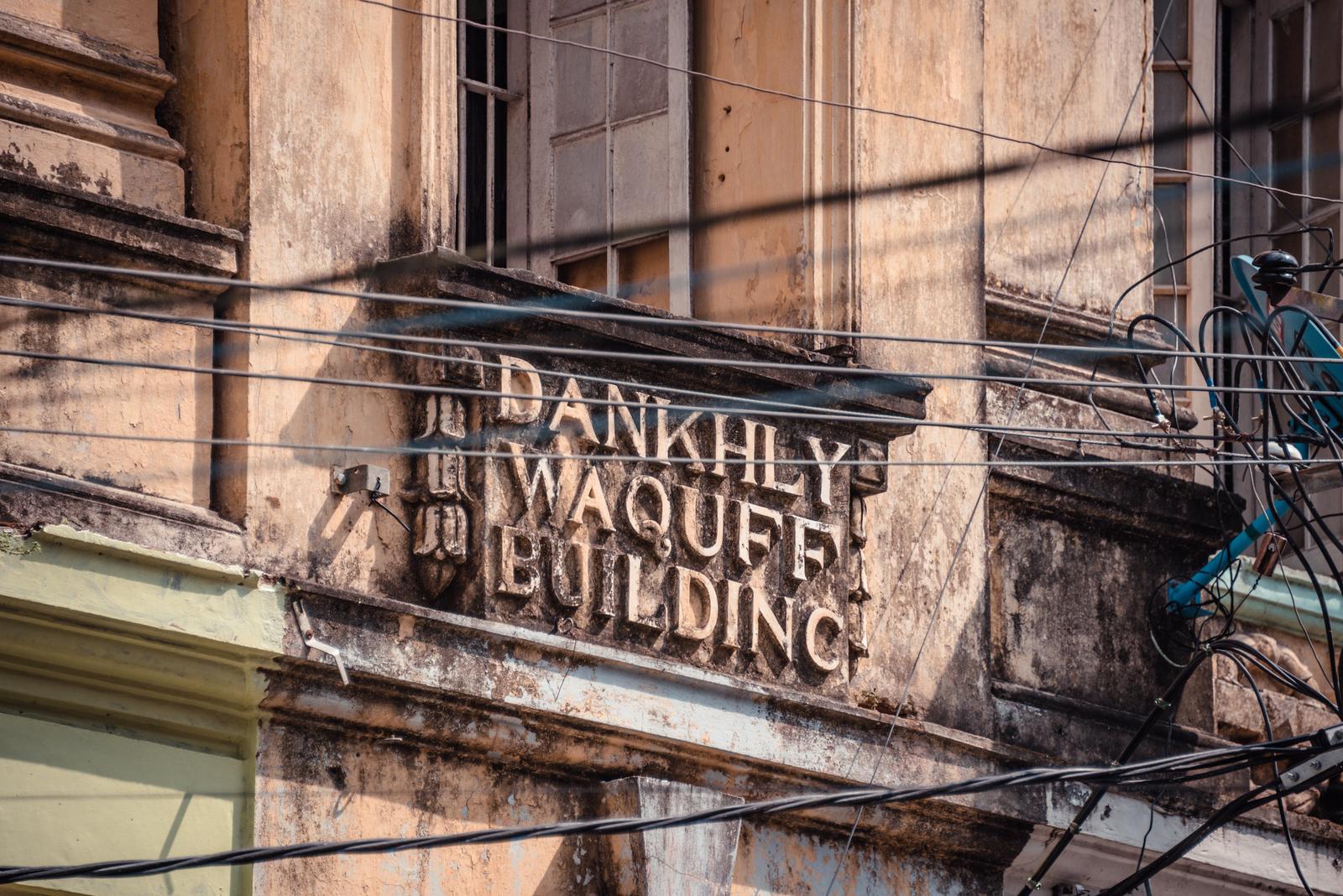 How a city is thriving is reflected in its nightlife, the time after dusk, when we bump into neon flashes, long weaving traces of taillights, and silhouettes of hurrying people.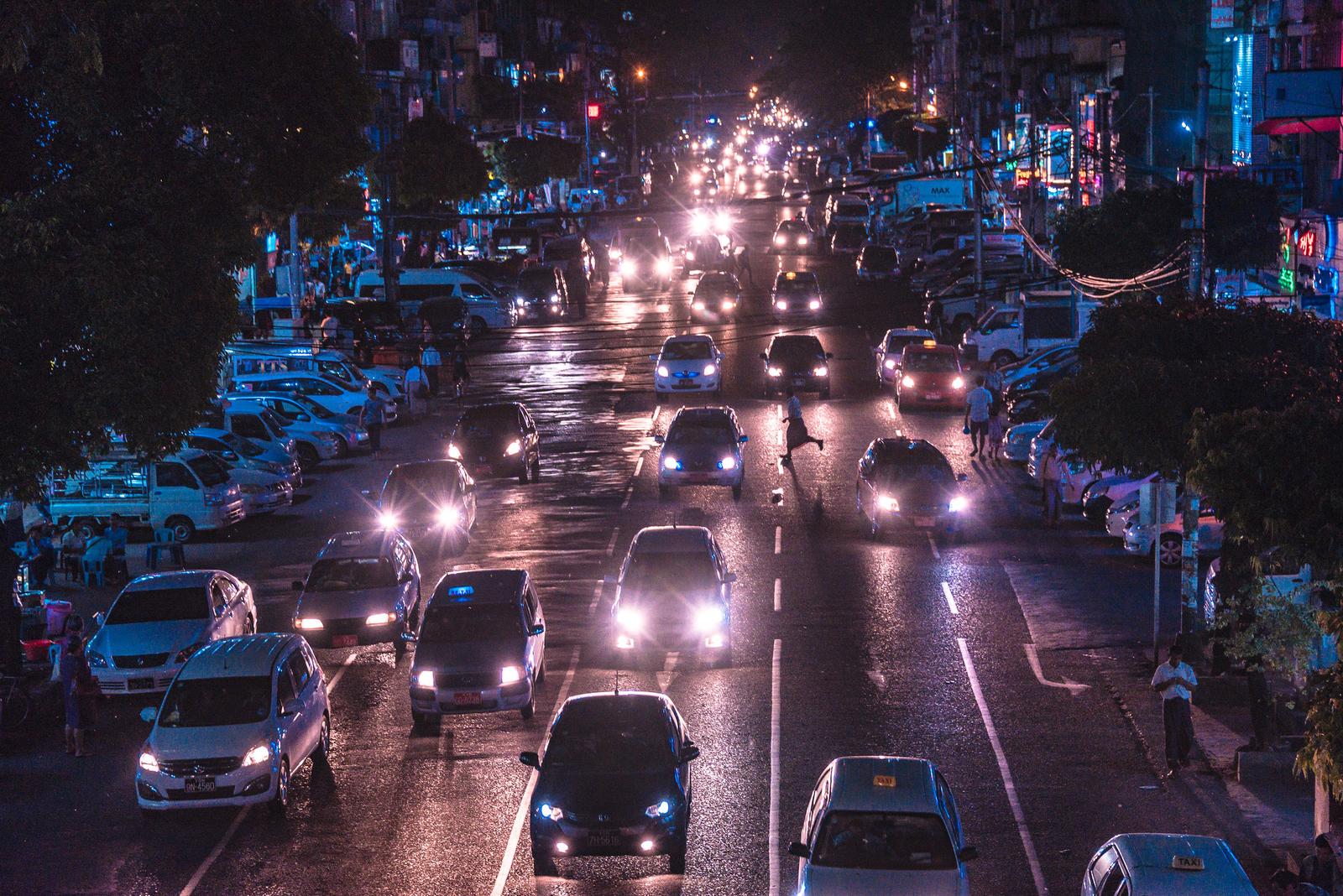 Chinatown
The Chinatown of Yangon, located to the west of Sule Pagoda, is constituted from several bustling streets, with 19th Street is the main center. Pretty similar to the old town streets nearby, Chinatown bears some significant features making it stand out, such as Chinese temples and Georgian Colonial doors, comparable to ones in Singapore or Malaysia.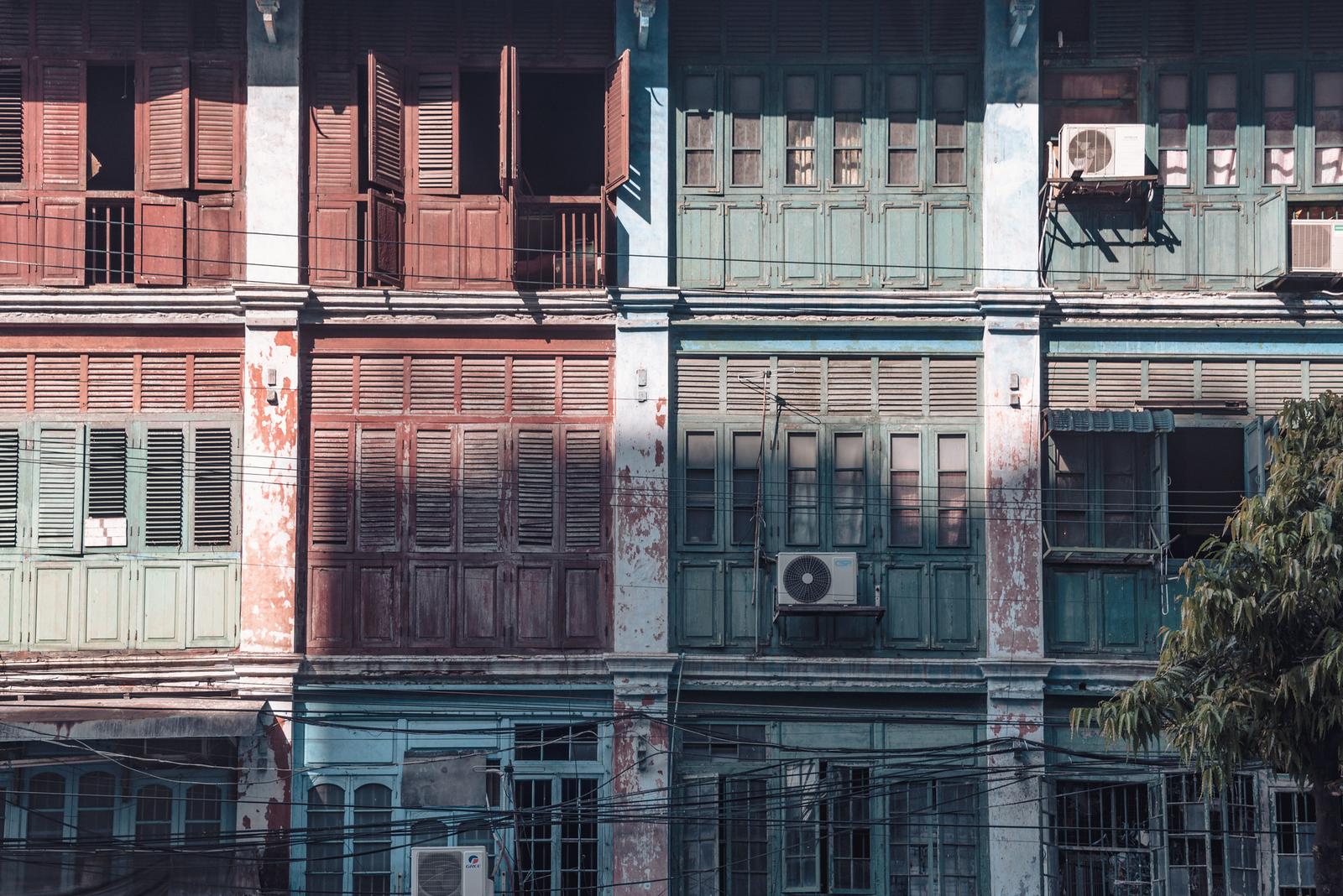 Yangon Circular Train
The Yangon Circular Railway may be the most effortless way to explore the whole picture of Yangon, from the crowded central quarter to the vibrant suburb up north. The system was built back from British colonial time (with coaches are being subsidized by Japan, sometimes you can see printed boards in Japanese), not very fast and comfortable yet sizzling hot without air conditioners actually, the journey is indeed worthy for any backpacker not seeking a sumptuous vacation.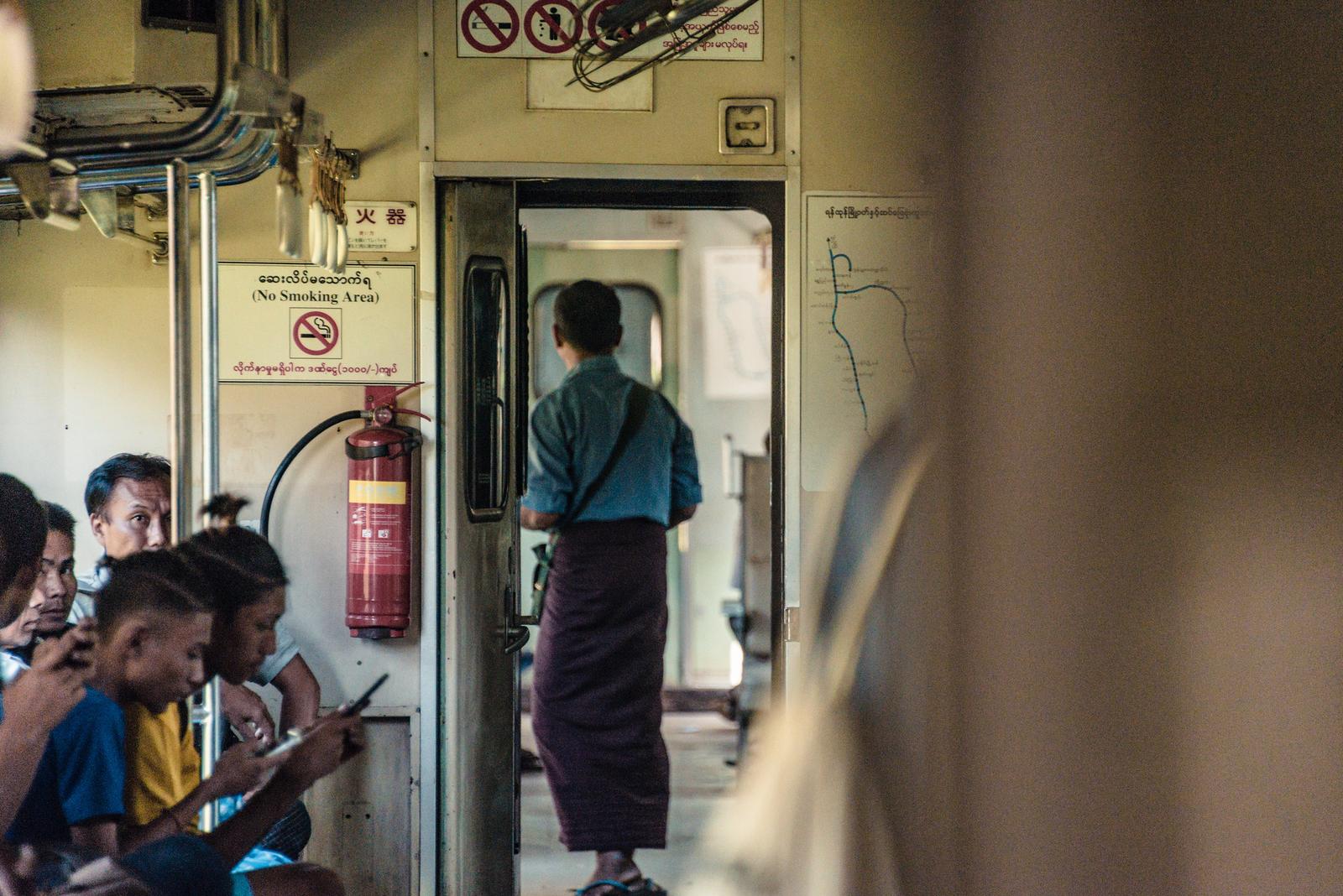 Doing what a local does, I bought the ticket for 200 Kyats each trip, which was a real bargain to spectate how life was going on there. Coaches were resembling mini markets where people earned their living by bringing harvest downtown.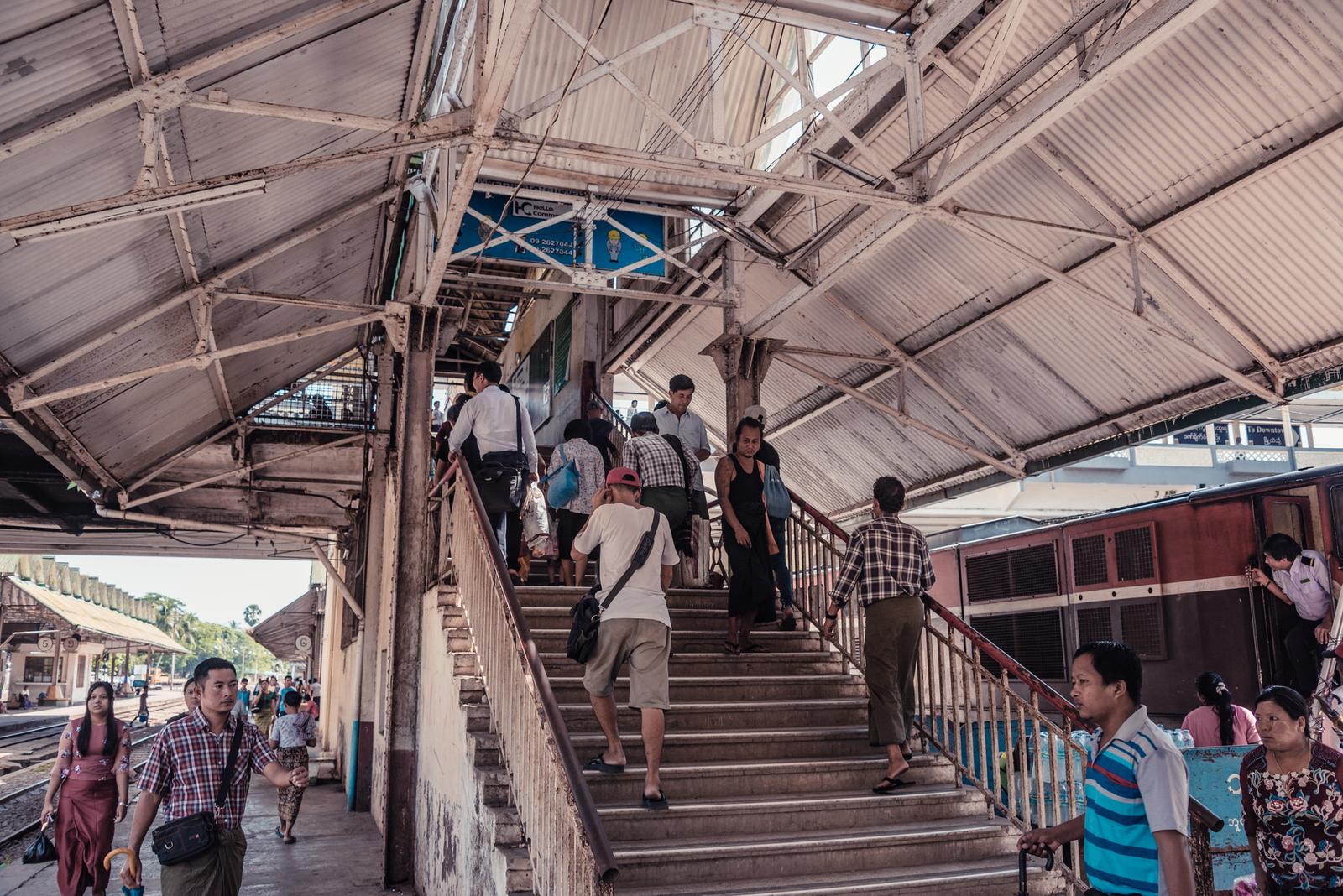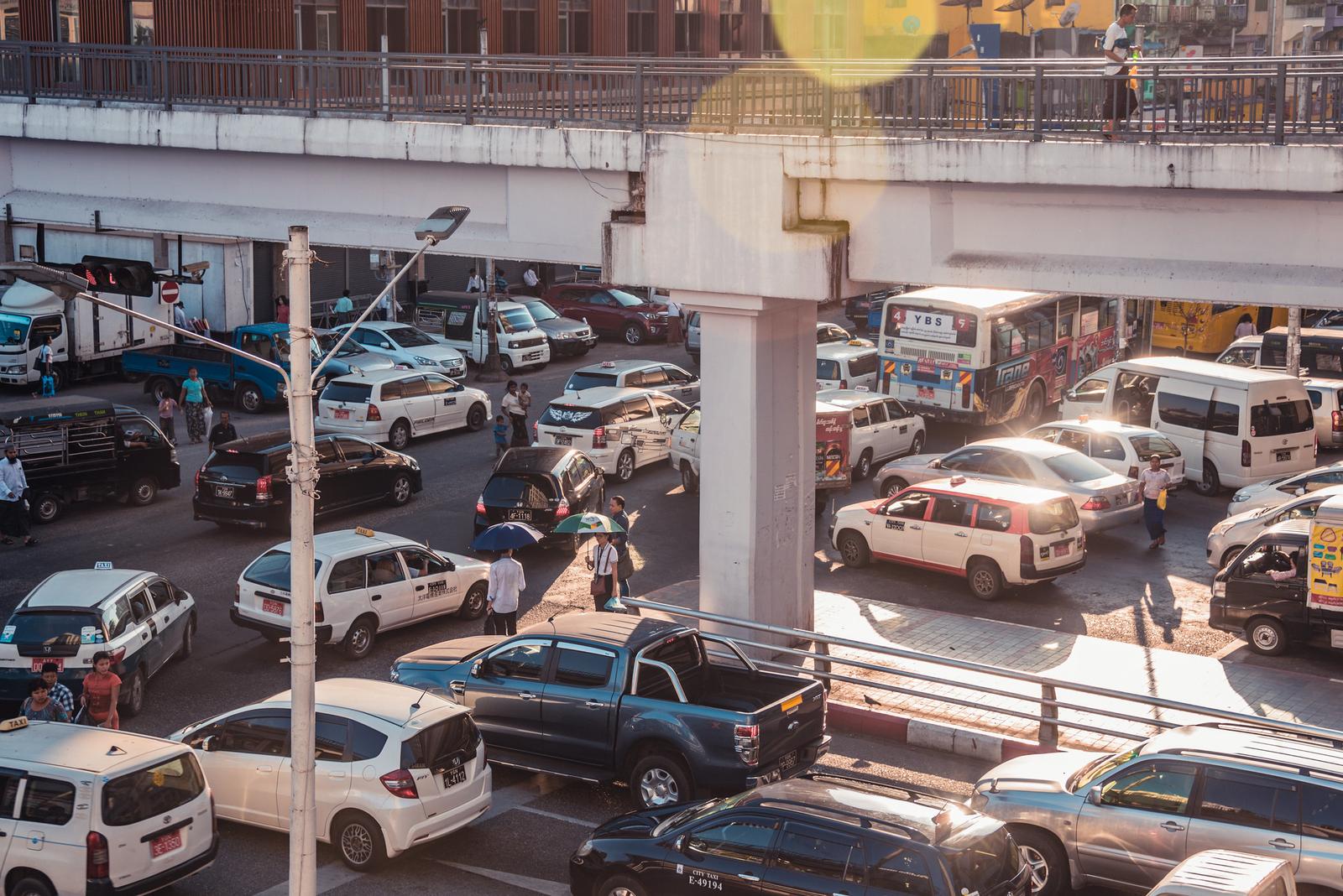 Shwedagon Pagoda
I bet most of the cover pictures of Yangon in any brochure will depict the grandeur of Shwedagon Pagoda, presumably the oldest Buddhist stupa in the world, and the highest landmark dominating the city skyline.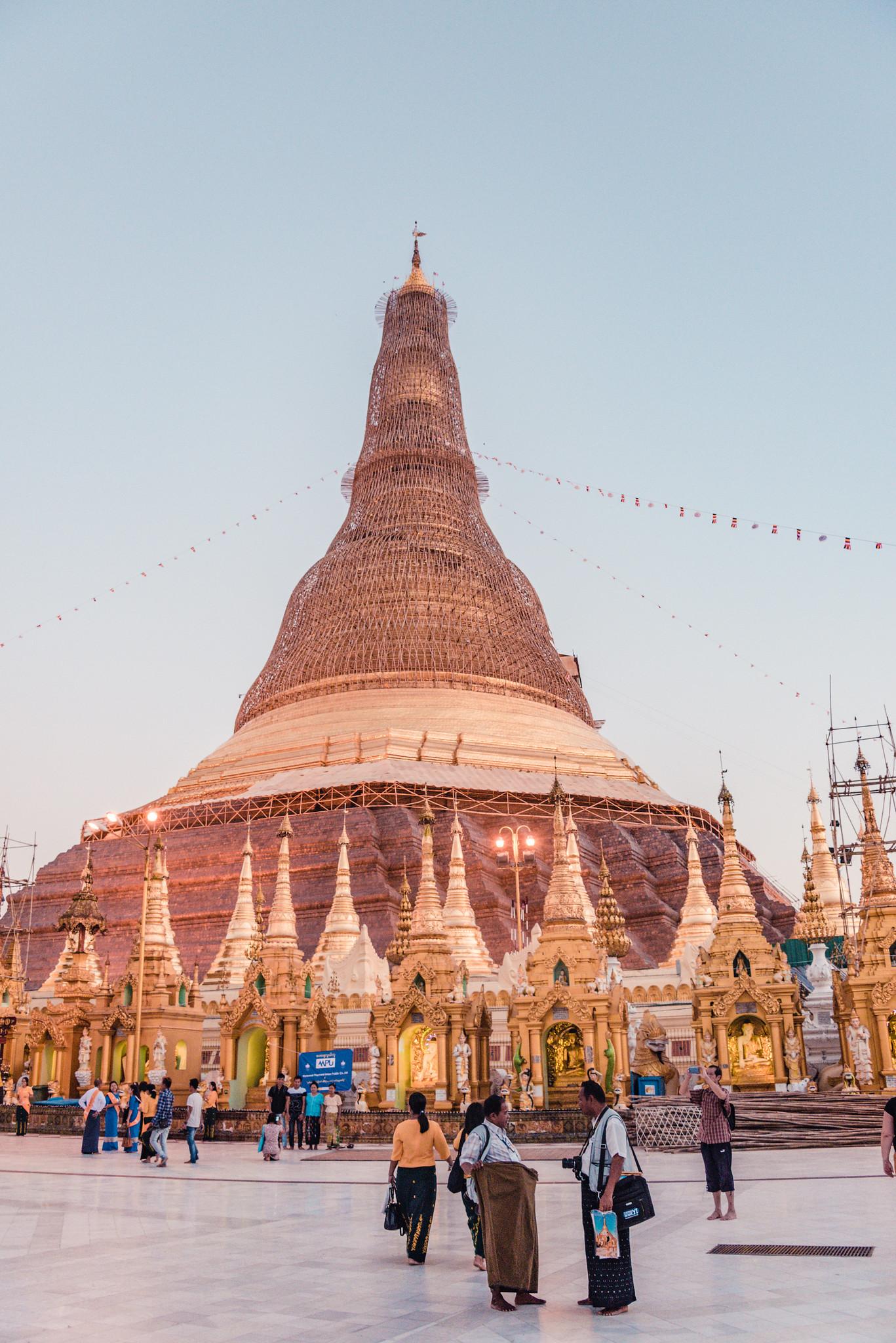 People are required to take off their shoes before entering this sacred site, hence early morning and late afternoon will be the most suitable time. I was visiting the pagoda at sunset, when thousands of candles were lighted up, pilgrims circumambulated in the ambience of Buddhist chants, displaying a great dance of scent, sight and sound.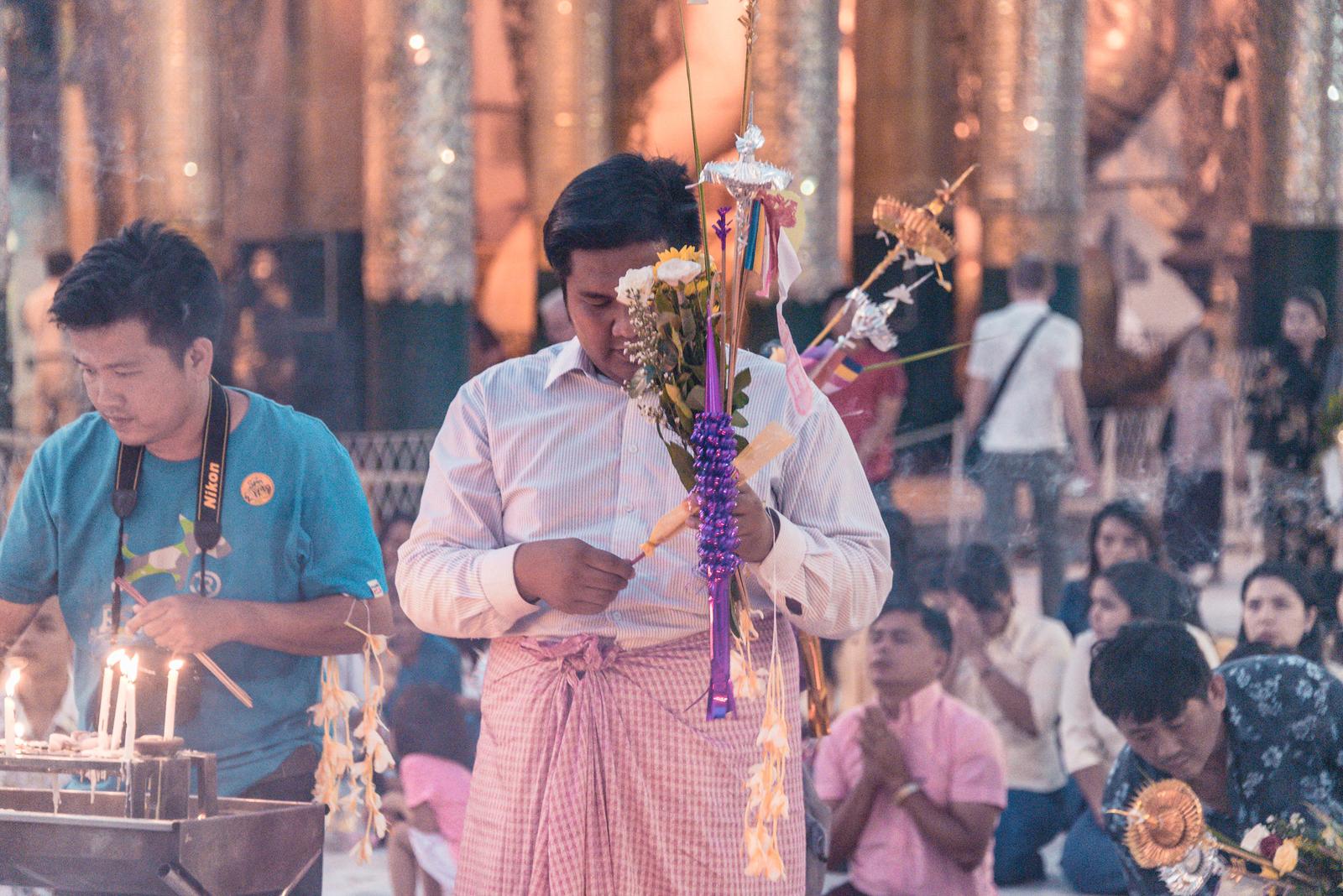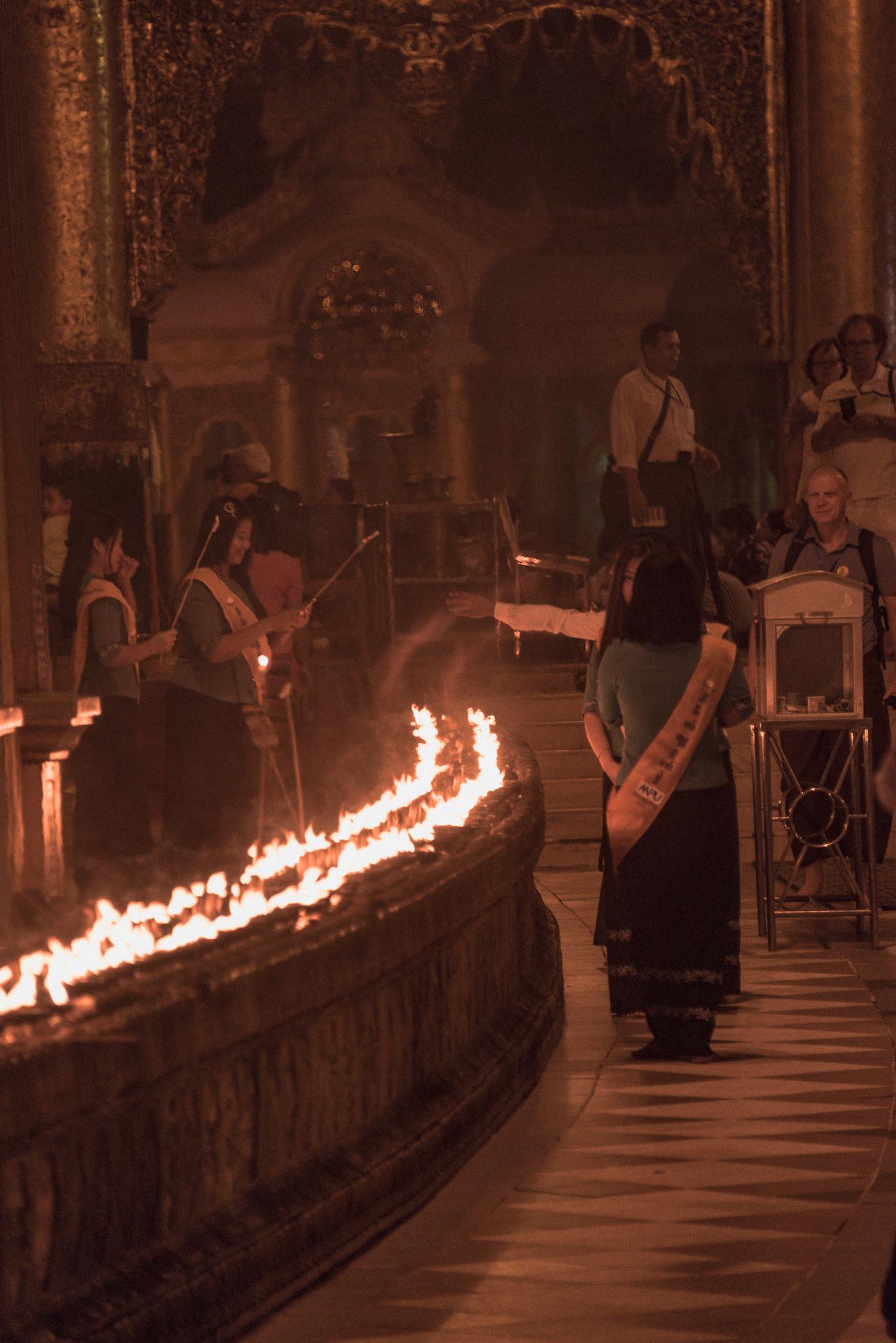 You can take a walk to Kandawgyi Lake to have a panoramic view of Shwedagon Pagoda too.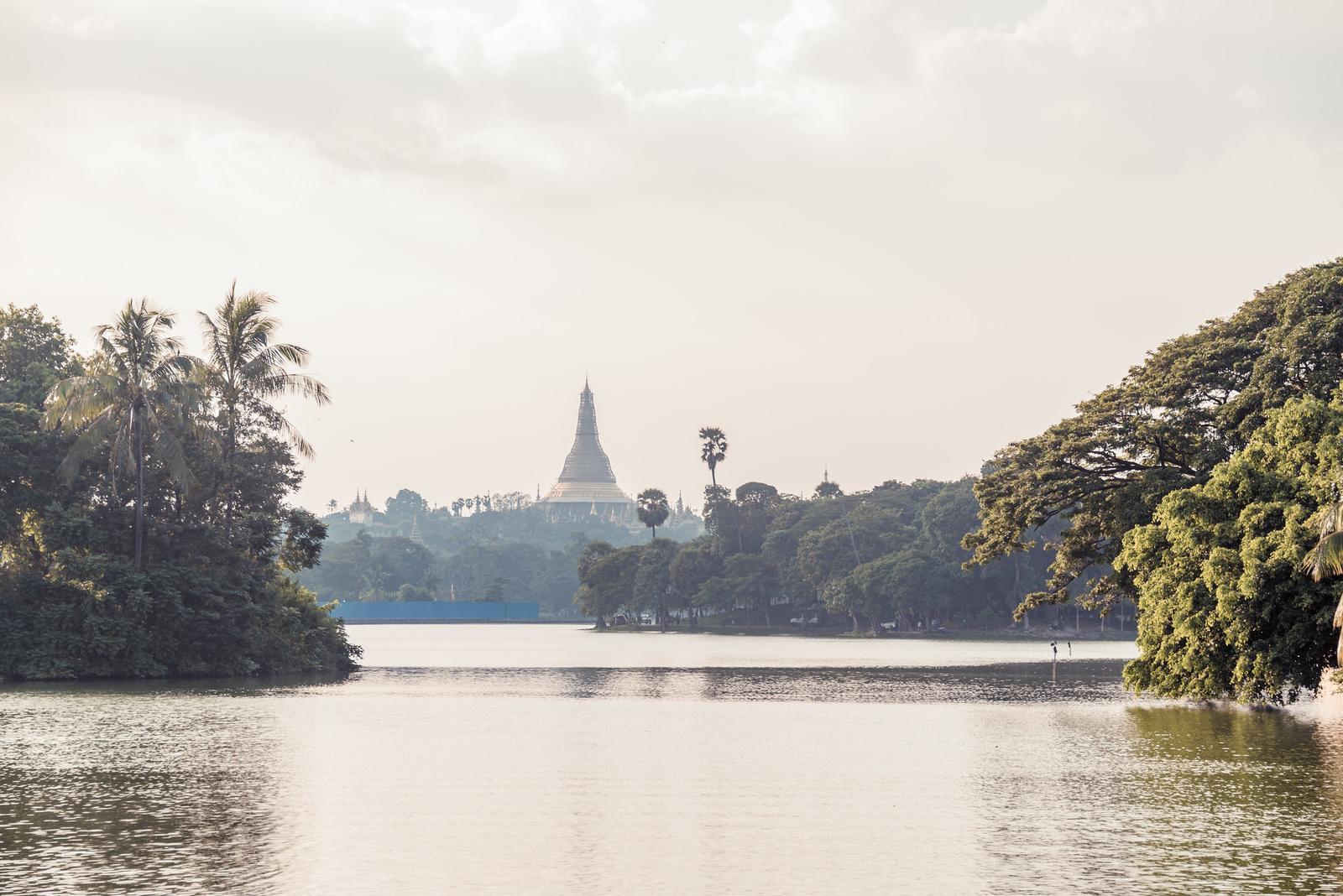 Although it's a bit off-topic, I would recommend you visit Karaweik Palace by the lake, a landmark that appears as popular as other Yangon pagodas in travel guides. Guess what, it's not any sacred site, just simply a restaurant to fill your stomach with delicious Myanmar food, such as tea leaf salad, mohinga or Shan noodles.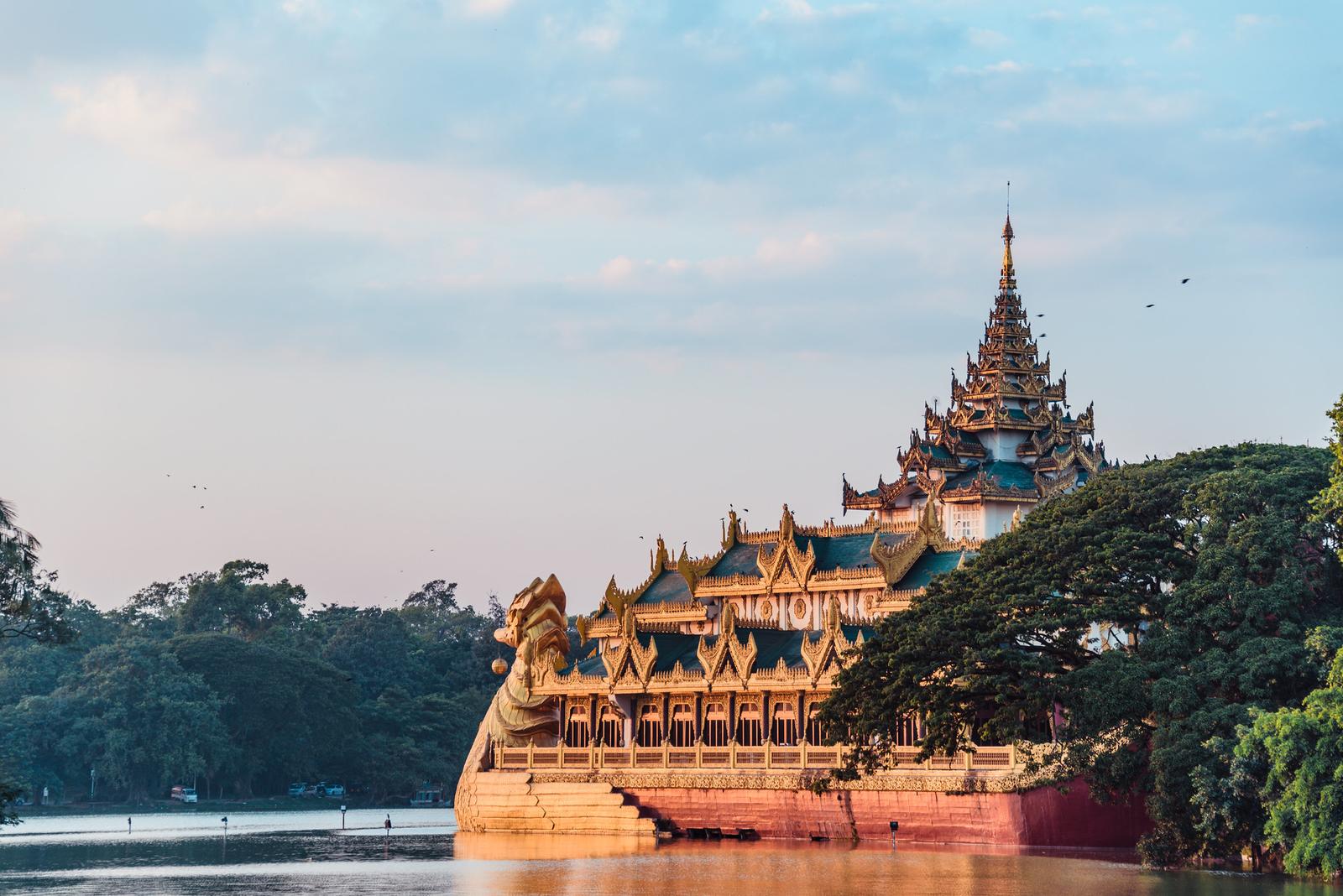 Myanmar is a place of cultural fusion and harmony, temporally and geographically. Set yourself free, and dare to take minor risks to explore that uniqueness, while not worrying about safety for their tranquillity.