Checkpoint Charlie to Brandenburg Gate
This was not my first time being in Europe, as I had traveled there twice in the years before. And it was not for leisure as well, as I needed to work for one whole week. But still, I could bring home some of my best cinematography-like photos while wandering about Berlin.
Luckily I arrived there when the winter blast bringing Europe temperature down to -20°C had stopped. Then it was only hovering about 0°C, perhaps bearable enough for a tropical man.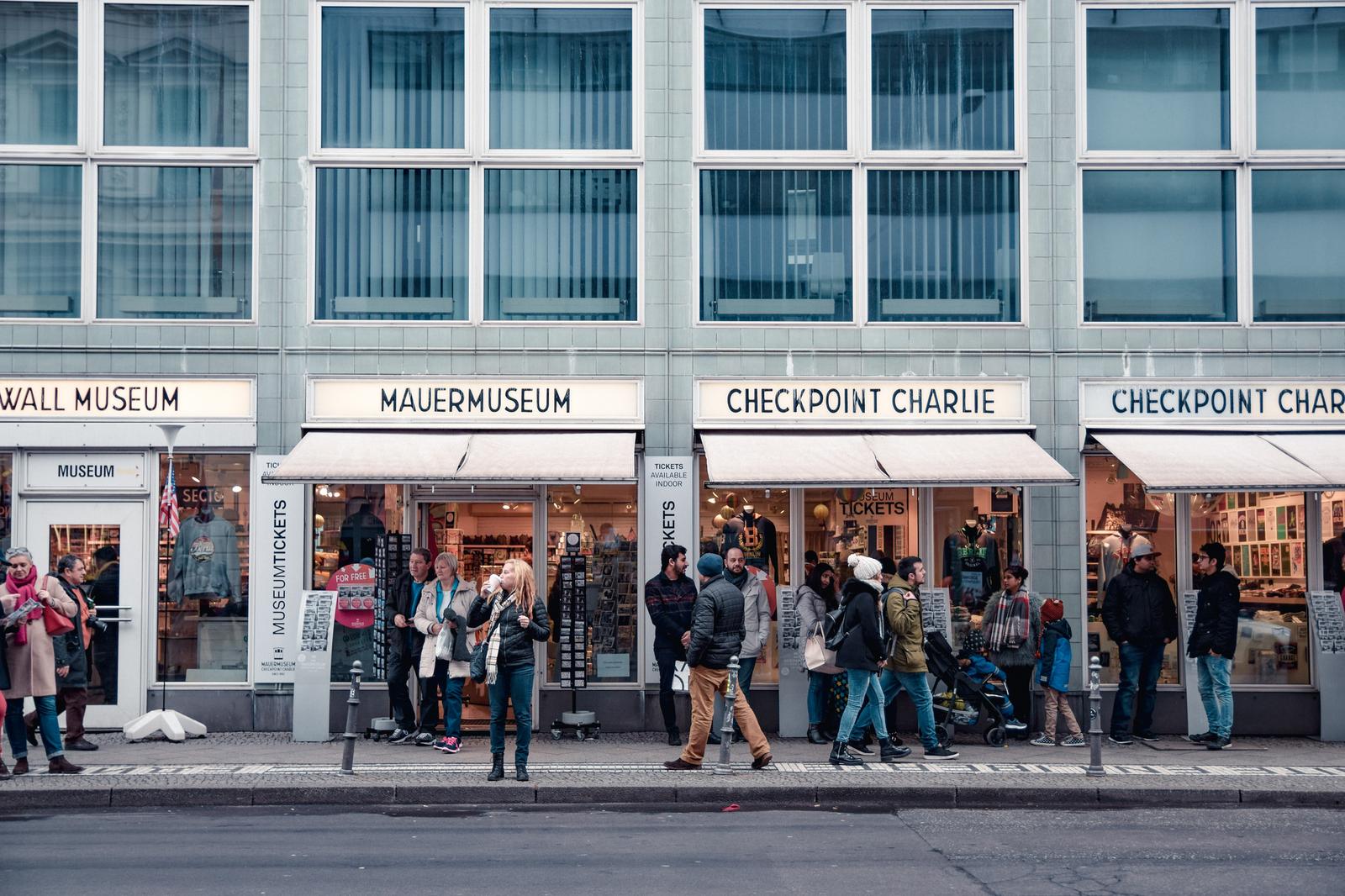 My hotel was near Checkpoint Charlie, a symbolic Cold War relic - now becoming a public-accessible site for tourists. Everyday walking to my office I could pass by this memory lane, the Friedrichstraße, from East to West Berlin, though the direction was north-south.
Because it was late afternoon when I settled all things down, I just had a quick jog to Brandenburg Gate (Brandenburger Tor).
Sorry for the fact that all the photos here look cold and blue. Because the weather was actually cold outside.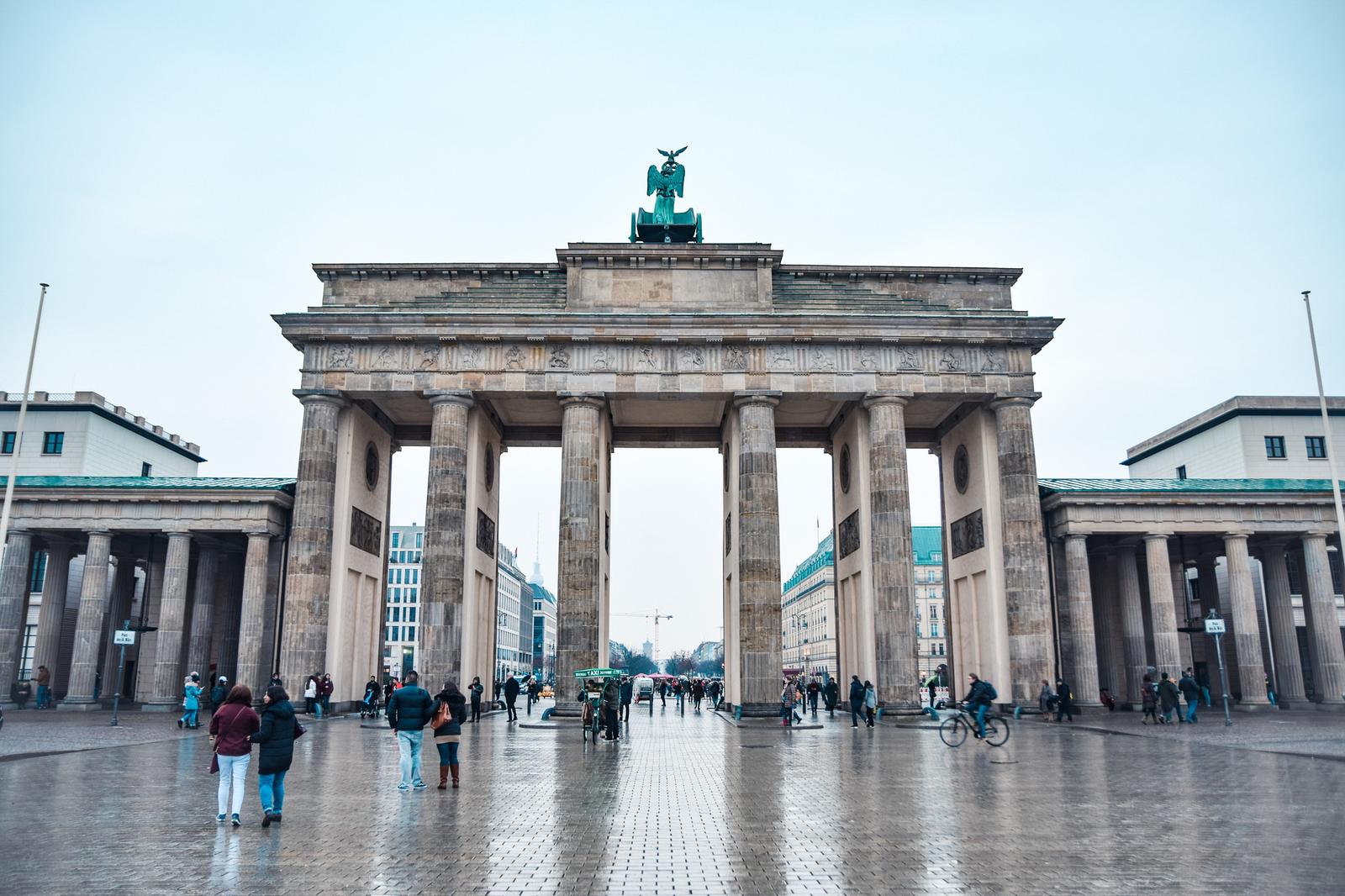 Potsdamer Platz
In a walking distance from Brandenburg sits Potsdamer Platz, a busy, modern public square with high-rise buildings (and it really has a long historical background). I came there for super-wide-angle long-exposure shots, in a drizzling rain at dusk.
The reflection effect due to wet roads played an important role in these photos, exhibiting lights in an untraditional way. It's really worth it as enduring the cold rain to setup the tripod and waiting for minutes for the camera to shutter is something I usually do in photography, called anticipation.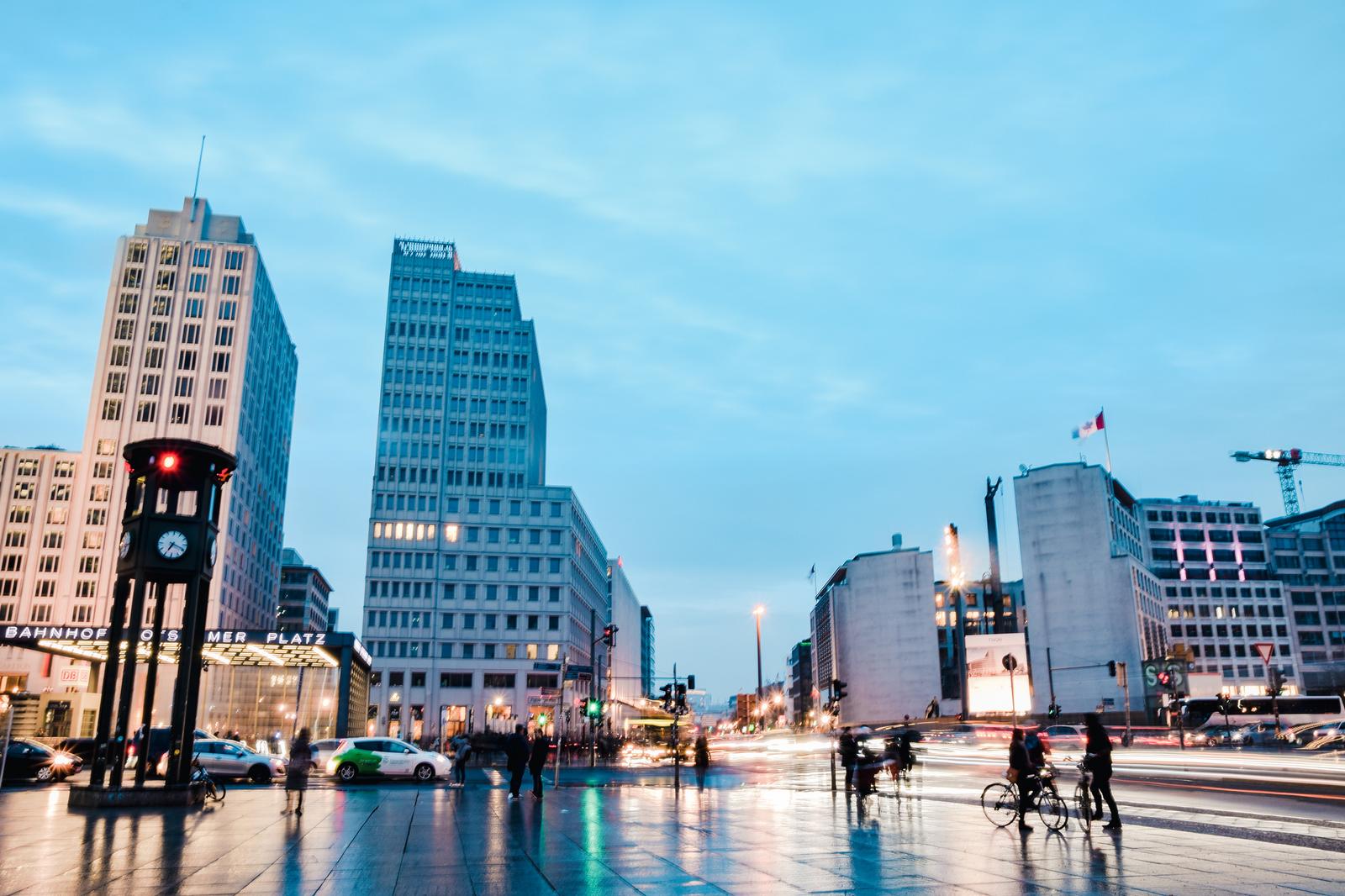 Chasing the Sun
For the whole week being in Berlin, the forecast indicated merely days of cloudy or rainy weather, which was not ideal for photography, huh?
So I took utmost advantage of the rare sunny Sunday to reach as many places as possible.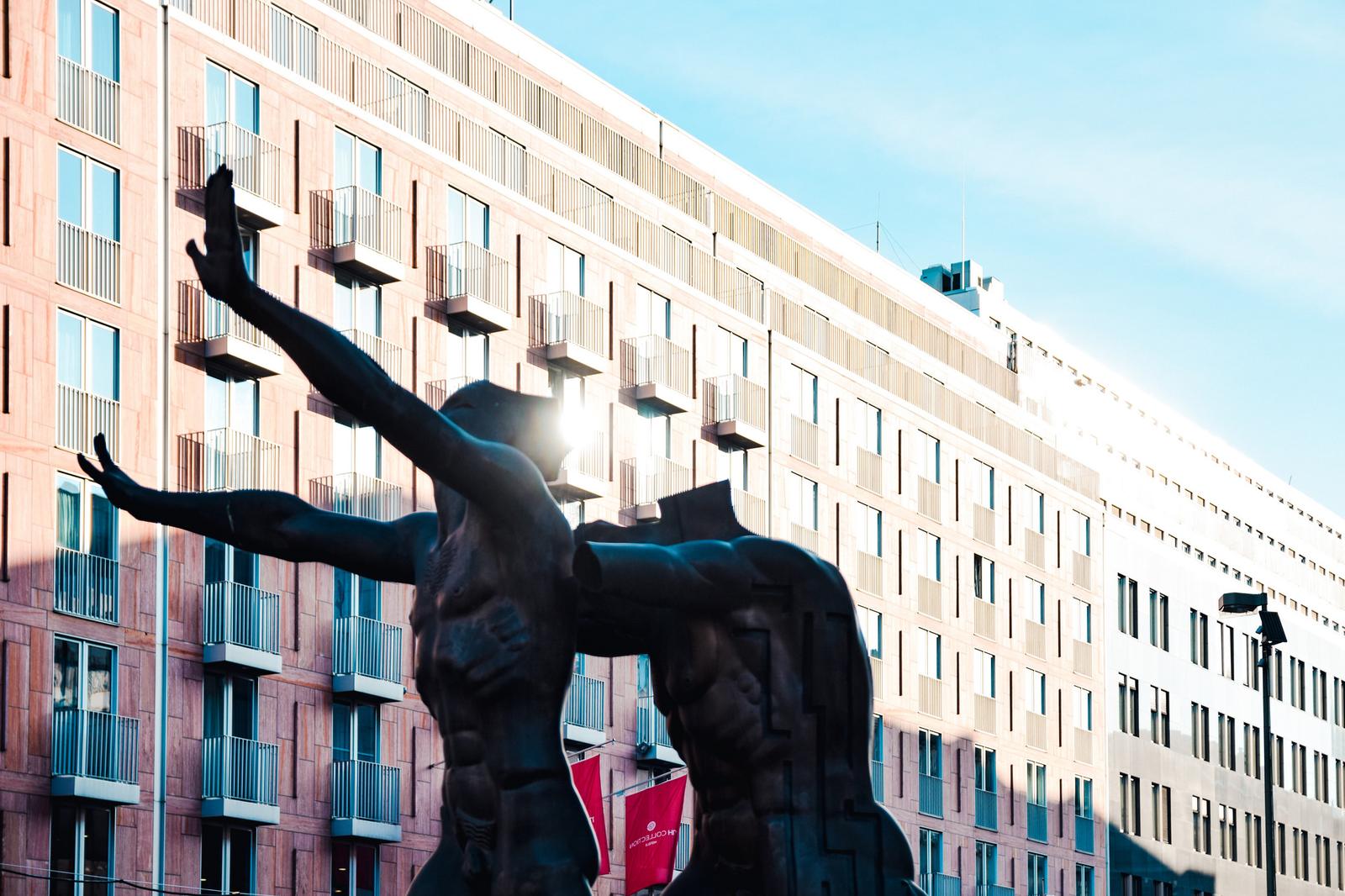 Pretty shiny close-up. And this is a photo from afar: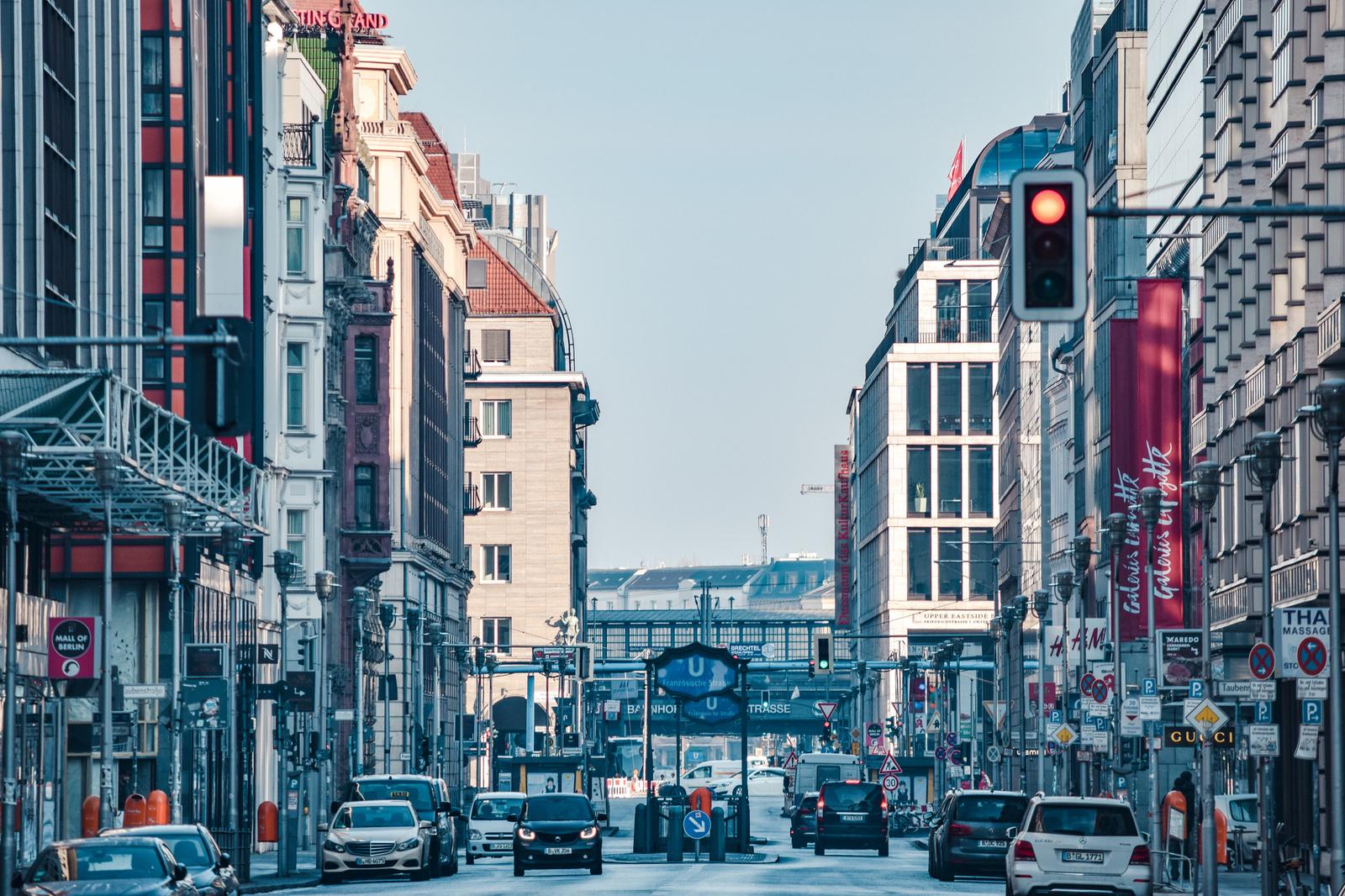 …towards Museum Island and Alexanderplatz
This area in Berlin-Mitte places a number of tourist spots, including Berliner Fernsehturm, churches such as Berliner Dom and Marienkirche, and lots of museums, that's why it's named Museum Island.
Berliner Fernsehturm, the tallest structure in Germany (368 m), is a typical landmark built from the communist East Germany era, which you can see from anywhere in the city.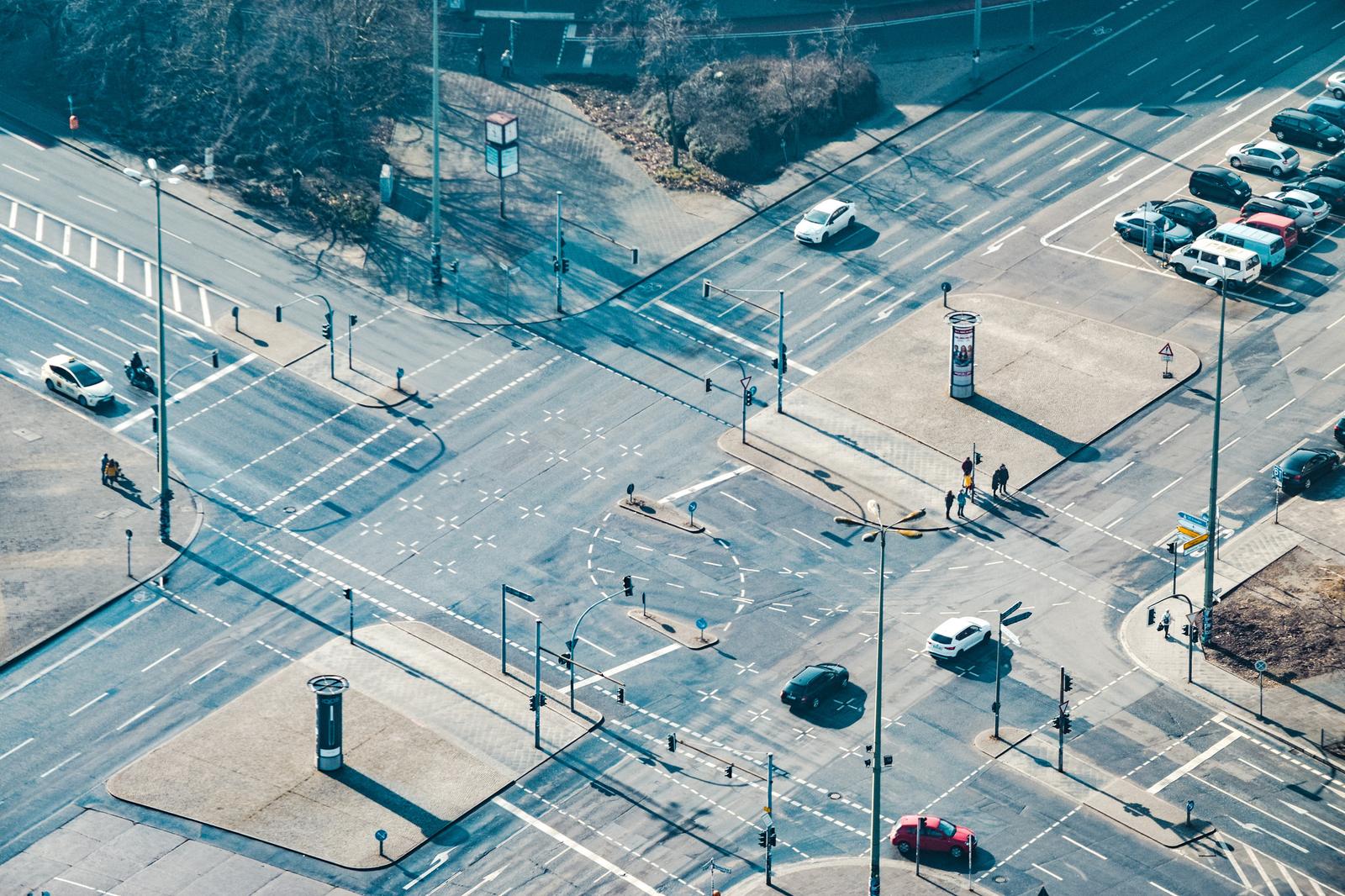 As usual when visiting a city, I took a chance to go up to the panoramic floor and overlooked the miniature cars moving down there.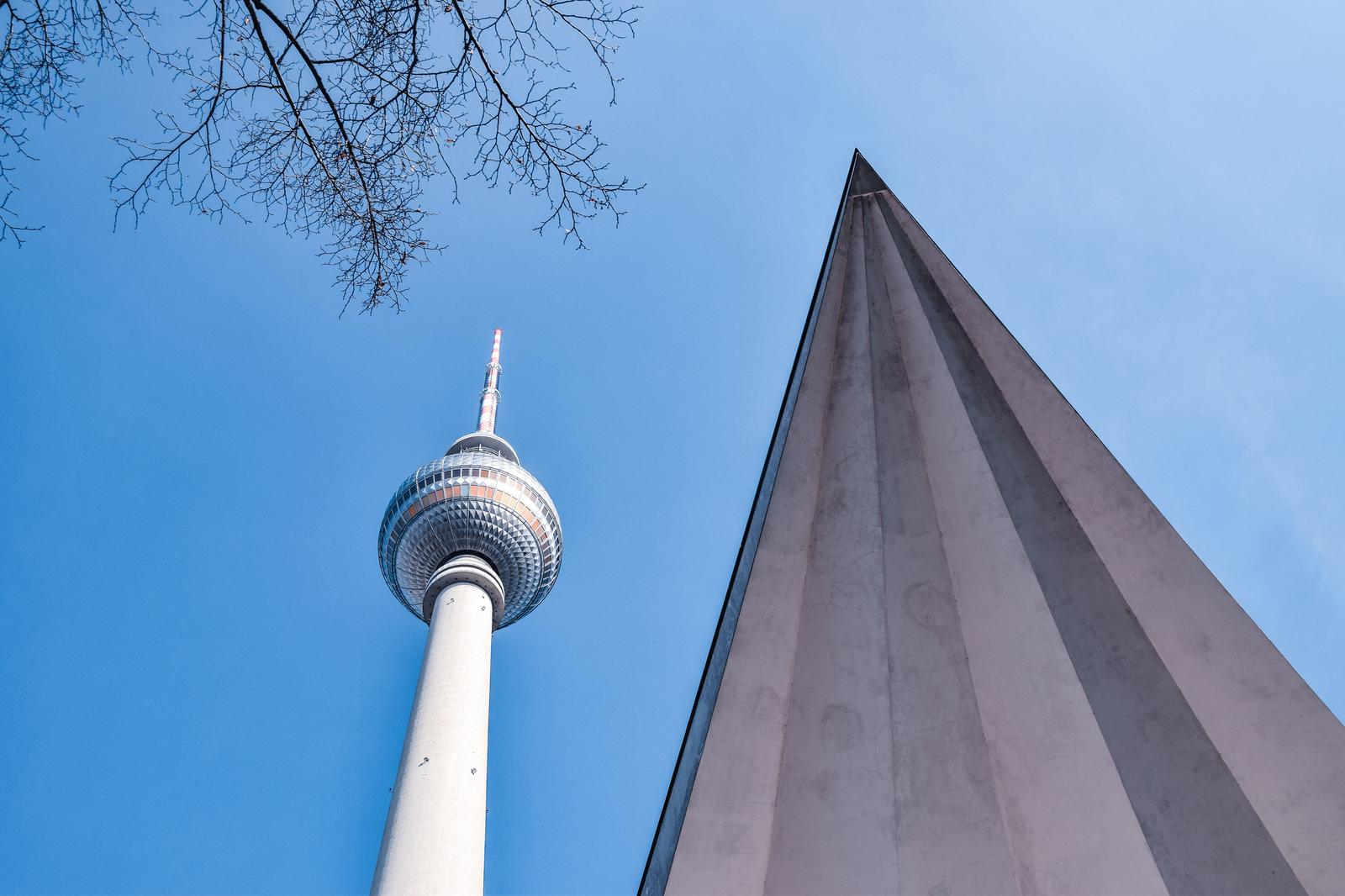 The sky was clear, which was a perfect backdrop for morning scenery photos.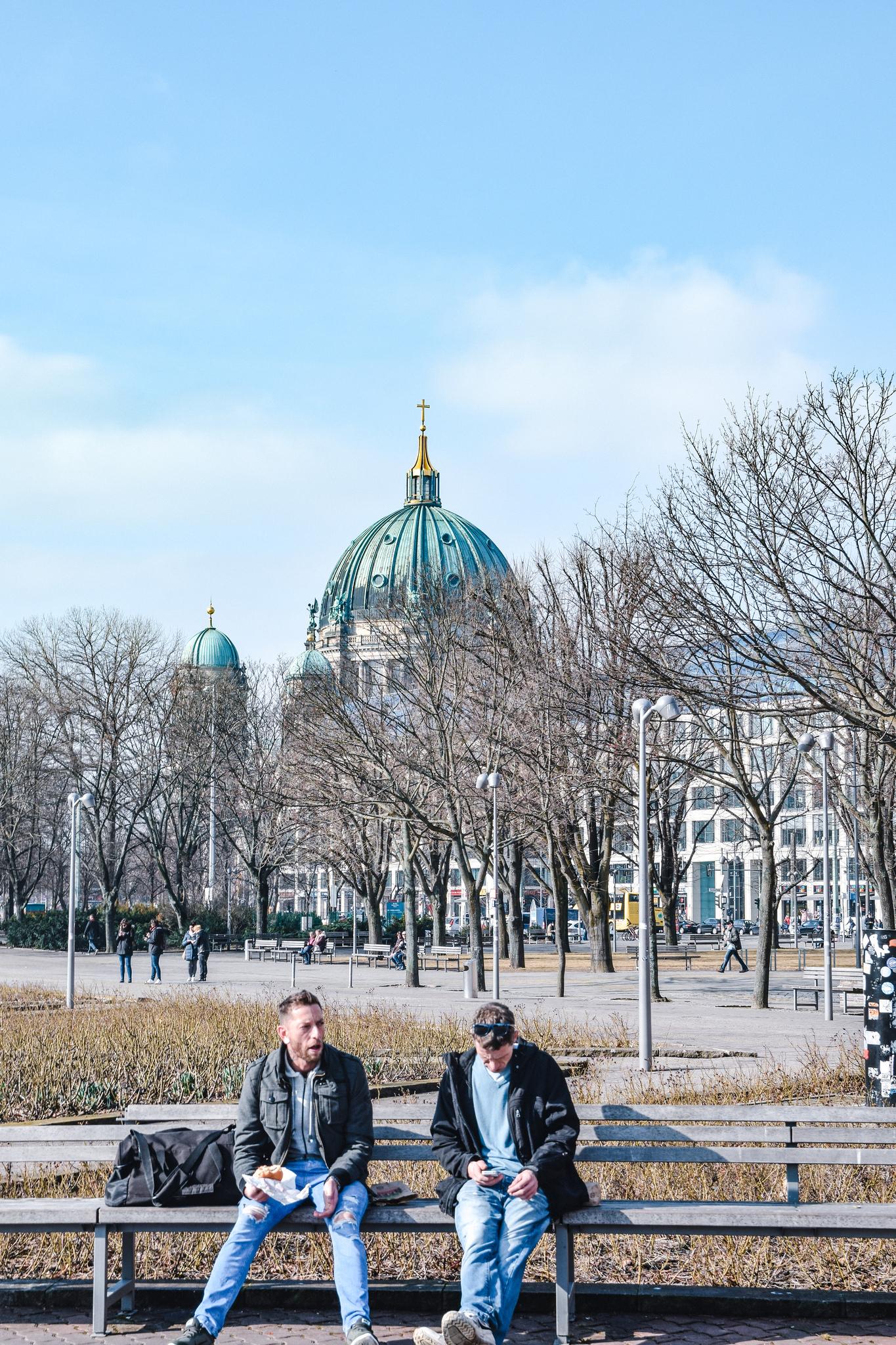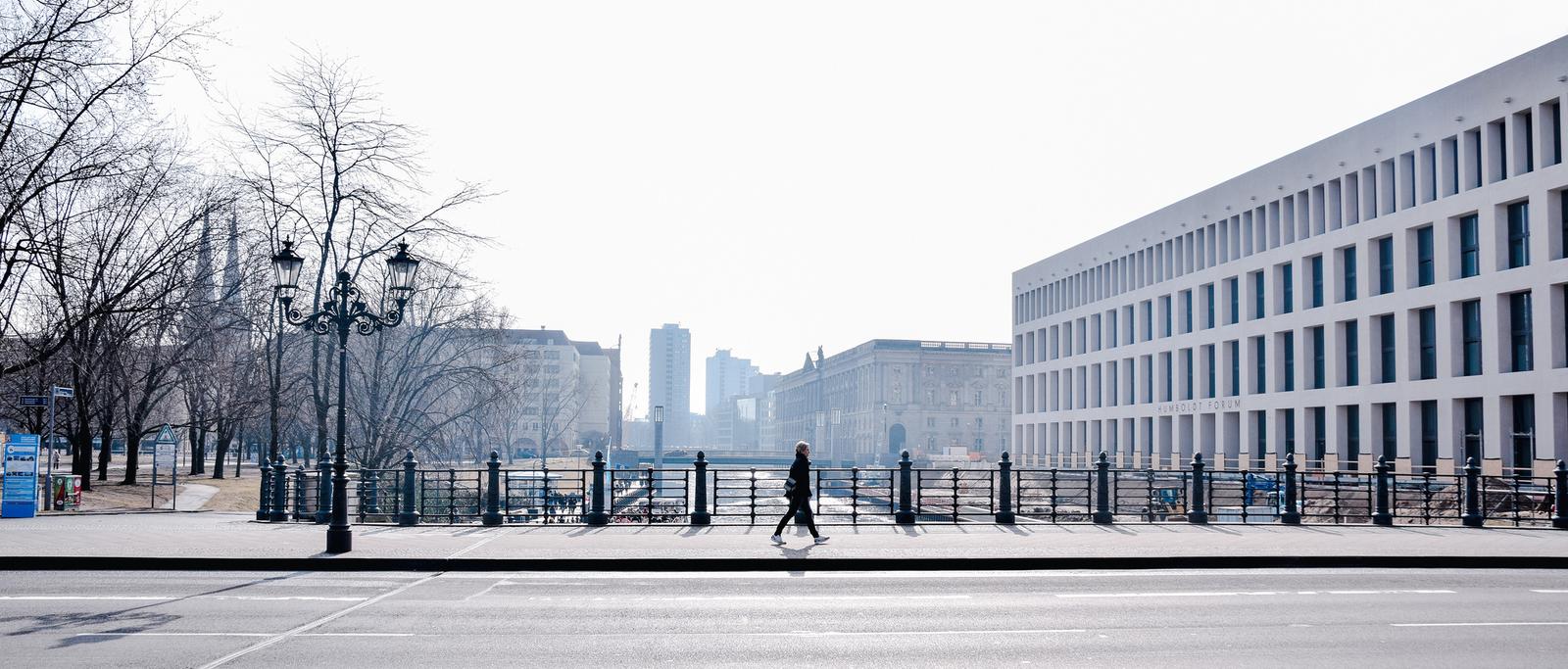 Train to Oberbaumbrücke
I often take some rest at hostel in the hours of 12pm - 3pm as taking photo in this period will not ensure good result, it will be over-exposed. So from 3pm it's the time I chase for the golden moment of the day: the magnificent sunset.
These photos would remind me of the route I took: from Stadtmitte, via Hallesches Tor and Görlitzer Bahnhof to Warschauer Straße.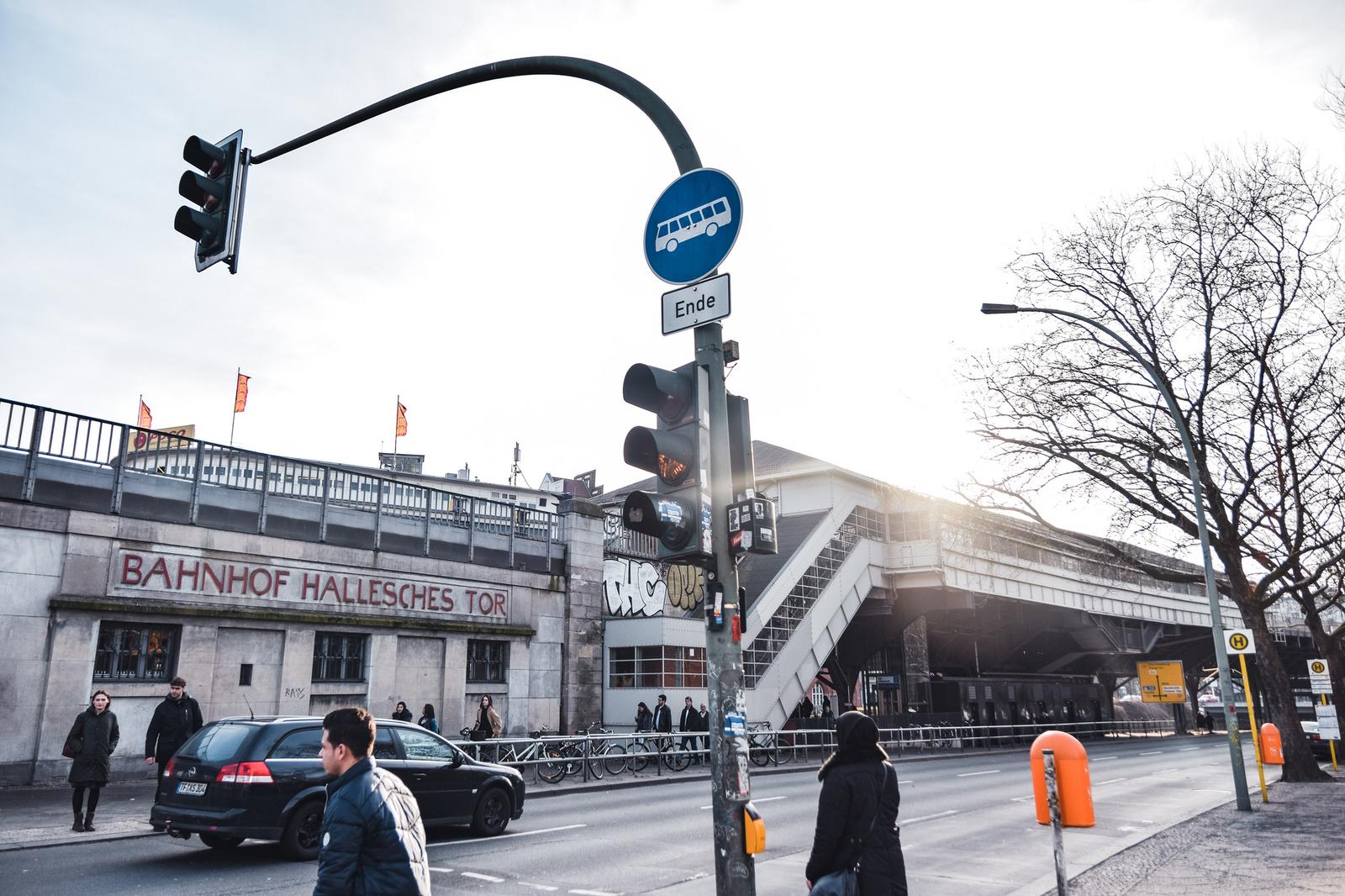 Remember the hero image on top? It came with a twin brother.
I always feel as if that moment is awaken in my consciousness.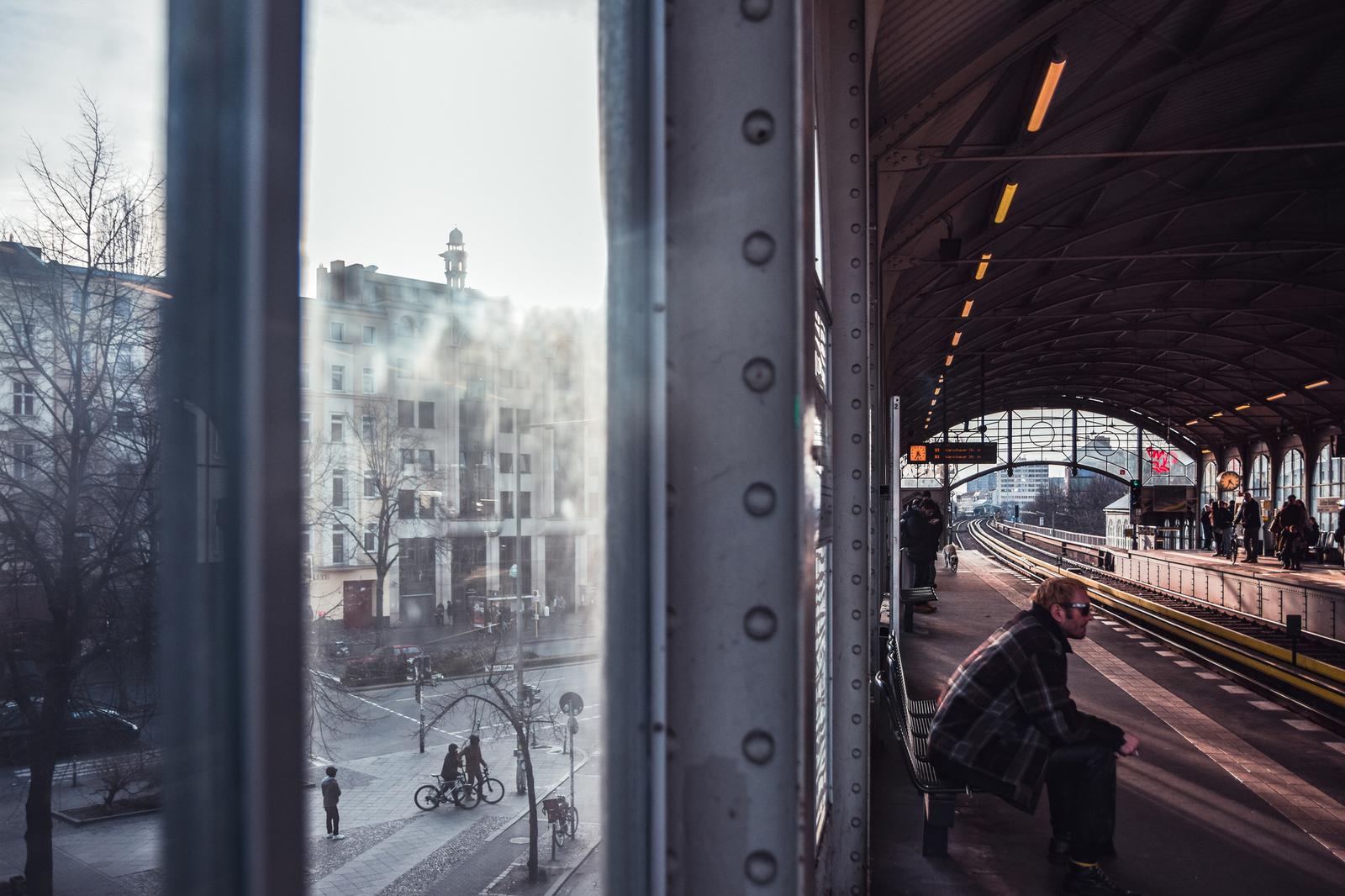 …finally I reached the Berlin Wall
If you travel to Berlin without catching a glimpse of the wall, it will be a big, very big miss.
Contrary to its notoriously bloody history, the wall - now covered by paintings, not graffitis (it's called East Side Gallery) - was really lively, with young men & women chit-chatting around, getting some beers, and anticipating sunset like me?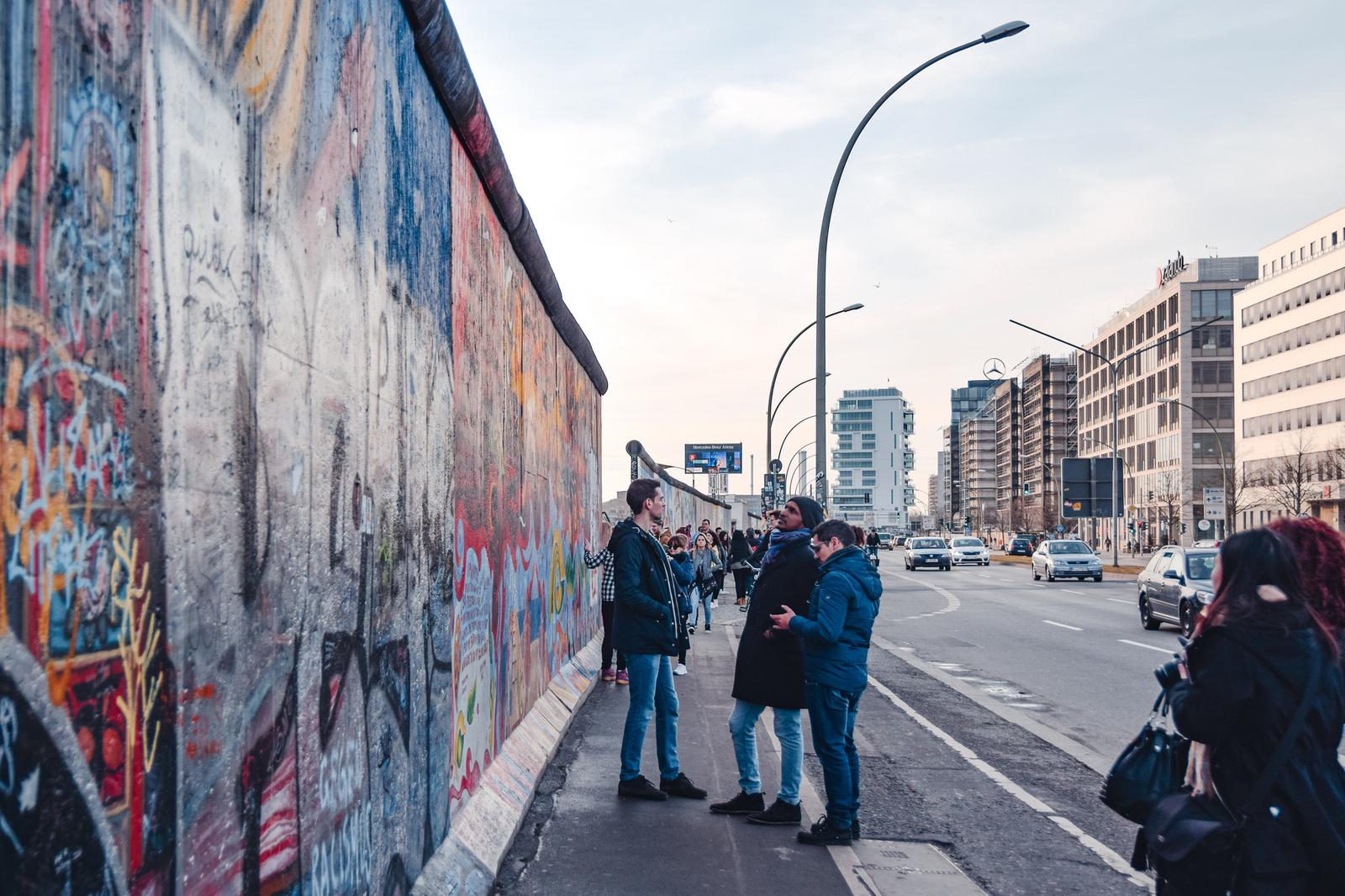 The remnant of Berlin Wall stretches alongside Spree River, so get there first, then take a stroll from East Side Gallery to Elsenbrücke, where you can see the Molecule Man sculpture atop the river.
And not missing the double-deck Oberbaumbrücke, a landmark that bridges the two neighborhoods once divided by the Berlin Wall.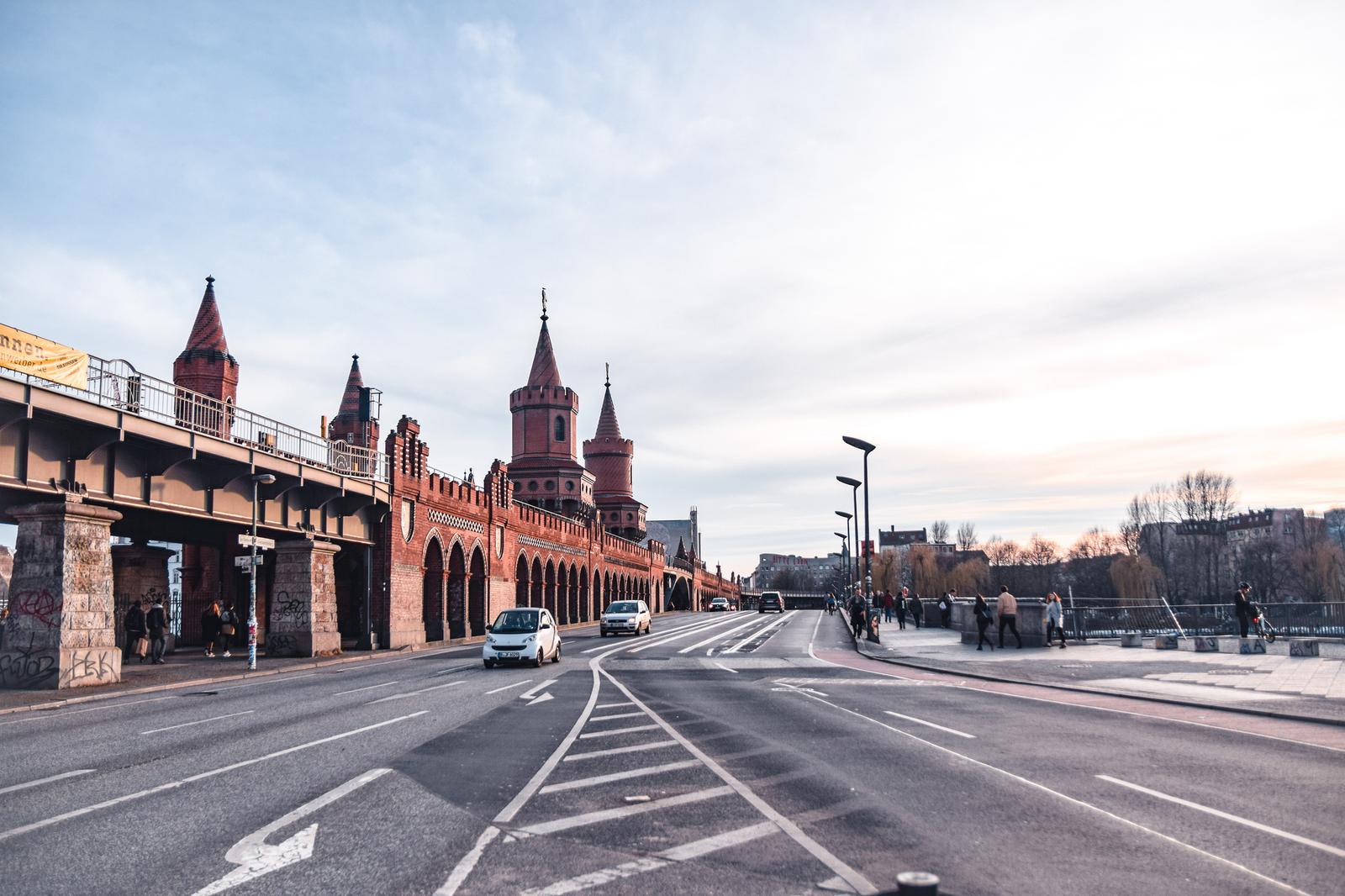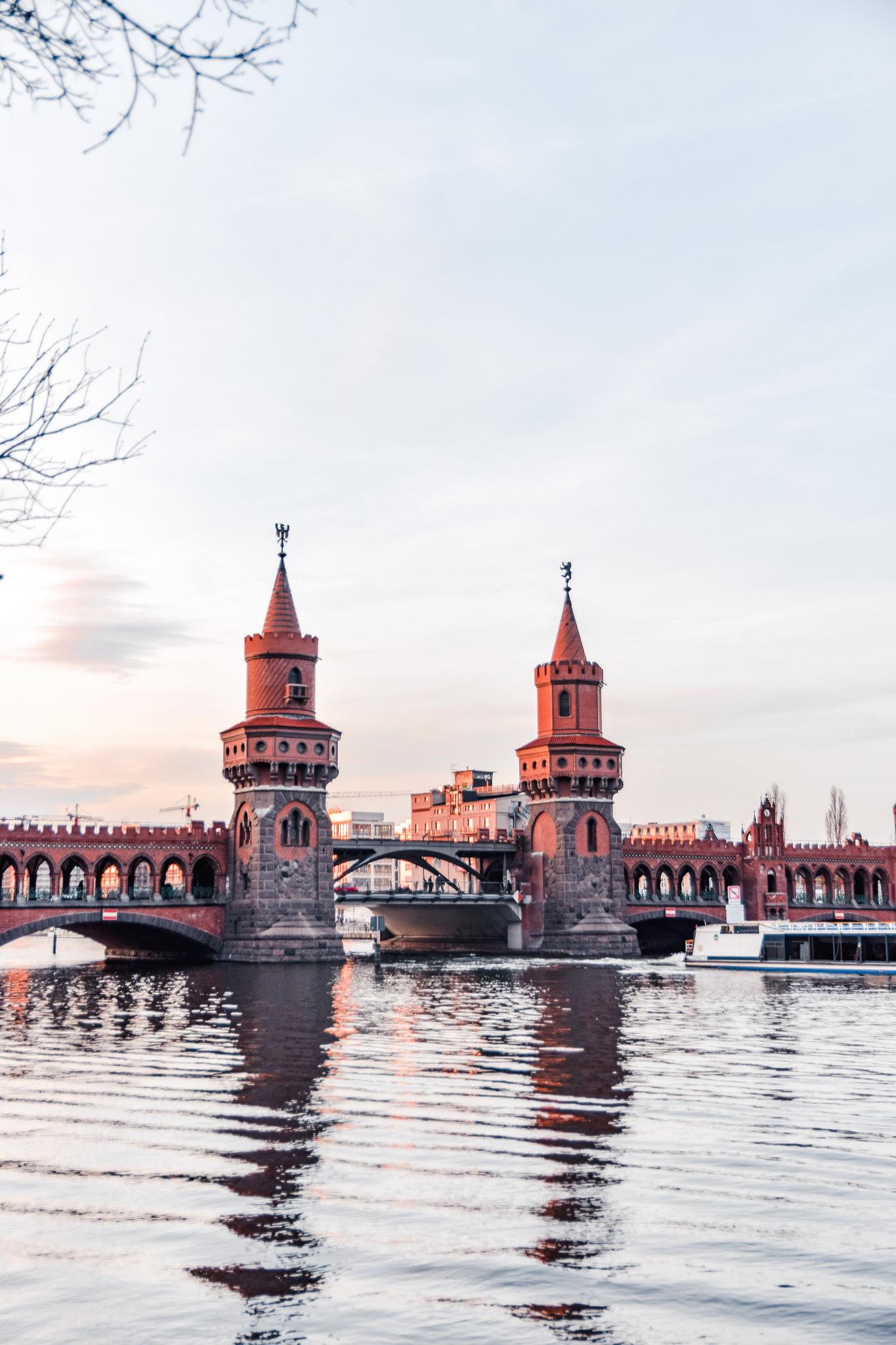 The Working Days
There was no free time for me to go around Berlin on those days, but I realized I could spend time on a specific photography theme: night street.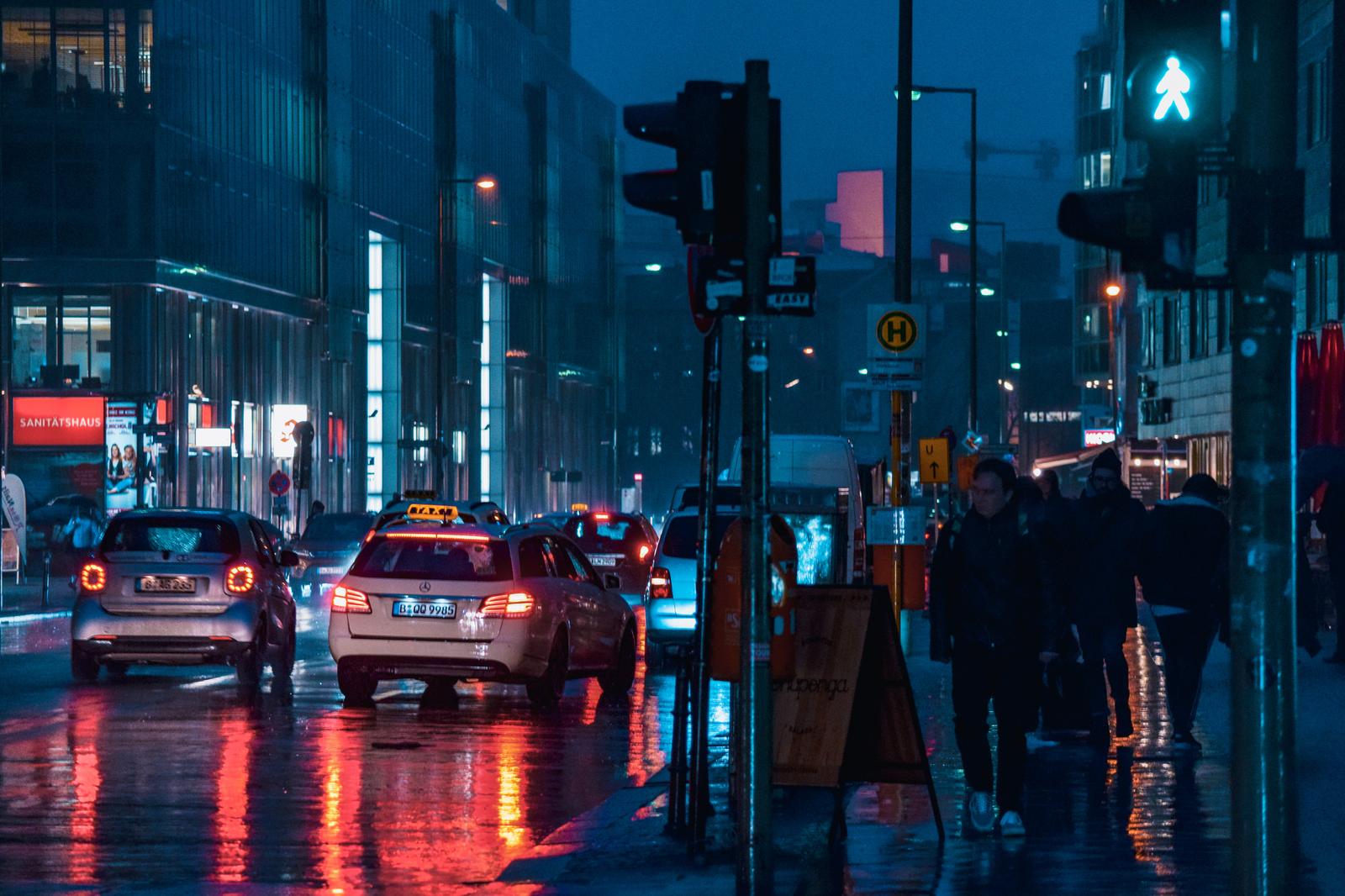 A perfect arrangement! Neon lights, water reflection, umbrellas and walking people. But helping me the most was my long-focus lens, which enabled capturing in-street frames. You don't risk yourself standing right into the vehicle lanes, just stand on the walkway and zoom into the scene.
I forgot to include a photo from Checkpoint Charlie, and here is one: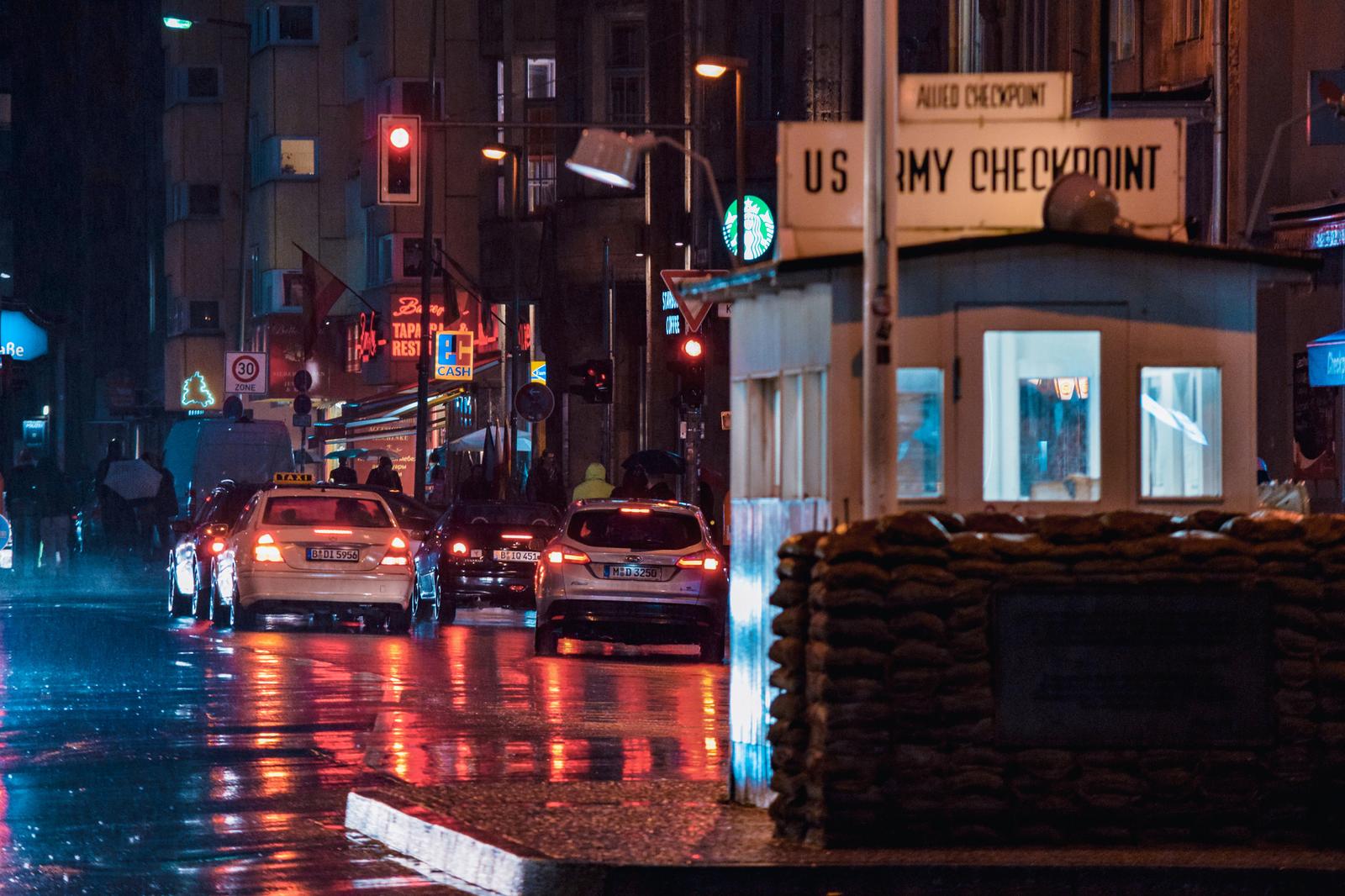 The streets were Rudi-Dutschke-Straße, Charlottenstraße, Friedrichstraße, Zimmerstraße and Mauerstraße, for recording purpose.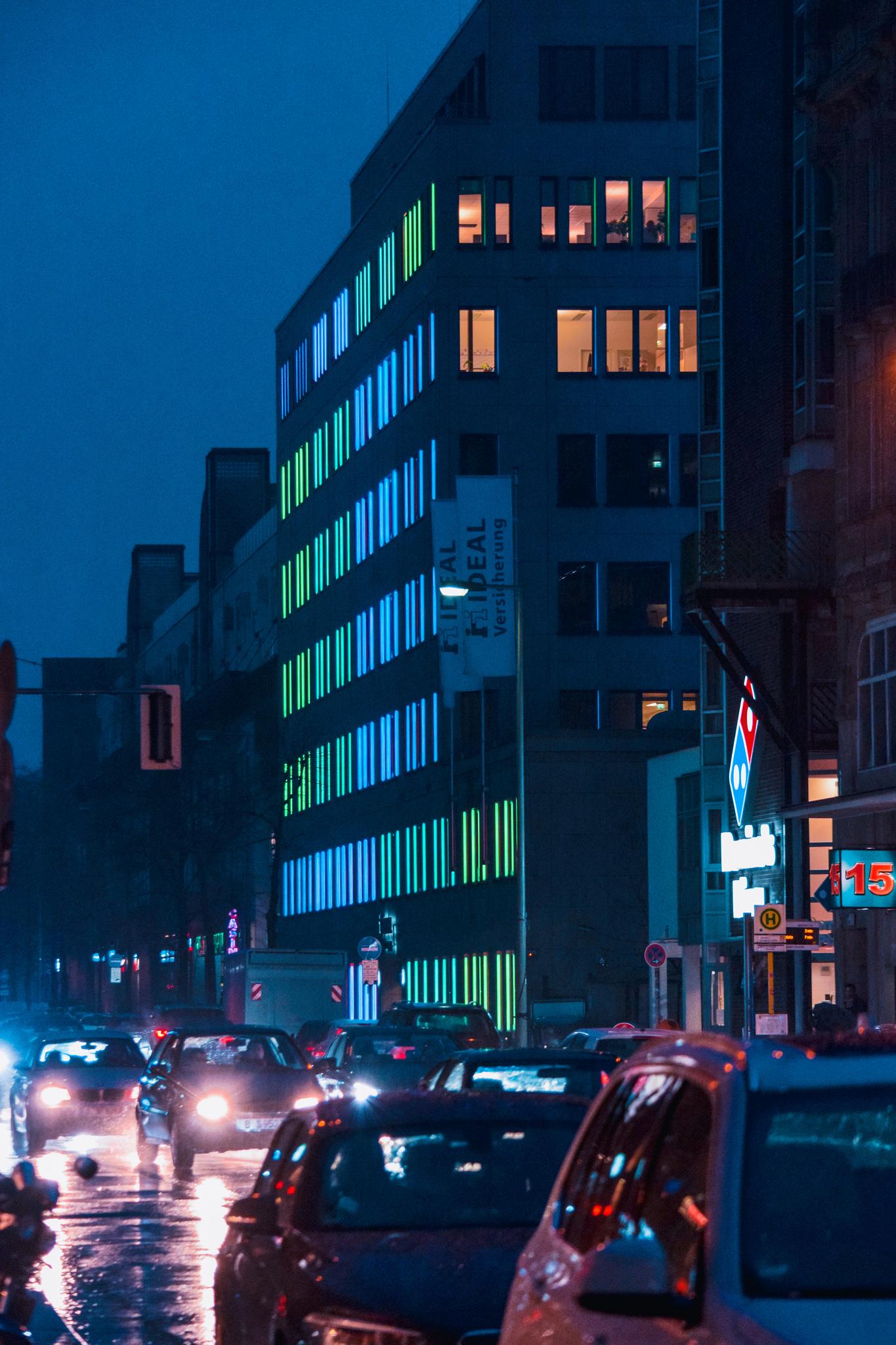 But whilst I was being fascinated by the night streets, it became noticeable to me that walking in the rain under the own umbrella was a typical representation of loneliness.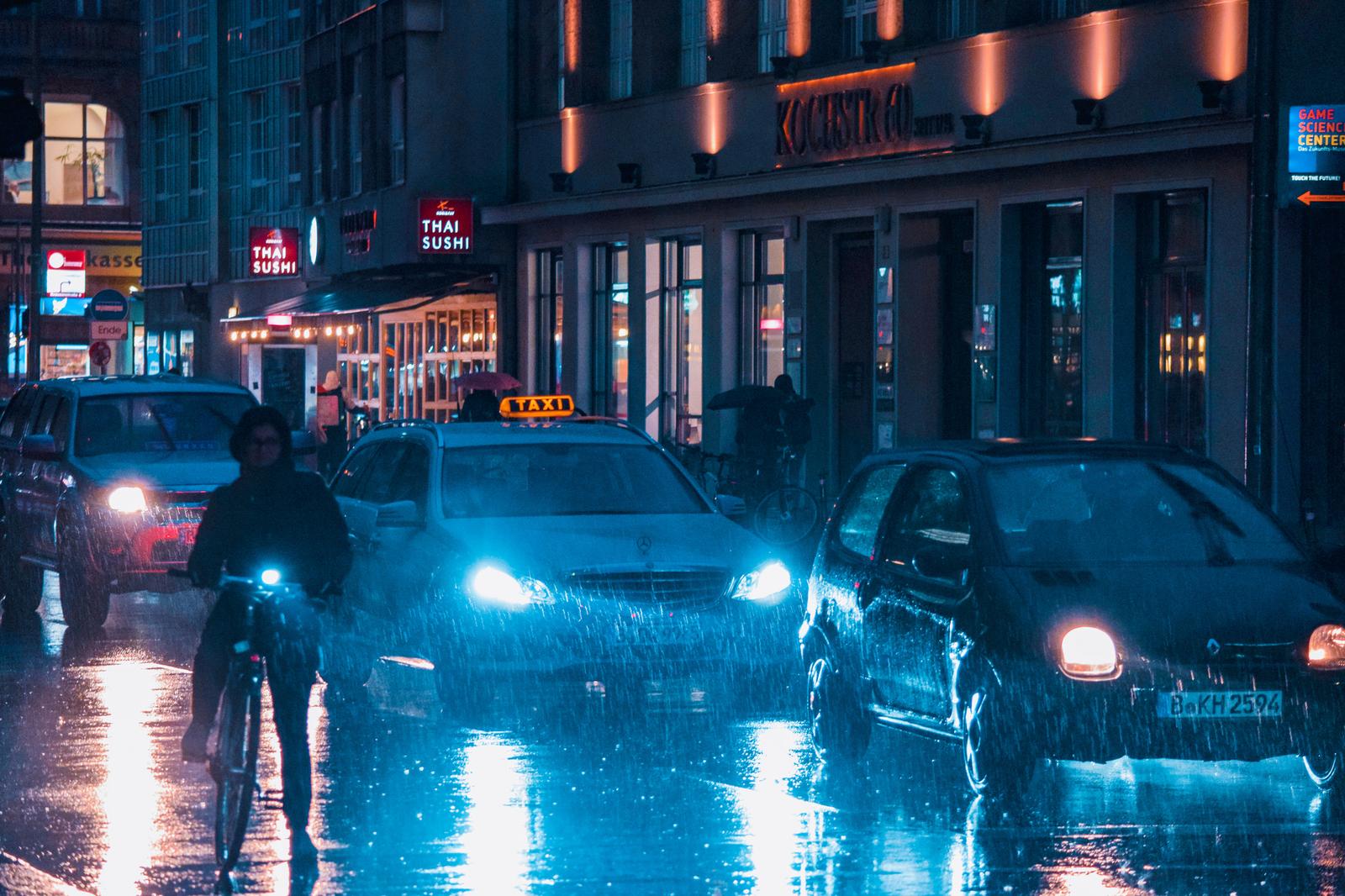 Holocaust Memorial
The last working day when the tasks were cleared, I could get out of the office before dusk, thus visiting Memorial to the Murdered Jews of Europe was not a bad choice, it's just next to Brandenburg Gate.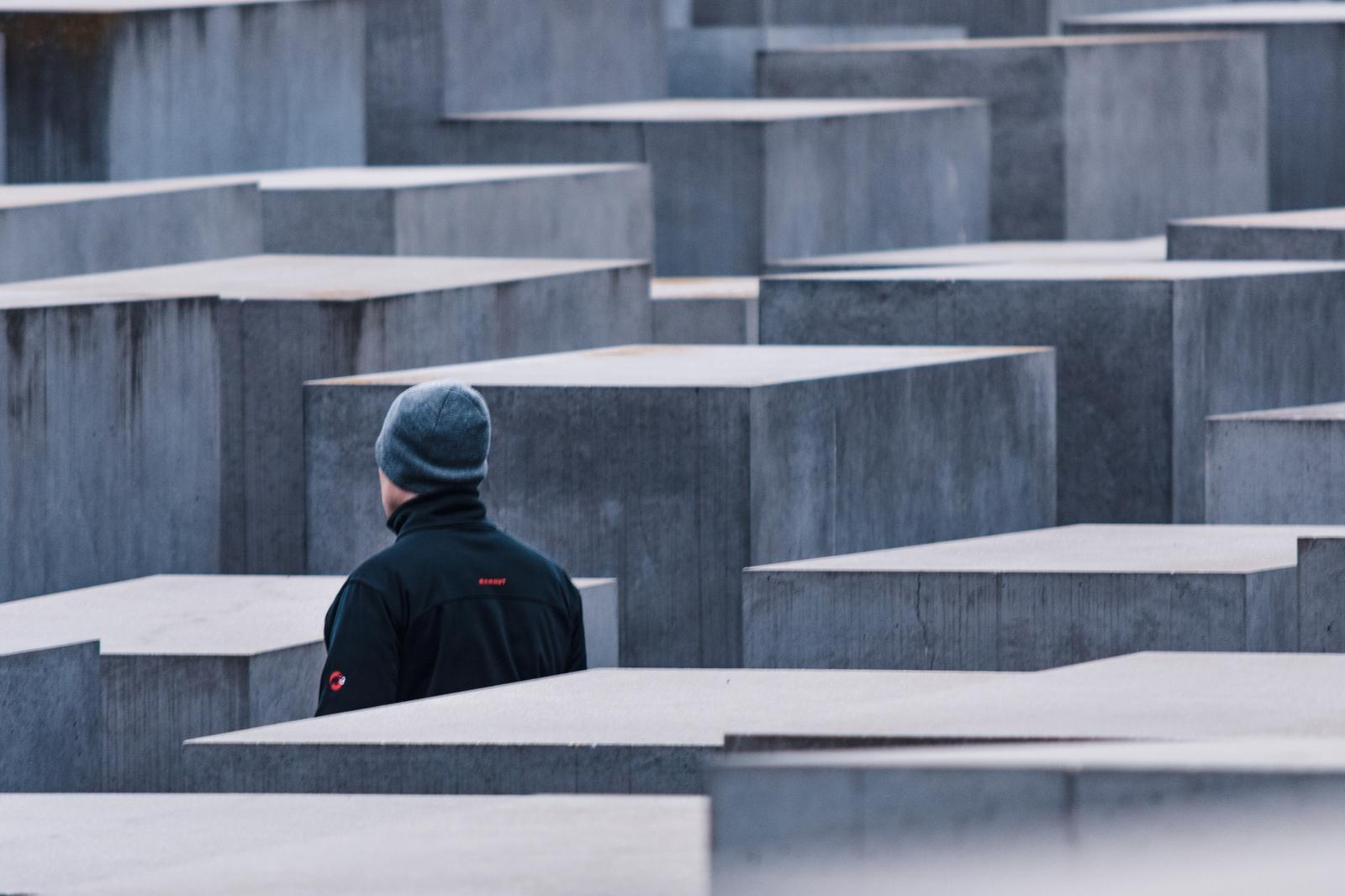 The gray stone stelae blended with cold cloudy ambience might depict the best picture of its meaning: despair and loneliness. Once entered the labyrinthine paths, you can only direct your eyes in 5 directions, NESW and upward. The massive blocks bear resemblance to the tombstones, isolating inside visitors from the busy street outside.
Last Day in Berlin
The day it reached -5°C but sunny, which was my lowest temperature experience. It was OK as long as there were no rain or wind.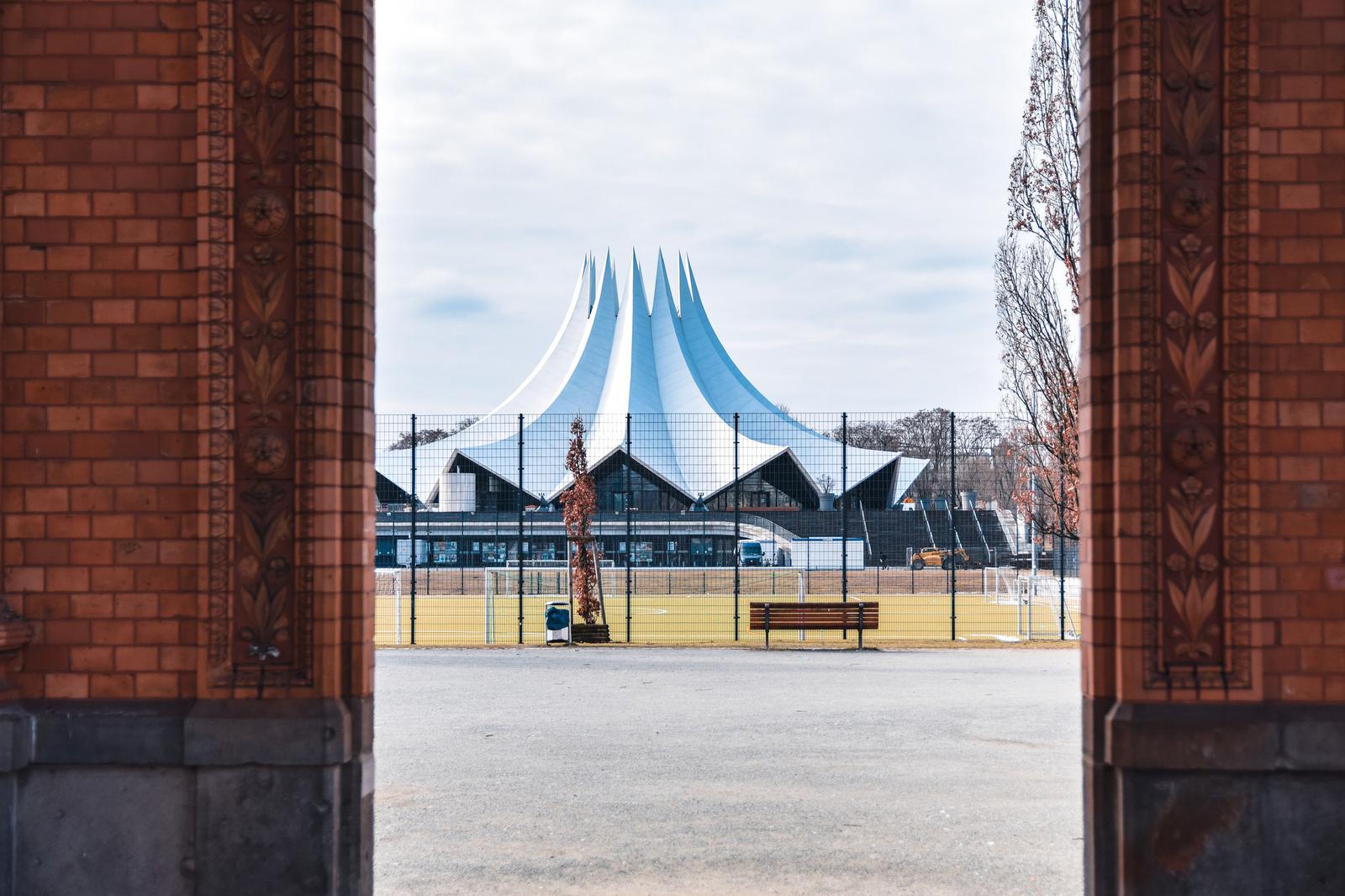 Just walking without any marked destination. Teufelsberg had been among my checklist items, but seemed challenging as I would need to leave for the airport early. So I chose Anhalter Bahnhof, a large open public site where Tempodrom could be seen, and where the central façade portion of the notorious former railway terminus still remained.
And I would conclude this post with one of my most memorable photos throughout the trip, a man sitting in front of Anhalter Bahnhof.