The trip on train back from Meteora to Athens, and departing to Santorini on ferry right on the day after has still been my most memorably agonizing journey ever. Affected by the cold fever caught in Meteora, with the empty stomach when reached Athens and spending 8 hours floating on the sea when the dry hot weather was awaiting at the end, could have not been any more challenging.
On the Ferry
I had booked the Blue Star Ferries ticket departing from Athens Piraeus at 7:25, passing through Paros, Naxos, Ios and arriving in Santorini at 14:55. All those Greek islands on Aegean Sea are sharing the same characteristic: white houses with blue roof top are built on top of arid rocky lands. They all deserve to be visited though, and to some extent, you may avoid the tourist crowd when discovering these lesser known islands.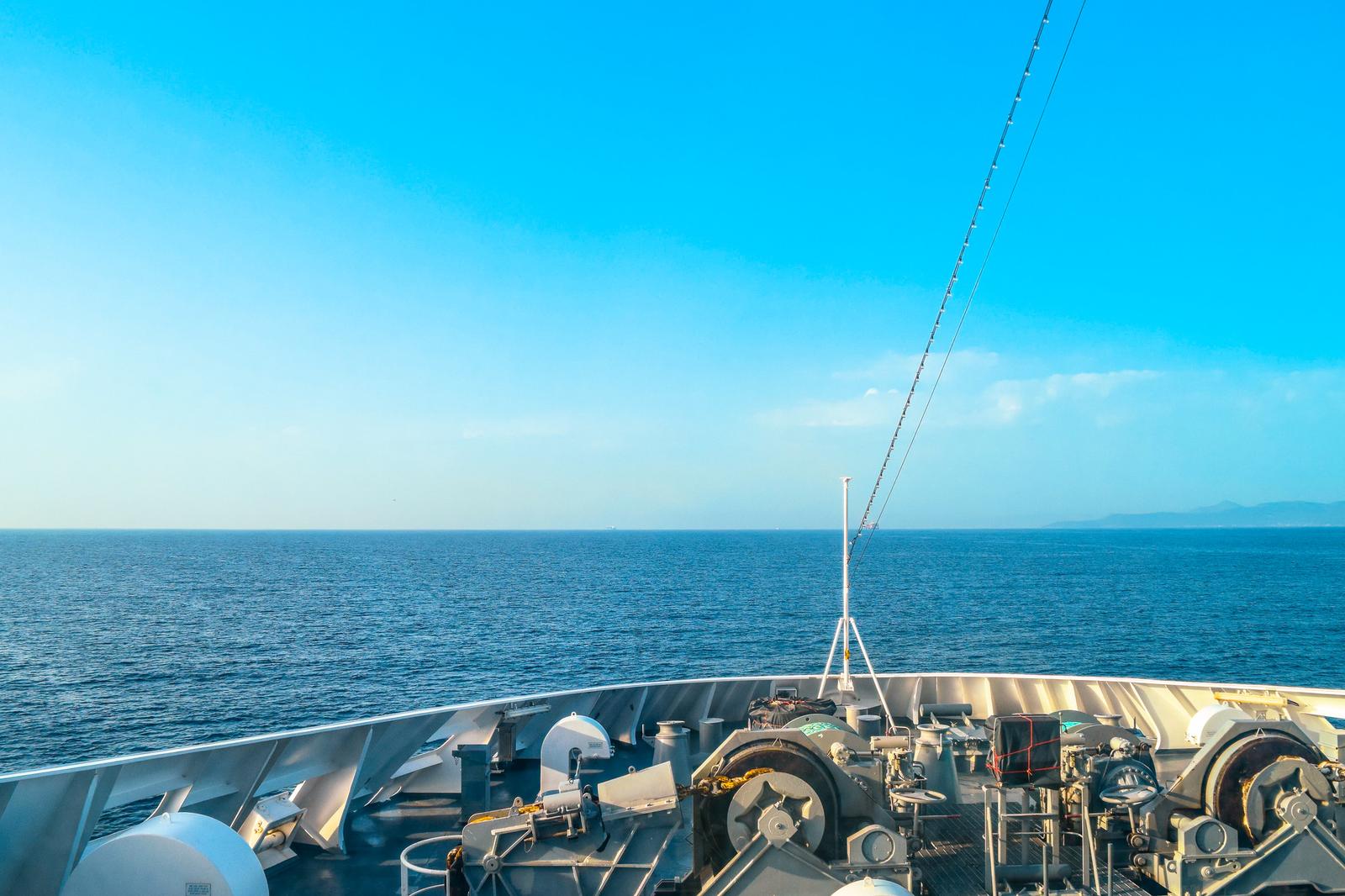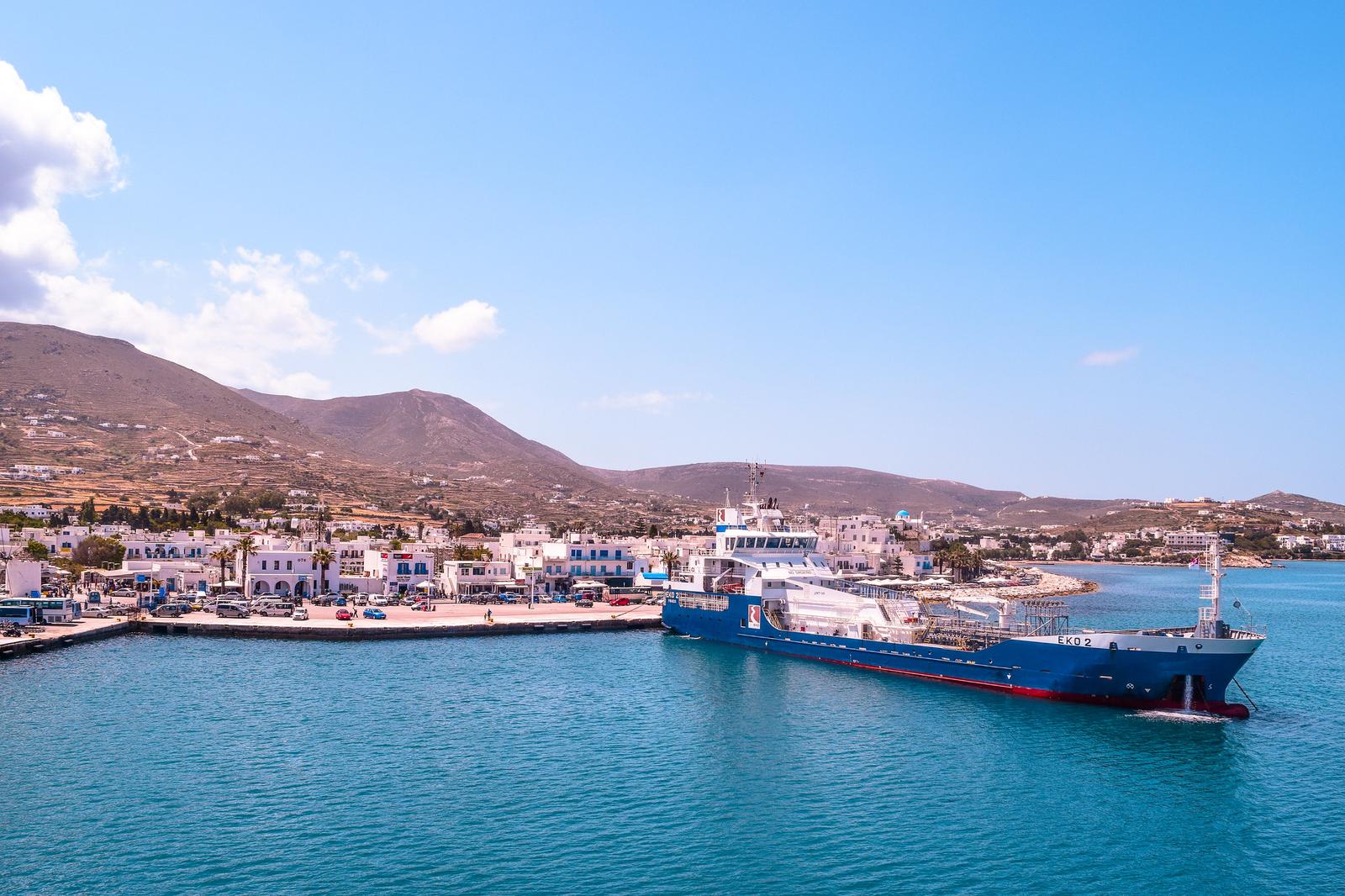 The Mediterranean is particularly calm without huge breaking waves, and voyaging there is as if doing it on a giant lake. Indeed I was physically relieved while enjoying the facilities on the ferry, just grabbing some snacks and tasting the sea breeze.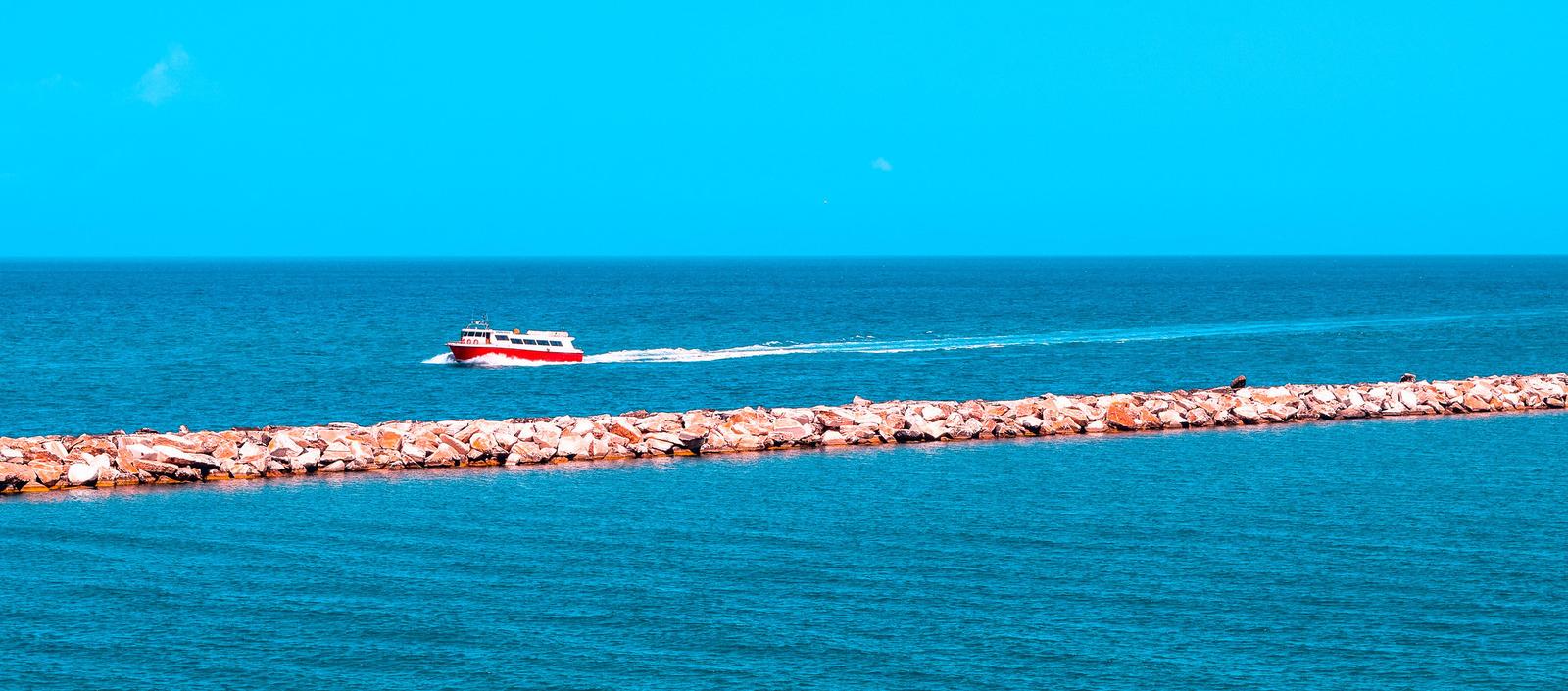 The First Sight of Fira
My hostel was located at Karterádos so driving from Athinios terminal port to my place was not as far as to Fira or Oia. However, being a solo backpacker meant I needed to wait for the taxi to fill up all its seats with other travelers before really departing to the Santorini villages uphill.
Still being affected by the caught cold, and then beaten by Santorini's formidable sun, my situation was aggravated when the host switched my booked room to another unknown house where I would spend a whole night sleeping alone in that spacious shelter. Sounds like a deal, huh? Absolutely not, as rolling my luggage around in a remote area without any support lowered my eagerness to explore this island a bit.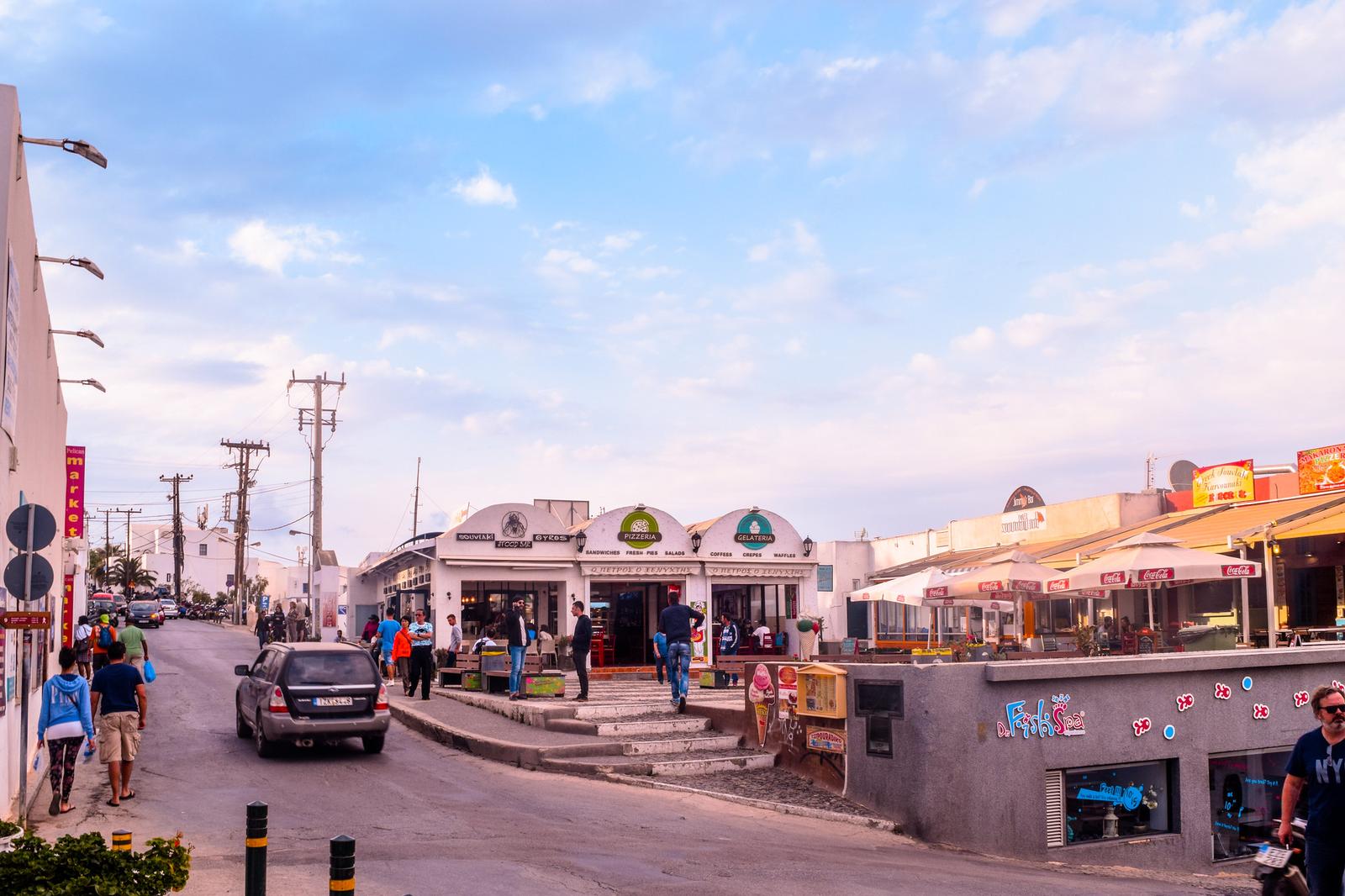 Oia Night
So the first thing to do? Heading towards Oia to catch its famous sunset but the stormy weather only permitted me to capture the magical night scene, still as gorgeous as what I had heard of. You should have seen this kind of photos somewhere, sometime: the windmill, the Greece flag and the blue-domed church.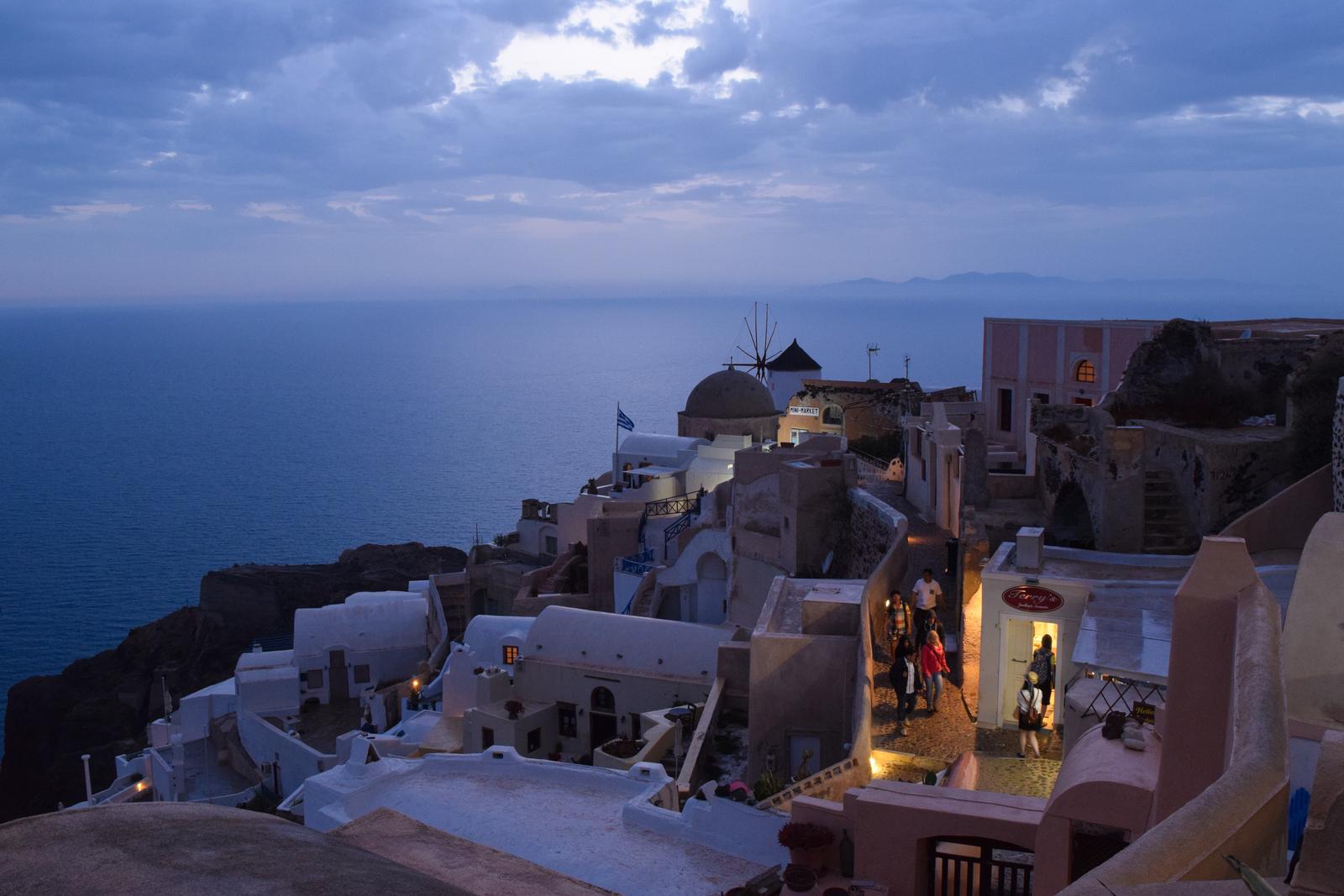 Like candles in the boundless night, the houses then illuminated parts of the sea darkness, painting the perfect picture of natural and manmade beauty dancing together.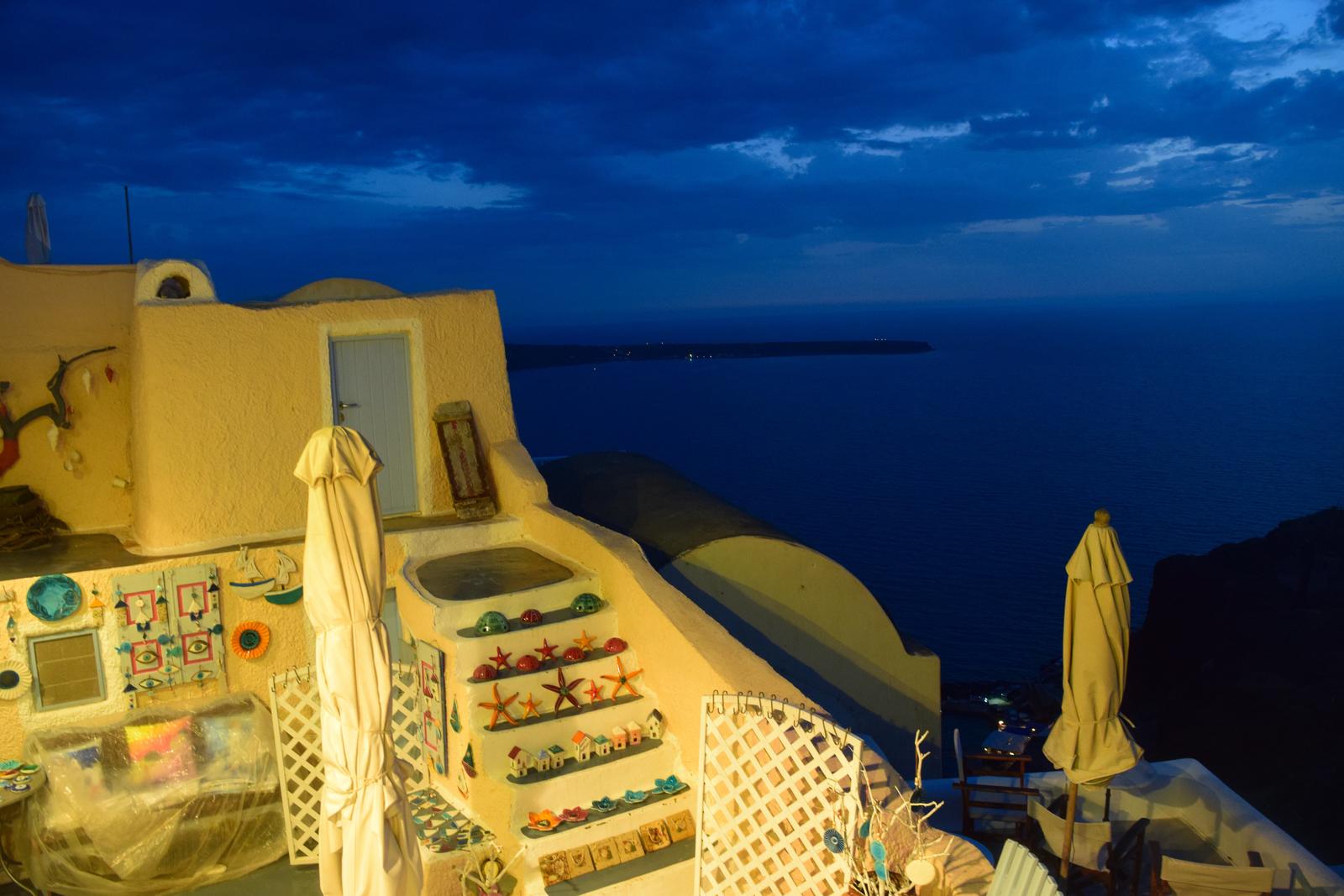 Imerovigli
If you want to see something that really appears on the postcards, head out to Imerovigli - just about north of Fira - the luxurious touristy village which offers 5-star restaurants and hotels; but all those paved paths are open for everyone to play hide-and-seek and thread through the off-beaten tracks.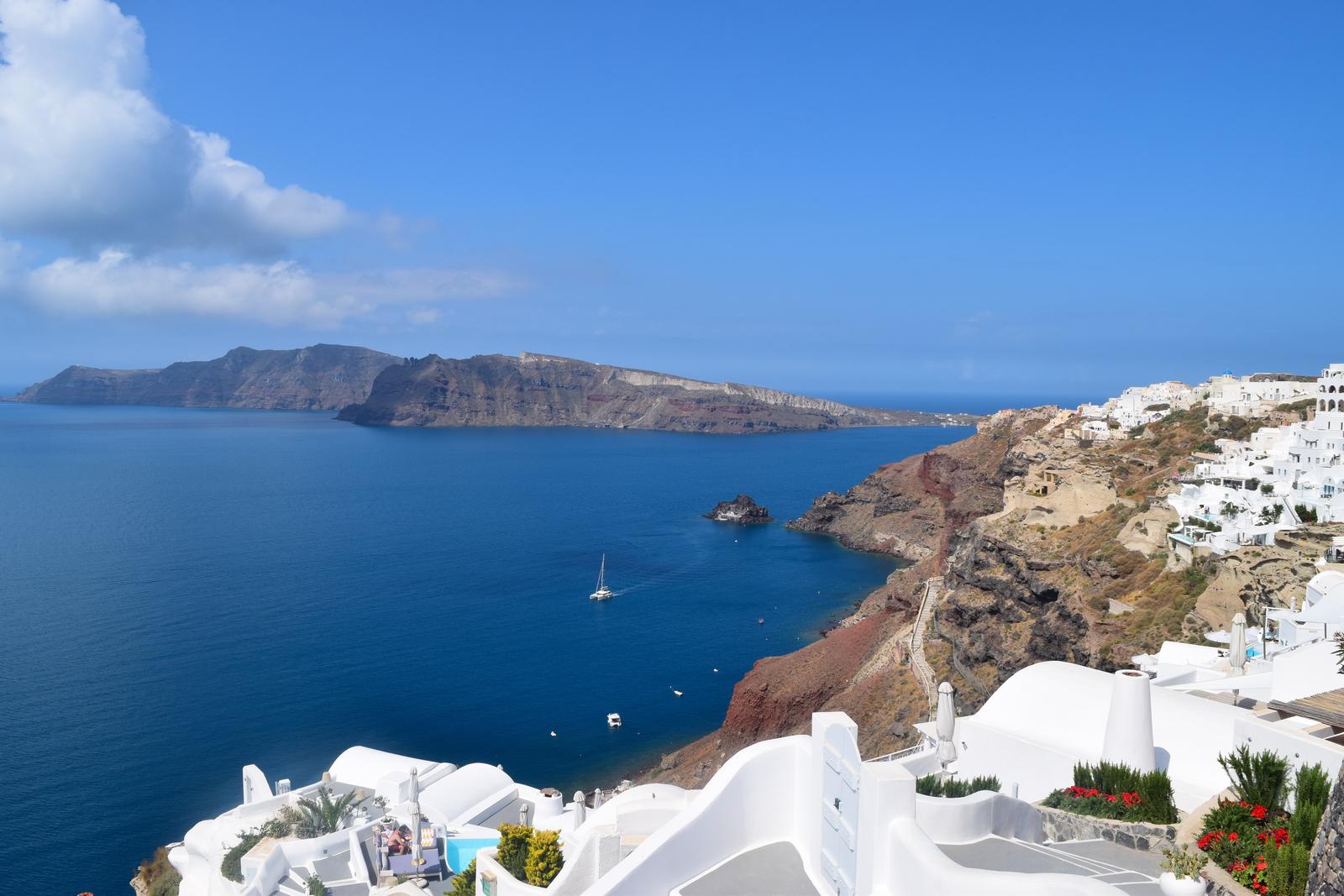 The maze-like staircases woven in between the houses hung onto the cliff provide an excellent opportunity for anyone to become models and photographers, as they are so picturesque to every single bit. I must say no other color can present a better combination with white than this navy blue, making up a perfect background for any OOTD concept.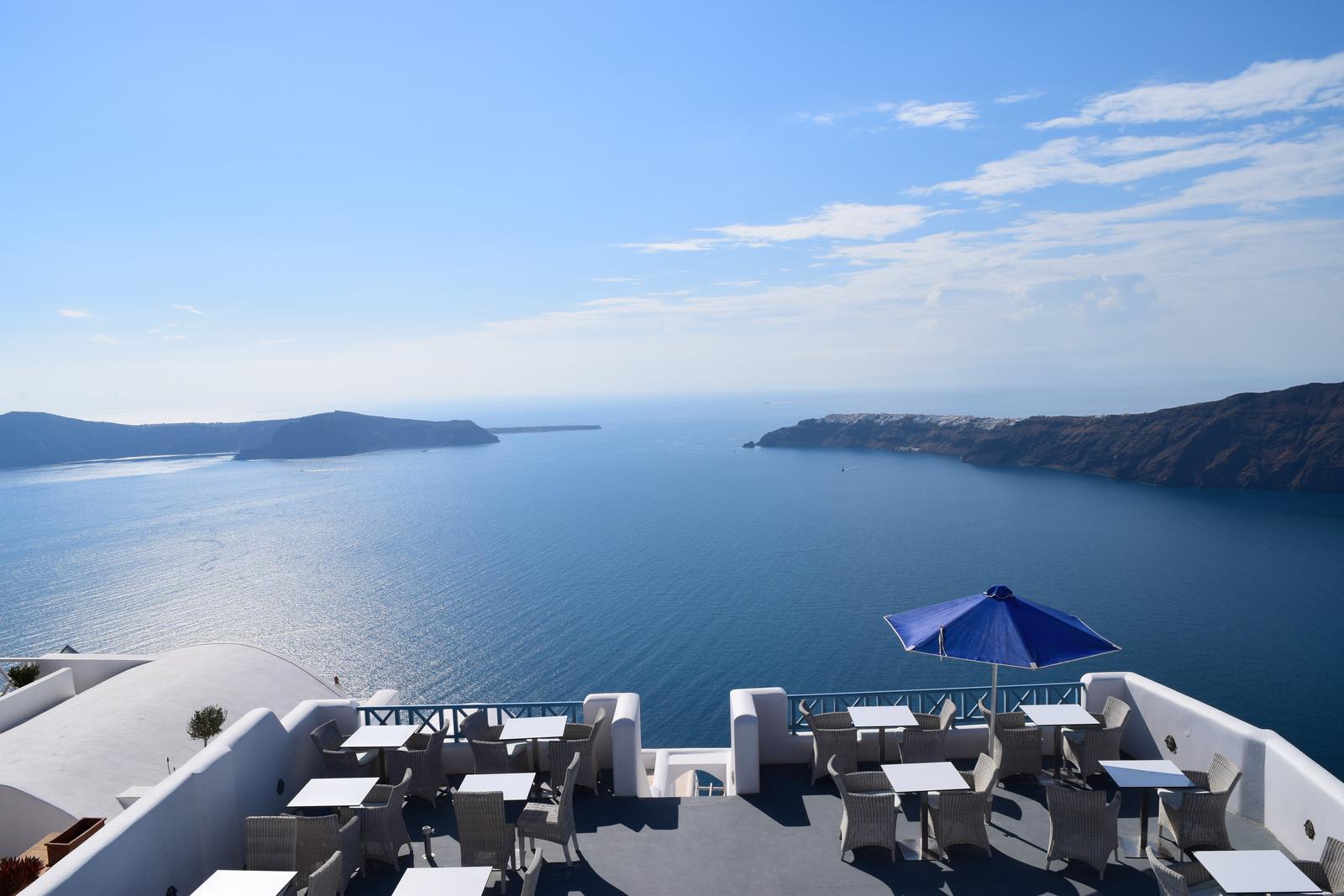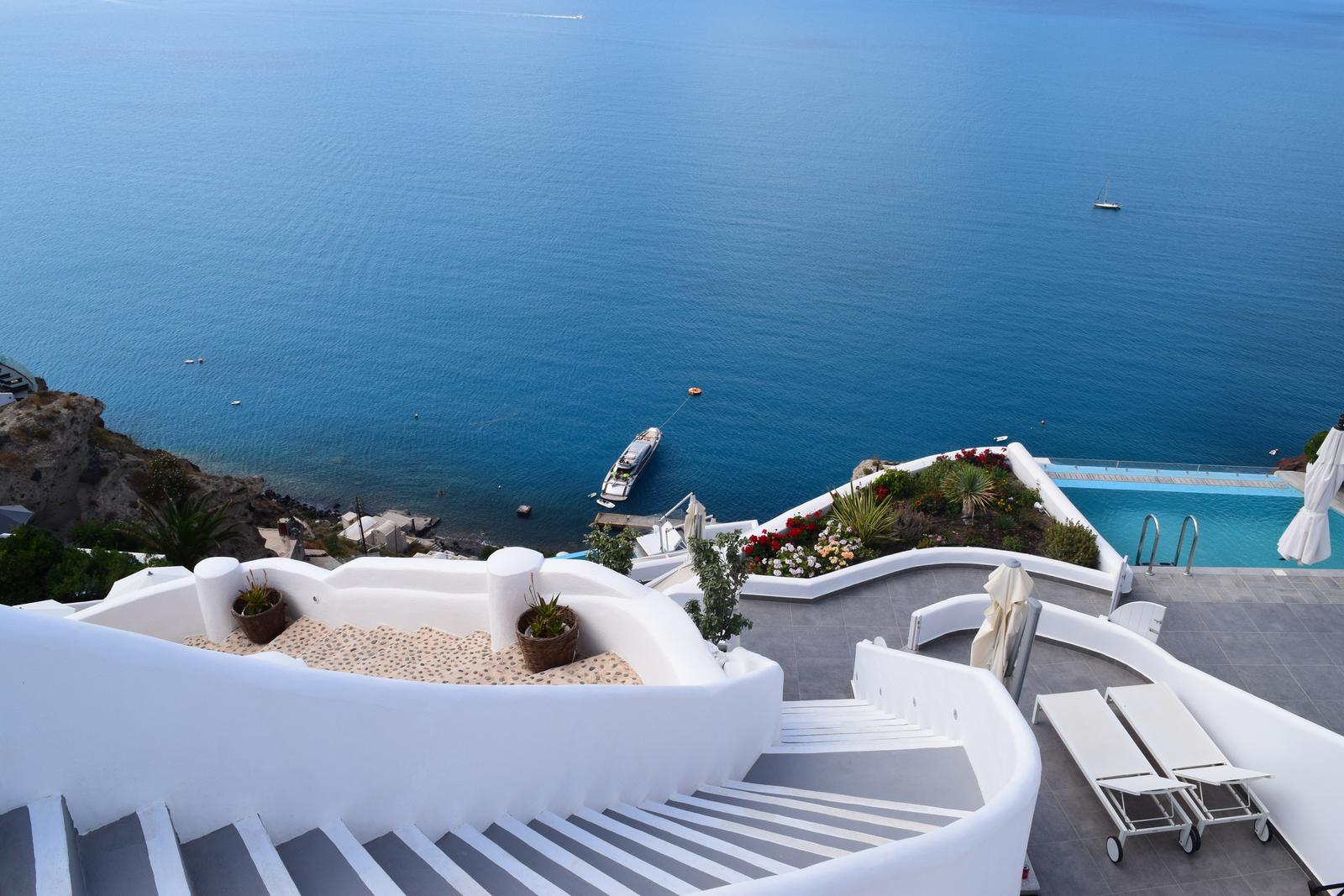 Should I be given one word to describe the feeling at that moment, I would say, yup, freedom. The unobstructed view to the sea from a high point was way superior to my daily routine looking upwards just to see blocky towers.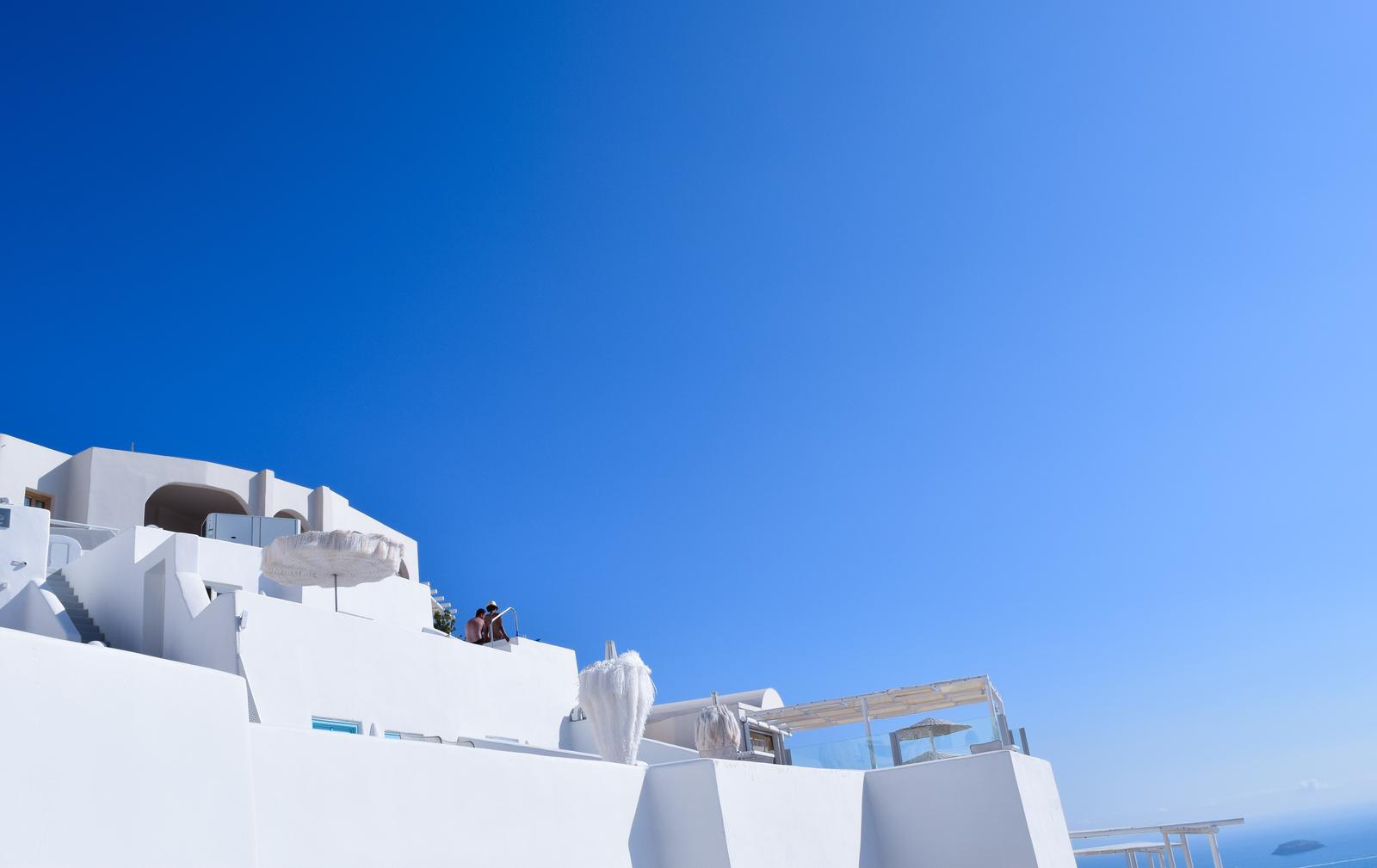 The terrain of Santorini is easily recognized from Imerovigli, with ferries drawing clear silver lines on top of the water surface.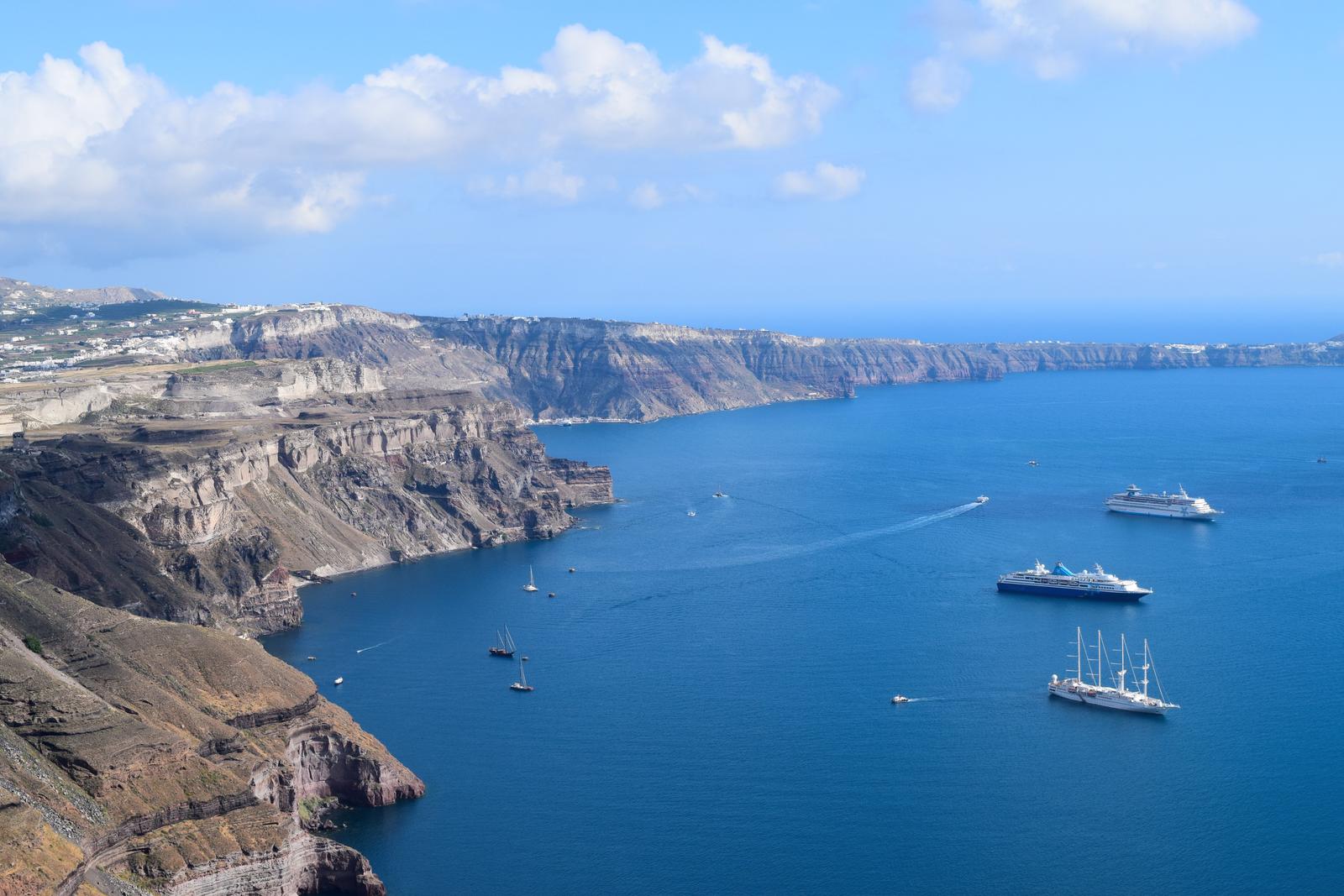 Well it's no doubt a masterpiece to carve into the cliff these white structures, but imagine what if there's one pink or red house right in the center, shall it be disturbing a bit?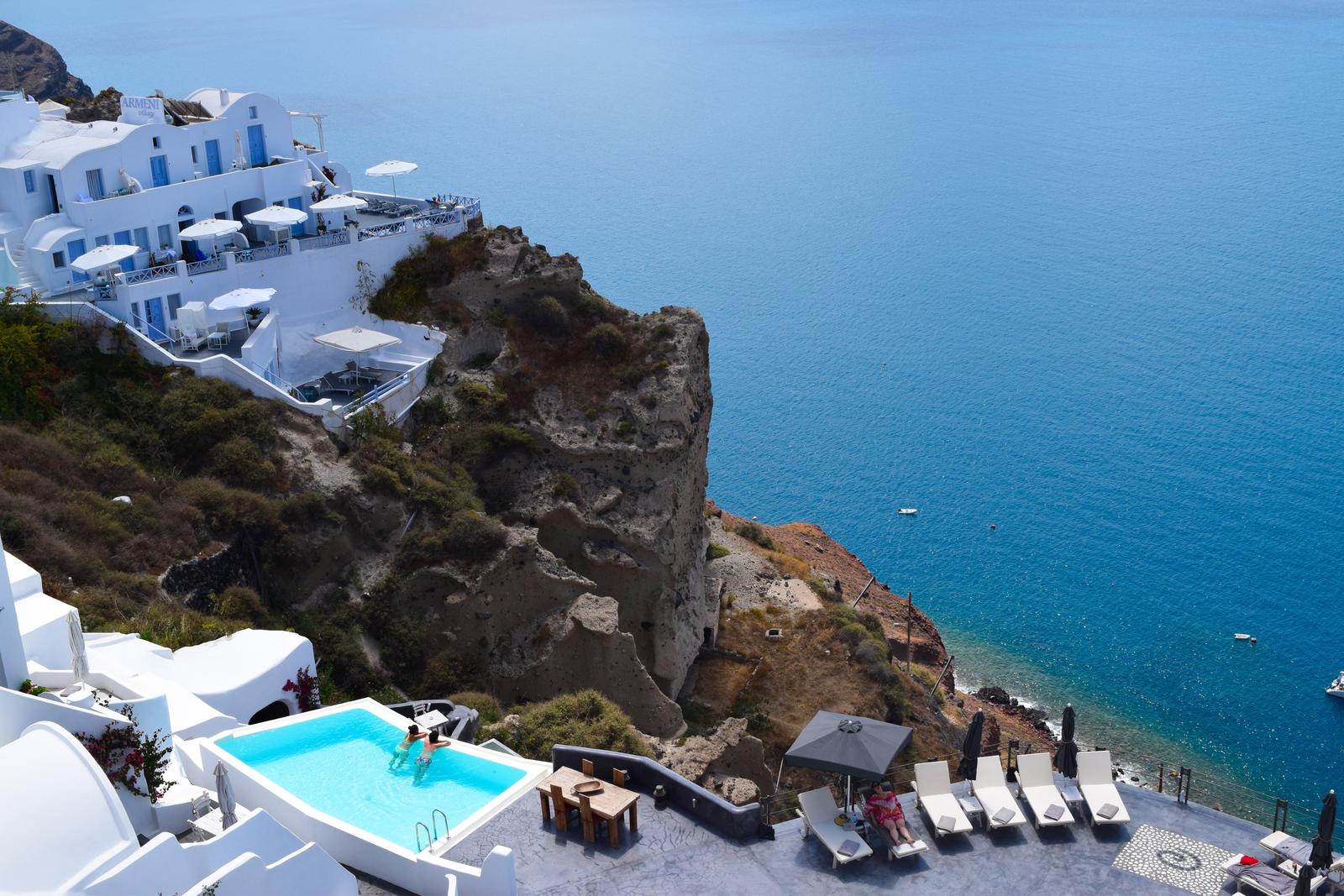 Oia Sunset
I finally caught a chance to meet the legendary Oia sunset mentioned in stories, books and movies, despite perhaps not being at its best due to thick clouds. In exchange, the light rays piercing the clouds' gaps formed a unique setting which still satisfied its observers. Maybe the rain in May - the shoulder month - made the place less attracting a bit than the sunny summer.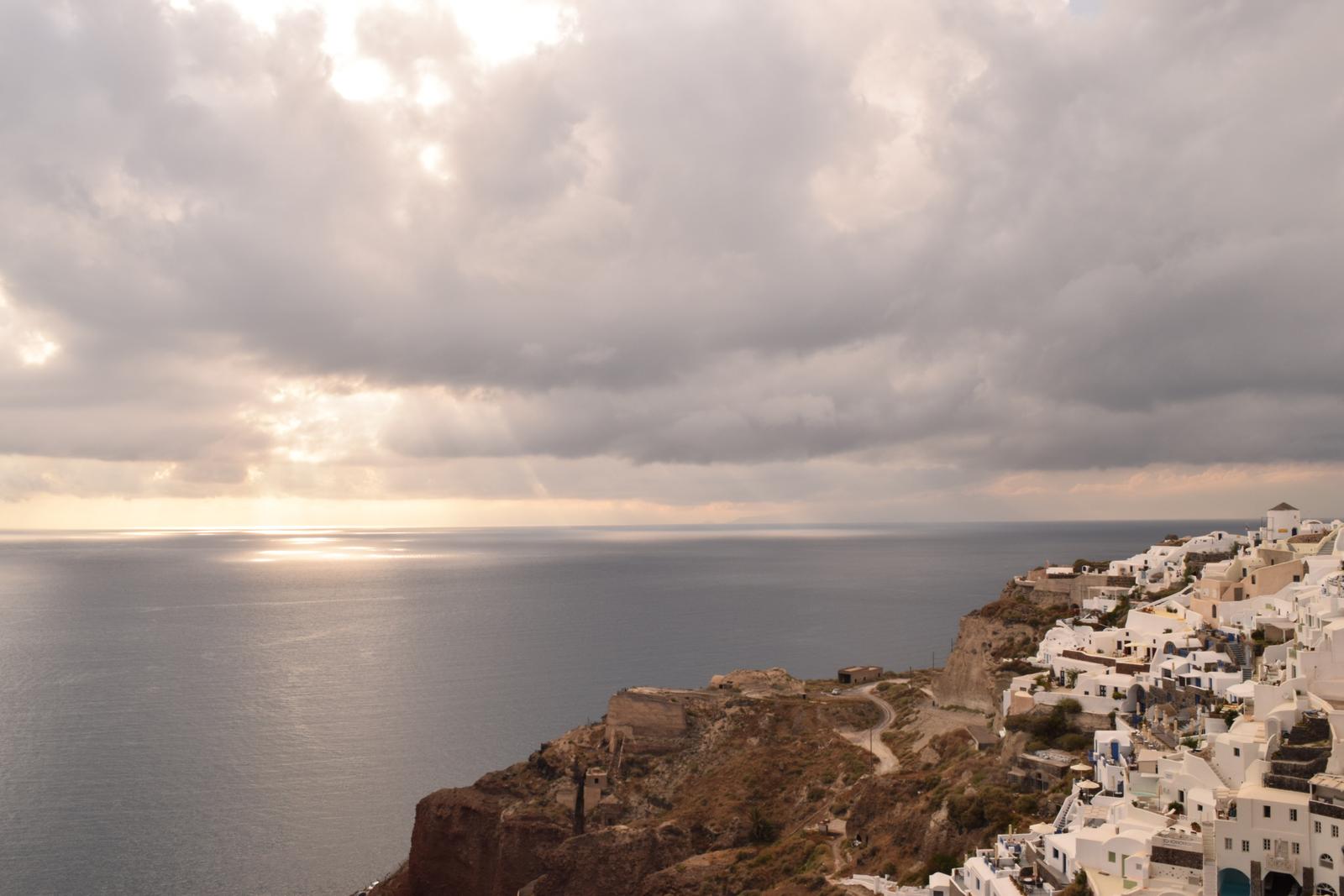 Last Day in Perissa
The other side of Santorini island has two coastal villages which is just different as sun and moon to the usual Santorini you have ever known: Kamari and Perissa. The two, although located side by side to each other, are not linked directly as in between there's Mesa Vouno (the mountain) separating them.
So what are they famous for? The black sand beach! So while you have enough time for this island, the place can be a breakaway from the crowded Oia or Fira, plus the hotel price is much cheaper here as well.
And that concluded my short 3 days in Santorini. Visit it again? Surely yes. It will never be getting boring to discover Santorini, which defines what a world-class destination is.